Thanks for the replies. While building this I tried to use as many of the kit parts as possible (often not for their intended original purpose) and scratch build the rest.
So I went through the kit and looked at the various parts on their sprue, comparing these to the drawings in John McKay & John Harland's Anatomy of the Ship – The Flower Class Corvette AGASSIZ as well as John Lambert and Les Brown's Flower Class Corvettes. I also visited Bob Pearson's excellent site and reviewed some of his conversion articles.
After that I made a list of the changes/modifications I will have to do (there will likely be more as I carry out the build).
Hull
Removal of a portion of the upper deck to forward of the bridge
Extra-large keel ground off
Stem needs to be removed and rebuilt
Bilge rails are way too large and thick, replacing with plasticard
Extra Portholes Covered
Square Scuppers Covered
Port Hole Eyebrows…torn as the West Coast ships seemed to have these
Stern needs to be flattened out and pulled to make sure there is room for Minesweeping gear and the Canadian stern
Deck and Fittings
All decks needs to have the fake reversed wood paneling taken off
Well deck needs to be scratch-built
Some water tight doors and other materials for the
foc
'sle
Additional decking added at the stern of the engine casing
Windlass, this is going to have to be built from scratch or a substitute found
Anchors need work and the hawse pipe is a joke
Hull Splinter Shields; on the forward ones I think I will have to move the placement as some of the West Coast Corvettes had them added slightly inboard
Lockers all need hinges and detailing
Wooden decks added forward and aft and in the well deck area
Mast…kit version is too short for short
foc
'sle and the SW1C/SW2C is missing
Life Boat Davits need lots of work
Boat Deck needs to be scratch-built and wood planking added, it will need lots of work as the kit is dearth in details here
Oval Life Rafts, need some work, not that bad
Life Boats, fortunately 1942 the smaller square stern life boats were in use and not the Whaler…but major internal work will be required. Things like oars, rudder, ribs, thwarts, etc.
Hatches need detailing
Rectangle Life Rafts still debating if I want to make a pair
Rope & Cable Reels need detailing or replacement
Small Ventilators need detailing
Need to scratch-build blake and bottle screw slip
Bridge
A new bridge will need to be built for the Short Focsle version
Search Lights need some pretty major work
Bridge Deck needs wood planking
Bridge Ladder Moved
Radar Lantern House…depending on early or late 1942 will determine if I need this, it needs a door, holes in the grate, etc.
Bridge Supports, again a pre or post 271 Radar set addition (CHILLIWACK had parts of the set added on repeated visits to Londonderry with the set being completed in December 1942)
Windshield…I will think of something
Bridge Splinter Shields/Splinter Mats…kit ones are a little sparse and the whole Bridge needs to be rebuilt for a type B design
Pipe Rails added instead of the fake flat plastic in the kit which look fragile and not really accurate
Rail Dodgers see above, going to built the pipe rails and then add some tissue paper
Wind dodger needs to be scratch built
Flag Box needs a complete replacement
Assorted Lockers need hinges and butterfly clips
Signal Light Platforms replacement or major conversion work
Deck House Ladders need replacement
D/F Coil, replacement with a round version
Bridge Voice Pipes need some detailing
Engine Room Casing
Needs to be shortened and corrected for Canadian version with overhang and struts
Move the 2 Pdr Bandstand aft
Engine Room Skylight…needs to be completely rebuilt as the kit version is wrong on so many levels.
Watertight Doors…the kit versions are really poor
Galley to be removed and moved aft of bridge
Funnel is a decent representation, but the rivets are such a noticeable feature, I may replace it.
Funnel Ladder, kit version is pretty simple
Steam Pipes on Funnel
Large ventilators really need some work as the kit versions are simple and too thick
Placement of gear and other changes are necessary
Weapons
4-inch Main Gun & Shield replacement or a complete scratch-build
Bandstand for the above will need treads and a replacement for the ammunition holders as well as some mesh and other detailing
2 Pdr (working on deciding if I am going to do early 1942 or late 1942…as early actually seemed to have a 20
mm
Oerlikon in the rear bandstand while late had the 2 Pdr – if someone knows when I would love to know). Either way a replacement of complete scratch-build looks necessary
The 2 Pdr Bandstand tub needs to be replaced and a tread added
Bridge Weapons – either 303 Lewis Guns or 50 Cal twined Machine Guns look like the fittings for 1942. As per the 2 Pdr a completely new build will be necessary as the kit parts are really quite poor (again, no confirmation seems available)
Depth Charge Throwers…these are not bad…OK they are bad, about the level of the other weapons, I think some framing for the base and a little detail work will make them acceptable. Depth Charges are a little weak, but with some cutting off of extra parts and some paint detail they can work. The stalks are really too small and will have to be replaced, as well as stalk carrier detail.
Depth Charge Racks, too thick and too large, so some platicard replacements look necessary
Smoke Candle Racks…I think there is some sort of thick box that the kit provides
Floater Nets & Racks
Smoke Candles need some holes drilled
Minesweeping Gear
As this was not removed until the
foc
'sle extension I need to scratch-build the lot
Winch
Davits (x2)
Large Minesweeping Floats (x2)
Otter/Kite Floats (x4)
Gallows (x2)
Dan Buoys and racks
I also figured I should show my work space and tools...OK, it is the kitchen table which means I will have to clean up after every session otherwise Mrs Captain Brown will have words with me.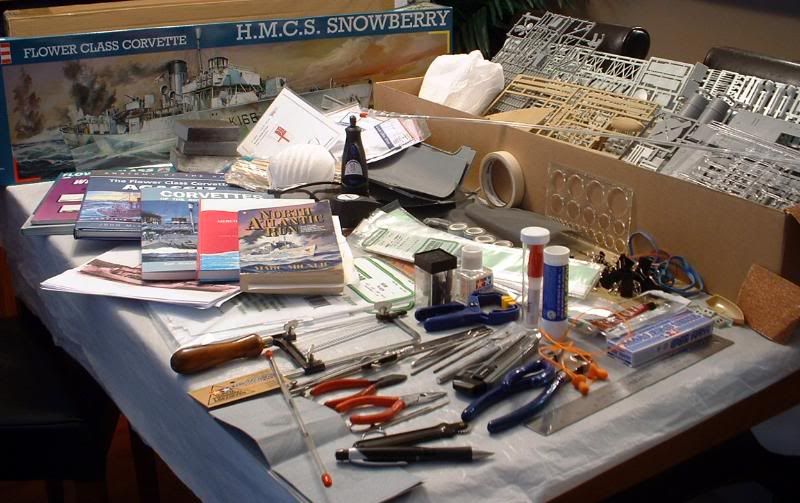 Therefore my construction is going to be start and stop...so I will likely break many of these jobs down into mini-projects.
That is going to be a lot of work, notice I have not even mentioned painting/weathering, etc.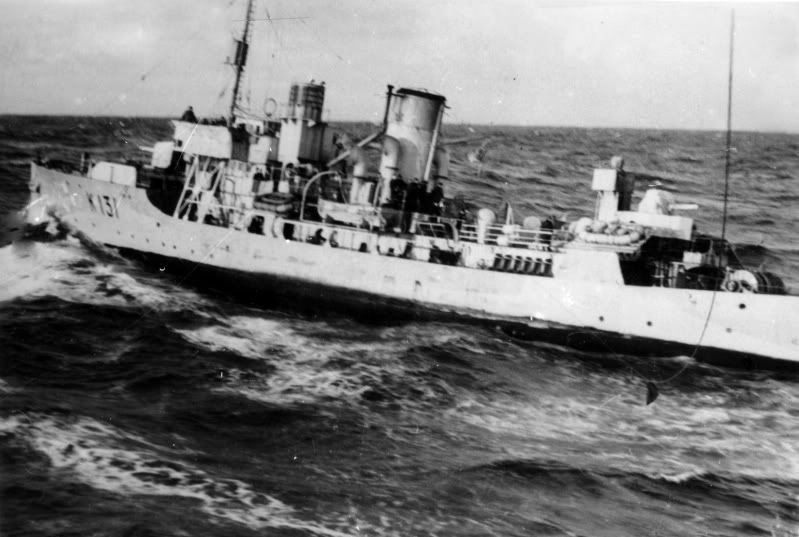 Since everyone loves pictures, here is CHILLIWACK in either late 1942 and early 1943.
Photo courtesy of the
CF
- Project Pride
Notice the bridge struts, 271 Radar lantern and I am pretty certain that is a 2 Pdr now in the aft bandstand.
The long painting war continues...
CB