Hey Big H! Ain't that the truth? I finally develop one skill- painting eyes, for instance- and now I want to go back and redo everything that came before! There is a window of time though: I'm finding that there are some things from long enough ago that even though I know I could touch 'em up a bit with new skills and (especially) new paints and materials- I don't want to. Partly because I'm afraid if I mess them up, I can't get replacements to try again. And partly because they are part of who I was- to change them is to- perhaps- appear to be trying to change who _I_ was.
However, vanities such as this are only acceptable so long as I can afford the storage space, and for the moment, I can. Otherwise, out they go, like so much of my other Rogue Trader era stuff that fell by the wayside during 19 moves over 27 years in the military. I'm glad I've still got a couple of keepsakes, though, and even a few more than pictured here. They'll show up eventually.
The following photos show figures I painted between 1987 and '89.
Here's a group shot, and believe it or not, according to The Book (no version, no Codex, no addendum, the Basics) all this counted as Imperial Guard. There just weren't the figures out on the market to specialize- certainly not as heavily specialized as things have become today.
IG
were allowed to have powered armor- it was very common to use the Space Marine Beakies to model it. There were no Leman Russ tanks out yet, so we gleefully used Predators. Same deal with Rhinos (although kits for Leman Russ followed only a year or two later). Baneblades were 'way in the future- the article in White Dwarf to scratchbuild your own hadn't even come out yet- it was a couple of months away. A buddy of mine built one when the mag did come out- which was odd, because he played Orks.
So this pic is a command group with tank support: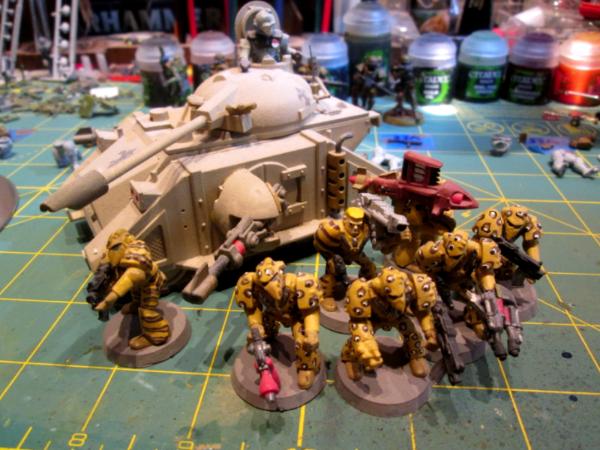 Here's a closeup of one figure showing off both his custom 'Leopard Spot Camouflage pattern armor' and his custom scratchbuilt Storm Bolter. Following the backstory about the Native American Terminators that supported the Space Hulk game, we all speculated as to what this 'storm bolter' might look like. This was my attempt to model one. You can see it is the pauldron from a space marine arm piece and a few las rifle barrels, but I loved kitbashing and scratchbuilding even back then: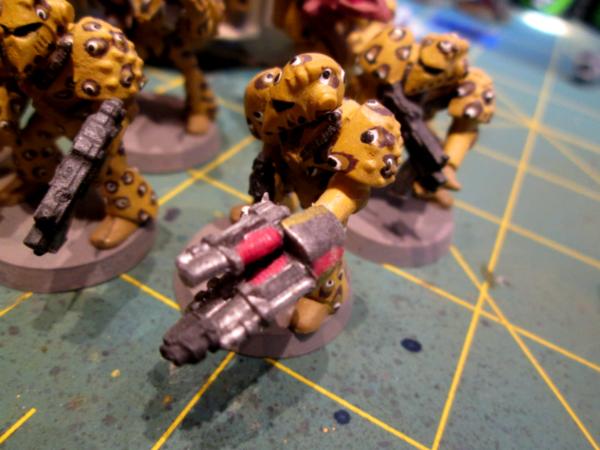 The platoon leader, with powered armor, leopard spot camo and power fist:
Heavy Weapons section in powered armor- one sporting the alternative 'tiger stripe' camo pattern: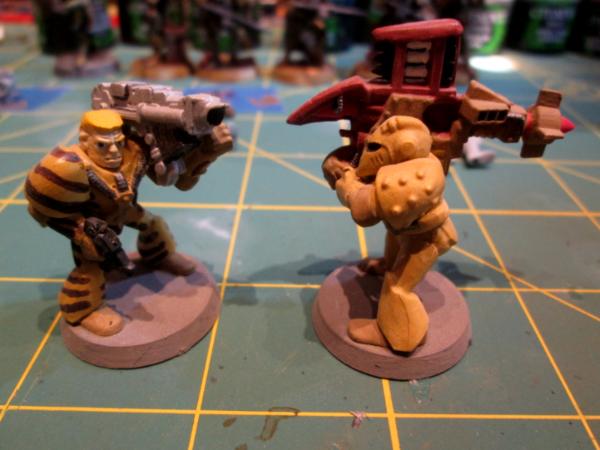 Command Squad security detail trooper (read that as 'expendable Red Shirt') in tiger tripe: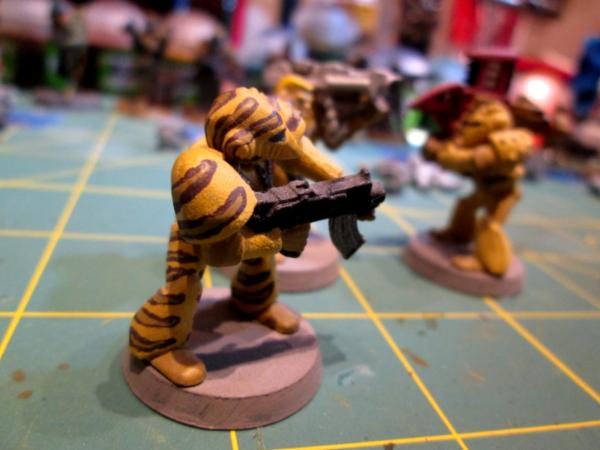 A close up of the Imperial Guard Predator Track Commander. I had been attached briefly to the 11th Armored Cavalry Regiment- this figure's red and white unit badge is in honor of them- nicknamed the Black Horse: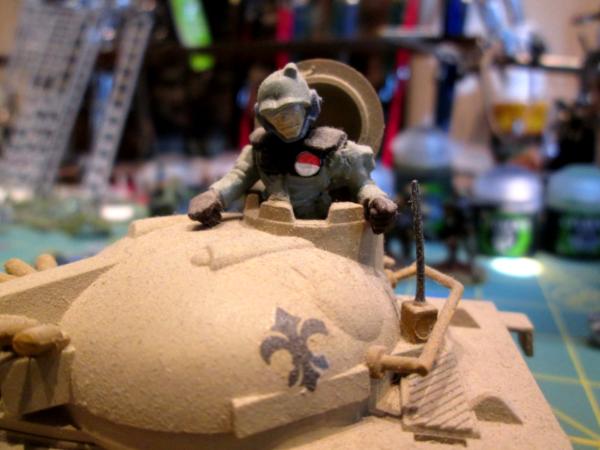 And here's another shot of the Predator: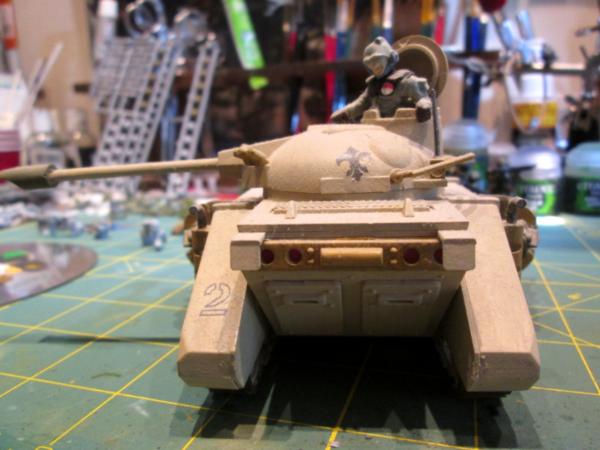 Games Workshop used to sell a three-pack of Rhinos; I must have converted nine or more into vehicles described in the books but not available as kits at that time: open topped troop carriers, a Whirlwind (using a 1/35 Nebelwerfer rocket launcher kit as the missile pod), a tank destroyer (using a 1/35 TOW anti-tank missile launcher mounted in the fighting compartment as the Vanquisher cannon), and others. Some may still be around in boxes someplace, but most I know are gone.
Oh well, you can't keep everything. Nowadays I do the best I can, take lots of photos and store them here on Dakka Dakka and am quite content. The wife unit frequently suggests selling off the things I'm cranking out now, and I just may do that when things settle down a bit.
Thank you all for allowing me to scamper down Memory Lane for a bit, and showing off some of my _very_ early work. Comments and critiques welcome, although I'm not looking to touch these guys up just yet. (The Lothern Seaguard, yes- I painted them around 1999/2000.)
More follows soonest!