Boss Salvage wrote:Congrats on finishing the

NS

crew, the last three minis you did are my favorite from the set. That Shade design is great - if virtually never seen in

KOW

- and the Mind-Screech as floaty death brain is quite solid as well. Banshee is a win too, glad they kept the body horror going with her.

Oh, I've been meaning to give props on the round basing for the Vanguard dudes, for whatever reason it helps me appreciate the sculpts and game even more. Something about squares that detract from the end result for skirmish dudes, like they're simply a part of a regiment somewhere and shouldn't be appreciate in themselves. Whatever the reason, they look better that way, good call.
Thanks. It's very rare in this hobby to be able to say "I have finished." And I agree that round bases look better for skirmish games, and really in general-- 20mm square bases result in a lot of overlap for a lot of models. Of course, Vanguard is designed around square bases, with rear arcs and no corner-to-corner engagment and what-have-you, but that's been easy enough to house rule so far.
Da Boss wrote:Great work on the Nightstalkers, they are a bit rag tag in terms of the model design but the choice to use this sort of meat colour for the fleshy ones with the ectoplasm for the ghostly ones is a really good one and ties them together nicely.

Great work on the objectives as well, I am so lazy when it comes to that stuff and never go the extra mile on them. Especially love the lit beacon.
Thanks for the kind words. I enjoyed painting up this scatter terrain-- it was a nice change of pace.
And speaking of changing pace, I managed to stay somewhat productive whilethe family has been away visiting relatives. I decided to stick with Vanguard for the time being. First, some Lower Abyssals: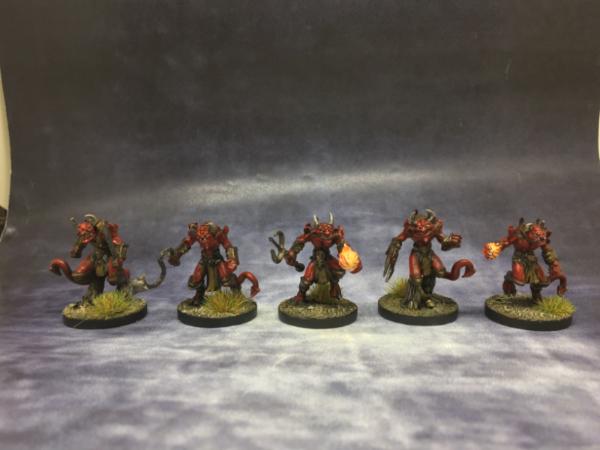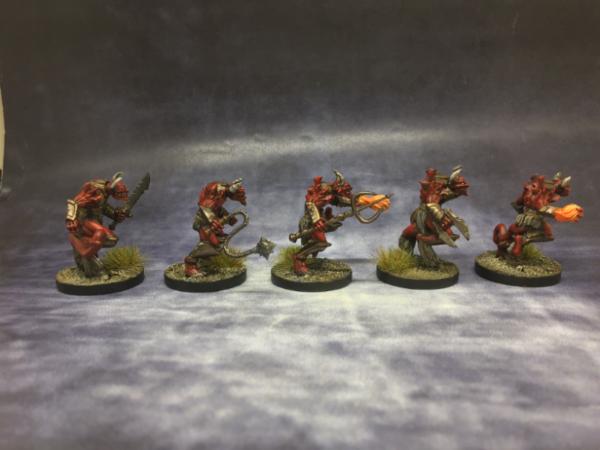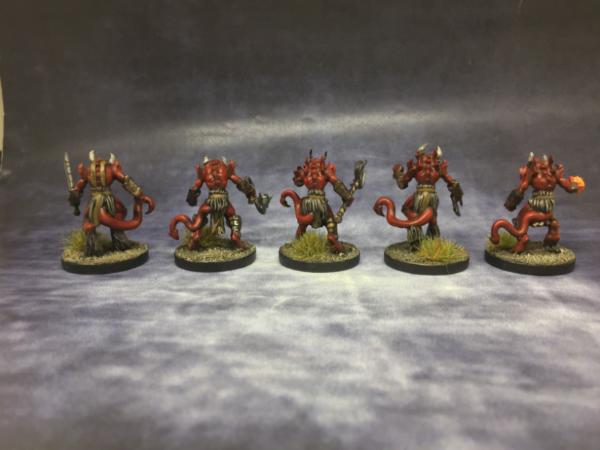 One sprue of five models came with my
KS
pledge. There aren't as many weapon options as I thought, but that's fine, as I don't like having lots of mostly empty sprue lying around. Between these guys and the ones I painted for Dungeon Saga, I have more than I will ever need for Vanguard. Next, some succubi: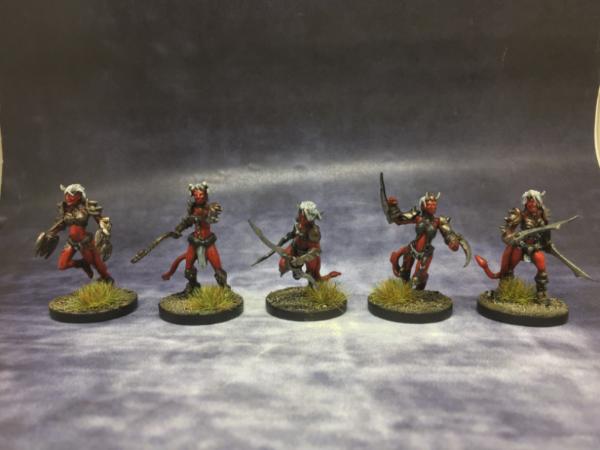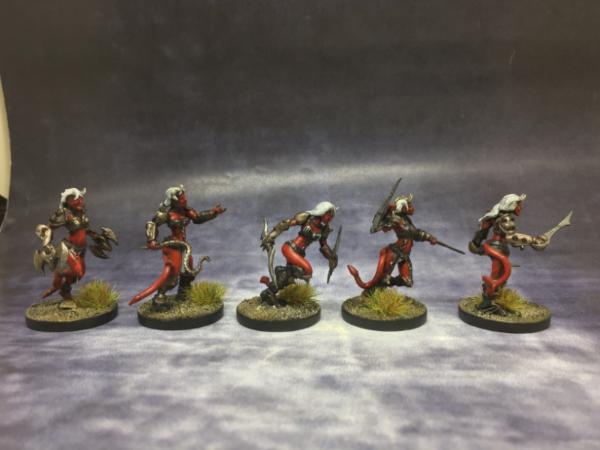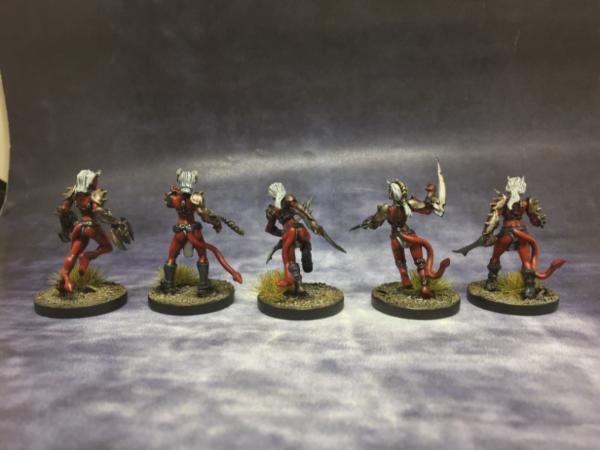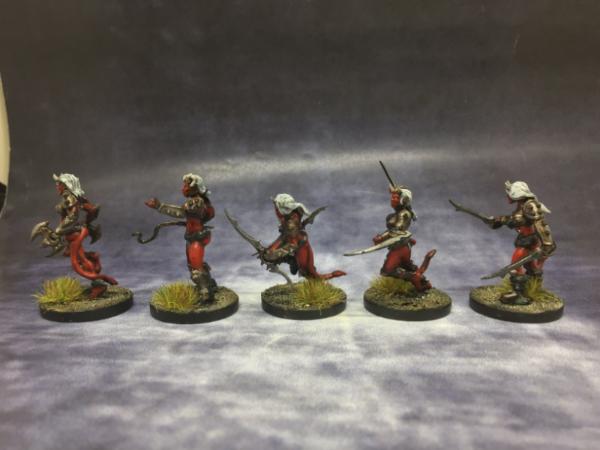 Lots of boobs, butts, and thongs-- these models would work pretty well as Witch Elves if you don't mind the tails. Like the Lower Abyssals, a lot of these models have dynamic, running poses. Unlike the Lower Abyssals, the contact point on the bottom of their foot is about a square
mm
, meaning I had to drill and pin them to get them to stay on their bases. They would have benefited from the older style integral base Mantic used to use. Next, some Abyssal warriors: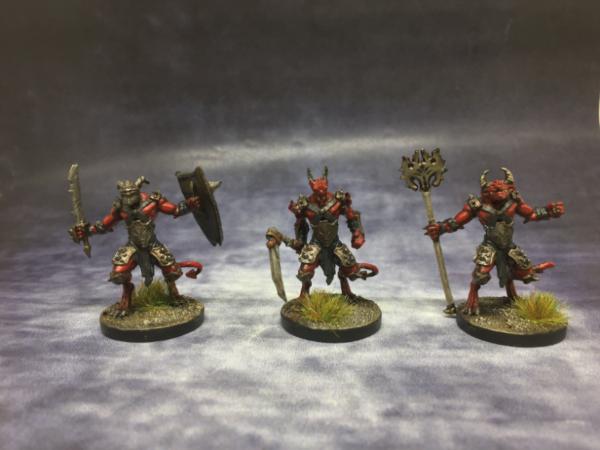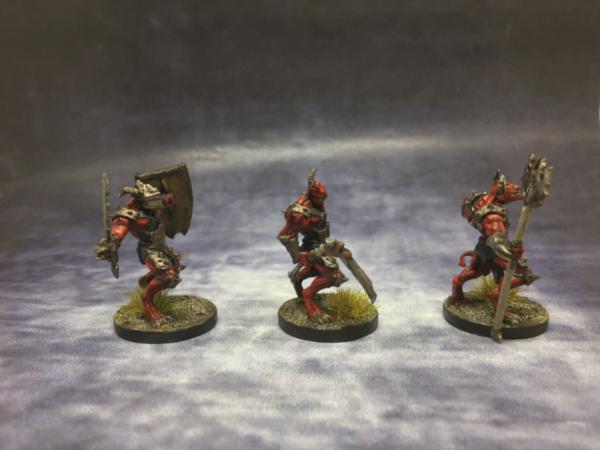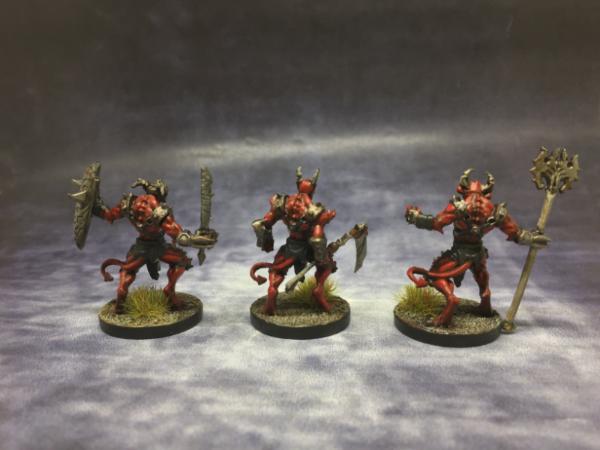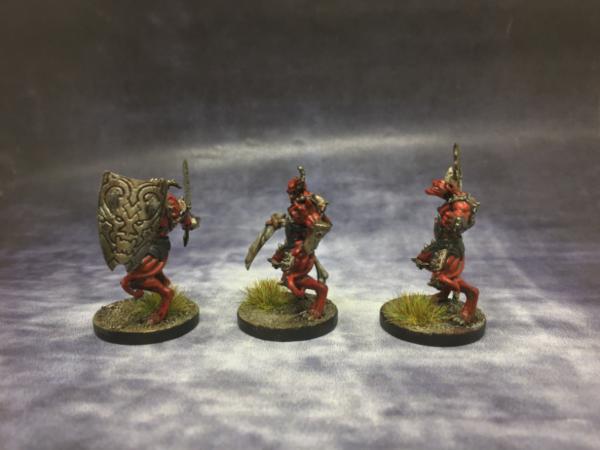 In Vanguard, the Lower Abyssals are Grunts (easy to kill cannon fodder), while these guys are Warriors, tougher and more likely to stick around. The retail version of this set comew with two of each of the restic models, while
KS
backers got three. I decided to vary them up a bit. I gave the guy on the left a spare head from the Lower Abyssal sprue, while the guy in the middle got some spare arms. I like that they are all unique.
Finally, something so mind-blowing that I have to put it behind spoiler tags:
Finally, here's everything I painted this week: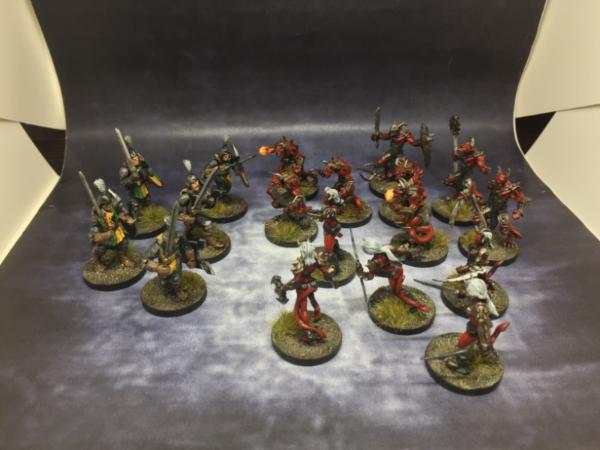 And now I'm tired after all that painting, and I will be taking a couple of days off to rest. As always, comments and criticism are welcome and encouraged.