Hi - I've been working on tour for a few weeks, and thought I'd bring my little Squat army with me on the offchance of getting in some games - I popped down to the local
GW
on my day off in Nottingham, and the guys (and girl) there were so impressed they broke out the store Tau to bolster James' forces for a game. We played 800pts. Here's an abbreviated battle report...!
Ian's Squat Army - 800pts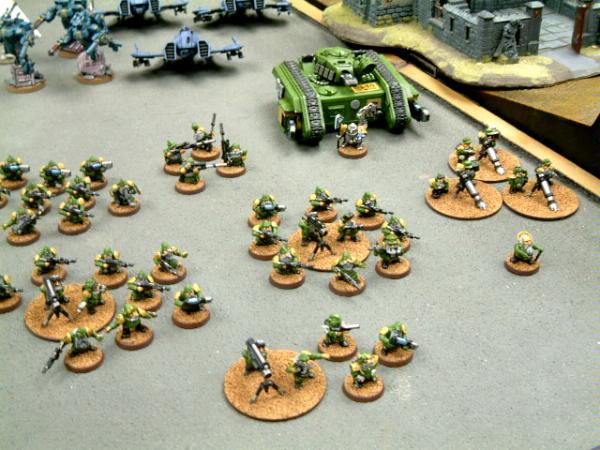 - Ancestor Lord (Primaris Psyker)
- Guild Engineer (Techpriest Enginseer)
- Squat Snipers (4 Ratlings)
- Brotherhood Infantry Platoon
--- Platoon Command Squad (Heavy Bolter, Plasmagun)
--- Infantry Squad (Heavy Bolter, Plasmagun)
--- Infantry Squad (Heavy Bolter, Plasmagun)
--- Mole Mortar Squad (Mortars)
- Veteran Squad (Forward Sentries, 3 Plasmaguns)
- Leman Russ Executioner (Plasma Sponsons)
James' Tau Army - 800pts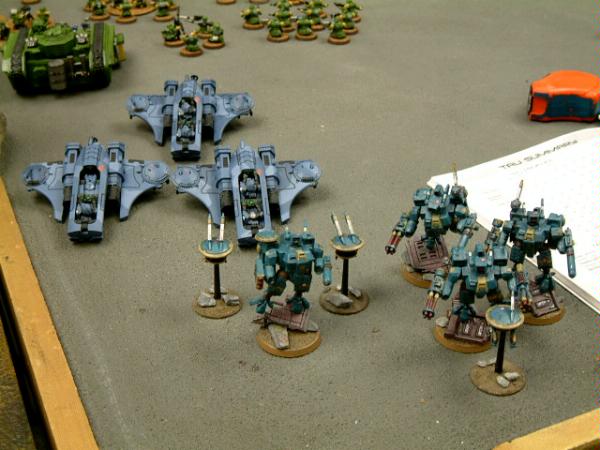 - Commander (Plasma Rifle, Missile Pod, Shield Generator, Medi-thingy, 2 Shield Drones)
- Crisis Team (2 Plasma Rifle, Multitracker and Burst Cannon, 1 Leader with Plasma Rifle, Multitracker, Gun Drone, Iridium Armour, Cyclic Ion Blaster)
- 6 Fire Warriors
- 6 Fire Warriors
- 3 Piranhas (3 Fusion Blasters, Gun Drones, Something that means you re-roll glances, Something that means they get cover saves from shooting)
Deployment
We rolled to play an objectives game with the full 5 objectives, and Dawn of War setup. I won the roll for first turn, and set up the Primaris, Infantry Platoon, and Veteran Squad. Now, I was under the impression that in
DoW
setup I could only deploy two of the squads from my Infantry Platoon, but literally everyone in the store (including staff) were convinced that the whole platoon only counted as one of my Troops choices. Hence, almost my entire army were deployed in control of three of the five objectives. James deployed his Fire Warrior squads and Commander in cover, controlling the two objectives on his side of the table.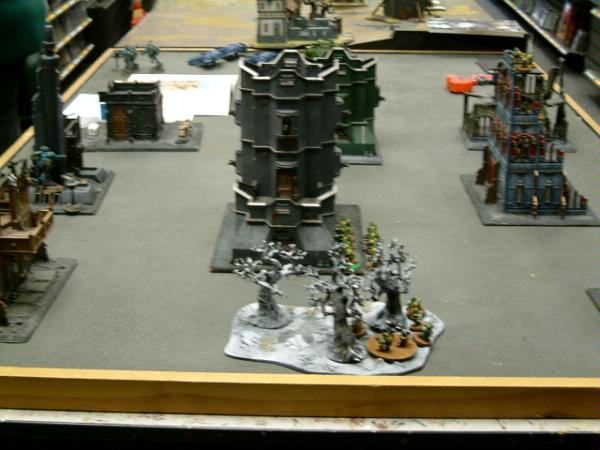 The Game
I started simply enough, moving the Veterans into the central building to make use of their camo-cloaks. My shooting was ineffectual due to night fighting. James' fast movers came on and swept down the side of the board, and did much better at his spotting rolls, taking out half of the Veteran Squad and pinning the rest.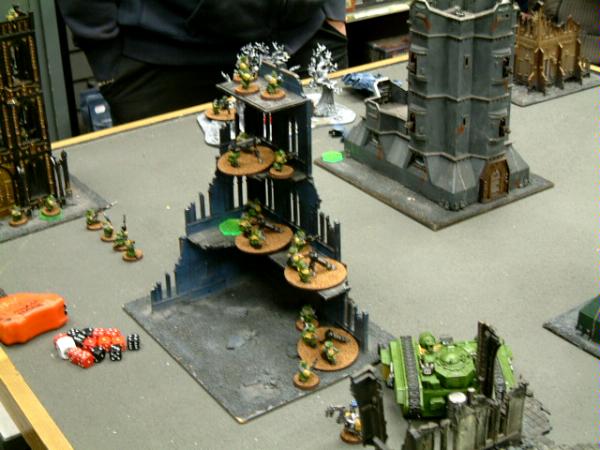 My line then pretty much held firm for the next few turns - the Mortars targetting (unsuccessfully) the hidden Fire Warriors and Crisis Suits, and my Executioner scoring some great early casualties on suits and shield drones. One James realised what the Executioner could do, he started using his Jetpack moves to deny me targets, and mopped up the last of my veterans without firing them firing a shot. His Piranhas seemed pretty much invulnerable at first, taking out a lot of the command squad in the woods. It was only once he'd moved a bit closer that my Primaris Psyker could bypass his 'cover' upgrade and do some damage. Around turn four I managed to kill two and destroy the weapons of another, by which point he'd destoryed my Primaris and my Ratlings.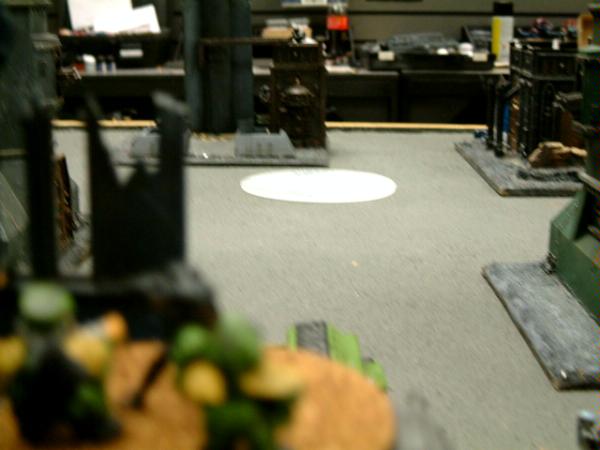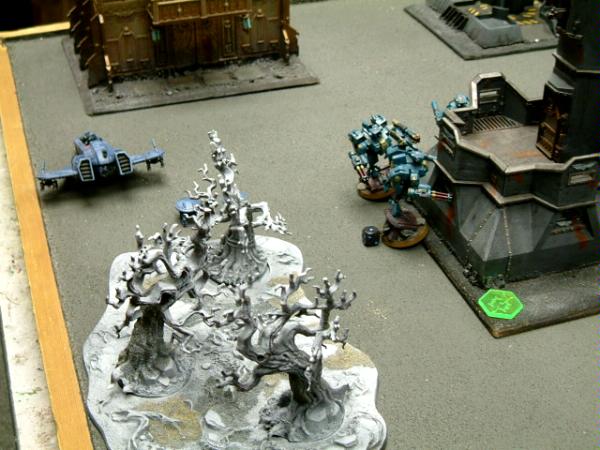 James then detached his Gun Drones and moved all three little units towards one of my objective holding squads, wiping them out over a couple of turns with help from the last Crisis Suit. I tried to deny him one of his objectives by almost wiping out one of his Fire Warrior squads but the lone survivor held firm. His Commander then managed to pick off my Engineer.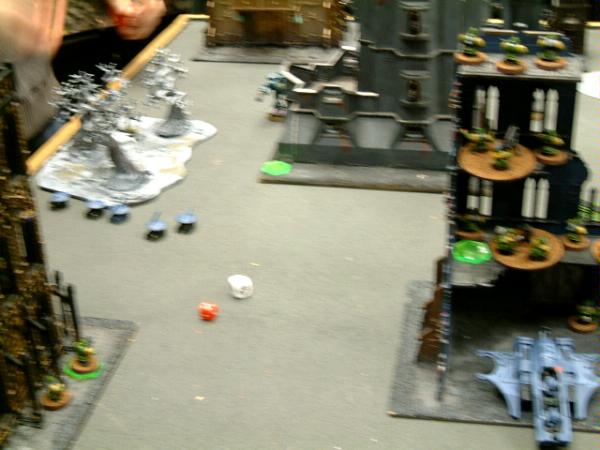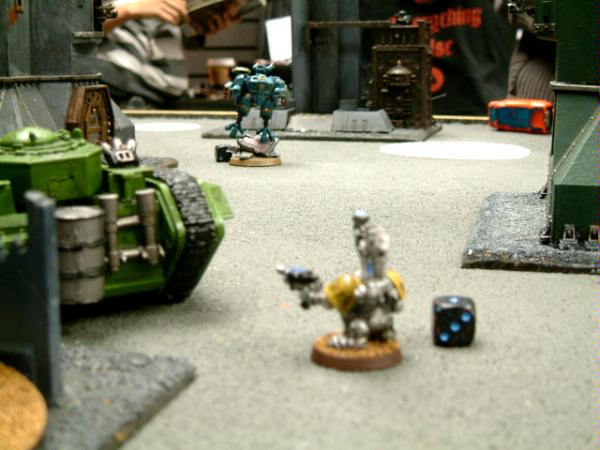 By the end of the game, his last, weaponless Piranha had managed to contest one of my Objectives, and the Gun Drones had wiped out the squad holding the other. He wins, 2-0!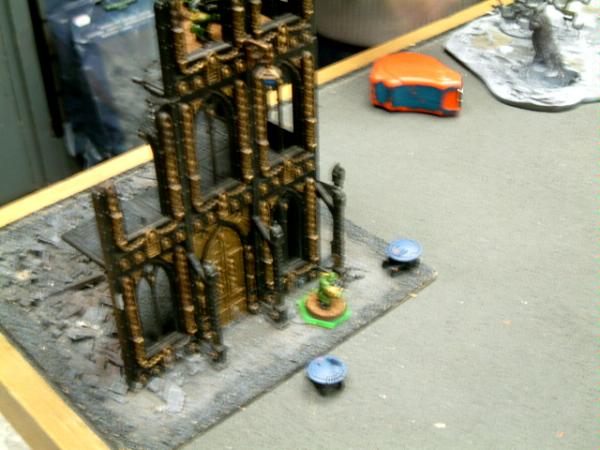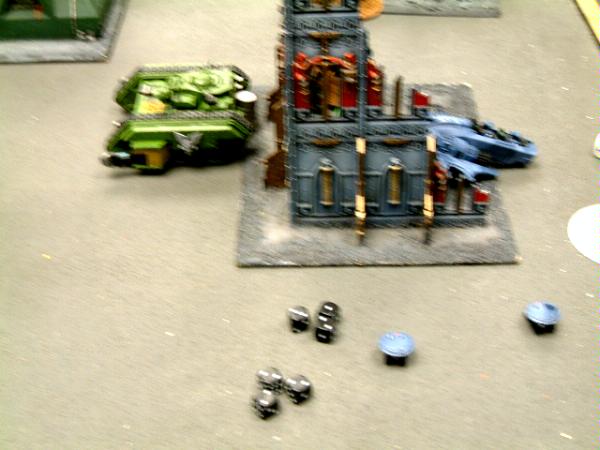 So, the Squats are defeated in their first standalone game! I really must put some thought into this army, but it's fair to say they were thoroughly out-maneuvered by the Tau forces. I also managed to completely forget about Orders AGAIN. I've never actually remembered that Guard armies can do this...! Otherwise, well played by James and a fun game. I'd thoroughly recommend popping into the Nottingham store for random pickup games..!