I thought I'd post some pictures from our latest ProHammer games. 2000 points of Dark Eldar vs. Tau (both using 7th edition rules).
Parameters of the game:
Platform: Tabletop Simulator
Ruleset: ProHammer
Table Setup: We used our randomized terrain generation tool. We rolled up "desert" biome and "industrial" theme - and then draw applicable terrain pieces out of a virtual bag and build the board. Worked really well and made a pretty sweet board (as you can see!).
Mission: Custom ProHammer mission. This was a pipeline secure/destroy mission. There were six pipeline control points. Tau player had to secure pipelines and "isolate from harm" whereas the Dark Eldar had to try and destroy them. In order to secure/destroy a pipeline you have to end your turn with exclusive control within 3" of the pipeline control point with a non-vehicle / non-
MC
unit, and nominate a model within that the unit to be activator. If the activator is still alive and within 3" of the pipeline point at the start of your next turn (don't need to maintain exclusive control at that point) then the objective is secured. Each point secured or destroyed gets you 3 points. If the game ends in a draw (5-7 turns) then the victor is determined using secondary scoring.
Synopsis:
Turn 1:
Tau got the favorable deployment zone and got in position to quickly secure 2 points on their turn first turn. Most of the
DE
forces were in reserve (deep strike, webway portals, etc.). The starting
DE
forces got into position on two points.
Turn 2:
Turn two saw the Tau achieve two objectives and blasting the
DE
off one of their objectives from range.
DE
deepstrike forces were solid, and all but one unit landed. Overwatching kroot snipers and broadsuit teams however decimated some of the
DE
forces, completely board-wiping a unit of wyches! End of Battle Round 2: Tau = 6 points,
DE
= 3 points.
Turn 3:
This was a pivotal turn.
DE
was pretty exposed post deepstrike rush, and failed to deliver some of the needed decisive blows last turn. Notably, the Tau commander slipped away from the succubus + Incubi death squad! Gah! Tau return fire was thankfully not as a deadly as it could've been - which meant
DE
still had a pathway to victory.
DE
turn brought in a big deep striking unit of wracks + haemonculus that finished off the commander and tied up broadside teams.
DE
secured another point and got into position for holding a 3rd mid-field. Tau = 9 points,
DE
= 6 points.
Turn 4 & 5:
The game ended after turn 5 (variable end game length). The final two turns mostly revolved around trying to get
DE
units into position to secure a 3rd point and tie the game on primary objectives. This might have happened given some creative screening with vehicles, but the Tau Smart Missiles don't need
LoS
and were able to push the
DE
models off the point. Unclear whether or not the
DE
couldn't won based on secondary objectives - it would've been close but I think the Tau would've won that way regardless.
All in all, a close and well fought game. I had some tough decision moments as the
DE
, particularly with where to deep strike my big unit of Wracks. I could be aggressive and try take the fight to my opponent to kill their leader and tie up other forces, or use them to take that 3rd objective. But taking the objective would probably have meant not doing as much damage to my opponent, leaving me open to counter fire. It was a tough call, and I'm still not sure it was the right one or not. But that's
40K
!
Pictures below taken mostly around the 3rd turn: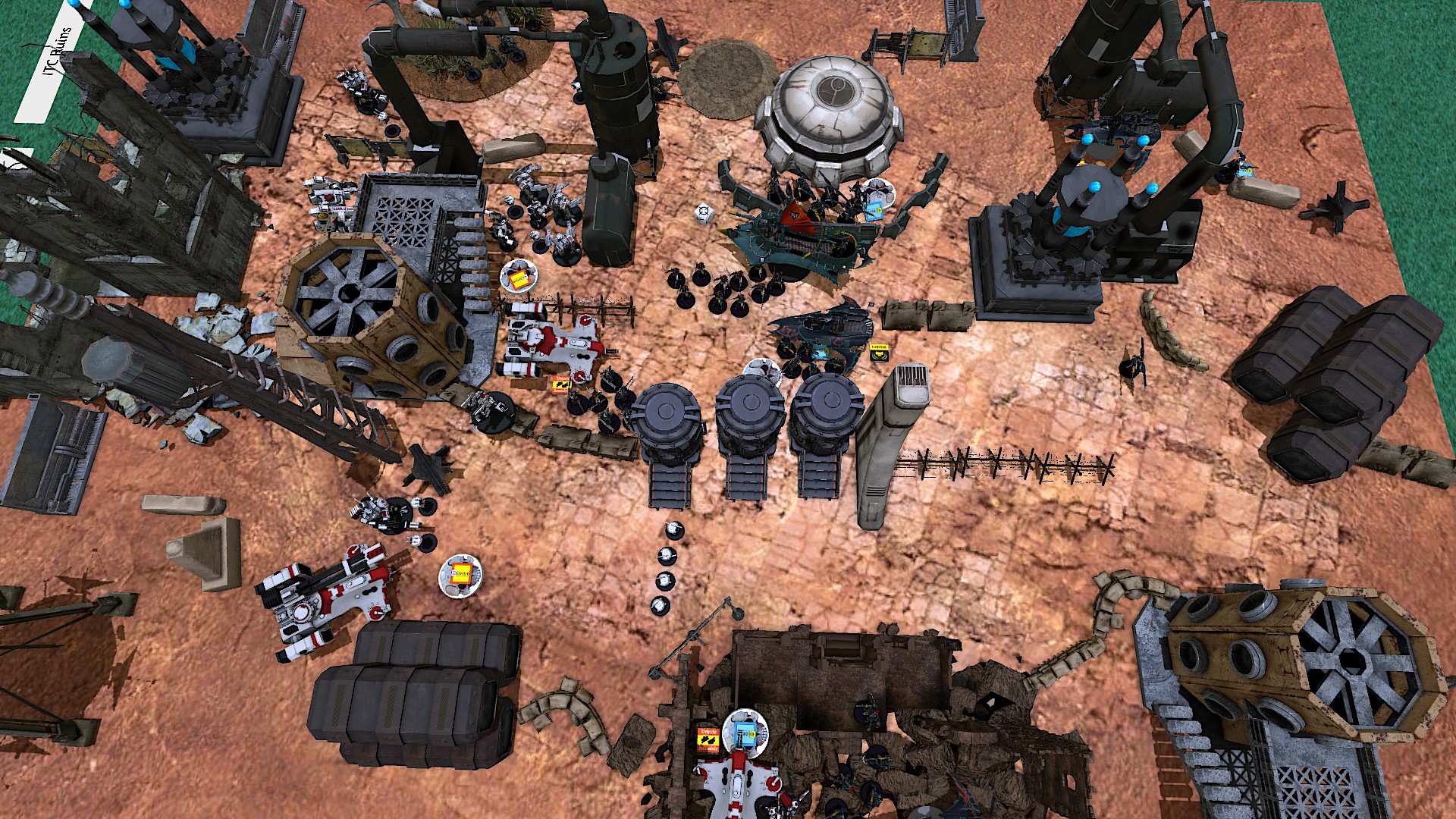 The critical point is near the center of the board next to the Venom (above the 3 round tank terrain features)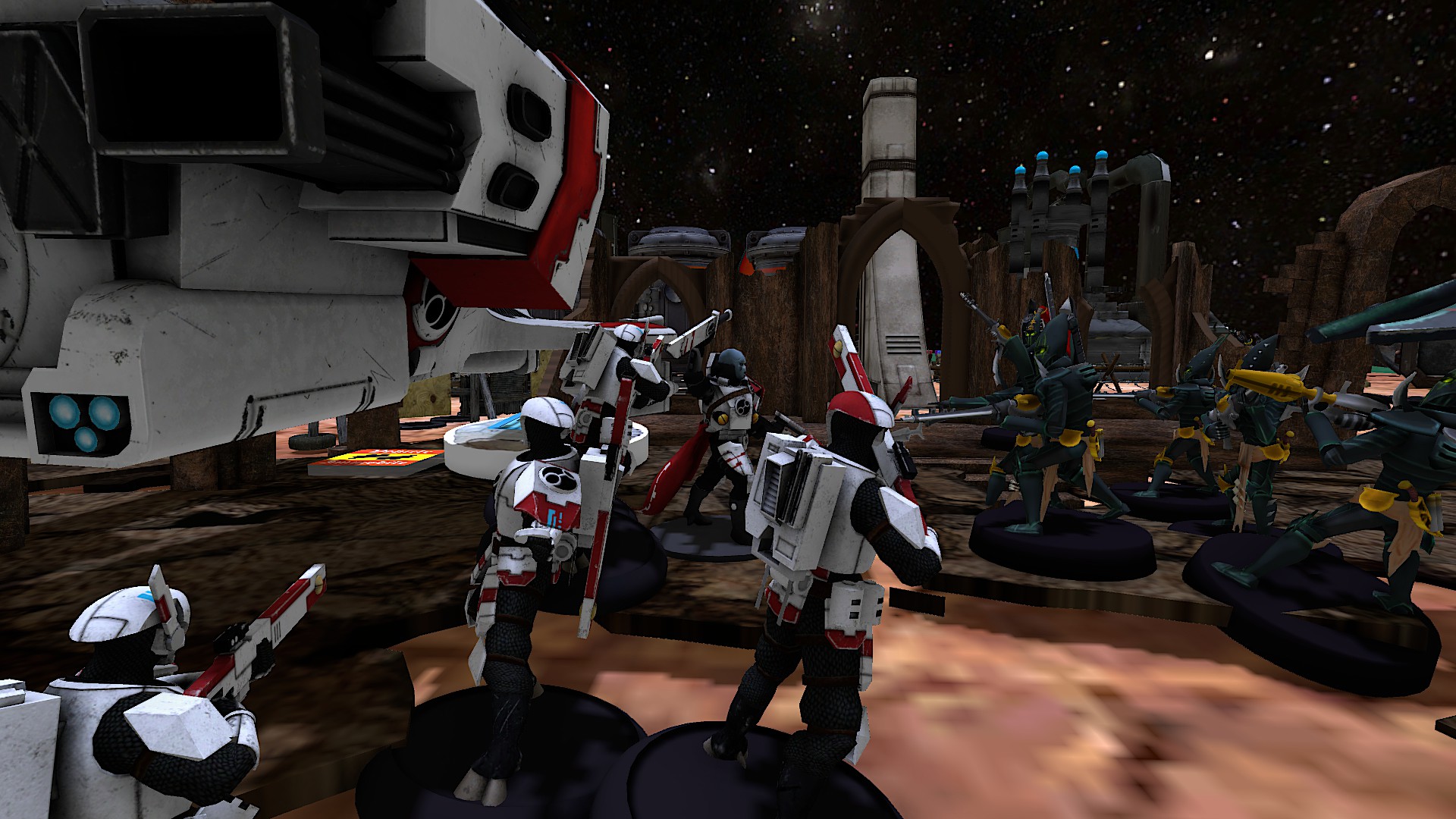 A side show fight in the ruins on one of the board flanks between a unit of scourges + venom + kabalite warriors vs. a Devilfish, gun drone squad, fire team, and a Tau leader. resulted in a close combat fight that kept stalemating each turn and lasting nearly the whole game!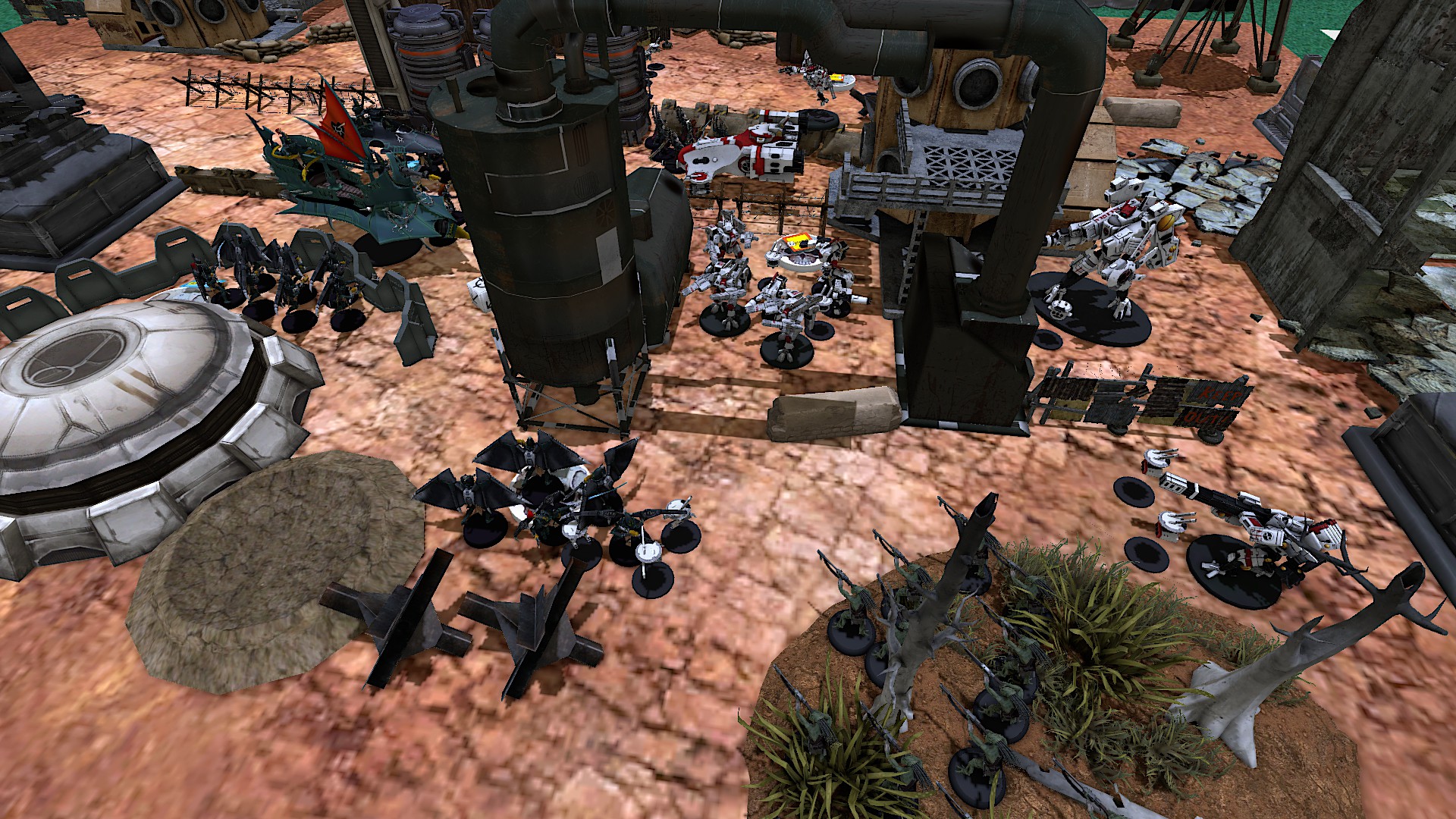 Scourges attempting to push back a big unit of gun drones that were attempting to secure the Tau's 3rd point. Despite having an agonizer and bringing tons of fire to bear, they didn't manage to dislodge them. The drones passed a miraculous
Ld
test on the point and so didn't fall back, meaning they were still holding the objective next turn and secured it. Gah! The crater to the left of the scourges is where I used to have a Raider + 10 wyches, before it all got annihilated by the Broadside site and Kroot (hiding in the bushes).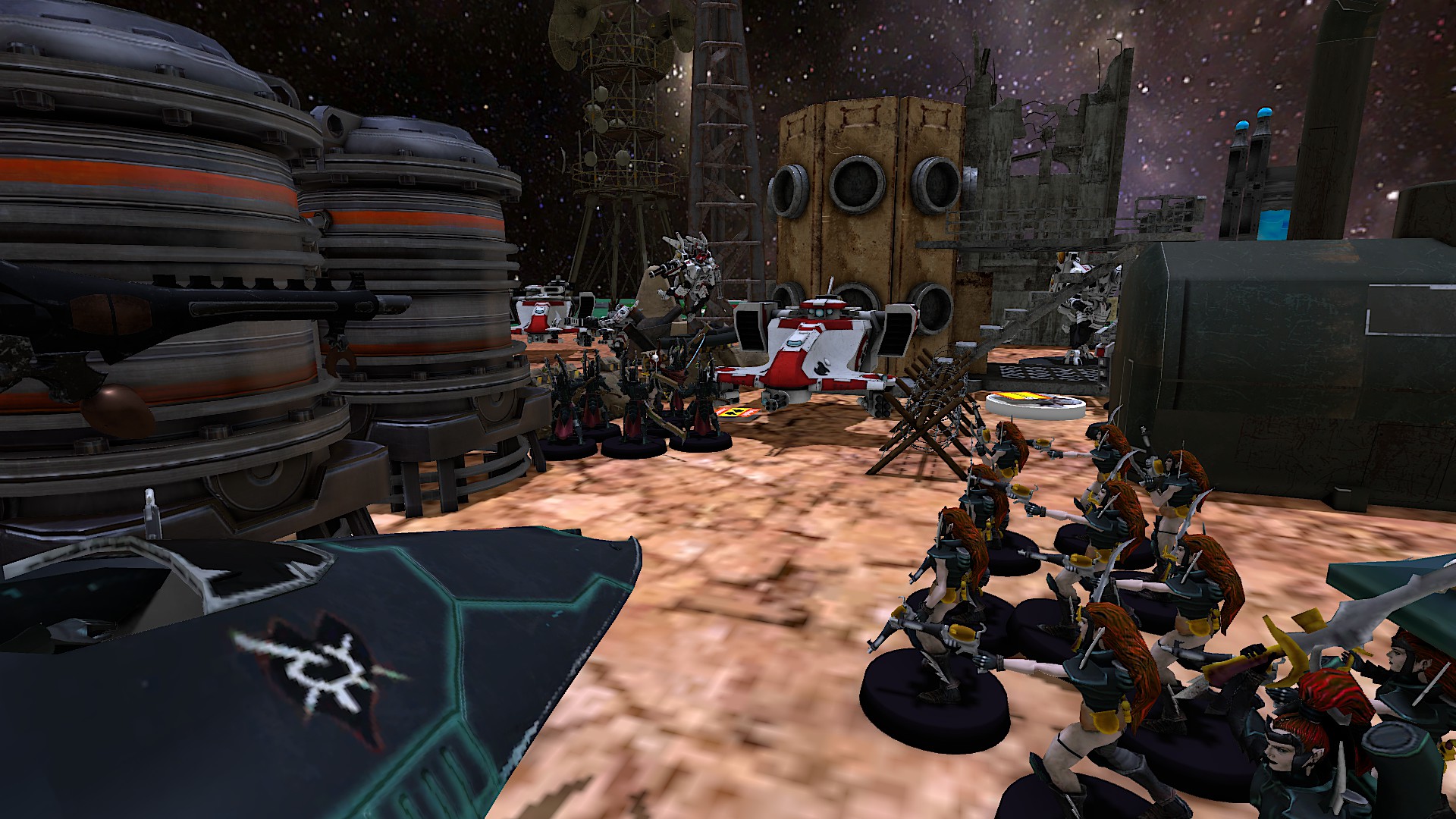 View near the center of the table from the
DE
perspective. Trying to hold the point in the middle while tying down as many enemy units as I can.
I just wanted to mention as well how awesome it is to play
40K
on
TTS
when you get it all setup well. It looks great (
IMHO
). Sure, you loose out on the physicality of the real game, but there are a number of functional advantages (floating 1st person camera makes
LoS
easy to determine, ability to save your games and come back to them later, etc.) - plus the huge libraries of models and scenery makes from some immersive gameplay.