And we're back with the third and final section of the book, the special characters.
Unlike the somewhat dry army lists this section just oozes character off the pages till it leaks onto the floor and collects in little puddles like some kind of overly extended metaphor.
The focus is entirely on the Imperium but rather than Marines or Guard it's all about the secondary (and tertiary and quadrinary) Imperial factions like the Arbites, the Inquisition, Rogue Traders, Navigators and even the Administratum.
Even odder, although Rogue Trader had a rich line of miniatures including all the factions I listed none of these characters seem to be based on existing models. Instead they all get unique and very characterful art by Ian Miller. One day (ONE DAY!) I'm going to sit down with a mountain of plastic and convert models for every one of these guys.
And yeah, they are all guys.
GW
has changed a lot over time, but it ain't changed that much.
So let's jump in...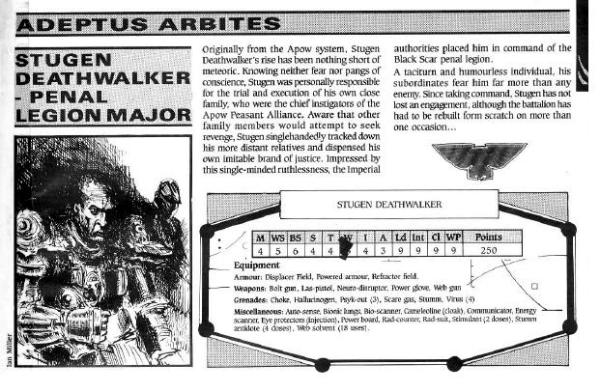 Stugen Deathwalker (son of Suzy and Gary Deathwalker, they had a little grox farm near the river) is responsible for the trial and execution of his own close family, including Aunt Hilda Deathwalker, Cousin Marty Deathwalker and even his little brother Gary Deathwalker Jr. And OMG, if can squint as his equipment it includes (besides Bionic Lungs and 18 doses of web solvent) a power board! Because nothing say unrelenting grimdark administrator of the law quite like a power board!
PH34R ME!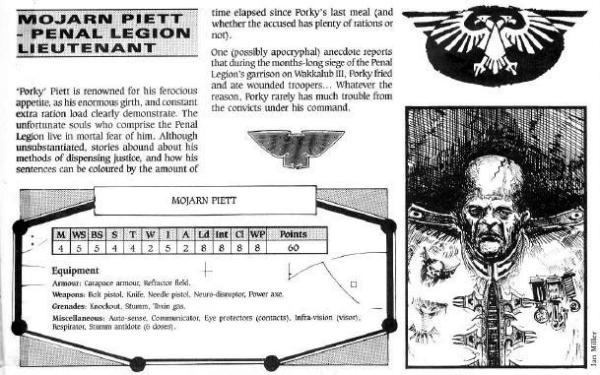 Moharn 'Porky' Piett is another penal legion commander, one with rather eccentric culinary tastes, even on the front lines he never seems to run short on rations, though his command has an oddly high number of missing troopers. I love it. I'm thinking of something like at the start of the battle he can remove d3 models from any squad, gain an extra wound for himself and make that squad fearless. How did he never get a model but Col Schafer did? I mean is there anything about Col Schaefer that's remotely interesting?
Representing the Adeptus Mechanicus we have Erasmus Darvin a Praefect Acquisitor whose job is to find and remove alien artifacts on the battlefield. He's a native of Luna (yes that Luna, the one out your window) and because of his high-born status he was denied his ambition of becoming an enginseer. Instead he was given an electrograft (basically burning information into his brain) and send to evaluate alien artifacts. Unfortunately the graft is breaking down and he's starting to go insane. His weapons and armor are a mishmash of Eldar, Jokaero and Tyranid (!!) gear.
So yeah, nothing interesting here, certainly nothing as worthy of a model as Col Schaefer.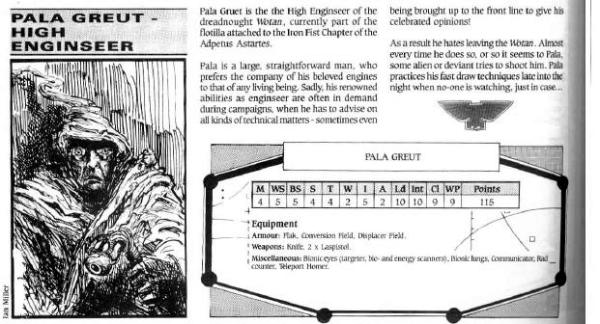 Pala Gruet is an Enginseer on the Dreadnaut Wotan, belonging to the Iron Fist Marine Chapter. He loves his engines but alas he is sometimes forced to go to the front lines to advise on technical matters. So he stays up late practicing his quick draw techniques in the mirror, just in case.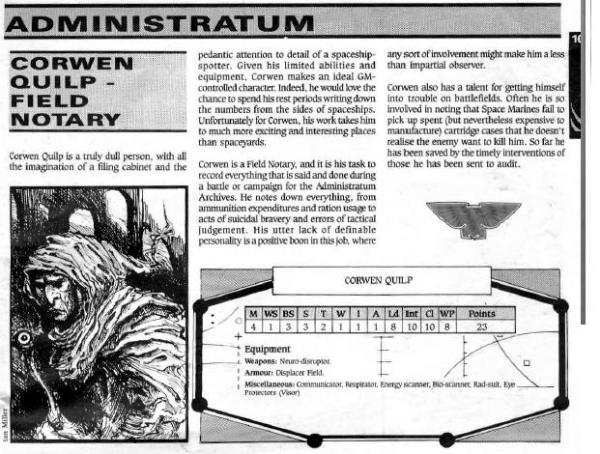 Representing the scribes, accountants and clerks of the galaxy is Corwen Quilp, Field Notary. He has all the personality of a filing cabinet, which is useful since his job is to go to the front lines and write down everything that is done and said.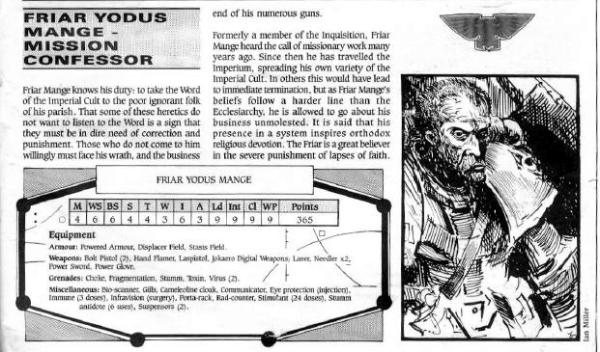 Friar Yodus Mange - Mission Confessor is a former Inquisitor who decided to dedicate himself to life of spreading the faith and punishing lapses. Right there he has more of a story arc than most of the current special characters. Just think of it, after years of punishing the guilty he quits and tries to build something up rather than tearing stuff down, to inspire hope and faith rather than fear. But he just can't help sliding back to his old ways when he find fault.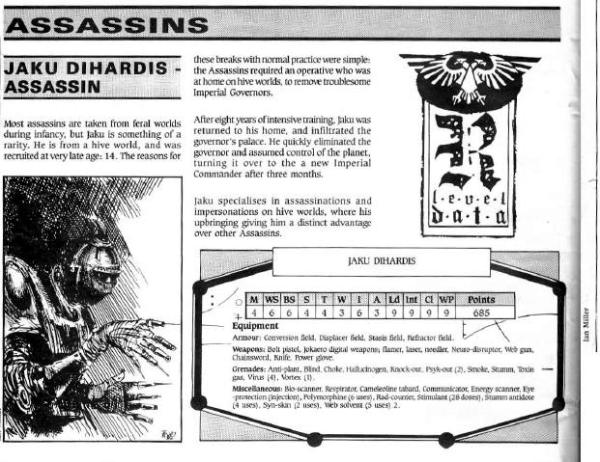 Jaku Dihardis (Jack Die Hard?) is a hive world assassin specializing in assassination and impersonation of rebellious officials. Nothing too interesting (though his weapons list is hysterical, a flamer? he carries a flamer? for assassination work?) I think his needle fingers and general
MO
inspired both the Calidus and Eversore assassins who followed. Also his armor list is amazing, 4 different invulnerable saves and back then he got to take all 4! Course he does come in at over 600 points so there's that.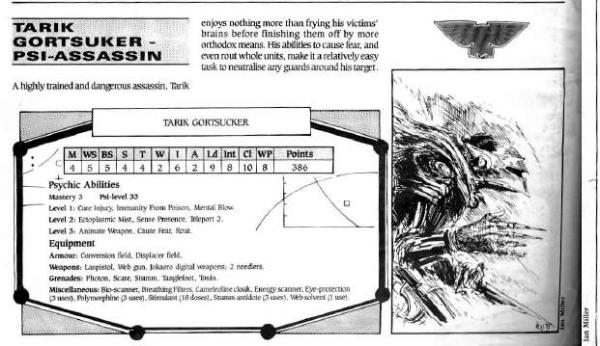 Tarik Gortsuker is a psi assassin. I wonder why
GW
didn't continue with the idea of psi assassins, we have anti psi assassins of course, but no pro psi assassins. Interesingly he likes to fry his opponents' brains before finishing them off with conventional weapons, but as far as I can tell he doesn't actually have any powers that fry brains. Likes of buff powers, lots of stealth, some moral powers, but no actual mind melting powers. So he's probably quite frustrated with his lot in life, always wishing he could melt minds but never able to do it...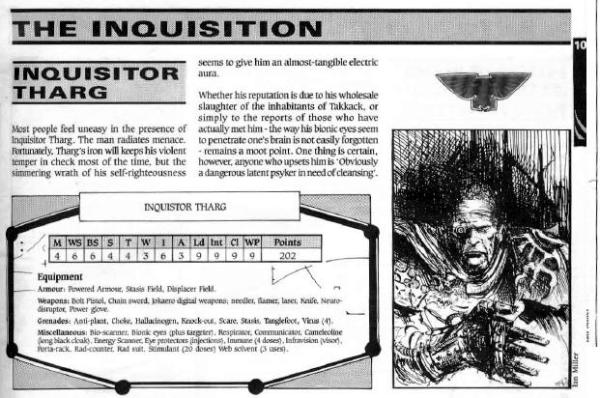 Inquisitor Tharg, scary dude, bionic eye, carries a portable rack, not much to add.
Psi-Inquisitor Thor Malkin, scary x2, level 4 psy, 3 different invulnerable saves, and a cool illustration.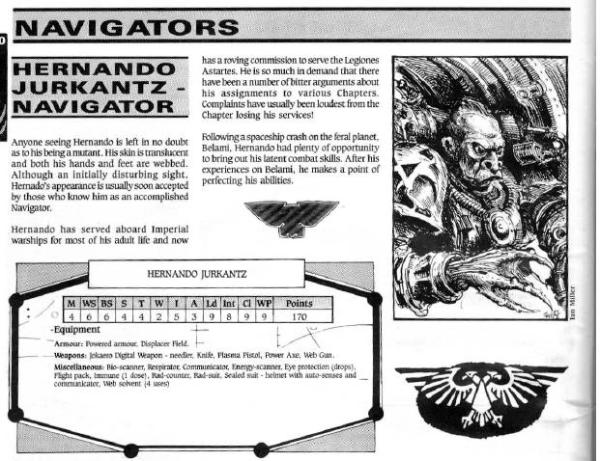 Hernando Jurkantz is a Navigator and suffers from many of the secondary mutations that afflict them. After surviving a crash on a feral world he's a bit more combat ready than his peers.
Navigators never really got much attention in
40k
. Just one
RT
model, no special rules, even the 3rd eye deal didn't pop up till later. Which is a shame because they were very cool in both the Dune books and film and they are supposed to be very important in the Imperium.
If you want to see their potential realized check out Wierding Way's gallery.
http://www.dakkadakka.com/gallery/images-84355-39945_Navigator%20Household.html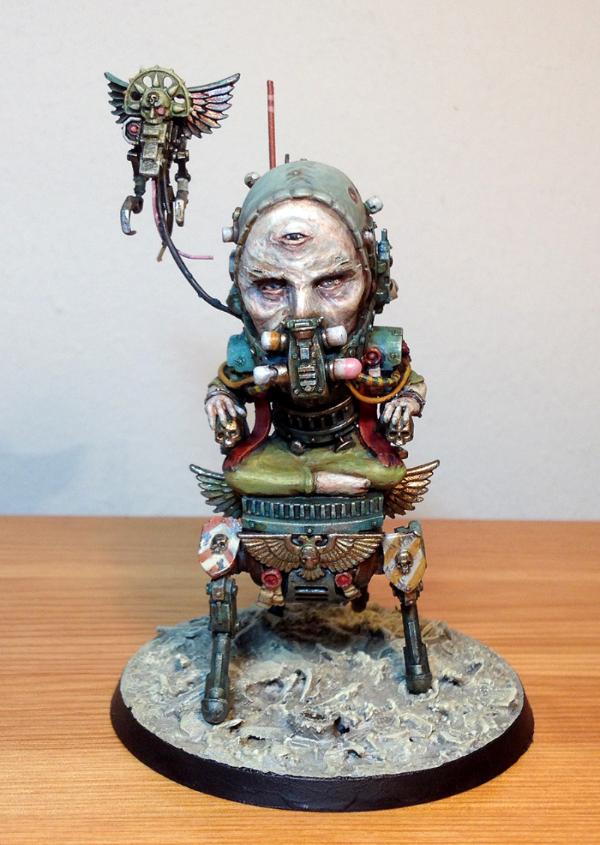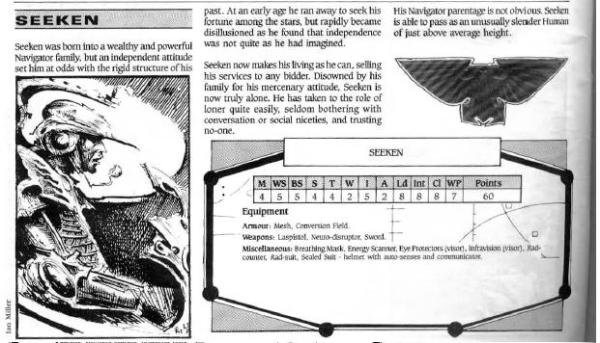 The other navigator is Seeken, disowned by his family he seeks his fortune where ever he can find it.
Rogue Traders are another iconic faction that, till the
RPG
got almost no attention. Other than this book and an unofficial set of 2nd edition rules in the Citadel Journal I don't think they've ever had a table top role. It's a shame.
Tyrel 'Destroyer' Cathek is just awesome. With his short stature and overlong arms (and silly hat, I mean dude what's up with that?) people tend to underestimate him. So he exterminates them. All of them.
"As his decisions to terminate are based on his many deep-seated phobias and prejudices, Tyrel has yet to find a planet where the inhabitants are not a threat."
Note his equipment includes 'extensive supplies of every item in the equipment section' as well as noting he has 100 marines of the Stone Hearts Chapter and 2 companies of Imperial Army.
And finally we have...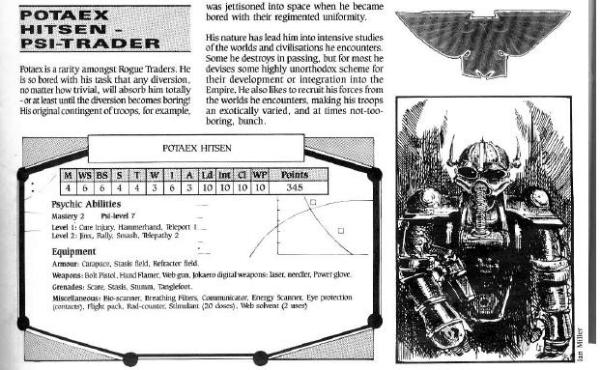 Pataex Hitsen, Psi Trader is easily bored. How easily? He once jettisoned his troops into space because he hated their uniformity. So now he recruits from new worlds he find which makes for an exotic and at times not-too-boring bunch.
Now that my friends, is how you write with character.
Join us next time when I'll post some final thoughts on this long-forgotten chapter of
40k
history.