So this is my 15,000th post (give or take a few) on this version of Dakka. I've been posting almost daily on some version of Dakka since late1999/early 2000 so I can only guess what my actual post total might be if they'd all carried over.
So here's something special I've been meaning to do for a while, a Retro Review of the second ever
40k
book, Chapter Approved (aka the First Book of the Astronomicon)! From WAAAY back in 1988.
Note, according to Dakka rules if you were not born when the book being Retro Reviewed came out you must speak up and say so!
As you may recall from my Retro Review of Rogue Trader the original game looked nothing like the one it evolved into. No army lists, no missions, random equipment,
GMs
... It was more of an
RPG
than a 1-on-1 wargame. Well that's being charitable. The truth is Rogue Trader was a great fluff book with incredible production values but it was also an unplayable mess that didn't know what it wanted to be.
http://www.dakkadakka.com/dakkaforum/posts/list/348361.page
But it very quickly became obvious what direction
GW
would take it in. Chapter Approved introduced things like named characters and army lists. It even had the first campaign featuring Squat Hearthguard vs Zoat Fleshflayers!
No.
I kid.
It was Space Wolves and Orks.

Times may change but the standards must remain.
I got my copy on ebay a few years back during my single childless more money than sense days.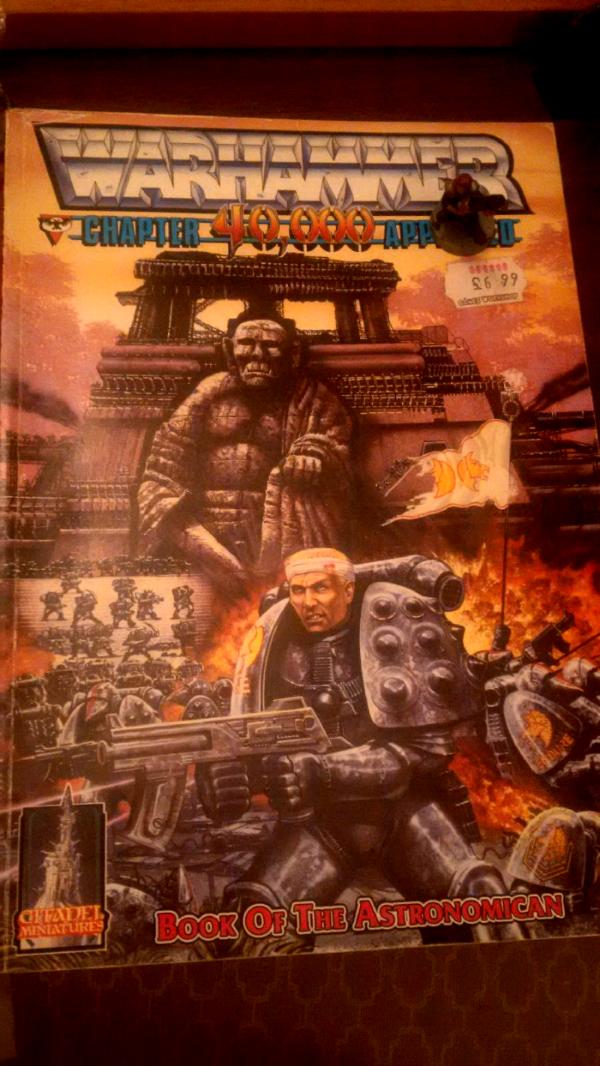 I forget just what I paid but know I left the £6.99 price tag (roughly ₹665) on it to depress myself.
Which reminds me does anyone know if this book was even released in the US? I didn't get into
GW
games until a few years later but I don't remember ever seeing this on shelves or in Dragon Magazine. In fact (as we will see) this entire book sort of vanished down the memory hole. While
GW
exhaustively mines its old fluff, most of the stuff in here was never seen again.
For this the first part I'll do a general overview then dive deep into the campaign, the army lists and the characters.
The book opens with a message from Rick Priestly himself talking about their future plans for the game, Realms of Chaos, plastic vehicles and a space combat game!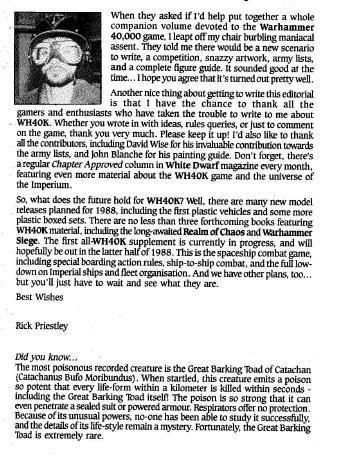 And then for some odd reason a paragraph on the Catachan Barking Toad.

The book is full of these little bits of background thrown in as filler (or fluff) and I really miss them. Modern books seem too sterile, no room for random nihilistic quotes or one-paragraph mini-stories.
Like this one...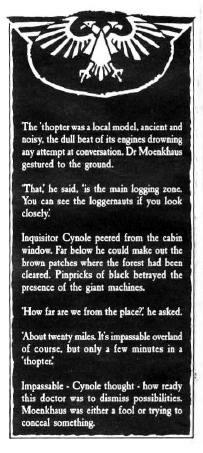 I just love it. Less than 100 words and you're hooked. Who is Doctor Moenkhaus? What is Inquisitor Cynole looking for? What does the forest hide?
I'd read that book.
Then there's this one...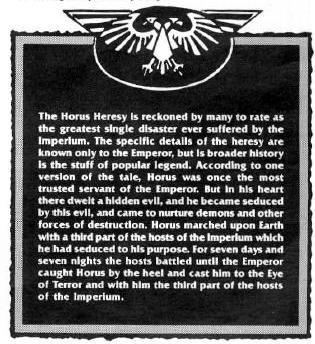 Wow that Horus Heresy thing sure sounds cool huh? Why I bet someone could fill a WHOLE BOOK talking about it. Maybe
GW
could even do a model or two and a booklet of scenarios.
Or this...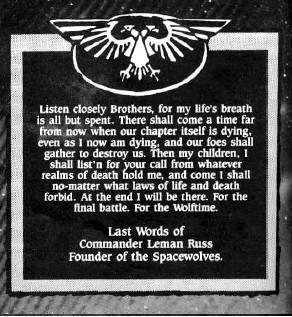 Hey it's that Leman Russ guy, the one with the resperator from Rogue Trader. He sure sounds cool huh? Why I bet
GW
could sell like dozens of models of him if they wanted.
The book also has few color pages thrown in. Color pages were just starting to appear in gaming books,
GW
might have been the first. I know Shadowrun and Rifts both had small color sections. But while they used them for art and other sissy stuff
GW
used their precious color space for...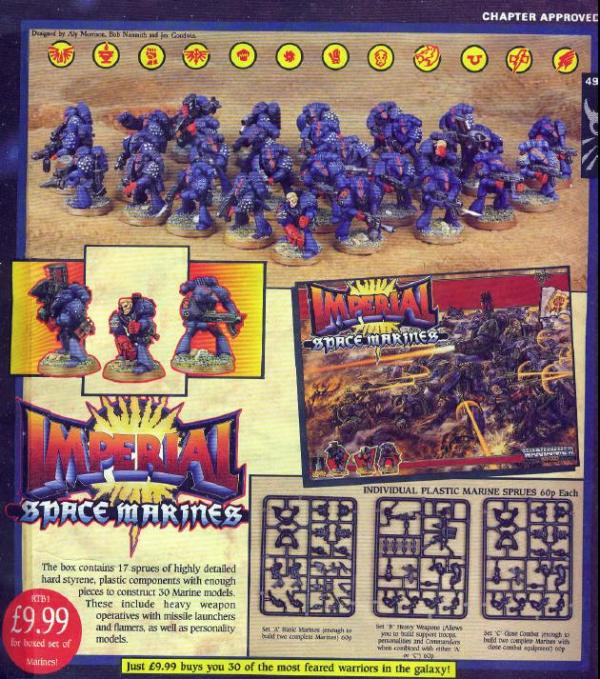 Ads!
And before you judge just remember FASA has been out of business for 15 years while
GW
is still here.
So yes, 30 plastic space marines for £9.99. Obviously what with inflation and Reaganomics and all that you couldn't get a bargain like that today. Nah, now you'd get 1 plastic space marine for £25

And you'll like it FANBOY. You will LIKE it.
Of course that was always
GW
's plan, lure us in with cheap basic models then make us pay through the nose for the good stuff.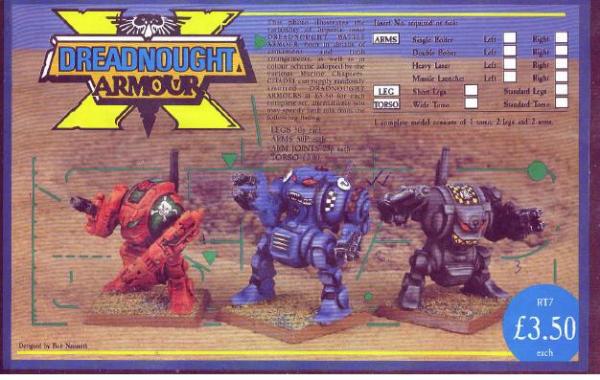 £3.50! Each! How can anyone afford this game?
OK they did use some of the color pages for artwork
But they may have had an ulterior motive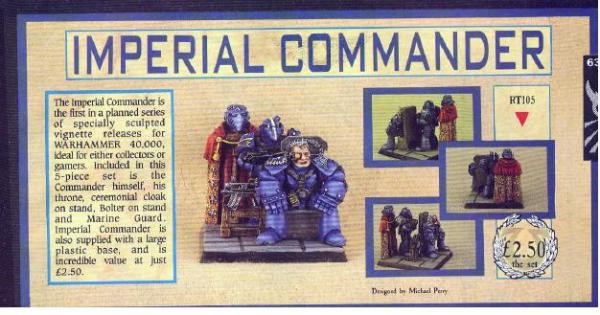 There's also a small shot of some sort of conversion
A Space Marine covered entirely in spikes... Some sort of traitor from what the text says.
I wonder if they'll return to them?
And there are some neat dioramas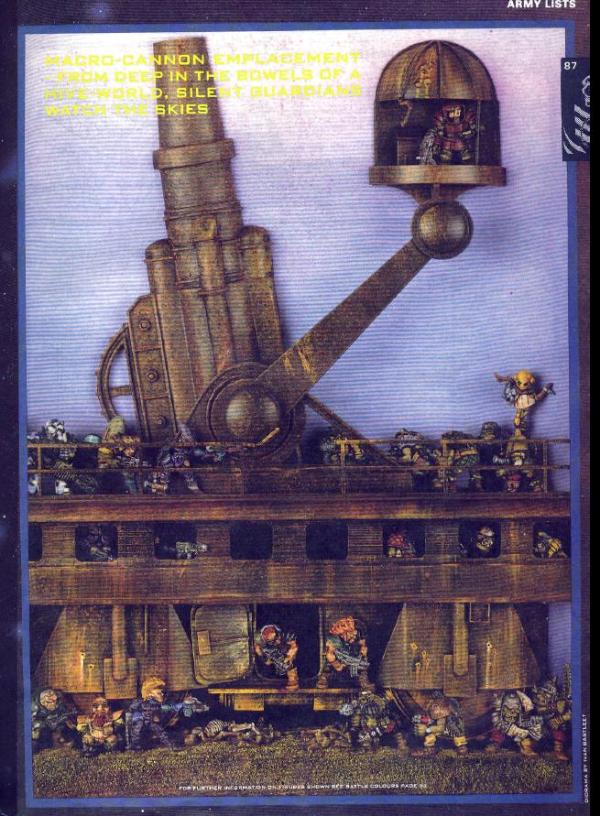 The book closes with painting pages and letters.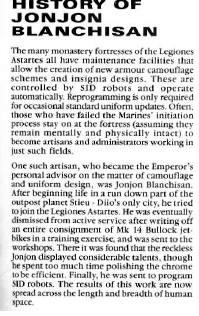 But even the painting guides are written 'in universe' with a history of the great Jonjon Blanchisan, the Emperor's personal consultant on uniform design!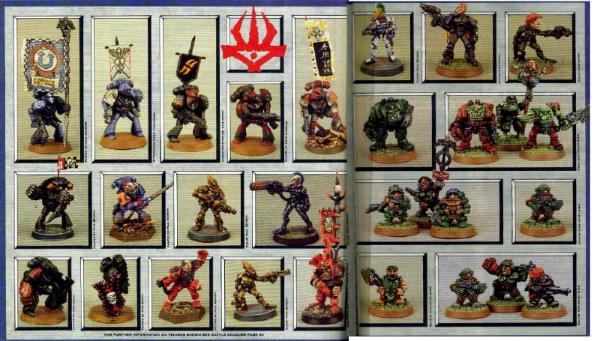 Even the letters page has whimsy.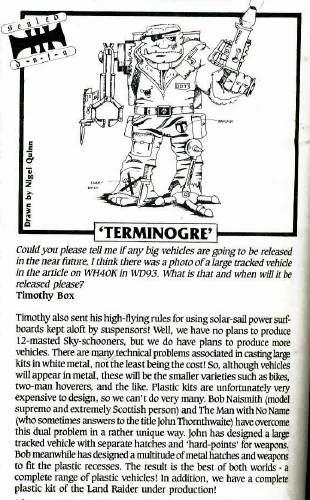 I for one can't wait to see this tank they're making with room for metal weapons. I wonder what it will look like? I'll probably buy three, or even four!
And finally they close out the letters page with some words of wisdom...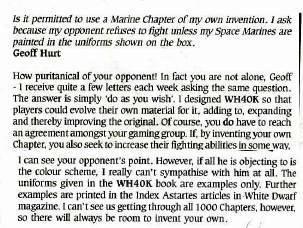 My how times have changed. 'I can't see us getting through all 1000 chapters', yeah right, at this rate they'll all have codexes and their own special unique fliers before plastic Battle Sisters come out.
Anyway hope you all enjoyed this trip down memory late, join us back her tomorrow, or whenever, when we'll look at the very first
40k
campaign, pitting Imperial Army Stegatanks against cyber-Ambulls!
Nah.
It'll be Space Wolves and Orks