Continuing on with painting the layers of the Catachans. This part of the process is somewhat inglorious with lots of grimy batch painting. This post is mostly my armys fluff with just a few quick update shots. The colors in the pictures are a bit off because of the glossy finish to the skin but the idea is that the exposed flesh of the Catachans is wet with sweat.
TEXT WALL WARNING:
+++
The following is the requested command field report for:
+The Catachan XVIII "The Drake Bats": 2nd Company
+"The Drake Bats" we're once such a large regiment that it was split into 3 smaller divisions called "companys". However, decades of constant campaigns (perhaps due to a specific loathing of the Regiments XO, Col.Anders by high commands) has hardened the regiment into a very decorated and elite formation, even by Catachan standards. In his early sixties, Col.Anders is the oldest serving Catachan Infantry Officer and quite possibly the most decorated. Extremely sharp tounged, for an Officer of the Astra Militarum, the "Old Man" is known for two things besides his unholy temper; his regiments preturnatural ability to lay devastating ambushes and an uncompromising loyalty to his men and a steadfast refusal to suffer needless casualties. The later has frequently led to friction with campaign command and has earned Col.Anders a constant stream of freshly graduated Comissars sent to "rehabilitate" the unit. Inevitably these poor men are listed KIA. Very usually during their first field action with the unit.
+An excerpt of the average response from Col.Anders to orders from
HQ
: "Let them *deleted* grind my boys to meat? *deleted* NO! *deleted* THEM ALL! I'll *deleted* do it! But I'll be *deleted* in the *deleted* if those *deleted* are gonna *deleted* tell me how! You send that response! NO! Just like that! And don't you edit it Jenkins. You *deleted* you! Just send it. I don't give a *deleted*! Hit the send button! *deleted* *deleted* *deleted*
+Regardless, under his command the 18th regiment retains one of the lowest casualty:victory rates in the Astra Militarum, in spite of the seemingly constant suicide missions the "Drake Bats" are assigned by command
Hq
's.
+The Catachan XVIII 2nd Company, aka "The 2nd", is an Elite unit composed entirely of Catachan Devil Squads. Conspicuously this 'Recon unit is often tasked with spearheading assaults and is credited with many 'Titantic' grade enemy kills nonsensically via "snare mines and traps". Oficially listed as an infantry company, the unit is suspected to be in illegal possession of many non-sanctioned assets. Allegations include everything from possession of illegal narcotics and rations to stolen small arms, ordnance, vehicles and even a Vortex missle. One of the more grandiose accusations is made against the unit for an entire "Gunship Support Squadron" by the Aeronautica Imperialis. While the Mechanicum feverently maintains the unit is in possession of no less than 5 superheavy tanks. Representatives from either Departmentos reports include nothing but incomprehensible grunting and hostile stares out of the Catachans that invariably leads nowhere. Officially, the investigation into these allegations remains open however, as no Comissars have been able to officially conclude it.
+During a campaign, the 18th inevitably accrues as many accusations of theivery, banditry and looting as commendations of valor and duty for the 2nd Company who is frequently mistaken for the famed Catachan 2nd regiment. A confusion in identity that both units are reported to foster as a practical joke, albeit this may also be a means of covering up the units criminal activities. Despite the units ignominious reputation, it has amongst it's ranks some of the best snipers, special weapons operators and decorated non-comissioned Officers in the Regiment.
Catachan 18th, 2nd Co. 'Devil Sniper' (counts as Lascannon)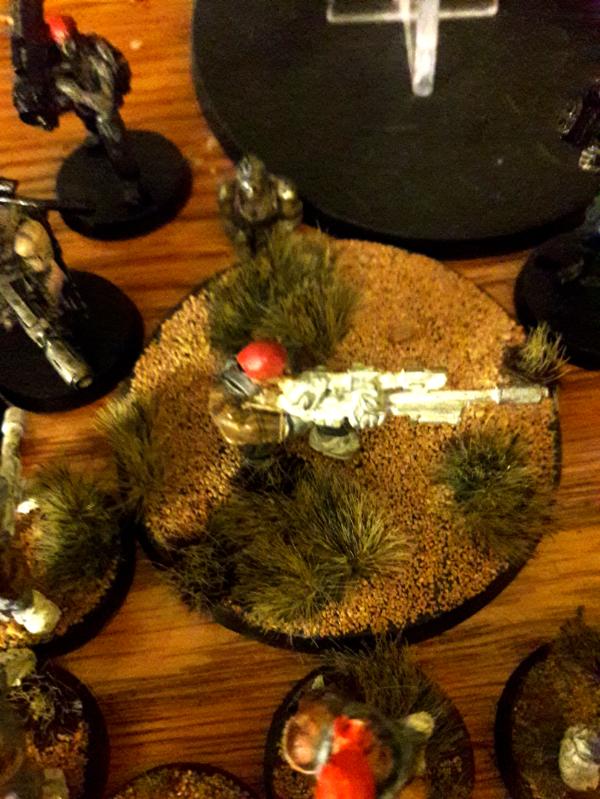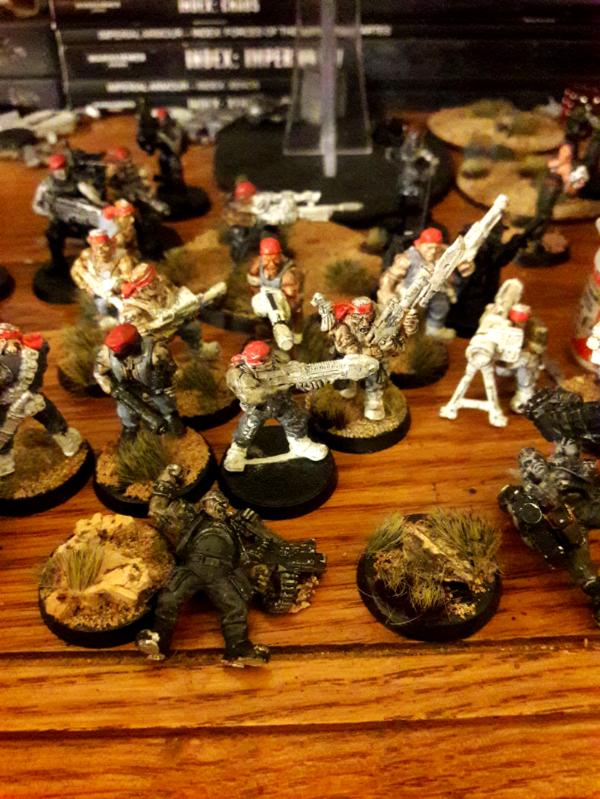 Starting Guardsman Marbo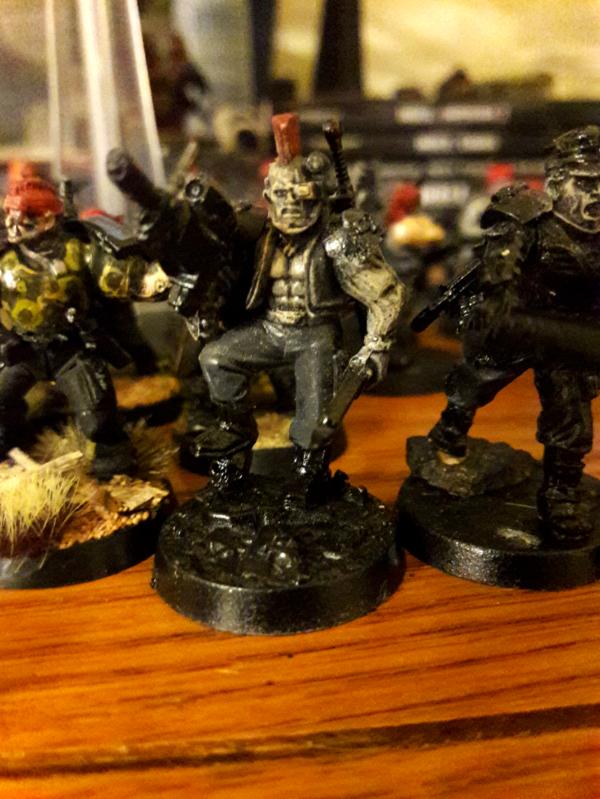 Working on the Devils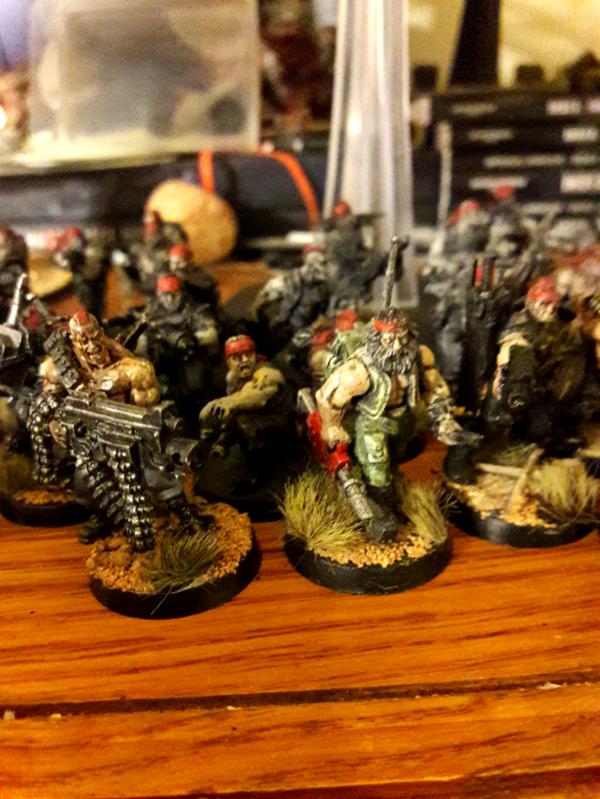 There's a few other pics in my gallery, I'm back to diggin ditches boys and girls. As always C&C is appreciated. Thanks for stopping by my Cargo Bay. Happy Hobbying!