MeatShield wrote:

When you get a chance I would love to see a group shot. Also this is the first time I have found a thread of yours so I'm really excited to see these guys together with paint.
Hi MeatShield. I'll take a group shot later and post it soon. I've been made redundant, with my last working day as 30th November, so I want to make as many Squats as I can before then as I start to stockpile parts, bits, paints etc. After 24 years of working, I plan on having December off to recharge the batteries and cram in as much hobby time before I start looking in 2022 for a new job. After my previous issues with Halfords white primer, I have bought some Biostrip 20 paint stripper and also some Ammo one shot white primer to use in my airbrush, so hopefully over the next few weeks, I can strip and re-prime the affected models and then also undercoat all of the Squats to start batch painting.
I was asked by a B&C member to include a tutorial on how I make my push moulds, so I thought I'd post it here also.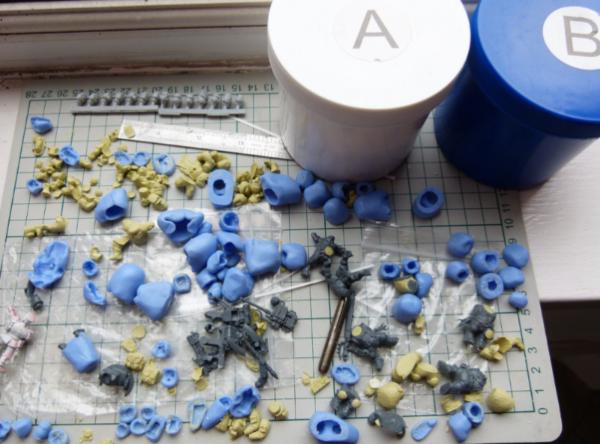 This is a shot of my work desk at the moment with some of the moulds I have made and also some of the milliput and plastic parts I'll use for future models. You can see at the top the blue and white silicon putty pots (labelled "A" and "B") that I bought on ebay and though expensive, you don't have to use much when making a mould, so it lasts a very long time - you can see the number of moulds I've made and the pots have hardly been touched. I've bought packets of 2 part silicon putty off of ebay and will no longer do that as I waste the majority of the contents as they have gone hard in the packets - a sealed pot is the way forward. I've gone for a 2 part (equal measure) silicon putty that remains fairly flexible when cured, to allow for easier extraction of the milliput cast parts. The silicon putty takes around an hour to fully cure but I like to give it a bit longer to be sure.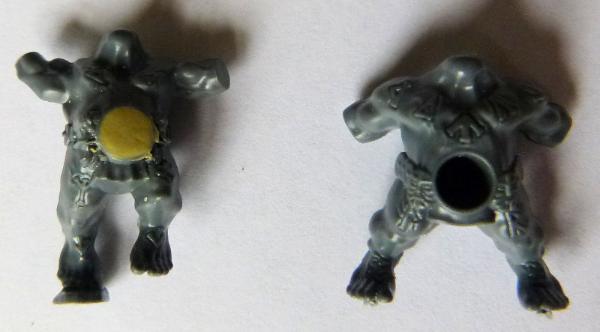 Having chosen which part you want to cast, remove all the mould lines etc. You can see on the left Arkanaut, I've already filled the hole in his belly in preparation of making his quilted flak jacket. Before I mould the model on the right, I would remove all of the glyphs, belt and loincloth and would also fill the hole, sculpting a new belly out of milliput. Once that was done I would then need to decide what part of the model would I want to mould. It is to difficult to mould the whole body in one go. It is easier to make multiple moulds e.g. torso and legs, giving better casts and allowing the mould to survive to make multiple copies. You need to plan ahead as you really don't want to have any overhangs on your models as they will not be easy to remove from the mould and will result in the mould tearing or you having to cut it too remove the cured part/s. I'll show some examples later.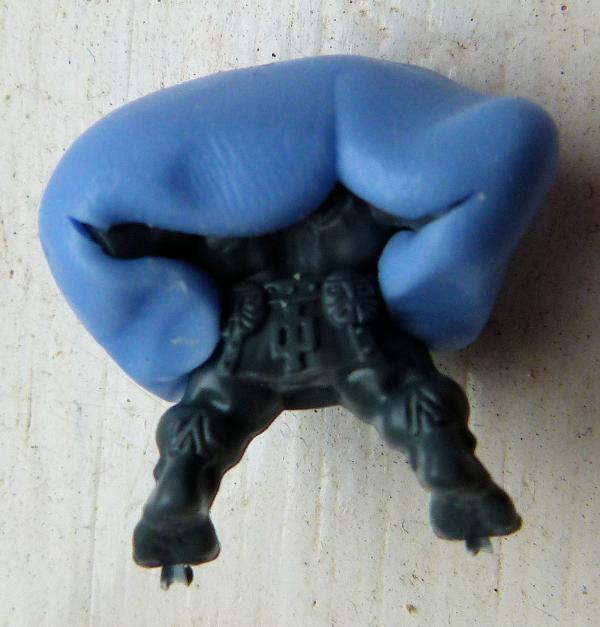 To make a mould of this torso, I could not envelope the whole of the torso in silicon putty as his arms prevent easy removing of the original part and also it would be difficult to get milliput into the arm moulds when copying. Therefore, I have squeezed the silicon putty around the whole of the front of the torso and around most of the arms, leaving part of the back uncovered. You don't want to over work the putty, constantly prodding and moving it around as you will get air pockets or bits of the original cast won't be fully moulded. After allowing the silicon putty to cure, I carefully removed the plastic original piece. You then need to mix enough milliput to fill the new mould, this is not an exact science, so sometimes you may not have mixed enough milliput and will have to mix up another batch or other times, you mix up too much milliput - always have other moulds near by, so if you have made too much, you can always fill the extra moulds to get other cast parts for future models. You then need to force the milliput into all the nooks and crannies of the mould - if there are arms or legs, I form a small thin sausage of milliput and thread it into the arm or leg and then use a wet dental sculpting tool and force as much milliput in as I can. Milliput will stick to your tool, so keep it damp but not dripping wet. I fill in all of the awkward parts of the mould first before adding a large enough quantity of milliput to fill the rest of the mould. The important thing here is too keep on pushing the tool into the milliput to ensure there are no air pockets and that milliput has covered the whole model - preventing parts not being cast. You then need to allow the milliput to dry - this takes a couple of hours (I normally leave 24 hours before
de
-moulding to ensure the milliput is rock hard).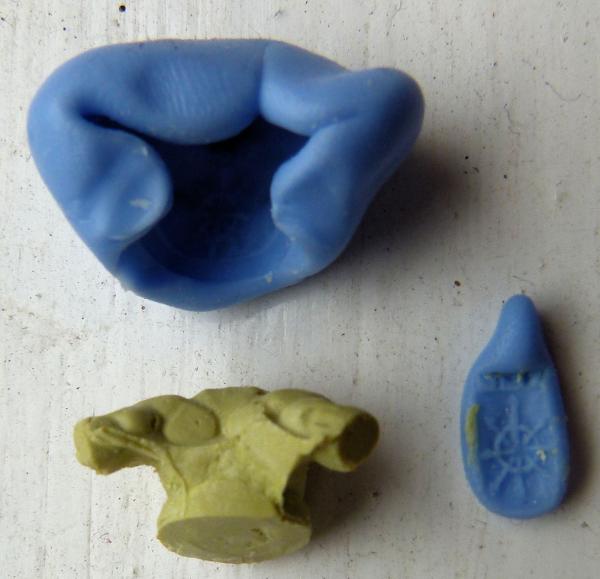 After the milliput has hardened, you need to carefully remove the milliput part from the mould. You can see the part in the bottom left of the picture above. You can see where there wasn't a mould on the back of the part. This will need to be cleaned up with scalpel and files and if you haven't been careful, some more milliput to sculpt muscles etc. If you aren't any good at sculpting, you can always cover mould issues with backpacks. cloaks, slung lasguns etc. You can see the mould on the right is of a Chaos icon (taken from a
FW
Chaos Renegade Guardsman). I place a small amount of milliput on this mould and with a damp sculpting tool, smooth the milliput to a very thin layer - you need to set this aside for around 2 hours for it to be cured enough to easily remove it from the mould and still soft enough to place and carefully feather out the excess milliput to give the front of the chest the distinct Chaos Icon chest brand I have on all of my bare chested Squats. Once dry, I have made another mould of the new milliput part with the Chaos Icon chest brand to make future copies quicker and easier. If you look closely at the mould on the top, you can see the Chaos Icon impression on the belly of the mould.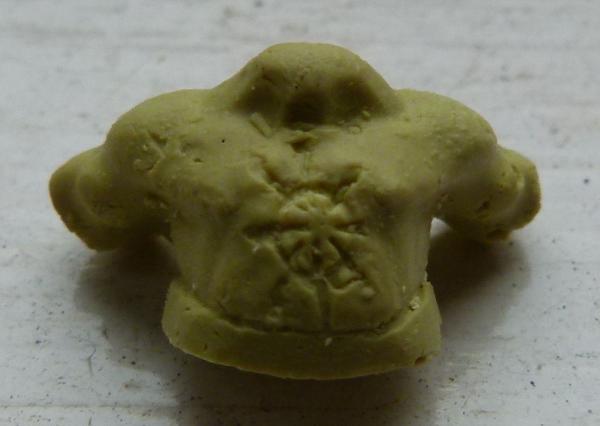 This shows the fully cured and cleaned Squat naked torso with Chaos Icon chest brand ready for the next model.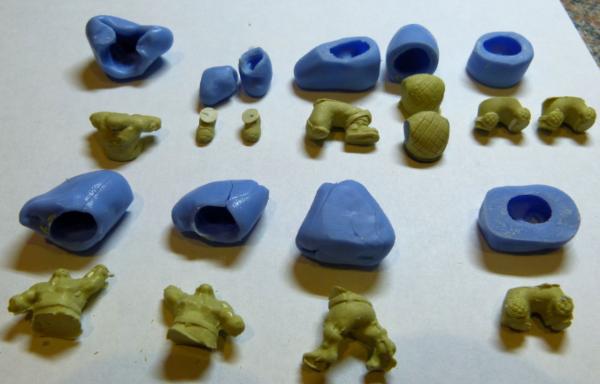 You need to plan how you make moulds of your parts. Each part may need to have a different mould made. There are 9 moulds in this photo, starting from the top left:
1) This is the 3/4 mould covered earlier to make a naked torso with Chaos icon chest brand.
2) I have made a mould of each boot and every time I have excess milliput, I fill in these boot moulds to ensure I have a ready supply of boots available. The completed pair can be seen in front of the moulds. You cannot make a mould of the whole of the bum, legs and feet/boots as you will not be able to get the part out of the silicon without cutting/tearing the mould.
3) This is the mould I made for a kneeling pose. I have removed the right boot before making the mould as it would be impossible to remove the part/cast part if this was still attached. The right boot has it's own mould.
4) This is is the mould I've made for the Squat's distinctive flak jacket. It's an easy one piece, easy to remove mould.
5) This is a mould of a pair of advancing bum and legs with knee pads. As discussed earlier, the boots are cast from a separate mould. With these moulds, I normally carefully cut horizontally with a scalpel the silicon putty until I can see the bottom of the ankles of the cast part. These 2 holes are then used to help push the milliput parts out of the mould for easy removing.
6) The front left mould is of a Vulkite Berzerker with left arm raised. This is a case where I have carefully cut the mould to allow for the hardened left arm to be removed. When filling the mould in future with milliput, I have to ensure the mould is carefully aligned otherwise, the left arm comes out badly.
7) This is a Vulkite Berzerker with the right arm raised. Just like the left arm, I had to cut the mould to allow the right arm to be released.
8) This is for a pair of naked Vulkite Berzerker legs and feet. I have had to cut the mould in 2 places to allow for the feet to be removed. Ramming this model with milliput is hard as you have to ensure all of the mould is aligned otherwise a lot of remedial work is required.
9) Another pair of bum and legs - you can see the excess milliput that has squeezed out of the 2 holes I cut in the mould to make removal of the cast piece easier.
Hopefully, that has given you all a chance to find out the methods I use to make the majority of my models. If anybody has any other questions, please feel free to ask.
Daily Update time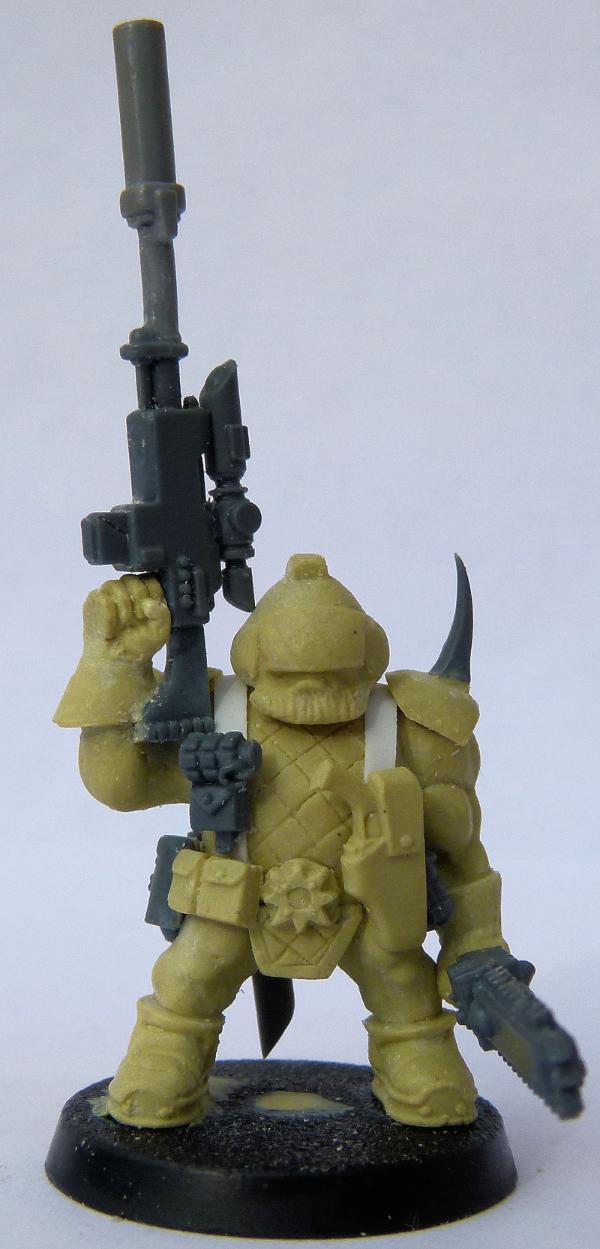 Another "Special Forces" homage with this one. I've used moulds for Vulkite Berzerker bare legs with boots added. Catachan arms were used with the usual Chaos Icon belt buckle and pouches. I added a shoulder harness holstered laspistol and a vizored helmet. The Lasgun has had a silencer added from a Space Marine Scout Sniper rifle and a Primaris sniper scope. A Chaos space marine chainsword was also added to his left hand.
You can see the plasticard straps and grenades, spare lasgun magazine, water bottle and knife in this shot.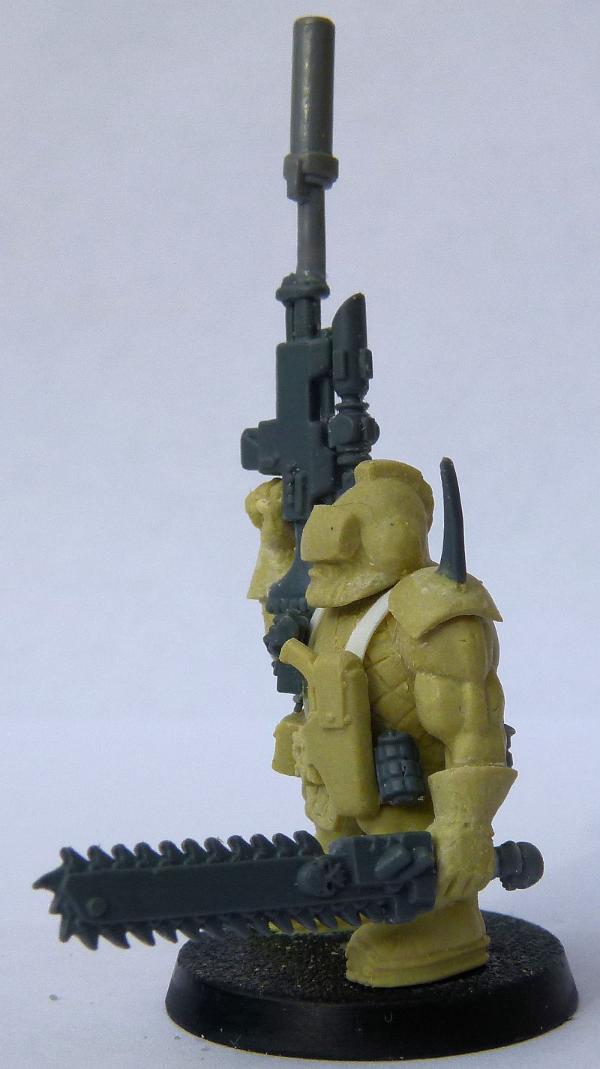 Till next time, Phil