Thanks
SG
. I paint miniatures the same way I paint terrain- sloppy with lots of washes to hide the mistakes, so lower your expectation on this thread and go easy on me

Here's pics of a past project very close to my heart. I started it in 1996 when a friend of mine gave me a fistful of the original metal Warhammer Zombies. I don't remember when the plastic box set came out but I was all over it. I really like this army a lot. Of WFB it's tired with my Chaos Warriors as far as passion to collect and build goes. I'm done collecting for this army now, though another Corpse Cart and a mounted Necromancer would be welcome if I came across them.
All total I have 360 Zombies, 2 corpse carts, and an assortment of Vampires and Necromancers. That's all I need for this army. It's absolutely brutal as it is.
This shot is from 2011: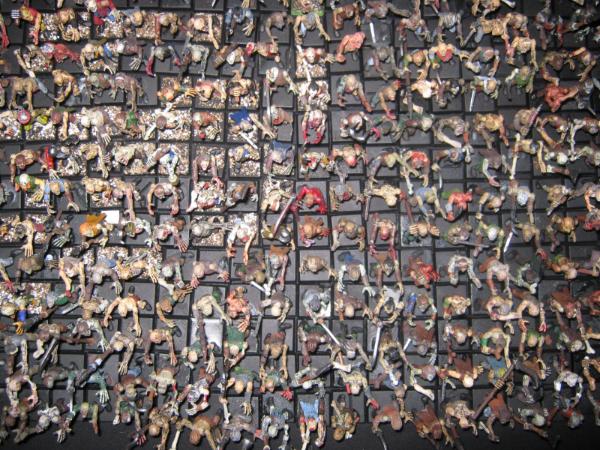 fast forward to April 2017: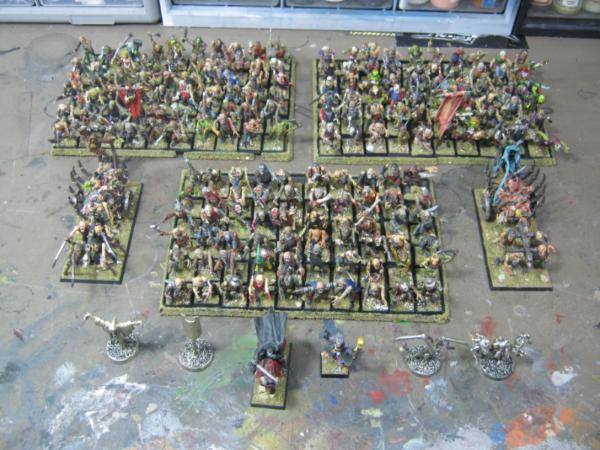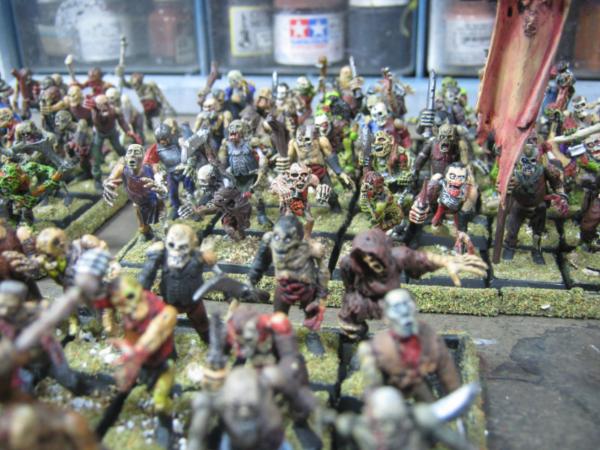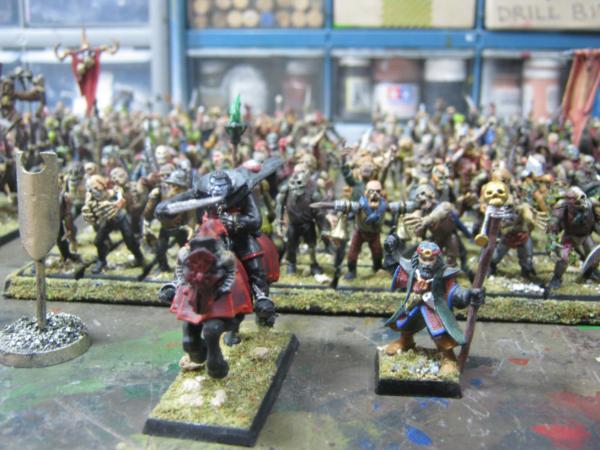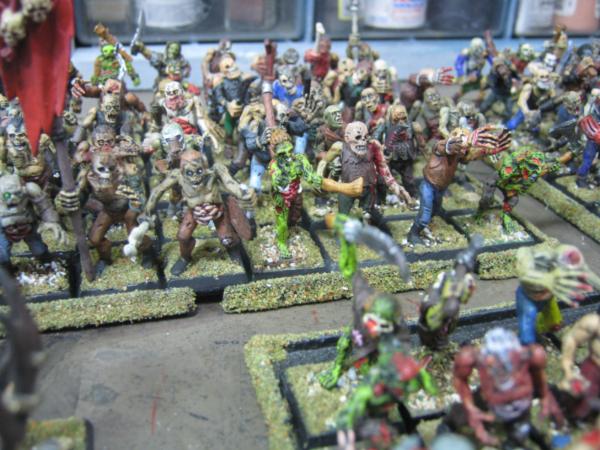 One thing I'm doing for this army is converting the standard and musicians to reflect my view of zombies. I see Zombies as mindless animated corpses and as such I don't like them using instruments or carrying banners. I don't even like them with hand weapons but given their magical nature (opposed to toxic or biological causes) my suspension of disbelief is more forgiving for things like weapons, bloody stumps, and severed heads. But the traditional standard and instrument had to go. Here's my solution- a big hammer and a sharp pole: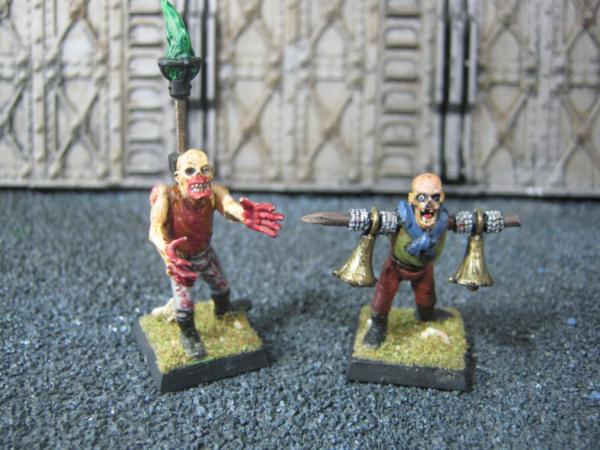 Ta-da! A hack job any apprentice Necromancer would be able to manage. I have 5 more sets of this "standard / musician" combination and have only started 2 of them so far. It'll happen when I pull out my painted but unflocked base zombies.
To date I've painted over 500 zombies and that collection has at least 6 different manufacturers. I really enjoy the
GW
plastic zombie set the most. I have a huge collection of zombies on 25mm round bases and use them as Plague Zombies. Most have been converted so none of them have weapons of any kind.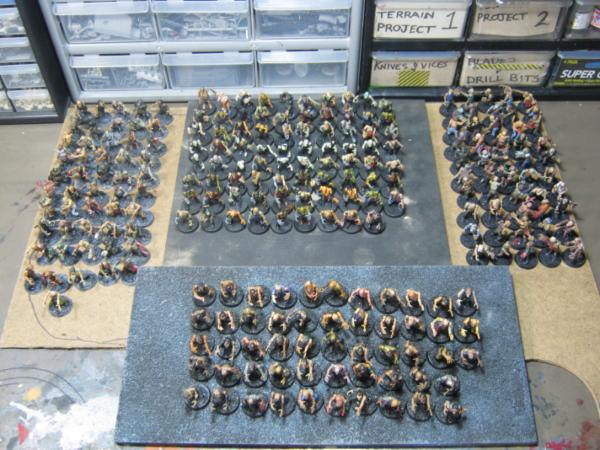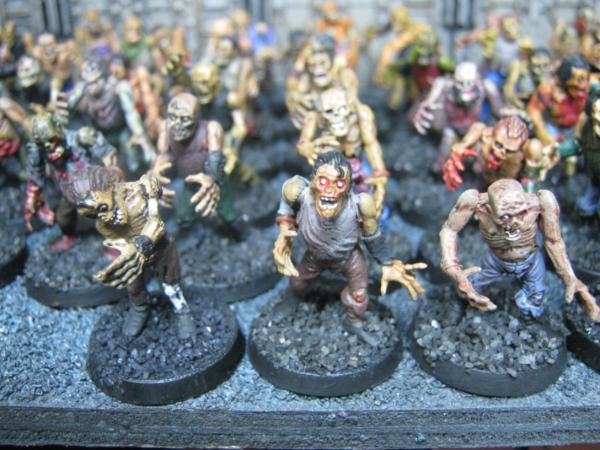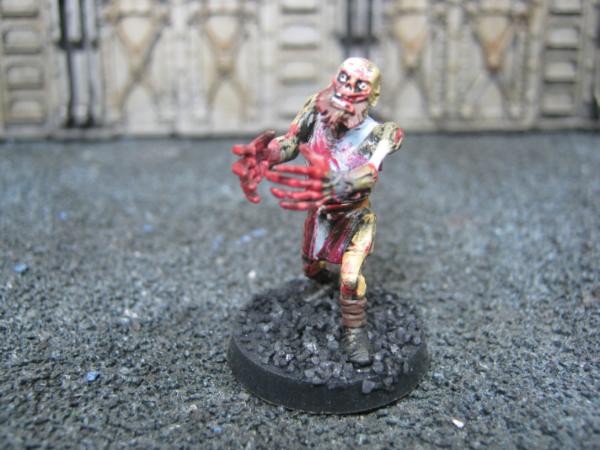 Not my best paint on that last one but his eyes cracked me up so I had to post it

Once I get back into
40K
and reawaken my Plague Marines I'm going to look into Pox Walkers and very likely "counts as" these models for them.
Zombies will show up on this thread again in the future. I'm looking forward to when I can call this a 100% completely finished project.