Whoa! Quite a lot of responses. I'm glad y'all like it!
Hive Fleet Lazarus wrote:Holy crap, this will be amazing. I will definitely be following this.
Thanks! I'm shooting for amazing.
BunkerBob wrote:No skippin' on dah gubbins!
It will walk a fine line between oceans of detail and keeping a clean look from a distance. My plan is to try and please motorcycle enthusiasts, while keeping all the detail that gamers will love.
Mo Dakka wrote:whaaat?!?! You are a real life mekboy!! What next, a life size Battle wagon maybe? ooooh , Are you gonna paint it red?
I'll finish this project before deciding what next. Once this is done I'll want to show it off, Hopefully work will allow me to take off to visit every store within 300 miles for tournaments. As for the paint job, even though I align with Badmoons more then any other clan, I plan on making a traditional Evil Sunz bike. (It's just proppa.)
uk_crow wrote:This has the potential to be epic, subbed.
It would be bad if I fell flat on my face. I hope to live up to the task!
Muzzah wrote:This is fricken awsome. Bow down to the master
kitch102 wrote:Sub'd
Updated.
KingmanHighborn wrote:Oh I'm going to follow this religiously.
Gork or Mork?
Dysartes wrote:Plenty of detail, please, pox
Will do! I like more detailed posts anyways, I just didn't know if a bunch of shop pictures would interest anyone. I'll go with more detail, and hopefully y'all will tell me if I'm being too wordy.
Dakkamite wrote:If it was anything else, and I mean anything else, I'd call you a monster for ripping up that beautiful bike.

But this is art. Roight propa art.
I have another very beautiful bike if that helps, I bought this just to rip up. I even let the previous owner know my plans in case he was emotionally invested. He can't wait to see the final results!
CommissarKhaine wrote:Mekboy

ftw

. I love this idea, can't wait to see how

ot

will turn out!
Meks are the best Orks.
Tyranidcrusher wrote:Man you're crazy.
Yeah, I agree.
Tibbsy wrote:You, sir, are totally fething awesome

I cannot wait to see how this goes...
Thanks! I have a few surprises in store, so keep reading!
Zwan1One wrote:This is going to be EPIC!!!!
I'll redefine the word "epic" if all goes according to plan. Alternatively, I'll redefine the expression "epic fail."
sparkywtf wrote:You have to show all the glorious, epic detail.
For sure, the clan has spoken!
Mr Nobody wrote:Question: Will there be rockets? Orks always need rockets.
The rear tail lights will be rokkits.
I have an update! First I want to thank everyone for the kind responses. Trust me, this is gonna get crazy. To give an over-all timeframe, I'm hoping to be done by the end of August. June and July will be tricky, as I'm both working 72 hours a week right now, and I get married late june. I will try and keep the thread afloat though, you find time for things like this.
I'll stop jawin'. I cut three sections of flat stock steel for the rear bumper. I then built a quick jig using welding magnets and a ruler.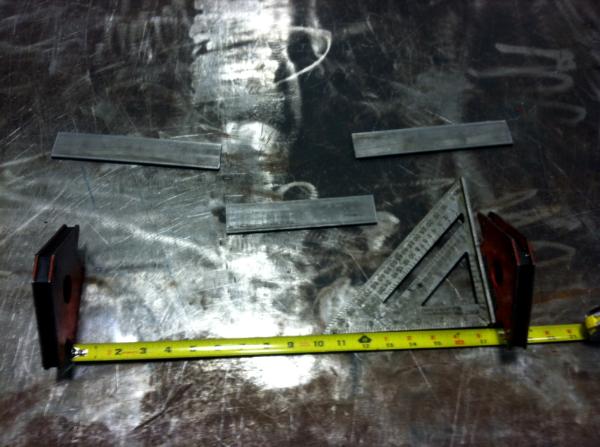 I then ground the three pieces to insure a good weld joint.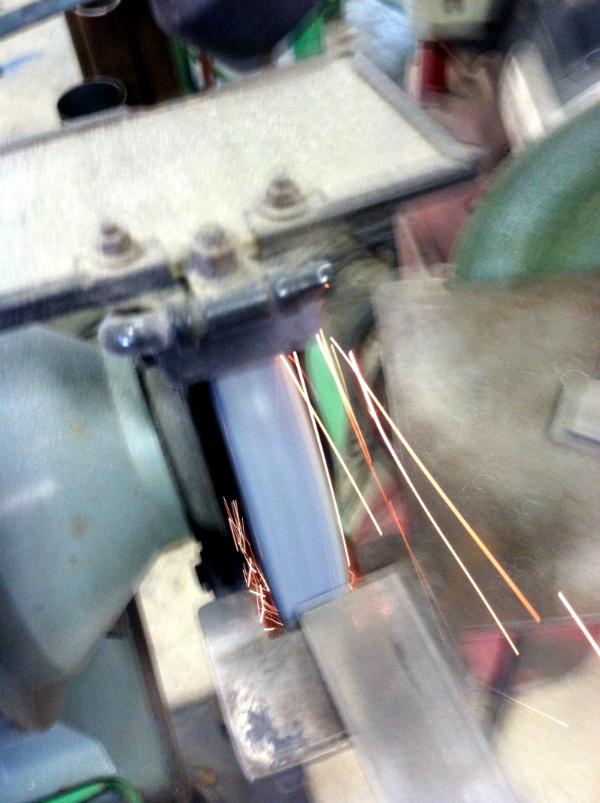 I then welded the pieces together in the jig, then welded it to the case frame.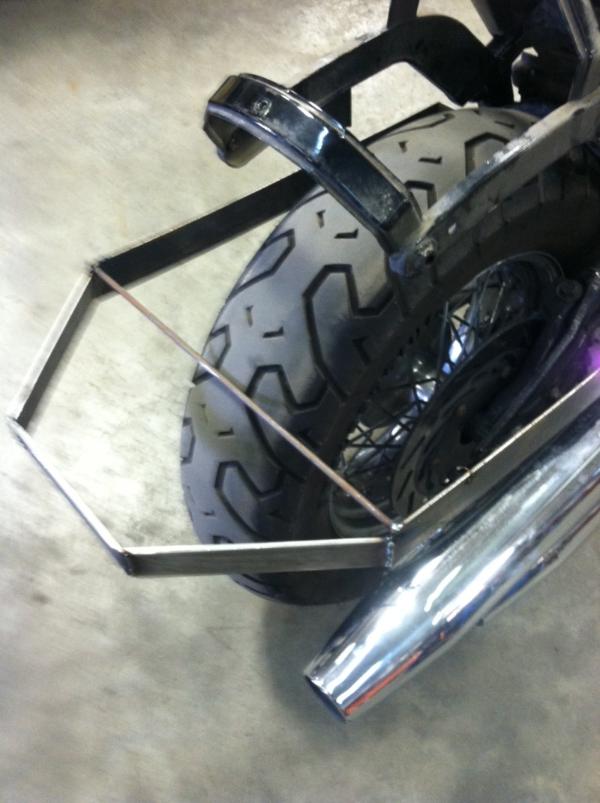 I then ground off the weld lines with an angle grinder, and cut off the pencil rod with a cut-off wheel.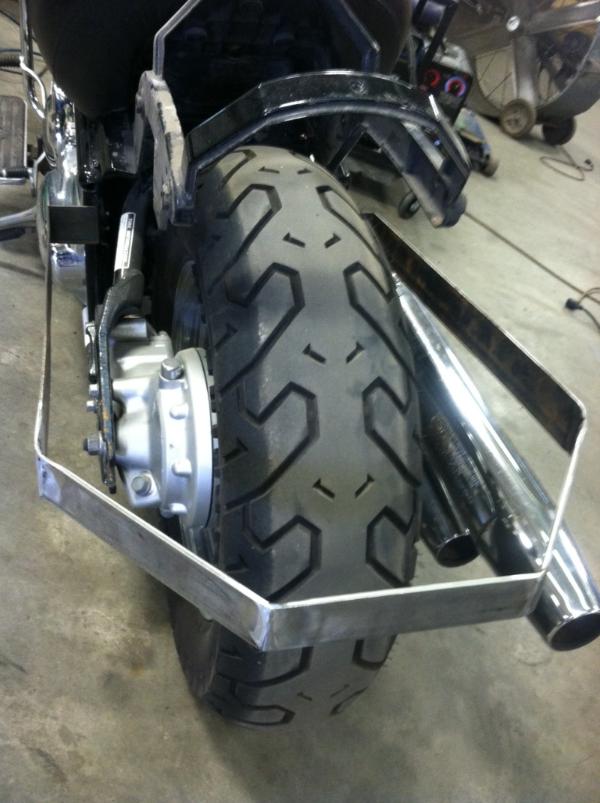 Next, I cut and shaped another piece of flat stock and bent it to shape for the rear brace. This piece is thicker then the other pieces, so I clamped it in a vice and bent it by hand. AAAARGH!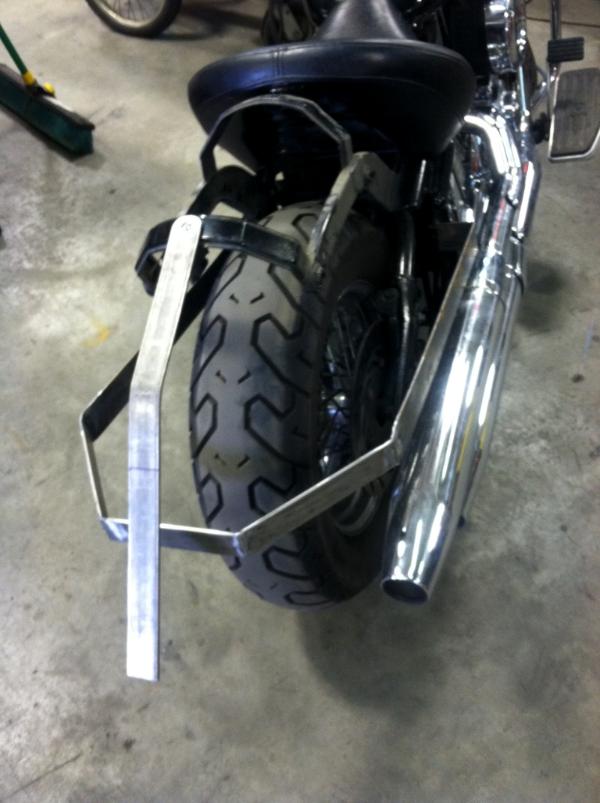 I finished bending it into shape, and added a few more pieces of pencil rod to shore up the rear fender frame.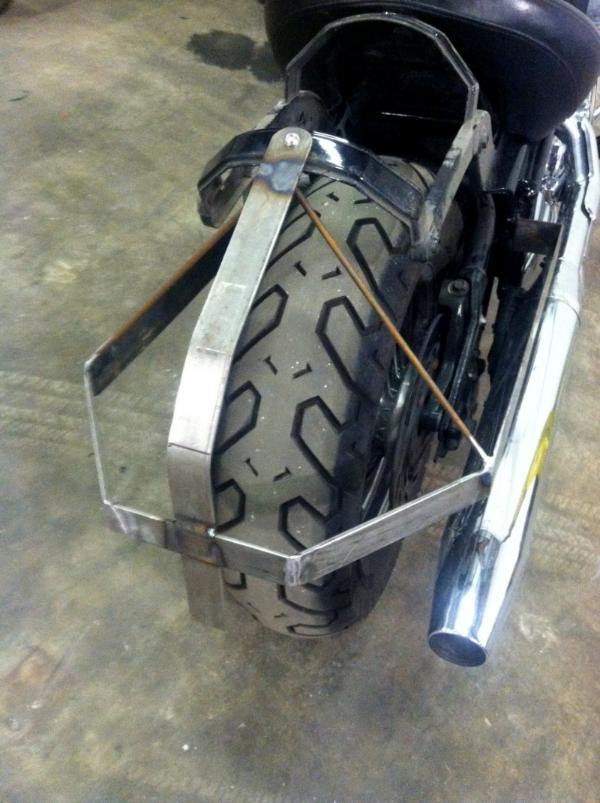 For those of you that play Orks, you may notice the rear bumper shape is similar to the warbike with a tusked trophy rack for the front fender. My plan is to recreate that front bumper on the rear of the bike, with the tusks curving to the radius of the rear wheel.
Next up, I had to change gears for a bit. I removed the air filter cap. I really want to sculpt on the bike a lot, but the engine dissipates heat through every surface except the air cover. (They actually recommend flat back and no chrome for serious racing engines!) Being as the the air cover is the exception, I removed it so I could sculpt an Evil Sunz face onto it.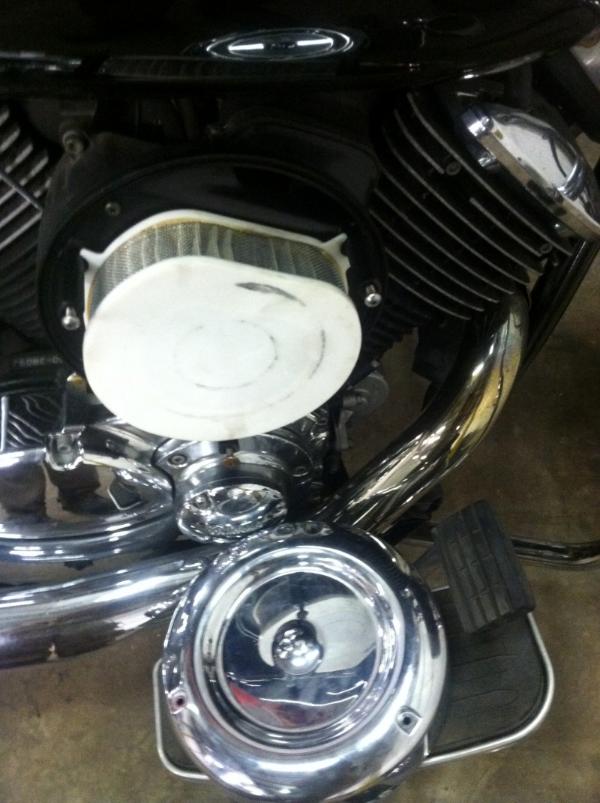 You cant paint over chrome, so I had to remove it. Sandblaster HO!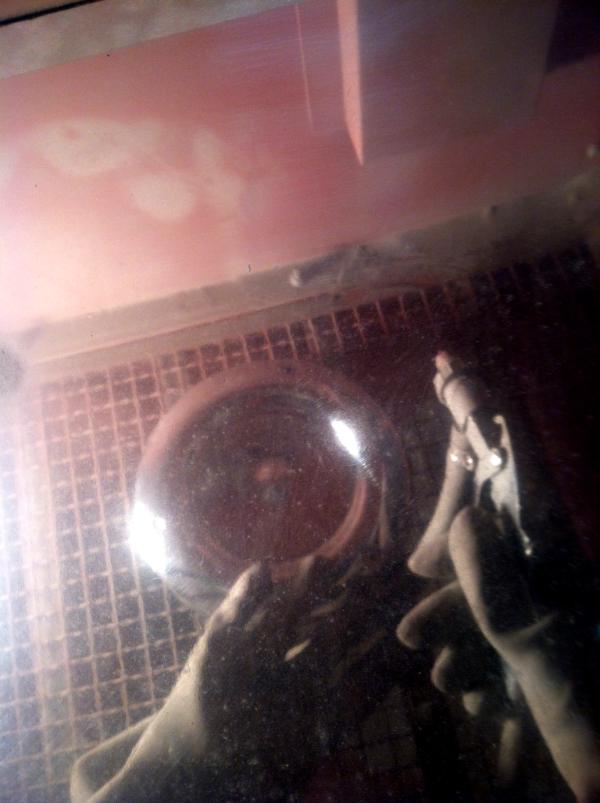 Once that was prepped, I went back to tearin' bike parts off. My collection of tossed parts is growing!
I pulled the cover on the speedometer to make sure I could replace it with a handlebar mounted one.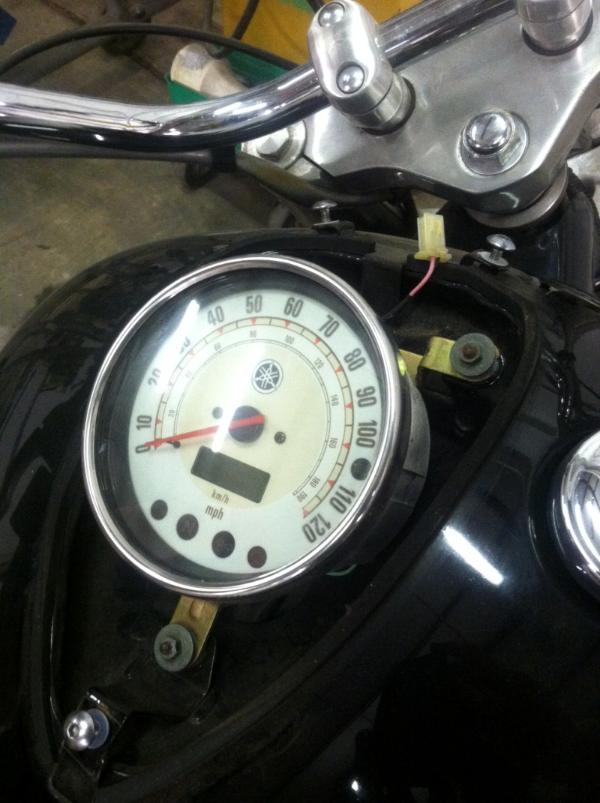 No issues, after checking with some other Meks and a book on motorcycle wiring harnesses, I should easily be able to replace it. I replaced the cover so I wouldn't lose pieces, and then pulled off the gas tank.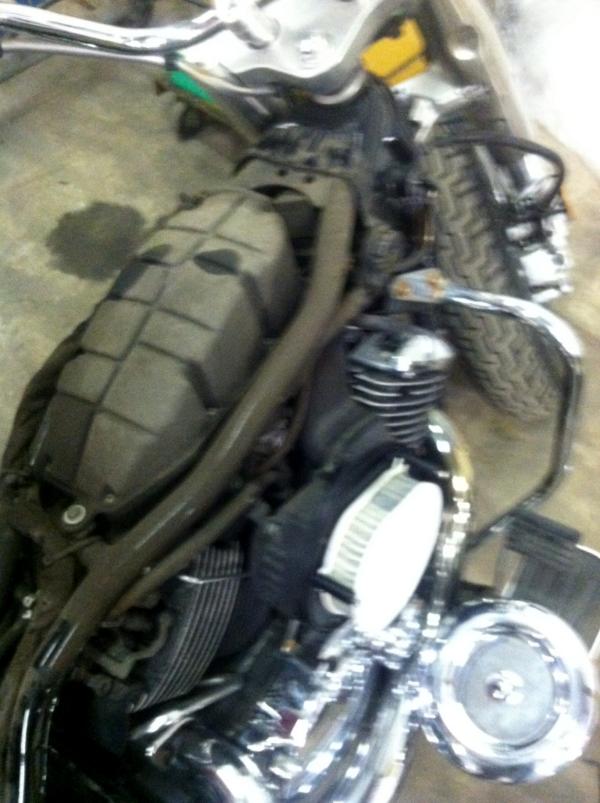 Next up, Sculpting! Front fender frame! Hardbag mounts! Gas tank blueprints!