Greetings, fellow Dakkanauts,
As a long standing Black Templar player I was initially dismayed upon hearing that we would get sucked into the new codex Space Marines and lose our own independent codex, making only Dark Angels, Blood Angels and Space Wolves "stand out" from the standard codex chapters, but after the Space Marines codex was released in september and I got time to review the new changes, I have come to like our place in the new book. This article is dedicated to any Templar players who are wondering whether to make the transition or not. I will begin by looking at each unit and talking about their pros and cons compared to the old codex Black Templars.
Commander
Our Castellans and Marshals are gone – both in name, and in function, and in stats, and have been replaced by the generic Space Marine Captain and the Chapter Master, respectively (really? I don't get how you can field a 2
HQ
Black Templars army with Helbrecht and a Chapter Master…or for that matter an Ultramarines army with Marneus Calgar and a Chapter Master…contradictory, isn't it? They should have been a 0-1, but
GW
isn't really good at thinking to begin with).
We can no longer benefit from the Commander's
LD
10 except for the squad he is attached to. Ouch. Back in the old days I remember having to choose between army wide
LD
10 or a single squad that re-rolls all failed to-hit rolls in close combat the turn they attack if I took a Chaplain instead. My conclusion was that the chappy was the better choice in smaller point games, when all the infantry I controlled were only 2-3 squads, while in larger games the Marshal's boost was far more valuable. Well that debate is off the list now, isn't it?
The Captain costs 10 points more than the Marshal used to, and comes with +1
WS
, a bolt pistol, a chainsword, frag grenades, krak grenades and an Iron Halo. Not bad, considering that this configuration would have cost us 110 points in the old codex and we would still be 1 Weapon Skill worse.
The Captain – just like all other
HQ
options – already comes with Chapter Tactics, so Black Templars gain the +1 on Deny the Witch Rolls and have the Crusader
USR
. While the Crusader
USR
is better than the Crusader Seals of old (roll 2 dice instead of one and pick the higher score is better than doing a re-roll and being forced to accept the second result) you have to realize that the Crusader Seals worked on the Righteous Zeal move which was Black Templars running
D6
" toward the closest enemy after having passed an
LD
test upon having received casualties during enemy shooting. They could also run during their own movement phase from 5th edition onward, making them faster than during the edition the codex was initially written for (average movement of 13" per turn in 5th). Now our run got better, no doubt, but we lost Zeal (and the Cenobytes that gave +1 inch per model to the Zeal move), so we are, in fact, slower than in 5th edition. But Deny the Witch and Crusader are not the only Chapter Tactics bonuses we have received. There is also a redesigned Accept Any Challenge, No Matter The Odds – extremely useful in duels, with the added bonus of being even more useful to any of our Characters who do not bear AP2 or AP3 weaponry. And remember the new AACNMTO doesn't just apply to your Independent Characters like the Captain or Chaplain, no; it trickles down to every sergeant among your squads, as they are characters, too. And usually these guys won't be sporting power weapons. So not only does this make the enemy wary of dealing out challenges, but it is doubly sweet when a lone
IC
charges - say - your scout squad to wipe them out in a single round of combat, and then you actually issue a challenge with your veteran scout sergeant which he has to accept since he is a unit consisting of a single model. And if he is in a squad, and doesn't accept, his
IC
doesn't get to deal blows. So if he accepts, he suddenly has to deal with a puny veteran scout sarge dishing out 3 attacks with his boltpisol and
cc
-weapon, all re-rolling failed hits, and all of them rending. Of course, this only works if the
IC
doesnt have an initiative higher than 4. Still, getting to re-roll all hits in a duel gives your common sergeants and sword brothers a fighting chance against the various characters that now boldly roam the
40k
universe with impunity, given that 6th edition has made it next to impossible to take them out by equipping your squads with a power axe or powerfist. Back in previous editions, powerfists used to be a pricey, but worthy insurance to help your squads out against
ICs
,
MCs
, Wraithlords and such – they would have to eat their way through your squad before they could kill the powerfist guy. Now with the new wound allocation and challenge rules, your powerfist sergeants are next to useless because as characters, they can be challenged and, lacking an invulnerable save, be sliced to bits by the enemy
IC
while the rest of your squad can't deal blows against him either until the next combat phase, but then he will strike first anyway. Equipping your sergeants with power weapons is also quite useless, as most noteworthy close combat
ICs
are Initiative 5 or better. IF you are facing Necrons or
ICs
armed with unwieldy weapons, equipping your sarge with a power weapon is a good idea as he can now re-roll his attacks and hopefully cause at least a wound. But evne if you don't, there's still rending.
The Captain can be dropped in favour of the Chapter Master for an additional 40 points, giving you an extra attack, an extra wound, and a once-per-game orbital bombardment that scatters a full
2D6
" when it scatters. But remember that this is a shooting attack with an ordnance Weapon profile, and while the special rules allow you to assault after you have fired it, if you are planning to get your Chapter Master into close combat without wanting to spend a turn not moving at all, you need to either give him terminator armor or a bike to be able to move and fire the orbital bombardment (or attach him to a squad of Centurions). The best thing about the Orbital Bombardment is that it's barrage - meaning not only will cover-saved be determined as if the shot was coming from the central hole of the large blast pie plate, i.e. denying cover saves most of the time, but it also will pin enemies AND on top of that, always hit the side armor of tanks. You see that row of
LRBTs
parked behind the
ADL
? S10, AP1 (so +2 on vehicle damage chart), ignores cover (as long as the shot doesnt scatter in front of the
ADL
), roll
2D6
for armor pen pickingthe highest, and side armor targeting will leave behind upto 300 points of smoldering wrecks if we get lucky.
What's really cool about the Chapter Master though is his access to 3 Honour Guard. These guys are the meanest sons of bitches in close combat due to them being severely undercosted: having the profile of a terminator (minus the
inv
. save) and coming with boltpistols and power weapons, Honor Guard are 3 base attack each and have LD10 (not that it matters much, anyway). Unlike terminators, they can sweeping advance, but cannot deep strike. The Chapter Champion has an additional attack and an additional weapon skill, giving him 5 attacks on charge that hit on 3s most of the time. That's a mini
HQ
right there! You can take 7 more Honor Guard, and with each additional
HG
you take, the Chapter Banner becomes that much more worth its points. A 10 man Honor Guard unit with a Chapter Banner (notice how it says "take" Chapter Banner, so one of your Honor Guard isnt relinquishing any of his weapons) will have 51 (yes, FIFTY ONE) S4 AP3 power attacks on charge, not counting the Chapter Master's own attacks. If you are good at magnetizing stuff, you're in for a treat: replace a couple of these power swords with power axes and you can munch your way through terminator units with ridiculous ease. Alternately, if you are playing against non-
MEQ
, give them power mauls: 51 attacks hitting on 4s, wounding on 2s and still denying armor saves means 22 dead guys from a single charge. You won't need no flamer to eat your way through horde blobs, and your 2+ armor saves with give you ample protection. The only downsides of the Honor Guard are their lack of invulnerable saves and cost: said unit will set you back 285 points, and they still haven't got a transport. Having these guys in a Land Raider with a Chapter Master will bring you close to SEVEN HUNDRED points, and you are still very vulnerable to massed low
AP
weapons, so don't go overboard with these guys - they're simply overkill, and as
BT
we anways stick our
HQs
with Initiate squads.
The Chapter Master can drop his wargear (except the Iron Halo) for terminator armor instead; this is 15 points costlier than it used to be in the previous codex but comes with a power sword and stormbolter now, so technically it is 5 points cheaper than identical upgrades would have cost in the old
BT
dex. Nevertheless, it no longer gives you an extra attack for 'embedded terminator honors' – a piece of wargear that was already scrapped off the
SM
armory when the old 5th edition Space Marines codex was released.
Taking artificer armor is also worthwhile now, because in our old codex it was only 5 points cheaper than the old price of terminator armor, did not give +1 attack, did not give a 5+ invulnerable save (remember - Iron Halos didn't come by default in the old
BT
codex), and did not give the deep strike ability, but allowed the Castellan or Marshal sweeping advance moves, allowed him to keep his grenades (including the Holy Orb of Antioch!) and made him only count as 1 model instead of 2 when boarding a transport. When 6th edition nerfed most power weapons and turned them into AP3, artificer armor had already begun to get competitive again, but now in the new space marine codex it is clearly on par with, if not better, than the terminator armor upgrade: if you factor in the included power sword and stormbolter, then the terminator armor costs just as much as the current artificer armor, but gives nothing useful except the deep strike ability – the invulnerable save is meaningless as Space Marine Commanders already come with Iron Halos; your guy gets the Bulky
USR
, you lose the grenades, and can no longer sweeping advance. Okay, the Chapter Master will be needing the terminator armor so he can move and fire his Orbital Bombardment, so there's that. Interestingly it is 10 points cheaper for a Captain to replace his power armor for terminator armor, power sword and stormbolter - obviously because he doesn't come with Orbital Bombardment.
It is also interesting to note that you cannot field a Captain/CM in terminator armor with a powerfist and stormshield. Instead, the stormshield can only be taken in conjunction with a combi-weapon, lightning claw or thunder hammer. However, you can take the Shield Eternal (essentially a Storm Shield with the old Adamantine Cloak slapped on) with any melee or ranged weapon, which makes for some nice combos such as taking the Burning Blade to lay the hurt to
MCs
or
TEQ
HQs
without having to sacrifice your initiative AND still be able to take back their blows should they somehow survive the ordeal - then you can finish them off in round two before they get a 2nd chance to strike their blows.
Something I like is that if you give your Captain or Chapter Master a bike (whose cost has been noticeably reduced) you can take 5 man bike squads as troops. Obviously this was done to help White Scars players create a fluffy army, but since there is no Chapter limitation, anyone can benefit from this rule. Given the fact that Space Marine bikes have gained a massive points reduction, this makes for a good improvement (and good way for
GW
to sell their bike models).
Let's take a look at the weapon options now. The Captain or Chapter Master can be given a Power Weapon (Staff, Axe or Sword) for same cost as in the old Templar dex. Or he can take a Lightning Claw for the same amount of points – however it does not give him +1 attack for 2CCWs and is AP3, but his attacks can all re-roll failed to-wound rolls. In my opinion a Lightning Claw trumps the Power Sword every single time: +1 Attack or re-roll up to 3 failed to-wound rolls? Hmm, I think I'll take the latter. It's even funnier if you take a powerfist, chainfist or thunder hammer as a second weapon, because that way you regain the +1 attack both for it AND the lightning claw because you have 2 specialist weapons now. You just have to declare which one you'll be using before rolling hits. The power fist is 10 points costlier, but gives him S8 and the ability to insta-kill most enemy characters that way. Penalty is that he loses his impressive Initiative. Thunder Hammer costs a wee bit more, but can bonk survivors on the head and make them receive a concussion, just like in the old Codex, which is very helpful against
MCs
. If youre gonna take a fist, you might as well go the extra mile (inch?) and take the WARHAMMER! sorry.
When the Commander is wearing terminator armor, the points cost of the Lightning Claw and Thunder Hammer sink by 10 and 15 points respectively. They can then replace the Storm Bolter with a second Lightning Claw or Thunder Hammer (taking 2 Thunderhammers is pointless though - a Powerfist is better since you save 5 points) to receive the +1 attack for 2 specialist weapons, or take a Combi-weapon instead (except the combi grav-gun…that is only available to power armored Commanders for some reason. Oh right, that reason is that otherwise the terminator armored
HQ
could move and still fire all 3 shots at max range due to being relentless. Clever of you,
GW
).
Chapter Relics
Let's take a look at the Chapter relics, shall we?
The
Burning Blade
is an awesome artefact – boosting the wielder to a staggering Strength 7 and AP2; it also blinds the enemy, but tries to wound the bearer, as well. Still, excellent to take against 2+ save enemy
ICs
, as now you no longer have to sacrifice your Initiative to be able to hurt them. However, statistically you are better off with a simple Powerfist or Thunderhammer when facing an enemy
HQ
with a 2+/3++ save who is wielding a Powerfist or Thunderhammer, as chances are good that he'll weather your storm of attacks and then simply
ID
you with his fist or hammer.
Primarch's Wrath
and Armor Indomitus make for a good combo, as your Commander can now move and shoot 5 S4 AP4 shots at BS5, re-rolling all failed to-wound rolls and re-rolling one failed to-hit roll with an effective threat range of 30" including movement.
Armor Indomitus
can also be a life-saver when your character gets into a duel…granted, paying 40 points more than a standard artificer armor for a one time use only does look steep, especially because you anyway have an iron halo if you're a commander or a rosarius if you are a chaplain, and even taking a relatively cheap storm shield would give you a constant
inv
. save that is only 1 worse than the one you would get for that single turn. 90% of the time, the Armor Indomitus isn't worth it, but if you are a Librarian (who doesnt come with any
inv
. save), and you want to keep your boltpistol to get 3 base S5 AP2 attacks with your Force Axe, then I can see use for the Armor Indomitus here - power it on during the initial round of combat, weather the enemy attacks, and then strike thrice (or four times if your librarian charged) with your S5 AP2 power axe and activate it to
ID
him.
The
Shield Eternal
is a Storm Shield that also makes the bearer an Eternal Warrior and gives him Adamantium Will – not that useful for Black Templars who already have the latter. Its increased points cost compared to a normal storm shield is the same as having taken an
FAQ
'd Storm Shield and Adamantium Cloak in the old Black Templars codex. If you're a guy who really hates getting insta-killed, go for it. Definitely advisable if you are wielding a Thunder Hammer or Power/Chain Fist and want to slay
MCs
or win against other
ICs
equipped with S8 weapons because if your Shield fails you by rolling a 1 or 2, you'll still live and only take a wound per fail. As you can see this works great with Chapter Masters and their additional wound thus not going to waste.
Teeth of Terra
is worse than the Burning Blade because it is 1 Strength less, doesn't have AP2 and also doesn't give +1 attack for 2CCWs, but it is also a whooping 20 points cheaper, doesn't try to kill your own character and also gives him D3 extra attacks when fighting a squad larger than his own - even when he hasn't charged that turn but is locked in combat (would you look at that, Helbrecht…it's better than your fabled Sword of the High Marshal) …strikedown is a mere gimmick. So for 10 more points than a relic blade, you essentially get D3 extra attacks each combat phase. Remember: the more numerous your number of attacks, the more you benefit from the Black Templar chapter tactics allowing characters to re-roll all failed hits and make all their attacks rending in close combat. I can see the Teeth of Terra being the weapon of choice for a Chapter Master on Bike, racing toward the enemy and trying to engage his core units all by his lonesome. Very Templary! With 4 wounds and T5 (so insta-kill only with S10 weapons or other exotics), this guy doesnt need the shield eternal and can just take a regular storm shield and save 35 points. So with artificer armor, this 4 wound, T5, 2+/3++ guy comes at 220 points with access to orbital bombardment. The turn he charges, he would dish out 5 + D3 WS5 I5 S6 AP3 and 1
HoW
attack. Thats pretty devastating toward anything and everything except terminators and tough
MCs
such as Wraithknights.
And finally, the
Standard of the Emperor Ascendant
is a costly, but somewhat useful addition to any Black Templar Commander in an infantry-heavy armylist, as it gives him Fear, and units in close proximity to him Hatred and better chances of winning close combats and passing Morale and pinning tests.
Out of all the chapter relics, I think the Burning Blade is the only one that is a must-have – it is 40 points costlier than a Power Weapon, yes, but compared to it, has +3S and Blind, and AP2, so in my opinion worth it despite the risk. There is nothing sweeter than letting a chapter master field it and announcing to your enemy that the little Space Marine figure charging him now has 6 S7 AP2 attacks coming at him at WS6 and I5, all re-rolling hits in challenges, which is arguably the power output of a monstrous creature. The Shield Eternal on the other hand makes for a nice combo to an
HQ
build that hopes to
ID
his enemy and wants to wither out his attacks.
High Marshal Helbrecht
Helbrecht has been seriously nerfed. Where to begin? First off, his artwork looks a lot milder and tamer compared to the awesome full-page art featured in the Black Templars codex that made him look like a ferocious monster of unswerving zealotry. Having a Cenobite clean his sword while it's still impaling a Warboss' corpse and having a Stompa blowing up in the background? That's the definition of badassery. And just look at that sword! Look at it! It's taller than the Space Marine himself! And the banner fluttering behind him! And the two additional Cenobites carrying his Combi-Melta. That artwork was pure win.
Now, he is a shadow of his former self – even gameplaywise. So he gained a weapon skill to bring him in line with the new Captains and Chapter Masters, so what? He is 5 points costlier, no longer gives your troops an armywide
LD
10; what's more his Sword of the Marshals is a pathetic AP3 and if that's not enough, it no longer confers D3 additional attacks every time he charges, but D3 attacks instead of 1 extra attack for charging. So that's 1 less attack per charge. And remember that master-crafted also isn't what it used to be in previous editions. To top it all off, he has lost bionics.
GW
really hates Black Templars, don't they? Granted, he did get a buff in that he no longer has to have a Command squad to get Furious Charge, and he and any squad he joins also no longer have to pay for it, because Helbrecht now always has the Imperium's Sword Warlord Trait, but this means that only once per game do he and his unit get Furious charge and he also no longer has access to other Warlord traits on top of this, as used to be the case for the past year or so since 6th edition was released. And not to mention 6th edition has already nerfed Furious Charge in the Initiative department. Sure, once per game he can now also make all Black Templars on the board gain Fleet and Hatred for a turn, but is that really going to make amends for all these nerfs? Especially since Fleet is only marginally better than Crusader and Grimadus already gives troops upto 6" around him a permanent Hatred
USR
? He's gone. This guy is history. You can construct yourself a much more potent Chapter Master than fielding this guy. I remember the glory days of 4th edition when he and his command squad charging resulted in him having up to EIGHT attacks at Strength 5 and Initiative 6, hitting on threes with the Emperor's Champion's Accept Any Challenge, No Matter The Odds Vow, re-rolling all failed hits due to the Marshals Sword being master-crafted and ignoring terminator armor. Days long gone. Auf Wiedersehen, Helbrecht – if you had dropped down to 160 points I would have given you a chance, but this is plain ridiculous.
Emperor's Champion
The Emperor's Champion has also received a massive, massive nerf. Alright, he comes with krak grenades now, and his Black sword is
AP
2 (bringing it back to its pre-6th edition effectiveness), but it is no longer S6 (unless you choose a combat stance during a challenge that however makes it two-handed AND unwieldy…making it worse than a generic powerfist). Another combat stance you can choose makes all to-wound rolls of 6 inflict instant death (handy against Wraithlords...unlike Kor'sarro Khan's Moonfang, the Black Sword also rends on a 6, so it has no problems causing a wound on T8 to then cause
ID
), and you get to keep your +1 Attack for 2CCWs and also strike at Initiative 5, so that's at least something, but you only wound at S4. The only bonus he gained is that the Black Sword is now master-crafted. But remember that master-crafted is nerfed in 6th edition, and because Black Templars anyway re-roll ALL failed hits in challenges, this ability is even less worth mentioning. Perhaps his only saving grace (although I wouldn't call it that) is that he is now Fearless, and can thus make any unit he is attached to Fearless as well, so your guys dont have to fret if they lost a combat by multiple models and then would have otherwise had to pass
LD
at 5 or 6. At 110 points he would have been competitive. After all, he has no access to additional equipment or chapter relics. But at his current points cost...
Because you no longer need him in games of 750 points or more (as used to be the case in the old dex) and because he costs the same amount of points as before after having taken the costliest vow, but DOES NOT GIVE YOUR ARMY ANY VOW NOW, he has become UTTERLY AND ABSOLUTELY USELESS compared to his previous incarnation. Think about it – in 4th and 5th edition, this guy was a beast – 3 base S6 attacks that could slice up terminators at Initiative 5, then in 6th his weapon was only AP3, so no more hurting termies, and now it is back to AP2 but only S4? And NO VOWS? AND SAME POINTS COST???? Thanks a bunch,
GW
. So our army got part of the Destroy the Witch vow for free now, but all others are gone (Uphold the Honor of the Emperor was useless at first glance, but if you were a crazy Templar player who rushed all his squads out into the open anyways, it was actually quite useful, giving you immunity to pinning in addition, but most importantly it made your Emperor's Champion cheap as chips at a mere 100 points; Suffer Not the Unclean to Live was a really characterful Vow that was as mandatory against Necrons and Tau as Abhor the Witch, Destroy the Witch was against Eldar and Grey Knights – who doesn't love an armywide scout move? Accept Any Challenge, No Matter The Odds was the best of the bunch though; costliest, sure, but made everyone hit on a 3+ in close combat in 4th edition, made everyone re-roll failed to-hits in close combat in 5th edition instead (even better!) and was changed to give an extra attack on charge in 6th). And now the Emperor's Champion grants none of them. It's so typical – take the best and most frequently used models and turn them into crap this edition.
Before we completely despair, rest assured that at least three of the four Vows have made it into the Black Templars section of the new Space Marine codex in one way or the other, albeit being mere shadows of their former selves. Accept Any Challenge, No Matter The Odds can be found (in its 5th edition form) in a 6" bubble generated by Grimaldus (which includes Fearless) or a one-time-only army wide unleashing by High Marshal Helbrecht (which includes Fleet). Uphold The Honor Of The Emperor is available inside a 6" bubble generated by Grimaldus' Cenobyte Servitors (instead of them having a Relic which used to give Black Templars
2D6
" around them +1 attack once per game) and its negative effect of Black Templars no longer benefiting from cover saves is gone, although the immunity to pinning is gone as well; Abhor the Witch, Deny the Witch is granted to Black Templars for free as part of their Chapter Tactics, but only the part where you can do the improved Deny The Witch Roll…the scout move part is gone, and finally, the Suffer Not The Unclean To Live Vow is a thing of the past.
Chaplain Grimaldus
This guy has received so many changes that it's hard to determine whether he got buffed or nerfed. To begin with, his artwork also looks like crap compared to the artwork in the old Black Templars codex. I bet it was drawn by the same guy who did the new artwork for Helbrecht. This guy just has to admit that his artistic skills are INFERIOR to that of the previous artist responsible for illustrating Helbrecht and Grimaldus.
HE
. IS. OBJECTIVELY. LESS. SKILLED.
Anyway, he is 10 points cheaper and his stats are all over the board now. He lost a
BS
(not a biggie, given his master-crafted plasma pistol), and gained a Wound. He lost 1 Initiative and 1 Attack, but gained +1 on his
LD
(useless, since he is Fearless). He no longer has to keep passing
LD
tests to stay alive on his imaginary 3rd wound as was the case in the old Codex, but has gained It Will Not Die now, so there's a 33.33% chance of regaining a lost wound every turn. Unfortunately, as is the case with all other Chaplains, his power weapon got nerfed to a Power Maul, so you shouldn't take this guy to duels, although admittedly against 4+ armor or worse, he is now more kickass due to having S6, and there's always that chance of him getting a rend. He has the Rites of War Warlord Trait, and thus does what Marshals used to do army wide in the old codex, but now only inside a 12" bubble. He has kept the Liturgies of Hatred ability; it's just called Zealot now, so a unit attached to him is (just like in the old codex) Fearless, and now, re-rolls all failed hits in the first round of close combat (even if it got charged), not just in the one it attacked. Another buff is that this is now a 6" bubble, and no longer merely the squad he is attached to. Same applies for the 6+
inv
. save generating bubble by the Helsreach relics. However, only models - not units - benefit from these 6" bubbles. Still, Grimaldus screams for a "Black Tide" Templar horde, with 3 or 4 large Initiate squads footslogging 10" per turn thanks to the Crusader
USR
toward the enemy, all being LD10.
Chaplain
Ouch. That's all I can say as a Black Templar player to the new Chaplain profile that has been ported from the 5th edition Space Marines codex into 6th. Truly, ouch. In our old
BT
codex, the Master of Sanctity used to be arguably better than Marshals in small point games because their LD10 ability wasn't that beneficial if you were only running a squad or two, and also because they already came with a power weapon and a 4+
inv
. save, being 10 points cheaper than if you were to kit the Marshal out with both. Black Templar Chaplains could also be upgraded to become true monstrosities. I used to take a Master of Sanctity and kit him out with terminator honors, and a Powerfist. SIX Strength 8 attacks on charge that re-rolled ALL failed hits on the turn he charged due to Litanies of Hate. True, I got to strike last, but if I knew I wasn't facing a weapon that could insta-kill me, all I had to do was wither the enemy attacks with my Rosarius (very rarely would I lose more than 2 wounds) and then deliver those blows. Fail even one
inv
. save and the enemy
IC
was insta-killed. Worked great against Monstrous Creatures, too. And against
ICs
wielding force weapons and such, I could instead deliver 6 S4 attacks with the Crozius at Initiative 5, again, re-rolling all failed to-hit rolls the turn I charged even without the old AACNMTO vow. Then came 5th edition and made the Powerfist a specialist weapon, but it was alright – the Chaplain lost an attack, but was still a beast. Then came 6th edition and made the Crozius an AP4 Power Maul. But hey, I still had my Fist. AND THEN CAME THE NEW SPACE MARINES CODEX AND GUESS WHAT? The Chaplain is 35 points cheaper than my build, but no terminator honors (-1A), another -1A on his profile, -1W, -1BS and -1 Initiative. Bloody hell. He still kept his special rules by receiving the Zealot
USR
. Black Templar Chaplains got nerfed even further in that they neither have access to the legendary Holy Orb of Antioch, nor have access to artificer armor any longer, nor can they take Cenobyte Servitors to add +1" to the Zeal move per Servitor (to a maximum of 3 Servitors) anymore. They could have changed the latter to become +1" to the Run move in the new codex instead, but nope. There's no point in taking the chappy anymore if I can field a Captain with a Burning Blade and own everyone for a mere 60 points more. For other chapters, taking a Librarian is a better idea. The only time a Chaplain is useful is if you are running a 10 man Vanguard Veteran squad equipped with multiple power weapons, a 20 man Crusader squad, or have an allied Imperial Guard detachment and attach the chappy to a 50 man strong Conscript squad since they are Battle Brothers according to the Allies matrix. Fearless Conscripts that re-roll all failed hits in
CC
is truly terrifying.
Librarian
Unlike the Chaplain, the Librarian is a lot more useful. To begin with, he is the cheapest
HQ
your Space Marines can field, for merely the new price of a Whirlwind. You can buff him up to be a Mastery Level 2 psyker for an affordable cost. Giving him a Storm Shield is a great idea as it buffs his non-existant invulnerable save to a 3++
inv
., but remember that invulnerables no longer work against Perils of the Warp. Terminator armor is also pretty good, as it improves his armor save by +1 (Librarians can't take artificer armor either) and allows him to arrive via deepstrike and thus get close enough to the enemy to put whatever psychic powers he rolls to good use.
Black Templars can't have him
, but he certainly makes for a characterful
HQ
in any other Space Marine army (including an allied detachment for the Black Templars). While not being as straightforward and reliable a unit as the Captain, the Librarian is still cheaper and potentially more dangerous due to the unpredictable nature of the Warp – being able to choose from Biomancy, Pyromancy or Telekinesis means you have access to plenty of useful psychic powers that, once you get them, can turn the tide of battle in your favour, especially in smaller point games. He also has a force weapon, but because he is merely initiative 4, it's a good idea to model a Force Axe for that lovely AP2. Although a bolt pistol giving him an additional attack sounds enticing, both the facts that you 1) strike last and 2) cannot take terminator armor if you want to keep this pistol mean that it's a better idea to give him terminator armor and a storm shield so he can bear the brunt of the enemy's attacks before striking back.
Techmarine / Master of the Forge
Just look at this guy. Isn't he one cool looking model? Damn. On the battlefield, he isn't too bad either. While he is neither the fighter (captain) nor force multiplier (chaplain) or arcane trump card (librarian), the Techmarine does pack a punch with up to 2 base attacks with his bolt pistol and a power axe you can purchase for him by swapping it for his boltgun, or 1 base attack with a power weapon of any other kind or any of the fancy chapter relics, because purchasing one of those forces you to swap them for his boltpistol, and not his boltgun. He also comes with a servo arm, so in close combat he has a chance of taking out tanks with his 2 servo arm attacks on charge, but don't rely on this to wound
MCs
or enemy
ICs
...he WILL get sliced to bits before he gets the chance to strike with the servo arm. Unless the enemy
IC
has the misfortune to only have an AP3 or worse weapon. In that case, a Master of the Forge with 3 base attacks and a Power Axe actually has a great chance of winning as he re-rolls ALL failed hits in close combat because he is a freaking BLACK TEMPLAR techmarine.
However, it's the options where things get really interesting. For starters, you can equip him with a Servo Harness to get a Flamer, a Plasma Cutter, an additional servo arm (so he gets 2 base attacks while attacking with his servo arm as well) and +1 on your Omnissiah roll. The Omnissiah roll itself has been buffed to work on a 5+ in this codex, so now having a 50% chance of repairing a vehicle is really not bad at all, given that it can also restore Hull Points! Especially if you are a Black Templar player with a big Crusader squad aboard a Land Raider Redeemer...just add a Master of the Forge to lead your squad. Having your
LRR
or
LRC
"regenerate" lost Hull Points on a 4+ is an insane boost to helping your Initiates reach their destination unharmed and for the
LRR
/
LRC
to stick around dealing death long after your squad has disembarked (you detach the Master of the Forge after disembarkation so he can stay near or inside the vehicle).
As you can see, repairs have gotten that much more relevant with 6th edition and Hull Points, but the best thing is, if you repair a destroyed weapon, the new weapon is good to go and can be used in that same shooting phase. The only problem is getting your Techmarine to where repairs are needed as these can be anywhere on the battlefield. Since the Master of the Forge has access to Special Issue Wargear, giving him a bike for this purpose is not a bad idea either: a 2+
sv
, T5 character is fairly solid, and he can turbo boost from one end of the battlefield to another and keep your vehicles alive a little longer. The bike's mobility also makes his flamer more useful if he happens to come across exposed infantry formations along his way. So the techmarine can be upgraded to a Master of the Forge which is 15 points costlier than giving him a servo harness. For 15 more points on top of the servo harness, you get an additional wound, an additional attack, an additional ballistic skill, and he takes up an
HQ
slot. Whether this is a good thing or bad thing depends on your roster. However, he doesn't come with 2 servo arms unless this gets
FAQ
'd. He comes with the added benefit of allowing you to field 3 more Dreadnoughts in the Heavy Support section instead of other stuff, so if you want to make room in the Elites section for other things, or field 6 dreads, this is your guy. But we're not done yet. The Master of the Forge also has access to the Conversion Beamer which isn't an artillery piece, but a shoulder mounted weapon that gets better the further away he stands from his target. At Ballistic Skill 5 and 48" range, this thing becomes a scary
AT
weapon with +2 on the vehicle damage chart. How cool is that?
Both the Techmarine and the Forgemaster (sounds cooler, doesn't it?) can lead a squad of upto 4 servitors, 2 of which can be equipped with Heavy Bolters, Multi-Meltas or Plasma Cannons. I especially like the latter, as having 2 S7 AP2 blasts coming at your way along with a BS5 S10 AP1 conversion beamer blast makes for a very good ranged anti-
MEQ
/
TEQ
/light vehicle unit by its own. And lastly, the ability of these guys to Bolster Defences makes them that much more worthwhile. It's great if your enemy has to get past a 3+ cover save to take out your Plasma Cannon wielding servitors.
Command Squad / Honour Guard
Captains, Chaplains and Librarians can take Command Squads, while Chapter Masters can take Honour Guard. Let's take a look at the Command Squad first. It is the only place where you can get an Apothecary, giving your entire squad + your
HQ
(and your 2nd
HQ
if he joins the squad) the Feel No Pain
USR
. Then you have the Company Champion, who comes with a power sword already, has
WS
5 and 3 base attacks. Not bad. He also has a 6+
inv
. and this is in addition to the 5+
FNP
. Then you have the Company Standard, which isn't really worth taking because unlike the Chapter Banner it does not give every model +1 attack, and all your guys have
LD
9 anyway. Of course, if you are running your Templars akin to the "Black tide", then it can come in handy to keep your advance going strong - especially when
LD
8 Crusader squads are marching along within 12" (however, Chaplain Grimaldus makes for a better centrepiece for a Black tide, making the company standard redundant). What's really interesting though is that you can kit every one of them with Storm Shields, so they can soak up a lot of low
AP
firepower and still keep going.
Even if you do not play White Scars, you can give all of them Space Marine Bikes, making them a highly mobile unit and at T5 and 5+ jink saves upon moving, to boot. Everyone being able to take Melta Bombs makes them a great anti-tank unit as well. Finally, the fact that any Veteran can take items from the melee weapons list, ranged weapons list or special weapons list (
FAQ
'd) means you can kit them all out with grav guns for example, and lay a withering fire of upto 15 AP2 grav shots at any unfortunate squad within 18" when they're on their bikes, and still charge into what's left of the enemy. Give your
HQ
who has access to Special Issue Wargear an Auspex, and any squad within 12" of the Grav Guns has -1 on their cover saves - this includes enemy jink saves, by the way, also applying to vehicles.
Alternately, you can give all of them power weapons (although this will make them costlier than Honor Guard who have 2+ saves to boot, but no
FNP
) and turn them into a crazy
cc
-unit. Either way, these guys are - especially when on bikes and armed with grav guns - a powerhouse that is extremely deadly (enough firepower to fell any Monstrous Creature in 1 turn of shooting) and extremely difficult to take down (the foe needs to get past 5 wounds, all Toughness 5, all 3+ saves, 5+ jink saves when moving (4+ when turbo boosting) followed by 5+
FNP
saves if they fail these. Ouch. Given the grav gun armament, I dont think it is even necessary to gear up for close combat. In this case, a Librarian on bike will complement the squad better than a Chaplain or Captain will. However, we are Black Templars, do not forget that, so we will take a Captain which has benefits over the Libby in that we can get a 2+ save with artificer armor and an extra wound and place him right at the front to soak up wounds acting as the squad's "tank" (a 3 wound, 2+/3++ model with
FNP
can soak a lot of firepower. If he were using Iron Hands Chapter Tactics, he would get It Will Not Die on top of all that). Finally, unlike the Chaplain or the Librarian on bike, the Captain on bike unlocks the 5 man space marine bike squad as a Troops choice (which is arguably the most effective scoring unit the Space Marines of all chapters have access to), so there's that.
Of course, as is usually the rule, when a loadout is extremely effective, the
GW
models necessary to represent them are usually very costly, or, in the case of the Librarian on Bike, not existing at all. Obviously
GW
creates an uber power unit that wasn't there in the previous edition so you will be willing to shell out 50 odd bucks to be able to field it. However if you ask me, the Dark Angels Ravenwing Command Squad box makes for a fine starting point for a
BT
command squad on bikes. Of course, we have to shave off those pansy winged swords and replace them with the revered and holy Maltese Crosses to give them some of our chapter's awesomeness, but this shouldn't be a biggy.
The Honor Guard is a different story. For their price, they are a steal (compared to, say, terminators, although the latter does have an invulnerable save and can deep strike, but lacks assault grenades). Each of them has 3 base attacks (the Chapter Champion 4), is armed with power weapons and artificer armor. Give them a Chapter Banner and they all become 4 base attacks each (Chapter Champion gets 5) When these guys reach close combat, they will utterly obliterate anything they will face. However, their undoing is their standard marine Initiative and lack of invulnerable saves. The latter makes a transport (preferably an assault vehicle) more necessary than ever, and will still not ensure their survival when facing high initiative enemies with AP2
cc
-weapons, though these are thankfully few in 6th edition. Keep your guys away from enemy plasma fire and these guys can carve through squads with extreme ease. However, I think they are overkill with so many power attacks that they will probably destroy a squad the turn they charge them and then be sitting ducks during the opponent's shooting phase. Which is why, in my humble opinion, they lose out against the far more tactically flexible command squad, especially the one with grav guns and on bikes (I know for a fact that grav weapons will get nerfed in one way or another in the next Space Marine codex, so take note to all those who are thinking about shelling a lot of money to build said models).
Dreadnoughts and Venerable Dreadnoughts
I used to run a Venerable Dread with Tankhunters in my old
BT
armylist – he was a reliable
AT
-unit whose
TL
-Lascannon could be treated as a S10 weapon against armor and his Missile Launcher as a S9 weapon back in 5th edition. He got even better in 6th edition when instead of the "+1 to armor penetration roll", tank hunters allowed me to re-roll a failed armor penetration roll (even re-roll a glancing hit). Unfortunately, the Space Marine codex has removed the tank hunters trait from the Venerable Dread, but now it benefits from an improved
WS
and
BS
, so it's more or less the same thing now as in 5th ed (tank hunters in 6th ed is overpowered...the upgrade should have cost a lot more, so for fairness sake I'm glad it's gone). Black Templars dreadnoughts now also have access to the dreaded Plasma Cannon for cheaper than the
TL
-Lascannon (and who can resist a BS5 Plasmacannon in an edition where most power weapons can no longer hurt terminators?), or can upgrade to dual twin-linked Autocannons to become excellent
AV
10 and AV11 hunters and even have a chance to hunt down flyers. Granted, Grey Knight Psyflemen are still the best at this task due to +1S, but this flexibility that has begun to pour over into the Black Templars army roster as a result of them being part of the Space Marines codex is starting to bear fruit. With Drop Pod Assault officially part of the codex, the tactic of dropping in a venerable dread with Multi-melta on turn 1 next to an enemy tank you want gone from the board ASAP is still viable and effective. With BS5, and the melta range being 12", you just can't go wrong with this. My opinion? Drop Pod Assault should be nerfed to only allow half the amount of drop pods rounded DOWN instead of up arrive via deep strike on turn 1. Because right now, every Space Marine army can just take a single drop pod and auto-drop a multi-melta/heavy-flamer venerable dread on turn 1 into the enemy's formation with devastating results guaranteed and minimal risks taken. Unfortunately, the points cost of a "regular" dread armed with Autocannon and
DCCW
has increased from 105 to a staggering 120. Probably because the right arm can now take twin-linked Heavy Flamers, the aforementioned twin-linked
AC
and even a
tl
-
HB
now, which are all inferior to the Assault Cannon option that is a solid jack of all trades. Unfortunately, the Dreadnought as a whole still remains uncompetitive due to its base cost being overcosted (by around 30 points).
Ironclad Dreadnoughts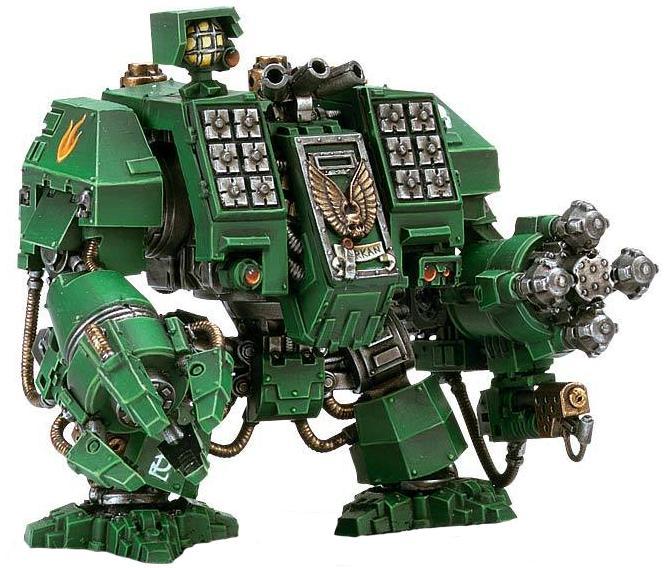 Ironclad Dreadnoughts are a new Dreadnought variant available to us - very Templary - armed with a Seismic Hammer, Meltagun, Extra armor and +1
AV
front and sides over the vanilla Dreadnought at 35 more points, but minus the Multi-Melta.The Seismic Hammer, although being a specialist weapon, gives your Dread +1A as the Power Fist is a specialist weapon, too. That means 4 S10 attacks on charge from an AV13 walker - pretty solid. The Seismic Hammer is also AP1 instead of AP2 and concussive, so it has additional advantages over the default
DCCW
when it comes to hurting tanks or
MCs
. Especially given that in 6th ed
MCs
have lost their default
2D6
armor penetration ability in
CC
against armor, this gives the Ironclad Dreadnought a solid fighting chance. I'll wager that an Ironclad dread can easily break the back of a Wraithlord in
CC
and even give a Wraithknight a run for its money, although barely reaching the latter's knee. The Stormbolter and Melta can be both replaced to give your Ironclad Dread dual Heavy Flamers to deal more efficiently with hordes than the vanilla Dread (although the latter does have access to an Assaultcannon or
TL
-
HB
), alternately you can replace the powerfist and stormbolter arm for a single Hurricane Bolter.
This is also the only Dreadnought variant that can be armed with Hunter-Killer missiles, namely up to two, and furthermore it can take Ironclad Assault Launchers to deny enemies assaulting it from gaining additional attacks, as well as helping the Ironclad Dread assault into cover - useful, since unlike Dreadnoughts it also has the Move Through Cover
USR
. I think the only two tactics how the Ironclad is best employed is either aboard a drop pod, or as part of a Stormraven's cargo. The turn it lands, it can fire its melta and both
HK
-missiles against a nearby tank or
MC
, or use its
HF
to fry an infantry squad. Replacing the melta for another
HF
or taking the Hurricane Bolter and losing the chance of the remaining
HF
isn't worth it, in my opinion.
Terminators
Black Templar Terminators got nerfed, alright. But I saw this coming from a mile away. They can no longer have 2 heavy weapons for a 5 man squad (Space Marines could no longer do this since 2008 and neither can any of the other divergent Chapters except Grey Knight Paladins). Originally written during 4th edition, the Cyclone Missile Launcher could only launch a single S8 crack shot if it didn't launch the frag blast marker. When Black Templars received the goodies of the old 5th ed Space Marine codex through an
FAQ
, their Cyclone Missile Launchers became heavy 2. Combine this with their tank hunters trait, and 2 heavy weapons per 5 man squad ability, and 6th edition's insane tank hunters boost, and you were looking at a deep striking 5 man Black Templars terminator squad that launched 4 S8 krak missiles at a tank that all re-roll failed armor penetration hits. Woah, right? Well, that's gone now, as the termies can't be tank hunters anymore. Still, I believe they are better than their Assault counterparts, because unlike Lightning Claw assault terminators, these guys still have AP2 powerfists, and 5 Stormshield Terminators are no longer 25 points cheaper than 5 tactical terminators armed with a
CML
, but cost the same now – you have to choose between +2 on your invulnerable save (and concussion on your melee attacks), or ranged capability in the form of 2 S4 AP5 shots at 24" per guy, and the heavy weapon. I think I will take the latter and will rely on my 5 up invulnerables, should it come down to it - tactical terminators are simply that much more flexible and do not suck in close combat anyways. Yeah, 3+
inv
. both at range and in
cc
is great, but you are essentially running tactical terminators without their ranged weapons to get this, and it only bears fruit when the enemy is shooting at you with low
AP
weapons. And Lightning Claw termies die just as badly as tactical terminators, but obviously murder 3+
sv
and worse enemies in close combat, but need to get there first, while tactical terminators can afford to remain at range/behind cover and just shoot light infantry or, if they think they can win, close in and still deliver 15 S8 AP2 attacks in
cc
on charge.
Assault Terminators
However, if you absolutely, positively want some really scary thing gone (or are an insane strategist who somehow wants to have the enemy pour as much of his low
AP
fire into this psychologically threatening unit that deep strikes in front of his face as possible, all part of your insane master plan in diverting attention from the rest of your Templars who are vulnerable to low
AP
fire) then Thunderhammer and Stormshield Assault Terminators (aka "Hammernators&quot

are worth it. You can also argue that unlike tactical terminators who are capable both at range and in
cc
and thus often have trouble deciding whether to stay in cover or close in for the kill, Hammernators have a singular purpose and thus need not worry about decisions. Things that give us trouble, such as Riptides, Wraithknights, Nemesis Dreadknights, Daemon Princes, Tyranid
MCs
etc. that protect themselves from our Grav Guns by
LoS
or terrain shenanigans can be taken care of in close combat by a deepstriking Hammernator squad. In other chapters who usually play a mid- to long range game, deepstriking Assault Terminators would indeed not be worth their points because they would be quite isolated upon arriving somewhere on the enemy's table half, and would be brought down by sheer weight of fire. Us Black Templars on the other hand, are usually throwing everything at the enemy, and we just need those Hammernators as a distraction until a turn or so later when the rest of our stuff gets in the enemy's face. In such an armylist the Hammernators would neither be alone nor isolated, and thus will do well in a
BT
force where you e.g. have a Land Raider bringing a bucketload of Crusader Initiates and Neophytes into the fray, accompanied by a deepstriking drop pod bringing even more Initiates or perhaps a Multi-Melta dreadnought, and maybe a squadron of deepstriking Land Speeders with
MMs
to take care of armor or
MCs
, followed by a unit of Assault Marines or Vanguard vets and perhaps another drop pod bearing Sternguard vets. With all these units arriving, a bunch of deepstriking Hammernators won't be isolated and dealt with so easily, and can thus be pivotal in helping your Templars secure a strong foothold in the heart of the enemy force to then dismantle your opponent's army with the help of everything else that charges into combat the next turn.
Chaplains go well with Hammernators. Stick one with terminator armor, crozius (power maul) and combi-flamer to a 5 man Hammernator squad and regardless whether they get the charge, or get charged - all the Thunderhammer attacks + the crozius get to-hit re-rolls, which is vital because you dont want to miss with the Thunderhammers, given that you dont have a large number of attacks like Lightning Claw terminators do. Fearless also helps, just in case you'd roll a 10, 11, or 12 for morale. Most importantly though, a chaplain allows you to wield that combi-flamer in case you find yourself being approached by a large
GEQ
blob that wants to swamp and tie up your Hammernators, and it also gives you a small overwatch bonus. The Chaplain getting to strike at I4 is also great. He has S6, and rending, and always re-rolls failed hits in challenges, so he's not too bad, although no longer the powerhouse he used to be. 126 points are a waste to be "enhancing" your Hammernators. However, if you take him solely to fulfil the minimum
HQ
requirement for your force org chart, then he'll do great among these guys.
Assault Centurions
While everybody is talking about grav weaponry and Centurion Devastators these days, the Assault Centurions seem to often get overlooked. Let is compare them to
TH
/
SS
Assault terminators, shall we? An Assault Centurion is 15 points costlier than an Assault Terminator with
TH
/
SS
. He doesn't have the 3+ invulnerable save, cannot teleport, and is very bulky instead of bulky. The first two are major drawbacks and make the already costlier Assault Centurions even more expensive by having to rely on a transport to get to the other side of the board, while Assault Terminators arrive there usually on a 3+ on turn 2. However, these are the strengths of the Assault Centurion: First off, they are Strength and Toughness 5. The strength value is utterly irrelevant unless you have to take a strength test; it's the toughness value that's the important bit here. Tau Plasma Rifles are wounding these guys on a 3+, not on a 2+ now. So that's less wounds being dealt than what Assault Terminators are receiving. More importantly, it makes them more resilient to small arms fire. Then, you have the 2 wounds per model instead of 1. This makes it all the more arduous to bring down an Assault Centurion squad with massed small arms fire than it is to bring down an Assault Terminator squad likewise - all you need to do is make the
SM
player roll a couple of 1s and his Assault Terminator squad will rapidly evaporate. The Centurions are more resilient in this case, both due to the extra wound, and due to T5. Of course, Demolisher Cannons make Assault Centurions sad. Very sad, as they don't even have an invulnerable save and unlike Centurion Devastators, wont be hiding behind cover.
That being said, let's take a look at their ranged weaponry - unlike Assault Terminators, Assault Centurions posses quite a bit of dakka. Each of them comes with a twin-linked flamer, but because they cannot deep strike, the chance of getting lucky and covering 8-10 enemy models is slim. They also cannot use these in Overwatch as they have the Slow And Purposeful
USR
. Slow and Purposeful also means they cannot Run, and to top it all off, just like models in terminator armor they cannot perform sweeping advances. So the Assault Centurions are severely hampered in their effectiveness, and because firing your flamers at a squad you are about to assault is a stupid thing to do anyway in 6th edition, with the wound allocation rules and everything, these weapons are counter-productive. They can swap them for twin-linked meltaguns for extra points, but these are short ranged and getting Assault Centurions that close to a tank is difficult. Finally, let's take a look at their close combat prowess - Assault Centurions have 1 attack each, but are armed with two siege drills, so they get +1 attack for wielding two specialist weapons. This makes them on par with Assault Terminators in terms of attacks per model. Except that their weapons own thunderhammers by a long stretch: not only are the siege drills Strength 9 and share the concussive special rule, they also roll
2D6
for armor penetration, making them the perfect blend of thunderhammer and chainfist with +1S added. But here's where the real magic lies: the Siege drills are not unwieldy. They do not strike at Initiative 1, yep, you heard right. Unlike Assault Terminators, Assault Centurions fight at normal initiative. And they come with assault grenades to boot, so they can comfortably charge into models behind cover. Not that this would matter to
TH
/
SS
Assault Termies anyway, as they always strike at Initiative 1. Still, this means you can carry your Assault Centurions into battle in a Land Raider other than the Crusader and still have them assault into cover and strike at normal initiative. I.e. it allows you to field a Phobos/Godhammer pattern Land Raider (why you would want to do that is beyond me...alright, you can move 6" and fire both
TL
-Lascannons at two different targets, but then the Assault Centurions are no faster than if they were on foot, and paying 250 points to protect them from enemy fire isn't really constructive to begin with). You can swap the ironclad assault launchers for a hurricane bolter system on each Assault Centurion, but the tactic of having one guy keep the assault launchers while the others swap theirs for the Hurricane Bolter doesn't do what you think it does, as being equipped with assault grenades only works on a per-model basis, so only the guy with the ironclad assault launchers would then benefit from assault grenades when the squad charges into cover.
Either way, the point is, that for 190 points you are purchasing a squad equivalent to a monstrous creature with T5, W6, 2+ save and 10 S9 attacks on charge at Initiative 4 that have armorbane accompanied by either 3
tl
-meltaguns or 3
tl
-flamers AND 3 hurricane bolters or assault grenades. If you drive them up to the enemy in a Redeemer or Crusader, they can take the Hurricane Bolters and still receive an assault grenades bonus the time they assault out of the
LR
, quasi "on the house". While Assault Centurions definitely aren't as independent and self-reliant as Assault Terminators, they are actually cheaper as a squad, but will make prime targets for low
AP
fire. Use with caution. Preferably get them into battle in a Land Raider (assault vehicle). At least they need it far more than the terminators do. You might also want to stick a Chaplain with them so they can re-roll failed hits on charge and become fearless, and it also gives the unit a nice way of tanking AP2 shots or hits in
CC
thanks to the chappy's default 4++
inv
save.
Sword Brethren
They're gone. I mean they're freakin' gone. I'm guessing when the 5th edition Space Marines codex came out and Sternguard and Vanguard vets were introduced,
GW
got rid of the Space Marine Veteran squad, and because Black Templars Sword Brethren were essentially their counterpart, they are no longer present in the new codex. Although 5th edition somewhat mitigated their effectiveness in that only Troops choices were scoring units, the Sword Brethren still remained a useful unit that could infiltrate and either allow for tactical deployment of heavy weapons, or be equipped with a power sword and a pair of lightning claws; both models bearing these weapons could be given terminator honors to have 3 base attacks each that way, and the rest of the unit could take
FAQ
'd storm shields, making for a ferocious and resilient close combat unit that could tear up anything including terminators. Alternately, they could be loaded up a transport or drop pod and be given Furious Charge instead to give them S5 and I5 on charge and make them even more deadly. 6th edition made them more useless with the AP3 nerf and Furious Charge nerf and now this characterful unit is completely wiped off the slate…what a shame. You can still field the Sword Brethren as Vanguard Veteran models without jump packs (really? who does this… now, that jump pack upgrades cost a mere 3 points per model?) or make them squad leaders for your Crusader squads or even use them as models for your Space Marine Commander bearing twin lightning claws or a power weapon and bolt pistol. Or, in the rare case that you do employ a captain equipped with a boltpistol and mere close combat weapon, one of these models would make for a cool looking
BT
captain. In fact, the
ccw
-wielding models also make for a good example for a captain equipped with the Teeth of Terra chapter relic!
Sternguard
So the first new unit we have access to (in order of
FoC
) are the Sternguard. A shooty unit, many Black Templar players may be uncertain what to make of them. We've heard the rumors of their famous Special Issue Ammunition since the last
SM
codex, and finally we get to see it for ourselves: they're either Bolters that ignore cover; Bolters that wound everything on a 2+; Bolters that are AP4 and have Pulse Rifle range; or AP3 Gets Hot! Bolters at Grav Gun range. The big advantage of all these weapons is that they are rapid-fire, so the firepower doubles at half the range. While 6th edition thus made Kraken rounds more dangerous, it diminished the reach of the Vengeance rounds somewhat. Either way, a unit of Sternguard thus gives you lots of versatility and makes them useful in all situations: standing next to a high toughness creature? Use Hellfire rounds. In range of pesky Eldar Rangers hiding in cover? Use Dragonfire bolts. Caught a unit of Genestealers, Necron Warriors or Firewarriors bold enough to be in the open? Use Kraken bolts. Got a bunch of Chaos Space Marines coming at you? Use the Vengeance rounds to slay the traitors. Problem is, at 5 men you are not looking at a game changer. The Sternguard become more effective if you take a full 10 man squad. Interestingly, unlike Vanguard Vets, you pay 10 points for a veteran sergeant when purchasing a unit of Sternguard, so you save 10 points when fielding a full 10 man unit instead of two units of five. The 10 man unit can still be split into two combat squads if need be, so you still have two free Elite slots and since Sternguard have LD9 even without a sarge, you arent missing out on anything.
You can replace each Bolter with a Combi-weapon of your choice, this makes Sternguard that much more useful: need to take care of hordes? Give a guy or two a Combi Flamer. Are you gonna Drop-pod them next to an enemy tank? Have 5 more guys take Combi-Meltas and hope for the best. In any case, they do not relinquish their Special Issue Ammunition as the combi-weapons can be either fired as Boltguns (making use of the Special Issue Ammunition) or once per game as the special weapons they are representing. The Combi-Plasma isn't really worth taking, as its anti
MC
duty can be left to the non-overheating Hellfire rounds that also wound better (though the
MC
gets to take armor saves), or the non-overheating combi-meltas (though you only get half the amount of shots and also only upto 12"), and the anti-
MEQ
duty can be done for cheaper with the Vengeance rounds or better with Combi-Grav.
As for taking Combi-Grav Guns, well, you relinquish your anti-tank capability entirely (you can still assault a tank with your guys due to krak grenades), but now have roughly 3x the firepower and at greater range against
MCs
compared to Combi-Meltas if you stand still, and against
MEQ
, you'll wound a tad worse (3+ as opposed to 2+ on T4) but hit more often (3 shots per guy if you didnt move instead of 0 between 12"-18", otherwise 2 shots per guy upto 9" instead of 1 upto 12") so that's almost double (within 12") or triple (12"-18") the firepower against
MEQ
compared to combi-meltas and it gets even better against
TEQ
as you wound them on a 2+. One round should be enough to bring down the nasties. So it's either Combi-Melta or Combi-Grav depending on whether your meta is filled with armor or
MCs
.
Personally, I'll take a Combi-Flamer or two and Combi-Meltas for the rest as it gives my Sternguard two additional fields of skill which they didn't have before, namely dealing with hordes and dealing with armor. They can deal with all other sorts of battlefield situations using the Special Issue Ammo. Plus each flamer grants them some additional punch during overwatch if they get assaulted. Never ever ever ever take the Stormbolters - even in the new codex
GW
hasn't learned that we will not actually be daft enough to PAY points to LOSE our Special Issue Ammo rule. If the Stormbolter upgrades had been free, then perhaps they'd have a use for players who play exclusively against horde armies. Or if the Stormbolters had remained the same points cost, but special issue ammo included them as well, then they would have been worth taking as you essentially double the firepower output if your squad. But this? This is plain ridiculous...and here I was, expecting a
SM
codex where
GW
finally got the points costs right. That being said, it's also not a good idea of making use of the "take two special weapons" option, given that each member can have a combi-weapon anyway, and paying the points for the costlier special weapon that also makes you lose your Special Issue Ammo rule isn't really a good thing. Of course, *if* you know you will be playing against
MEQ
/
TEQ
opponents, then 2 Grav Guns definitely outperform 2 guys firing Vengeance rounds. As for the access to two Heavy Weapons in a 5 man squad... if you want to go down this route you're better off with Devastators in every manner. The only Heavy Weapon unique to Sternguard (and
LotD
) worth considering is the Heavy Flamer, but I'd stick to Combi-Flamers. Yes, the
HF
is +1S and -1AP, but do you really think you'll get to use the
HF
more than once? A combi-flamer thus does its job pretty nicely and you get to keep that extra bolter with the special issue ammo.
So...what's the ideal configuration? If you ask me, it is:
10 Sternguard, 2 Combi-Flamers, 6 Combi-Meltas, 2 Combi-Grav + Drop Pod = 365 points.
Costly, yes, but now we're talking about a real game changer. Drop them next to a tank on turn 1, have them take it out with 6 melta shots (4 will hit, against AV14 you'll get 2 pens, with each AP1 pen having a 33% chance to insta-explode the vehicle, 2 AP1 pens make that a majority), or drop them next to a horde and make it disappear with the dual one-shot flamers, or land them next to
MC
/
MEQ
/
TEQ
and have them unleash:
6 AP1 shots (4 guys firing combi-meltas) + 4 AP2 shots (2 guys firing combi-gravs) and 4 AP3 shots (2 guys firing vengeance rounds) with the latter two having a threat range of upto 9", on the turn they arrive,
OR instead, 6 AP1 shots (6 guys firing combi-meltas) and 8 AP3 shots (4 guys firing vengeance rounds) the turn they land, followed by 6 AP2 shots (2 guys firing combi-gravs having stood still) and a further 16 AP3 vengeance rounds (8 guys firing vengeance rounds) on turn 2.
Nasty.
Crimson Fist Sternguard are worth their weight in gold as they are objective secured units (if you have Pedro Kantor as allied
HQ
) and also benefit from the Imperial Fists Chapter Tactics: Bolter Drill. If you are looking for an allied
SM
detachment, Imperial Fists Sternguard + Lascannon Devastators, or Centurion Devastators carrying either
TL
-
HBs
and
MLs
or
TL
-
LCs
and
MLs
is a good way to add power to a Black Templar army, as the latter two units re-roll armor penetration rolls.
But, returning to the Sternguard, the main problem with them is that they are glass cannons. Taking combi weapons (and drop pod) can drive the price of an individual Sternguard up to almost terminator level, but unlike terminators, these guys possess neither a 2+ armor save, nor any invulnerable save. In fact, a 10 man Sternguard unit will die just as easily as a 10 man tactical squad. This means some sort of attached
IC
that can tank wounds is a must, if you want to field these guys more than merely as a suicide squad.
Legion of the Damned
If there's one ranged unit that's more boss than Sternguard, it's the Legion of the Damned. Apart from the fluff and awesome looks, even on the battlefield this unit brings the pain and takes names in every way imaginable. Five reasons make the LoD amazing in their own right: 1) they don't need no transport - they deepstrike in style (and by "in style" I mean you can re-roll the scatter dice). 2) they ain't afraid of nobody - they are fearless, cause fear and have 3+ invulnerable saves, so screw cover. 3) Their weapons ignore cover. 4) Even a small 5 man squad can take a heavy and a special weapon, and here's the best bit: 5) they have Slow and Purposeful. So while they can't fire overwatch or run, they can move and shoot with heavy weapons. And Heavy Weapons are key to running a deadly LoD squad. Give them a Multi-Melta and Melta and they can bust open a tank hidden behind an aegis defence line or a holo fielded Wave Serpent or a disruption podded Hammerhead the turn they arrive via deep-strike within melta range. Give them a Plasma Cannon, and the sarge a Plasma Pistol instead, and they can tear gaping holes into
MEQ
and
TEQ
formations tucked safely behind cover, accompanied by rapid-fire shots from another Legionnaire's Plasma Gun (it is unfortunate that the rather rustic Legionnaries do not have access to Grav Guns). However, the Legionnaire sergeant
can
be given a Combi-Grav to add insult to the injury - move and let those additional 3 AP2 shots fly once per game. Since the squad can shoot (even rapid-fire weapons!) and assault, it's also not a bad idea to give the Legionnaire sarge a power weapon - that brings him to 3 base attacks with a pistol, 4 on charge. A power axe is the best option as he can take the damage with his 3++
inv
. and then bring the pain to 2+
sv
. challengers in return. And because the LoD can't be instantly vaporized by enemy plasma, they make for an excellent addition in any Black Templar roster.
Sniper Scouts
These are some really cool looking models I always wanted to field, but couldn't thanks to the old codex restriction. Now I can, and they're actually very useful: Being infiltrators allows them to be deployed in a tactically good position; being able to take camo cloaks makes them receive a 3+ cover save in most places. Granted, they are only BS3, but being able to outrange Boltguns and even stationary Tau Firewarriors, and also wound
MCs
better and even rend, all for a very cheap points cost make for a perfect unit that is a pain in the enemy's butt, and chances are, he will pour an ungodly amount of firepower into eliminating this squad that he should have otherwise spent on vaporizing your approaching initiates. The Heavy Bolter with Hellfire rounds or Missile Launcher with or without flakk ammo makes for a nice finishing touch to turn this squad into something your opponent really wants out of the game. Remember - its not about the damage output of this squad (it is really low). It is about convincing your enemy that these guys are somehow dangerous, and encouraging him to target them with his firepower (usually coming from a squad that is costlier) and the scouts' ability to soak fire with their T4 and 3++ cover saves. And soaking up enemy firepower is crucial for a Black Templar assault to become successful. And if your opponent is clever and decides to ignore them, well, more power to you as the scouts are scoring so you can use them to grab or guard objectives, preferably out of
LoS
. A unit as cheap as this and with such a low damage output is better suited in staying out of
LoS
and controlling an objective anyway. So as you can see, you just can't go wrong with these guys. Alternately, you can always give them Bolters and let them outflank to accompany your Black Templar assault. If you decide to do this, giving the sarge a combi weapon is a good idea. But I'll expand on this later in the Land Speeder Storm section.
Crusader Squads
The heart and soul of every Black Templar army. Both in the old Black Templars codex and in the new Space Marine codex. THIS is the reason you want to go for Black Templars chapter tactics, never mind the Deny the Witch buff or Crusader
USR
. This, along with the boost to your Characters in duels and making your Land Raider Crusaders dedicated transports, freeing up the extremely valuable Heavy Support slots.
The reason that Crusader squads are so good has multiple reasons. Perhaps the most obvious is that they are one of the few Astartes troops choices that can be entirely equipped with boltpistols and close combat weapons and take the fight to the enemy – having a T4, 3+ save model engaged in close combat with the foe and dishing out 4 S4 attacks per game turn (yours and your opponent's combat phase) is certainly better than it becoming the prey of ranged AP3 weapons in the open, or staying behind and merely firing off 1 S4 shot per turn. Granted, the Bolter is much more competitive in 6th in that moving no longer reduces it to a 12" weapon, but I still like the idea of throwing my
MEQs
at the enemy's firebase with their average movement range of 10" (Crusader
USR
, remember?) per turn and pushing him into defensive mode instead of hiding behind cover and firing pot-shots at them. Unlike a generic Space Marine player, I also don't have to worry about getting my marines charged by the enemy and tied in
CC
.
However, the true reasons for the superiority of Crusader squads over Tactical squads is this: they can also be armed with bolters instead of close combat weapons, AND, most importantly of all, can take a heavy weapon AND special weapon without having to be inflated to 10 men. 5 men las/
plas
squads vanished from the space marines arsenal when their 5th edition codex was released in 2008. Sure, they gained combat squads, but that's just equivalent to fielding a 5 man squad with a heavy weapon and another 5 man squad with a special weapon (or putting both in one of them) – however, a single 5 man tactical squad couldn't take even one heavy or special weapon of any kind, so you had to max out to even have access to them, if I remember correctly. The new codex has at least given them one of the two options back for 5 men squads, but Black Templar Crusader squads can take both options despite only being 5 men. My favourite loadout for a "sit back and hold objective" squad used to be 5 Initiates, one with a plasma cannon, another with a plasmagun and the rest with bolters. A Lascannon would also make for a minimalist armor-harassing squad. The weakness of shooty Black Templar squads in our old codex used to be the fact that they would move out of cover (or away from an objective) like idiots if they took casualties from shooting and also had to test for target priority (even in 5th!). Now, both of these are a THING OF THE PAST, making Black Templar Marine gunlines viable. Thus, a Black Templar gunline is ironically strictly better than a regular space marine gunline. What seals the deal is the fact that we now have access to sergeants who can take another special weapon, although it's either a storm bolter or combi-weapon. A combi-flamer or combi-grav or combi-plasma will make the enemy think twice about Deepstriking or infiltrating next to your shooty squad, given that at 12 inches, a S7 AP2 plasma cannon blast + upto 5 AP2 shots could greet him from a mere 5 man squad, not to mention an additional 2 AP2 shots more from overwatch.
Where Crusader squads truly shine though, is the fact that they can now take an additional power weapon or power fist compared to their old Codex: Black Templars loadout. By default, I used to take a 10 man Initiate squad with melta and power fist, costing me 185 points. Granted, the cost for a power fist has gone up by 10 points in the new dex, but now my Initiates come equipped with Frak and Krak grenades by default AND cost 2 points less than their old codex counterparts (although admittedly the old Templars were Fearless in close combat). Still, I can now field that same 10 man squad with melta and power fist for 175 points, and add a sword brother with a power sword (3 base attacks) for an additional 25 points, making my squad LD9 and also more efficient against
MEQ
.
Neophytes have not changed in the new codex, but now also come with frag and krak grenades by default. What's more, you can buy them as Scout squads armed with boltpistols and
cc
-weapons for 1 point more per model and field them as a separate unit. They gain infiltrate and outflank and can take a Land Speeder Storm to turn them into a quick and effective point capturing unit.
Rhino
The Rhino has always been the workhorse of the Space Marines. Much weaker than Wave Serpents or even the Devilfish, its main strength lies in its extremely cheap points cost - taking a Rhino will cost little more than 2 Space Marines and arguably make your squad more survivable than adding 2 more bodies to it would. Especially us Black Templars received a huge points reduction to the Rhino compared to our previous Codex, although taking the extra armor upgrade is now much costlier. Because Black Templars have lost zeal, it is no longer tempting to have your crusader squads footslogging in the open for more mobility than riding inside a Rhino. Doubly so because even though 6th edition has made assaulting out of this transport no longer possible, it has increased the Rhino's maximum movement distance to 18", something that was only possible in 5th edition if your tank moved along a road at cruising speed, so it could add a further 6". While the Rhino is still useful (especially for carting around 5 man minimum sized squads bearing a special weapon with the special weapon guy and another guy firing their weapons from the 2 fire points), due to 6th edition's improvement on the arrival of reserves, as well as Black Templars having access to Drop Pod Assault, the equally costed drop pod makes for a more reliable transport than the Rhino. Sure, the pod is pretty useless after it has put your squad to where you wanted them to be, in comparison to a Rhino which, after having delivered your squad, can still taxi around other troops faster than they could ever foot-slog, but let's be honest here - what Rhino will still be standing on turn 3? The Rhino can be taken down far too easily, even with smoke popped thanks to its fragile armor, so I wouldn't want to risk ferrying my 10 man
cc
-Initiate squad aboard one only to have it popped in the middle of no man's land and the stragglers finished off.
Razorback
If I had been a vanilla Space Marine player, I would have been pretty pissed at what
GW
did to the Razorback. In the previous
SM
codex the default
TL
-
HB
Razorback was only 5 points costlier than the Rhino. Now it is a whooping 20 points costlier. Not only this, but the option of giving it a Heavy-Flamer turret is gone now. I mean
WTH
? It is quite rare that units suddenly no longer have access to weapon options that they had in previous dexes - what are all the people who modeled their Razorbacks with
HFs
gonna do? Granted, you have to make a conversion for that, but still. Every codex should give us new stuff to play with, not take things away from us! Either way, the Razorback Assault Transport amounts to two thirds the cost of an additional Rhino, now. For these points, plus the omission of both fire points, plus the omission of the stormbolter, plus the omission of the Repair rule, plus the reduction of transport capacity to six models, you get a twin-linked Heavy Bolter. That's it. I mean... what? Just think about it - a Rhino firing its Stormbolter, plus a Bolter from one of the fire points, and a plasma gun from another fire point amounts to 3 S4 AP5 shots and 1 S7 AP2 shot all at 24" - that's quite a bit of firepower compared to the 3
TL
-S5 AP4 shots at 36" coming from the Razorback. Which is why in my opinion if you ever do take a Razorback, you might as well make use of its heavier weapons and pay the extra points. Throw in the additional 20 points, and you can upgrade the
TL
-
HB
to either a
TL
-Assault Cannon, a
TL
-Lascannon or a Lascannon and a Plasma Gun, although you'll have to model the latter configuration yourself AND you wont be able to fire both at full
BS
if you move. The
TL
-Assault Cannon is meh, as for 5 points more you can buy a Land Speeder Storm with a
HB
and a regular Assault Cannon, giving you slightly more firepower, but far more flexibility due to the speeder's ability to deepstrike; have a 5+ jink if it moves, and being able to move 12" and fire both weapons at normal
BS
. Personally, I hate Razorbacks the way they are now. I feel really sorry for the guy who probably has a list of 6 default
HB
-Razorbacks lying around somewhere and was kicking ass in 5th edition...now his setup is 90 points costlier.
Now that Razorbacks have received an unnecessary increase in points cost, they simply are not attractive. A 5 point increase would have been fair, but not a 15 point one. They have the same
AV
as a Rhino, so their paper-thin hull doesn't allow you to fully make use of the main armament, given that pretty much anything can get past their armor. While Rhinos are "dedicated" transports, i.e. dedicated in bringing a squad to the frontline by moving 12" and popping smoke or moving 18" and hoping for the best, the costlier Razorback tempts you to move slower and fire the twin-linked gun, but in doing so you threaten the safety of its passengers, because the longer they are aboard this metal coffin, the smaller their chances are of getting out unscathed. If you are planning to field the
TL
-Lascannon Razorback as a battle tank (i.e. not transporting units around) then you might as well invest 25 points more if you have a Heavy Support slot to spare and you'll get a Predator with a
TL
-Lascannon mount. For 25 points you are upping your front
AV
from 11 to 13, which makes all the difference determining who is the hunter and who's the prey, on the battlefield. Of course, on the other hand 6
TL
-Lascanon Razorbacks are worth their points because when taken in such numbers, they are bound to get the job done, and most importantly of all, having none of them occupy any
FoC
slot means you can keep your
HS
slots open for other, non-
AT
stuff, like Grav Centurions or
TFCs
.
Drop Pod
Black Templar Drop Pods have received a boost in that while they cost the same amount of points as before, they are now Ballistic Skill 4. This no longer makes the Storm Bolter a useless gimmick that everyone forgets to fire once the pod has landed; it even makes the Deathwind Launcher worth taking, especially since it has dropped by 5 points. Granted, it is
AP
-, but if you deploy your pod into the heart of the enemy's infantry formation, the squad that deploys out of it is no longer the only thing the enemy has to worry about. However, note that unlike the Storm Bolter, the Deathwind Launcher cannot be fired the turn the drop pod arrives (which was possible in the previous codex as the drop pod had
PotMS
). The Drop Pod is more reliable than the Rhino in that it has a far greater chance of getting its squad when you want it to go. And I say "more reliable" since Drop Pods can still get shot down by Interceptor weapons or scatter off a table edge, but the chances of these happening are far lower than a Rhino or Razorback getting wrecked halfway to reaching its destination.
Vanguard Veterans / Assault Squads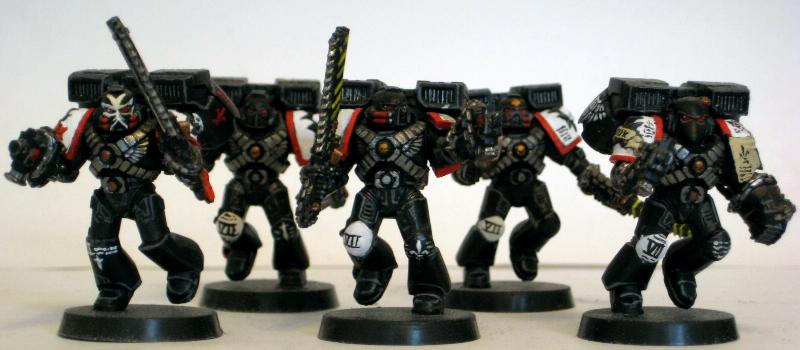 When the 5th edition Space Marines codex was released, I drooled at these guys and envied the Ultramarines for being able to have more killy squads in close combat than I did. Thankfully, Vanguard veterans are now available to Black Templars and boy, am I glad to have them. Equipped with Jump Packs, these guys are 5 points costlier than Assault Marines (who in turn are 5 points cheaper than they used to be in the old
BT
codex, so they essentially cost the same as my old Assault Marines used to), but have +1 base attack and each of them can be equipped by grav or plasma pistols (although this can get ridiculously costly real fast); a storm shield that is 5 points cheaper than what
ICs
have to pay for, as well as take power weapons of any kind. By the Emperor! If you equip these guys with bolt pistols and Power Axes, they cost 37 points each, have 3 base attacks, 4 on charge, that strike at Strength 5 and ignore terminator armor. Per model. Now equip a couple other guys with storm shields to absorb enemy low
AP
attacks/shots and you've got yourself a mobile unit that can take on almost anybody with ease. Give all of them melta bombs and even Land Raiders arent safe from their assault. Why would anyone take Assault Squads over them? Perhaps that's why they have been moved to the Elites section instead of the Fast Attack section to even things out, plus with the Assault squad you can always take dual flamers to roast entire hordes of light infantry upon deep striking. Note that in 6th edition, Jump infantry can re-roll their charge distance AND gain the Hammer of Wrath attack the turn they charge, if you only moved 6 inches with them during your movement phase - you can reap these extra bonuses if you deep strike with these guys so that a 12 inch move to reach your target is no longer necessary, although this will mean no assaulting until turn 3. Either way, there is no excuse to not kit your Vanguard veterans out with jump packs and opt to give them a transport for
extra
points instead. None, you hear me? On the other hand you can take a minimally sized Assault squad and remove their Jump packs to gain a free Rhino: while the jump packs add up to 15 points, the free Rhino is more than twice as costly, so you just made a small bargain on that transport. Of course, the counter argument is that it is an extra
VP
, but still.
Land Speeder
I always loved this unit ever since 4th edition when I started with
40k
. The sleek, good looking skimmer was tougher (not open-topped) compared to its Eldar equivalent, had a better ballistic skill and brought some impressive weapons to bear, especially the Multi-Melta. Due to its fragility, it made for a great tank-hunting unit that had a solid chance of taking out any tank you wanted to once you deep struck it next to the unfortunate vehicle. When our Cyclone Missile Launcher got upgraded to being a 2 shot krak missile in the
FAQ
, this became a must have. Tornado Landspeeders with a
HB
and an
AC
with their 7 AP4 shots were a thing, but an
AT
-Land Speeder that now could fire 3 S8 shots or 2 frag blast markers against infantry was simply too good to miss. Granted, the Land Speeder couldn't fire all weapons when it deep striked, but it now made staying behind and shooting from 48" range a tactical option - think about it - what weapons can target your Land Speeder at this range? Missile Launchers, Lascannons and other 1 shot
AT
weapons actually reserved to deal with your heavier tanks, right? Training them on a 70ish point unit would draw fire away from your 130ish point tanks. Move it around and suddenly the enemy can no longer destroy it, but only keep glancing it.
Then came 6th edition and removed that feature, but did give the Land Speeder a 5+ jink AND 2HP, so the chance was there (more than 33.33%) that it would soak the fire and continue to dish out punishment from afar, at least for one more turn. But perhaps the biggest change 6th edition brought to the table was that Fast vehicles can now deep strike AND fire 2 main weapons. That's right. Deep-strike the Land Speeder and fire not only its Multi-melta, but also its 2 S8 shot Typhoon krak missile at the side or rear armor of your target tank or walker and watch it disappear with a much higher probability than in past editions.
The new Space Marines codex has made the traditional Land Speeder even better in that it is a lot more tactically flexible for us Black Templars now: next to the old armament options, it can be armed with dual Heavy Bolters (a squadron consisting of 3 Land Speeders all armed with dual Heavy Bolters will cost you 180 points and yield 18 S5 AP4 shots at 36" each turn. 18 shots at
BS
4 means 12 hits. You are wounding Tau, Eldar and Guard on a 2+, most others on a 3+, so that's anywhere between 8 to 10 wounds the enemy has to roll saves against, if he is in cover. If he is outside cover with non
MEQ
...well that's one squad gone per turn. To fully silence these guns, the enemy has to get past 6 Hull Points (and 5+ jink saves on each of the 3 vehicles). And 36" means his massed S4 small arms fire won't be able to hurt them). Personally, I'd spend 45 points more and kit them out with Typhoon Missile Launchers instead - 6 small blast markers coming from a unit will do more damage against infantry than 9 shots, and 6 S8 AP3 krak missiles mean your squadron can get very dangerous toward enemy Monstrous Creatures AND tanks as well, and all from afar. Alternately, you can kit a Land Speeder out with dual Heavy Flamers (though I would be careful with this, as the Land Speeder can be charged by enemy infantry and get hit on 3+ in 6th) or....wait for it....dual Multi-Meltas. You read right. Dual. Multi. Meltas. Tell me, which other vehicle exists in the
40k
universe than can deep strike with not one, but two Multi-Meltas and only costs 80 points? That's right, none. This has to be the most effective anti-tank unit on a pointscost-basis in the entire metagame. Deep-strike this next to any armor you want gone (save the monolith), and it WILL be gone. If the Land Speeder doesn't get taken out in the subsequent turn, it will vaporize another tank with a high chance of success as it can move upto 12" and still fire both Multi-Meltas. However, I personally still field the
MM
+TML option, as it fares better against Monstrous Creatures,
MEQs
and light infantry, and I'd like to have an extra shot rather than bonuses on the vehicle damage table or being forced to deep-strike. Either way, the Land Speeder is an awesome unit and infinitely better than the Tau Piranha, that, due to being only BS3 and losing its ability to upgrade to
BS
4, makes for a piss poor tank hunter and is better suited to hunting light infantry with its improved Burst Cannon and Gun Drone output from 5 to 8 shots in total, but I'd rather invest those points in scoring Firewarriors if you asked me, given the Burstcannon/Pulse Carbines' short range. Whether the Land Speeder is better or worse than the new Eldar Vyper remains debatable; the Vyper certainly isn't the one-shot wonder that the Land Speeder is, and is still open-topped, but now that its dual Shuriken Cannons are rending and because it is
BS
4, it can also put lance weapons to good use, having a fair chance of taking out Land Raiders and Leman Russes from afar, and is also dangerous to all types of light infantry and light vehicles.
Land Speeder Storm
Since you cannot transport Scouts in anything other than a Land Speeder Storm (unless you spend 1 turn embarking them onto another squad's dedicated transport), this is another excellent new unit the Black Templars now have access to, allowing them to turn their Neophytes into their own, independent, scoring unit for just +1 point per model. A cheap, fast transport that benefits from a 5+ jink save and can get your Scouts to objectives within 1 turn makes for a reliable last minute scoring unit while your boltpistol +
ccw
crusader squad Initiates are best smashed into the face of the enemy via drop pods or Land Raider Crusaders rather than having this almost 200 point unit shuffle toward uncontested objectives, wasting their
cc
-potential. The alternative would be to send a barebones 5 man Bolter team aboard a Rhino for objective grabbing, but this will set you back at least 105 points and can only move 18" per turn (or 12" and get a 5+ cover save once per game). A 5 man Scout squad aboard the Storm is 5 points cheaper, can zoom 30" per turn, receive a 4+ jink for Skimmer moving Flat Out, and will guarantee you that 1 objective as long as it's not contested. All you need to do is keep them safe behind
LoS
blocking terrain till turn 4 and then zoom out and secure the marker.
If you are fielding a Predator or Whirlwind, keeping the Storm closeby will help thanks to its jamming beacon really messing up enemy deep striker insertions (take that, Fusion Blaster Crisis suits!). In the case of the Whirlwind, if you have both models close to the table edge and behind
LoS
blocking terrain, you bet they will be safe for the duration of the game. I would kit the Land Speeder Storm out with a Heavy Flamer, as it does not need a ballistic skill to fire, and can, if situations demand it, pose a serious threat to any enemy squad occupying an objective (behind cover or not) your Scouts want to claim. Having 5 close combat Scouts disembark and empty their bolt pistols and throw a frag grenade onto the enemy, followed by the Storm's heavy flamer, followed by the Storm's Cerberus Launcher, followed by the Scouts charging into cover with their assault grenades and 15 S4 attacks at I4 (3 of which are at WS4) to finish off the stragglers can make all the difference. If you kit your Scout sergeant out with a combi-flamer, that's another template you are throwing at the enemy to really make sure that the Scouts can finish off an enemy squad that is not willing to budge off the objective. The combi-flamer goes in nicely with an all-out Bolter loadout for the squad, so they dont need to charge and can instead rapid-fire the target squad to oblivion and roast the stragglers. The all-Bolter loadout also allows your Land Speeder Storm to act as a mobile gunboat, with your scouts staying embarked and firing out of it upto 24" instead of disembarking, but because of its fragility I wouldnt recommend this strategy as it encourages exposing the fragile speeder to enemy gunfire. Alternately, upgrading the Scout Sergeant to a Veteran Scout sergeant and giving him a power weapon will give him 3 base attacks, 4 on charge at S4 that ignore armor upto and including 3+. All this damage coming from a mere 5 man squad in 1 turn of shooting + assault (remember the Land Speeder Storm is open-topped, so your Scouts can disembark AND assault) can make all the difference when it comes to objective grabbing, compared to the Rhino which, granted, isn't open-topped and has +1AV on the front and sides, and its occupants have +1BS and a better armor save, but because the Rhino isn't an assault vehicle, and because it can't jump from one end of the board to another as quickly as the Storm, and because it doesn't have the large blast S2 blind Cerberus Launcher or a Heavy Flamer, I think it is a less reliable unit for forcibly wresting an objective from enemy control as quickly as the Scouts are capable of. Remember that the Land Speeder Storm has both the Deep Strike AND the Scout
USRs
. Combine this with the Scouts' Infiltrate and Outflank
USRs
(both applicable to the Land Speeder Storm as well), and you've suddenly got a huge range of tactical deployment options to maximize this squad's efficiency. Not to mention that an open-topped vehicle allows all 5 of your scouts to fire out of it with their bolters, if equipped, compared to only 2 being able to fire out of a Rhino's firepoints. Either way, now Black Templars finally have a chance of getting a Linebreaker victory point without having to bring one of their Crusader squads to the other side of the board. Last but not least, the Land Speeder Storm is a mighty fine looking model.
Bikes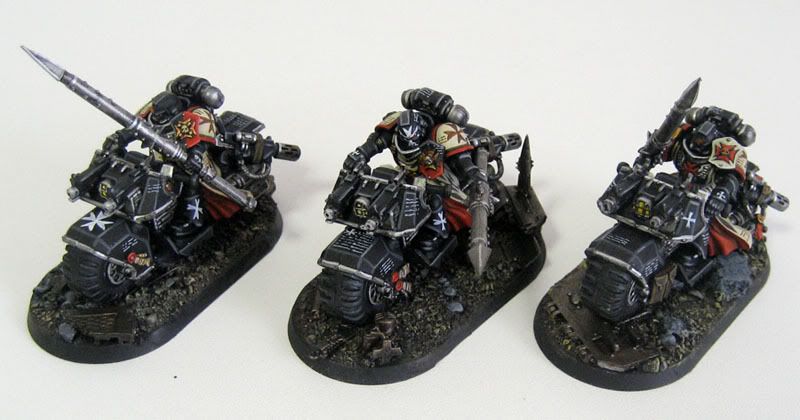 A Black and White Space Marine on a black and white bike...where have I heard that one before? Bikes have received a major buff in 7th edition. And that buff is trifold: for starters, there's Hammer of Wrath - an additional hit made at the biker's strength with
Ap
- when they charge. Per model. And the other, perhaps far more significant one is Jink. Yes, bikes now have it too. I am happy that Jink has been changed (wouldnt really say nerfed) since its introduction in 6th - in the previous edition it was a default 5+ cover save when the model or vehicle having it moved, and 4+ if it turbo boosted or did a flat out move. In 7th, not only is it a 4+ cover save, but these models get it even if they remain stationary. However, first of all turbo-boosting or flat out doesnt make it better anymore, and secondly all their ranged weapons are reduced to snapshots in the following turn. This takes the edge off Tau Hammerheads with disruption pods or Eldar Wave serpents with Holofields for example, who could keep dishing out damage at normal
BS
while being pretty impervious to damage (4+ cover).
So in any case we got 3 changes to bikes from what they once used to be in 5th edition and before; namely
HoW
, Jink, and finally, their increase in Toughness is no longer ignored when determining if a weapon is strong enough to insta-kill them. The benefactors of this are Attack Bikes, no longer being insta-killed by krak missiles, Lascannon hits or Battle Cannon pie plates, making them that much more survivable, as well as
HQ
characters on bikes who now have less need for a Shield Eternal to give them
EW
as anything other than S10 will now no longer insta-kill them using the strength = double toughness mechanic.
As if all this wasn't enough, Space Marine bikes received a HUGE points cost reduction similar to Jetbikes in the new Eldar codex. And by huge I mean 11 points per model. I mean hello? What is
GW
's logic behind this? Sell more bikes? It's insane. While Black Templar bikes lost the ability to take 3 special weapons per squad (it's only 2 now), they gained a veteran sergeant and his ability to take combi-weapons in addition to the two special weapons for the squad, so that's at least something. Bikes are also the best place to put Grav Guns to use, as you can move upto 12" and still fire all 3 shots of each Grav Gun upto 18" thanks to the Bikes having the Relentless
USR
. A 3 man bike squad emerging out of
LoS
blocking cover and emptying 9 Grav Gun shots (including the sergeant's Combi-grav) at a Monstrous Creature or Terminator squad will severely cripple that threat. Because they are toughness 5 and get the Jink, they can take some punishment, too. Jink is better than turbo boosting, because this way you get to shoot during your turn, apply jink during the opponent'S (if he targets your squad with low
AP
weapons instead of massed fire) and then use your next turn to just move and charge an enemy ranged squad to lick it in close combat since you'd suck at shooting that turn anyway. Better than turbo boosting, because turbo boosting prevents you from firing during your turn and doesnt make you any more resilient during your opponent's upcoming turn, just bringing your guys closer to his rapid fire range. If you are certain you can finish off a severely hurt squad by charging into them, then it's a good idea to replace your sarge's bolt pistol with a power fist instead of the combi-weapon. Spend a couple more points if you go down this road and he gets +1 attack for being upgraded to a Veteran Sergeant. Your squad also benefits from a higher Leadership. On charge with the sarge, you are looking at 3 S8 AP2 hits, accompanied by a further 7 S4
AP
- hits from the rest of the squad (
HoW
included). Not too bad as a finishing move.
And what better than making these fast and deadly guys scoring units by equipping your Commander with a Bike as well? So White Scars bikes get +1 to their jink, have +1S
HoW
hits, auto-pass dangerous terrain checks, can Hit and Run, and also gain the Scouts
USR
(the latter only with Kor'sarro Khan as
HQ
), but even without these buffs I think bikes are a great unit to take in any Space Marine army. Plasma Guns have 6 more inches "reach", but with the bikes' mobility, range should usually not be a real problem, and at 24" fire from the Plasma Guns is only about a third as effective as the Grav Guns' fire. At 12", the Plasma Guns become two-thirds as effective as the Grav Guns, but you're now running a big risk of frying your own guys. And while Meltaguns are cheaper and can crack open tanks, you have to get real close to the enemy tank with your bikers to make use of them. And if you aren't using them against tanks, they are only a third the firepower of the Grav Guns and at 6" less range to boot. Personally, I'll stick to the safe Grav Guns and against light infantry, I always have the bike's twin-linked bolters.
Bike squads can be joined by a single Attack Bike, and in this case the Multi-Melta is always a better option than the Heavy Bolter unless maybe if you're playing as Imperial Fists. The Multi-Melta can suffice if your squad really has to take down a tank, and can do so from a greater range as well (giving the sarge Melta Bombs also helps). Heck, even outside Melta range the Multi-Melta can comfortably deal with transports etc. from a distance - moving 12" and firing upto 24" is ample range and AP1 is nothing to sneeze at.
Attack Bikes
On their own, Attack Bikes are now better than ever for the same 6th edition buffs as described above. Plus, having 3 Multi-Meltas driving around that can't be insta-killed by anything other than Demolisher Cannon shells or Medusa Siege Gun rounds is highly enervating to any enemy armor players. Even
MCs
will break a sweat if they find themselves in range of such an Attack Bike squad. They're relatively cheap in points, and can come anywhere between 1-3 in terms of squad composition. A maxed out squad with
MMs
will cost you 165 points, but in an age where Riptides, Wraithknights, Flyrants, Greater Daemons and other nasties roam the battlefield, this amount of concentrated firepower can come in handy. A Predator Annihilator or a 4 Lascannon Devastator squad bring about the same amount of firepower to bear, but are far less maneuverable and in the case of the Devastators, more squishy. Dropping Attack Bike squads in favor of dual
MM
Land Speeders is worth considering, as they have the added benefit of not having to navigate around terrain pieces. Even 3
MM
Attack Bike squads can be dropped in favor of a squadron of 2 Land Speeders bearing a total of 4
MMs
. They have the added bonus of being able to deep strike and fire all
MMs
the turn they do, and on subsequent turns, move 12" and still fire both
MMs
due to being Fast vehicles, but unlike Attack Bikes, do not benefit from Chapter Tactics and cannot fight in close combat. The latter might be a good thing, as it means they can never be tied in
cc
and due to lacking an
LD
value, also never have to worry about leadership unlike the Attack Bikes.
Scout Bikes
If these guys had been moved to the Troops section, they would have made for a great unit. Or heck, if it required a Captain on bike to make them Troops, it would have been even better (fairer). But in the Fast Attack section, these guys are too inefficient to be taken on a competetive level. Let me explain why: in comparison to a bike squad, they have the infiltrate and scouts
USRs
, but do not have access to Meltas, Plasmaguns, Flamers or Grav Guns. They are also only BS3 and to top it all off, only have a 4+ armor save. They are only 3 points cheaper than a bike, which doesnt justify the stat decrease and lack of access to weapons that pack a good punch. You can give them Astartes Grenade Launchers, which, at 12", can get dangerous with 2 small blast markers per bike, so that's pretty neat, but at
BS
3 and S3 they still aren't a must have. And kitting your scout bikes out with
AGLs
will make them 2 points costlier than
SM
bikers. The sargeant can take a Homing Beacon - combine this with turbo boost and they can really help your reserves get to where you want them to deep strike without worrying about scatter, although it takes some skill to pull this off during a game. Furthermore, you can purchase Cluster Mines which essentially turns a piece of area terrain into dangerous terrain. Not worth the points cost.
Stormtalon Gunship
Gunship is a bit of an overstatement, harrier would have been the more suitable term. The Stormtalon is another new addition to the Black Templars armory - a cheap flyer with a good
AV
(all around!) that can bring some firepower to bear. The Stormtalon comes with an underslung, twin-linked, Asscannon (so 360° fire arc) and a twin-linked Heavy Bolter, and has the Strafing Run special rule, so against all non-flyer targets, you might as well see the Stormtalon as a BS5 aircraft. BS5 and twin-linked? Wait a minute, that's pretty good! Despite having the same guns, this firepower is A LOT better than what comes from a Tornado Land Speeder equipped similarly. Of course, the
LS
Tornado is 30 points cheaper, but for that not a flyer and not as well armed. Besides, the Stormtalon can always opt to fly around in hover mode if it wishes to do so, thereby becoming a Fast Skimmer like the
LS
Tornado, but still being 1
AV
better all around and having superior firepower. Ceramite Plating also helps in that the Stormtalon is not automatically toast if it gets too close to enemy meltas, but meltas dont have skyfire anyway. However unlike the Land Speeders, it has to begin the game in reserves due to being a flyer, and also can't exponentially increase its firepower by being fielded in a squadron. As such, in higher points games, that Fast Attack slot is put to better use by 3 Tornado Land Speeders. Now the weapon options are well balanced: you can swap the
TL
-Heavy Bolter for a Skyhammer Missile Launcher, which is essentially removing the twin-link on your Heavy Bolter, upping the strength by 2 and adding 24" more range. Definitely worth taking, as even though you lose the twin-link, you are putting out shots at better strength (thereby wounding most
MEQs
on a 2+ instead of a 3+) and at far greater range, and because the Stormtalon is a Flyer, it can hunt other Flyers this way. 3 shots at BS4 and S7 on enemy Flyers is fairly solid, and then you always have the Assaultcannon as a twin-linked "finisher". But S7 won't do particularly well against ground vehicles. So, you can drop the 3 S7 shots for 1 twin-linked S9 AP2 shot (but a further 15 points to spend) and you have turned your infantry hunter / flyer hunter to an annoying threat on the battlefield that can't be taken down easily (read: without interceptor or skyfire). It's one thing when a Lascannon shot is coming from a Space Marine squad or even a Predator, but another altogether if it is coming from something that you can normally only hit on a 6, something that is also immune to massed bolter fire. Pay 5 points more and you can upgrade your single S9 AP2 twin-linked shot to a
CML
, i.e. 2 S8 AP3 shots. Now on first glance this isnt worth it, as you lose the +1 on vehicle damage roll and are -1S, so gaining like half a shot more isnt really a boost. However, you have now regained your anti-infantry firepower as the
CML
can drop 2 blast markers accompanied by the Assaultcannon's withering hail of fire. Yes, this is the costliest variant of the Stormtalon, but it is also one that maximizes its anti-tank and anti-infantry and even anti
MC
firepower, because a
MC
can shrug off hits from a
TL
-Heavy Bolter or Skyhammer, but will feel the pain with 2 AP3 krak missiles hit home. Personally, I think the
TL
-Lascannon should have dropped by 5 points and the
CML
by 10, that way all options would be fair, but right now I think the Skyhammer is the perfect balance between points and added effectivity - because of the Stormtalon's maneuverability (and arriving from reserve) you should be easily able to avoid facing front armor anyways, so the 3 S7 and 4 S6 shots should be enough to bring down tanks apart from being effective (BS5) against infantry.
Land Raider Crusader / Redeemer / Phobos "Godhammer"
The iconic and mainstay battle tank of every Black Templars army – no
BT
army can truly call itself one without possessing at least one of these. The Land Raider Crusader has dropped by 15 points and comes with a Searchlight and Smokelaunchers, but has lost the Extra Armor and Multimelta upgrades which have to be bought separately – taking them will bring your tank to 1 point more than in the previous codex. Remember that in 6th edition your tank can move 12", fire one weapon at
BS
4 thanks to
PotMS
(how about the Multi-Melta at that tank over there that was 35" away from your original starting point?) and then ALL your other weapons as snapshots at a different target (how about that juicy infantry squad over there?). We're looking at a twin-linked Assault Cannon and 6 twin-linked bolters firing at one squad here, so rolling for 6s isn't so bad at all. Out of 10 shots, that will equal (re-rolls included) to 3 hits, 40% of which are the Assault Cannon. Definitely an improvement over 5th edition when moving at cruising speed would allow for 0 shots. However, in 5th edition your tank could move 6" and fire 1 main weapon and all of its Hurricane Bolters at full Ballistic skill (and when the
FAQ
came out, also fire the Multi-Melta at BS4 instead of BS2), but still…that 5th edition +
BT
FAQ
time period was really imbalanced in that the Black Templars benefited from all the new goodies that vanilla Space Marines got with their 5th edition codex, while keeping their own army buffs from 4th edition.
What makes Land Raiders really useful is that they are an Assault vehicles. Since 6th edition has made it impossible to assault out of a non-assault-vehicle tank (even if it sat still) without having to spend one turn disembarking, the Land Raider ensures your squad doesn't get rapid-fired to death the moment they hop out. The frag launchers have lost some of their usefulness (given that standard marines come with grenades now), but their purpose is now still useful for lightning claw terminators charging out of the vehicle. Since you can disembark 6" from the front hull of the Land Raider, being able to successfully charge out of this behemoth shouldn't be a problem at all, especially if it moved 18" (or 12" and popped smoke) in the previous turn and 6" on this turn to ideally get as far as possible and still allow you to pull off an assault on turn 2. Something that guarantees your large and otherwise vulnerable Crusader blob reaching
cc
by turn 2 is always good in my books - especially if it can handle itself as a battle tank once the transport duty is done.
In any case, the more I look at the regular Land Raider (Phobos/Godhammer), the more I begin to like it - if there's one thing the Space Marines can never have enough, it is BS4 Lascannons.
TL
-BS4 Lascannons are that much sweeter. And with the Land Raider Phobos you get two of them. Because in the current codex the Land Raider Phobos has gained the ability to take a Multi-Melta, this weapon is now no longer exclusive to the Crusader and Redeemer. Since it is a pintle mounted weapon, it can be fired along with one
TL
-
LC
at any tank and, if that tank happens to have the misfortune to have the
LR
Phobos facing it, both
TL
-
LCs
and the
MM
can be fired at it - so taking the
MM
adds nicely to more
AT
firepower - even at >12" range, a S8 AP1 shot is still pretty awesome. Add in a
HK
-missile and your Phobos now really has the capability to wreak face (of enemy armor) in a single turn of shooting. Unfortunately, the Phobos only has a transport capacity of 10 models, so you can't take a full squad AND an
IC
- this becomes more evident in terms of terminators as unlike regular Space Marines, their minimum occupation size is 10 models, so no
IC
to lead them whatsoever. Same goes for the Centurions - a minimum sized unit of 3 will occupy 9 passenger slots, meaning you cant take an
IC
in terminator armor to lead them.
A good strategy is to really keep the Phobos/Godhammer back at your firebase - or advancing slowly - and keep firing those two
TL
-Lascannons. At 48" range, there's not much that can harm your tank save the enemy's most dedicated
AT
weapons. It's when you get closer that melta range,
MCs
, meltabombs etc. start to factor in and further threaten your
AV
14 Raiders, so it will survive longer than a Crusader or Redeemer ever will. However, is paying 250ish points for a mere 2
TL
-Lascannons really worth it? If you want Lascannons, you'll find more firepower from Predator Annihilators, Lascannon Devastators or even Centurions with
TL
-Lascannons and
MLs
- especially if the latter two are Imperial Fists, oh boy. Anyways, the main reason why I when playing Black Templars you should take the Crusader over these two other variants (aside from obvious reasons) is that this way, it does not occupy a
HS
slot.
Finally, something worth mentioning that separates Land Raiders from Stormravens is a sevenfold advantage: one, your Land Raider starts the game on the table and thus doesn't make you dependent on reserve rolls (or reserve roll modifiers). Two, this means it can move and start firing at the enemy (and dealing casualties) from turn 1 itself, while the Stormraven is basically 200+ points missing on your side of the table on turn 1, and also on turn 2 if you are unlucky, and even turn 3 if the dice gods hate you, meaning you arent killing stuff which you could have with the Land Raider. Three, the Land Raider being an assault vehicle and starting the game on the table means it will deliver its payload into close combat by turn 2 itself, while a Stormraven can only do this on turn 3 onward. Four, in 6th edition's meta, people are fielding large amounts of S6/S7 weaponry, as they *expect* others aren't bringing high
AV
vehicles to the table anymore - but by bringing a Land Raider, you are gleefully exploiting this meta shift to your advantage. Five, the Land Raider has an additional Hull Point over the Stormraven. Six, the Land Raider has a lot more
LoS
manoeuvrability in that it can do a 360° turn before deciding to move (and not count as moving if it doesn't move) and then do another 360° turn after ending its movement to face whatever it needs to face for shooting, while the Stormraven is only limited to a 90° pre-movement turn. And seven, the Land Raider is essentially a moving piece of solid
LoS
blocking terrain. That means you can effectively hide a lot of stuff behind it during deployment and even after the game has begun, such as an additional Crusader squad jogging in its wake - remember, what the enemy can't see, he cannot target. Beware of high rise buildings and scattering blast weapons, though. Oh and bonus point: the Land Raider is one of the most awesome and iconic looking vehicles in the entire game of Warhammer 40,000, while the Stormraven is a flying dumpster.
Vindicator
For the same price as in the old codex, the Vindicator comes with searchlight and smoke launchers now, but we no longer have access to Power of the Machine Spirit anymore to turn it into a quasi-Fast Vehicle. The Siege Shield costs twice as much as the Dozer Blade, and while the Dozer Blade already does a solid job of minimizing danger to the vehicle when moving through difficult and dangerous terrain from 16.66% to 2.77%, the Siege Shield reduces this to 0%. But more importantly, it properly represents the impressive Siege Shield your Vindicator most likely will already be having in true
WYSIWYG
fashion. No Vindicator is complete without a Siege Shield! The points cost for the additional Storm Bolter has dropped by half, and given the new way 6th edition treats a Weapon Destroyed result, it is definitely worth taking this, as it reduces the chance of losing your Demolisher Cannon to a weapon destroyed result from 50% to 33.33%. The Hunter-Killer Missile has also dropped in cost by 5 points. Since 6th edition has turned the Demolisher Cannon into a somewhat reliable tank-hunting weapon, you can really create a 24" area-denial bubble with this tank for only half the points cost of a Centurion Devastator squad armed with Gravcannons and Grav-
amps
. The Centurions have a definite edge over the Vindicator though when it comes to hurting multi-wound models with T6 or more, such as monstrous creatures.
Centurion Devastators
Since the dawn of 6th edition, every army has received a shiny new unit to play with when their codex was released. For Dark Angels, it was the Land Speeder Vengeance and Nephilim Jetfighter, for the Chaos Space Marines, it was the Heldrake and the Forgefield/Maulerfiend. For Tau, it was the Riptide and for Eldar, it was the Wraithknight. For Space Marines, it was neither a Flyer nor a Monstrous Creature…so what did we get? A SPESS MARINE
INSIDE
A SPESS MARINE. Many people say the Centurions are very ugly models, but personally the more I look at them, the more I like them. Space Marines are supposed to be big and bulky. Heck, when you really think about it the Dreadnought looks ugly too, and that model is what... 10 years old now? And yet I've heard no complaints all these years about it looking like a freakin box. The only thing that puts me off is the price of the Centurions (costlier than a Land Raider!).
GW
shoves BOTH Assault AND Devastator variants down your throat in one box set and strips the appropriate amount of money from your wallet. Why couldn't they split the two kits like they did with the Terminators? Oh right. Because then nobody would buy the assault ones. I really hate
GW
's two-kit policy. You end up with craploads of bits that you can only make use of if you magnetize each model you build. But THERE ISN'T A SINGLE TUTORIAL ABOUT MAGNETIZING ON THE
GW
WEBSITE BECAUSE THEY ACTUALLY DON'T WANT YOU
TO
MAGNETIZE ANYTHING AND SAVE MONEY. Yeah, **** you too,
GW
.
Anyways, regarding the models: it would have been a fair collection of different loadout options if, next to the
TL
-Lascannons or Grav Cannons and Grav
Amps
, you could kit them out with 2 Heavy Bolters each, but unfortunately, that is not to be. They come with a single
TL
-Heavy Bolter, which, in the age of Warwalkers bearing 2 rending Shuriken Cannons each into battle, is no longer an imposing sight. And if I want multiple
TL
-Lascannons, I'm going to take a Godhammer pattern Phobos Land Raider – costs around the same amount of points, okay 1
TL
-Lascannon less, but it has a
TL
-
HB
and allows me to transport models and finally, is AV14 all around and not prone to getting insta-killed by a Demolisher Cannon shell.
The Gravcannon loadout is really the only competitive option these guys have. Something that can completely wreck an assault-oriented
MEQ
enemy's battle plans and ruin a Tyranid
MC
list player's day as well. Give your Centurions Missile Launchers to boot, and they not only increase their firepower against light infantry that are further than 12" away (a blast marker is more effective than 3
TL
-S4 shots...and remember, Centurions cannot overwatch anyway due to having Slow and Purposeful), but also make the unit much more viable against armor, as well as give them a boost toward taking down
MCs
. Most importantly though, taking the Missile Launchers means that if your Grav Guns kill more guys of a unit than were within reach of the guns' range, those wounds will no longer be discarded. What I mean by that is, imagine if a 10 man Space Marine unit only had 3 members within 24" of your Grav Centurions and you decided to shoot at them. With some good rolling (and re-rolling), you deal enough wounds to completely wipe out the unit. But if you haven't purchased the
ML
upgrade (even 1 is enough) only 3 wounds would be dealt and the rest discarded as the other squad members are out of range - only blast weapons have the capability of inflicting wounds even if the blast scatters beyond the weapon's max range. So anyway, all of this for 30 points? That's dirt cheap, if you ask me. At 280 points, you are looking at a very costly, but very effective unit that can dictate a battle on its own. Though they may be small, think of the Grav Cannon centurions really as the Space Marine equivalent to having a Riptide on the battlefield: 6 wounds? Check. 2+ save? Check. Granted, they are only T5 (Demolisher Cannon says hi), do not ignore cover saves (unless you take a Tau Buffmander), do not ignore armor saves in close combat, have no invulnerable save themselves, can't deepstrike and can't jetpack to wherever they wish, but one volley from their grav-amped Grav Cannons is far more destructive to enemy
TEQ
and
MEQ
than even the Riptide's overcharged Ion Cannon. And unlike the Riptide, the Centurions can reduce any and all Monstrous Creatures to a smoldering pile of ash in just 1 round of shooting. Laugh at your Tyranid player's face when you take out 2 Carnifexes that had the misfortune to be in the same brood, in 1 turn. Give one of your Centurions an Omniscope, and you can lay the hurt to 2 different squads in 1 turn of shooting (having them all fire at the same squad is usually overkill anyways – watch the smirk fade from the Eldar player's face when both his Avatar and Wraithlord are brought down by one squad at the same time).
Now how do we turn an already scary unit into an absolute nightmare? Simple. We attach an Artificer Armor + Shield Eternal Chapter Master to them and march them to the best
LoS
spot on the battlefield. Majority Toughness 5 for all wounds rolled on the squad, while the Chapter Master takes as many saves as possible until he has to rely on look out sir. The CM can tank all the low
AP
wounds that would have given the Centurions trouble (including Demolisher Shells) and at the same time, he also gives them a direly needed close combat insurance policy. Because let's face it - Centurion Devastators absolutely, positively SUCK in close combat. A 250 point unit dishing out THREE S5
AP
- attacks in close combat is the biggest joke in the entire Warhammer 40,000 meta. They can't overwatch, so really the weakness of the Centurion Devastators is getting charged. WHICH YOU DO NOT WANT
TO
HAPPEN. If it does happen, you might as well remove them from the table because they'll probably remain locked in
cc
for the rest of the game. Stuff like this even puts Firewarriors' close combat prowess in a better light. Which brings us back to the Chapter Master and why his close combat prowess is exactly what this unit needs to iron out its biggest weakness.
So exactly how will the enemy take out this deathstar? Shooting? Good luck getting past 2+/3++, Eternal Warrior and 4 wounds. Assault? Good luck getting past a Grav Cannon volley and the CM in
cc
. Ignore? Watch your units die. Run away out of 24"? Thanks for putting the battlefield (and its objectives) in my charge. It gets even better when said Chapter Master uses Iron Hands
CT
, allowing him to regenerate a wound on a 5+ each turn, and giving him a 6+
FNP
to boot (5+ if you've allied with Clan Raukaan and give him the Chain of Gorgon). Or even better, attach a Dark Angels librarian or Commander Shadowsun instead and grant your entire unit a 4++ invul or cover save, respectively (and the ability to outflank, in the case of the latter and have your Grav Cents appear right at the enemy's deployment zone turn 2 onward with the added bonus that they now have a 4+ save vs. low
AP
weapons regardless from which angle they are shot at. It's also helpful to see Shadowsun's Toughness get majority boosted to 5. Oh and the command-link drones allows you to re-roll 1s when rolling to-hit. Did I mention Shadowsun grants them Nightvision, too?)
Another interesting way of running them is inside a Land Raider. Too many eggs in one basket, yes, yes, I know, but hear me out - this way you have the added benefit of being able to take regular Land Raiders or Land Raider Redeemers as dedicated transports. And the Land Raider allows you to boldly deploy them at the edge of your deployment zone so that they don't spend unnecessary turns out of range or out of
LoS
- if the enemy goes first your
LR
will protect them from fire, and if you go first you can move the
LR
6", deploy them out another 6", and fire all their weapons at 2 different targets all in the same turn. If your desired target is further away, you can drive 12", pop smoke, and get to do the above mentioned process on turn 2 instead. Mobility is key to victory.
However, if you as a
BT
player already have a Vindicator and Predator Annihilator in your arsenal, along with a Las or Plasma Cannon (or two) distributed among your army (maybe one on your dread?), then there isn't any real point in going to
GW
and paying the 50 quid to field these guys. On the other hand, if you are just starting with Space Marines, buying a squad of Devastator Centurions is like fielding a Vindicator and Predator Annihilator at the same time in one Heavy Support slot. Pricewise (both in-game and in real life), I believe you save some with the Centurion option compared to buying multiple tanks that do the same job. Just be aware that you end up with a bucketload of bits after assembling these and your best bet will be to sell these on ebay.
Whirlwind
An excellent addition to the Templar armory. We can finally field these beauties! There are multiple things I love about the Whirlwind. To begin with, the price. It is incredibly cheap for a battle tank. Granted, "support tank" should be the proper term, but being able to lob a pie plate anywhere between 12"-48" is more firepower than many full-fledged "battle tanks" can dish out. And the fact that this pie plate can either wipe out Tau Firewarriors or Tyranid Genestealers outside of cover, or wipe out Eldar Rangers even inside cover, and the fact that you can choose between these two ammunition types any time during the game makes for an extremely dangerous harassing tank when you are fighting light infantry. The Whirlwind's downside is that it is very fragile, but you can somewhat mitigate this by hiding it completely behind cover, since its main weapon is a barrage weapon. However, the Whirlwind still remains a prime target for enemy infiltrators or deep striking units and if you as a Templar player are writing a close combat list, the Whirlwind will only be of an annoyance to you if it starts lobbing shells into the enemy deployment zone when your crusader squads have already reached them. Still, I think this additional firepower can be used effectively to get cheap enemy light infantry out of foxholes that would otherwise almost make them as resilient as marines when being shot at. Nothing is better than a Whirlwind when you are facing non-mech Imperial Guard, let me tell you that. Orks are welcome, too.
Thunderfire Cannon
The Thunderfire Cannon, in terms of firepower on paper, has more Dakka than the Whirlwind (4 small blasts > 1 large blast; S6 and S5 ignore cover > S5 and S4 ignore cover, respectively). Understandably, it is 35 points costlier. However, you also get a Techmarine with a servo-harness who, while lacking the armory and servitor options in his own entry in the
HQ
section and also not being a character, still gives you the Blessing of the Omnissiah and Bolster Defenses special rules, as well as a flamer and plasma cutter to aid in your unit's defence in case of emergency. However, the Thunderfire Cannon has flaws compared to the Whirlwind that reveal themselves at second glance: it's the
AP
. The surface detonation has AP5, so unlike a Whirlwind you cannot vaporize medium infantry such as Genestealers, Firewarriors, etc. in the open...no, they get their 50% chance of survival. The Airburst is also useless, as there arent many 6+ save units out there. Kroot and Orks come to my mind. However, its use lies in forcing Eldar Rangers and Guardians to take their crappy 5+ saves, so that's something. The Subterranean blast sucks, because honestly? Difficult terrain isnt really game changing. And you have a 16.66% chance of stripping a Hull Point on a vehicle if it moves. Wow. Seriously, I can't see how everyone is so crazy about this unit. Yes, FOUR small blast markers that wound most infantry on 2+ and insta-kill Guard, Tau and Eldar multi-wound models, as well as Bolster Defences is great for the pointscost, but I think a Heavy Support slot is put to better use, such as by Vindicators. So yes, it's a cool looking model/kit and yes, it isn't overcosted, but I think the Heavy Support section should be reserved for more competetive options.
Devastators
Devastators have been an iconic part of the Space Marine force since at least 3 editions now. In light of all the new units, they seem to have taken a back seat, but don't underestimate these guys. A 4 Lascannon team will cost you 150 points with the sarge, which is more or less the same as a Predator Annihilator, but with more firepower. When 4 Lascannons are directed at something, the owner of that something better start praying. Personally, I think Devastators offer you something that no other unit in the
SM
roster offers: 4 Plasma Cannons. A 5 man Devastator squad armed this way is actually 20 points cheaper than the 4 Lascannon team, i.e. getting into the points cost range of a Vindicator, and can seriously lay the hurt on
TEQ
and
MEQ
armies. 4 Plasma Cannons are not only more deadly than a single Demolisher Cannon, but also have more range. Granted, you run a high risk of toasting your own guys, but at 5.55% per guy, I'm willing to take the risk even though it means with every volley there is a 22% chance of one guy getting killed. Another useful way of fielding Devastators is taking the costliest option: kitting them all out with Missile Launchers and Flakk ammunition. That's really all you need in a tournament setting - all flyers short of Valkyries/Vendettas and Stormravens will cower in fear when four S7 krak missiles are coming their way. And even the latter two will lose much of their confidence. The four
MLs
are also good against vehicles and
MCs
with 4 S8 AP3 krak missiles and lastly also pack a good punch against infantry with 4 small blast markers and to top it all off, are also safe to fire (unlike the Plasma Cannons), so you can see why they are the costliest option as they really are a tournament-worthy jack of all trades, useful when you don't know what you will be facing. At 130 points (170 with flakk), this isn't too shabby at all. The Multi-Melta option is useless, as you will need a drop pod to get your guys in range and even so you'll have to wait a turn before you can fire them, but experienced players can use them to drop them on an objective and thus create a vehicle-denial bubble. But a drop pod is just 10 points cheaper than upgrading all four
MMs
to Lascannons (double the range, +1S, but -1AP and you lose the melta special rule), so don't really bother with these unless you know beforehand that you will be facing an aggressive mechanized force coming at you, such as Eldar Wave Serpent spam, enemy Black Templars, Blood Angels or mech Guard. As for the Heavy Bolters...well, I think 12 S5 shots are neat, but you'll find similar firepower coming from a Stormtalon at a higher Strength, higher Ballistic Skill (strafing run, remember?) and far more mobility for similar points cost. And don't tell me 5
HB
Devastators are more resilient than 1 Stormtalon. However, the Heavy Bolters works best with other Bolters, so when you beef up your Devastator squad to 10 members (to ensure your
HBs
keep firing) those extra Bolters nicely compliment whatever target your
HBs
are firing it. Now, regarding what the ideal size for a Devastator squad should be...I honestly don't know. If you have points to spare get some more, otherwise stick to the minimum, keep them on the lower or mid level of multiple-storied ruins so they don't become the target of enemy Barrage weapons, and make sure you give the enemy something else to shoot at than your Devastators. Finally what I would like to remind people is that the sergeant has a signum. This means one of your 4 Heavy Weapons guys actually has BS5 if your sarge doesnt fire his boltgun. Very useful for that aforementioned anti-tank team consisting of 4
MLs
or 4 Lascannons.
Lastly, I would also like to remind
SM
players that Devastators have significantly dropped in price compared to the previous
SM
codex. They no longer automatically come with the LD9 veteran sergeant, but have gone down by 20 points. The 4
HB
/
MM
option used to be 20 points costlier, the 4
PC
option used to be 40 points costlier, and the 4 Lascannon option used to be 60 points costlier. Like...woah, right? So while anything other than 4
ML
Devastators were not worth it in the old codex, almost all options are worth it in the current one.
Predator
Ah yes, the Predator. Back in 4th edition this was the mainstay long range Battle Tank of the Space Marines, equivalent to the Tau Hammerhead or the Eldar Fire Prism. Now, it doesnt look so scary compared to the cheese you can field in the Space Marine Heavy Support section, but 3 Lascannons, 1 of which is twin-linked, coming from a front
AV
13 tank is nothing to sneeze at. This setup makes for a good, albeit relatively immobile vehicle- or
MC
-hunter. Chances are however, that your enemy will keep his tanks out of
LoS
...so sometimes it pays off to deploy second, eh? Personally, I field an Autocannon Predator with 2 Lascannons as I can't afford to pay that much more points to swap a 2 shot weapon for a twin-linked 1 shot one at same range. 2 S7 shots can deal with light vehicles well enough, I think - and the 6th edition meta is currently putting more emphasis on light to medium vehicles anyway. It pays off to pay the small fee and take a Hunter-Killer Missile on this bad boy, as that additional S8 AP3 shot can often mean the difference between removing an enemy tank from the battlefield, or leaving it standing with 1 Hull Point and allowing it to take revenge next turn and wreck your vehicle. The Predator Destructor, an option that used to be the mutt's nuts in 4th edition as the tank could move AND fire
everything
, ceased to be great in 5th already, but has made a (very) small comeback in that your tank can now move and snap fire both its Heavy Bolters...that should mean 1 hit. Personally, I think the Heavy Support section should be reserved for Centurion Devastators, Devastators,
LRs
, Vindicators and Storm Ravens, but if you already have bought a Predator model (and chances are, you have), there's nothing wrong in taking it. A Predator Annihilator makes for a nice threat to enemy tanks and
MCs
alike, is just as hard a nut to crack as a Hammerhead from up front, and is the bane of all Wraithlords in the open. Alternately, for 75 points you can deploy a barebones Predator with Autocannon for the lulz. AV13 for 75 points is ridiculously cheap, and somehow psychologically getting your opponent to shift the focus of his
AT
weapons onto this trap is a good tactic. Just keep telling him how dangerous AV13 is...and how you are about to ram him full speed.
Stalker
As is the case with all armies being updated now, us Black Templars also get access to a dedicated
FMC
/Flyer hunting Skyfire tank. Except because we are SCHPESS MUHREENZ, we get TWO different varieties. The Stalker is the first of these new tanks, basically a Rhino chassis with +1AV to the front and side, and a fancy gun mounted on top. Note that these guns only have the Skyfire rule, so they're next to useless against any ground targets unless you roll a 6. This is far easier to achieve on the Stalker though, as you have 4 shots that are all twin-linked - there's bound to be a 6 in there somewhere, and another if you're lucky. So at best, you'll get the firepower of a single autocannon out of it. But against
FMCs
, Flyers and Skimmers of all kinds (Landspeeders, Vypers, Piranhas, Devilfish, Raiders, Wave Serpents...I'm looking at you) this weapon is equivalent to a mobile Quad Gun. But unlike the Aegis Defence Line's Quad Gun, it doesn't have Interceptor and therefore cannot fire at stuff arriving from reserve. This is important, because the beauty of the Quad Gun is taking out Flyers before they even get to shoot once.
The Stalker can fire at two Flyers simultaneously with the same weapon profile, but its
BS
gets reduced to 2 and it loses the twin-link. I don't think this is too bad - you'll get 1.33 hits on each Flyer if my math isn't wrong, so you're stripping off 2x0.88
HP
per turn on AV10 Flyers, with 2x0.66 hits being penetrating ones on said armor value. An Aegis Defence line with a Quad Gun costs 25 points more than the Stalker and grants one (or two) of your squads a 4+ cover save irrespective of the game board you are playing on that also cannot be destroyed (the defense line, not the gun), but is immobile. Granted, one of your squads
can
also hide behind a Stalker if placed properly, but AV12
can
be breached and the explosion can engulf your models. Also, good luck with
LoS
behind the tank. So if you already have an
ADL
at home, don't bother with this. If you don't, it's up to you whether you want to buy this tank or purchase an
ADL
. But personally I think the biggest issue with the Stalker and the Hunter is that they occupy a valuable Heavy Support slot - something the
ADL
doesn't.
However, Black Templar armylists traditionally are
cc
-oriented and like to throw everything forward. In this case, taking an
ADL
with Quad Gun for anti-air is a waste of points as you wont be having many models to hide behind your
ADL
and crew the Quadgun. And for a
BT
army that throws everything forward, we also don't really need static Heavy Support units like Predator Annihilators since we'll usually be carrying short-ranged
AT
weapons with us, and things like Vindicators have the danger of lobbing their shells on top of our own heads due to scatter. Thus, a
HS
slot might remain open in an aggressive
BT
list (given that
LRC
dedicated transports dont occupy
HS
slots), and in this case a Stalker or Hunter is actually a very welcome addition to the
BT
force, as we really do lack AA firepower and would otherwise be very vulnerable to Flyer spam lists.
Hunter
The Hunter is 5 points cheaper than the Stalker. Instead of 4 shots that are all twin-linked, you only have 1 shot that isn't twin-linked, so on paper this is less than 25% of the Icarus Stormcannon Array's firepower. However, first things first: the Skyspear Missile Launcher has 12 more inches range, which is always useful. Then, it is AP2, so there's that +1 on the vehicle damage roll and
FMCs
that are hit don't get the convenience of rolling armor saves. And finally, there's armorbane, so you're rolling with two dice instead of one for armor penetration. To top if all off, there's Savant Lock, which basically means there's a 33.33% chance of hitting that
FMC
or Flyer (note how it doesn't say Skimmer) in the next turn if you missed, but only as long as it doesn't leave combat airspace. Note that it only makes the
FMC
or Flyer suffer a
hit
- you still have to roll for wounding or armor penetration respectively, although the latter is a piece of cake as the rear armor of the flyer is hit, meaning you almost always will penetrate. I think the Hunter is a better AA-tank if you know you will be facing Flyers than the Stalker, due to them usually having a 3+ armor save. On the other hand the
ADL
's Icarus Lascannon has +2 S, 36" more range, can also be used to fire at ground targets such as tanks and
MCs
, and also comes with the
ADL
for a mere 15 points more than the Hunter costs, but obviously doesn't have the Savant Lock and doesn't roll
2D6
for armor penetration. For which weapon you decide at the end of the day, is up to you. All have their strengths and weaknesses. P.S: If you want to field a Vindicator without a Siege Shield, I think the Hunter makes for a mighty fine looking model. To top it all off, I think the Hunter also makes for a terrific representation of the Imperial Guard Colossus (compared to Forge World's Leman Russ chassis "Colossus&quot

or even a Medusa siege tank. So by all means - if you are a Guard player you can buy this kit.
Stormraven Gunship
The king of all Flyers, this is essentially a flying Land Raider. If you havent got a Land Raider (you arent a true Templar player without a Crusader anyway, but thats a different story) you might want to consider buying one of these. If you have a
LR
, don't bother with this as that's another 60 bucks going to a big vehicle you most likely will not be able to use together with your
LR
or you are looking at 500 points spent for these two vehicles alone. However, their very presence on the battlefield is formidable. Being able to carry a Dreadnought and an infantry squad into the heart of battle (read: deepstrike), the Stormraven also packs a punch apart from its payload: it comes with a standard anti-infantry loadout consisting of a
TL
-Heavy Bolter, a
TL
-Assault Cannon and if you block two access points, also 2 Hurricane Bolter systems. Replace the
TL
-Heavy Bolter with a
TL
-Multi-Melta and you are looking at MORE firepower than a Land Raider Crusader packs. Wow! If you pay a hefty price, you can replace this with a Typhoon Missile Launcher, which gives you 2 S8 krak missiles instead of 1
TL
-S8 shot, and also at double the range, but you lose the AP1 and you lose the melta rule, but you gain 2 frag blasts against light infantry. My advice? Not worth it. Especially because the Multi-Melta is twin-linked. Because the Stormraven is a flyer, getting into 12" melta range should be absolutely no problem. And you anyway have a
TL
-Asscannon and 2 Hurricane Bolters to take care of infantry if you must, no need to blow that many points to rob yourself of your
MM
. As for the
TL
-Assault Cannon, you can replace it with a
TL
-Plasma Cannon or a
TL
-Lascannon for free. Both have their pros and cons - with the
TL
-Plasma Cannon, you are putting
MEQ
and
TEQ
in danger; while the
TL
-Lascannon compliments the
TL
-
MM
nicely. Just like the
TL
-Lascannon, the
TL
-Plasma Cannon can also be used against
MCs
if need be, so the
TL
-Lascannon only retains an edge when rolling for wounding on an
MC
and for providing extra anti-armor firepower, but the latter isn't necessary for two reasons: one, as mentioned above, the ease with which you can maneuver your Stormraven into melta range. And we're not talking about a Multi-Melta here, we're talking about a twin-linked Multi-Melta. So, missing should be the least of your worries. And two, because the Stormraven has even more armament up its ceramite sleeve: 4 Stormstrike Missiles. Each one of them is S8 and AP2. Get it? S8!
AP
2! One use only, but the added "concussive" ability makes them perfect to be deployed against
MCs
and
FMCs
.
On hover (fast skimmer) mode, you can move upto 6" and fire everything (but only upto 2 missiles), or upto 12" and fire 3 weapons thanks to
PotMS
. And the turn the Stormraven enters play, you can zoom between 18" and 36" and fire 5 weapons (again, only upto 2 missiles). Nothing better than firing the
TL
-
MM
,
TL
-Las and 2 Stormstrike missiles to reliably bust tanks, OR in an alternate configuration 2 blast markers from the Typhoon
ML
, a third from the
TL
-
PC
and both Hurricane Bolters at full
BS
to chew through large infantry blobs and send them running. The Stormstrike Missiles aren't as good as the Blood Angels' Bloodstrike Missiles, but for that the extra armor (which you will be needing to continue getting that protective jink save if you are hovering and suffer a crew stunned) and locator beacon upgrades are slightly cheaper for us. Just like the
LRC
, the Stormraven is an assault vehicle, meaning if you let it hover, it can move 6" and have its passengers charge an enemy unit. Alternately, if you keep zooming the Stormraven and it suffers an immobilized result and thus gets its velocity locked, you can still deploy your forces thanks to the Skies of Fury rule, although you won't be able to assault the turn they land. The only advantage a
LRC
has over the Stormraven is that
BTs
can select it as a dedicated transport, it comes with frag launchers to aid Lightning Claw terminators assaulting into cover out of it; it allows your guys to assault on turn 2 instead of turn 3 as is the case with the Stormraven (no assaulting on the turn it arrives because you moved more than 6&quot

and has +2
AV
all around as well as an additional Hull Point, but doesn't have ceramite plating (would be overpowered, then) and no longer has access to the Blessed Hull upgrade.
Conclusion:
Black Templars lost and gained many things. On one hand, they lost 70% of stuff that made them unique from other chapters: For starters, the iconic Emperor's Champion being present in every
BT
army is a thing of the past. As are Chaplains. As is Helbrecht. As are LD10 Black Templars who are Fearless in close combat and run towards the enemy when suffering casualties from enemy shooting. And you won't be able to field the iconic infiltrating Sword Brethren as a unit anymore either (unless you field them as Vanguard vets without jump packs, but that's kicking yourself in the nads, really). The Vows are also no longer as omni-present as they used to be. Tank-hunter dreads with
TL
-Lascannon and
ML
and 5 man tankhunter terminators with 2
CMLs
are also history. And say goodbye to the Holy Orb of Antioch.
So wait a minute, did we lose everything? Did "Black Templars" they way they used to be go the way of the squats? I mean they are no longer a divergent chapter now...however, even in the old codex they were rather tame compared to the Blood Angels, for example. They either needed a massive
cc
-boost or different approach.
GW
chose the latter. It would be pessimistic to call Black Templars vanilla marines with a black paint scheme and maltese crosses these days, but that's really what they are now.
But before we completely despair, look at the bright side: Black Templars now have access to all the toys of their Astartes brothers, including Centurions, Whirlwinds, Sniper Scouts, Land Speeder Storms, Land Raider Redeemers, Thunderfire Cannons, Conversion Beamers, cheaper Rhinos and Razorbacks, Sternguard Veterans, Vanguard Veterans, Orbital Bombardment, much cheaper Bikes, being able to take Bikes as troops, Chapter Relics, Legion of the Damned, Hunter and Stalker anti-air vehicles, Ironclad Dreads (very Templary!), Stormraven and Stormtalon Gunships…. need I go on? Dreads being able to field Plasma Cannons is also great, now, as are the Grav weapons in our arsenal.
Why choose Black Templars chapter tactics, though? Why not just play another codex marine chapter, now that they are "dead"? Well for starters, Black Templars have the best and most versatile infantry squad of all ...and I mean ALL... chapters: the Crusader squad, allowing them to not have to rely on other, non-scoring squads to first clear enemy objectives before the weak ranged tactical marines drive up to them with their rhinos and are able to claim it, but rather take the fight to the enemy itself with the powerful scoring
cc
-oriented Crusader squad and wrest control of the enemy's home objective by having the Crusader squad board a drop pod and then assaulting the enemy firebase by turn 2 itself with boltpistols &
ccws
, a melta, a power fist, a power weapon and a combi-flamer (all of this from one squad!), as well as now being able to blow up tanks and give overconfident
MCs
a hard time with their krak grenades coming by default, or have "monster squads" consisting of 20 men – 10 initiates and 10 neophytes, footslog an average 10" per turn across the battlefield and with a healthy dose of luck and positioning, reach the enemy on turn 2 before they can be completely gunned down, or sit back and guard objectives with 5 man minimum sized boltgun squads spamming Plasma Guns, Combi-Gravs as well as Lascannons or Plasma Cannons without having to take 10 men to do so.
What seals the deal is that Black Templar Land Raider Crusaders do NOT take up Force Organization slots as you can take them as dedicated transports for your crusader squads. To top it all off, Black Templars outperform all other Space Marine chapters when it comes to challenges as they can re-roll ALL, not just one, failed hits and on top of this, get rending, and also have a solid chance of not being affected by enemy psychic powers cast on them (and we all know how the amount of psychic powers out there has exponentially increased in 6th). To top it all off, they have a great chance of sweeping enemies losing
cc
to them. All these buffs coming together make for a very strong and characterful Black Templar force that I would take over 4+ jink bikes anyday. Granted, for people who already have a large Black Templars army and don't plan on giving even more money to
GW
by purchasing new models, they didn't gain much from the new codex. But let's be honest here - haven't you been secretly itching to field a Devastator squad all these years? For people who only have a small
BT
army, or are starting
BTs
, this new codex gives them SO MUCH MORE to play with and A LOT LESS restrictions than our old codex used to. The only things we still can't take are Libbys – at least, not in our own detachment. Overall, I am happy that the Black Templars got more versatile than in the cage they had been held in for the past 6 years. So while we did lose a lot of characterful stuff, our armies look a lot less boring now and we have virtually no restrictions anymore while still retaining our original playstyle.
As for the Space Marine codex itself, I like how almost every unit is competitive and viable now (perhaps with the exception of Scout Bikers). This makes for very diverse armies all coming from a single book - you can have Iron Hands Ironclad Dread & Vindicator or Land Raider spam; Imperial or Crimson Fist Devastator Centurions and Lascannon Devastators hunting tanks and regular Devastators or Land Speeders spamming Heavy Bolters while Sternguard capture objectives from drop pods; White Scar bike armies spamming Grav Guns, Raven Guard armies outflanking their Multi-Melta Devastators and tactical squads and having the best jump troops available; Salamanders spamming flamers, Land Raider Redeemers and having all sergeants master-craft their weapons for free; Ultramarines Devastators moving and shooting one turn, their tactical squads re-rolling all failed hits another turn and having Chronus, Telion, Calgar and Tiggy complement each other etc. Overall an awesome and very diverse codex allowing for over a dozen unique and competitive builds.