I have heard the masses crying out for a tutorial on how I painted my Necrons. Ask and ye shall receive! I just hope this makes sense…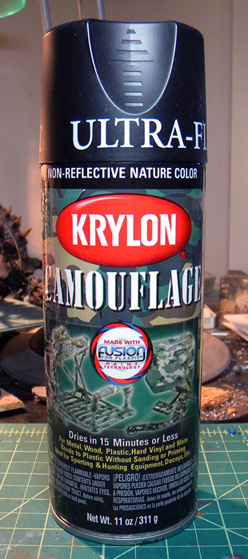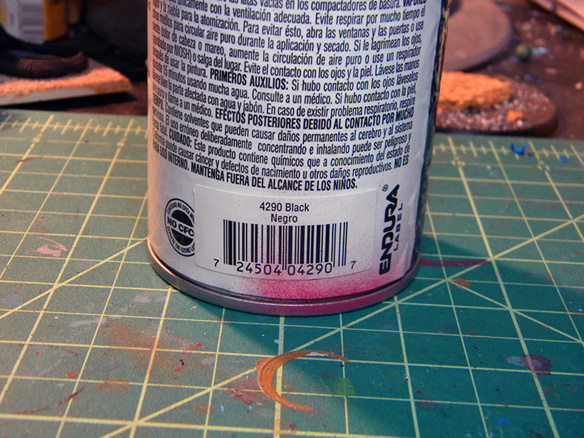 First let's talk primer. I started miniature painting about 14 years ago, and most of that time was using
GW
's primer. At first
GW
's line of primer and paints were varied and reasonably priced, but somewhere along the line they got this wild notion that they could charge whatever they wanted. So over the years I've watched their primer creep from $5 to $15.75 a can. What the hell is in it? Magic? My favorite part is how they claim their primer has been engineered to work with their line of paints.
WTF
?
I was brought to the light from a friend in a local Hobby Shop of the existence of an alternative and I've never looked back. Enter Krylon spray paints.
This stuff is amazing. Not only does it bind to both plastic and metal, but also it goes on flat. This is the most matte paint I have ever used, and it works perfectly for all my projects. It's also $4 a can.
Here we have a spray paint that is both reasonably priced, durable as hell, and can be found almost EVERYWHERE. Did I mention it comes in 6 colors? And this is just scratching the surface of the products that Krylon produces. My Dark Eldar scheme uses their Fusion line.
Get this stuff.
Now that I'm done ranting let's get down to business! I decided to use a Canoptek Spider for this tutorial so you can see the techniques I used on a larger canvas.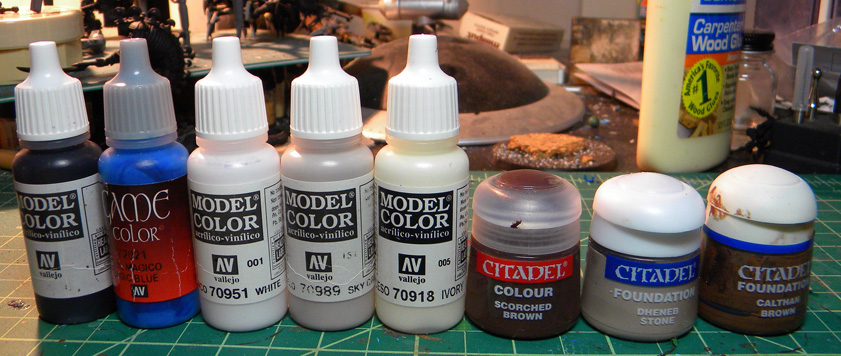 Here's what I use:
VMC Black (70950)
VMC White (70951)
VMC Sky Grey (70989)
VMC Ivory (70918)
VGC Magic Blue (72021)
Citadel Scorched Brown (Rhinox Hide)
Citadel Calthan Brown (Mournfang Brown)
Citadel Dheneb Stone (Rakarth Flesh)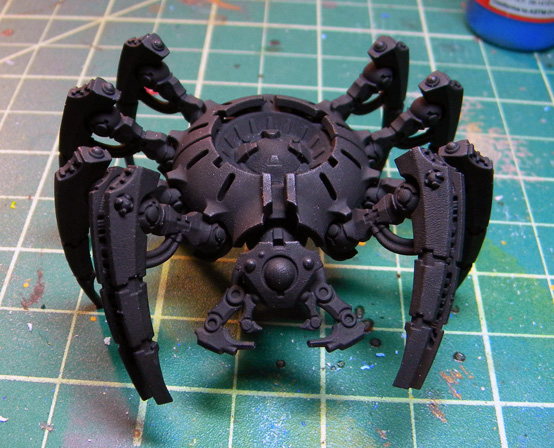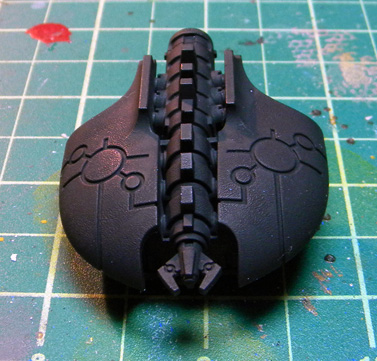 Step Zero – A nice even coat of primer. Make sure it's not too humid outside so you don't get that powered sand effect on your minis. I haven't had that problem with the Krylon spray paints very often, but it can happen. Be carefull.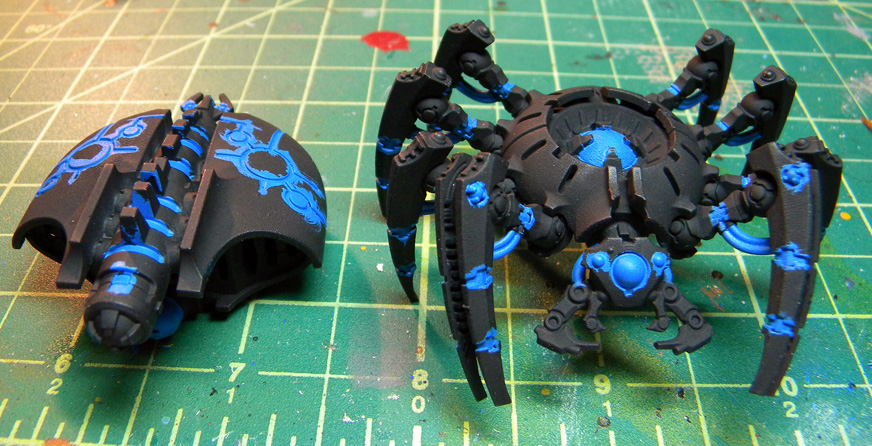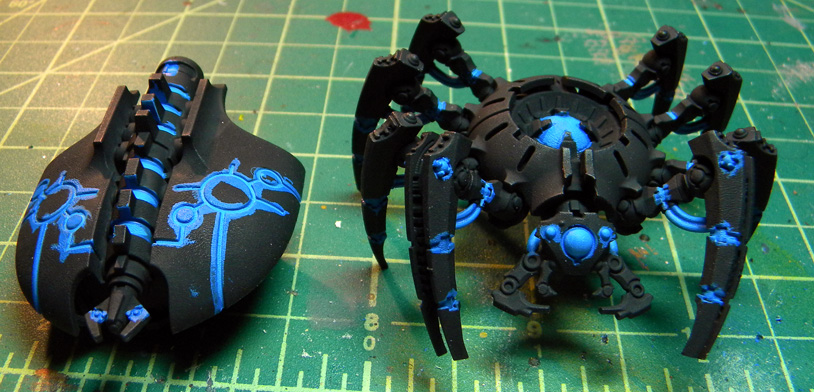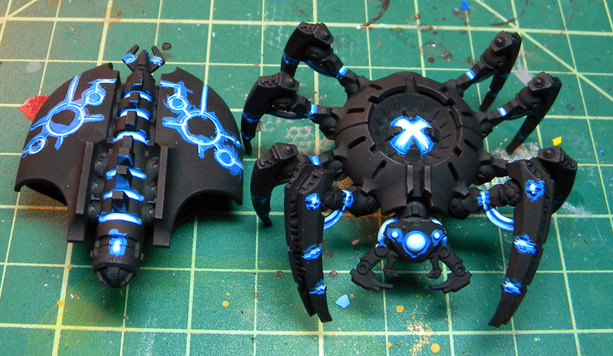 Step I – I targeted all the glowing bits; cables, eyes, orbs, and leg joints with VGC Magic Blue. You can also use Citadel Enchanted Blue (Caledor Sky) as alternative. Don't' worry about staying within the lines. We'll clean up later.
Step II – 1/1 mix of VMC White and VGC Magic Blue. Don't completely cover up the previous shade. Leave a little behind for depth.
Step III – 10/1 mix of VMC White and VGC Magic Blue. I'm guesstimating here on the ratio as I normally just eyeball it. Just put some white down on your palate and add a slight tip-full of the blue. The aim is for a very pale white-blue. Mostly white.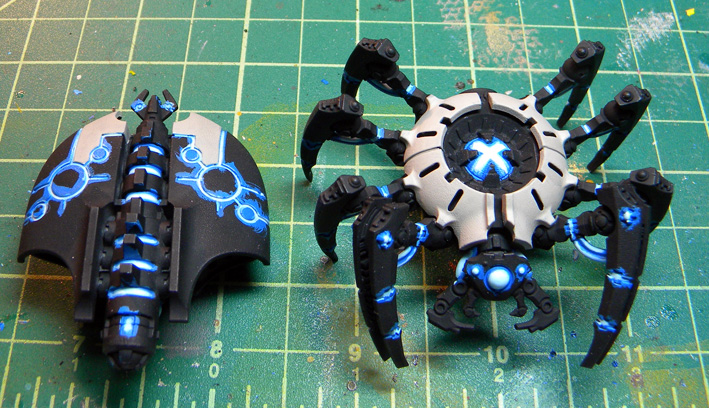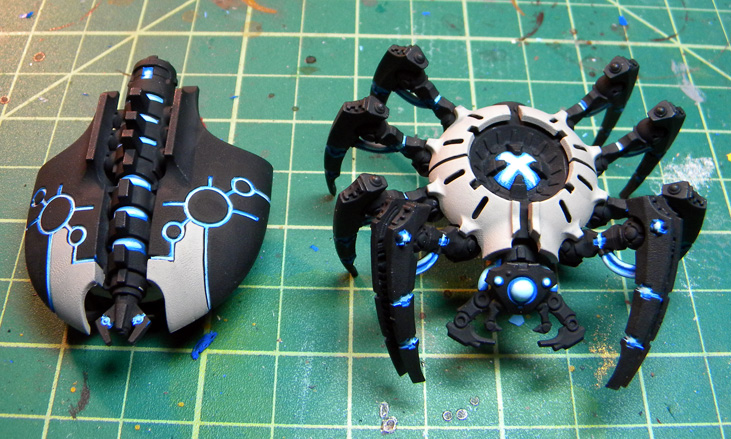 Step IV – Dheneb Stone for contrast. I use this color sparingly to break up the scheme. It usually takes 2-3 coats for full coverage over black. Make sure your paints are well diluted so you don't lose detail.
Step V – Clean up phase. VMC Black was used to clean up my lines. I chose this black specifically because it is has a very matte finish, which syncs well with the flatness of the Krylon primer. You don't have to use VMC paint here, but you will loose the effect if your paint is of a gloss or even satin finish.
Now for the step I assume everyone is looking for: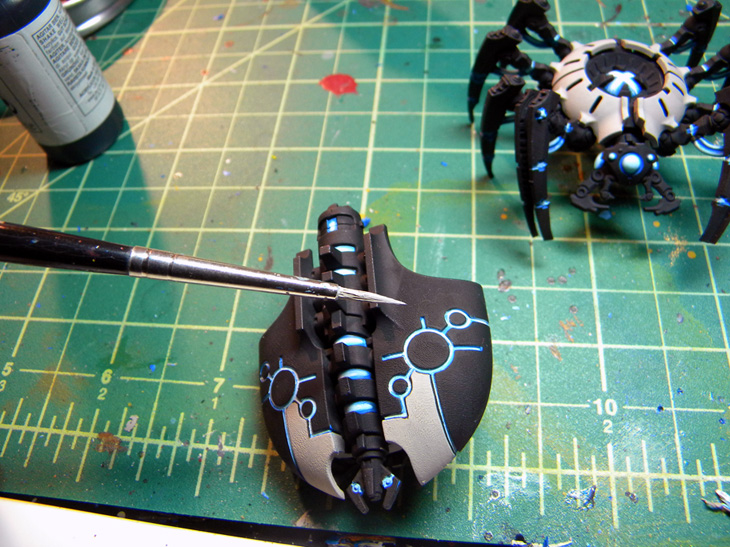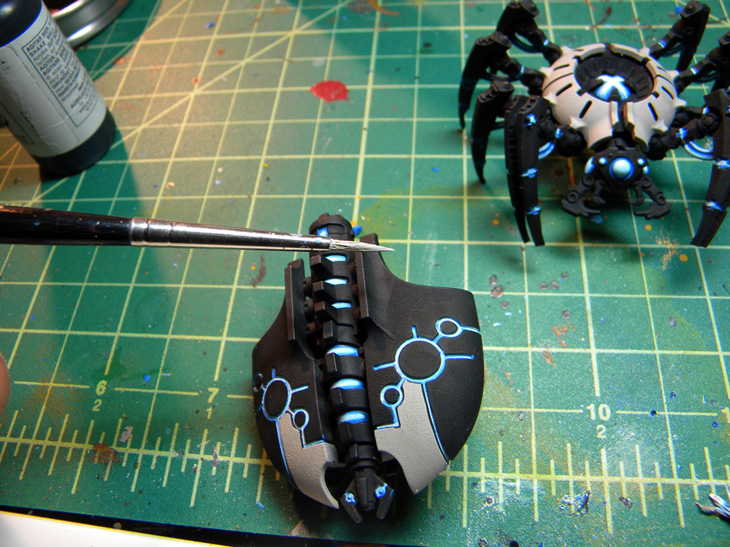 Step IV & VII – Edge highlights. VMC Sky Grey was painted onto all the hard edges of the model using the side, not the tip, of my brush. You'll need a light touch to keep the line uniform but that's it. Again, make sure your paints are well diluted so it goes on smoothly. You may need to apply two coats incase the line is not sharp. This technique is so easy you'll kick yourself when you try it.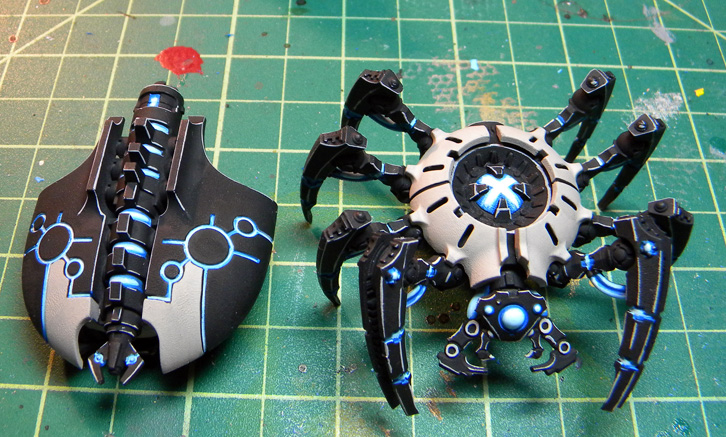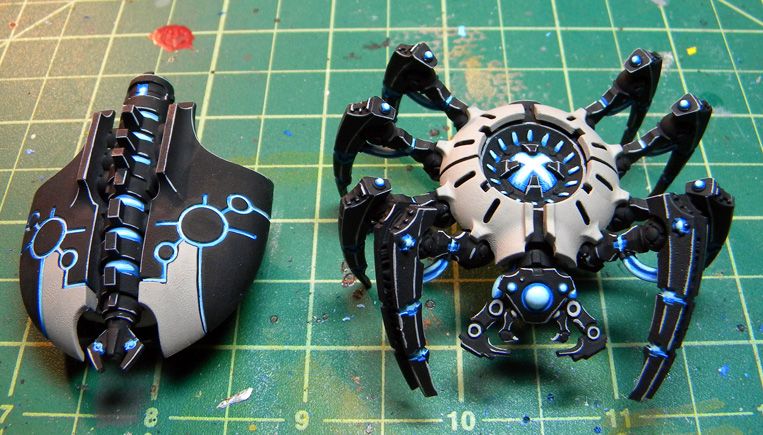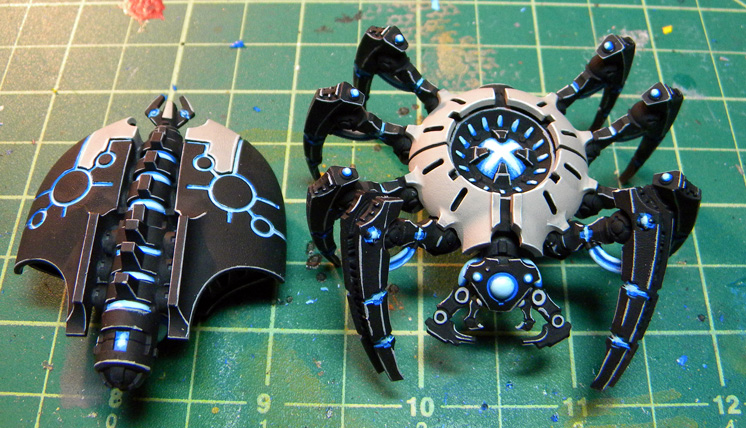 Step VIII – Highlight all the hard edges of the mini. The mandibles were a little finicky, but just focus on the edges. Clean up with black as needed. The inner ring under the back plate was highlighted using the brush tip. That's a tricky spot so use a light hand and again, clean up with black as needed.
Step IX – Adding detail. I went back and added some more glowing blue effects on the spots I felt could use some detail. Just reapply steps I-III as needed.
Step X – Edge highlight using VMC Ivory on Dheneb plates. Line highlight were added to the edges of the detail on the abdomen as needed.
And there you have it! My Tkokt paint scheme.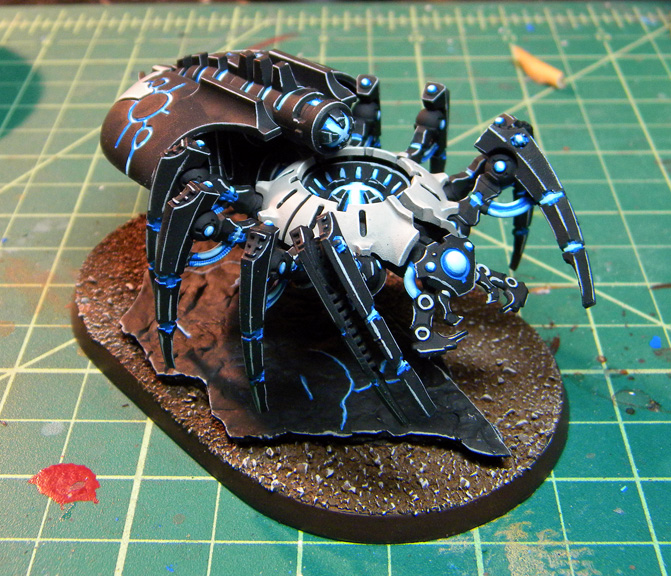 I'll try to create a video for this scheme. I will try to emulate Les Bursley's brilliant tutorial style if I can. I've never made a video tutorial before so give me a little time to make sure I get it right.
I hope you found this helpful. Please leave me feedback so I can polish this tutorial for when I move to video.
Shawn G. (SoI)