And we're back!
So after a none-too-competitive codex in 1997, and even less competitive 'get you by list' in 1998, the Sisters got their next big update four years later in 2002 with the release of Chapter Approved.
IIRC
there was a mention in White Dwarf of a forthcoming Codex... Apocalype? (maybe?) that would cover Sisters and other Imperial Agents that never came to pass. That might explain the 4 year gap.
(Actually there may have been a
WD
list in that time, around the time of the Necron 3rd edition list, does that ring a bell with anyone?)
This book was called the 'Second Book of the Astronomicon" in homage to the first Chapter Approved from 1988, reviewed here I just casually mention:
https://www.dakkadakka.com/dakkaforum/posts/list/688008.page
It collected
WD
articles from the previous years some of which extensively changed the 3rd edition rules (by the time they were done vehicles, melee and movement were all rewritten, I liked 3rd edition but it was a mess by the end). But it also included some new content, including the Sisters list.
So how did they do?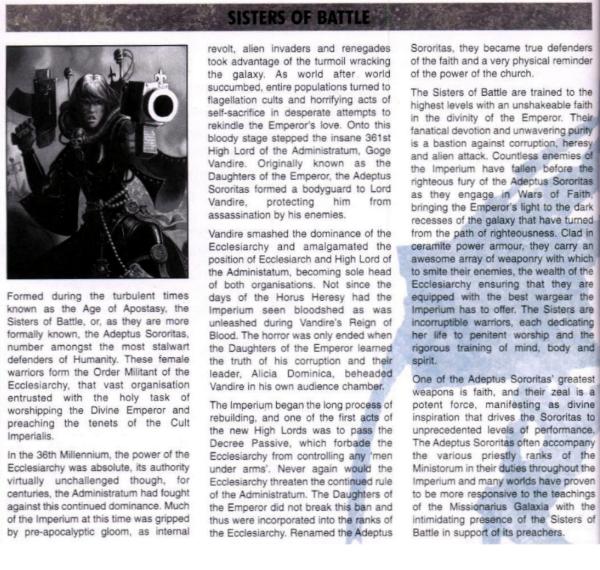 Well they get a page of fluff to remind us who they are, and some reused art (I do love that Fleur
De
Lyls gun sight though) to start them off.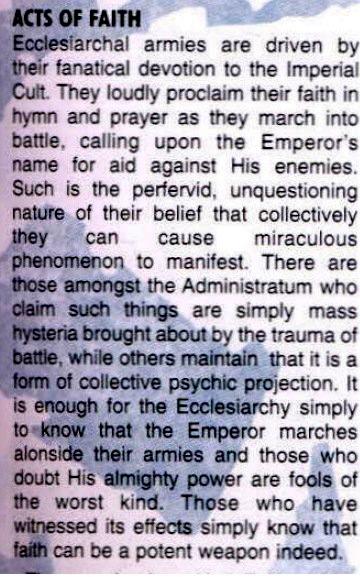 Acts of Faith returned, but with a caveat that they may be nothing more than mass hysteria.
But the pointless nerfing and wargear changes continue, take for example, the Axe of Retribution.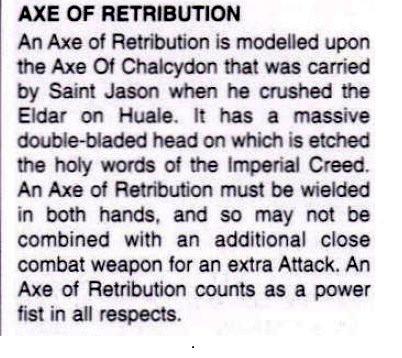 Sisters could not take the standard Imperial power fist in 2nd edition due to... I dunno, reasons? But could in 3rd. There were of course no Sister models with a powerfist so break out those files and clippers! But now they lost power fists due to... I dunno, safety recalls? So break out those files again. Now they did get a honking huge axe that does the same thing but... there weren't any Sister models with a honking huge axe! There was one with a mace... but no rules for a power mace.
You see what I mean.
Or take a look at the (checks spelling) Praesidium Protectiva...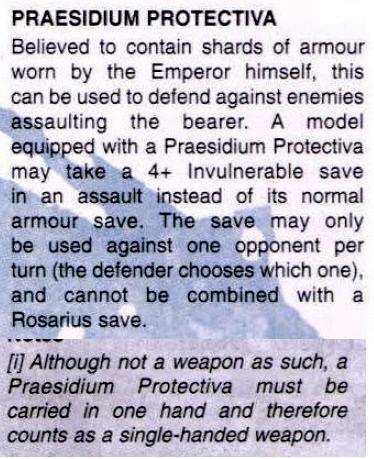 Your basic 4+ invulnerable save but while Marines and Priests learned to hang it around their necks or clip it to their armor, Sisters have to carry it around in their hands and sacrifice an attack. Because... It clashed with the armor? Sisters could get a Rosiarius (same deal 4+ Invulnerable) but the chain for it cost an extra 10 points. It was utterly at odds with the clean design 3rd edition was pushing.
Probably it was because of the model of the Canoness carrying one in her hand but again, a pointless choice for an already limited army.
As as side note, Google translate tells me Praesidium Protectiva means protective protection, which is awesome.
Overall the list was stronger, Sisters stayed at BS3.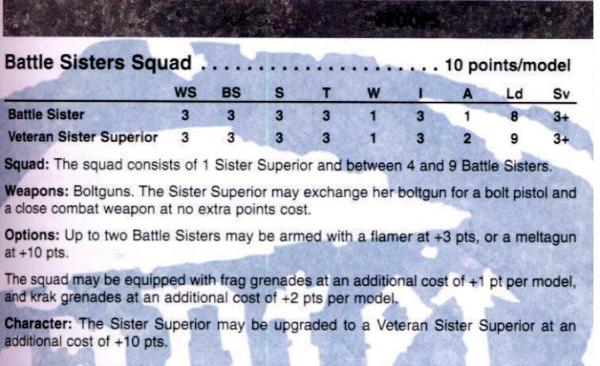 But they finally got some obvious and overdue remixes of the existing models.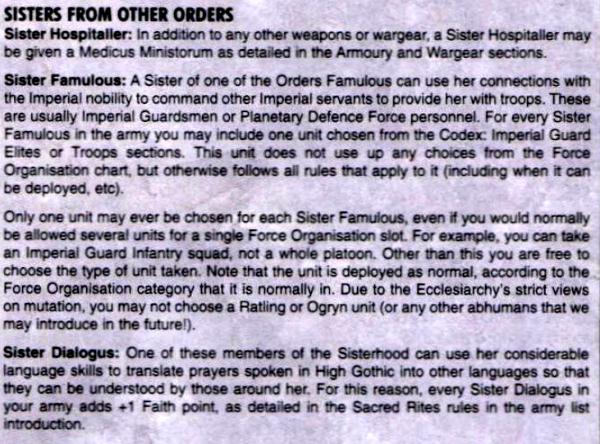 A Celestian command squad with the option of including some Sisters from other orders, a medic, a Faith Point buffer and one who allows allies!
No models for them, but they were just upgrades of existing Sisters.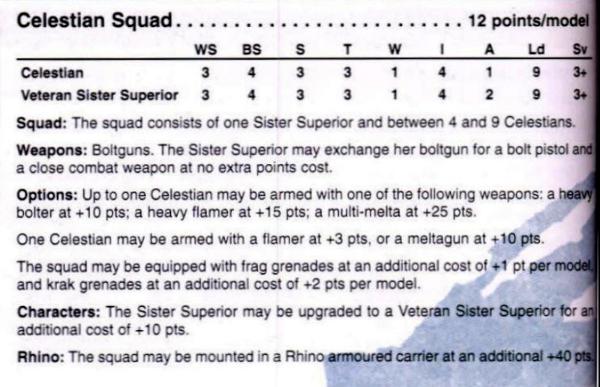 A regular Celestian elite squad, finally with BS4 rather than 3.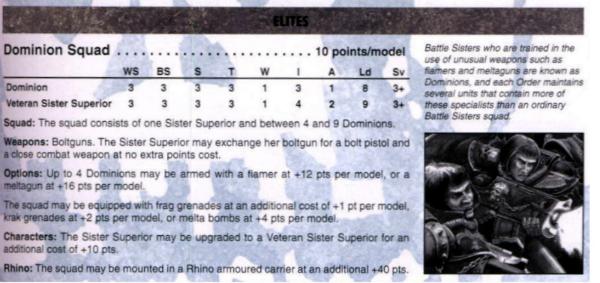 A special weapon squad with 4 meltas or flamers.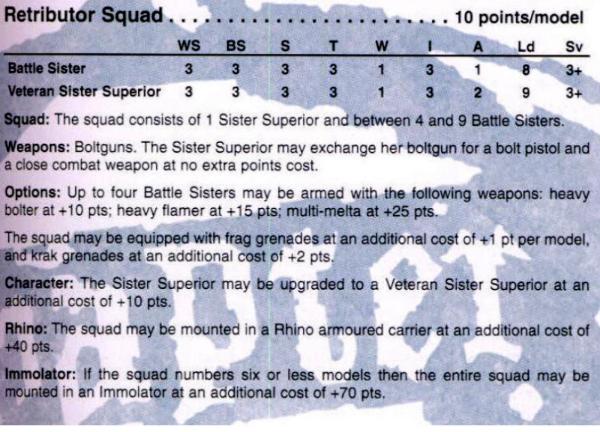 And a heavy weapon squad to boost their firepower.
They also got an much improved version of the militia, no longer long haired Fabio types armed with .45s, they are now the creepy Redemptionists with a full selection of cool models and options.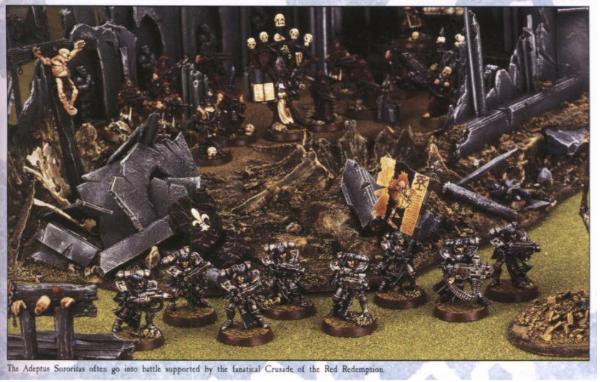 And even better, real firepower options like Plasma Guns and Autocannons! They also could get Eviseraors, another powerfist stand in.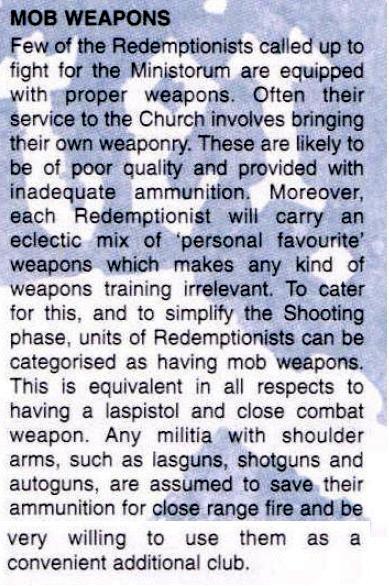 I also liked how their riot of pistols, rifles, axes and pointy sticks were sublimated into 'mob weapons'. A good example of the stripped down 3rd edition rules that I like.
The various priest listings are stripped down to one entry and, alas, the Preacher with a Rosarius and Powerfist (members of the Priesthood of the Preaching Padres of the Pius Powerfist I imagine), a common cheap choice in Imperial armies, were no more.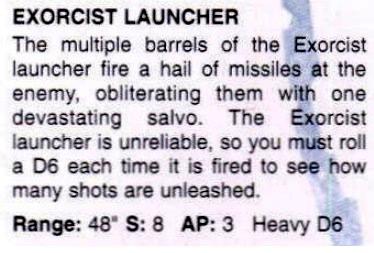 The Sisters finally get some long range firepower with the Exorcist but... Besides the
d6
shot limitation there's also no model and no clues on what one should look like. The pipe organ was still a few years away.
And that was about it. Overall a much stronger list then either of the two that came before with some cool and colorful options that predicted the two Inquisition books that would soon come.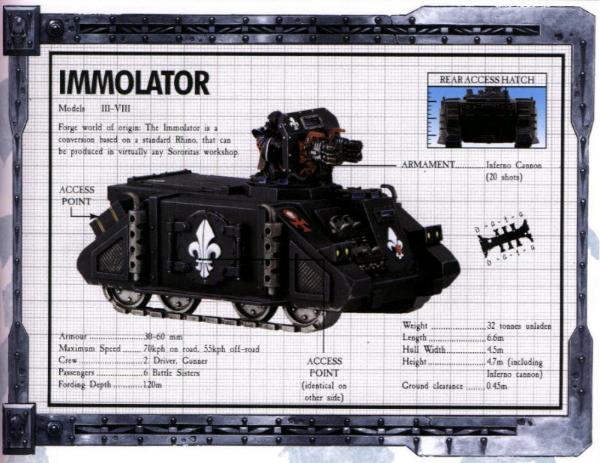 The Immolator also got a mention in the new vehicle rules later in the book which was cool.
So it seemed that the Sisters were not forgotten and in fact they'd get a full (ish) codex just two years. But Witch Hunters (and Demon Hunters) probably merits its own review.
To quickly summarize it Witch Hunters made the Sisters an arm of the Inquisition which gave them access to a lot of other units but annoyed many players. Worse yet, Witch and Demon Hunters were the only 3rd edition armies without at least one plastic infantry set. Which it made a bit of sense that the Super Duper Elite Grey Knights might only be in metal it needlessly raised the price of the much more numerous Sisters army and kneecapped must of the interest in them.
We might never know the reason for this. There may not be 'a' reason since there are always lots of reasons for something not to happen. Sisters sales were no doubt lower than a lot of other factions, the then cutting-edge (and still cool) metal models may have been impossible to recreate in plastic without too many compromises. Or they may just have never risen to the top of the priority list.
I think the Sisters were hit with a lot of bad luck, the last 2nd edition army, a byproduct of a twice-cancelled Agents of the Imperium codex, and handicapped by being both a girl army and a nun army in mostly male fan base they had an uphill struggle no matter how much support they got.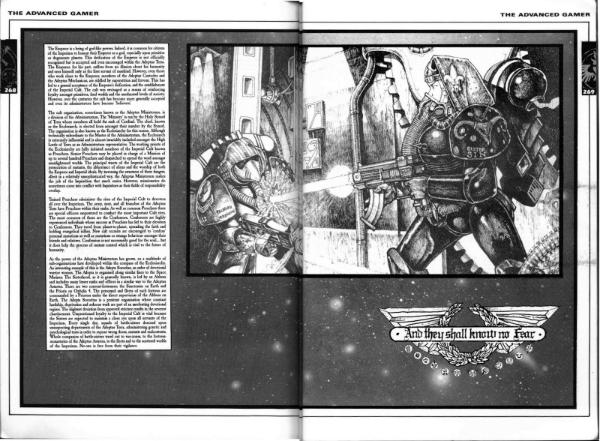 But the fact the Sisters army even exists is amazing. Growing out of a single image in the back of Rogue Trader (which now that you mention it yes, was probably a France/Rainbow Warrior joke) and sustained by a cool design and loyal fans over decades they're certainly an unexpected success.
And were we are in 2019 with plastic sister kits just hitting the shelves 22 years later.
And already sold out in preorder!
So as you sit down to your Thanksgiving turkey (or Haggis or whatever you people eat) lets take a minute to remember that sometimes patience and perseverance do pay off and sometimes concepts do survive simply due to their quality and coolness.
Now about the Sensei...