Captain Brown wrote:Best advice is post your progress and visitors will come. I take smaller pictures, or at least I shrink them down to closer to figure size, as when they are so large they show any error that would never be visible when you are painting.

Good luck on your PLOG.

Cheers,

CB
The closeups do show all the errors that don't matter for table ready. I think things will improve as I get a better feel for the picture taking. I shouldn't have many one off models going forward outside of special stuff or large models.
evildrcheese wrote:Cool scheme dude. You can't go far wrong with black, gold and red!

EDC
Thanks, I didn't want to copy Mars and
FW
Lucius sounded interesting. Luckily I had a good idea of how to easily get the base colors. The Menoth faction in
WM
are cream and crimson, so that covered most of it and I was familiar with Grey Black, from my
FoW
days. So I knew a color that would fit the almost black of their allow.
Novelist47 wrote:Nice work. Greenstuffing the gaps on the coat would be cool though.
Thank you. I did get some liquid greenstuff today. I have never used it before and will test it on some models I built earlier today first. It will mean I have to repaint parts of the cloaks that i've already painted but that won't be a big deal, I don't think.
So today's update... I partially assembled and based my 10 electropriests. The initial clean up and assembly was pretty easy compared to the Skitarii. They will all be Fulgrites. I had to texture part of the base before gluing them down, so that's why you can see some brown stuff on the bases. I normally do that after but there is a gap in their skirts(
lol
, that's what they look like), that you can see into. I will have to
GS
some gaps and the backpacks will get in the way of painting. So I will finish building them after I have painted the lower half.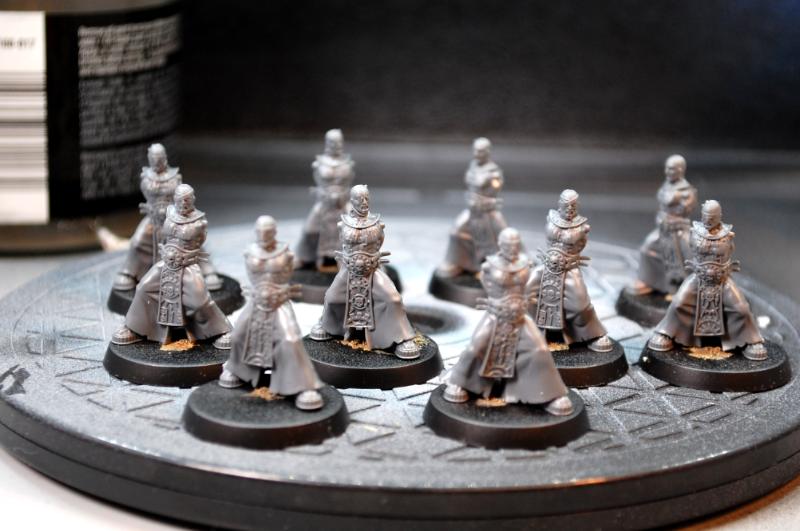 I did another layer on the pants basecoat for the group of models I call squads 3 - 6. There are 8 models per squad in this mix roughly. the upper bodies are assembled minus the backpacks and are all sitting in an egg carton, so i know which parts are for which legs. The upper bodies will be glued in place once I have the legs basecoated.

I also spent some time on the mix of stuff that are squads one and two. I painted lenses and started to paint the purity seals. The headless guys have heads that I just primed. I will give them a basecoat tomorrow and glue the heads on. My nexts steps for them is to paint the special weapons and the backpacks for the
SW
. I will also do more work on the heads and finish up the seals. This is what that mix currently looks like so you can get a feel for them.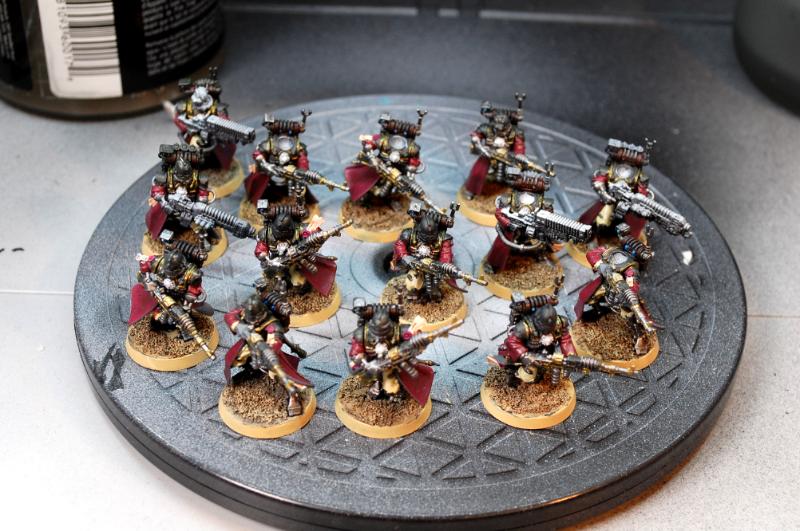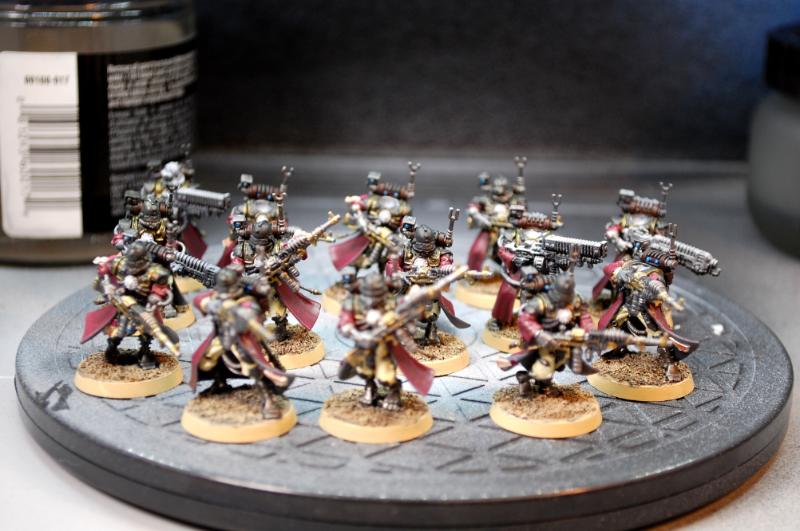 I went to the shop and watched a game of 8th edition.
CSM
vs Harlequins. It was interesting to see. The
CSM
player got hammered by a Tau gunline last week and it wasn't a fun game. I don't get taking the most overpowered cheese just because you can for a game that means nothing. I get it for a tourney but I don't see the fun in throwing a bunch of dice and steamrolling someone because you went first and took out half their army in the first shooting phase. Anyhow back on topic, the 8th game went back and forth. They played about
PL
80. Flamers in overwatch are nasty, especially heavy flamers. The
CSM
player had a defiler with heavy flamer and rolled boxcars during one overwatch. It really helped thin things out. The game went pretty fast expect for them having to look stuff up since none of us own any books yet. They were just using the store copies. It ended with a
CSM
minor victory and the game looked much more dynamic than what I have seen over the last month of so of watching games at the shop. I can't wait to play.
I got liquid
GS
, as previously mentioned. I also got the seraphim ink, I read someplace that it might be a good choice to highlight the cream color with. I dunno when I will try it. My focus has to be more on getting stuff table ready for the 17th. I know I will be using models that are unpainted which is a bit sad. I really want to avoid that as much as possible... it's just a personal thing since I have rarely gotten an army painted. They will be doing small games, so if I can get three squads, and
HQ
or two, along with some vehicles done, i should be fine. I have one dunecrawler built and should build at least one more. I dunno about my robots or chickenwalkers though. I'm new to magnets, so it's a slow build process for me.
Oh, I also got a box of infiltrators. I have heard good things about them as well. So I have plenty of models to build and paint for quite a while,
lol
. I do want to get through my current stuff before doing much else. I'd like a knight someday, just because. I loved Adeptus titanicus and Space marine and the knight reminds my of how the warlord titans looked in those games. So it's something that brings back happy thoughs,
lol
. Of course I want to be better with an airbrush and magnets first. But the knight is a dream project. I have no plans to pull the trigger on that model unless some kind of deal pops up, which is very unlikely.