I, too, was contacted by Brightech asking if I would review one of their magnifying lamps. I agreed so long as the review could be open and honest. After a few weeks of using it, these are my observations.
As a premise, I have 14/20 eyesight. That means I am great at seeing things at a distance, but details - really small bits of models - are tough on my eyes. I require magnification to work at small sizes, and have traditionally relied on head-worn magnifying glasses. Using them has lots of downsides - headaches, shadows cast on the models, as well as the need to just walk away from them after an hour or two.
So part of my interest in this lamp was to see if it could replace the magnifying glasses I've traditionally relied on.
The lamp I chose is the 2-in-1
which rests on a desk and extends via a long arm. There were other options that could be mounted onto a table, but I was really interested in something that fit with my workspace. Here's how I have it positioned: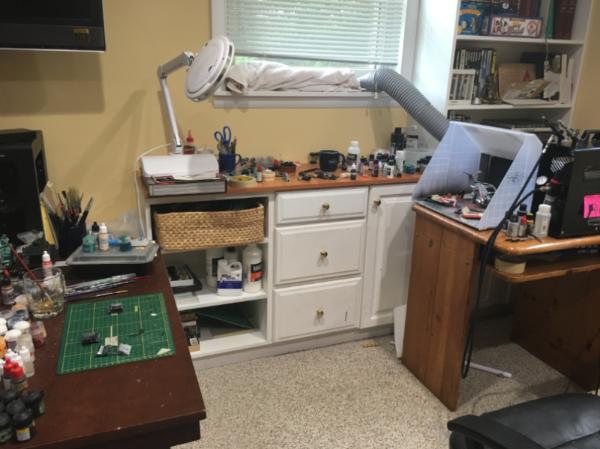 As you can see, I have a separate painting station and airbrushing station. One of the other factors I was looking at is whether this lamp could work in both places.
Happily, it does well on both counts. Read below for more details.
First Impressions
The lamp is big. It's size makes it the largest physical object at my painting station. I have a 4x4 card table I use for painting, and the lamp would easily take up a quarter of that just sitting on the table. The base is curved, not flat, which means I don't have the option of setting things on the base when they're not in use. This could be dealt with by mounting the lamp to the table itself, but I had reasons for not wanting to do that. So the size is something to think about, but overall it's not a problem.
The base is heavy, appropriately so. The lamp itself weighs a fair bit, so the base needs to have some weight to it. The base has a set of metal rods that extend out an equal width to prevent it from slipping. It's clear some thought went into the base and making sure it's not going to tip over (a problem I've had with other lamps.) Also, the base sits firmly on the surface, there's a coating there to prevent it from sliding around. This was an overall positive for me, but it did affect how I was going to use it. The base is not something that's going to slide, so I had to think about how to make it move when I wanted it to.
I ended up placing the base on a shelf next to my desk and putting it on top of a book. This is a pretty solid setup, it allows me to slide the lamp when I need to but never unintentionally. Here's a detailed pic of the placement.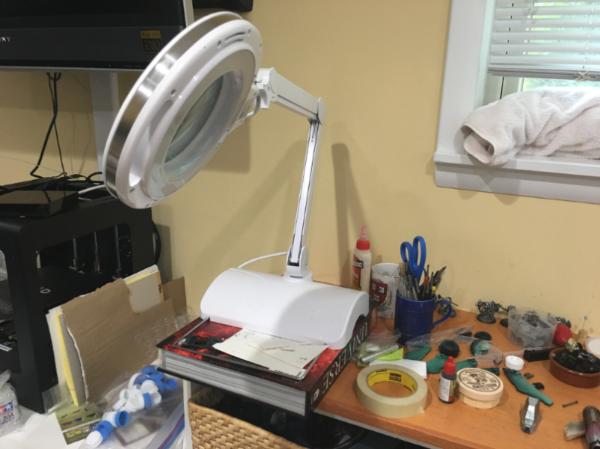 The extra space on the book gives me a natural area to store dry stuff like cards, triangles, stencils and the like.
Range of Motion
Since the lamp sits on a shelf, the range of motion matters.
The arm of the lamp extends about 3 feet in distance, up to an angle that drops below the base. I'm able to get the magnifier in place for when I'm working at a table that actually sits below the shelf.
I'm also able to elevate the lamp above shoulder level to get some extra light when I'm airbrushing or painting. After a few weeks working with it, this feels very natural. There's time my overhead LED lights create shadows on some recessed area and the light from the lamp is strong enough to wash them out. This is not a use I would have thought about with other lamps, they usually sit in front and above.
So that's a bonus. But the real benefit to this setup is being able to use the lamp between my painting stations. The paint station is a little further away and slightly higher from the shelf than the airbrush station. I can slide the based between the two and the arm cranes to the appropriate place for each with minimal effort. The arm is easy to position and holds it's position (although I'm curious about whether it will slip over time.)
Illumination
The big reason to get this lamp is the illumination. It's cleverly designed to give you control over the warmth and brightness of the light without overwhelming you with a number of options. I've previously used Phillips Hue bulbs, which provide very precise controls and presets that are hard to remember. The simplified design of the controls on this lamp are "just right" for most painters.
There's an on-off switch and a pair of warm / cool controls on the lamp, as demonstrated in this photo.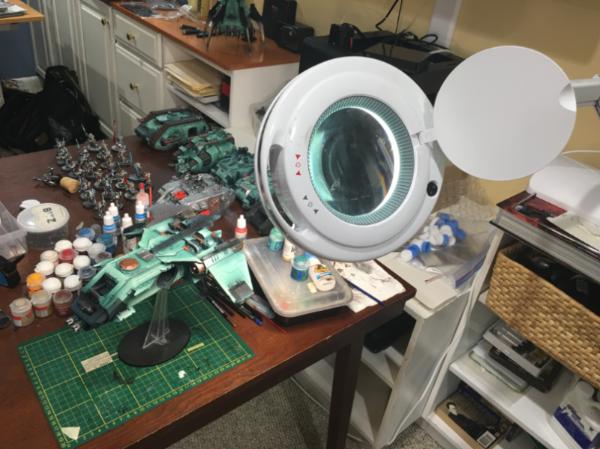 On the desk, you can see the Sons of Horus army I started into as a test with the lamp (along with my ongoing Grey Knights project.) Pointing this out because green is one of those colors that's really affected by color temperature. The way you perceive the color on the model has a lot to do with the ambient light in the room and how cool / warm / bright / dark it is. It's possible to get a lot of fluctuation when working with this kind of sea-green, and that's been a real problem for me. I've had to repaint models from time to time because they look so different once they're on the tabletop.
The default settings were slightly cooler than I would have wanted. After doing a few test models, I was able to shift the settings on the lamp to get to a color / brightness setting consistent with that of my overhead lights. This made it a lot simpler working in my spray booth and eliminated a "proof" step that was part of my painting routine. I didn't need to step away as much to check if the models looked right, it was easy to see when colors were off and adjust while I sat there.
So I'm really satisfied with the illumination settings. I write down those settings on a card for each different army I work on. One of the things about Grey Knights is the metallics, I use a lower brightness and a cooler temperature for them to give me a more accurate visual understanding of the silvers and blue shadows as I'm painting. I use a warmer and brighter setting for the green Sons of Horus vehicles. It's easy to count the number of clicks on the controls and know precisely how the light is set when I start into a painting sessions.
Magnification
As I said at the start of this article, I wanted to know how this lamp could help me with my needs for better magnification. Wearing magnifying glasses mounted to my head is burdensome and makes painting details a chore. Anything that lets me work without the encumbrance is a big deal.
The results are mostly positive. Here's a photo of the magnifying lens.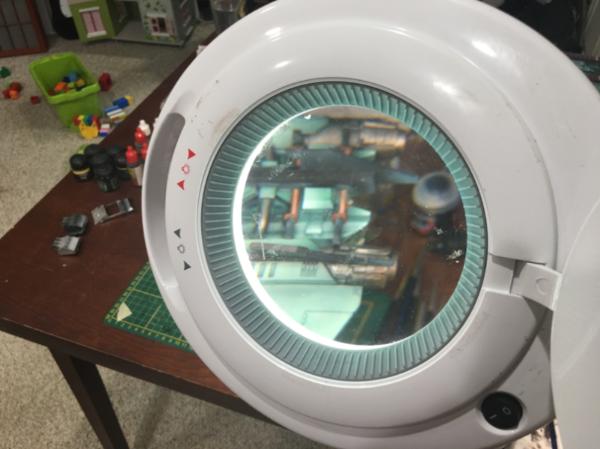 I'm not a photographer, so this was the best pic I could get through the lens. But, as you can see, the magnification is pretty powerful. It exposes details while illuminating them at the same time. The light washes out a lot of shadows that would normally be coming down on the model, and this is very useful.
What I tend to do is go over a model with paint once without the magnifier and pull it in for edge highlighting and pin washes. This just lets me know exactly where the colors are going and how they are showing up on the model. Overall, this increases the efficiency of my paint sessions. I'm finding I get work done a little faster each time mostly because I can process what's going on with the model with fewer passes. Also, I see problems when they're just starting, which lets me adjust much sooner than I would have before.
For example: I was shading some purity seals the other day and the wash was getting down into the crevaces of the Grey Knights Power Armor. This wouldn't have been obvious to the naked eye, and I probably would not have spotted it without the light from the lamp. It kept the details consistent all over the model.
I do a lot of freehand work and find the level of magnification is excessive for this purpose. A couple times, I found myself doing really detailed, magnified work that was not really visible to the naked eye. Likewise, the level of magnification takes some getting used to. It's a lot stronger than my magnifying glasses and my hands don't always know how close they are putting the brush to the model. For a few days, I spent a lot of time just trying to grasp the differences.
In the end, I found I was going back to the magnifying lenses from time to time, simply because the lens is not as powerful. If there's one fault I have with this lamp, it's the fact the magnification is not adjustable. For the price and the other conveniences, that's a problem I can live with. But it would be a lot more valuable if there was a way to adjust.
Summary
This lamp addresses problems I have with magnification in general. I've been able to use it to replace several other items in my painting arsenal and have an overall positive impression.
Using is has made my painting process noticeably more efficient in a short period of time. The fact it can easily move between paint stations is a big bonus. I like the modern design of the thing and how well it fit into my current setup.
It is a lamp. The designers implemented color and temperature controls in a thoughtful way that appeals to me. I realize other people may be looking for more precise controls, but the convenience of the simplified setup is not something to be overlooked.
The one downside is that, after a couple weeks of working with it, there are times the magnification seems like too much. Moving my head back, adjusting my painting posture to accommodate the lamp isn't something I'm prepared to do. But this only affects some of the trickiest detail problems I have with painting, and it's not a huge drawback. I have a feeling I will learn to work with it better over time.
Solid A.