I've returned to WFB from
AoS
, having regretfully not gotten to play any 8th edition before. I was active in the hobby during the 8th edition period but due to a severe case of life getting in the way, I never really got to enjoy the hobby in what would otherwise had been my favourite period of warhammer! With more space & time in my life now I intend to correct this!
I'm in charge of painting up all the armies in our house, so as too not overload myself (as has often happened before) I'm going to paint them up in small 400-500pt forces and try and get some games in with them before moving on with the next unit. As the only painter in the house it can be a bit daunting- we have a huge collection of unpainted minis (I've been in the hobby since 1989 now and yet to still finish painting a full army for myself!

) and have been eyeballing several other projects we have always wanted to do, but until now not had the time or space for! Being a bit of a hobby butterfly doesn't help either.
The first army I'll be painting for myself will be Gobbos! Goblins have always been my favourite army and to not refresh them first would be criminal! I'll finalise my list of the first 500pts or so in the next few days and add it in as a checklist for getting it painted! It will be a slow process as I love converting and intend to go to town on my goblins!
The first army my misses is having redone will be her High elves. She's been undecided between wood elves and high elves for days and has finally made her decision this evening! High elves being the most awkward as she's missing some key models, as well as not having any of it already painted or built (unlike the wood elves which we had already started on for
AoS
!

) I've no idea what she intends to take right now, but more than likely it will be the lions of Chrace first!
Sorry for the wordy post, on to the more interesting stuff from here on out:
First off, here is a couple of the pictures I saved from my old Warseer goblin project log. I was gifted a huge night goblin army back in the late days of 4th edition and while it was passible back then, it's taken a few too many knocks since and the painting quality is far below what I do now. It will be sad to see it stripped down, as it is an irreplaceable gift, but it's in a real sorry state (having survived something like 20+ moves including relocating overseas) and I'd like to see it back on the table, looking as menacing as it did so many years ago!
Goblin Big boss on Wolf: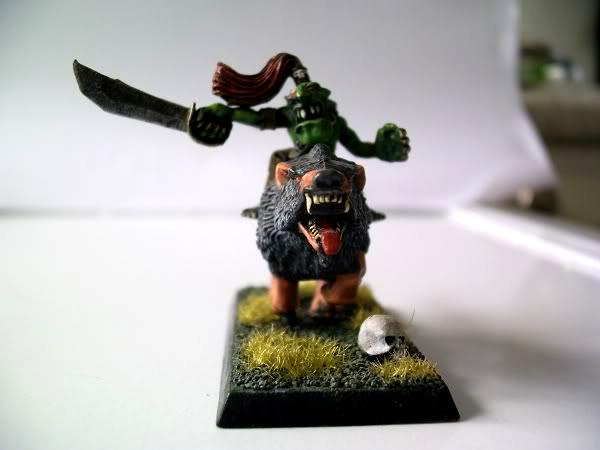 This was the model I was most pleased off back in the day. Painted around 1999. A super simple conversion and the only time during the 90s I was happy with a paint job! I'm going to be very sad to have to repaint it, but it got badly dinged in the last move. His shield seems to vanish at some point as well!
Snotlings: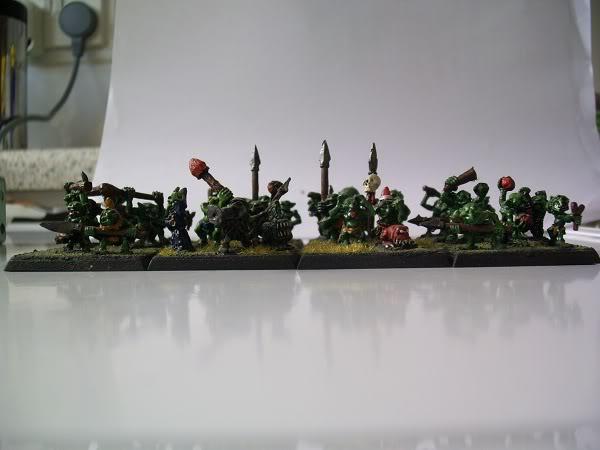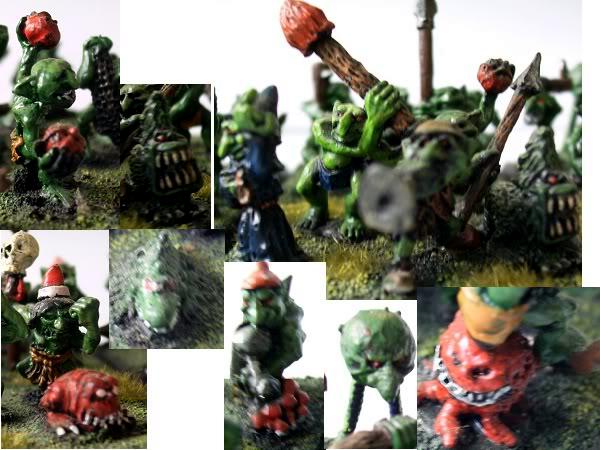 Part of the huge night goblin army I was gifted was a huge mass of snotlings (still one of the best sets of models
GW
ever did!) I had hundreds of them and all the swarm bases had slight conversions and other oddities and squigly beasts going on! It was one of the most special parts of the gift and so when it comes to repainting them all, I am going to try and recreate them exactly as they were!
And on to (brand) new stuff:
Gütz, The green swordsgrot: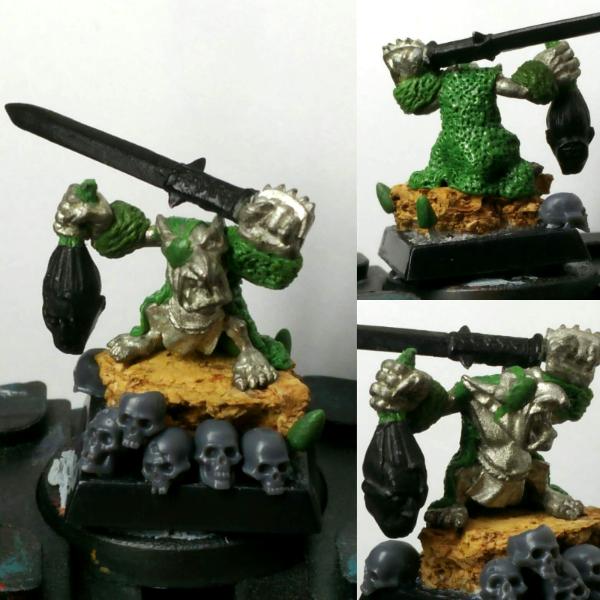 My snotling warboss! This is the second attempt at this conversion, I started making him probably back in 1999(ish) but he's been in and out of storage since then and the original body got too smashed up! I'm not much of a fan of sculpting, but I think I did a passable job, hopefully a careful paint job will sort out the issues with my poor sculpting! I've loved the idea of this conversion since I've started him and I'm really pleased to finally have him done and ready for painting!