With the new edition just around the corner I'm trying to distract myself from the shiny shiny Necrons by bulking out my old Imperial Guard force (it is that long since I last played!). Last time I made stuff for them, it was hand sculpted bodies cast in resin... or expensive
FW
body kits (I'm looking at you Cadian hazardous kit). This time I have the benefit of using my 3d printer to actually make units *really* cheaply, especially as there are a number of great companies making digital files for sale. My favourite are Reptilian Overlords, who currently do Tallarn and Valhallan-like infantry kits. I love the original Tallarn models, but could never afford them at the time, so I'm going to take this opportunity to do a Tallarn raiding force using the
RO
kit pieces, with some customisation and kitbashing as I go for the various units.
They have various leg and arm sets that will work nicely, but no rifles that I would consider interesting enough for a desert force, so I went and had a poke around Thingiverse and found two potential options
The first one I found is similar to the
DKoK
lasgun, which gives a nice intricate rifle that fits with their background. I found a Tallarn lasgun mod on Thingiverse too, which is where the wrapped barrel comes from. Oh how I love 3d printing!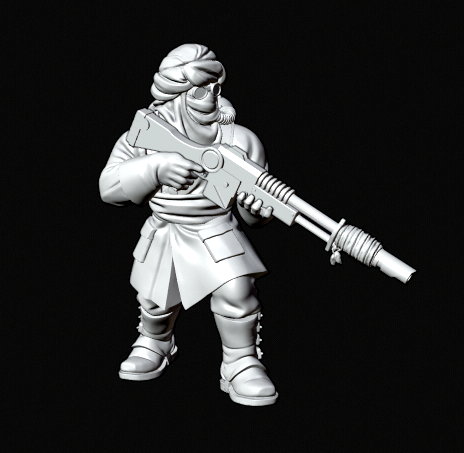 I think the rifle is looking a bit big, so I may try scaling it down a little and see if that makes any difference. The alternative, which I'm currently favouring is the SMG look, which gives them a WW2
SAS
feel that sort of fits with the overall raider theme that I have in my head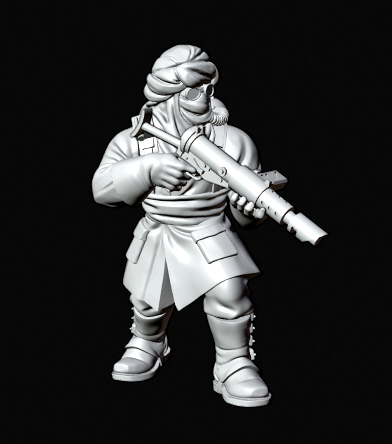 Again, I think the rifle needs scaling down a little tiny bit as it is quite chunky. The length is ok, but it feels a little too tall/wide.
I have no idea how the new edition is going to play as it's been about 8 years since I last read a rulebook or played a game... so I'll likely start with the standard lasgun infantry for now and they can be bulked out with specials/heavies later. I've tried printing all the separate bits and pieces and it was a pain in the backside... It also took up a lot of space on the printer's build plate, meaning it took two to three print runs to get one squad. This time I'm going to try pre-assembing the models before printing, so I can at least get the main poses sorted and so the occasional kitbash in Blender by adding extra kit or tweaking poses slightly to make them look different. With 6 bodies, 5 legs and 4 sets of arms, that's a fair number of options without duplication.
We'll see how the tweaking goes tonight for the lasguns and maybe I'll print one off to see it in reality