so Ive teased the royston rifles in a previous thread (spacesharks) and I've decided to take some shots and get them online for you guys to see at last!
so the Royston Rifles are a homebrew guard regiment of my own design. originally based on the old metal cadians but this (final?) iteration of them is based on resin models from various third party producers. with
gw
bits here and there.
I like to mix and match stuff up for lots of individual flavour but the generic soldier is:
torso: anvil industries fatigue, though sometimes alternated with madrobot's colonial marine torso or the victoria lamb arcadian torso.
legs: victoria lamb arcadian legs. I just love those gaters so they are what I generally use though there are a few of badrobot's fatigue legs hither and yon
heads: pigiron's kolony lids. I love how it has the essence of both the
dkok
and steel legion, yet still is reminiscent of the kasrkin gasmask and is also a bit of a reminder of the classic stormtrooper around the eyes too.
Ive also used the anvil helmeted heads too for non gasmask ones too (but I have gs'ed that 'square' bit thats on the kolony lids so they match in those cases)
however for unhelmeted heads i'll often use guard, necromunda or more often than not scout heads.
arms: usually anvil fatigue but often guard, necromunda,
gsc
and even tau for a mix of poses and weapons loadouts...
weapons:
all sorts of different shotguns and lasguns etc but I have designed my own lasgun (luchford pattern) exclusively for the use of Royston riflemen.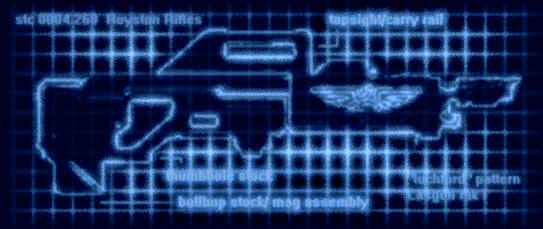 its essentially made out of a tau pulserifle cut and shut with a kantrall pattern lasgun and uses the top of a ogryn water can as a carryhandle/sight.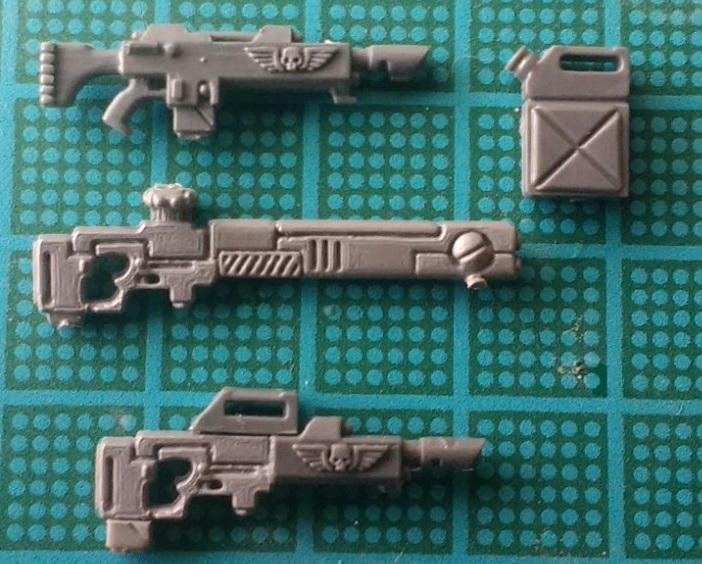 its inspired by the elysian bullpup lasgun.
in fact a lot of this force is inspired by the elysians especially what apologist did with his lambsworld conversions.
however when I started this force I'd not the funds for elysians and then when I did
fw
got rid of them, cowsons...
so I knew I wanted a real generic look that blended elements of cadians, eysians,
dkok
and steel legion.
I think I managed it.
the camo is flectarn based and makes painting fast and easy. this collection was an exercise huge conversions and easy paintjob.
so, basecoat/wash frenzy rather than detailed and slow. quick to build and fast to batch paint was the intent. as such they are not the best painted guard but this way ive not gone insane painting them to a crazy high standard. (who wants that!?)
so on with the pics:
infantry
the backbone of any guard force is its infantry. and the royson rifles are of no exception.
considered light infantry, that sepecialise in stealth and infiltration to achieve their goals, there is a large degree of leniency in the restriction of specialist equipment and weapons, even amongst the rank and file.
in fact, improvisation and customisation of kit and weapons is oftimes openly encouraged. victory by any means after all.
this can often lead to a rather less than coherent and less regimented look to the troops. however in battle the riflemen work together like a well oiled machine, years of combat experiance and familiarity with terrain, kit and fellows ensuring profficiancy unexpected from such a loose looking unit...
infantry command: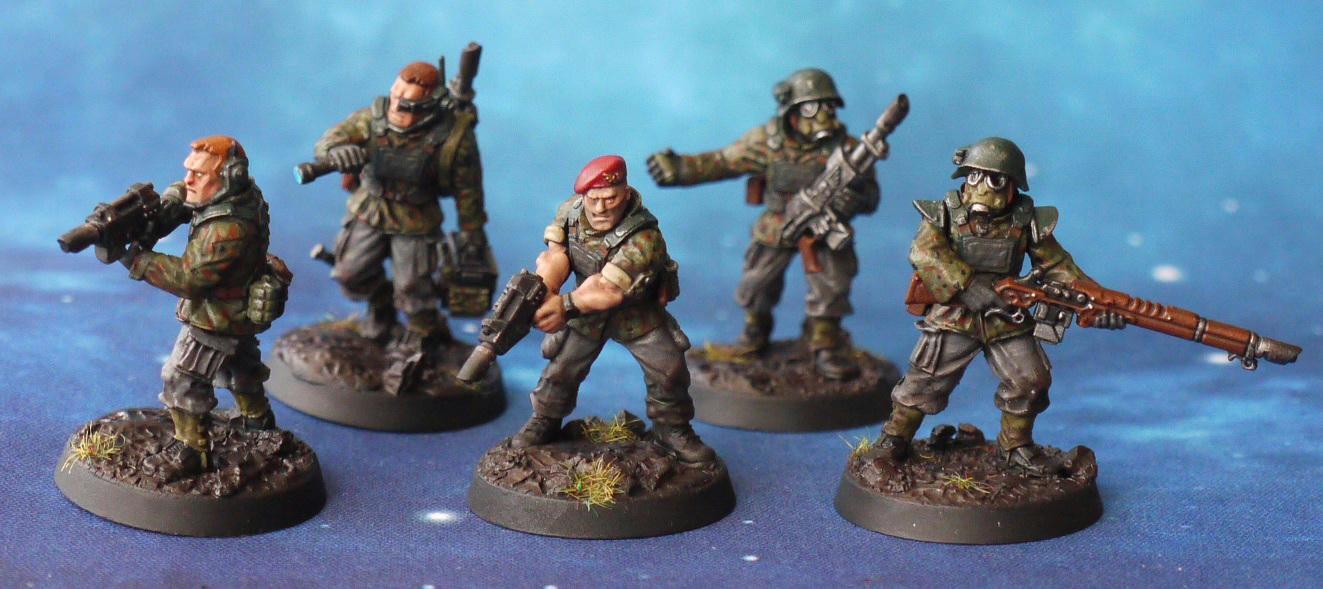 note the lack of
ott
weapons. I simply made a longlas out of a skittari rifle and kept the rest to either the old mp40 style voss lasguns and basic laspistols...
infantry squad 1: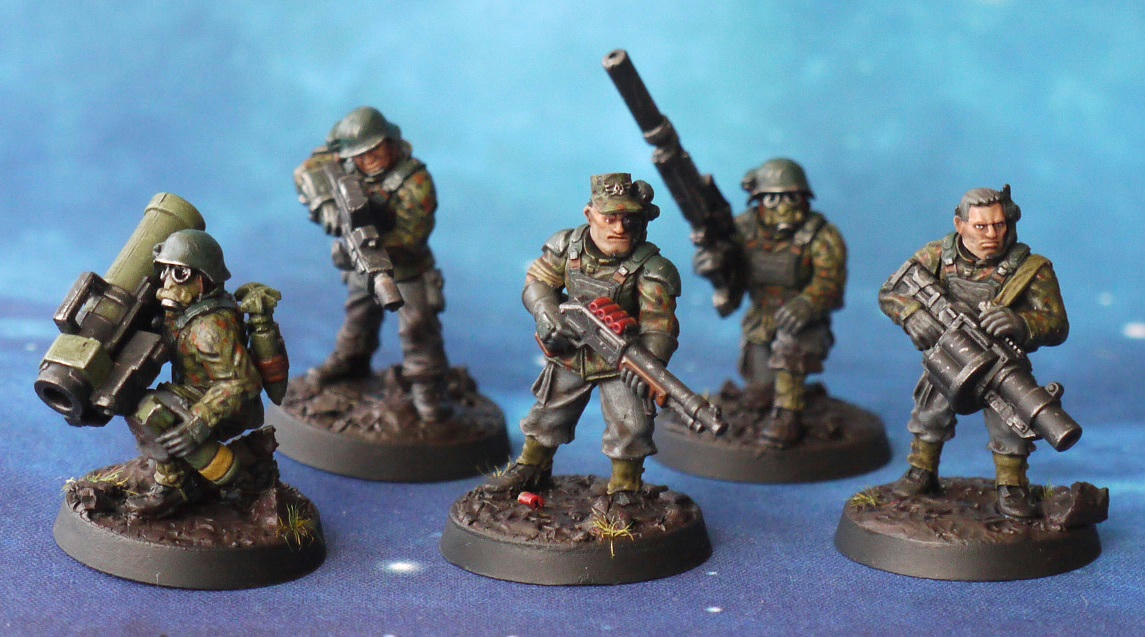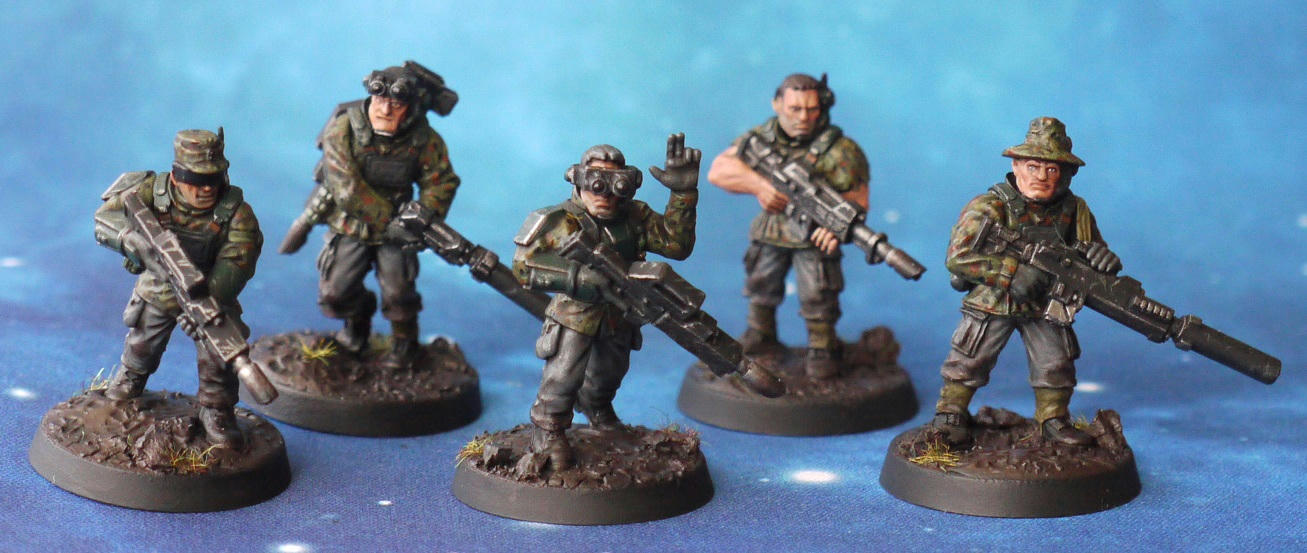 feat.
gsc
shotty and
gl
, scout heads (plus grafted hats) marine missile launcher, and silencers on some rifles...
infantry squad 2: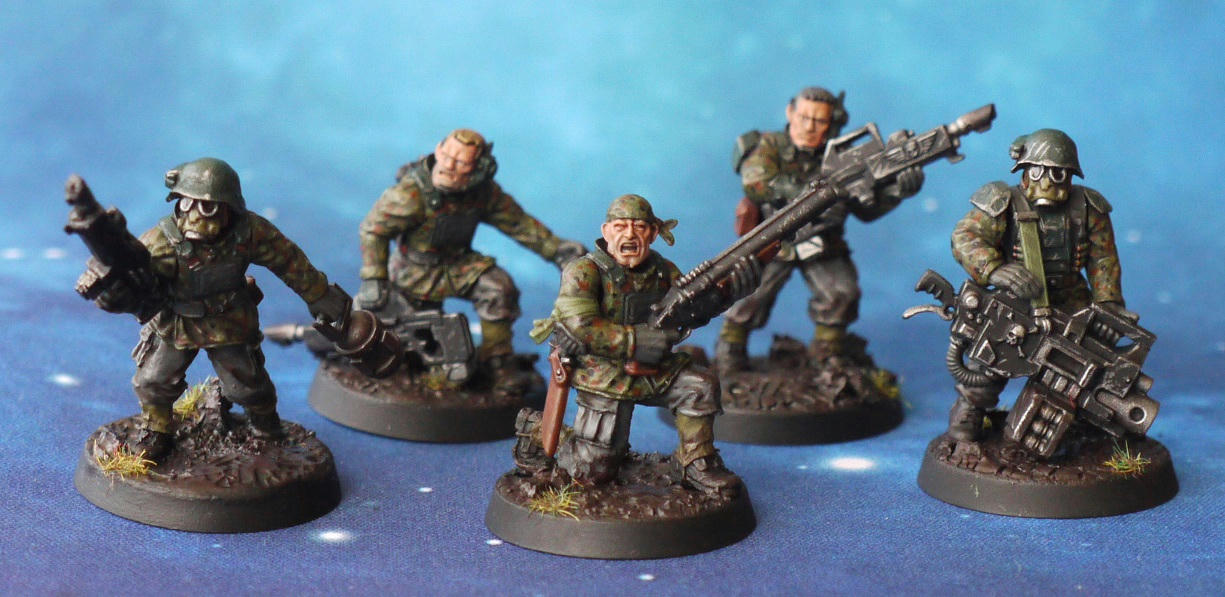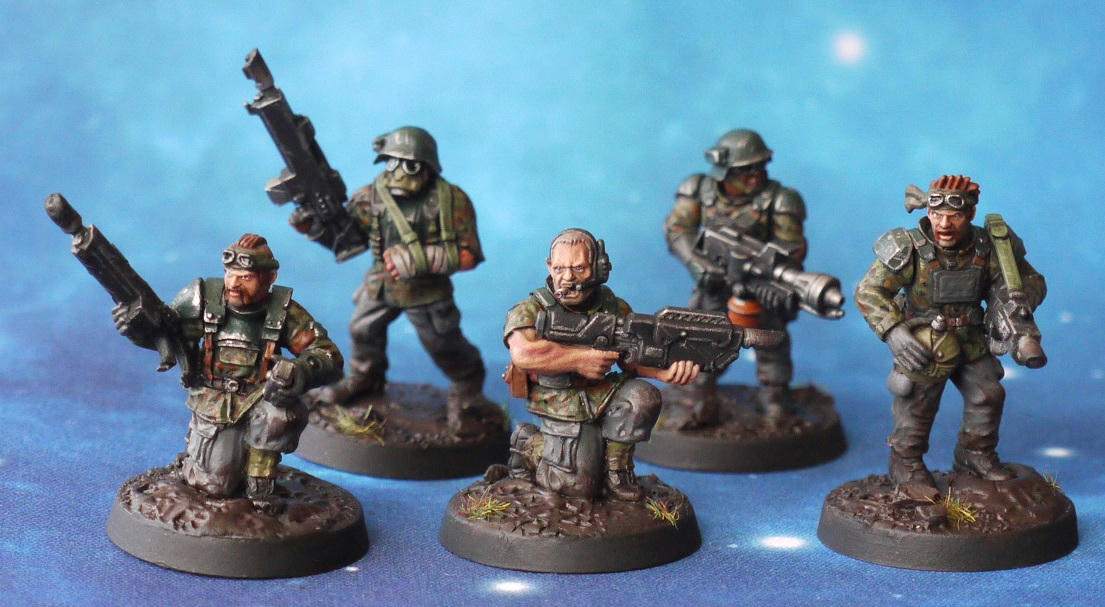 feat. another
gsc
shotty and flamer, necromunda heads, nihilis lasguns and a scout heavy bolter...
infantry squad 3: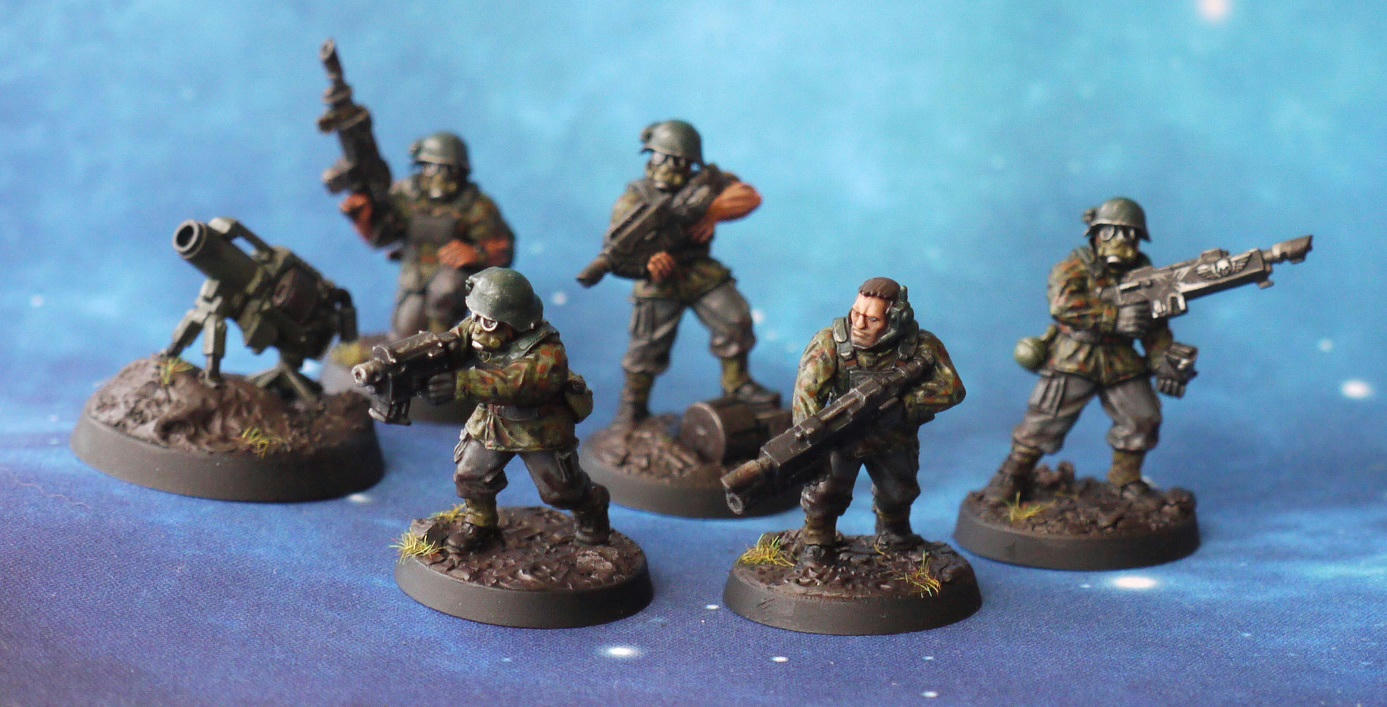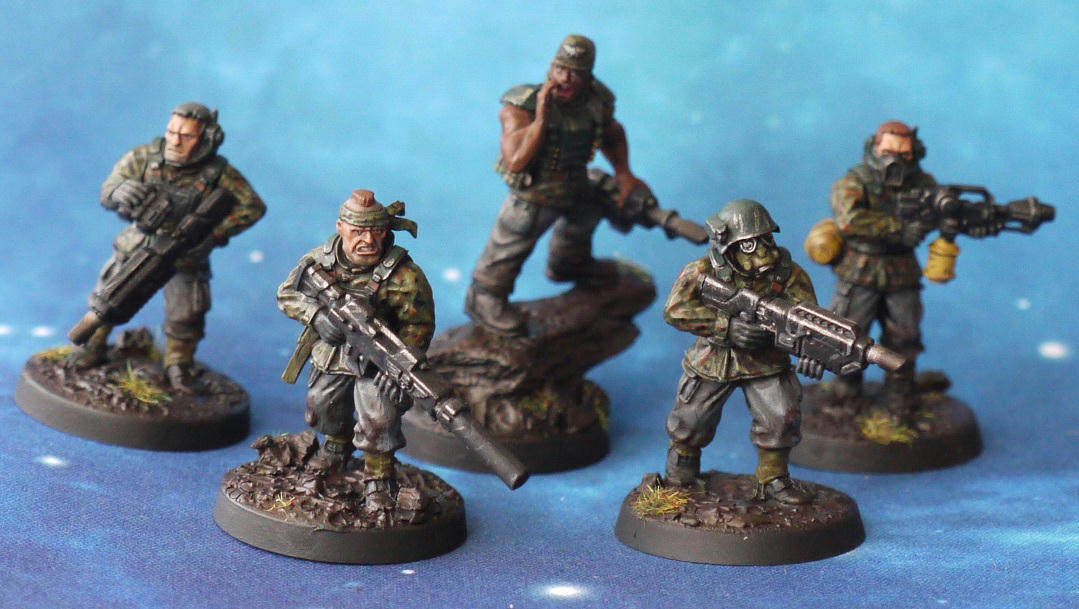 feat. more necromunda weapons, more scout heads, converted auto morter and even a sos flamer!
the 'Darkeyes' grenadiers
suspicious of any offworlders, rather than the usual act of accepting a contingent of stormtroopers in operations, instead the toughest, bravest, bluntest and most cussed fighters amongst the riflemen are often reassigned to the rosyton rifles' own force of elite grenadiers, codenamed 'darkeyes'.
armed with the rather heavy yet compact luchford pattern hellguns and encased in carapace armour, the darkeyes are often sent in where the fighting is thickest, the brutality of the squadleaders (referred to as rioteers) savage shock-cudgels leading the assault from the front. although lacking the finesse and stealth usually attributed to stormtroopers it is considered an honor to be selected for such duties.
however, this is not a view shared by many offworlders, who have oftimes been heard to remark that the darkeyes are little more than heavily armoured thugs with high powered rifles.
however this is not an opinion sensibly shared too loudly in the vicinity of a darkeyes rioteer...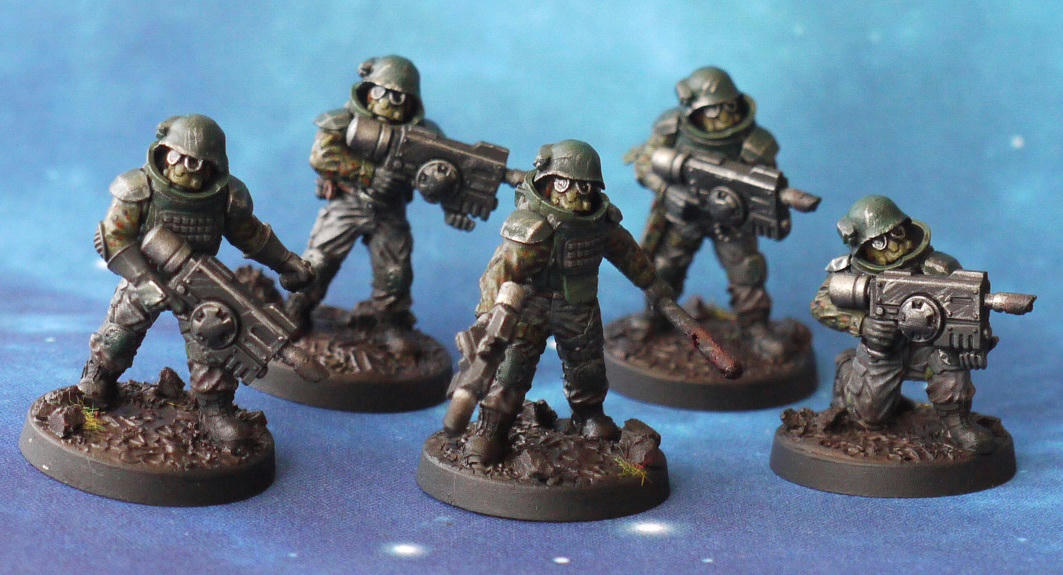 as you can see they are based on anvil heavy armour and kolony lids. the hellguns made from reiver grapnel guns for a chunky look.
note the 'rioteer' sgt's simple cudgel/truncheon in place of a more complicated
ccw
...
dedicated transport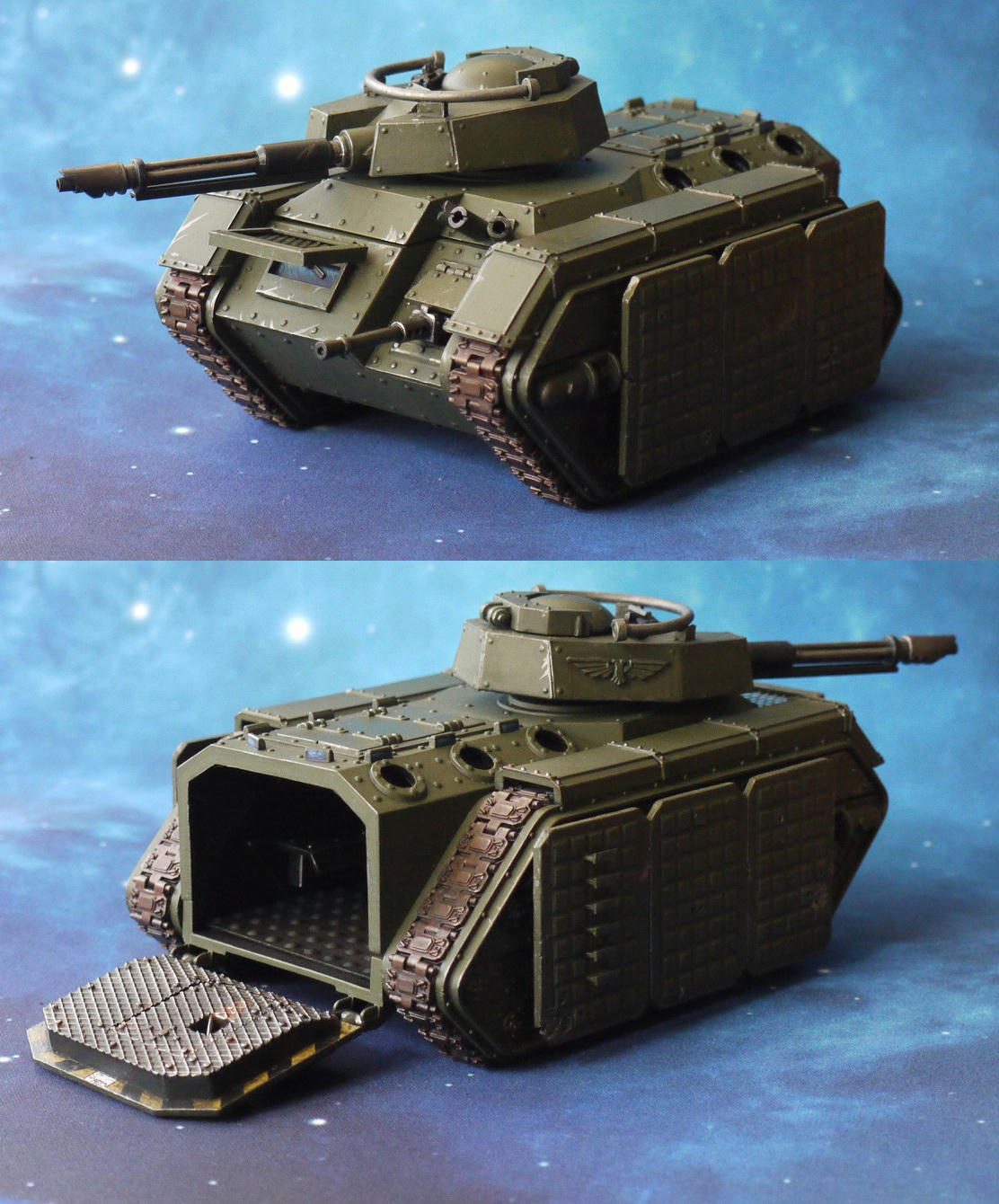 this extra armoured chimera is the fastest way of getting the darkeyes where they need to be, right
int
he heart of the enemy...
combat engineers/sappers
specialists that excel in demolition and infiltration are often trained as combat engineers, carrying explosives and subterranean equipment, these elite sappers are send UNDER enemy lines to destroy key enemy targets, buildings and vehicles.
armed with automatic shotguns for the
ccb
expected in trench warfare and clad in greatcoats and carapace armour they are not to be trifled with...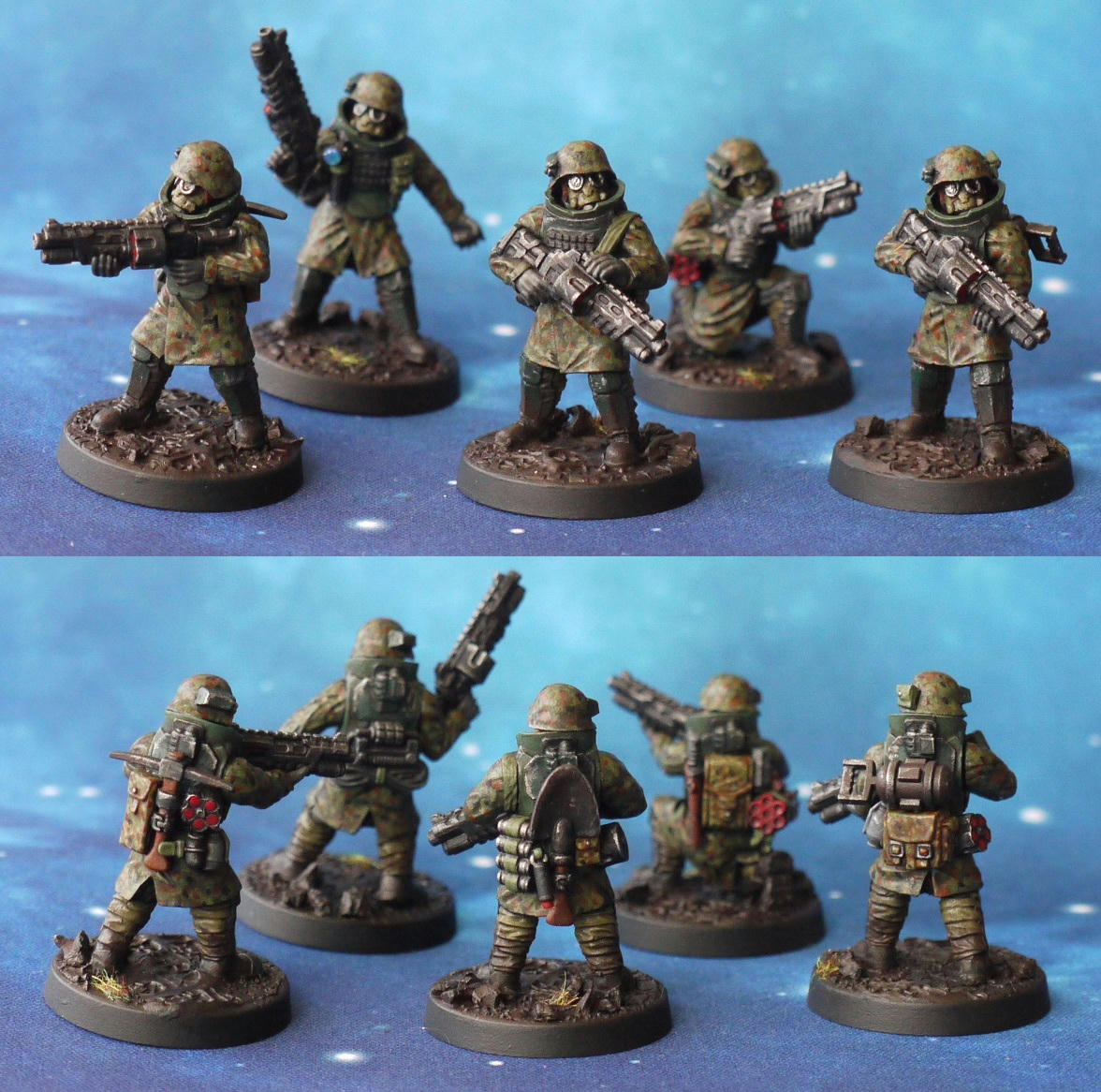 inspired by the
dkok
engineers, these are based on anvil industries parts again, with kolony heads and lots of pockts and kit from guard,
gsc
's and scouts to represent all the gear needed for subterranean trench warfare..
sniper teams
specialists in marksmanship get kitted out sniperrifles and work in squads of six, three snipers three spotters...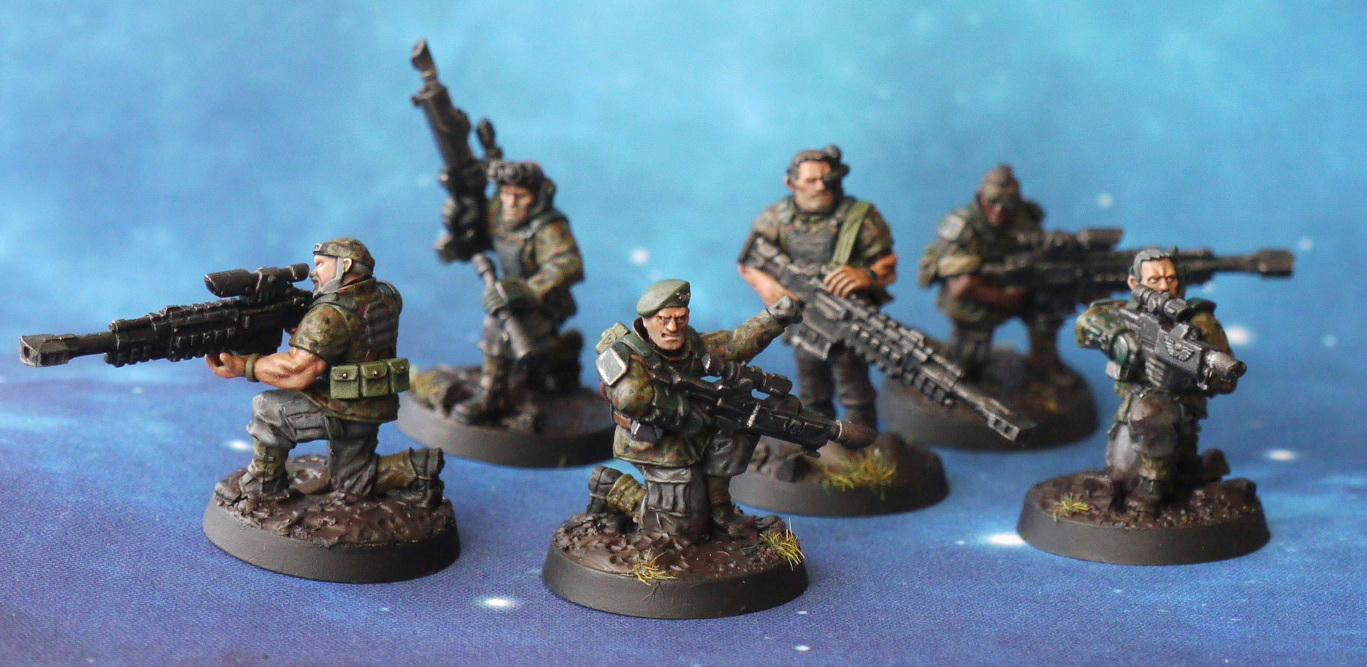 as you can see Ive used the huge rifles from anvil industries to represent somehting akin to a barret .50.
theres no way it could be fired without laying down but even then, perhaps they are too large in hindsight, but I wanted it to look like a rifle that could take out an astartes or even a light vehicle with a single shot.
the spotters are armed with the luchford pattern lasgun with the scope from a boltrifle to help them fit visually with the three snipers...
Ogryn abhumans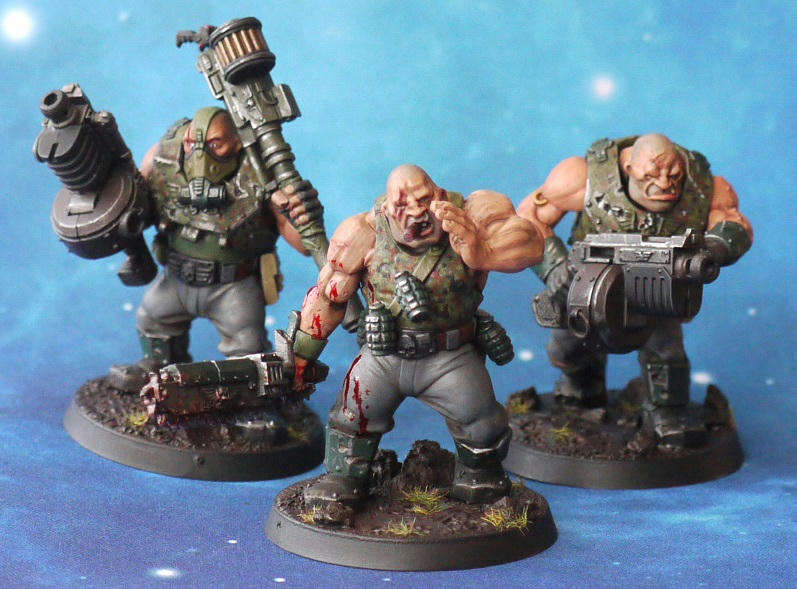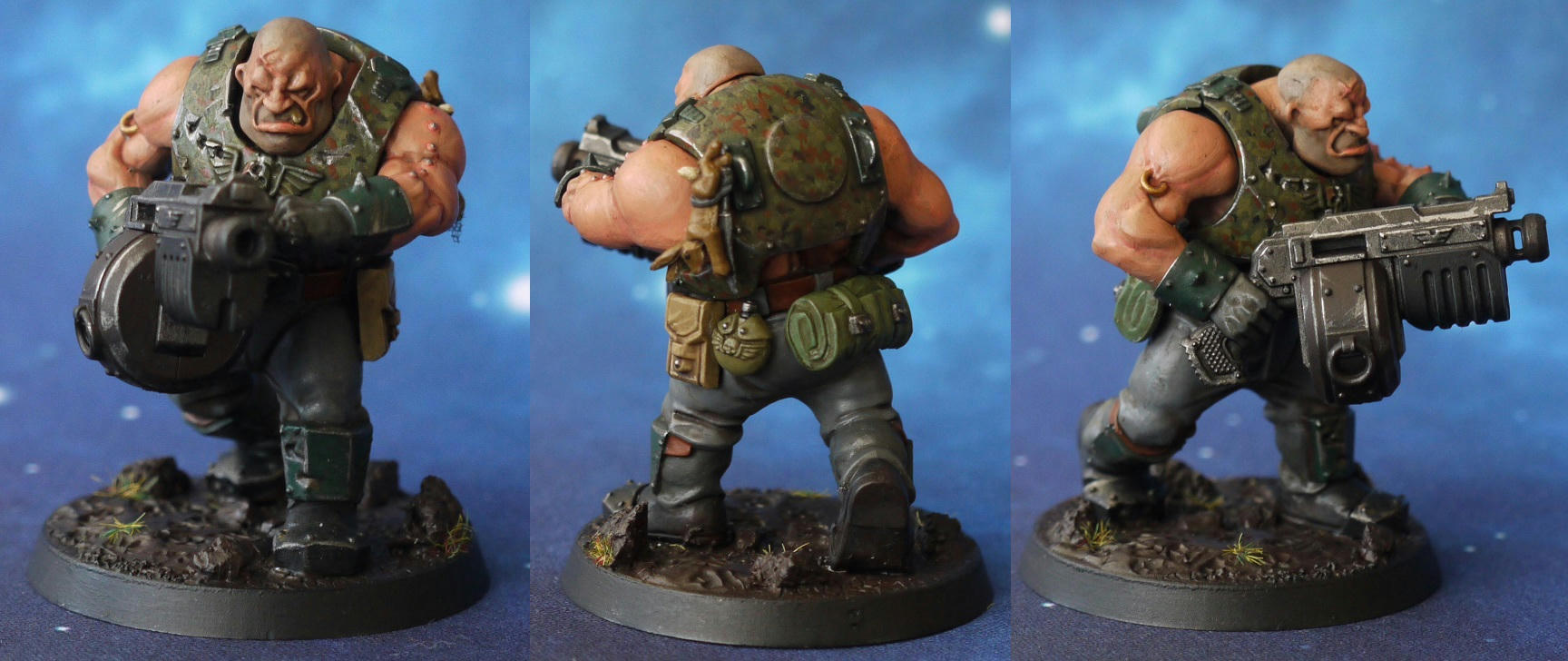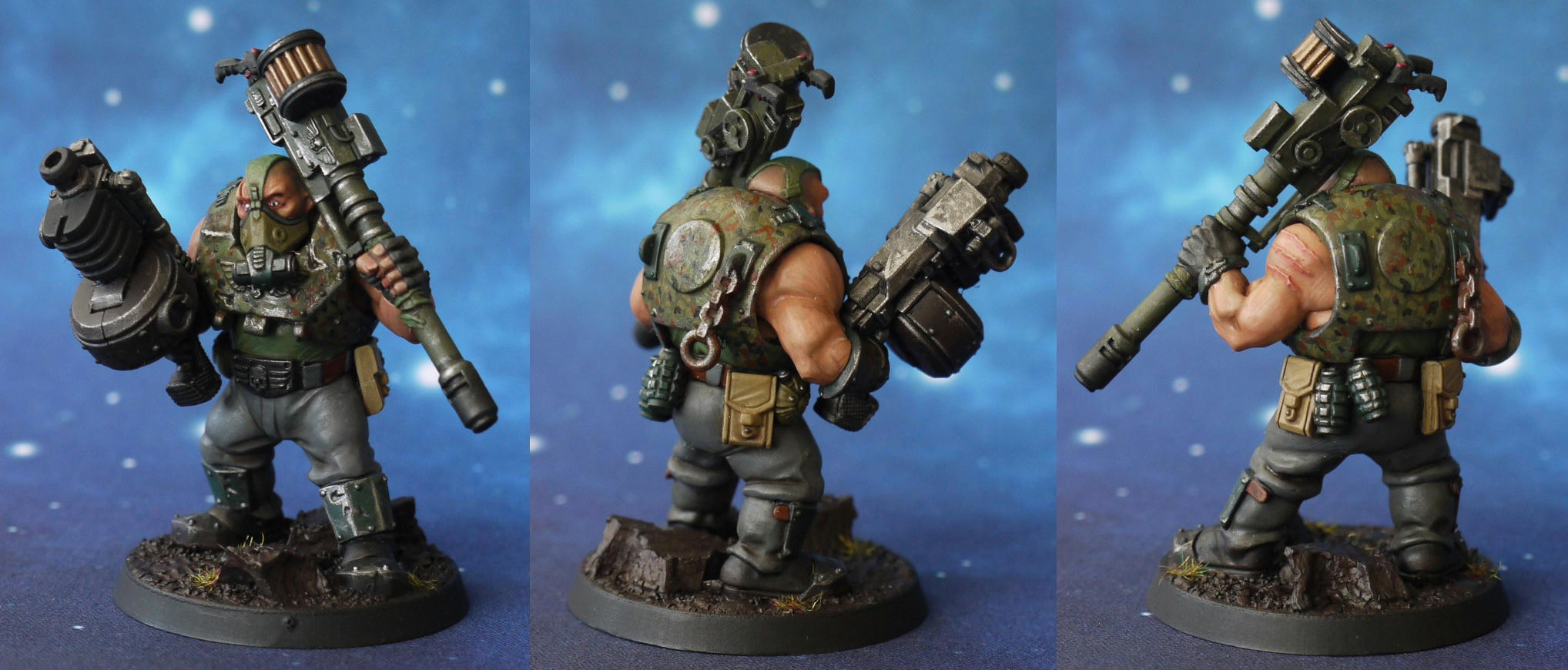 three heavily armed and armoured big-uns ready to get stuck in!
Riders of Royston
often remarked as dangerous at both ends and crafty in the middle, a recon team of horsemen are still the fastest, and most efficient scouts available to the royston rifles. armed with short-range grenade-lances, these fleet-footed mounted troops can easlily cross difficult terrain and rocky mountain passes, native to Royston's northern continent with an ease simply impossible in a motorised vehicle.
although best suited to recon, they are just as effective at storming enemy camps in a hail of lasfire and explosives and leving before a counter attack can be mounted...

shamelessly stolen from apologists rough rider designs, these horsemen are based on the wood-elf horses (because they are the prettiest horses available from
gw
imho
) with a rider bodies from madrobot minis.
the panzerfausts are also from madrobot as are the gasmasked horse heads...
panzerfaust-jousters? yes please

Command
HQ
Led by the dashing and cunning Lord-Marshal Tufflex, the accompanying bodyguard squad of the Royston rifles supreme-commander is made up of the toughest and meanest soldiers handpicked by the marshal himself exclusively from the darkeyes.
again, inspired by apologists lambsworlders, this command squad is based off of scout/cadian hybids with catachan arms (for an even bigger, toughguy look) and features a medic, vox
op
, standard bearer and grenadelauncher specialist.
the marshal himself is built the same as the bodyguard (shaved cadian torso on scout legs)with a scout head, but also features the jacket from the stormtrooper sgt and a scratch built lighter and cigar pose.
in truth the marshal was kinda an attempt at a plastic creed conversion...
dedicated transport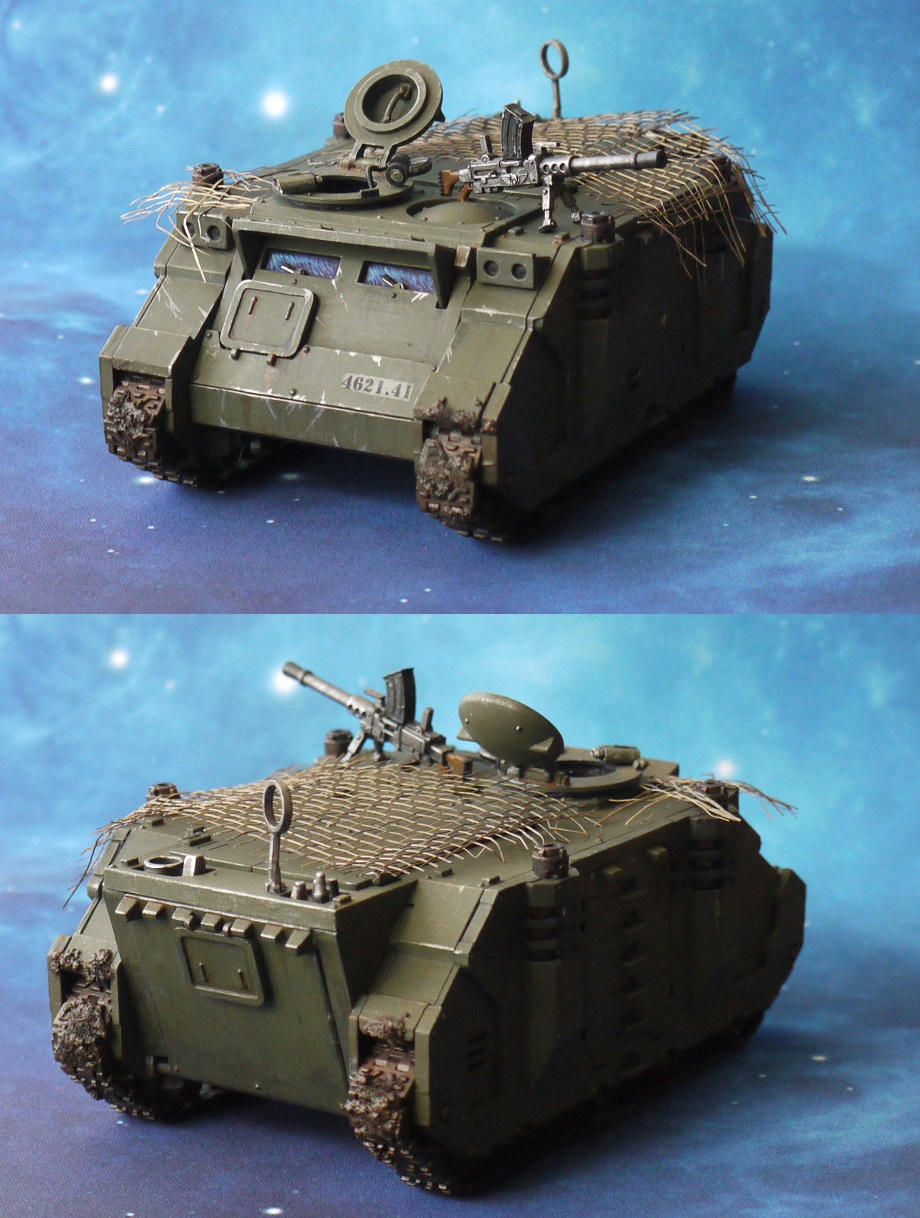 not content with a chimera marshal tufflex is the proud owner of a rhino apc...
company commander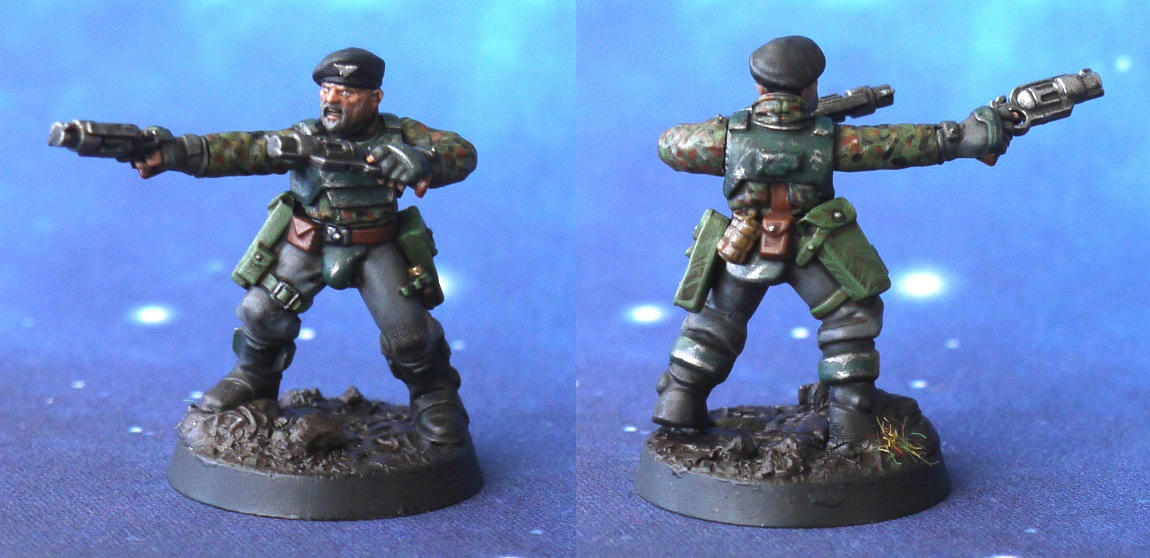 an alternative commander figure. clearly a visual reference to Stallone's Barney Ross from the expendables movies...
artillery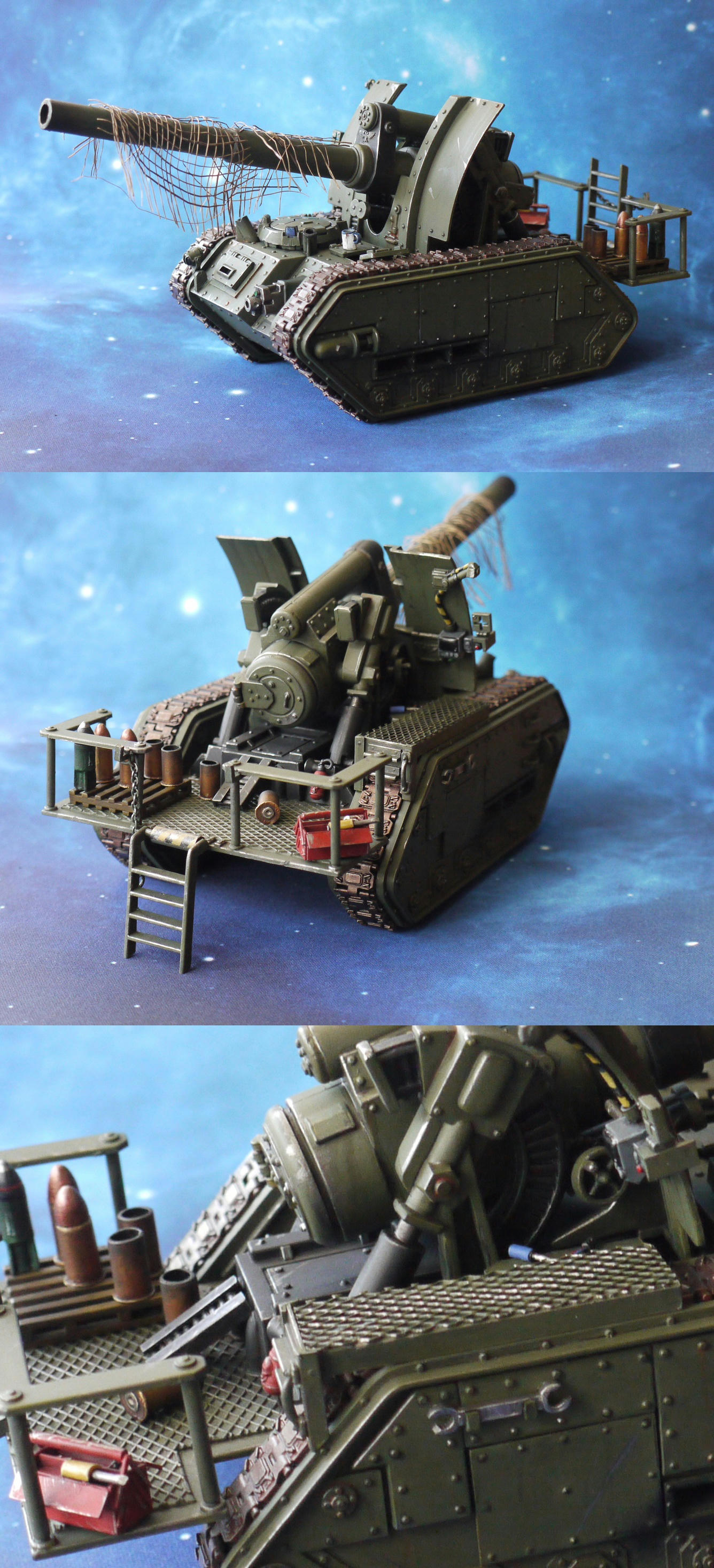 basilisk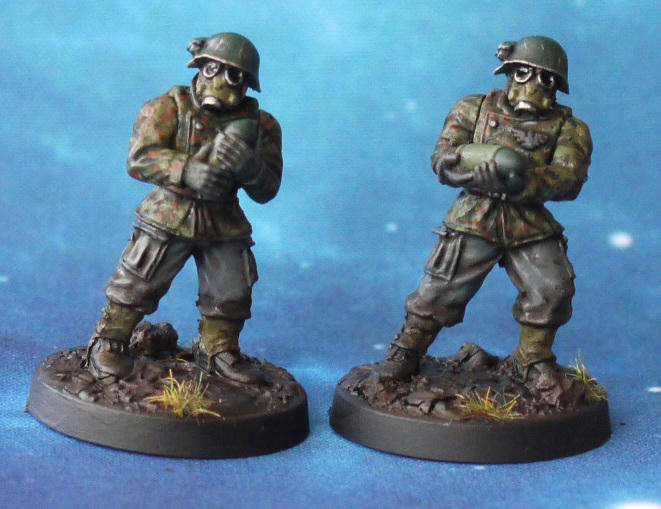 artillery crew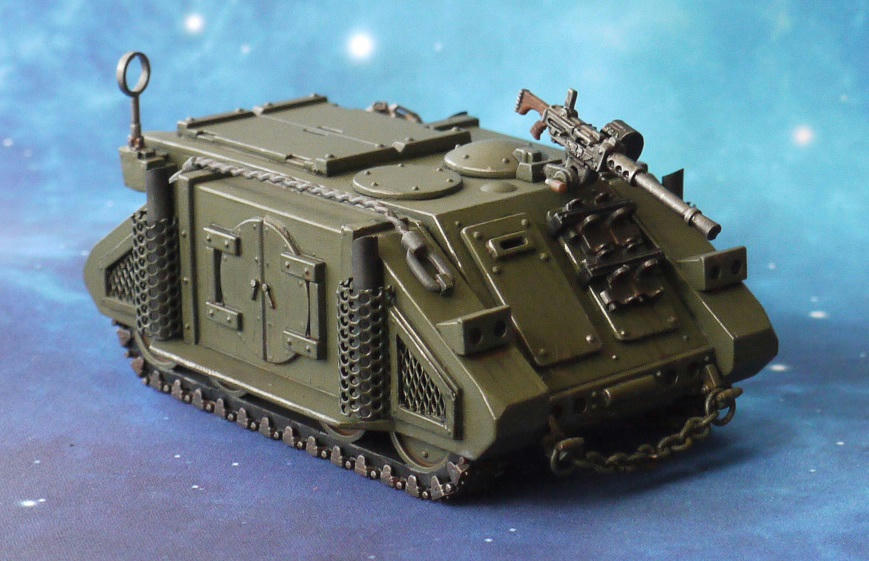 classic mk1 rhino, used as a counts-as artillery tractor for this: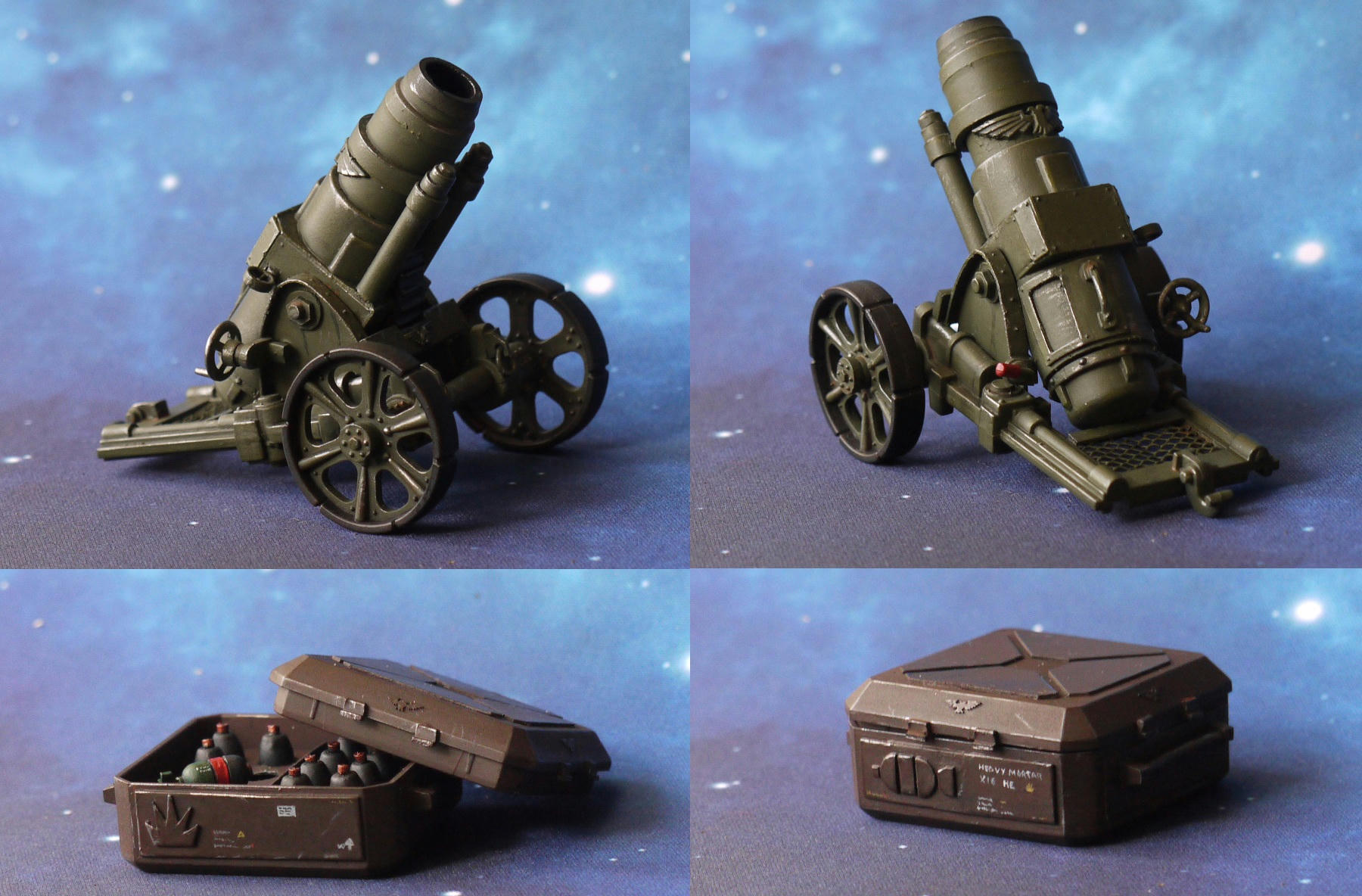 scratch built heavy mortar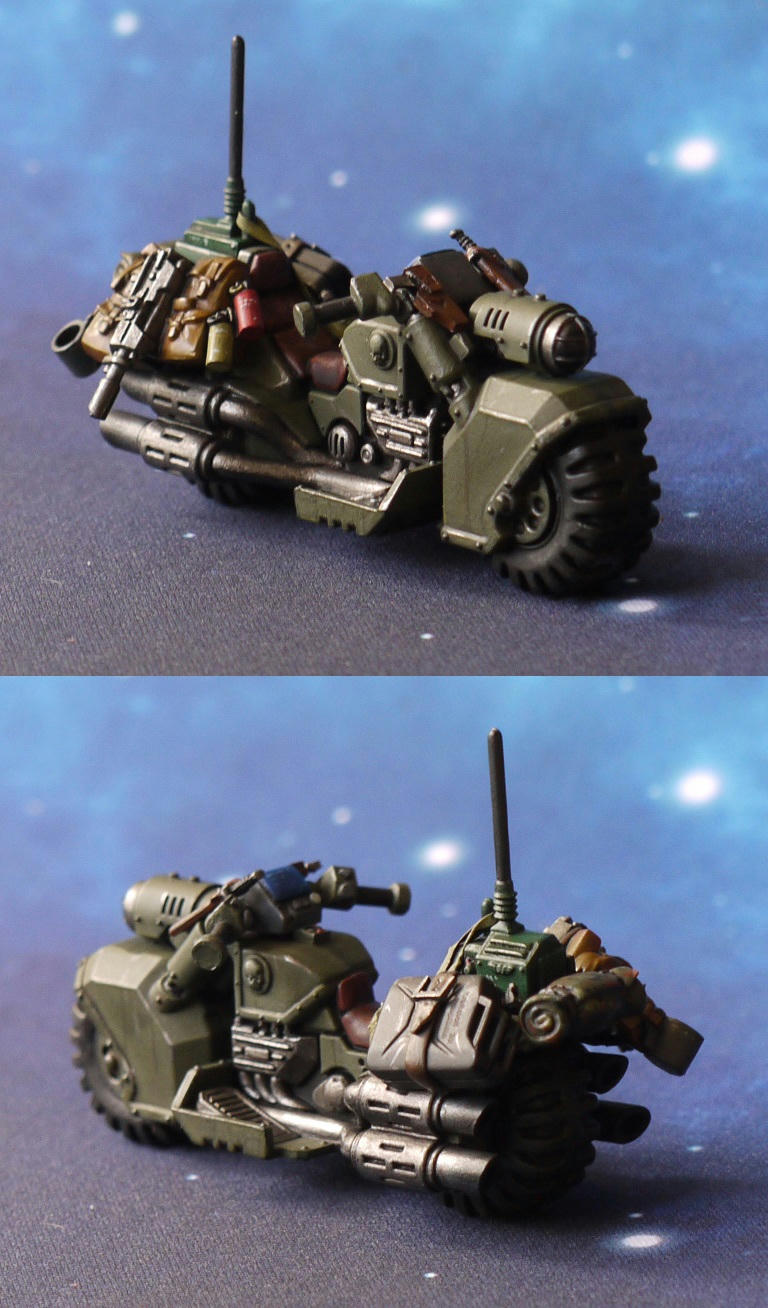 dispatch rider's bike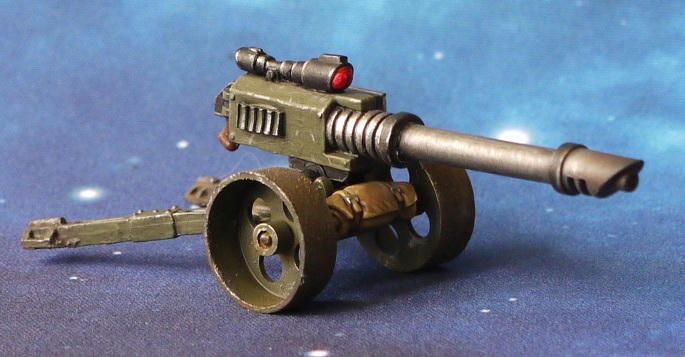 scratchbuilt lascannon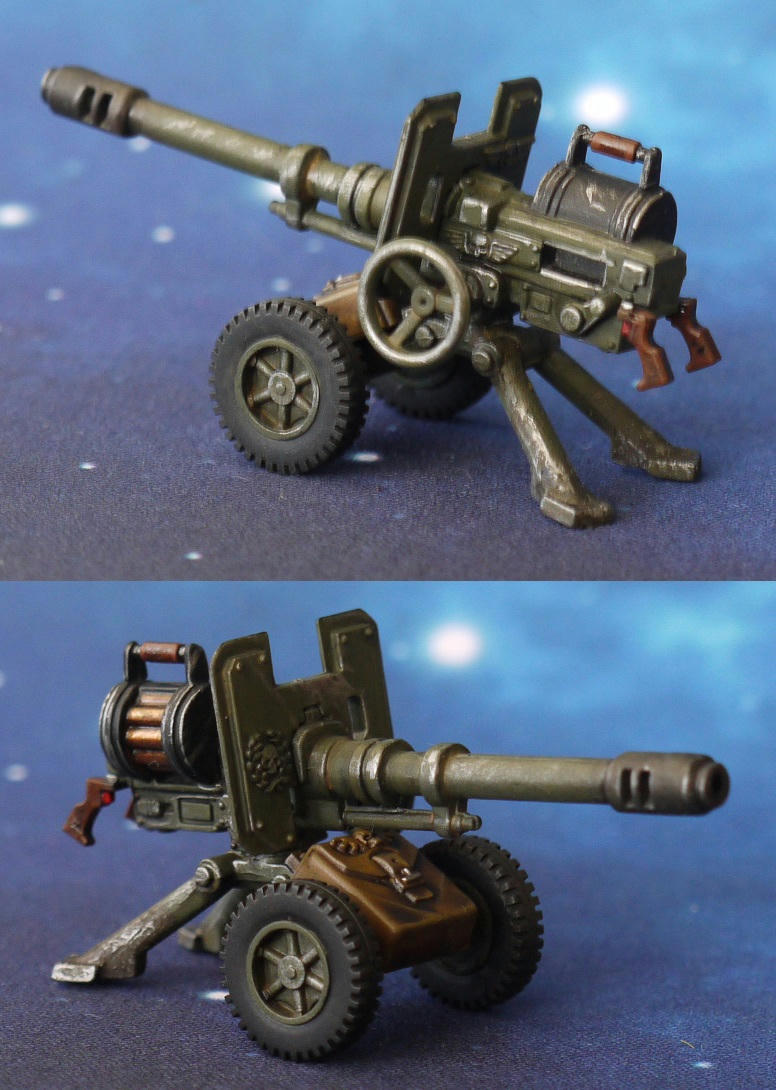 autocannon conversion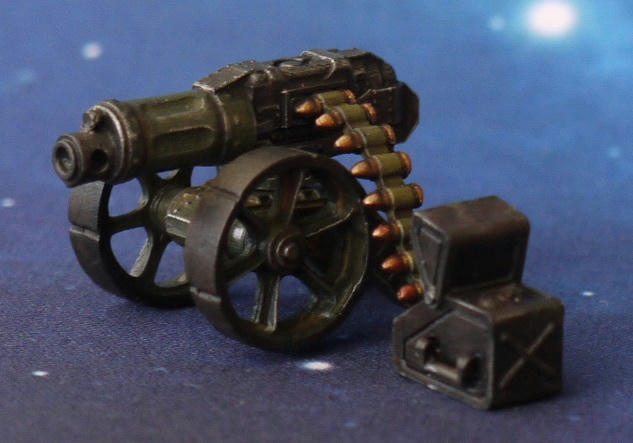 kromlech heavy bolter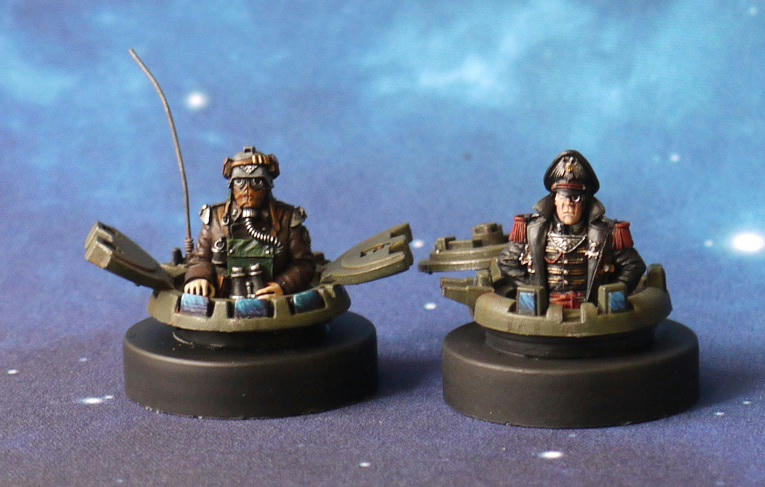 some tank commanders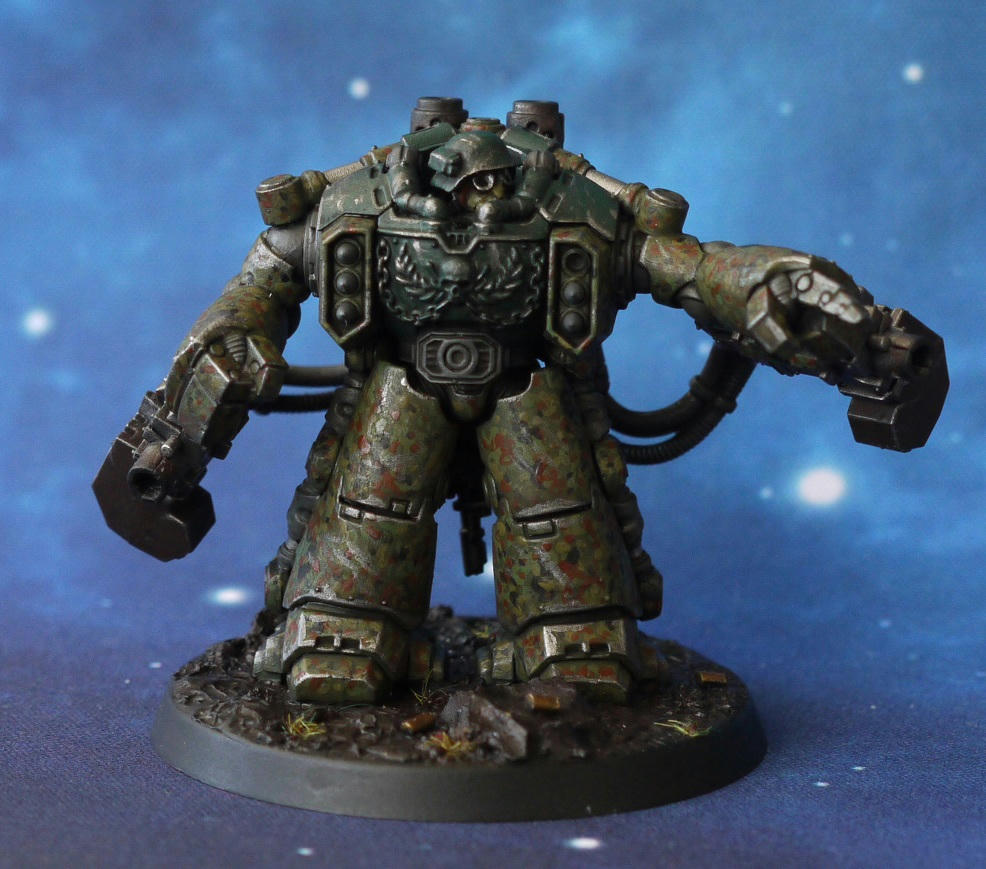 a "BOSS" character I made based on the idea of the Uber-soldat from the game rtcw...
bit silly this one, I know, but i guess it would count as an ogryn bodyguard in-game?
objective markers: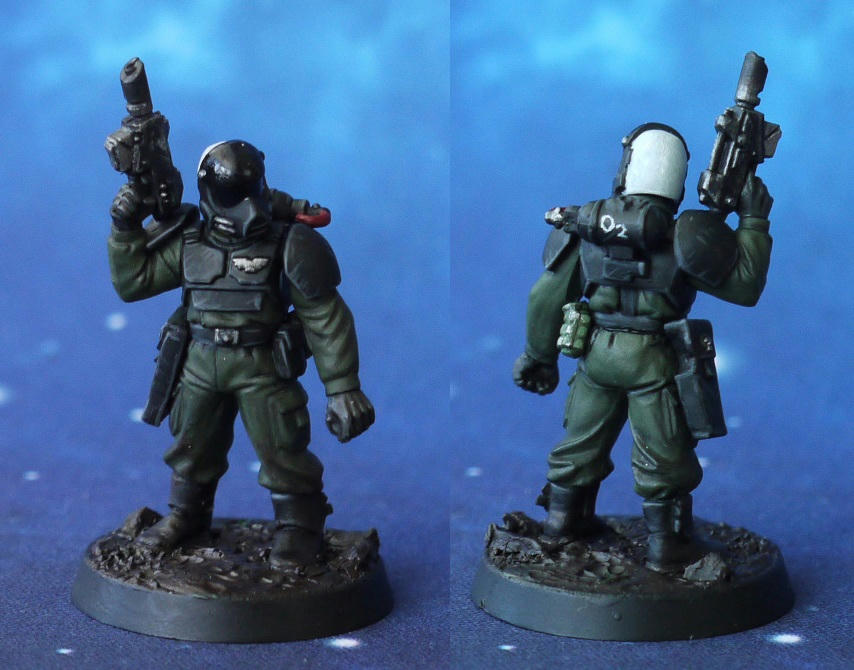 a stranded pilot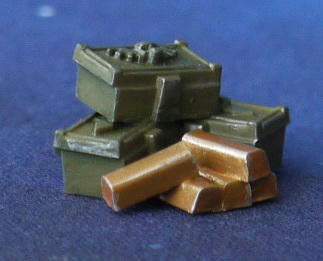 a stash of gold! (another wolfenstein and/or kelly's heroes reference)
so thats it...
Ive a scratch built bomard thats been on the go for years now but who knows when/if that will ever get done...
I don't think I'll be adding anything else to this army but its here nonetheless...
if there's any interest or even if I can be bothered, I'll get the camera out again soon and get some shots of the guard models that are even older than these and what I used to represent these before the resin stuff was available!
Ive also a couple of steellegion and valhallan conversions in the same style and also a big-ol kill-team I did with all of my favourite old guard/necromunda models that I used to represent schaffers last chancers...