Thx, Excommunicate Traitoris! And here is some new stuff!
First, I wanted to post regulary, but my work and other sparetime stuff canceled this plans. But her are the results of my last month work!
Let us start with some classic stuff. Some Ghouls with a hulking Ghoullord: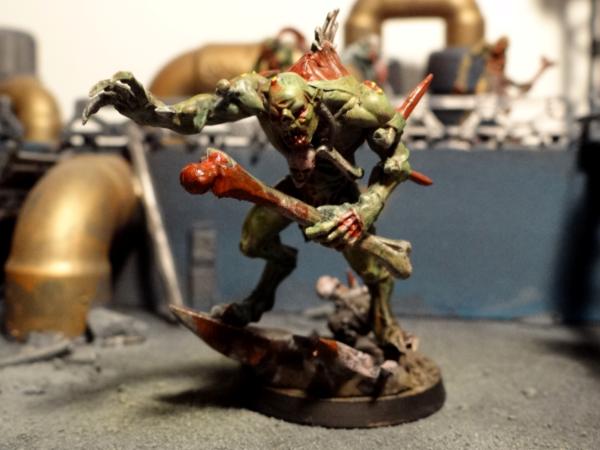 Let's stay in the underworld of the megapolis! Here two well known charakters from the deep: Cal Jericho and Scabbs!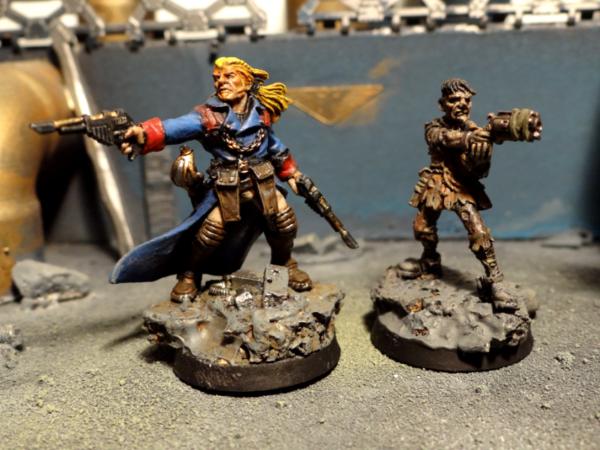 More Charakters from Underdark: A Underground Boss and a gunslinger!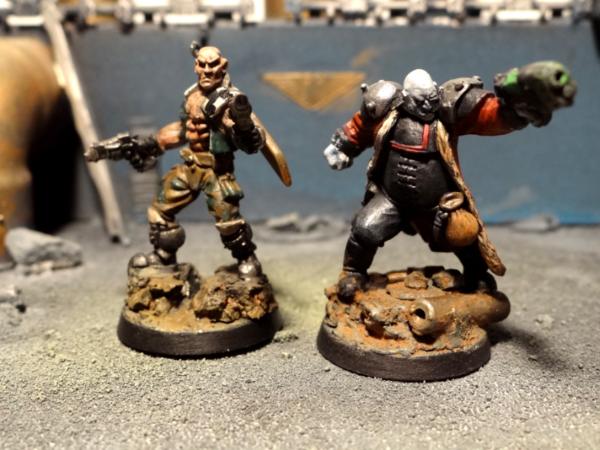 And here are a real Gentleman and a adventurous Pilot:
I have to say, that a lot miniatures from Reapers Chronoscape-Line fit very well to the 40th Millenia.
Now some ladies! Here we have an Eldar Assassin Girl and a macabre Imperial Noble:
One more noble, mysterious Lady and her female, laserpistol-wielding Bodyguard: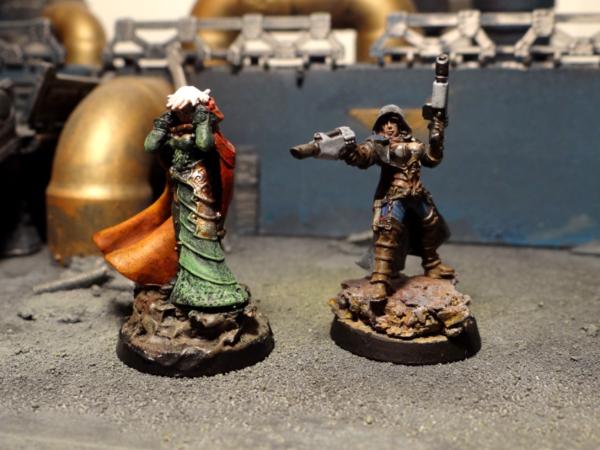 An adventuring Mercenary and a really grim Witchwunter. I call him Joachim Blokk, like the Witchhunter in the Song from Bal-Sagoth!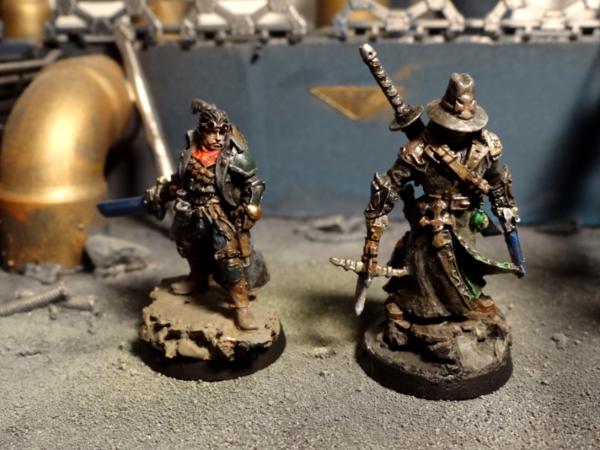 Some Chaos:
A
CSM
from the Scavanger Chapter and a Bloated Scholar. The Idea behind the Scavenger is, that they loot all the armor and weapons from the battle field (like the Deathskull Orks), so their armors and weapons are very mixed. The idea behind the Bloated Scholar comes from the "Disciples of the Dark Gods"-Book for the "Dark Heresy"-
RPG
.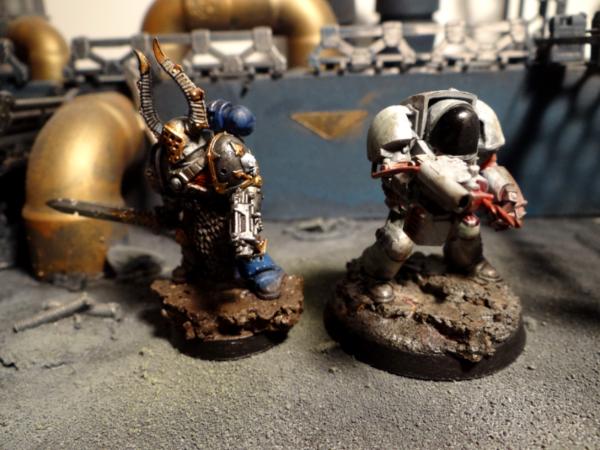 So, against more Chaos we need more Inquisitors! My first
FW
Miniature Solomon Lok and a Servant:
The second Inquisitor based on a
LotR
Ringwrath and is accompanied by an Imperal Preacher:
It's a little bit blurry. I'm sorry. :(
For a better morale on the battle field we need one more commissar. This one has the name "Karl Konrad von Kroenen".

Here we have a Crusader, which is simply an "Infinity" miniature. I like this miniature very much, so I didn't want to convert something: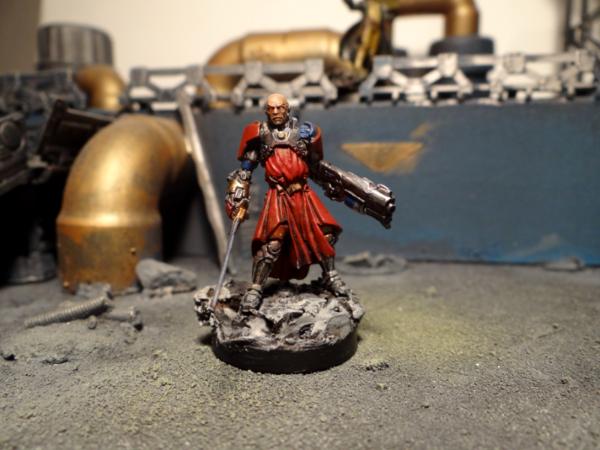 One more Inifinity-Miniature. I use him as mercenary for the Tau Empire: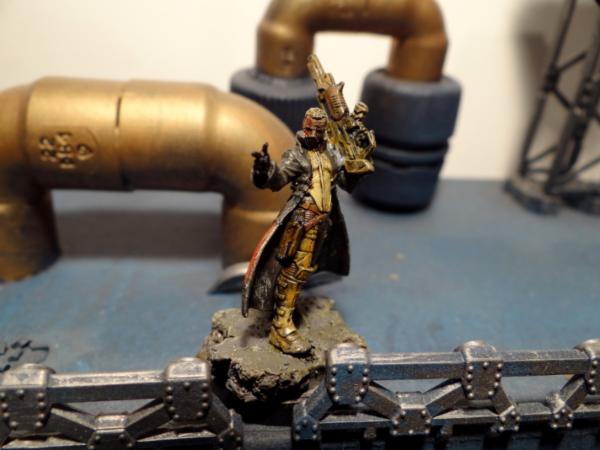 Back to
GW
-Miniatures: A very fanatic warrior in inquistional service!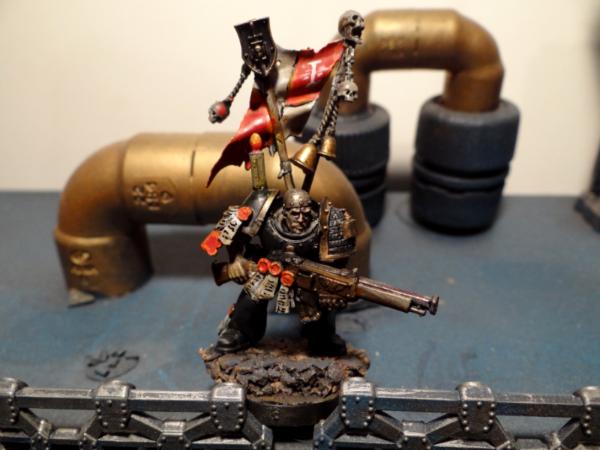 For more psionic support for mutants or chaos cults here we have a pygmy Witchdoc.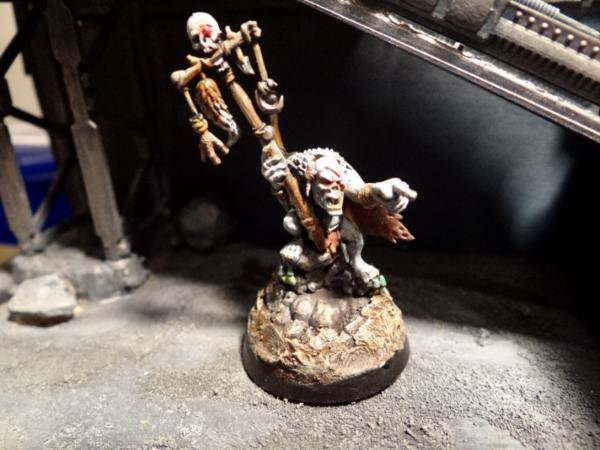 More men from Mars!
An Adeptus Mechanikus Techpriest, his Servitorguard and a Magus Biologis:
A Navigator inspired by John Blanche: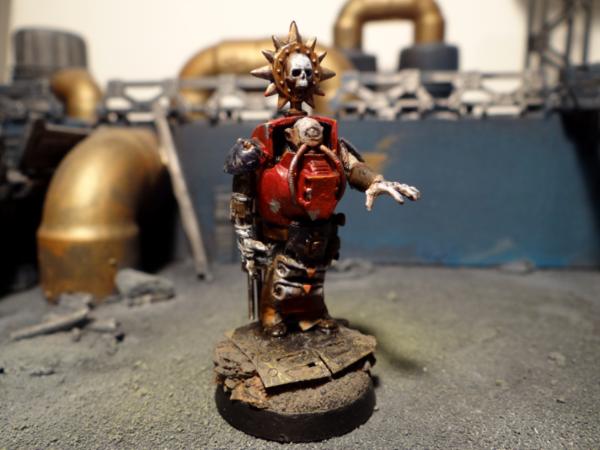 And to support the Powers of the Ecclesiarchy: The Grand Cardinal!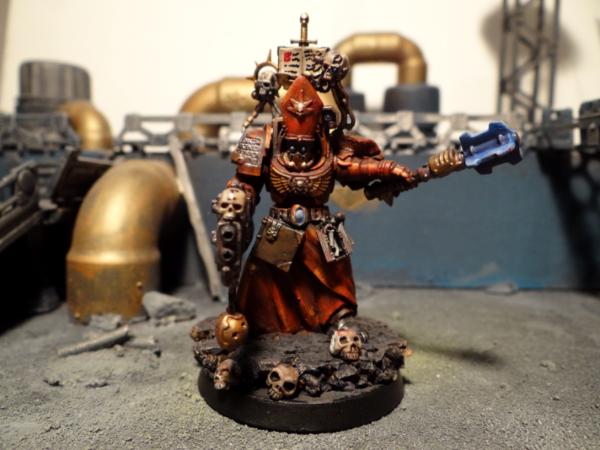 Here is the Cardinal next to a cultist, so you can see, that he is a real great believer in the Imperator: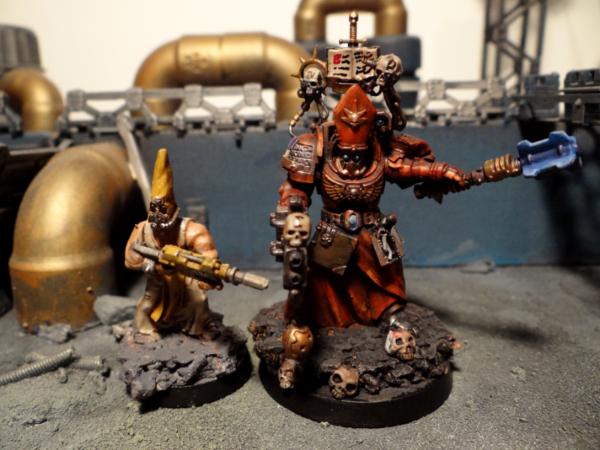 An Executioner with a little skin problem: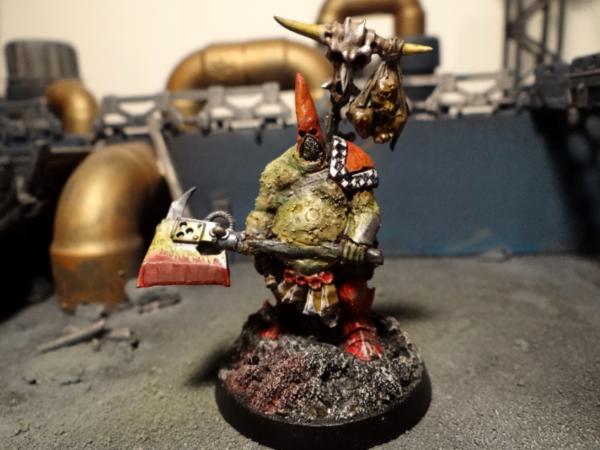 He's my second convertion of the Nurgle General - and 2 more are at work. I love this massive model and I would like to have more models like this from
GW
or other companies.
Now a bigger project for Inq28/Imunda: A complete Cult!
Here is the leader of this namesless cult: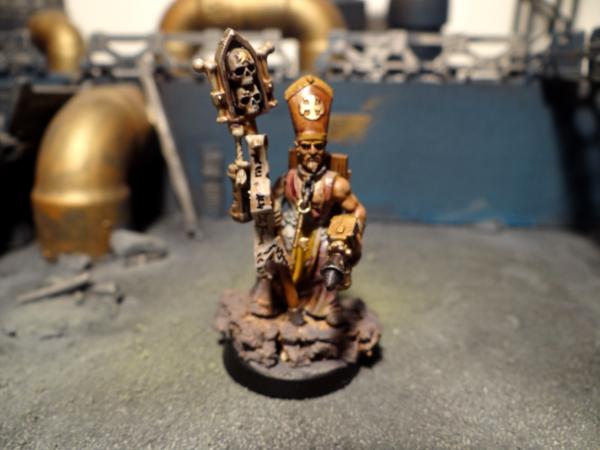 And here is the complete cute: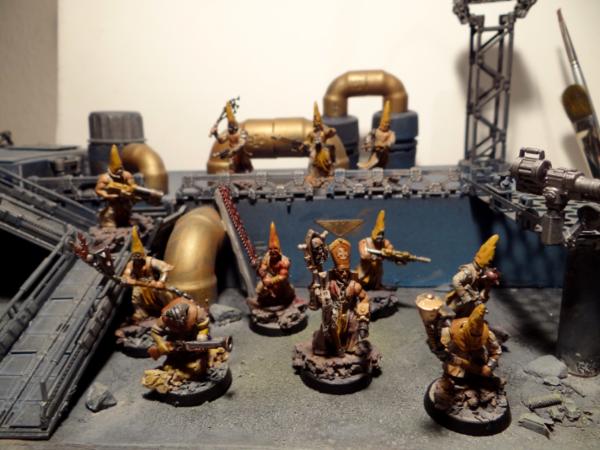 I made it more neutral, so it can be used as Imperial or Chaos Cult.
The last, final miniature are 2 NUDE(!!!!) Slavegirls! TITS!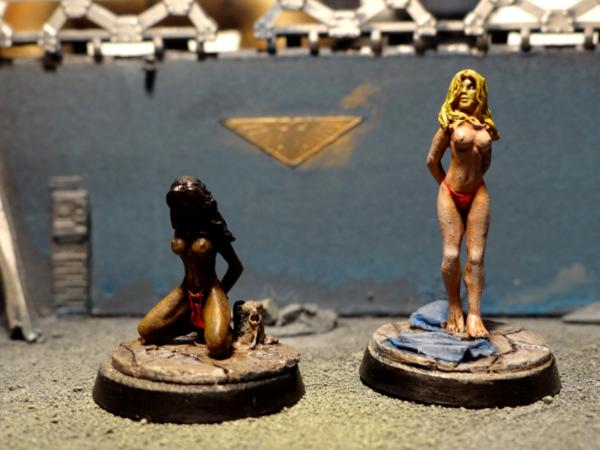 ---
At last, at very last, I have some pic from some
WIP
Miniatures.
Harems Guard (for the Slave Girls):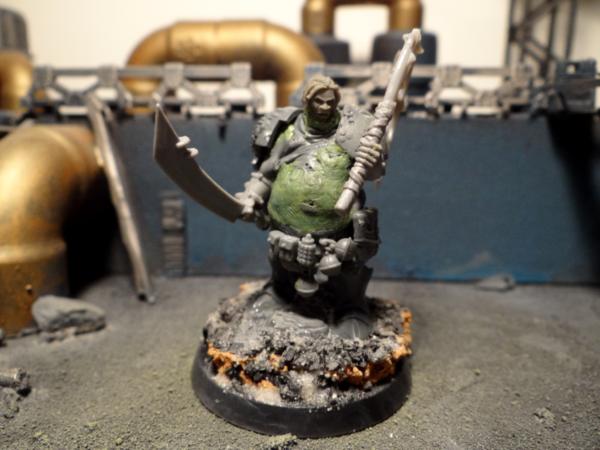 Wild Orc Berserk: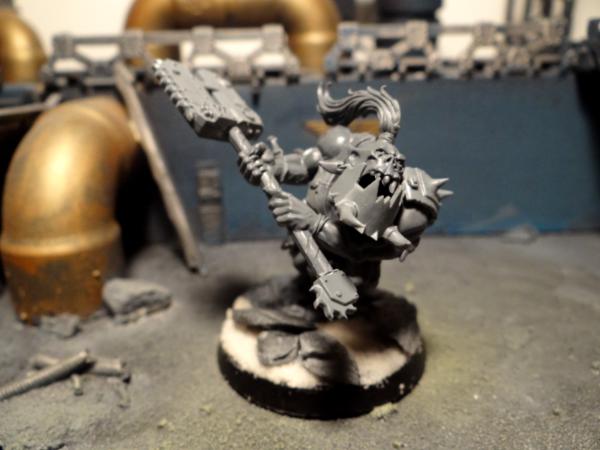 Female Psyker: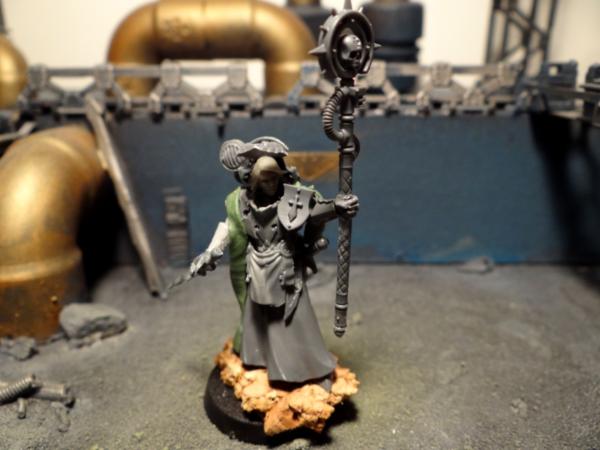 Bound, rogue Psyker:
So, thats all for today. More next time. I ordered some Maxmini and Titan Forge stuff yesterday, so I hope it will be here Mondays or Tuesday for more miniature epicness!