CptJake wrote:Thoughts on the game would be much appreciated.
Very well, see below!
GiraffeX wrote:That's some nice highlights on that car!
Ditto!
Slinky wrote:Can't unsee it now - Is the driver mooning out of the windscreen?

Solar_lion wrote:

Slinky wrote:Can't unsee it now - Is the driver mooning out of the windscreen?

Ahhhhh..

lol
What he said

Buttmobile!
Anyway, here's the finished article:
Just a bit of fun. Enjoyed playing about with ridiculous
ott
highlights.
My 9 year old had model envy, so started some sigmarites with him: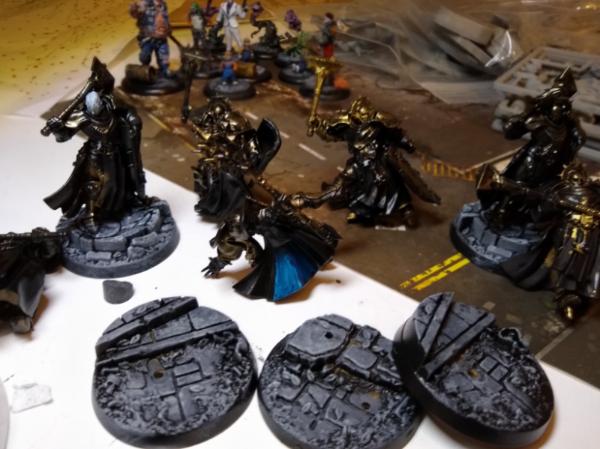 Picked up some quality hot wheels for scattering around Joker's Funland:
Speaking of which ...
Back to Gotham... Again!
I've spoiler-blocked the rules changes as I imagine that's of less interest to the casual viewer.
So it's finally here, the 3rd edition of Knight Models' Batman Miniature Game, in a vast and glorious starter box.
CORE BOX
RRP £130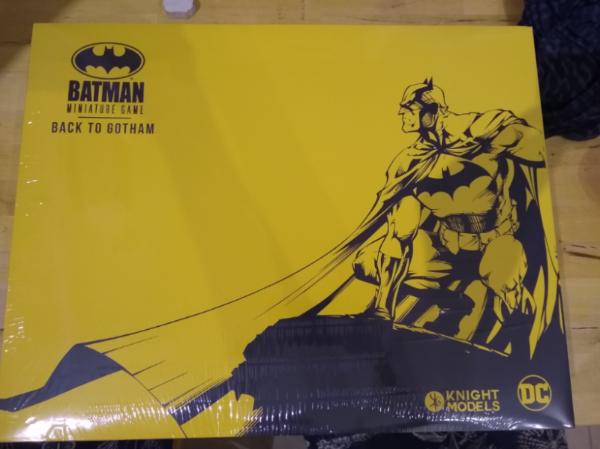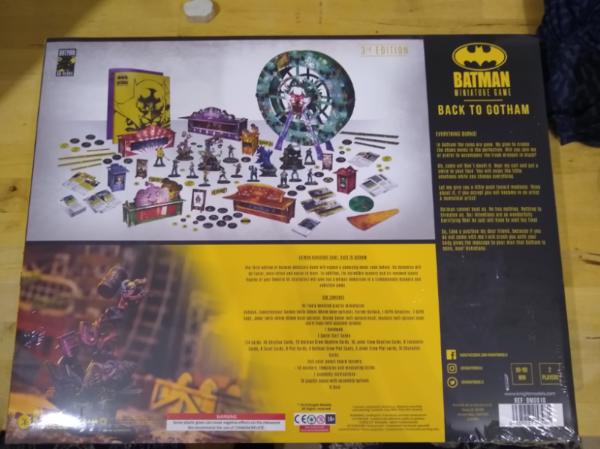 It's a big beast of a box, right enough, and can be used as a storage solution also (albeit not with room for scenery once assembled), with extra space for more models, tokens etc.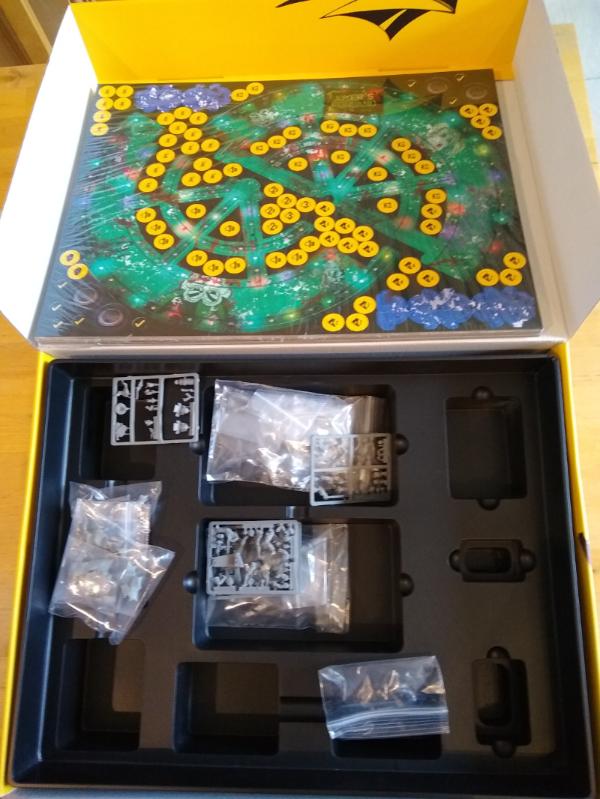 SCENERY & TOKENS
A huge selling point for me about this set is the funfair scenery that's included. KM's apartment blocks that have come in the 2nd ed sets (Suicide Squad, Dark Knight) were pretty good, but this is on a different level, both in terms of scope and variety. It's enough to satisfyingly scatter across a board fully, as well as adding a variety of heights to the board. Now there are, and have been, funfair sets out there in scale before - Warcradle (formerly our friends DeathZap studios) and Knights of Dice do very respectable
MDF
affairs, whilst Plascraft.eu do a serviceable, albeit rather flimsy, coloured plastruct version in their Malifaux range. But here you're getting a Ferris wheel, 3 small and 3 large booths, a couple of barriers and some small standees, all as part of the box. The card stock is not as durable as
MDF
, to be sure, but looks great and of course, for an entry-level product, is ready to go straight away - a huge advantage.
You also get all the tokens and templates required to play. Some of these are the same as previous editions, others are merely similar (for example, suspect tokens that reveal to be a particular objective), and some are entirely new. Crucially, it's all there, and all are sufficiently distinct.
GAME BOOKS
Opening the box, you are faced with two books: a purple START HERE Joker-themed intro campaign, which takes you through all the basic rules adding complexity at each step, and the main rulebook (also available online for free). The mini-campaign is an excellent introduction, and structurally it's very reminiscent of The Walking Dead (you can spot Mark Latham's fingerprints all over this). The back of the intro book includes clear construction guides for the figures and terrain also.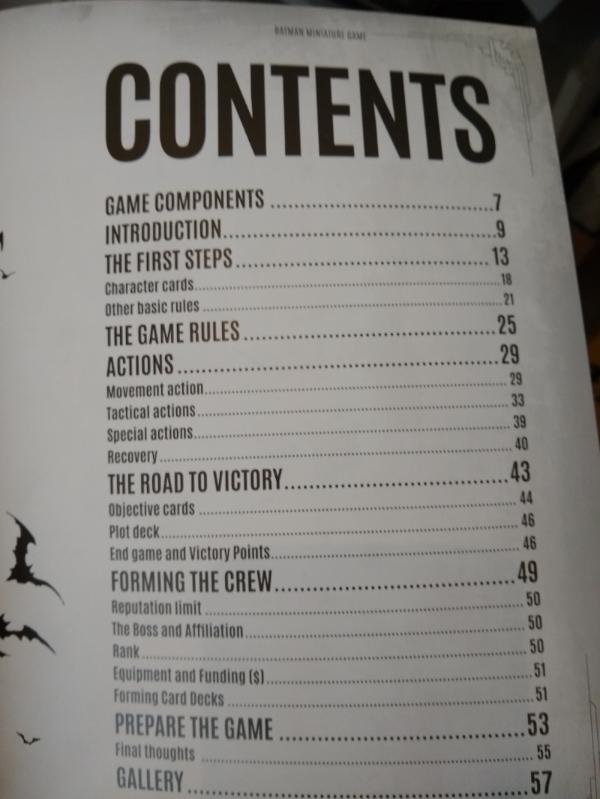 The only niggle - and it's pretty minor - is that Suspect tokens are introduced within the campaign without any explanation of how they work. However, that aside, it's a very effect intro game that a novice or young player can get their head round easily, as well as having actual replay value.
The core rules are noticeably cleaner than previous editions - what I mean by this is that generally, they are both more logical AND more logically laid out.
MINIATURES
One of the big bones of contention online has been the variable bases sizes of leaders. Joker and Gordon come with a choice of giant 60mm display base or regular 40mm base. These have the mechanical effect of meaning your radius of Inspire (leadership, essentially) is bigger on the 60mm but you're less mobile and easier to swarm. The figures are designed to be easy to magnetise, and certainly the display versions will look impressive, though not to everyone's taste as game pieces. Personally, I love them, and will simply be going with the characters on 60mm bases. Not sure whether I prefer Joker's wrecked stage or Gordon's Batsignal base, though.
One of the great things about this set is all of the Joker goons come with 2 heads, a clown mask version or regular thug version - no mechanical difference, but a lot of choice depending on your preference - whilst the cops come with winter hat heads. Harley comes with classic or current heads whilst Mr J also comes with optional hat or gun in hand, plus there's lots of great base scatter - smilex fishes, for example. Sprues are well laid out and the new material, whilst quite flexible, holds detail well and has minimal slippage or mould lines to deal with.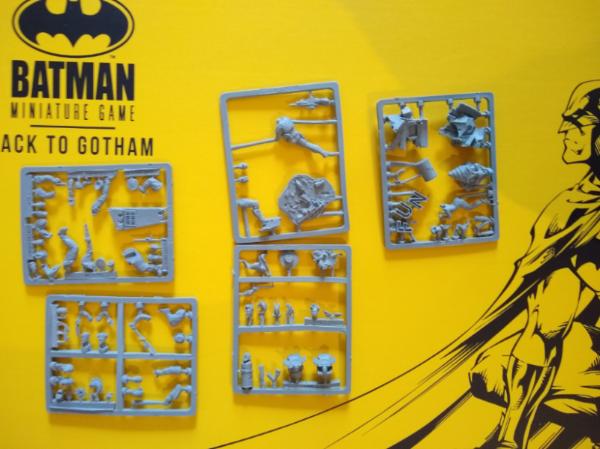 As for the other models, Harley also has a display base - because everyone loves Harley, apparently - and the Batman design is the iconic Todd MacFarlane spiky-spawn cape version, which is nice for variety if nothing else. Deadshot likewise has head choices and scenic base, just to keep you happy. The cops are good, but the icing on the cake - or rather donut - is a proper Bullock figure, at last.
CHARACTER CARDS
There are a number of card decks, some familiar, some less so, in the new version of the game. First of all, the character card layout has been refined once again - taking hints from other card-driven miniature games. I know several people who've often been put off by the layout of both 1st and 2nd ed cards, whereas now the layout is clear and clean, with all the special rules on the back (as was seen in the later iterations of 2nd ed), and all cards and models also being fully compatible in either direction. The major functional difference is that movement is now in inches, with your total movement (including from abilities) is printed on the card, which is a great improvement; for older cards, you simply add 4 to their listed movement stat. As an aside, Willpower is now used against Stun, Endurance against Injury (formerly Blood damage). One thing I really, really like is that your characters can make an "Effort" - take Stun damage to improve rolls (max. 3)
GAME DECKS
You also get two sets (one per player) of the new Objective deck. Firstly, I like the simple fact that you get two copies of this, it just makes sense - but so many games would sell this separately, or just give you one. You shuffle together your faction specific objectives with your choice of generics, to make a 20 card deck, and draw 4 - and these are how you win the game. I love that everyone's now got their own way to win, and you never quite know what your opponent is up to. Not only that, but they can instead be spent as a Resource - burned for a temporary advantage instead (but you can only do this for 3 "points" of Resource total in the game) - trading off long term for short term gain. The Suspect tokens, mentioned earlier, are clues, loot etc that interact with these, and are typically specified on the cards: they may, for example, reveal to be Loot or Ammo, and getting this may - or may not - be part of your overall Objectives. You also have 4 cards from the Plot deck - which both players draw from - which represent grand villain schemes. Above all, you can always keep them guessing... Between these two deck types, the game feels much more dynamic and cinematic, less of a slug-fest and more of, well, a Batman Comic!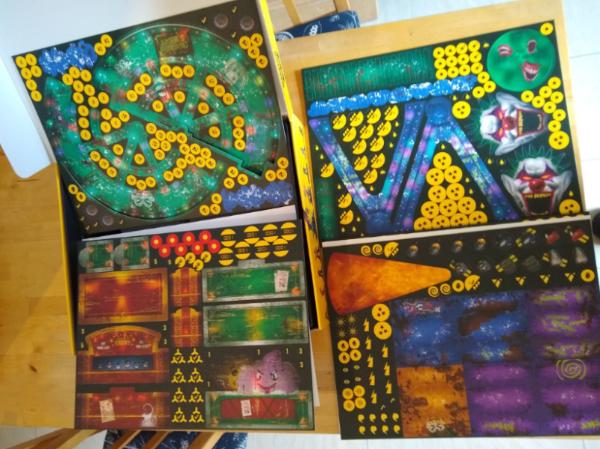 Combined with these there are Encounter and Event decks. The Encounter deck allows you to pick or randomly determine a scenario and setup, whilst the Event deck is random, ongoing effects such as heavy rain, or Gotham in Flames. All of the cards are illustrated with comic art (and every era is covered, not just post-New 52 - love that there's a Carrie Kelley art card for the bat crew), of decent stock, and with clearly differentiated card backs.
So that's an overview of the game box as it stands. There's no denying that it is a big investment, but it's an absolute ton of stuff. I think for what it is, it's decent, especially compared, say, to the mess of Monolith's attempt.
Hey ho
Graven