@GiraffeX: Thank you. I hope to not dissapoint!
So, I'm 5 pages in on this painting blog, I thought I would give a little more information on my painting background and who I am. (Especially, since my current
WiP
is being kept under wraps) I started wargaming way back in the early 90's with games like Heroquest. Fascinated by the little plastic men and monsters that came along with the game, my interest finally leaned towards
GW
. This was back when
GW
was a little bit more cartoony with 2nd edition
40k
and 4th edition WFB. I'm not going to lie, from the first
WD
I bought, I was pretty much hooked. I think between my brothers and myself we've subscribed to
WD
since 1991. A long time. A lot of ups and downs with the magazine as well as the company and some of their less than optimal decisions. But, like I said I was fascinated by those little monsters. Despite that my first
GW
game was WFB and my first army was skaven, I was always drawn to chaos and the art that accompanied it. In fact, most of that classic
GW
art has constantly been inspirational to me. Namely, the works of Adrian Smith, Mark Gibbons and John Blanche.
Here is a brief guide to my painting history. Many a miniature is left out, because there is no need to see all of them. Especially, since so many of my early painting attempts are terrible.
Here is the first miniature I ever painted. It is an orc from what I believe to be Ral Partha's miniature line.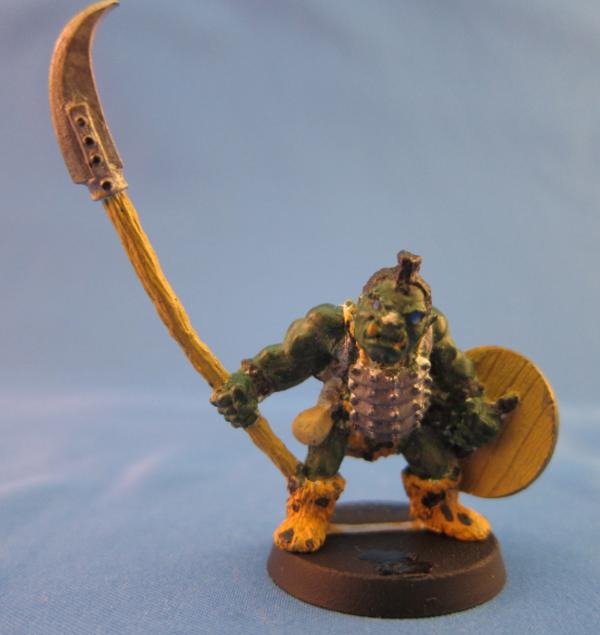 This was shortly followed by this "Space Marine" by Relm miniatures: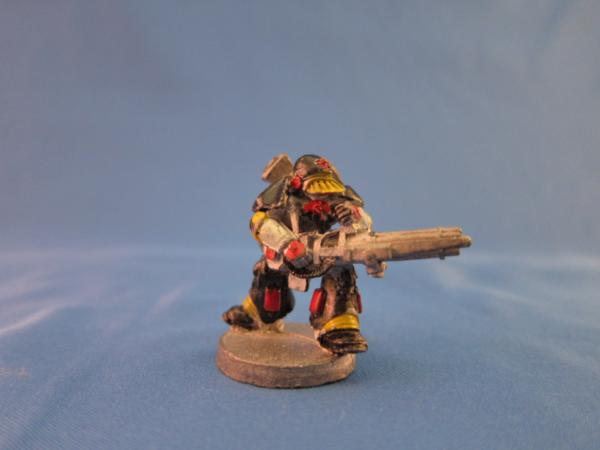 Shortly after some painting experiments on cheaper ($) minis, I moved to
GW
and this Swooping Hawk is the first
GW
or
40k
mini I ever painted: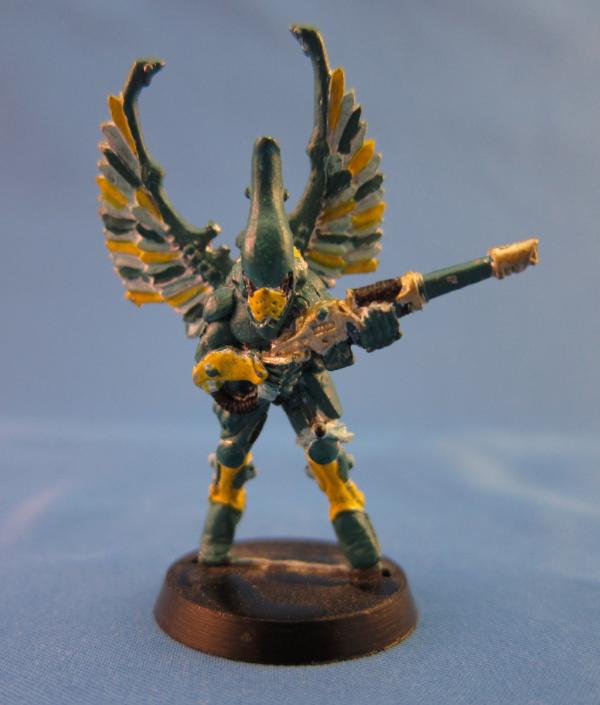 It's important to note, art has always been a big part of who I am. I draw and sketch a lot, so when it came to painting minis I was eager to learn new techniques, which I would quickly try to replicate (usually terribly) to try and achieve the 'Eavy Metal look. Around 1994 I started playing a
WoC
army instead of my skaven. Here is a Champion of Tzeentch, that was painted around that time:
As we got older and went into High School, it became apparent that we (my brothers and a few friends) would not have the kind of time we used to have to dedicate to painting or wargaming. But then, out of nowhere
GW
dropped Necromunda. A quick and easy game where you only needed about 10 minis to field a decent sized gang and the game could be played relatively quickly. My first Necro gang was from House Cawdor. Here is one of my heavies and probably the best paintjob I did on any of my Cawdor gangers. Notice his head, which was the same as the head I used on my most recent mini (the Terminator on page 4), but not taken from this painted mini: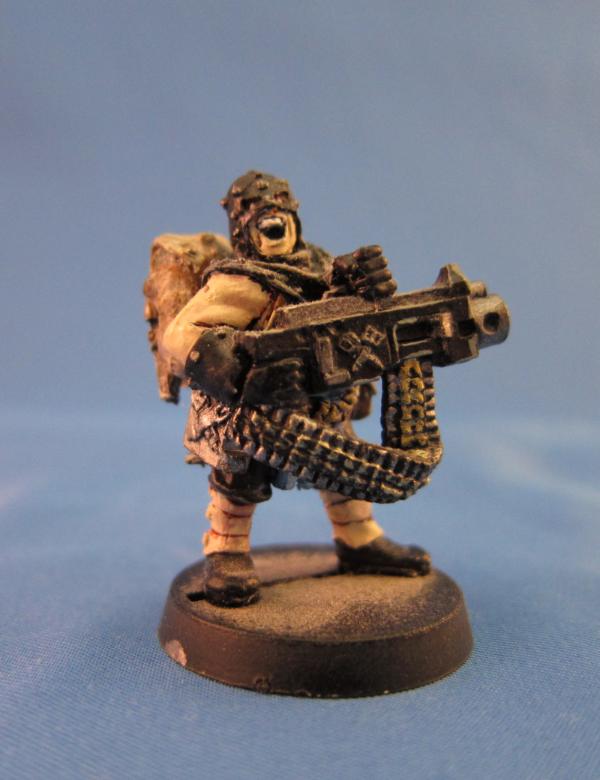 So, time went on, we played necromunda to the point where most of us had two seperate gangs. My second being Scavvies, but time went on, we got older, my older brother went to college and I found that I had more time to paint than I did to play. So, for the first time, since before I really started playing WFB I could paint whatever I wanted without worrying about whether or not it fit for my army/gang. So I painted up some Dark Angels. Nothing Special, but fun for me since I didn't really have any experience with painting
SMs
.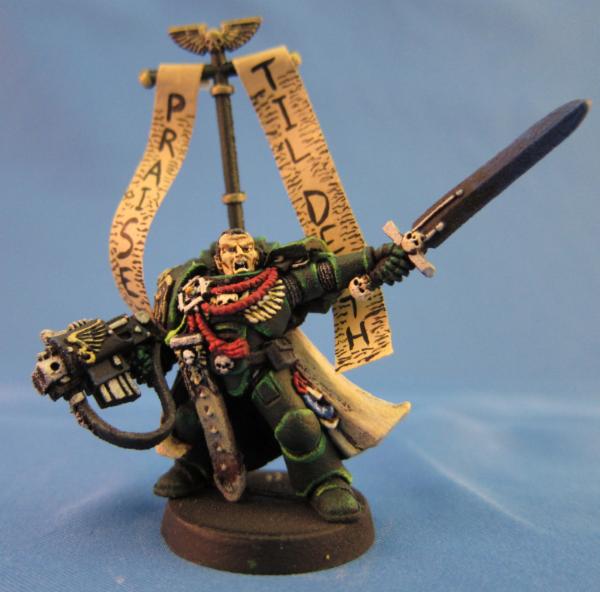 But then, when I thought I had gotten away from my
WoC
army,
GW
put out some awesome chaos lords on mounts and on foot. I knew instantly that I needed one for each pantheon. My Nurgle mini has broken into pieces over time, so he's excluded from this but around 1999, I painted these fellas: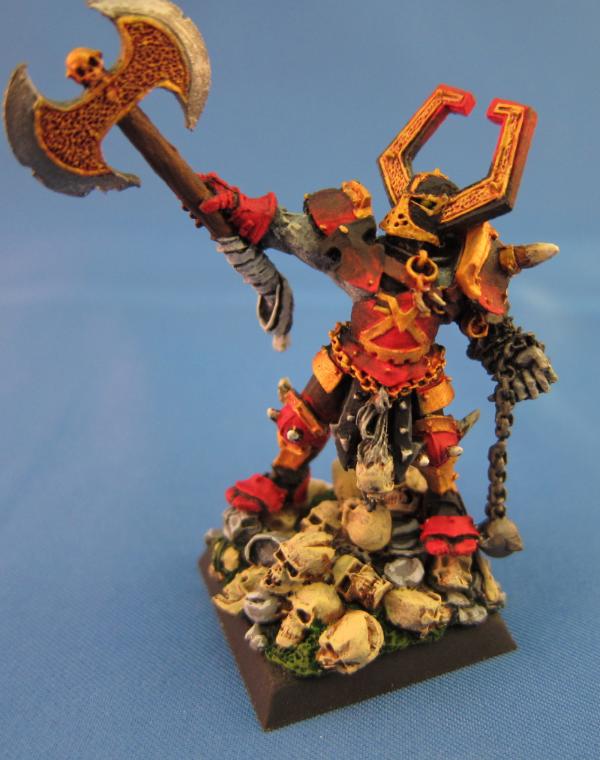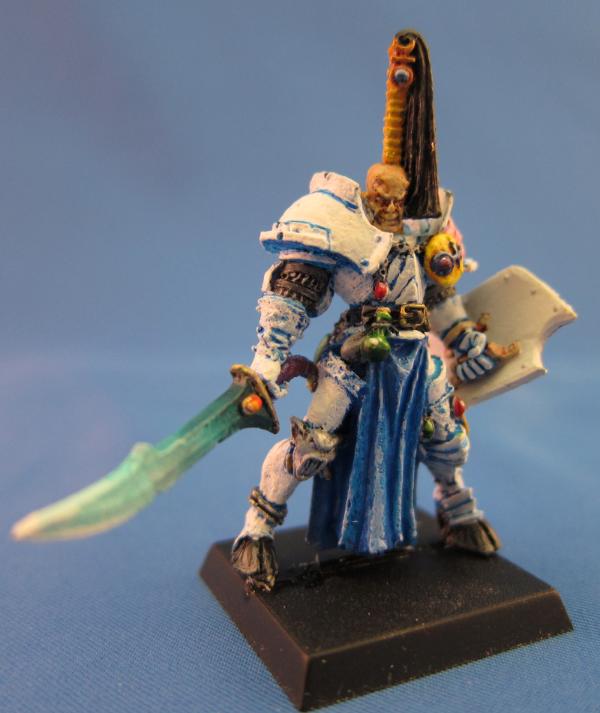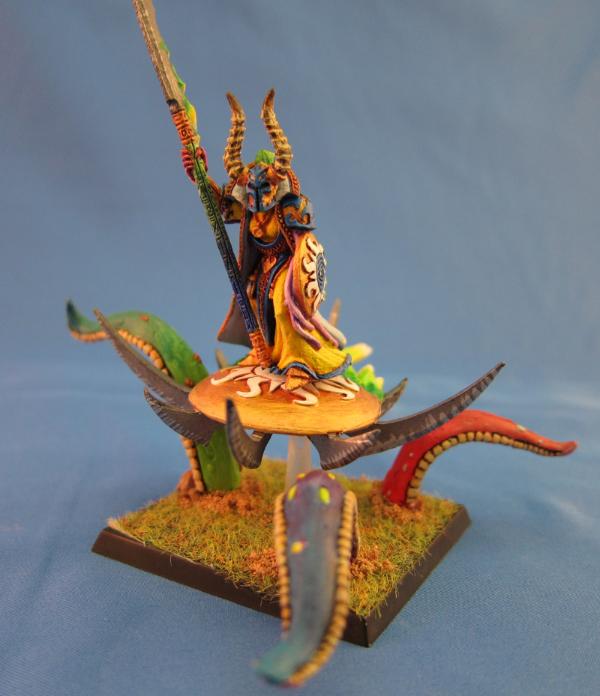 (I know, that base is absurd)
About to graduate from high school I decided that before I leave for college, there were still a few things I wanted to paint and one of them was this Imperial Assassin, which at this time, was already discontinued from
GW
: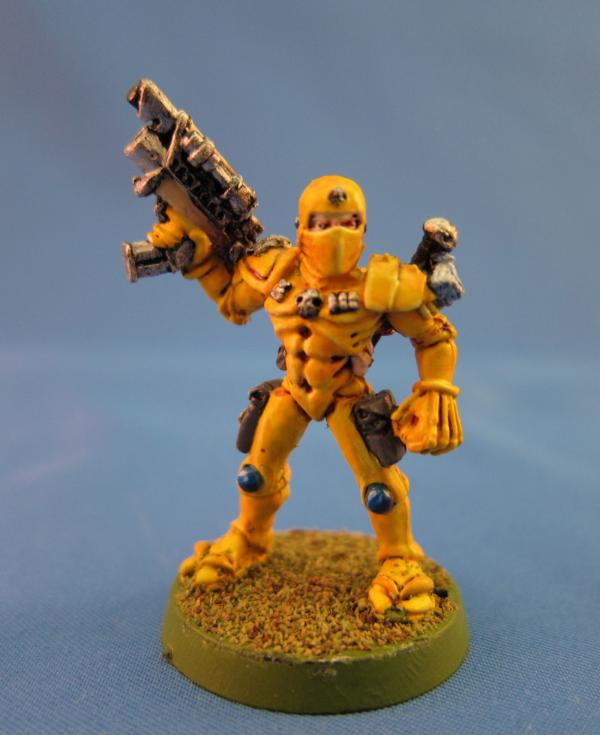 Why bright yellow? I have no idea.
I went off to college and spent my first year there being social, partying, and studying. So, on my first summer back, I was itching to paint something. I had Karandras, the Shadow Hunter but for some reason had no desire to paint him like the
GW
striking scorpions. So I came up with this scheme and attempted a couple techniques I had only really read about: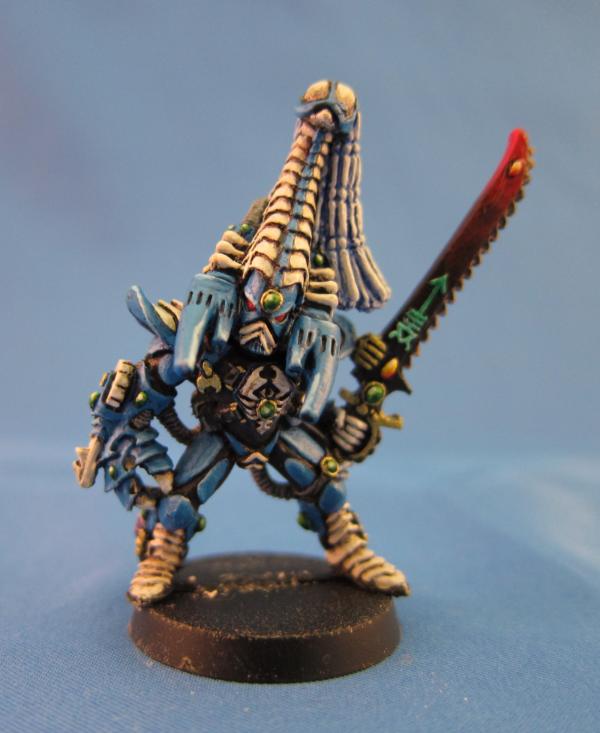 At this point, I'm just around to paint whatever I feel like, so one of the next things I grabbed was Ungrim Ironfist, the Slayer King:
Back off to school I went, and really it was not until the following summer that I got another real chance to paint. At this time I had started to discover other new miniature companies like Rackham and Reaper. If you're not aware, Rackham, which was a french company, is now out of business, but Reaper has been bought up and produces literally thousands of crazy and cool minis for very cheap. Here are a couple reaper miniature I grabbed up and painted:
This guy, because he looks like Skeletor he had to be painted that way: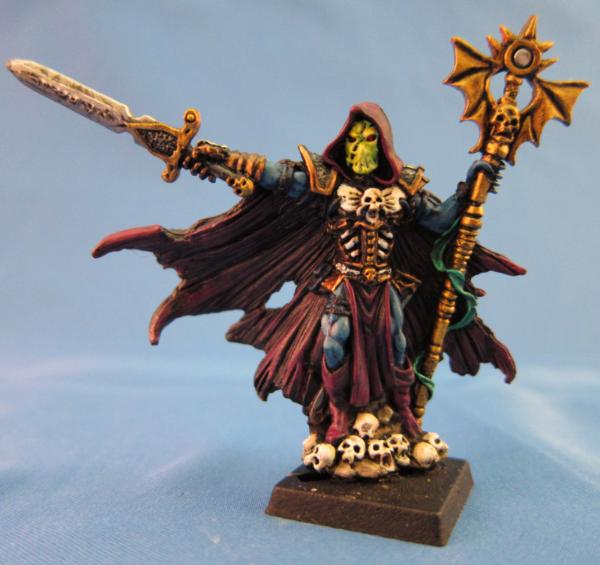 And this guy just reminded me too much of Ozzy Osbourne for some reason: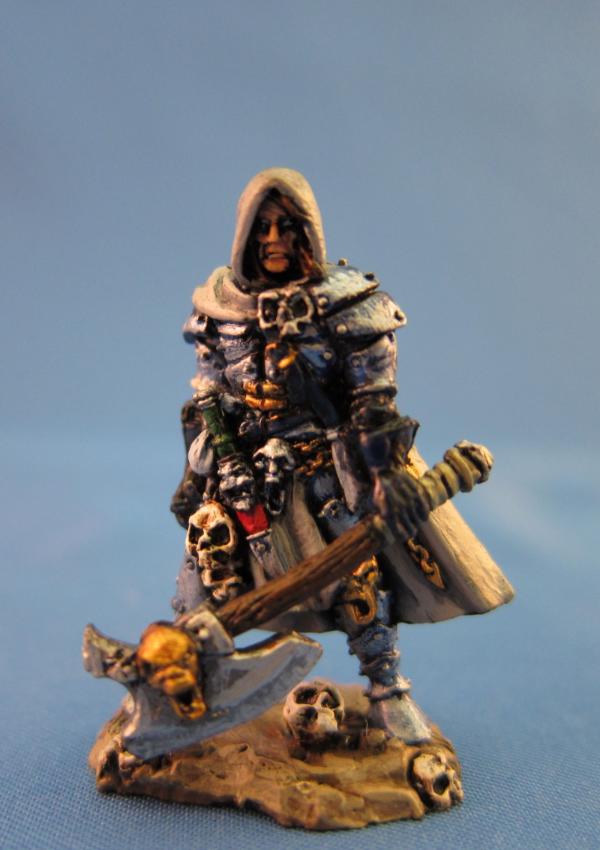 Back to
GW
, but during the same time frame (roughly 2002, at this point) I painted this undivided
WoC
dude: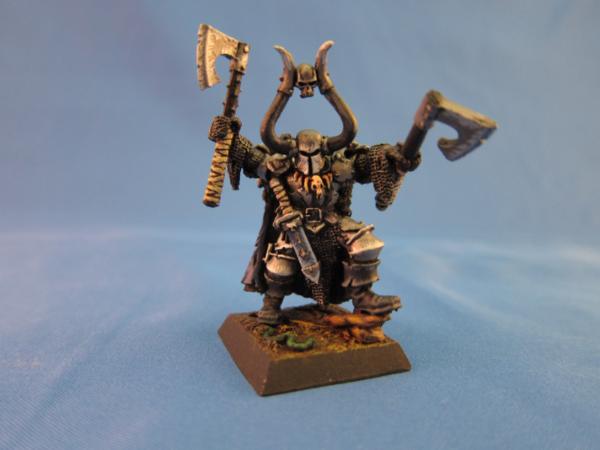 Around 2004 I painted up this Lizardman for fun, here is Tehenhauin, Prophet of Sotek: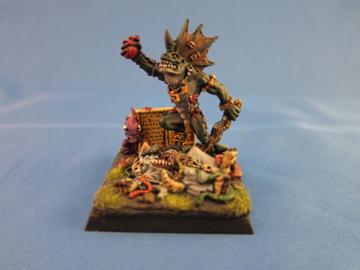 Around 2006 I painted this
CSM
converted Lord, with no particular chapter or legion in mind, just wanted to have some fun: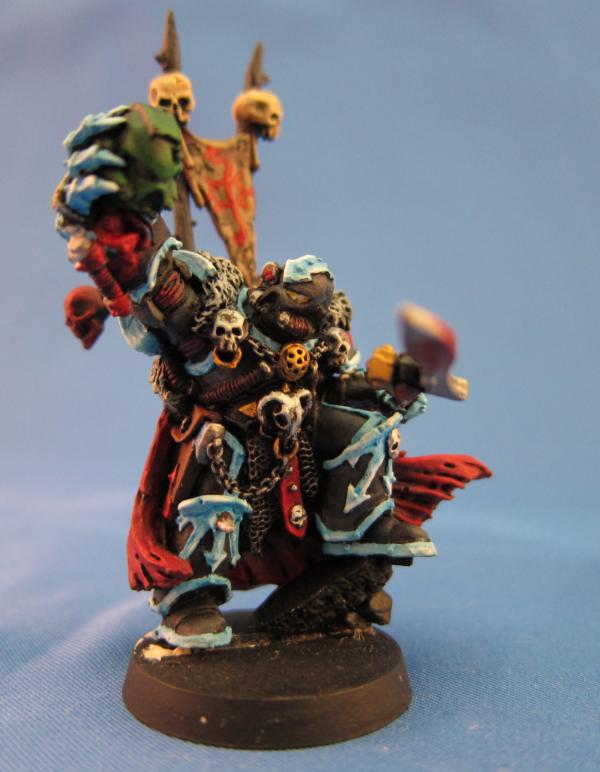 And that brings me to the hiatus I was stuck in, before starting this blog. I know that this was rather lengthy and I apologize for that, but praise you if you read through all of it. I am thoroughly impressed by the Dakka Community and the motivation and inspiration we all feed to one another. I am more than happy to be back in the swing of painting and have been having a blast. I'll post pics of my latest project as soon as they're ready.