And we're back!!!
One part of long term products is keeping your motivation up. Suffice to say it, the failure with the long bridge was a large drain on said motivation, and whilst I still built most of the next building, when it didn't turn out as I had imagined it I basically kinda stopped. That's why we've been so long without proper updates. Well, inspired by some reason pictures I found and the recent weekend where I cleaned 80 million tiles and
de
-sprued a bazillion struts, I decided to get back into it.
But before we get to the upcoming stuff, I did promise that now that the basic buildings and walkways were done I would be going
up
with future buildings. With that in mind, I bring you...
The Lift Tower - Part 1
The Outlanders expansion for Necromunda came with two new buildings. One of thse was a smaller 2 story watch tower, a nifty piece, and the armoured walkway, which is a wonderful bridge. However the far more impressive pieces was the bright green three-story building that had a small cargo lift off to one side.
(NB: To our American friends, lift = elevator.

)
Towards the middle left of this pic you can see it, sitting between the two first-story parts that head off towards the left edge of the pic: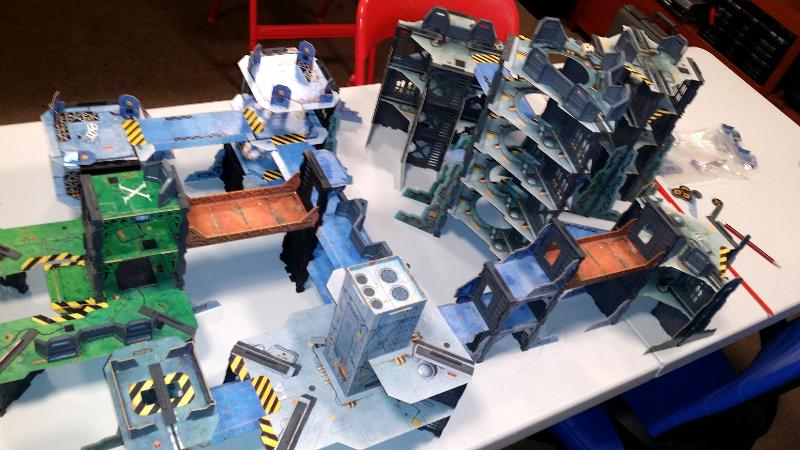 In game it had a simple rule - you could go up 1 level with it, costing 1" of your movement (rather than the usual 3"). Calling the lift to your level cost 1" of movement as well. So if it was one above you, calling it cost 1", stepping onto it cost 1", and then going up or town cost 1". Quick way to move around compared to having to expend heaps of movement going up and down ladders.
So I thought, well, the
stack sprue
has a big chunky door on one of its four sides, and the whole kit stacks really well. What if I turn that into a big lift shaft? And what if one of the levels had a way to exit the lift on either side? In fact, I gave a
sneak peek
of this layout a few posts back. It's not exactly how it turned out during the initial build (or even now that it's finished).
So let's get on with the show...
As with everything, it all starts with a big pile'o'sprues. Here are a bunch of stack sprues (can you believe I still have 8 more of these things to go!):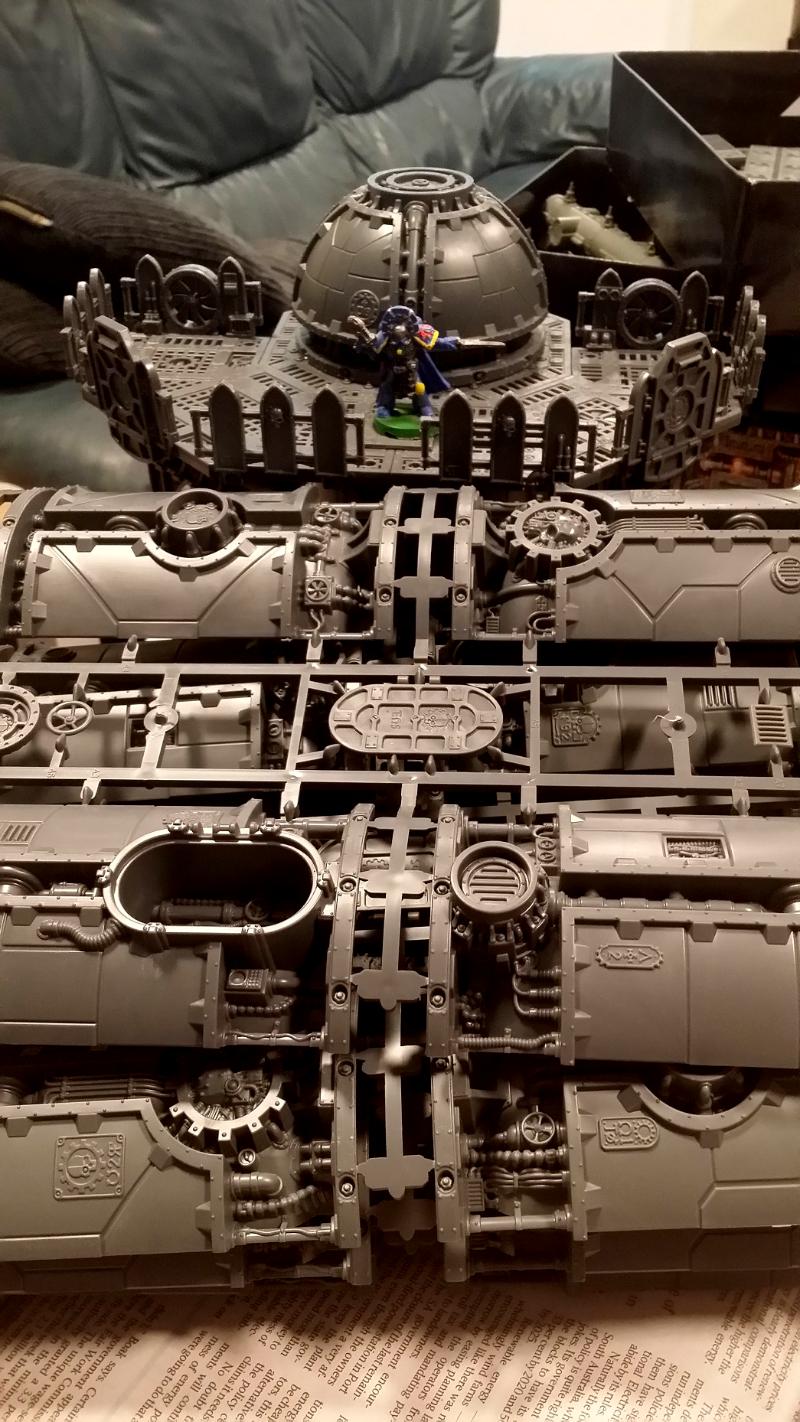 Here's the first floor layout ready to go: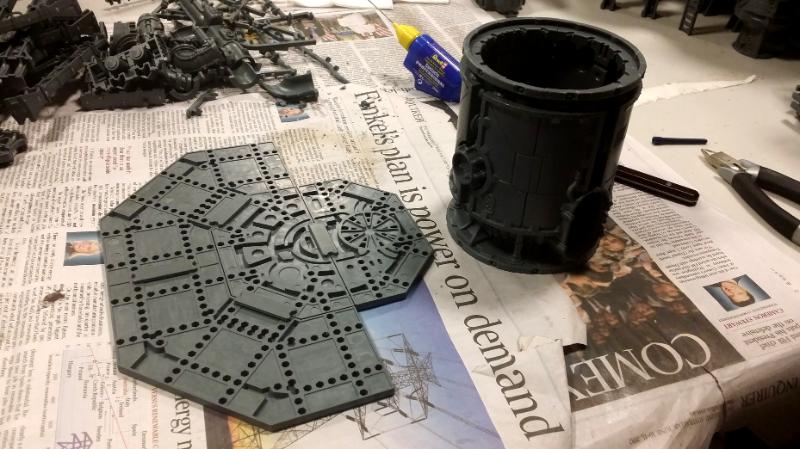 Where the struts for the first floor will go. Struts turned out to be a real pain with this piece because, as it turns out, when you try to make this kit do things it was not designed for, it fights back!: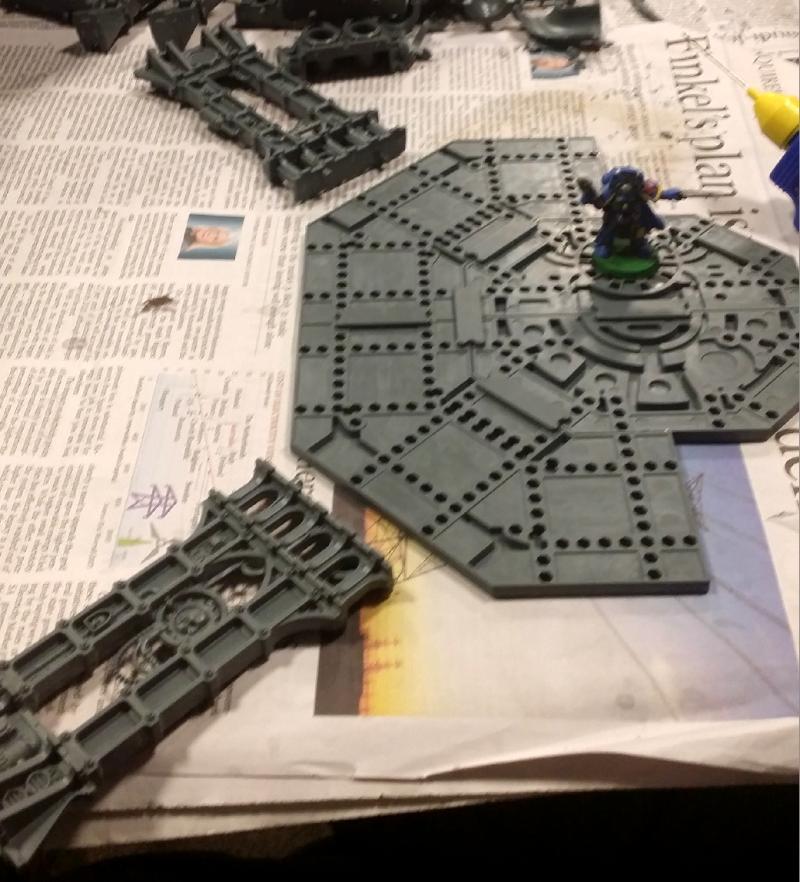 Case in point, you're not really meant to join the curved walkways to the circular walkways in this manner. So it requires a bit of cutting on the clips to make them fit together flush. Otherwise you have clip overhang, and that looks quite bad:
Now that they're attached you can start to see what I meant by a lift with doors that exit on either side. In fact, you board the lift one way, can get out on the second floor at one of two doors, and then exist the lift on the top floor by a door on the opposite side to where you originally got in at the bottom. But that's not what happened in the end...: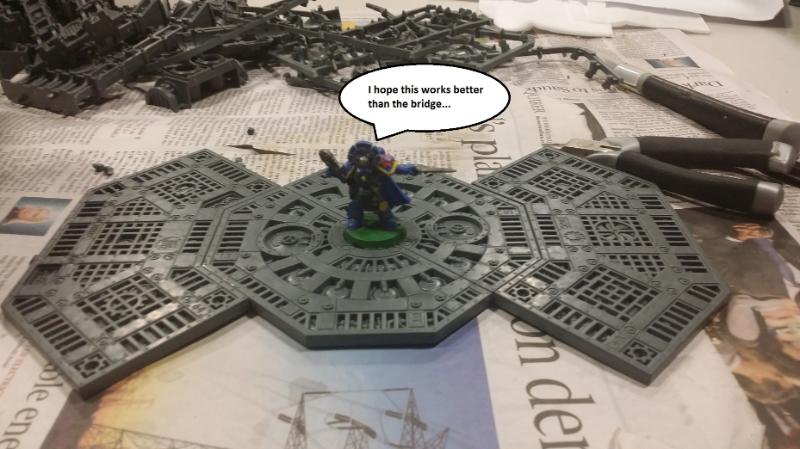 You and me both buddy...
With the stack on the first floor drying, you can start to see how this is all coming together. Captain Short Sword is back in his power ring again:
I didn't bother taking pictures of more stacks going together - seen one big cyllander you've seen 'em all - so we'll skip to the strut-less dry fit of all three levels.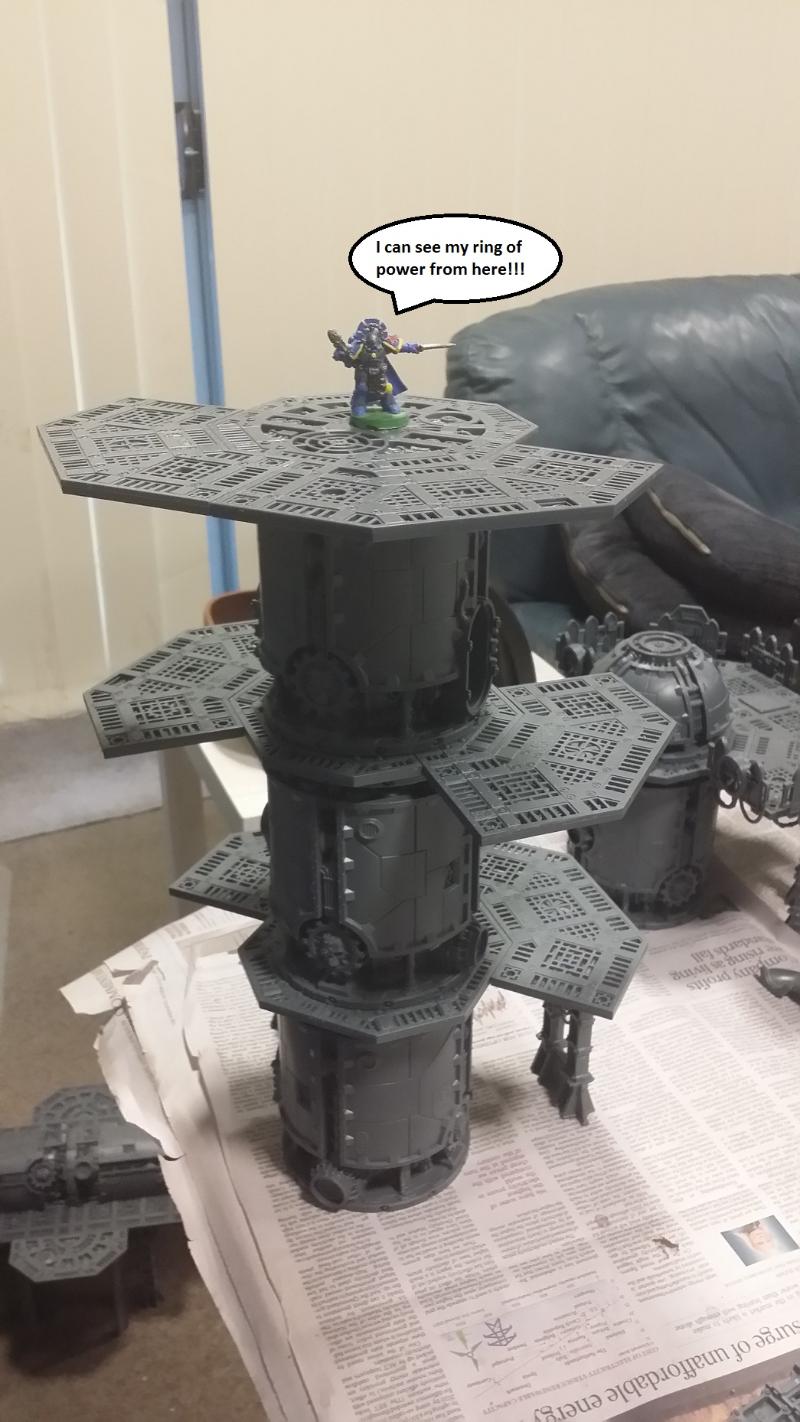 It was here I realised I'd made a mistake. Even whilst building it I thought that it was one level taller than I originally thought, making the exit to the elevator not the actual top. And whilst the platforms were correct (in essence) it also meant that the double-lift exist wasn't the middle of the lift, it was the top (even thought there was a platform above it). This is actually meant to be where one side of the free-standing bridge is meant to join up, so I was disappointed with where this one was going. I have since salvaged it to the best of my abilities, but at this point I was let down by yet another building not coming out as I had intended.
Prepping the four lift doors:

I mentioned earlier than the kit fights back when you try to put things in places where they're not meant to go, such as struts holding up platforms stuck on at angles that where they don't normally work, including room for the clips you've had to use 'cause there was no other place they could go. This involves lots of cutting and hacking to make things fit, such as...: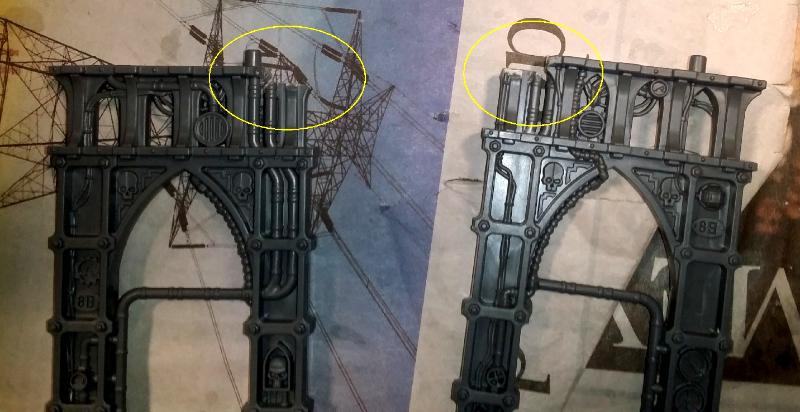 And when put in place this is how they look: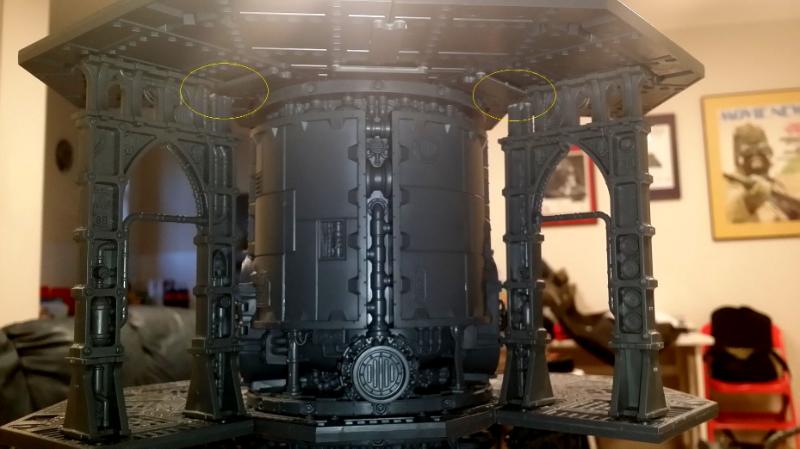 Sorry for the over-exposure on this. I caught some of the lights from my living room. Dakka's auto-filter killed the worst of it so you can still see what's going on.
Second story goes on!: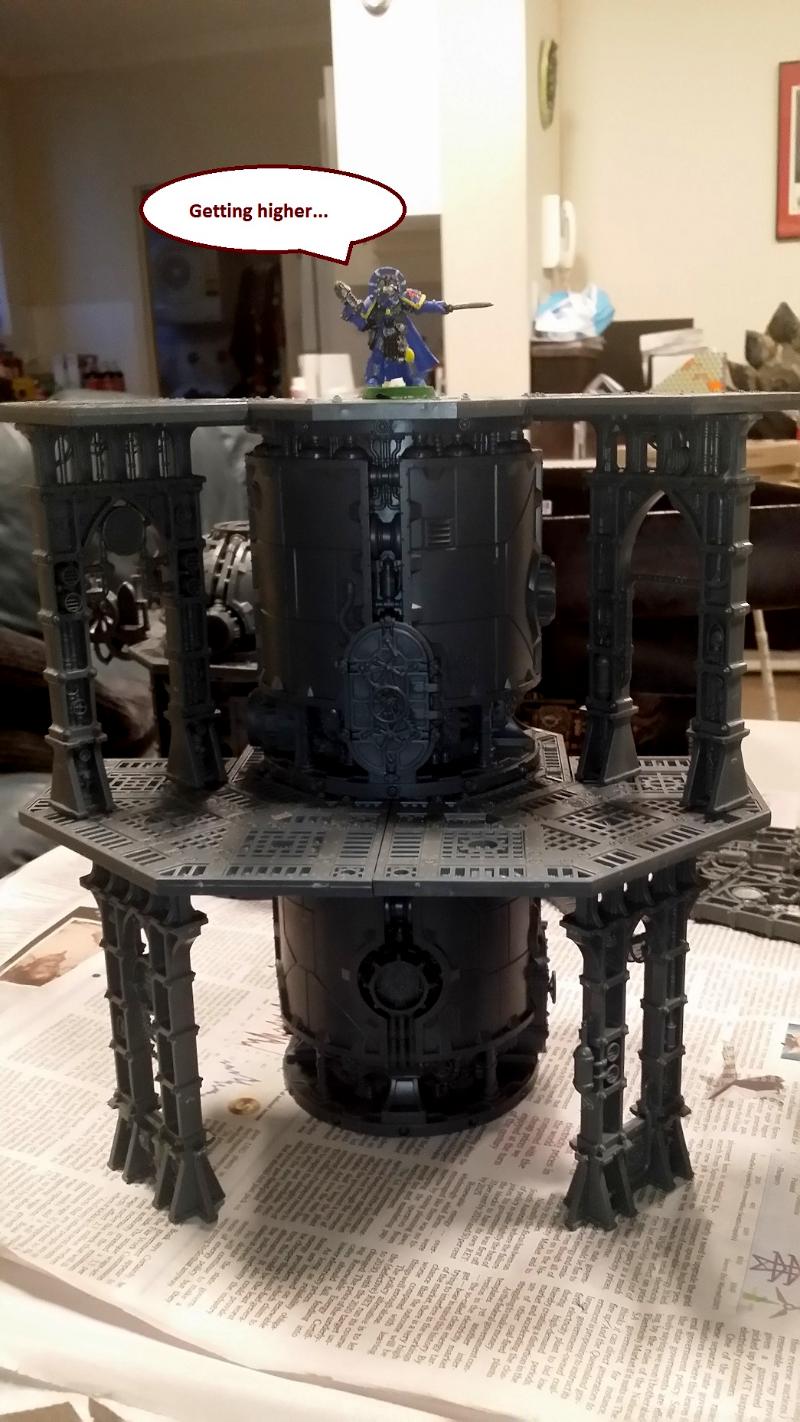 Third floor test fit with struts in place (note they're not glued to the second story platforms yet):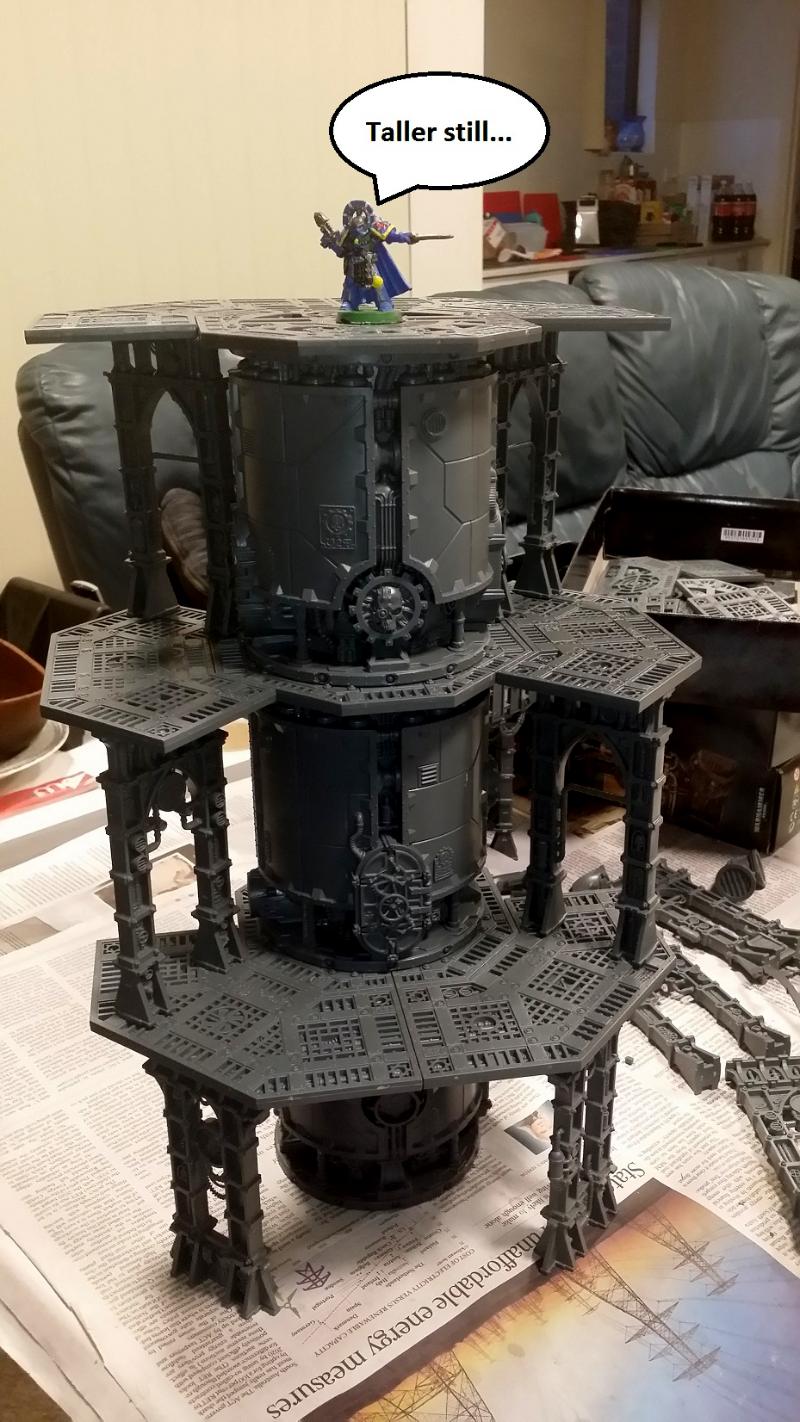 From an alternate angle with mostly everything done: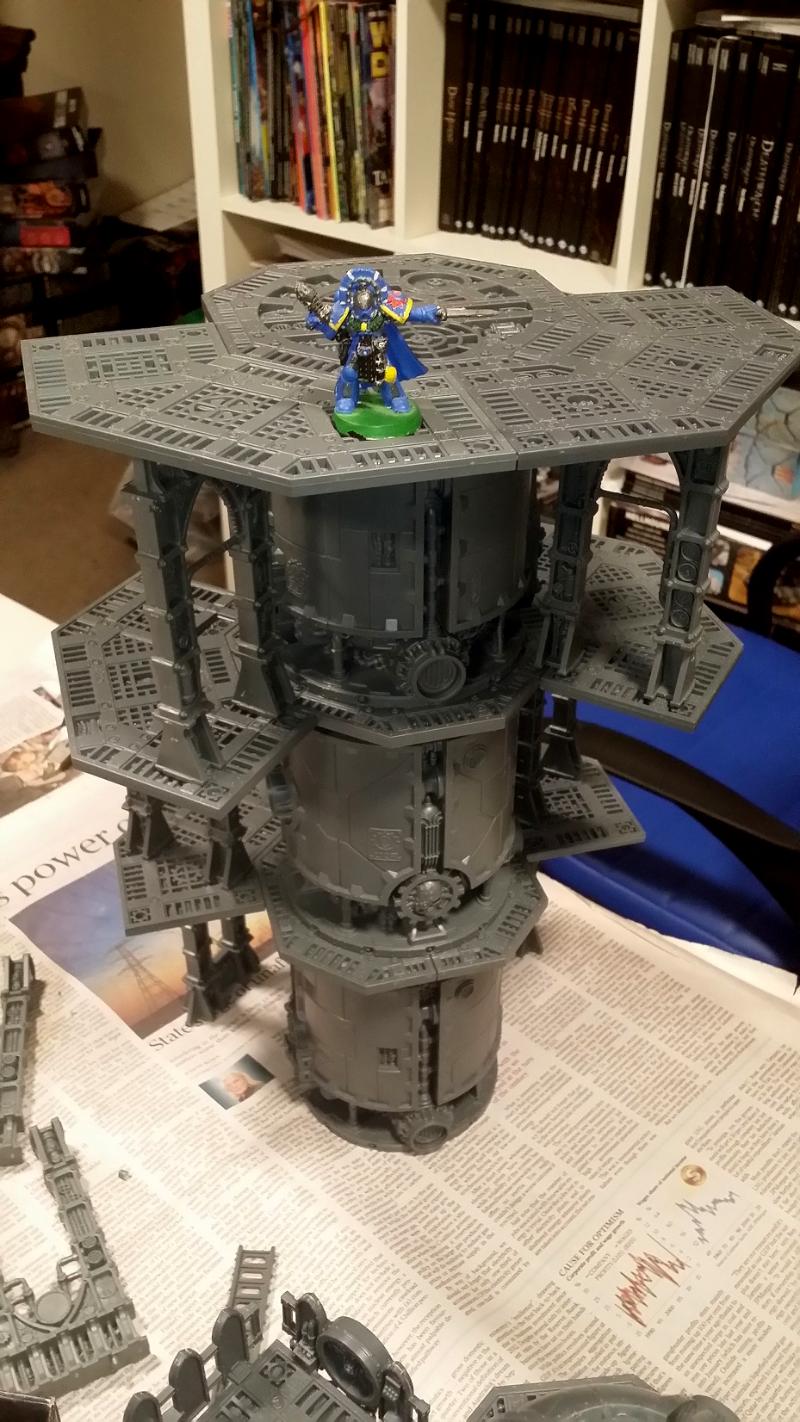 Not wanting to add yet another stack to the top of this, I just went with a trust spare dome: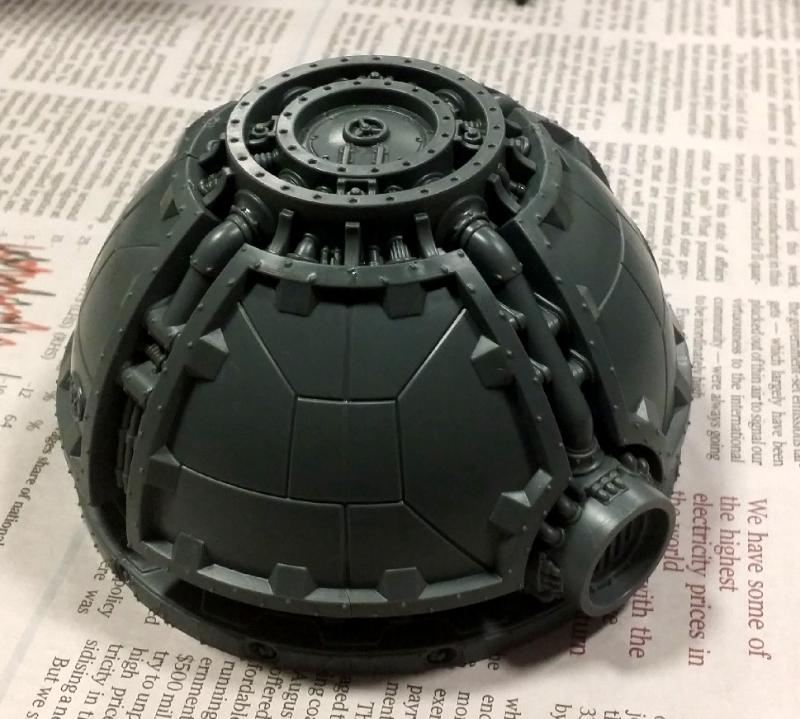 And the initial build was done (here's an example with it plugged into the Outer Ring):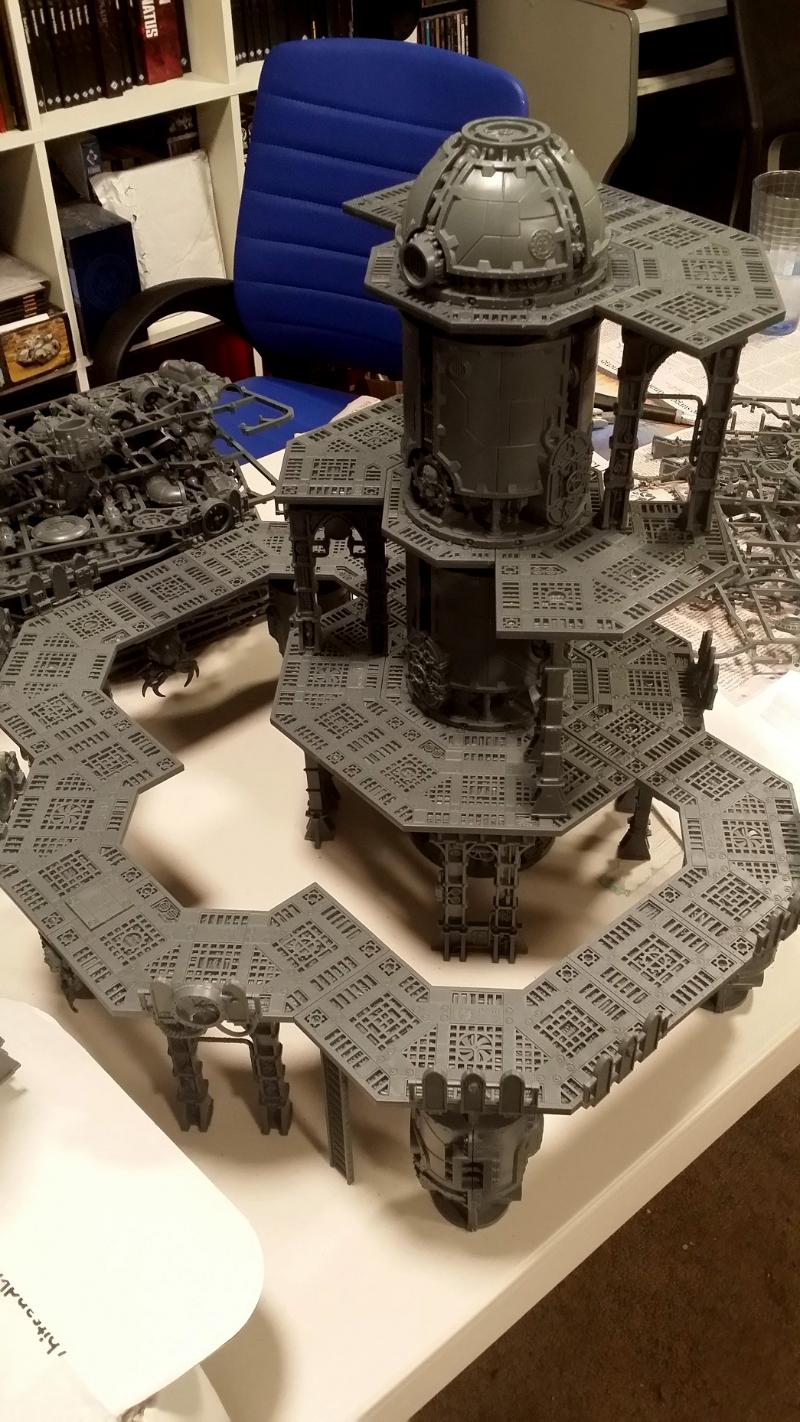 But I wasn't happy with it, and obviously it's not complete (no underwires, no shields, no ladders). The other issue is that whilst it's not lopsided, it looks lopsided in the way that the levels are arranged.
In the next post I'll show you how I went against my original tip from a few pages back about always finishing your platforms first and never adding to them once they're done, and also how I finished it and made the best out of what I could.
But before then, a tiny update on the free-standing bridge.
There was a point whilst part of the Lift Tower was drying today where I decided to quick fix up the last part of the bridge that I never got around to.
The Thermic Plasma Conduit contains some broken pipe ends, the types of things I tend to avoid most of the time as I like complete buildings that aren't ruined or broken:
But part of this bridge, the Lift Tower, and the other building that's coming next (eagle eye'd people might notice some of the floor plans sitting and awaiting glue in some of the upcoming pictures) is meant to be a connector for a longer pipe network that, over the decades of misuse, has broken down and is no longer connected: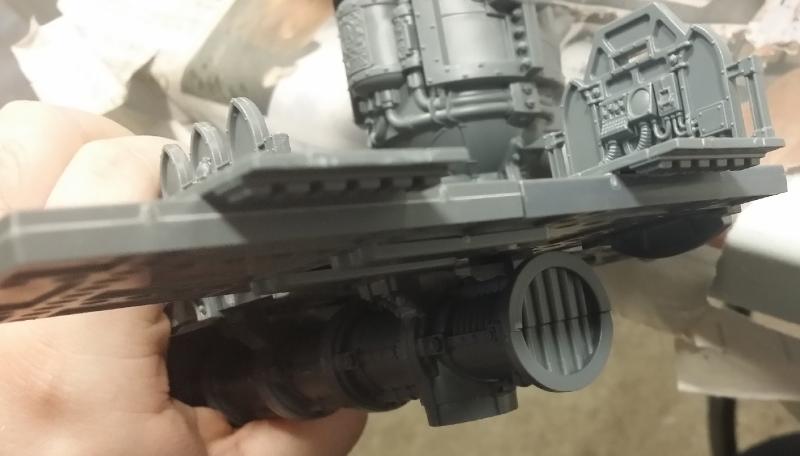 With the broken end part: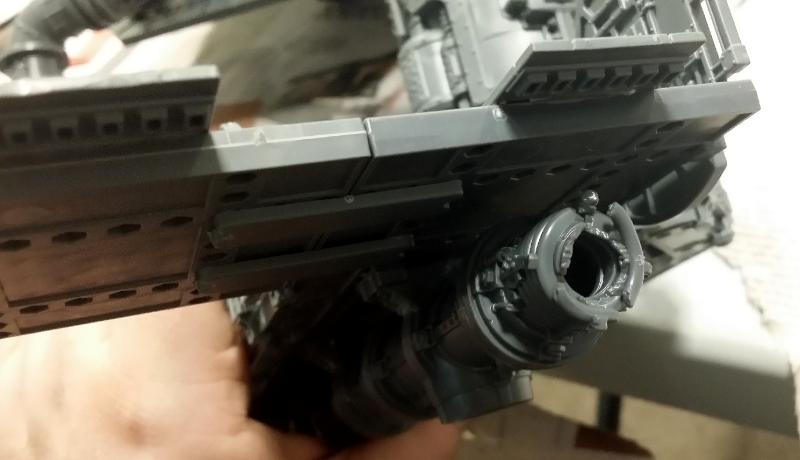 And done on both sides: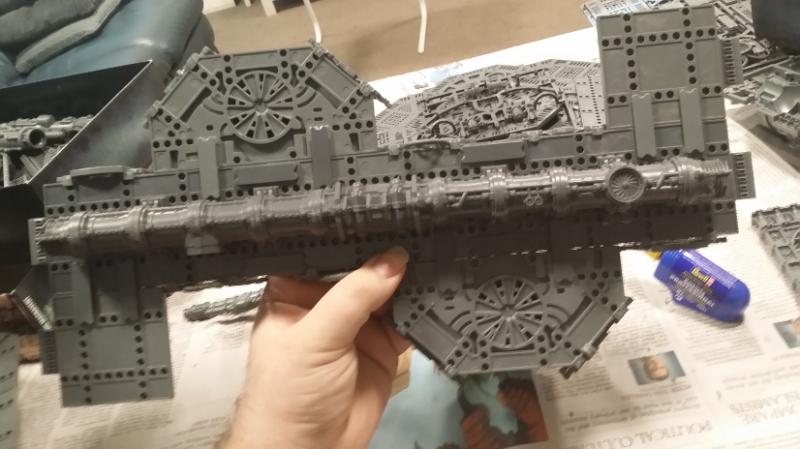 Version 2.0 of the bridge will have the same thing, but unlike this one it will gun centrally along the length of the bridge, and won't be off to the one side as this one is now. It also won't have big flanges out the side, not any big furnace/pipe handle going over the top (though that does make it easier to carry!).
Until then...
BYE