I'm bored and stuck at home after the doctor's this morning so... here's another blog post!
Platformapalooza
It's all well and good to make a bunch of cool looking Sector Mechanicus buildings, and whilst any of them would fit perfectly in a game of
40K
their intended use is actually Necromunda. Necromunda buildings need to connect to one another with walkways, and so far the only walkway I've made is that outer ring (if you can call it a "walkway", that is). That makes a good centrepiece (as you'll see), but it needs stuff to branch away, and the only way to do that is with walkways. Lots and lots of walkways.
So from about 11pm through to 2am, and then from 7am through to 10am (1 hour before my guests were set to arrive), I built walkways!
I built 8 of the damned things, some very simple, some quite complex. So here we go...
The layouts were simple. I wanted two regular straight walkways, two that had a corner, two that were wiggly and curved away (in opposite directions), one straight one that was a bit chunkier with stuff on either side, and one that looped back on itself with some space for some industrial stuff to tie it in thematically. I will likely end up doing more of these as time goes on (and may even chance a few double-high walkways!), but for now I needed a base 'set' of walkways, so I began with these layouts: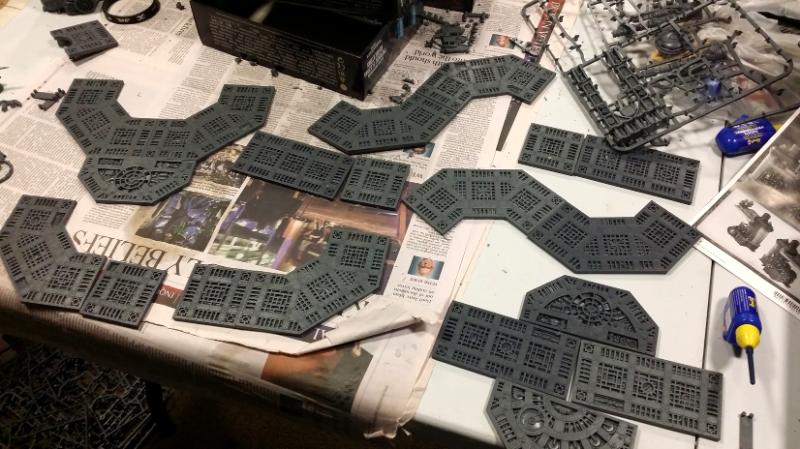 Of course, with so many things to put together, I had a panic moment of whether I had enough clips!

Luckily I found a bounty of them among many, many untouched sprues:
Now these would have to stand on their own (literally), and consisted of very few pieces, and the longer they were, the heavier they are, meaning if there's a central point of contact there's more weight bringing it down. As such the clips had to do a bit more work than normal. In places I might do a single clip because the piece would be clipped to a few others, or held up by various machinery, I attached them with 2+ clips. One of the wiggly bridges actually has a furnace as its main connection point (didn't want to use struts for everything, both because it's boring and because, as I've said before,
feth that sprue
), so it has a square piece on top for extra strength.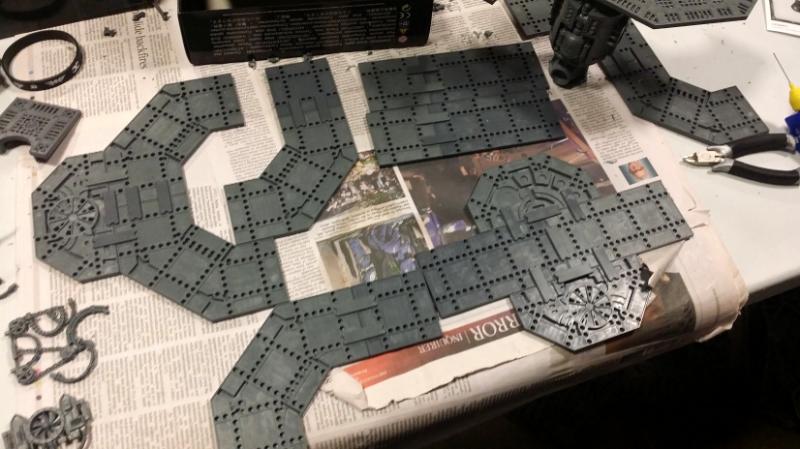 Just for fun I decided to put them into a single layout just to see if I could. I wouldn't get a chance once the shields were in place and I can no longer place them all flush against one another, so this was just for kicks. Unfortunately, whilst doing this some creatures broke free! Captain Short Sword had to deal with them: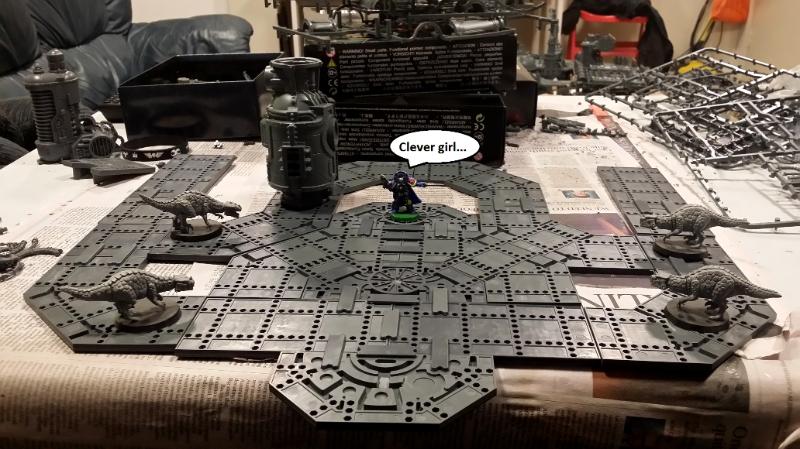 I then had another terror moment where I thought I might run out of struts. I went pouring through the various boxes I had until I came across this one: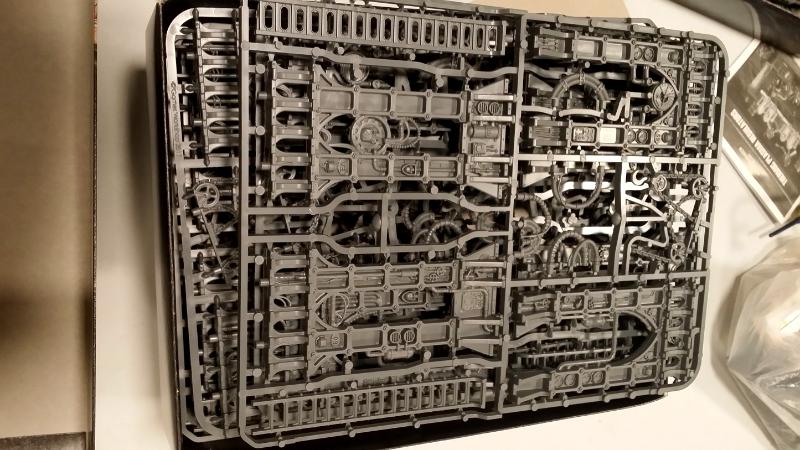 Crisis averted, for now. Might need to bits order a dozen or so more...

One handy tip that I picked up from the man, the myth, the legend, Duncan
'Two Thin Coats'
Rhodes in one of the videos that came out right around the release of the Sector Mechanicus stuff, was that when putting together anything that has four sides, put together 2, then the other 2, then put them together. Don't try to do each piece one at a time, as fitting that 4th piece in will be far harder. This only applies to the Dome and Stack right now, but who knows what
GW
will put out in the future.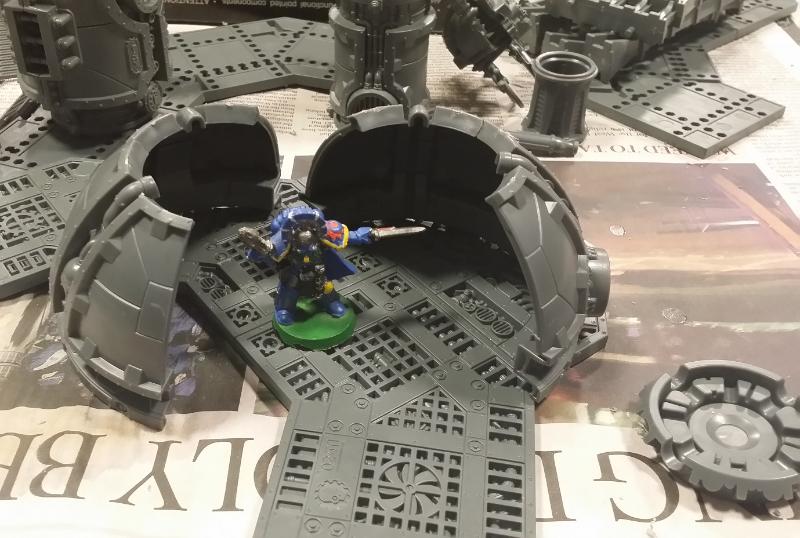 By the Emperor you get a lot of shields when you have this many tile sprues...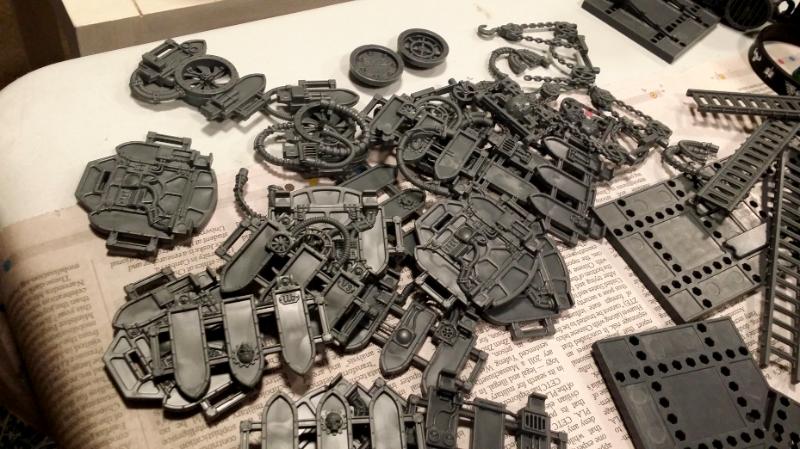 Another fun tip - This little spout, which is from the dome sprue, fits perfectly into the middle fan bit on this half of the circle platform. The little guide tabs even slot right in.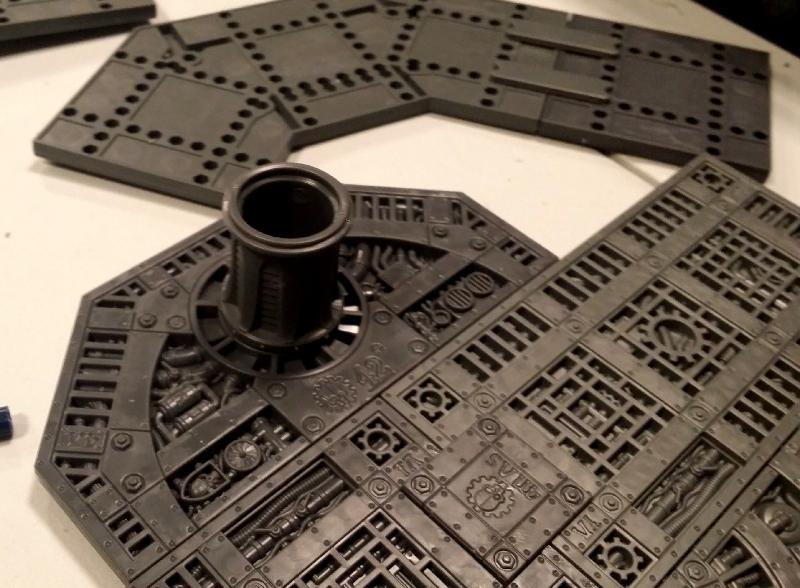 I mentioned in the last post how the Dome and the Kiln from the dome sprue are half-height compared to everything else, so that when combined they make a standard full level. That's what I'm doing here, using the Dome/Kiln as a supporting strut rather than something that goes on top of a platform: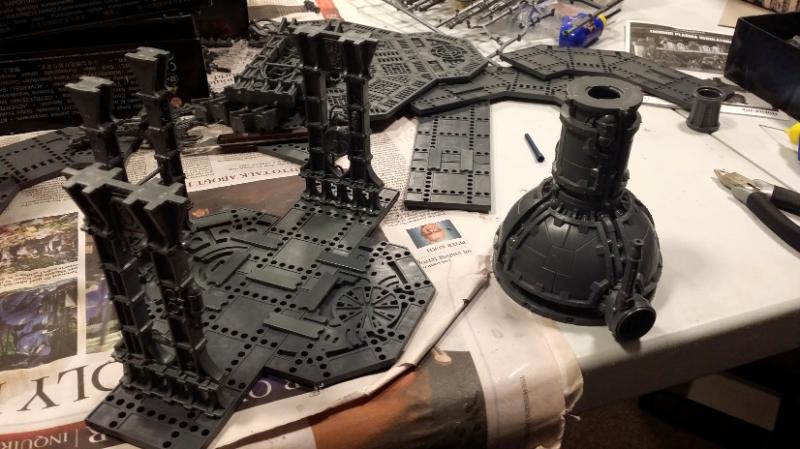 And like magic, it's done!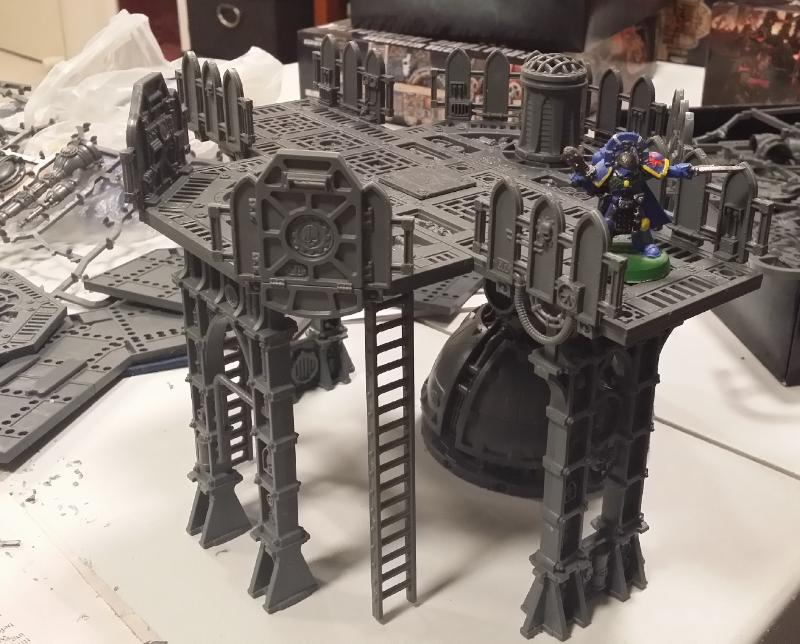 Wiggly Walkway A...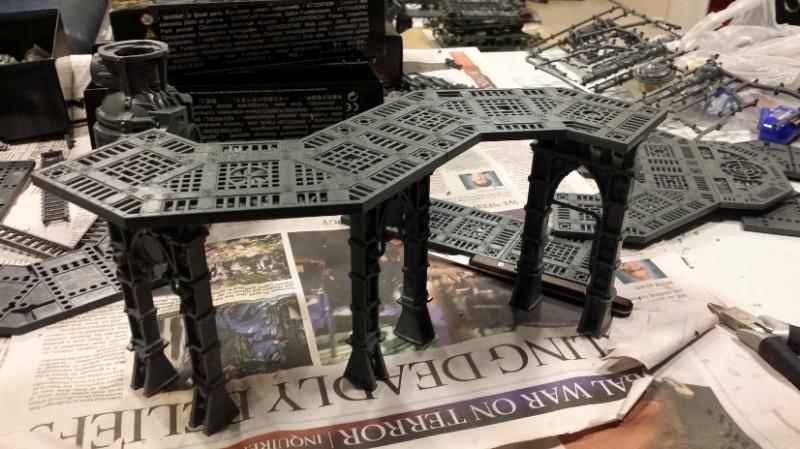 ... and Wiggly Walkway B. You can see in this pic the spare piece used to provide extra stability/support to the overall construction, and also that Captain Short Sowrd has been retreating to his 'Ring of Power' that he found earlier when he's not joining me for scale shots or reminding me about ladders or warding off Berzerker Bikes or taking care of unleashed lizard beasts: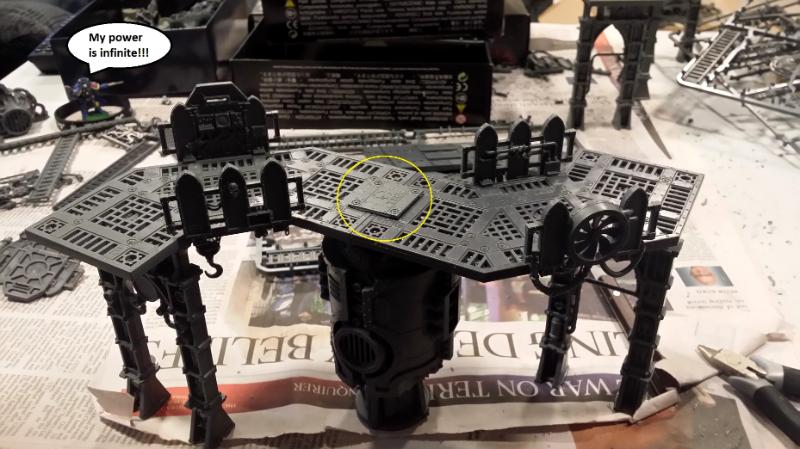 This was the start of the U-Shaped Walkway: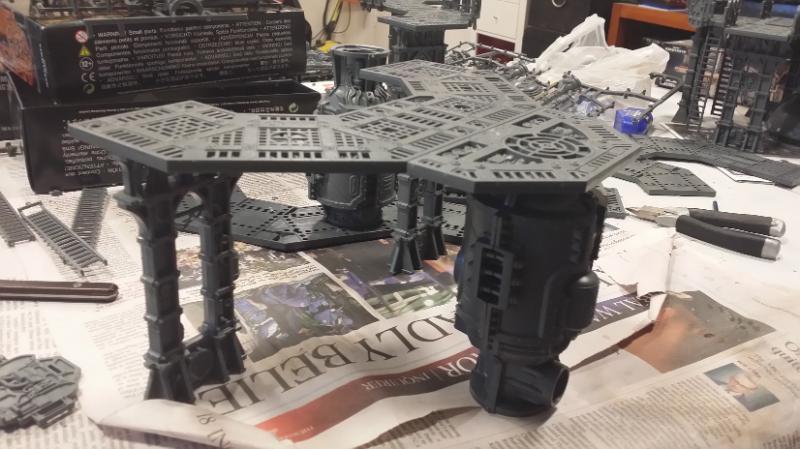 And this was the end of the U-Shaped Walkway!: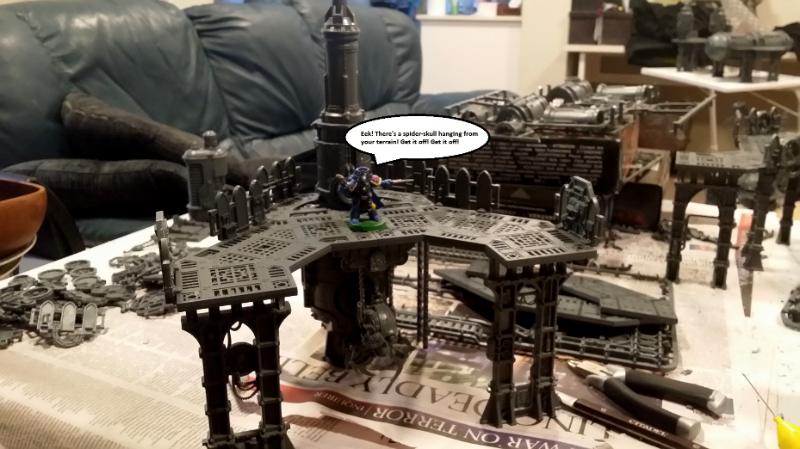 The curved platforms proved to be a bit more of a challenge than first anticipated: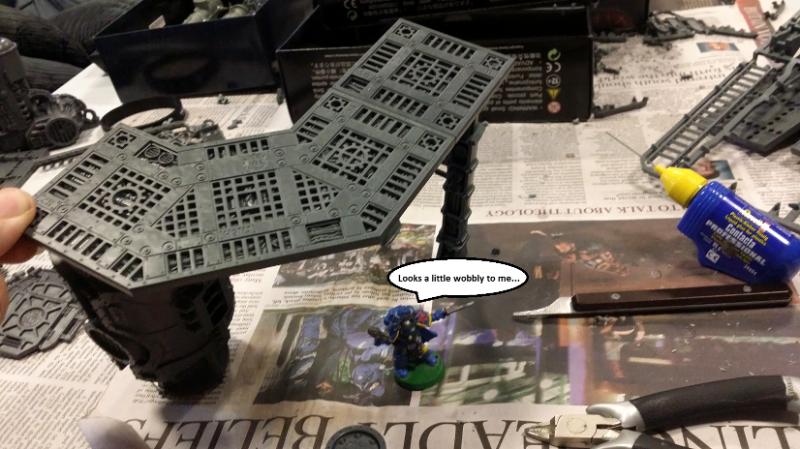 It wouldn't take much to knock one of them over, so more support was required, using the best piece across all kits once again: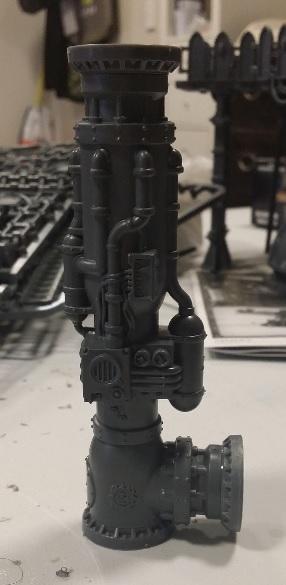 Almost done!!!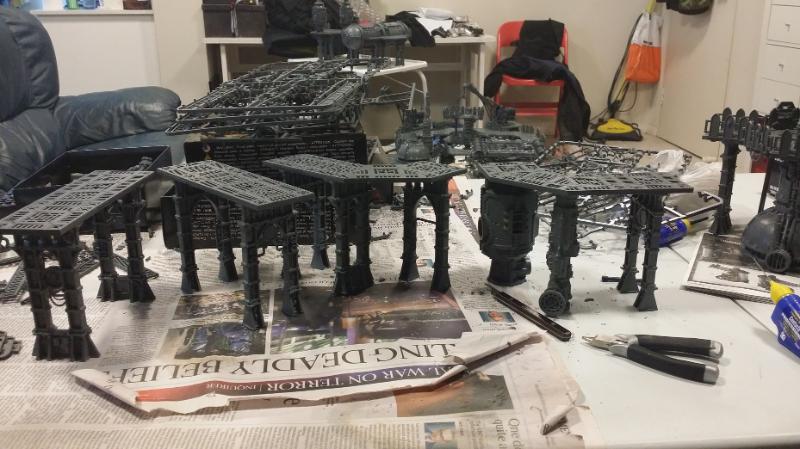 And done!!!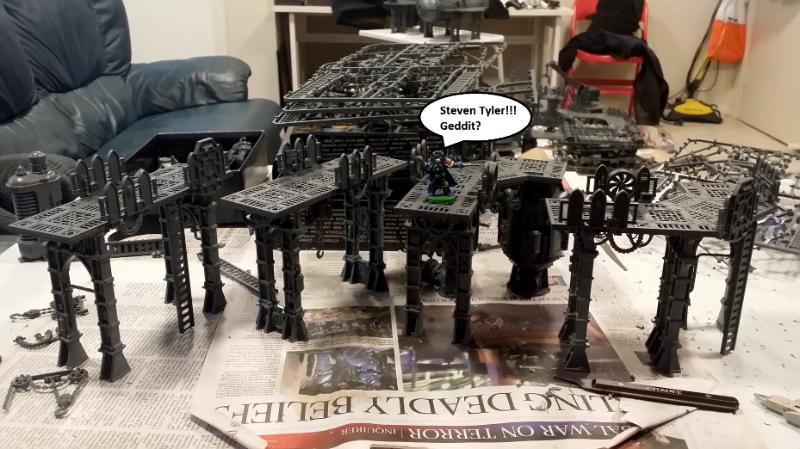 One thing that's worth pointing out is that all the shields across the edge are done in a semi-random way. I'm the type of person who likes things to be as symmetrical as possible, so having evenly spaced shields is what I've gone for in most places. I am intentionally not being precious when it comes to the type of shield either, be it a rather plain one, or one with a fan blade, or one of the cool solid ones with the control panels on the other side. Both for my own sanity and just because, I think, it makes better terrain, I would often grab shields without looking at what it was first, and then ensure that where I had two of the same type of walkway, the shields were in different positions on each one, and sometimes in different quantities. Drives the obsessive compulsive side of me crazy, but I'm ok with that.

So I finished those last pieces at 9:55am, giving me enough time to get the tables set up for the day of Necromunda that was to come. We didn't get in as many games as we first wanted (we're very new to the new rules and are taking time not to assume rules just because I know Oldcromunda so well).
Combined with the Tri-City Gamemat.eu 4x4 mat this is what it ends up looking like when all put together: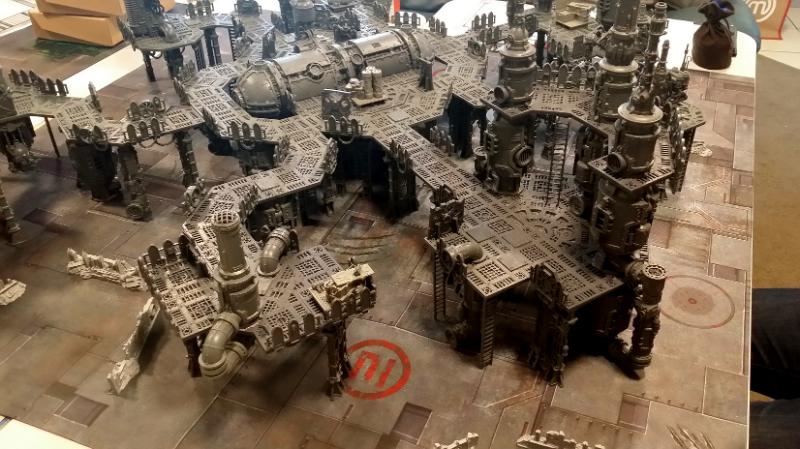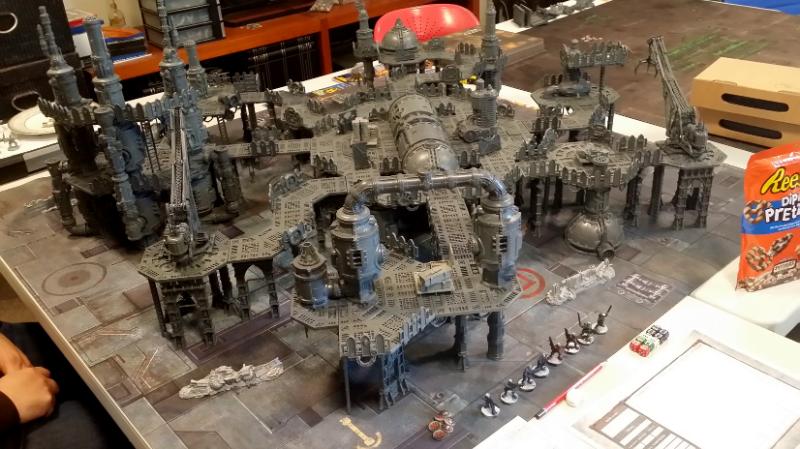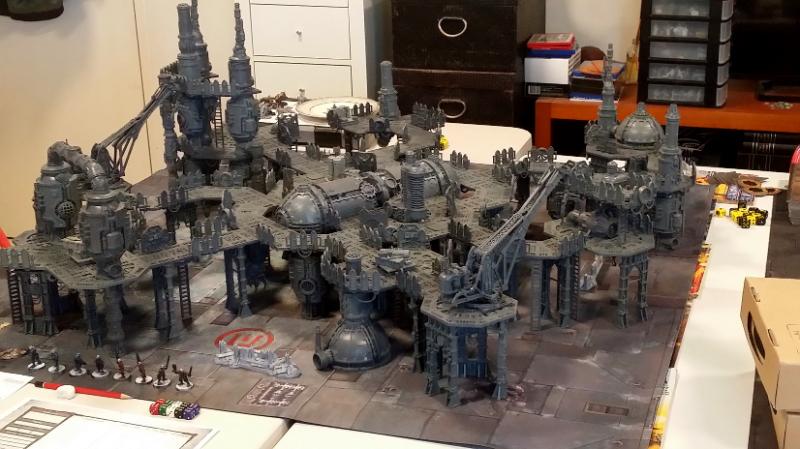 I'm very, very happy with it, and the modularity of the big outer ring and the various parts that fit with it proved to be quite popular.
So where does it go from here? Well if you think my industrial insanity has been cured by this extravaganza of construction, then you are mistaken. I still have tons of stuff left to build, and you better believe that as soon as
this
and
this
return to stock, I'll be getting them... plus I need a 4th set of the Plasma Regulators... need to order more struts and connector clips as well... what was I saying?
Oh, yes, where does it go from here? The answer is simple: The only way is up!

BYE