Hello again!
Time for an update!

This time, we'll take a look at a command squad. In the Fighting Tigers of Veda chapter, command squads are known as Singh squads. They are led by a Kshatriya (Captain) and consist of several veteran Space Marines. Usually, they include an Apothecary, a Standard Bearer and a Company Champion, but I don't have these minis painted up yet. I do, however, have some character models (inspired by Kenton's Marines) ready to show you that I may either use as a command squad, or as replacement sergeants for my tactical squads.
To start off, a sergeant/veteran equipped with stormbolter and chainsword. On his left shoulder pauldron is the crux terminatus, denoting him as a veteran with terminator honors.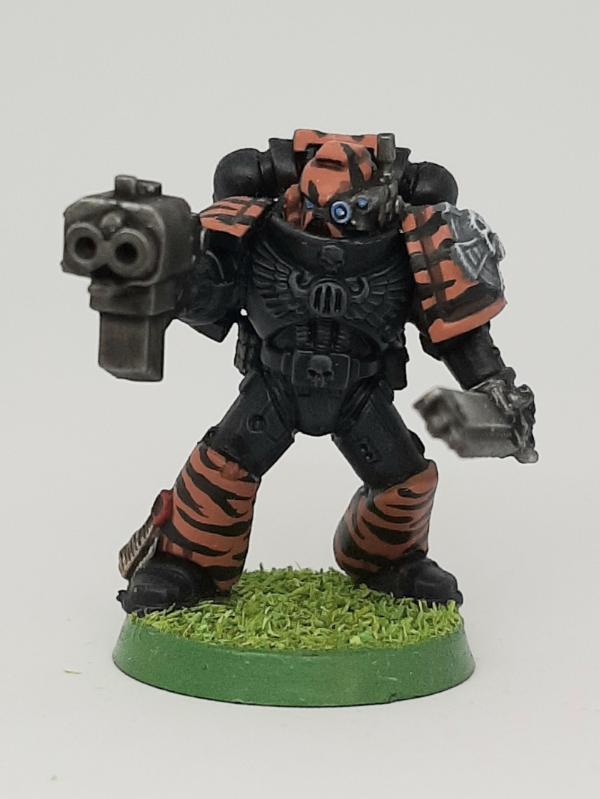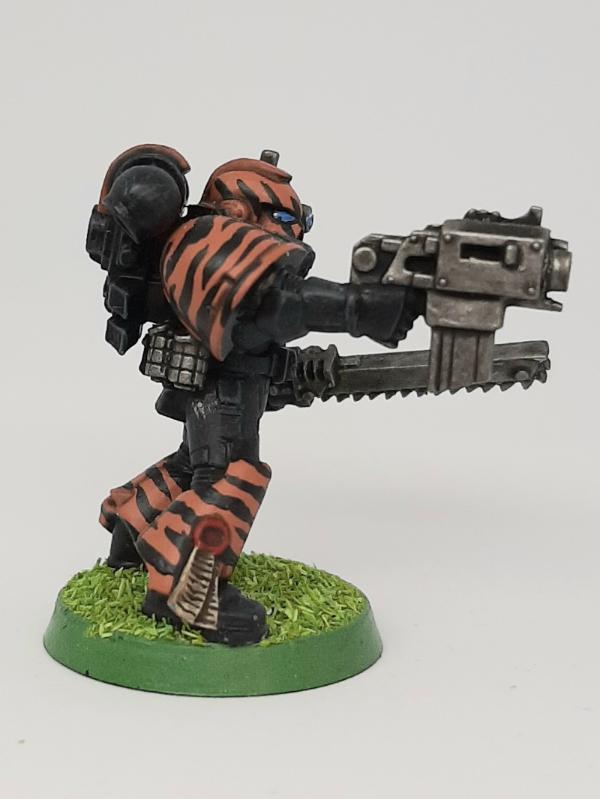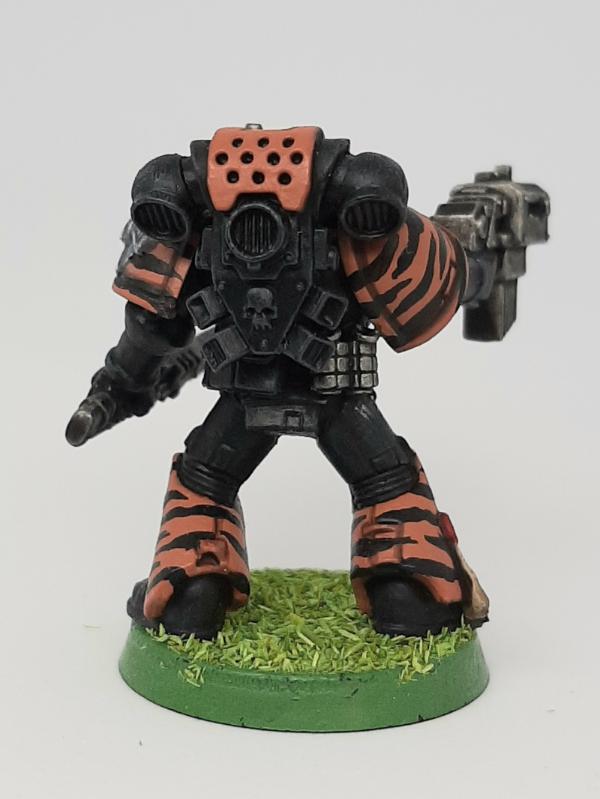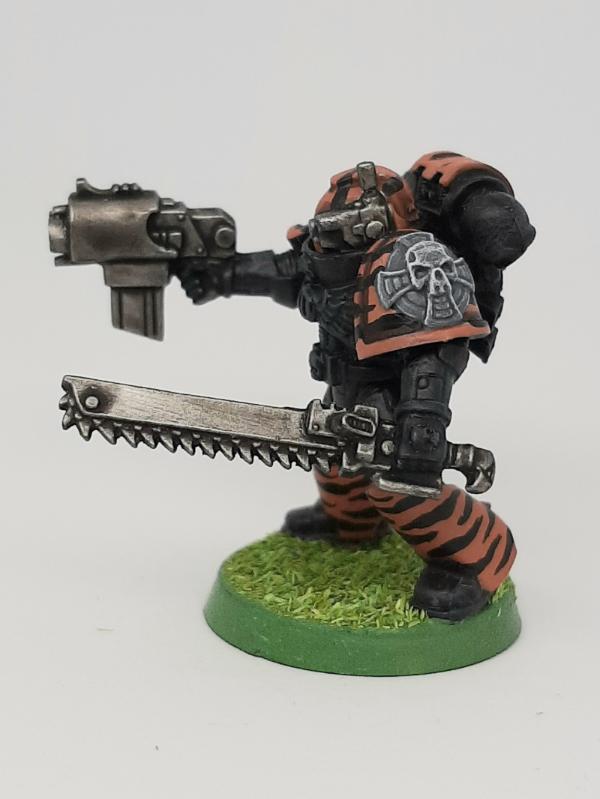 Next up, a special character inspired by one of Kenton's sergeants: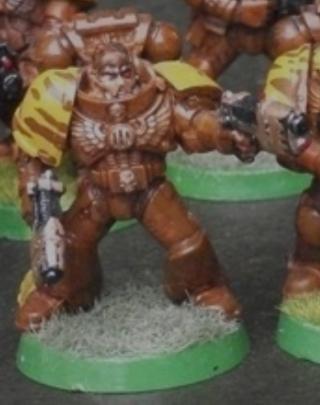 This cool dude dual-wields plasma pistols and totally looks like a gunslinger
imho
. I liked the mini so much I had to replicate it myself. Here's the result: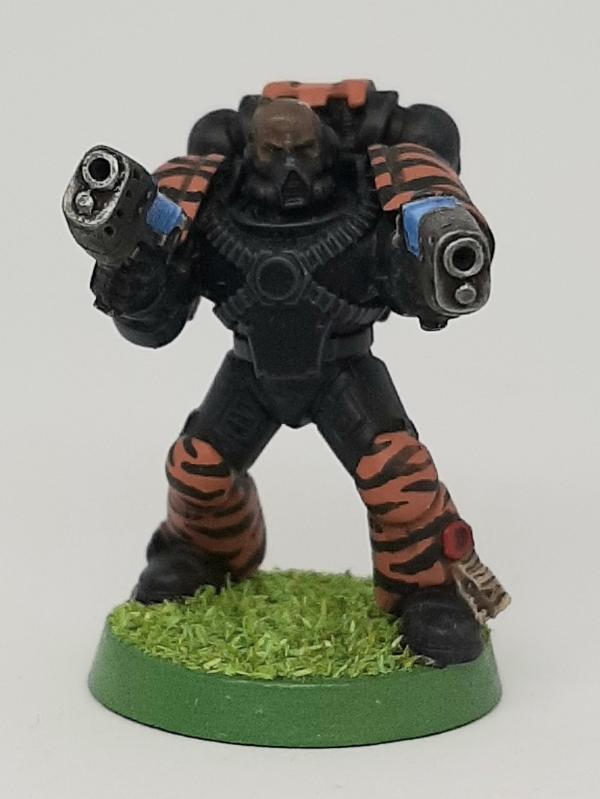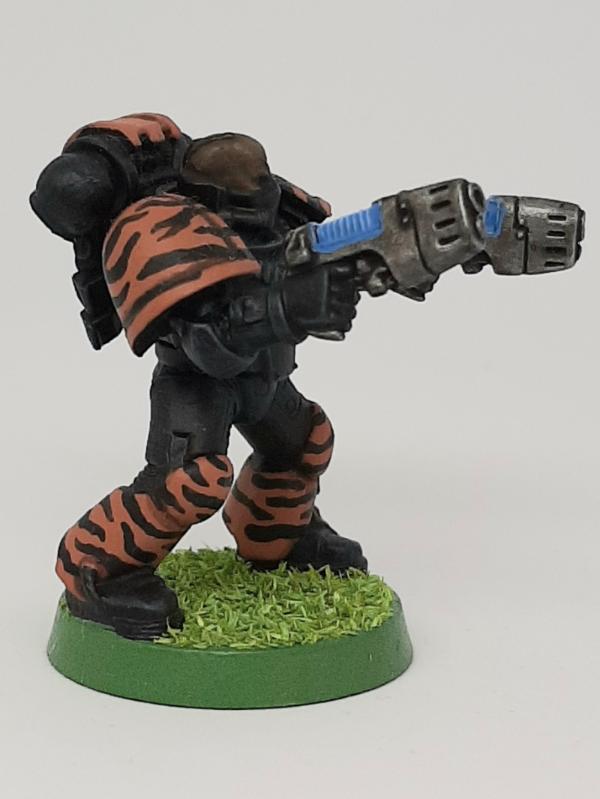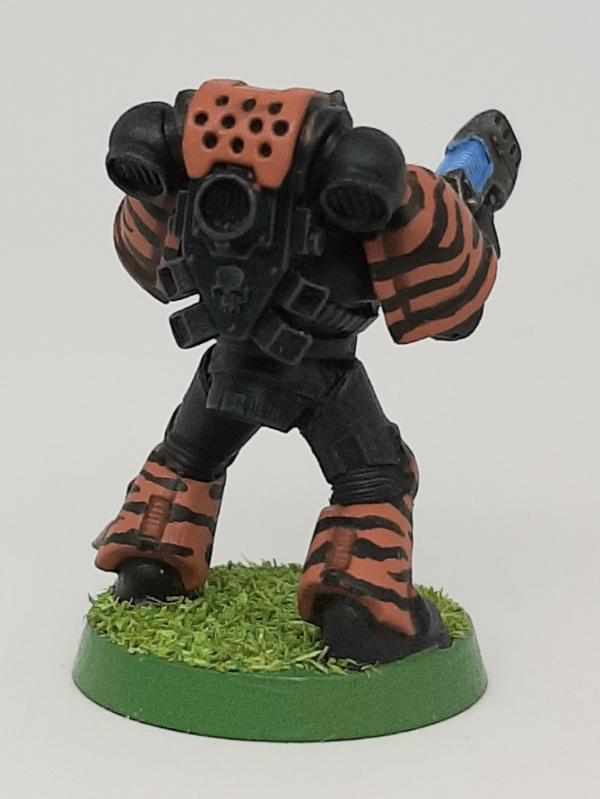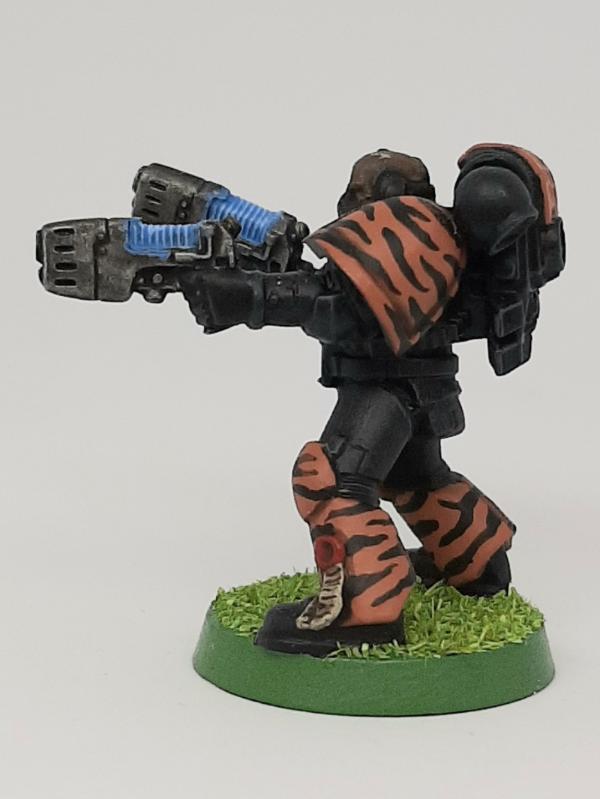 The next character was created to use up some leftover bits from an old regiment of
WHFB
chaos warriors. I took the legs and body, added some Space Marine bitz like a Beakie helmet, Backpack and arms, and sculpted some hose details onto the front of the body. I used a Beakie helmet because the Fighting Tigers are said to have many suits of Corvus armor left over, being an older chapter in the fluff. I tried to achieve a dynamic pose with the upper body as well, to mirror the dynamic stance of the legs. Take a look: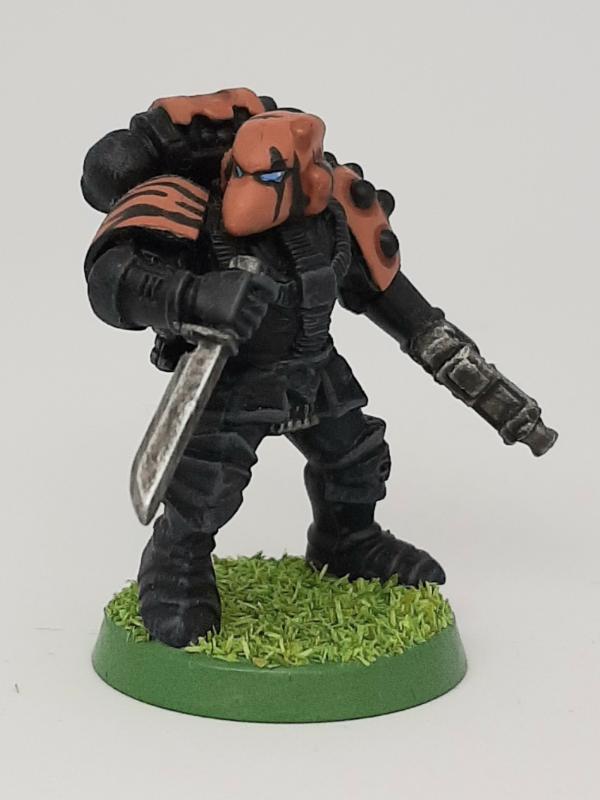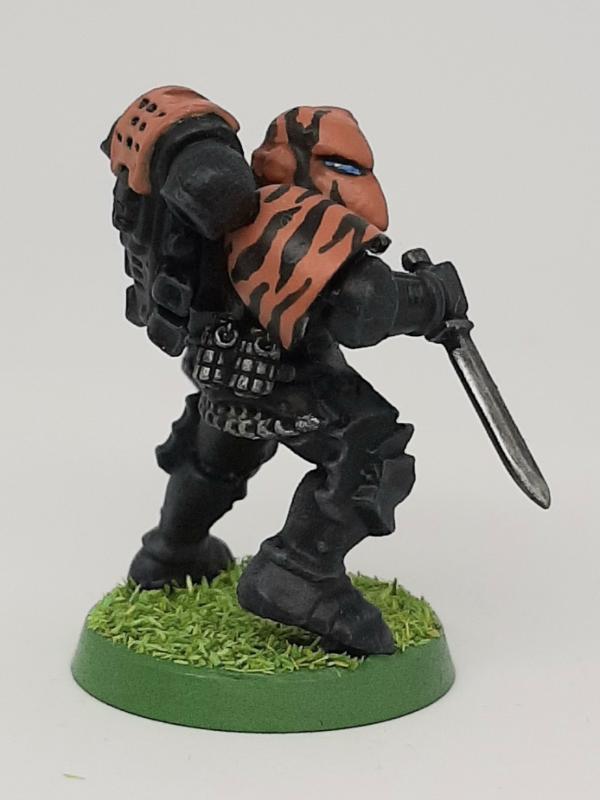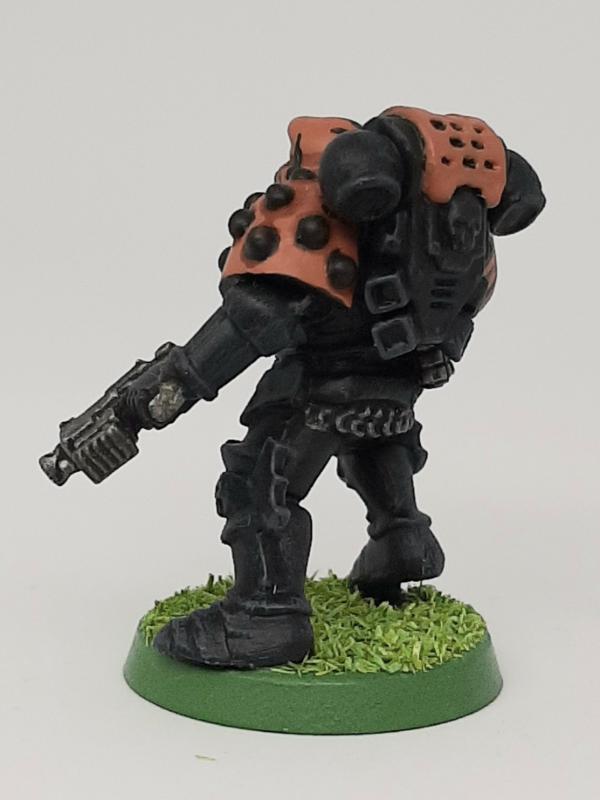 When I saw that the legs of the
WHFB
chaos warriors worked well for Marines, I decided to make another character using those. I liked the fact that the fantasy bitz, with their overlapping armor plates and chainmail areas, gave the mini an archaic, grimdark and rogue-trader-esque appearance.
The inspiration for the next miniature came from a very specific model in Kenton's army: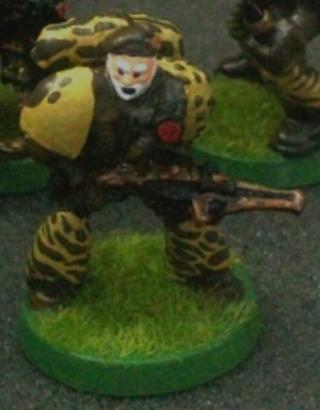 To replicate this classic mini, I used the legs and body from the chaos barbarians. I added the head of a Catachan soldier, as well as regular
SM
arms, pauldrons, a knife and a backpack. The shuriken catapult and extra ammo are from some old Eldar sprue. Maybe this guy looted it from a defeated Eldar, or traded for it on some forbidden xenotech black market... who knows?

Finally, I used greenstuff to add a gorget and a beret to the Marine to complete the look. I hope I captured the character of Kenton's mini!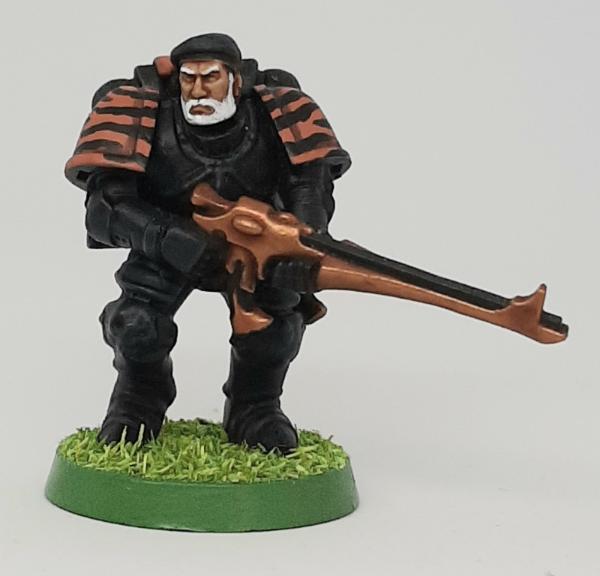 The gun was painted bronze to make it stand out from the usual weaponry, seeing as it's a Xenos artifact.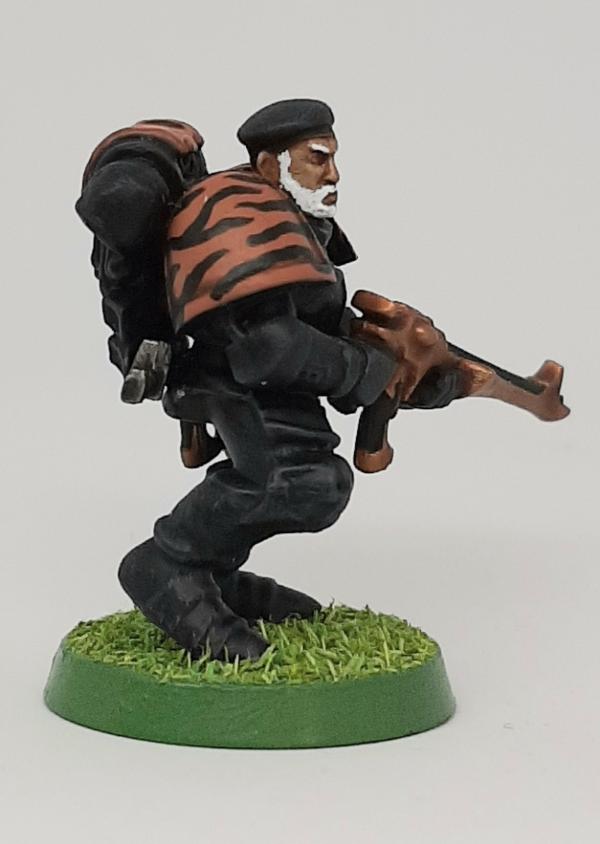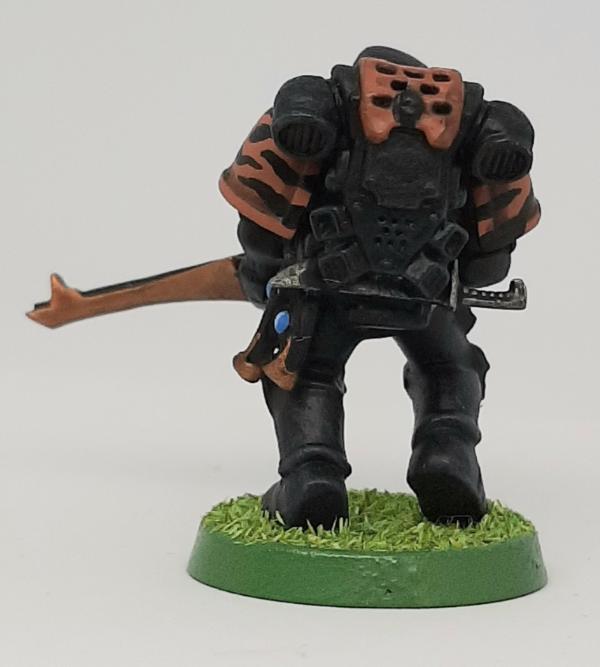 Finally, let's get to the Captain (Kshatriya) herself: Jirbu Ghosh! The mini was created using many bitz from various sets. The body, legs and head are actually one solid piece of white metal, so all I had to worry about were the arms and backpack. The former were taken from a Khorne berzerker set, the latter is just an older, standard Space Marine backpack. To create the weapons, I took the axe head of a
WHFB
chaos warrior and pinned it onto the shaft of a Khorne berzerker chainaxe. The axe head was reconfigured to look more like a historically accurate Indian battleaxe with the help of some google reference images. The bolter was taken from an older plastic Plague Marine and painted to emphasize the wood texture on the casing. Who says only Nurgle Marines can have fancy wooden decorations on their guns?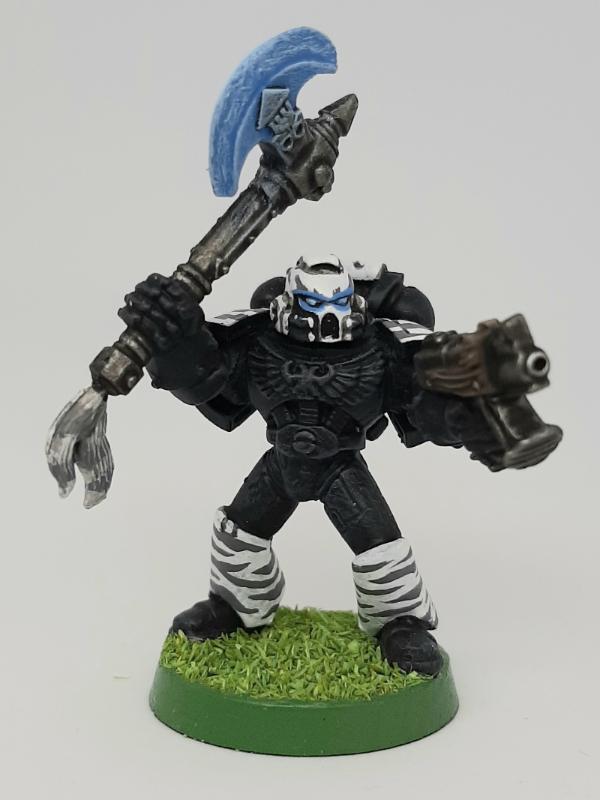 Being a female Marine (shocking, I know, but don't complain to me

), the colour scheme on Jirbu Ghosh is different from the rest of the squad. Female Fighting Tigers are dedicated to the goddess Kali and sport different colours from the rest of the chapter to reflect that. These female soldiers are trained from the day of their initiation to become experts in close quarters combat.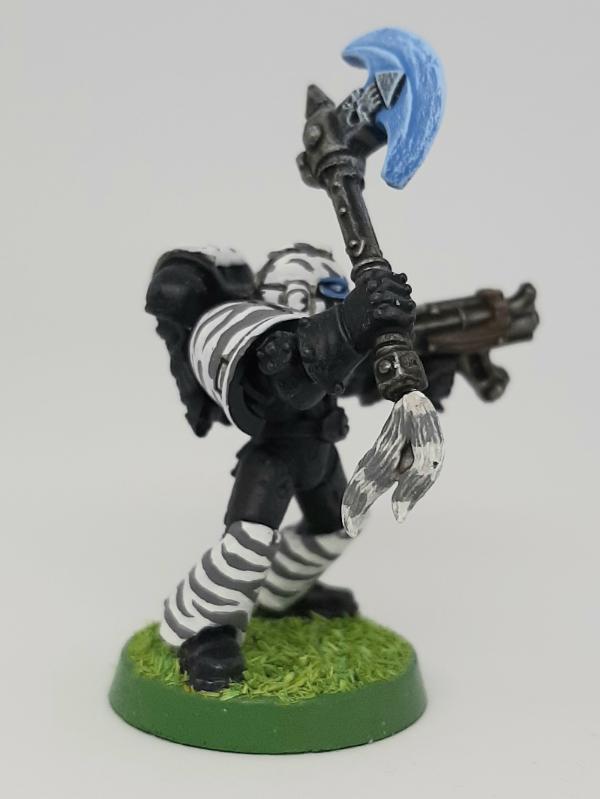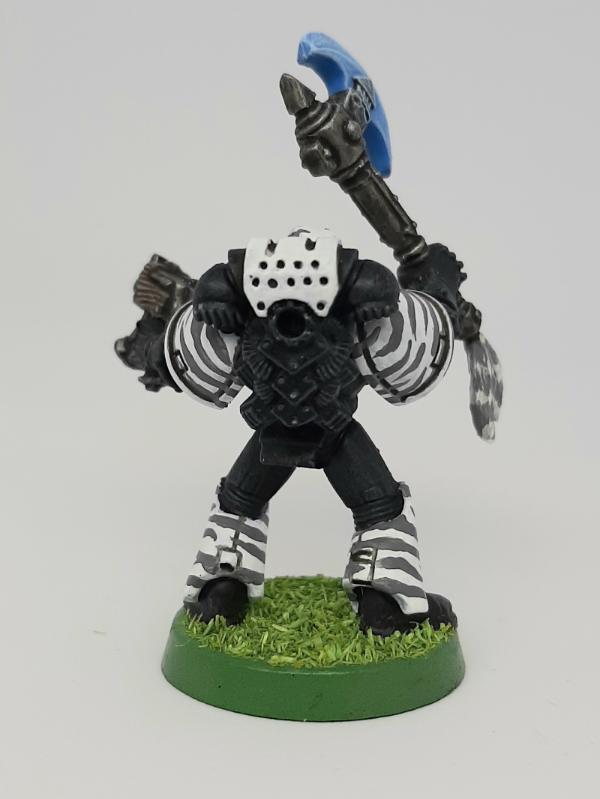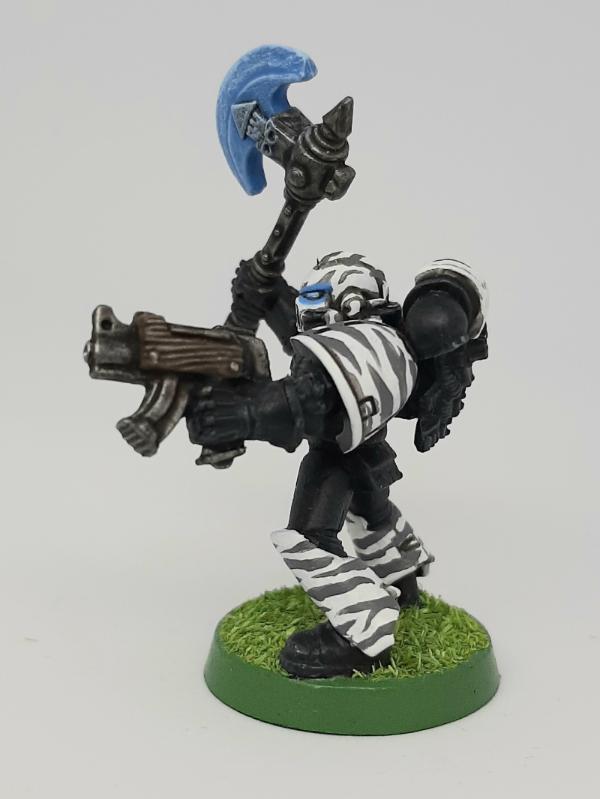 So that's all for now. I hope you like the minis in this update and I am very much looking forward to your C&C! Until next time!