Hello there!
This blog will be dedicated to documenting the progress on my custom Nurgle Plague Marine army. Well at least a small collection of minis, if not a full sized army

I'll be converting up the older, classic Chaos Space Marines mainly, because I don't really like the new bigger
GW
Plague marines. Don't get me wrong, they are awesome sculpts and being way bigger they are also more imposing on the table, which is why I can see the appeal of these new minis. However, for me, the fun lies in customising, converting and painting to create something unique to my collection, and monopose models don't lend themselves to customization that well. I find they all come out looking very same-y, even with quite some effort in conversion work. This is the reason why I just love the classic Chaos Space Marines that much. The sets offer so much versatility and can be assembled in different ways. No model needs to be the same.
Another big part of the hobby for me is making do with what I have lying around, and this is also how this project came into being. I decided to recycle some old, damaged Space Marine bitz which were unusable for Loyalist Marines because of their condition. However, they can be recycled easily to give some characterful Nurgle Plague Marines. After assembling the first miniature, I caught the conversion/recycling bug and a single test mini soon became a squad of three and then a full squad of seven Plague Marines. In this thread, I want to share with you my endeavours into creating a custom force of Nurgle-themed Marines and allies. I hope you will enjoy.
To start off this thread, let me thus begin with the model that started it all - I had a damaged pair of
SM
legs lying around which got ruined by taking a bath in the wrong cleaning liquid. Luckily, it was just a spare test mini I wasted on this experiment, so it wasn't too bad. The next part was a damaged/miscast
SM
body I cast myself. I made a mold of a custom-built MKII Iron suit a while ago, and I used it to create the MKII champion for my Ultramarines which you can check out in my other thread. Since the body was also not usable for a regular mini, I had put it aside, not knowing what to do with it. Seeing the bloated damaged legs and the miscast MKII body lying around on my hobby table, it suddenly hit me like a brick - the parts may not be suitable for regular Marines, but they'll do fine for Plague Marines right? So off I was, rummaging through my bits-box to find this guy some arms and a backpack to complete him. This is what I came up with: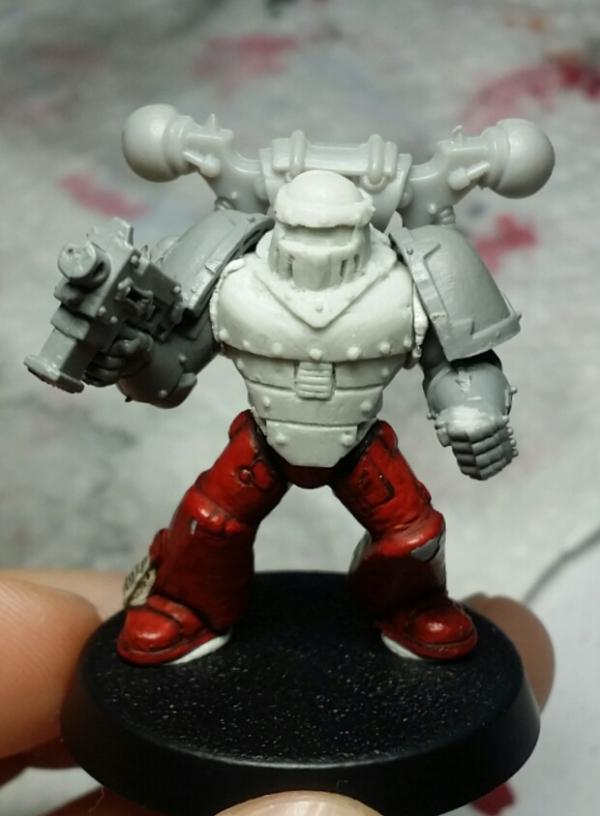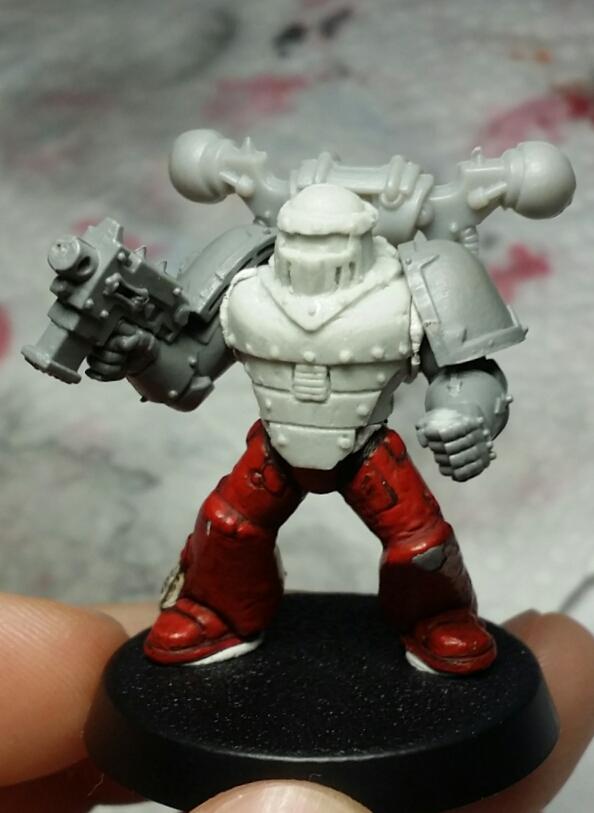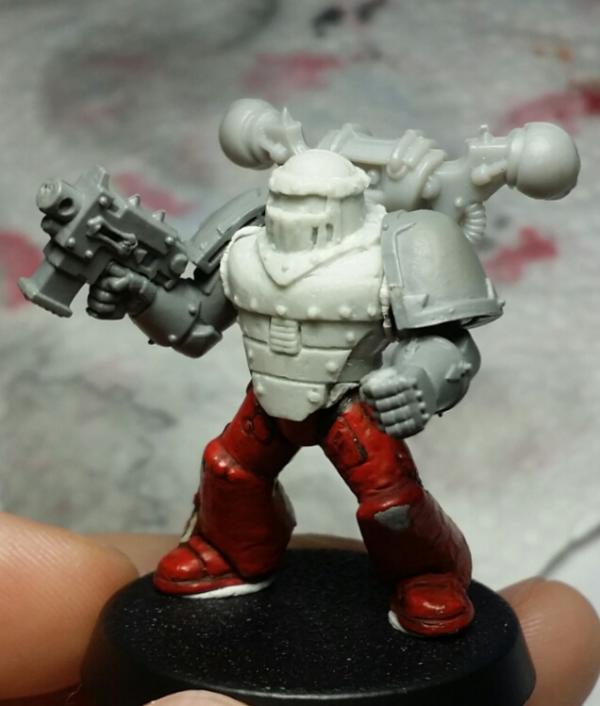 Not bad for a start, if I may say so myself. However, I felt this guy needed some more nurglifying, if you know what I'm trying to say. I decided to keep the paintjob simple with just a few colours and a generous amount of washes, which meant I would have to add some more texture to the mini to make the end result more interesting. I got out the greenstuff and applied pustule-like growths to the armour in some random spots across the model. These pustules gave some interesting texture and variety tot he model and allowed me to simultaneously cover up some obvious, weird marks left on the miscast bits. I added the icon of Nurgle to the mini's left pauldron as well as the boltpistol in its right hand. To spruce up the mini a little more, I added an ammo belt and some grenades to its belt in the back.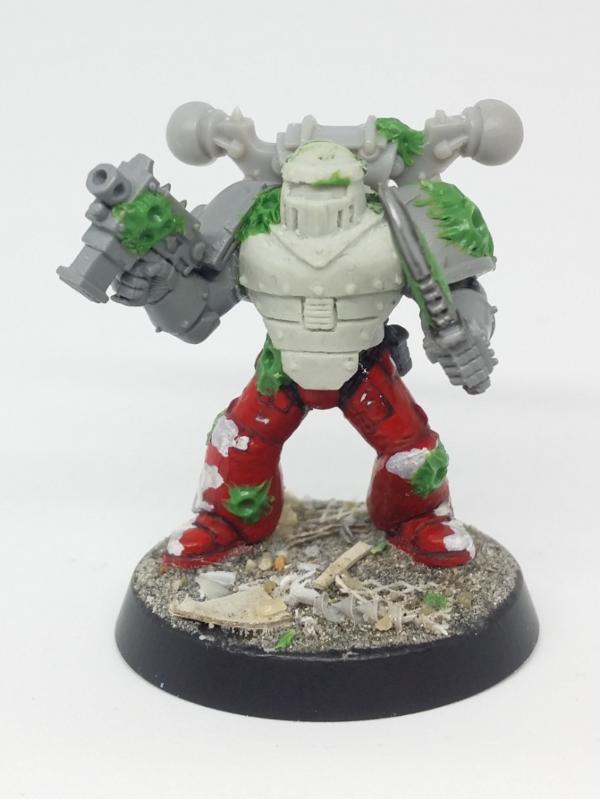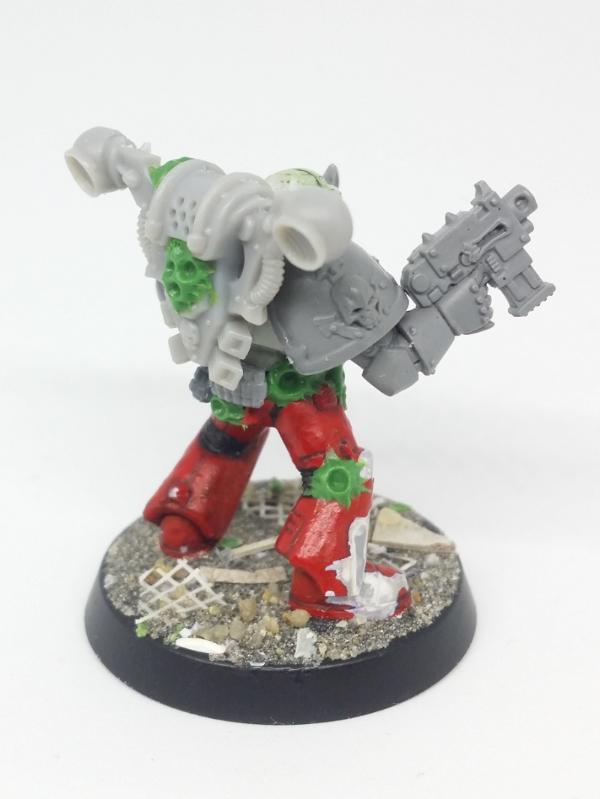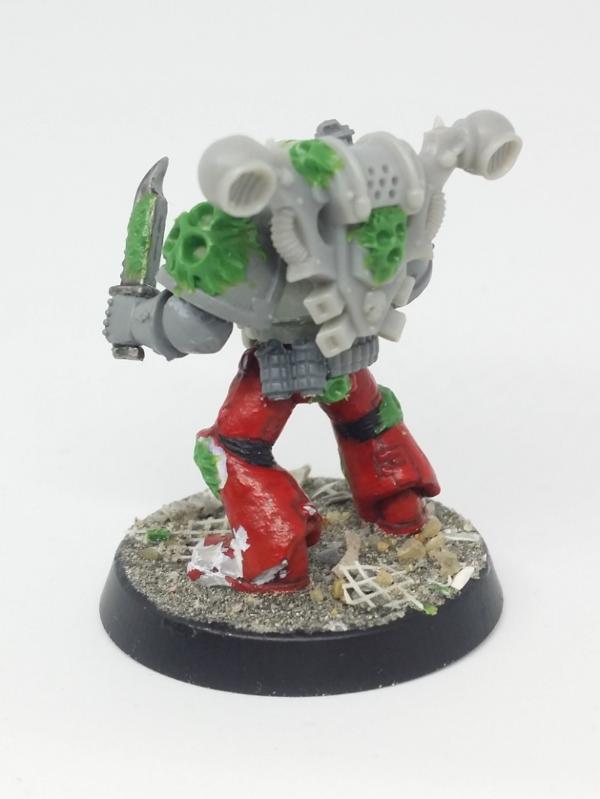 I liked the look and decided to start painting. As I said, the paintjob was rather simple so I could churn out more of those in a short amount of time. I relied heavily on washes and sloppy stippling and drybrushing techniques to achieve a dirty, almost mouldy look for the armor of the Marine. I'll go through the whole painting recipe in a later post if people are interested, but for now, let me leave you with pictures of the finished Plague Marine. The first one is unedited, the second one was edited using the app Pixlr.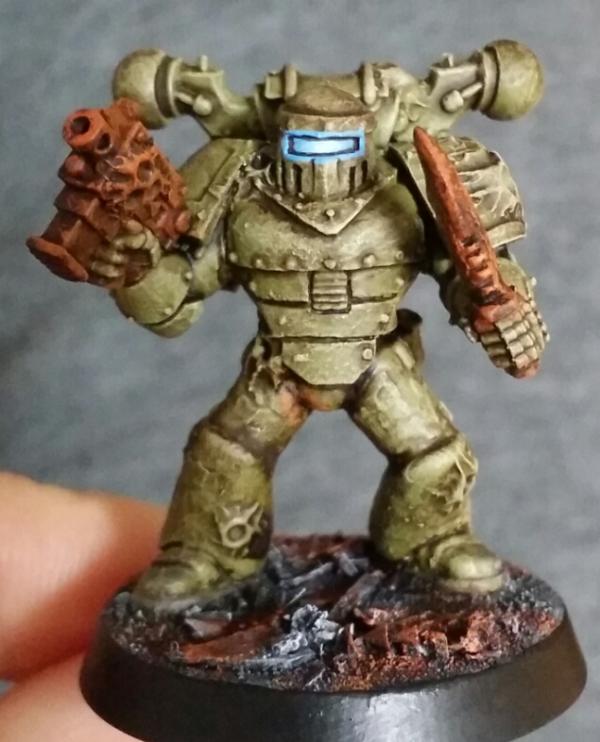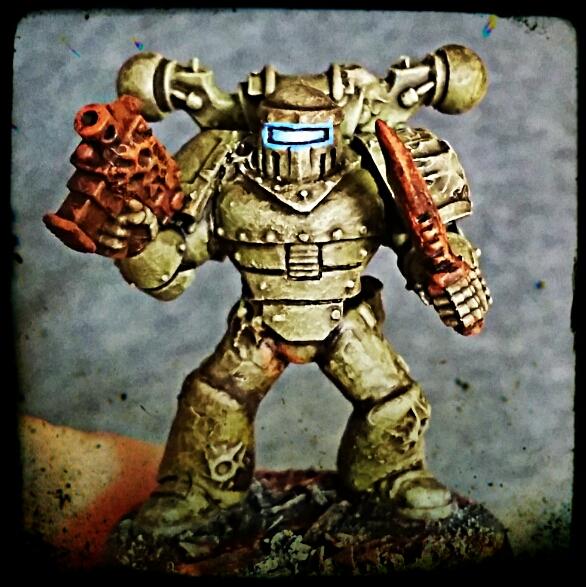 After seeing how easy and fun it was to convert and paint Plague Marines, I decided to keep going and do a whole squad of seven. Looking at this test miniature with ruptured pustules on the armour, you may understand why I have taken to lovingly calling the army the "Barnacle Boys". Watch this space because in the following updates I will show you how my first foray into building a force of Chaos Marines continued! Until then, thanks for checking this out and feel free to leave C&C!