Hello again!
I just realized I never showed you guys the stuff I finished since my last post. So it is definitely time for an update. In the meantime, I have painted the magnetized autocannon team, painted the third squad of shock troops and switched some weapons around. Let's start by taking a look at the finished autocannon
HWT
: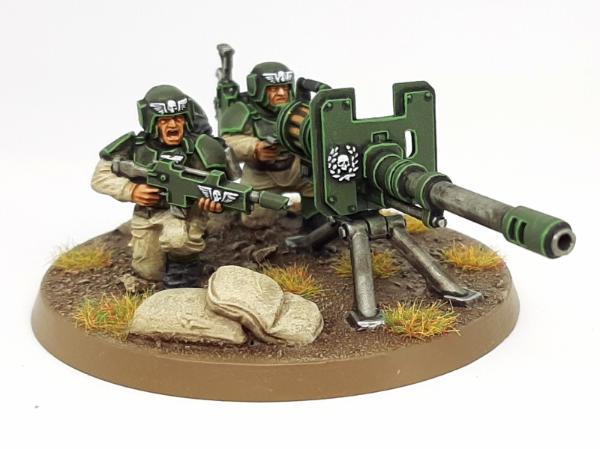 These guys were painted in my regular Cadian paint scheme. If the colours look a little different on screen, it's because I've switched phones in between and the newer camera works a little differently. I've tried to get the images as close as possible to the previous ones in post-processing, so I hope it's not too noticeable.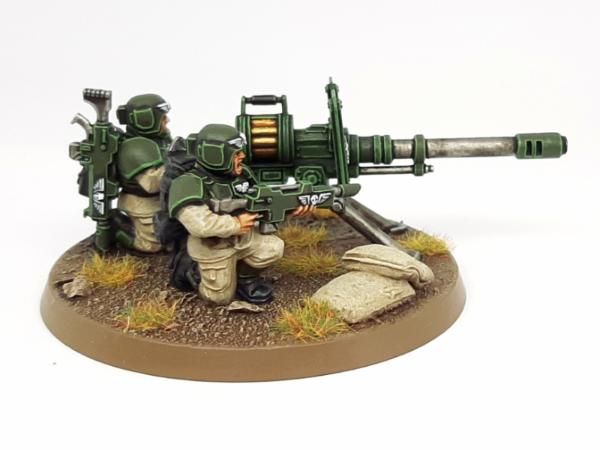 I really like the way this team came out. However, if I do more of them one day (when I get around to it), I will do it a little differently. The thing is, it never really made sense to me how the two operators are supposed to lug around a weapon of this immense size and weight. I never understood why the heavy weapons don't come with some sort of carriage to transport them around outside of combat. Therefore, I ordered some wheeled gun carriages from an online seller. So the next heavy weapons teams I will build will use these instead of the regular tripods that come with the box. I will also try to magnetize the weapons themselves to allow for loadout changes.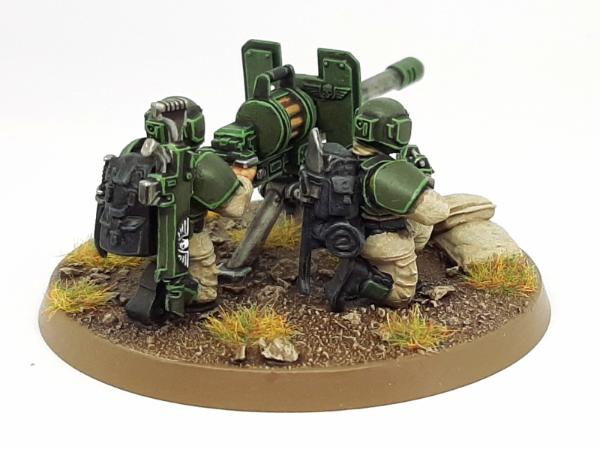 Also, like on this team, the second guy (spotter?) will be magnetized to be removable. This can be used to represent ablative wounds (I don't own the current
AM
codex, is that still a thing?)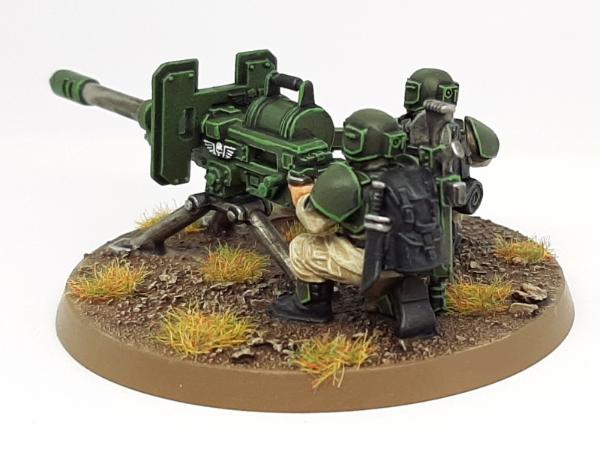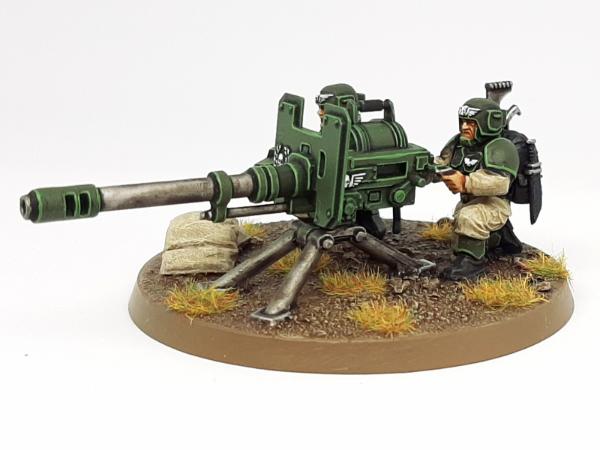 Now, let's look at how the magnets were attached. The spotter can be remove from his place on the base. I left out this particular spot on the base when flocking to ensure he would sit flat later on. When painted up, the flat spot blends in quite nicely with the rest of the base and doesn't really stand out too much.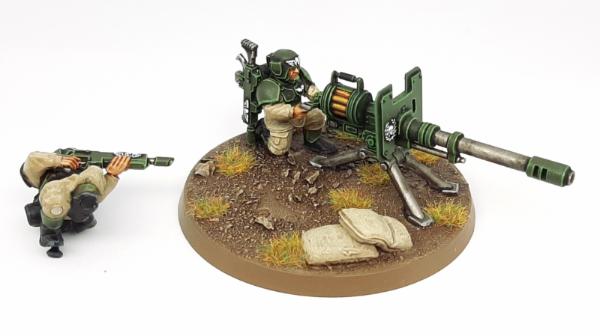 Alright, moving on to something else entirely. A long time ago, I felt inspired to do some Penal Legionnaires using some leftover Catachan bits. While I only had enough for three guys and not a full squad, I still enjoyed this quick fun project:
I added some explosive collars around their necks using greenstuff. I also shaved down all their hair to make them look like they had been clean-shaven in prison/a penal colony. I made sure to let them appear ill-equipped and gave them absolutely no extra bitz except for their standard lasguns. I even removed some of the extra tactical pouches on some of the guys to get that point across. When painting, I used a simple combination of drybrushing and washes for their orange jumpsuits. According to the lore, penal legionnaires will have their inmate number tattooed on their forehead, so I painted on some tiny little lines there to resemble something akin to a bar code. Let me know your thoughts on these three guys.
Alright then, let's take a look at the shock troopers I finished since last time! Here's squad 3 in full force: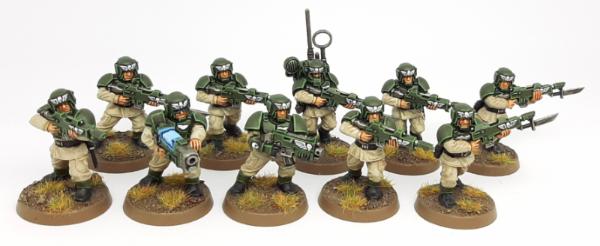 Like the other squads, it consists of 10 members, including a vox caster, a plasma gunner, and a sergeant with a boltgun. I also took some separate pictures of the latter two: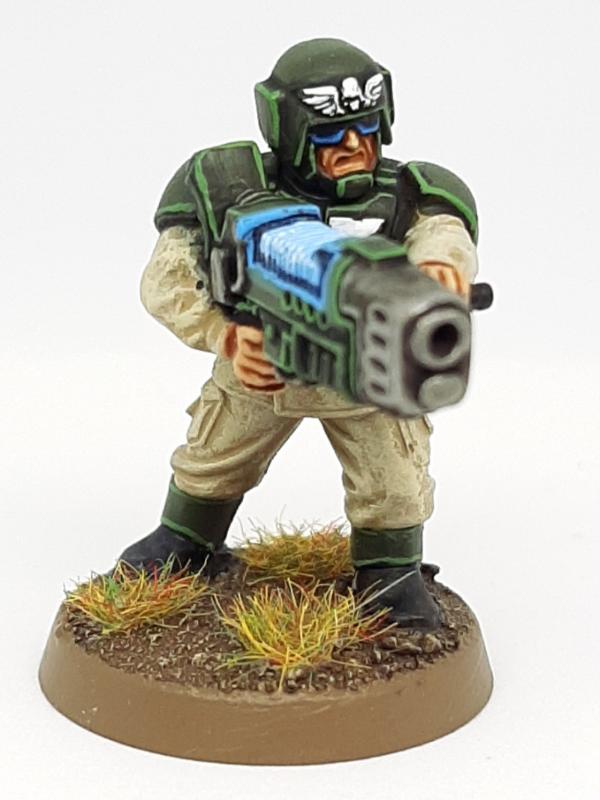 I try to make the plasma gunners a little distinct by giving them special helmets like from the vehicle crew or some with goggles. Good thing is, I can make as many of these plasma gunners as I want, because I managed to make a mould of the command squads plasmagun arm. So I'll hopefully never run out of heavy firepower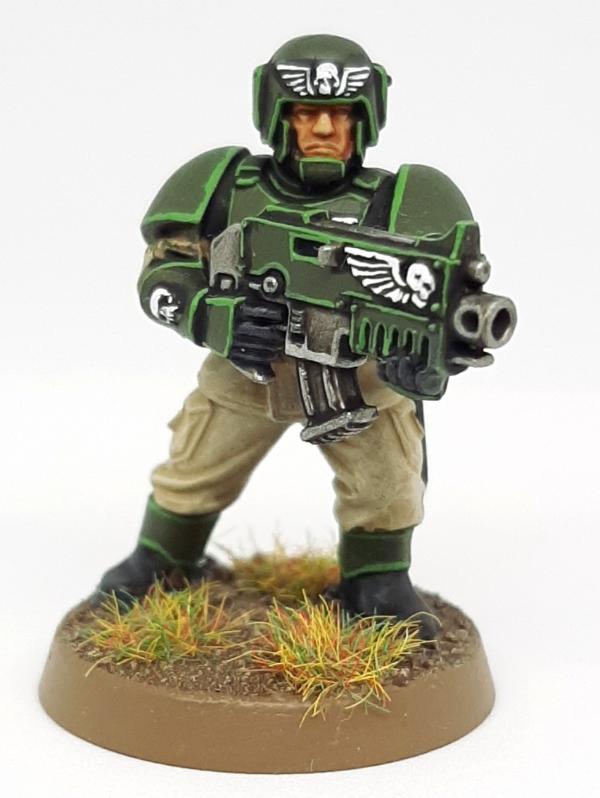 Also, the sergeant received a boltgun instead of the standard laspistol/chainsword loadout, because I think the boltgun will synergize better with the range of the squad's lasguns. As mentioned above, the boltgun are taken straight from the
SM
Scout box, and they work really well with the cadians scale-wise. All they need is the proper paintjob to blend them in

In other news, I also updated the first squad I made by exchanging the sergeants loadout for a boltgun. The squad now looks like this:

For the sergeant, I just quickly slapped together an easy-to-build pushfit cadian with a scout boltgun. Cheeky little conversion, but it works for my purposes

Check him out: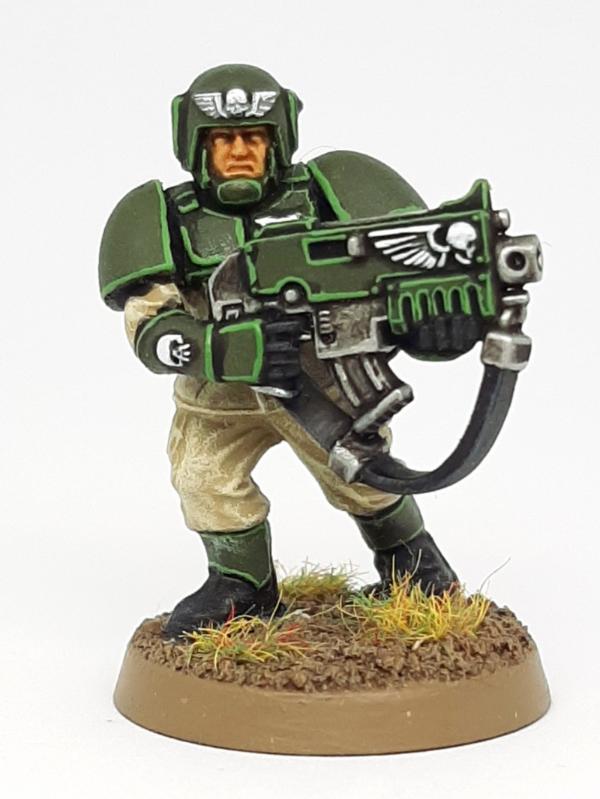 While building and converting minis for squad 3, I messed around with some leftover bitz. I completed a few miniatures, and together, they were actually enough to form a small, fourth shock troops squad together:

As you can see, the squad is a bit of a mix-and-match of different minis, but eventually, they will be bumped up to 10 members with the same loadouts, while the special minis will be moved to a separate veteran squad possibly. You can probably tell that the squad contains 5 pushfit cadians, four of which fill the back ranks, while the fifth was given a boltgun to be the sergeant, once again. The other two members (sporting autoguns) were slapped together from leftover
HWT
and Catachan bitz. Lets take a closer look at the sergeant: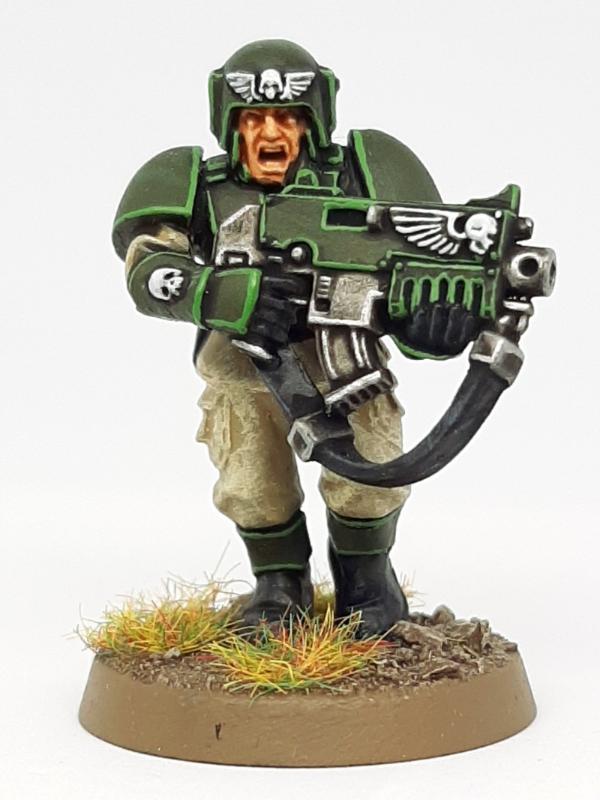 Again, very simple conversion. Had to take off the left arm at the shoulder before I could attach the pair of
SM
scout arms holding the boltgun. I think this is a good way to get rid of some leftover pushfit cadians if you have any.
Next, let's look at the converted guys. For the first one I built, I had sort of a Marksman/sniper/scout/forward operative vibe in mind. His legs come from the
HWT
box, the torso is a regular cadian, and the head is from the chimera vehicle sprue. For his arms, I used a right Catachan arm holding a lasgun, which was converted to be an autogun. His left arm is part of a chaos barbarian, with a catachan open hand attached and a shoulder pad from the chimera kit glued on top.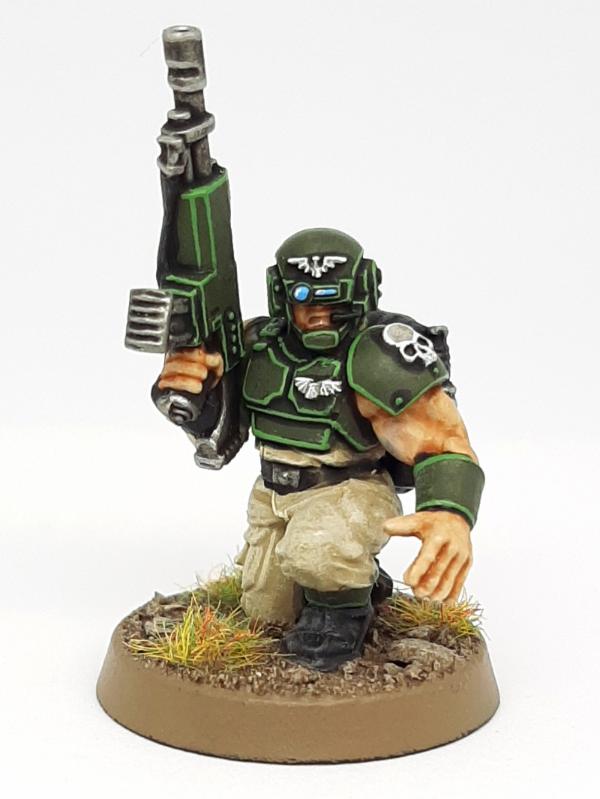 The mini also received a backpack with lots of equipment to make it believable as a scout operating far ahead of the main fighting force.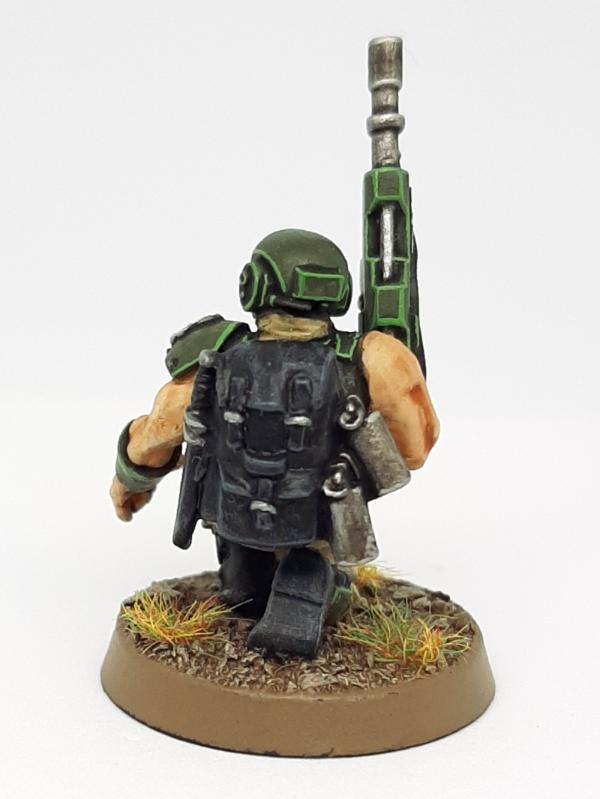 I liked that first conversion a lot, so I couldn't help but do another one:
This guy was built much in the same way as the previous one, but his head was spliced together from a Catachan head and a leftover Cadian helmet. The arms are Cadian's, but the Autogun is a Catachan lasgun with a
CSM
ammo belt attached instead of the power pack. I cut out an opening to resemble an ejection port for the bullet casings, and also flattened the muzzle to be straight. Like the first guy, this trooper may be moved to a veteran squad when I get around to making one

This guy also received a big backpack: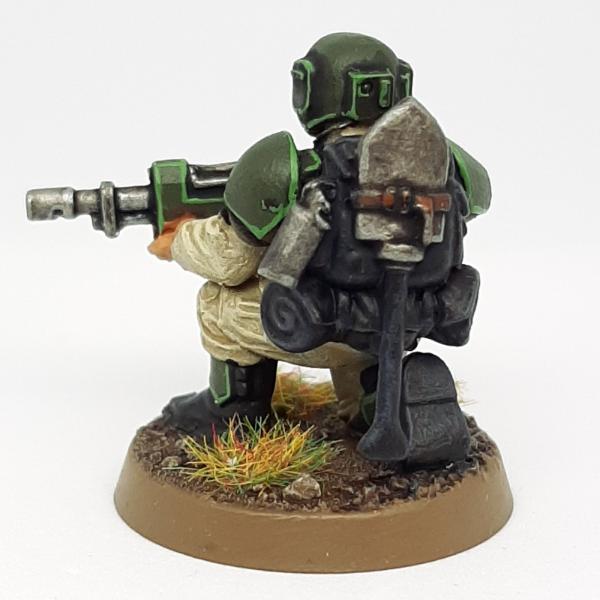 Ok, so that's it for the new stuff. For completion's sake, I also took a picture of the fourth squads sergeant, who you've already seen before: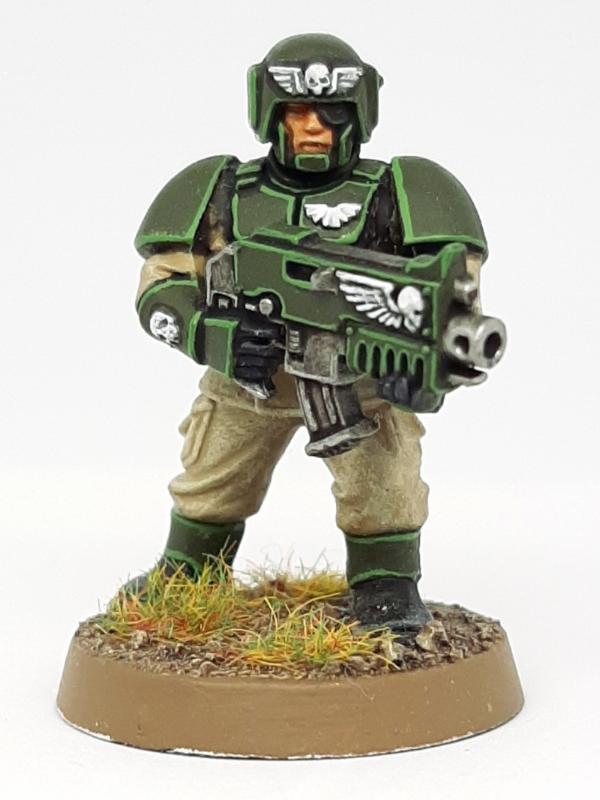 Now that you've seen all four of them, here's a group shot: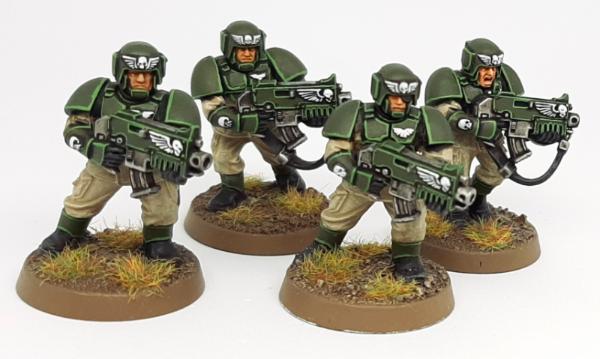 And finally, here's the three plasma gunners I have finished so far: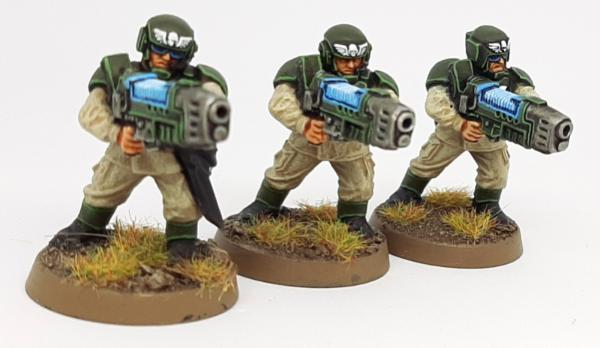 So now you're up to date and I've showed you all the new stuff there is so far. I hope you enjoyed. I know this is just a small collection of Cadians, and I do have plans to expand this army with more squads and, especially, with some vehicles. However, I do have many other active projects that are higher on my to-do list and that I am more invested in at the moment. If you do enjoy this stuff, consider stopping by every once in a while, because there might be new stuff. Until then, I say thanks for checking this out. As always, I am looking forward to your feedback. See you later!