Viterbi wrote:Welcome back and cool terrain piece, love the combination of terrain kits and scratchbuilt.
Already excited for the battle shots!
Thank you, Viterbi. I enjoy your stuff as well.
Captain Brown wrote:Great Drop Trooper force and wonderful scratch Build Riddle.

Cheers,

CB
Thanks, Capt. Brown. Your stuff is a huge inspiration.
So here is a full army photo as of the end of 2020.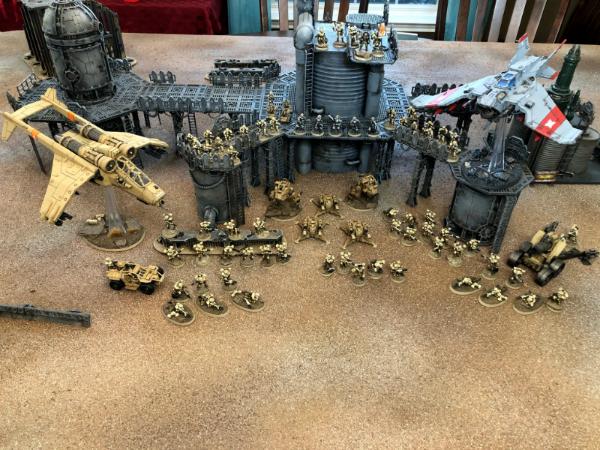 You can see they have borrowed a Lightning Strike Fighter from my White Scars for some tank-busting air support.
The rest is a mix of
FW
Elysians and Anvil Industries Republicans, sadly both out of print, and a few other
misc
. models. Thankfully I have a few more
FW
units in the closet to assemble and paint so I can keep growing this army. I also have some other third party units to add, such as some recon bikers that I am working on now.
You will also notice they have a Medusa Siege Gun. Artillery is not a normal part of a Drop Trooper regiment but that gun was built for a specific city defense scenario and gets used when they are defending a fortification.
More to come.