Thanks Gits'.
Yesterday's work was all about finishing off the sculpted details in the wet clay so that I didn't need to cover any of it with a cloth that would require more cleaning up of the fouled surface and I can start the drying process (3-5 days remember).
I got everything done except the eyes. But I decided that they were going to involve carving into the clay and some sharpening of edges later with some putty (more on this below).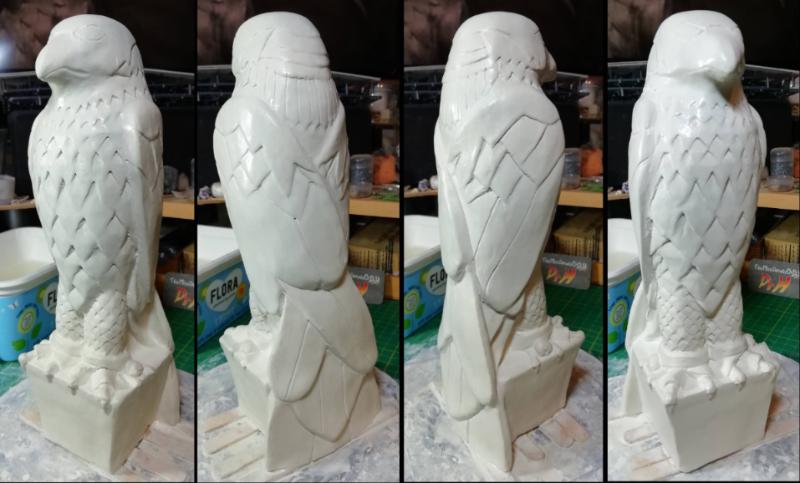 Mostly went well, especially when I found the right technique for adding the details:
Metal tool with straight edge, wet,
Press in point at deepest point of detail (or start of line),
Drag outwards in a straight line releasing pressure,
Reverse angle and repeat for other side of indentation.
Do this for every detail (with minor variations for odd shapes etc.) all over the bird.
Pause halfway through due to sore shoulder...
The lines on the back/wings were done with a round point clay shaper (sometimes called a colour shaper).
Use mostly like a pencil (for sharpness and depth), but occasionally drag at shallow angle to widen/soften lines.
I roughly "drew" in where the eyes would be and left it all to start drying overnight.
...
During the previous steps I had noticed a couple of cracks forming on the base and I expected these due to being clay (shinks) over wood (swells) and had planned to sort these out at the end as there's not much I can do about it during the sculpting process.
Also, while adding the details to the upper chest of the bird I noticed a couple of areas where I was pressing down to the polystyrene underneath. This meant that the clay here is quite thin. I know what to expect due to this...
So there are quite a few cracks across the bird.
I'm going to leave it to fully dry, asses the damage that occurs and then fix it all with milliput. It's going to be painted anyway, I can hide the sins.
Anyway, I set about it today carving in the eyes (these were already planned to be enhanced with the addition of milliput as well to get sharper features, so milliput was already going to be used).
And this is how it is now: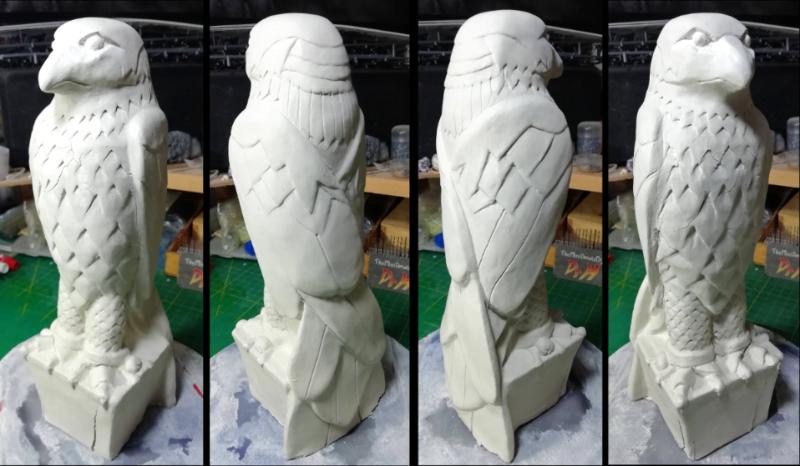 It will return next week once it's fully dry and I start on the milliput fixing and detailing.
Bloat drone will return to the building desk for continuation in the mean time...