Thanks so much for the kind words and the welcome! Solid sly was fun to make, and I thought the magic stealth box fitted Marbo's 'appear from nowhere' style quite well. At the moment, he's just a stand in, but I'm happy to use him in a game if noone complains

I've made a strap for the sentinel pilot's lasgun now, and am soon to paint up his
ML
, so hopefully you'll see the finished article pretty soon.
warpcrafter wrote:So, are you going to name every one of your guardsmen? That's gonna get tiresome after awhile.
I'm planning on it! I tend to take a while over single minis and like them to be at least a little individual, and I think naming helps with that. Some of the names are from people who asked for particular models, and some are from movies / books / imagination! I quite like naming the base when a model's done - it's a nice sense of finality, even if a mini's never
really
finished...
Next up on my to do list is another demo charge veteran, but I'm using the 'crew' model that
GW
released this year. Will get it up as soon as it's done!
EDIT 6/7/17 Original first post, removed from above:
Hey everyone! This is a showcase blog for my campaign setting and Necromunda gangs. I've got some fairly extensive fluff, but I appreciate that a lot of people aren't really interested in that kind of thing, so I've spoilered anything too long, and you can feel free to scan over the pictures. I'd absolutely love to hear what you think, so please fire away.
TL
;DR campaign fluff - Caitiff is a planet recently returned to Imperial control. It's economy boomed on the offworld export of a mineral known as rusinate. As supplies dwindled, unrest developed, and Easthollow hive eventually fell during a civil war, triggering an environmental disaster. An evacuation was planned, but only a miniscule proportion of the planet's population were able to reach evacuation points. The planet now has no system of government and conditions are anarchic outside of several larger settlements. Much of the air on the surface is poisonous, though settlements have sprung up in pockets of clearer air, and hive cities with their own air filtration systems remain. Major factions include Ridgeway's Remnants - a small community originating from civilian and PDF remnants; the Quadring Accord - a group originating from prisons and penal legions; the Hollows – a community of oppressed survivors of Easthollow, many of whom are twisted by the effects of rusinate runoff; and a few others. The two main gangs at the moment are the 21st Jackals (the first gang), affiliated with the Remnants; and a scavenging cell of the QA (the second). Hope you enjoy!
Info on the planet setting: (
I reckon this one is pretty important, but spoilered anyway for those who aren't really interested

)
Area map and some important settlements:
Info on Jackal cells:
THE 21st JACKALS
Murdock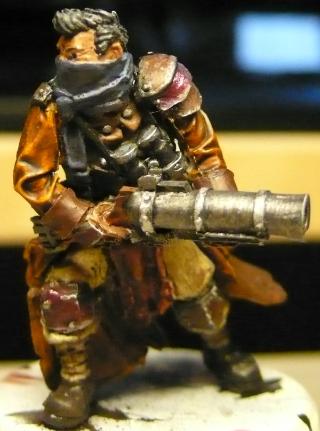 Leader of the 21st Jackal cell. Claims to have been a sergeant in the PDF, but carries a lot of 'non-standard' equipment. He has spent many years on the scavenger teams training and living with Jackals, far more than his required service. If asked, he tells people that it's because he upset a high ranking officer in the Remnant forces themselves, but other stories have been suggested. Some believe that he hates Pinepoint, and will do anything to leave it. Others have suggested that he is fighting to his death, his only means to reunite with a family killed in the rebellion. Others, perhaps more realistically, have wondered if he simply enjoys the work. Whatever the suggestion, put forward to Murdock it results in scorn and hard labour. Often brusque and unfriendly, he will nonetheless go out of his way to protect those under him. Reports of personal trinkets or new equipment discovered in their packs by Jackals who have been struggling to cope have never been linked to Murdock, though many have their suspicions. Murdock recently suffered a serious head wound after a blast knocked him from a window during a skirmish with some local outlaws. He recovered well, but on recent occasions his reactions and instructions have occasionally seemed slower during combat situations.
Farrell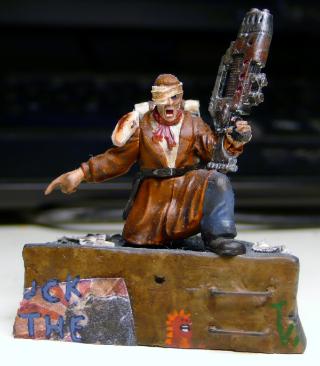 Medic and plasma gunner. Farrell was found in the wastes a mile outside of Rukob by a different jackal cell. He was bleeding badly from embedded buckshot and a (clumsily stitched) stab wound to the stomach. He was carrying an infant girl, unharmed, but with a strange symmetrical birthmark on her back. Both were carried back to Pinepoint, the largest Remnant settlement. His wounds were infected, and the fever almost killed him as he raved about mutants and monsters. As he recovered, he first asked about the girl, then about other wounded who may have been brought in from the same area. The medical staff became concerned that he may have a bounty on his head. Many of the Remnants don't trust him, and from his strange arrival to his refusal to explain where he came from, he hasn't helped himself. The plasma weapon he carried was also a rare find, unusual to see outside the slaver camps to the North. Leaving the girl in the safety of the camp, he joined a Jackal team to pay back the kindness he was given, believing that his skill with medicae, and especially his work with bionics (an especially unusual skill in Skew State) would prove invaluable. Friendly and jovial when spoken to, Farrell was nonetheless rather quiet, with a tendency to stare into space and tune out of conversations. He was most vocal when discussing his frustration at the lack of medical equipment available – there was nothing on the planet, he said, more heartbreaking than knowing exactly what was wrong with a man and being able to do nothing to fix it. He regularly wrote notes in a small book, telling any who asked that it was a diary. Convinced that that he was a spy for the QA, Twitch stole his book and handed it to Murdock. Whilst he did write detailed notes of his own activities, almost the entirety of Farrell's book was filled with letters to a woman, none of which it appeared had actually been sent. Murdock spoke to him about it, but saw no reason for concern. Farrell went missing following a series of engagements with an offworld private security company, and is presumed dead or captured.
Completely unrelated vox-file:
Skragg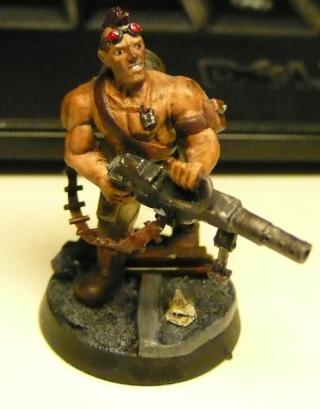 Heavy weapons enthusiast and inventor. Apparently mute, but adept at rigging technology from scrap, Murdock considers Skragg an idiot savant. Many of the others in the team think his silence is not a result of lack of intelligence, but rather a conscious choice. He had a close relationship with a younger Jackal named Scout, who was killed early in the campaign while the pair of them rescued a mercenary from rising floodwaters. Extended fluff story in the spoiler below. Skragg's hearing has suffered as a result of his fondness for loud weaponry.
Skragg and Scout part 1:
Crow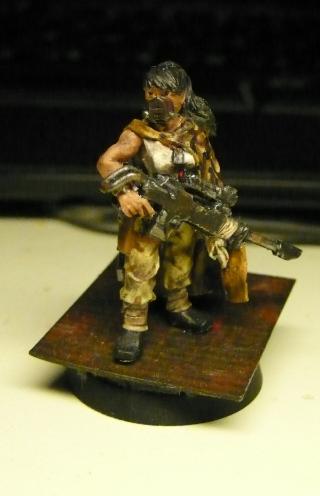 Before finding the Remnants, Crow scavenged the rocky and mountainous wastes North-East of the hive with her brother, who had raised her since they became separated from their parents during the Evac. After serving several months as a construction worker in the compound, Crow volunteered to join a Jackal team to rediscover the adventure and excitement of living rough. She may or may not regret her decision. Agile and sure-footed, Crow tends to stay high above the hive floor, shooting from vantage points wherever possible. She is good humoured and friendly, though with rather a dark sense of humour. She rarely takes off her rebreather, pointing out the very real danger that surface pollutants pose to the lungs. When pressed (or after a little too much wildsnake), she may relate the fate of her brother, who suffered worsening breathing problems on the surface. A few days prior to Crow's discovery by a Remnant patrol, he left their camp in the middle of the night and shot himself without a word. He had complained over their campfire that his laboured breathing was slowing them both down, and one day waiting for him might get her killed. She had brushed him off, joking about carrying him. To this day, she resents his choice to make the decision without her, forcing her to carry on alone.
Ferret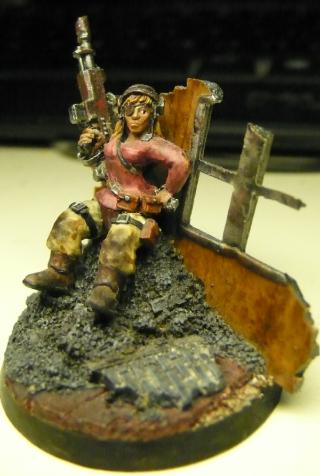 Joined the Remnants after being caught attempting to steal food from the Pinepoint stores with her teenage son. Both agreed to serve in Jackal teams and eventually join defensive patrols if it meant access to the compound. Before the evacuation, Ferret worked as a teacher, educating the upper classes in Caitiff history, and the value of their contact with the Imperium. She was forcibly conscripted by the Eurata Separatist Front once the rebellion began, and served several years in a guerrilla unit, fighting hit and run engagements with government forces in Crockfall. Ferret is very fast and a reasonable shot, but has been injured several times whilst in the 21st. Keen to return to base, Ferret rarely socialises, but will scavenge during her own time, hoping to find some archeotech valuable enough to merit a return to Pinepoint, and the peaceful existence that she craves.
Riggs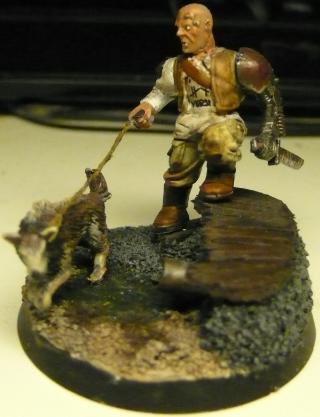 Friendly and affable, Riggs was born inside the Remnant compound. Initially charged with farm-work and looking after the animals, he joined a Jackal team as soon as he could, and acts as a friendly second-in-command to Murdock. Despite his affable demeanour, Riggs has a natural gift for negotiation and persuasion, and often accompanies Murdock to trading posts or to form treaties with rival groups. He tends to know a lot of residents in the settlements they regularly visit, and takes care of the team's dogs, Loki and Cass. Riggs was badly wounded and one of his dogs killed by an unknown animal during a scavenging excursion on the surface. Farrell fitted him with a bionic replacement taken from the remaining PDF supplies.
Coop and RiffRaff
An ex-penal legionnaire with a history of forced service with the QA, and a once-wealthy runaway who served with a trade caravan specialising in electronics. Coop and Riff sold their services as caravan guards together for several years before meeting Murdock with his previous Jackal cell. Tired of life on the roads, they planned to complete their time in the Jackals and acquire citizenship in Pinepoint, where they could live peacefully. RiffRaff knits (badly), and Coop has been known to decorate buildings where the Jackals camp with vast, spray-painted murals. The two were inseparable, and a few fluff stories are under the cut. During the campaign, RiffRaff drowned in an engagement with the QA. Coop continues to serve with the Jackals, acting as a kind of carer to Twitch. He has struggled to cope with the loss of Riff, however, and has developed several self-destructive tendencies. He fights with a jerry-rigged flame-thrower created by Skragg, and tends to throw himself into close quarters fighting whenever the Jackals are engaged by rival groups.
RiffRaff origin:
Coop on the planet surface:
Coop and Riff join the Remnants (written a waaaay back, and not very good

):
Twitch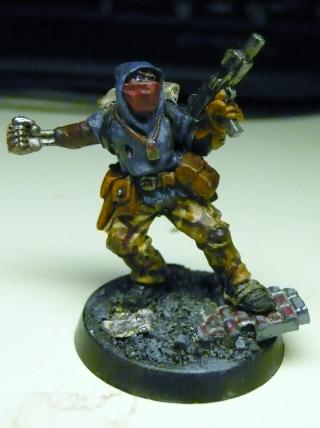 A close friend of RiffRaff and Coop, Twitch worked with them for several years as a caravan guard. Somewhat of a heavy drinker with a talent with cards and a fast mouth, he was known widely as a story-teller and writer. Around a year before the three came into contact with Murdock, though, he was thrown from his truck in a collision with some local wildlife, striking his head against the road. Whilst he survived, he has been wildly unpredictable since, breaking down into tears with no provocation or attacking strangers over imagined slights. Despite this, he still experiences periods of lucidity, and can for days at a time seem the man he used to be. Whilst most men in such situations would not have lasted long, Riff and Coop stuck by their old friend, even though his outbursts cost them several contracts. Murdock was not happy with his inclusion in the Jackals, but allowed him to remain, as long as the others accepted responsibility for his behaviour.
Scratch
At 19, Scratch is the youngest member of the 21st Jackals. Optimistic and adventurous, she spends as much time on the surface as she can, and adores the ruins. Scratch had no real experience of the world before the Easthollow disaster, and was carried to Pinepoint shortly after the evac by her parents, both of whom have since passed (her father of rusinate lung, her mother of radiation sickness while serving with the Remnants). She was raised mostly by Elara, another orphan girl discovered by Remnant patrols shortly before her arrival. The two are very close. Scratch revels in finding what she can of life before, and has developed a penchant for old world luxuries – she has spent many an evening with a begrudging Elara combing ruined stores in Crockfall for lho sticks, soda and sour candy. She also delights in finding gifts for others, hunting out undamaged spray-paints for Coop and Riff, or interesting mechanical parts and wiring for Skragg.
Originally from the poorer quarters around The Skew Spire, Scratch's parents had little money for medical care, and her birth was complicated. She suffered a nerve injury to her right leg, resulting in a complete loss of sensation that led to multiple fractures and injuries as she grew. Though it does little to slow her down, pain and fatigue quickly set in if walking longer distances and Scratch is loathe to admit this, pressing through the pain for as long as she can. She learned to drive at a young age and has developed some skill, often being entrusted with the truck by Murdock on their expeditions outside of the hive.
Elara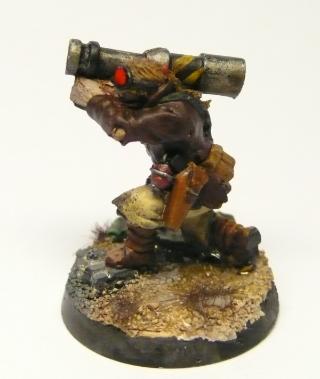 A few years older than Scratch, but willing to put up with her, Elara served as her begrudging big sister as they grew up together in Pinepoint. She looked out for Scratch, keeping her out of trouble with the local gangs and ensuring she had food and water, but mostly allowing her to find her own way. Elara taught her what she could about the world before Easthollow fell, and what to avoid in the world since. Elara has a boundless interest in seemingly everything, and her shack in Pinepoint is a treasure trove of books and holodisks – acquisitions from years of scavenging and trading. The darker side of this voracious interest is the obsessive hoarding tendencies that she has developed, building collections of seemingly useless trinkets that she will trade anything to obtain. Whilst she understands that her 'collections' often defy logic, Elara has difficulty controlling her compulsion, and has developed some kleptomaniacal tendencies, kept in check mainly by Scratch. Through badgering Farrell and some instructional data drives, Elara has taught herself basic first aid, and will happily sit watching Skragg repair equipment for hours.
THE QUADRING ACCORD
Background on the QA:
The Warden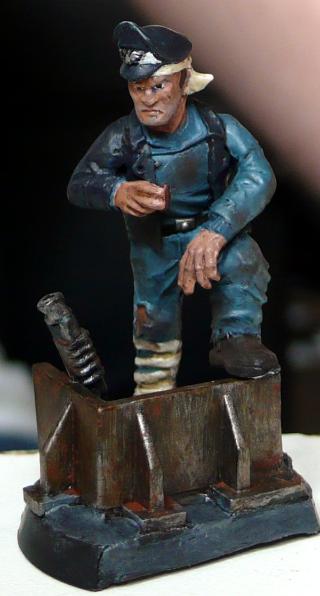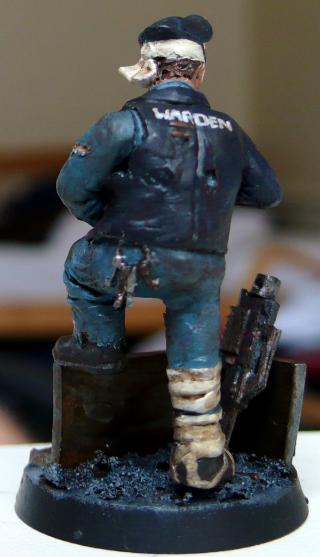 ///datatagsearch drive
C://
"Warden"
searching… #ERROR 7C##: no results found.
///datatagsearch drive
D://
"Warden"
searching… #ERROR 7C##: No results found.
Lodge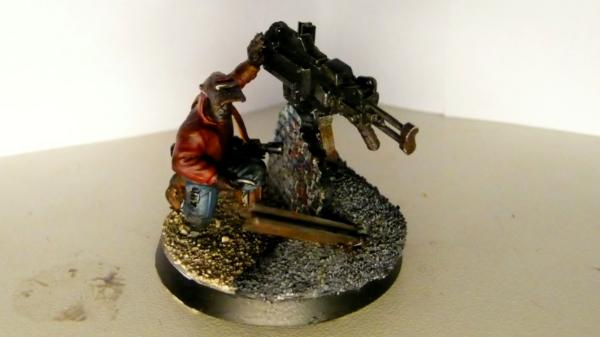 Lodge was an engineer. Course, he hadn't always been. Fought with the Desert Rats before, a 'revolutionary group' that quickly went the way of most revolutionary groups – vying with others for territory. Killed a fair few people, but not one of those bastards didn't deserve it. Among the best up close and personal, Lodge led his own squad. Tried to lead by example, show his lads how to do it in person. No patience for weakness or cowardice. He was wounded when the slave caravan he was leading was ambushed by governmental forces – cowardly bastards couldn't face them head on. His squadmates abandoned him, even as he shouted curses after them and tried to drag himself upright with the good chunk of thigh he had left. Treacherous scum left him to his fate the first time he'd ever really needed them. He learned a lesson then. Not a quick one, and not an easy conclusion to come to, but as the beatings went from hours to days he realised where he had made his mistake.
Didn't matter who he had been anyway, he was QA now. Engineering is what he did.
He had served in the penal mines near the Quadring Penitentiary for two years, far longer than most survived. Hard time. He'd seen then how engineers were valued, how vital they were to everyone in the mines. Makeshift respirators and scratch-built structural columns saved lives, and with this salvation came privilege. The engineers, or even anyone who knew a little about the trade, could work shorter shifts, get better food, and get fewer beatings. Even the guards had respect for those who made the place safer: The convicts were manual labour, and the guards little better – as many of them were killed in mine collapses as the inmates. Lodge learned the trade from Borth, another man who had served with the Rats – he traded hard-earned lho sticks and smuggled alcohol for the knowledge he would need. Lodge had learned to make himself essential. Even if that involved 'engineering' an industrial accident for Borth.
Magpie
///datatagsearch drive
C://
"Magpie"
searching… #ERROR 7C##: no results found
///datatagsearch drive
D://
"Magpie"
///searching… 2 files found. ///locating files… ///downloading… complete.
///displaying pictoral feed 1 of 1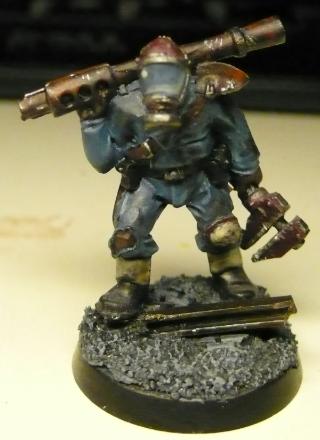 ///displaying data fragment 1 of 1
Ah, this one. Apparently known locally as 'Magpie' – doubtless due to a predilection for shiny objects belonging to others. A 'vagrant', I understand? Charged with assault, participation in a riot, and public inebriation. Oh, and I do love this defence entered here – no memory of events, "not a violent man"? Moving. You'll be right at home in the mines then. No violent men there. 30 years! Next!
A factory worker from Hollow State, Silon had tried to flee with his family to the relative safety of the Skew in the final weeks before the Evac. The PDF were closing on pockets of resistance around Easthollow, and civilian casualties and reports of atrocities had caused panic in the local populace. The refugee column they were travelling in was attacked by slavers near the border, and Silon panicked, losing track of his wife and daughter in his flight. He escaped alone, but had witnessed the brutal deaths of many of the others who had tried to run. Eventually finding his way to Crockfall, he lived there for several months, begging and stealing whenever he could to stay alive. Though he found other refugees who had made it through the mountains around Crater Lake, he never heard word of his family again. His years of living rough have made 'Magpie' a useful asset in the QA scavenger teams – he has developed a reputation for making valuable finds, though much of his share is known to be spent on liquor.
And here's the original
OP
- please don't judge by this as I like to think I've improved a bit since!

Hope you enjoy the blog.  
OP
: