(Edit; none of the fluff beneath is relevant to my current project but I've left it in if people want to read it) Inspired by the Inq28 blogs on dakka, such as PDH's, Dexterkong, Migsula and Commisar Molotov, I've decided to start my own warband.
Looking through the rule book I was immediately drawn to the space marines (I know I couldn't help it; there so shiny!). I decided to start making a chaos space marine and then think up his profile later, after I'd made him.
First of all some fluff:
<Searching for Data>
<Subject: Possible Chaos Cult in the Vorso system>
<WARNING: Encryption Level Elit>
<Please enter Identification and File password>
<USERNAME: Machaera Beatus.2>
<PASSWORD: ************>
+++CLEARANCE GRANTED+++
<Welcome, Lord Inquisitor>
<Thought for the day:
Your life is not your own; it is the Emperor's and he shall use it as he please
>
< First entry: 4398895.M40>
I am writing this file after a series of sacrifices have taken place on the main planet of the Vorso system. At first we didn't believe the killings to be sacrificial, but after seven more murders happened, I became suspicious. I believe that they are dedicated to the chaos god, whose name I shall not utter, my main reason to believe this is the way the bodies have been mutilated.
-They have been drained of blood
-They have engravings on their necks
-All are members (but low ranking) of the Eccleshiarchy
Another notable injury upon these people is that they have no feet, and their ankles show signs of a chainblade being used.
I shall continue to observe and investigate these crimes until I have found the killer.
Your obedient servant
Inquisitor Peritura
<Updated on: 4960896.M40>
After over a year of analyse and research, my ally Magos Metallurgicus Retorta, has informed me that traces of metal discovered in the wounds, turn out to belong to a chain blade from mid M31.
Your obedient servant
Inquisitor Peritura
<Updated on: 4765896.M40>
Further research has revealed the chain blade was issued to the World Eaters' (
excommunicate traitoris
) 5th Company. This now confirms my fears that there is a renegade spacemarine somewhere on this world.
Your obedient servant
Inquisitor Peritura
<Updated by different author on: 4298567.M41>
After reading this article as a mere interrogator, I've made it my life's work to find and destroy the herectic(s), who reside upon this world. Earlier this year I discovered a cave, in the North Praegrandis mountain range, on the side nearest to Hive Angor. Inside this cave there were the remains of over 600 humans, each with the same mutilation mentioned earlier.
The ever vengeful
Inquisitor Haeres Beatus
<Updated on: 4687570.M41>
In the three years since I last updated much has changed. I now seek asylum in the main ecclesiarch cathedral, just outside Hive Angor. This is because the population of the hive have been caught up in a wave of bloodlust and now are thoroughly under the grip of chaos. This may be my last update; the false believers are coming. Emperor protect my son and guide him to greatness.
Faith is my shield!
Inquisitor Haeres Beatus
<Last update: 4893570.M41>
They are here, they've slaughtered most of the priests and the rest of my retinue. Only I remain. The leader of this rebellion is a powerful chaos space marine, he is of the World Eaters and will stop at nothing to kill and sacrifice me. If anyone reads this, I beg of you: condemn this world to exterminatus, it's the only way.
Emperor protect us!
Inquisitor Haeres Beatus
<Inquisitor Haeres Beatus allegedly died on this world, but his body has never been retrieved>
<File Ends>
So without further ado some pictures of the uncomplete World Eater: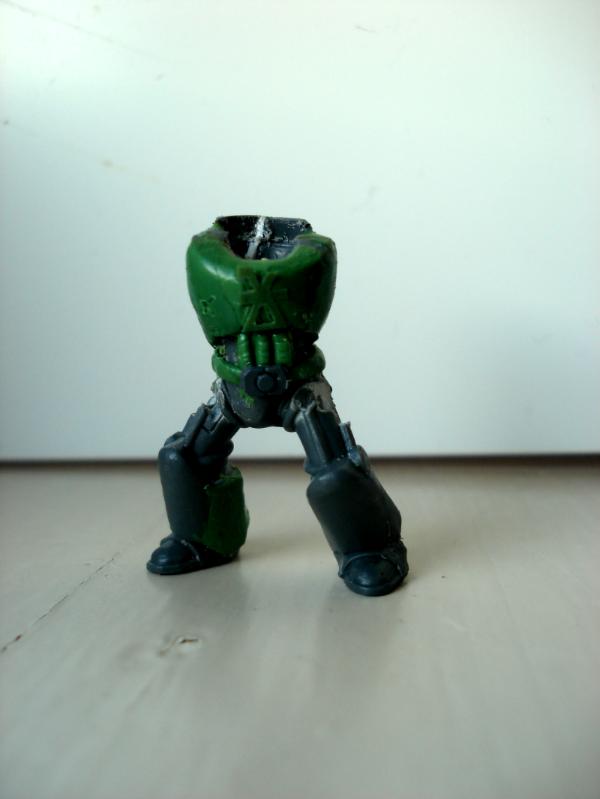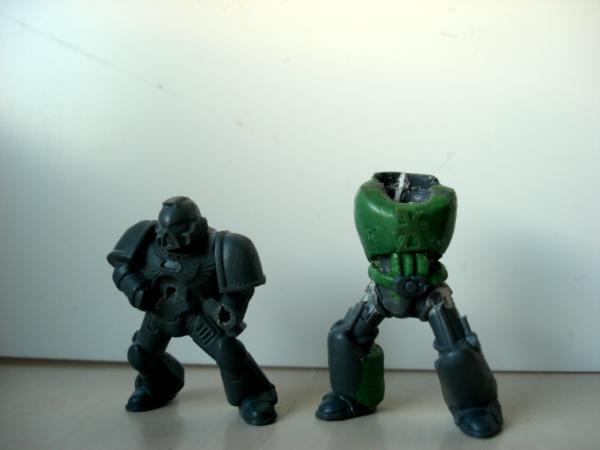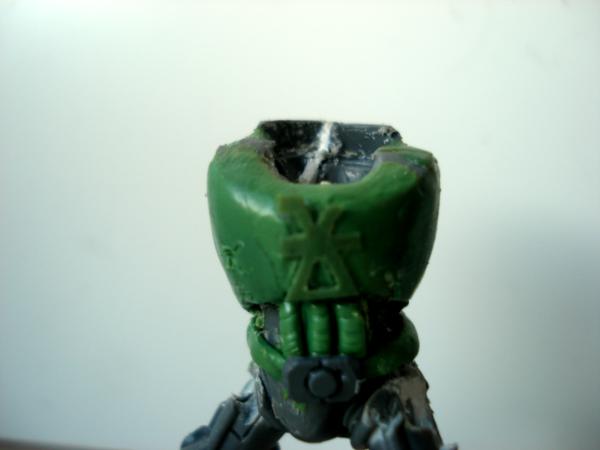 C&C would be nice!