Hi guys,
As recently wargaming mats are becoming a popular tool to pimp up our tables I decided to write a short sum up of what is available out there and to put all the valid info in one place. Basically take it as independent review/summary of recent developments in this field.
I will try to be systematic and make three basic points on each manufacturer: 1] Company overview 2] Material 3]Designs 4]Pros and Cons 5] Personal experience 6] photos
I will talk about these 4 main manufacturers:
FAT mats, Gamemat.eu, Zuzzy mats and Deep-Cut mats
At the beginning I will divide them into two groups base on core material: A]Rubber based (Gamemat.eu and FAT) and B]Others
A] Rubber based mats (F.A.T. and Gamemat.eu)
These mats have neoprene/rubber backing, which gives them durability, anti-slip effect and they always roll to flat. No dog ears! They feel the most as proper gaming mat out of our portfolio. They are roughly 2-3mm thick. Fairly heavy 3.5-4kg.
Top of mat comes in beautiful print, so they are ready to play immediately after unpacking. After game you can just roll them. Even after months of staying rolled you will be surprised when using them that they come again flat on table.
The printed surface is great as well. It feels very smooth for touch. Models move very nicely on it. Also when you roll dices they actually roll, not slide and there is no awful loud sound of dices hitting the table. They also are not glossy, so even in direct sunlight you keep the mat keeps good looking.
Gamemat.eu, (
www.gamemat.eu
)
European (Czech Republic) based company producing 4x4' and 6x4' rubber mats. They offer total number of 6 designs, which is less but in general their designs come with more originality and detail I would say (small stones, broken floors, leaves etc. are all seen pretty clear in close look). They are still growing and promising to be adding more designs soon. Ideal for
EU
and
UK
customers regarding shipment costs. Although bundle shipment to US (2 or 3 mats) comes in decent pricing as well, so it could be option for US based players as well.
Price: 65 EUR / 44 EUR for 6x4'/4x4', now runnig -10% discount on 4x4' pre-orders
Pros: Material, Designs (if you like more detailed and original), anti slip, waterproof
Cons: higher price and shipment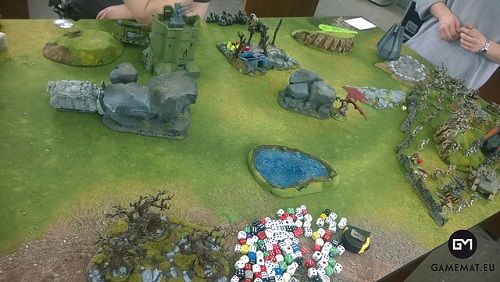 F.A.T. Gaming mats,
http://www.frontlinegaming.org/
US based company producing really impressive range of 4x4' and 6x4' rubber mats. 10+designs. Designs
IMHO
are made in more general way focusing on consistent look, with less details in mind. Ideal for US based clients as shipment gets a bit heavy to Europe. Although they are trying to work out some solutions.
Price: 85$ / 65$ for 6x4'/4x4'
Pros: Material, Designs (if you like more general terrain), anti-slip, waterproof
Cons: higher price and shipment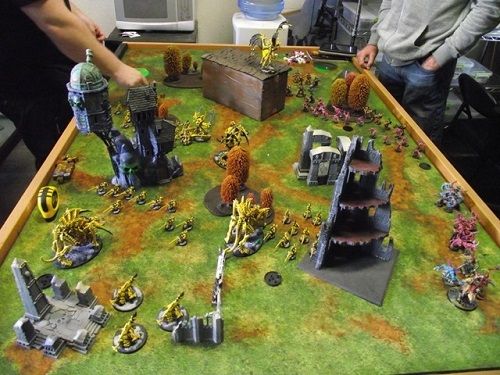 B] Other materials (Deepcut, Zuzzy)
Deep Cut (
http://www.deepcutstudio.com/
)
These mats are printed on PVC. It is kind of material photographers use for their backgrounds on photo sessions. Although looking cool on pictures in reality these feel much more just like printed poster. There is not the actual feel of proper mat as compared to rubber mats above. They are very thin. However they come in good range of designs and sizes (6x4', 4x4', 3x3' etc} which look really good and cover most game systems. Also worth adding print is rather glossy and reflects light a bit too much. Also the bottom is same material so it's a bit slippery.
Price: 39.9 GBP / 31.9 GBP/ 22.9 GBP for 6x4'/4x4'/3x3'
Pros: lower price, cheaper shipment (much lighter weight as its thin)
Cons: material, dog ears, glossy reflections, not anti slip. Appaling customer service.
Zuzzy (
http://www.zuzzy.com/
)
These mats are for those who would like to spend some more time and enjoy working and painting on their mats. They come unassembled and unpainted. Although they are only one which have some structure on them which adds to plastic feel. Final look pretty much depends on how skilled (or not) you are . Also shipment is between 6-10 weeks, so pretty long waiting time.
Price: 52$ / 38$ for 6x4'/4x4'
Pros: variability, structured, must be assembled and painted(those who like to enjoy hobby more)
Cons: must be assembled and painted (for those who would like just to roll out of box and play), shipment time