Hello all !

Hunter Contingent

Consists of:

0-1 Command

1+ Basic

1-10 Auxiliaries

0-1 Command:

- 1 Commander or Shadowsun

- 0-1 Ethereal or Aun'va or Aun'shi

- 1-2 Crisis bodyguards

1+ Basic (Hunder Cadre):

1 Commander

0-1 Fireblade

0-1 Crisis Bodyguards

3-6 Strike, Breacher or Kroot

1-3 Stealth Suits, Ghostkeels, Riptides or Crisis.

1-3 Pathfinders, Piranhas, Vespid, Drones

1-3 Broadsides, Hammerhead, Stormsurge, Sniper

1-10 Auxiliaries:

Retallion Cadre

- 1 Commander

- 3 units of Crisis

- 1 Broadside unit

- 1 Riptide unit

Rules: Relentless

+1

BS

when Deep striking

May choose to enter from reserves in turn 2 via Deep Strike. This includes Broadsides.

Heavy Retribution Cadre

- 2 Stormsurges

- 3 Ghostkeels

Rules: If target is at 12" or less from the Ghostkeel, reroll to hit. It two units of the formation, shoot at the same target, target unit cannot run or move flat out next turn, and assault distance is halved (rounded down)

Infiltration Cadre

- 3 Pathfinder units

- 2 Stealth battlesuit units

- 1 Piranha unit

Rules: If one unit of the formation is destroyed, rest of the formation enters from reserve next turn automatically.

If an enemy unit gets hit by 3 or more markerights from this formation, you get a free Seeker missile hit to this unit.

Optimised Stealth Cadre

- 1 Ghostkeel

- 2 Stealth Suit units

Rules: Ghostkeels and any Stealth Battlesuit unit in the formation at 6" of the Ghostkeel ignore cover, add +1 to

BS

and hit vehicles in the rear

Firebase Support Cadre

- 2 units of battlesuits

- 1 unit Riptides

Note that they do not have to be max size like before

Rules: They formation can combine their shooting attacks and shoot as a single unit. When doing so, they get Tank and monster hunter SR.

Armored Interdiction Cadre

- 3 Units of Hammerheads

- 1 Unit of Sky Rays

Rules: Choose a point in the battlefield. When shooting to a unit at 6" or less from this point, reroll to hit.

Air Support Cadre

- 1 Sun Shark Bomber

- 1 Razorshark Strike Fighter

Rules: Ignore shaken and stunned with 2+.

Beginning of the turn, roll a

D6

for each lost hull point. If you roll a 6, recover 1

HP

.

Allied Advanced Cadre

- 4 units of Kroot

- 2 units of Vespids

Rules: Vespids get Infiltration and Stealth (Forests)

Kroot at 12" from Vespid units, get Obscured (Forests) instead of Stealth (Forests), and get +1

BS

They all get supporting fire with other units of the formation.

Rules for Hunter Cadre:

- Supporting Fire at 12"

- Can run and the shoot. In this order.

Rules for Hunter Contingent:

- Reroll Warlord trait

- Units can combine their shooting attacks, and shoot as if they were a single unit. So they can get benefit from special rules and the same markerlight, for example. This is really, really powerful.

Other Changes:

- Fire Team SR - +1

BS

when 3 or more models in the same unit fire at the same target (or is it maximum squad size?)

- Sky Rays/Hammerheads can now be taken in Squadrons of 1-3

- Riptides can be taken in units of 1-3

- Destroyer Missiles count as Strength D with the expenditure of a Markerlight

Summary

'Fire Team' Special Rule: Unit gains +1BS if unit size is 3 models during Shooting Phase. Applies only to Riptides, Ghostkeels, Hammerheads, and Skyrays.

Signature Systems: Appear to be the same as before.

Experimental Weapons: No longer a thing, Cyclic Ion Blaster and Air-Frag Launcher now standard weapons

Crisis Bodyguards: Now an Elites choice (?)

Crisis Team: Gain 'Fire Team' Special Rule

Stealth Team: Still an Elites choice, no apparent changes.

Kroot Carnivore Squad: No apparent changes.

Hammerhead Gunship: Available in Squadrons of 1-3, gain 'Fire Team' Special Rule

Skyray Gunship: Available in Squadrons of 1-3, gain 'Fire Team' Special Rule

Crisis Battlesuit Commander: Coldstar Battlesuit loses access to Signature Systems, can take two Support Systems in addition to fixed wargear.

Riptide: Now available in Squadrons (Teams?) of 1-3, gain 'Fire Team' Special Rule. Nova Reactor works as before, each Riptide in the unit rolls separately and may choose different effects if they want.

Broadside Team: Gain the 'Fire Team' Special Rule, Heavy Rail Rifle remains the same.

Stormsurge: 1 Markerlight token upgrades 1 Destroyer Missile from S8 to

SD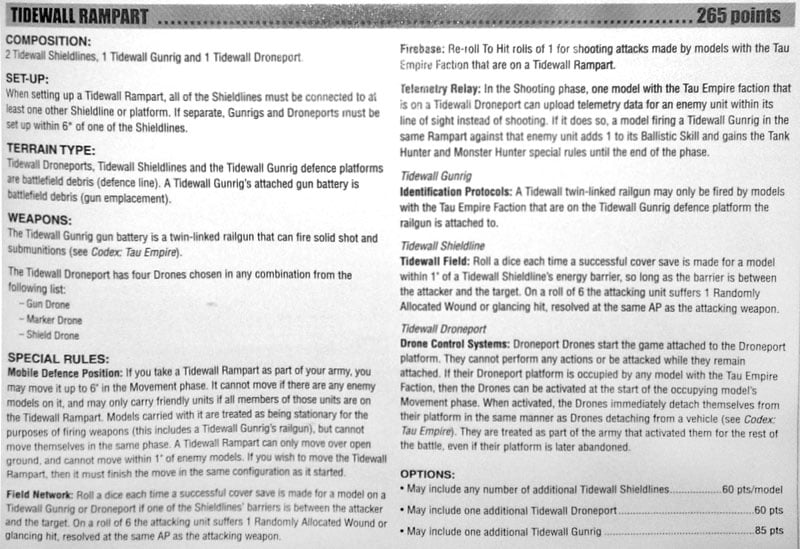 Wulfson_40K wrote:

Hi and pleased to join you during these Tau releases.

Following info was posted on Warseer by

Archibald_TK

. So before one of the mods there goes berserk and burns everything because there are points displayed I'm copying it in a safe place, namely here:

- Commander (apparently with a drone) - 40€, 30£, 50$

- Crisis Battelsuits (3 suits + 6 drones) - 60€, 45£, 75$

- Drones (2 drones) - 9€, 7.7£, 12$

- Warzone Damocles: Kauyon (campaign book) - 60€, 45£, 74$

- Codex Tau (128p) - 39€, 30£, 49.5$

- Tau cards, Raven Guard! cards, also White Scars cards!! for some reason - each 10.5€, 8£, 13.5$

- Commander is 85pts base. Coldstar has no particular rules compared to a Crisis so no +1T sorry. The high yield canon is crap (or should I say crap for that model), 18" S5 AP5 Assault6

TL

.

- Crisis suits kit contain 4 of each weapon (except only 3 missiles). Iridium armor is still in the Codex, you can build one of such suits per kit (it the red one we saw in the pictures).

- Kauyon's pictures show two formations: the awesome Shadowstrike Kill Team (2-4 Scouts + 1-5 Vanguards, you chose to fail or succeed reserve rolls for the Vanguards, they don't scatter within 9" of the scouts, they can charge the turn they

DS

) and Pinion Battle Demi-Company (like a demi company but with scouts that help reserves by accompanying other units to allow them to do a flank attack and can give ignore cover to an unit with 9")

- Codex pictures show 80pts Devilfish and 44pts Pathfinders (minimum unit size of 4)

He's not a rumour guy but a

WD

guy, acceptable accuracy I'd say. But it's hard to mess up when you're reading a book in front of you I suppose :p
Atia wrote:

http://war-of-sigmar.herokuapp.com/bloggings/207

is my blog blocked too?^^
Howdy Guys and Girls

Tau are back in October, with new Firewarriors, Riptide variants and the XV95 suit!

October 10 is the release date of:

- XV95 Ghostkeel (stealth suit)

- XV128 Stormsurge (missile suit)

thanks @

https://twitter.com/TheRedSorcerer/status/643841344021135360/photo/1

regards,

Lady Atia
From Lords of Wargaming:
PENDING Tau Rumors
- June 2015
Here are some parting truths about Tau:
They will have a new Fire Warrior box. Two types of units can be made.
New Crisis Suits
More commander suits
New Riptide sized Suit that has large missiles
Looks like a Tau Aegis Defense line with circular weapon platforms.
Don't know about the rules, so don't ask.
From Warhound on ATT:
PENDING Tau Rumors
- June 2015
EDIT#
Sorry dude... I mixed my wires/ threads up...
Basically Blake Spence and Daren Parrwood are the ringleaders of the Tau sculptors for
FW
....
Last year i managed to bend the ears of them both and Alan Bligh (rules writer and fluff meister) about the next evolution... They basically believe that their commonly held strategies ( Mont'ka and Kauyon) are not the only ones to exist/ explore... They wish to shift our paradigm...
The Devilfish chassis they believe to be lacking ( hence the
TL
turrets being pulled) and so are considering a few concepts of which i was excited to hear...
ALSO and bigger news is that they believe the XV-109 to be only the first of a wave of evolution....
Behold! The Tau Knight class titan!:-D
The XV-109 is the half way house to meeting the threat of the knights ( hence generally needing 2 to take 1 knight down)... We are getting bigger toys!
After the sporadic chats we have had, i am looking to a more SWAT/
SAS
Element to them... Rapid drop insertion with some techy punch... And with a possible
GW
twin purpose box set coming, would tie in nicely...
Hope this explains more...?
Cheers
Warhound
PENDING Tau Rumors
- July 2015
So.. lots of talk... but here is the down low...
I managed to bend Mr.Hayes (Will- the designer) ear for the 1st 45 mins of the event, and as always he was kind enough to go through some of their design thought processes as well as the rational behind the "Supremacy" Suit...
As mentioned before.. Alan Bligh, alongside Daren Parrwood and Blake Spence are all keen to develope the Tau War Paradigm beyond that of just the Kauyon and Mont'au strategies... this is leading to not just this suit, but also a likely Superheavy Skimmer/ Tank that is a more suitable heavy platform, but on a scale for the long lost Orca.
*We can expect a new
IA
book in the first (hopeful) part of next year, which will make our suits non-experimental rules also!
The KX is the Tau's answer to the increasing number of Gargantuan Creature and Knight/ titans that they are encountering across their borders.
The rational is that the likes of the Tigershark, whilst dominating the skies, do not have the capability to take these foe down, due to 'time on target'... they needed something that could go toe to toe with a knight and win.
The success of the Y'varha and R'varnha units has given them the proof and belief in their own ability to develop their strength in the mobile suit arena and therefore decided to bring this to the fore.
In regards to rules- There are none written as yet... however I can confirm this...
The tracked mounting on the back does indeed house 3 "Rail" type weapons.. all independantly poseable. The current thinking is that while it is a Rail weapon for all intents and purposes, it will have a multi role purpose:
D- shot: had to happen.. they need something to take the knights down.
Armour spiltter: Multi shot mode which is designed to rip SP/
HP
's off their target.
Bombardment style: allowing the KX to literally carpet bomb from afar
The brace of triple Ion-cannons on each arm, they are unsure of whether it will be x3 shots or perhaps rapid fire...
This WILL be a Super Heavy walker. It is commanded by 3 crewmen (note the 3 vision slits on the chest). As such it will be able to fire ALL its weapons, and at seperate targets.
Special abilities: it will be able to Snap fire/ overwatch unlike other super heavies, due to a pumped up CDS system.
No flight- but as it is a SHW, will have 12" move as standard.
No NOVA: as Alan described, due to the size of it, their would be adequate shielding to in essence, "be constantly on Nova"... therefore keeping the rules set simpler.
In addition to the current load out, Will is already working on a brace of triple barrelled Fusion style weapons and also some ideas to replace the back mounted Rail weapons.... Missile racks, comms pods etc.......
One final note is that Mark Bedford is keen to work on an official Earthcaste Pilot model.. I suggested that he does it as the "event only" model, which he seemed to like (and would mean it would be more likely to get released).... there were 2 pages of sketches which were similar to the Longstrike style suit, but cooler helmets;-)
I think that covers all....
As I say, they have not even started the rules writing yet, and so other sites reporting scuttlebutt of Gargantuan creatures stats and specific rules are making it up..... the above was described by all 3 designers and the rules designer himself.
oh- and it is complete, and off to the mould makers, so I would imagine we will see this in the next 2-3 months (not got a release slot yet)... price will be some where in the region of £225 as it is between the size of a knight and a Warhound titan...
cheers all!
Warhound
ps
: sorry I missed you Bitterman!
Vector Strike wrote:

New stuff for us, guys!

http://imgur.com/a/gXO2q

An ENORMOUS battlesuit!