genom.cor wrote:

Oh yeah! I like that color scheme alot. I can see these guys dinembarking from a valk just like your pic
Hello again
genom.cor
and thank you for the compliment! I have to admit that the creative minds behind Hollywood movies give me inspiration.
For example, the science fiction movie "Edge Of Tomorrow" featuring Tom Cruise and Emily Blunt were instrumental to providing inspiration for my Mark 2 Storm Troopers: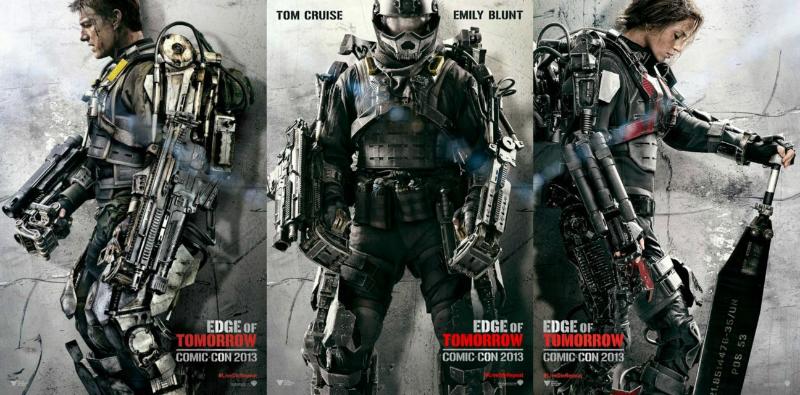 Particularly the scene at the beginning of the movie when Rita Vraranski walks in with her elite unit ...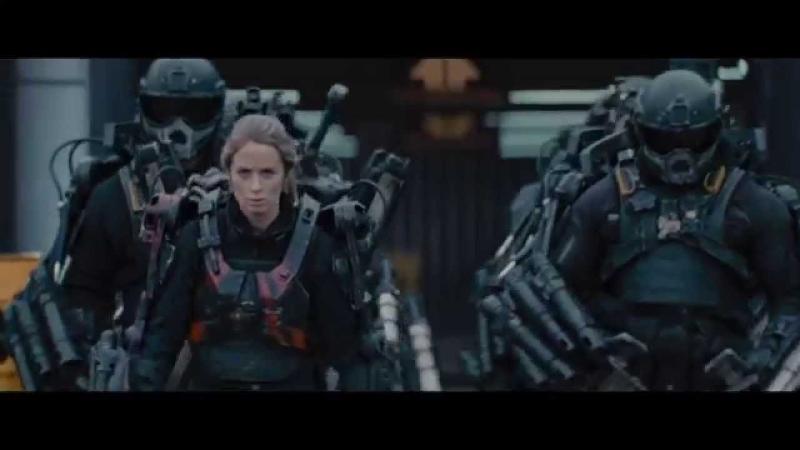 Excommunicatus wrote:

Nice. Do they get a ride?

They deserve a VTOL,

IMO

.
Howdy again, good to see you and great question
Excommunicatus
!
Still a long ways to go, but I did come across the Datasheet for
Storm Trooper Strike Force
which was released by Games Workshop :
http://www.brueckenkopf-online.com/2009/warhammer-40000-neue-datenblatter-fur-apokalypse-2/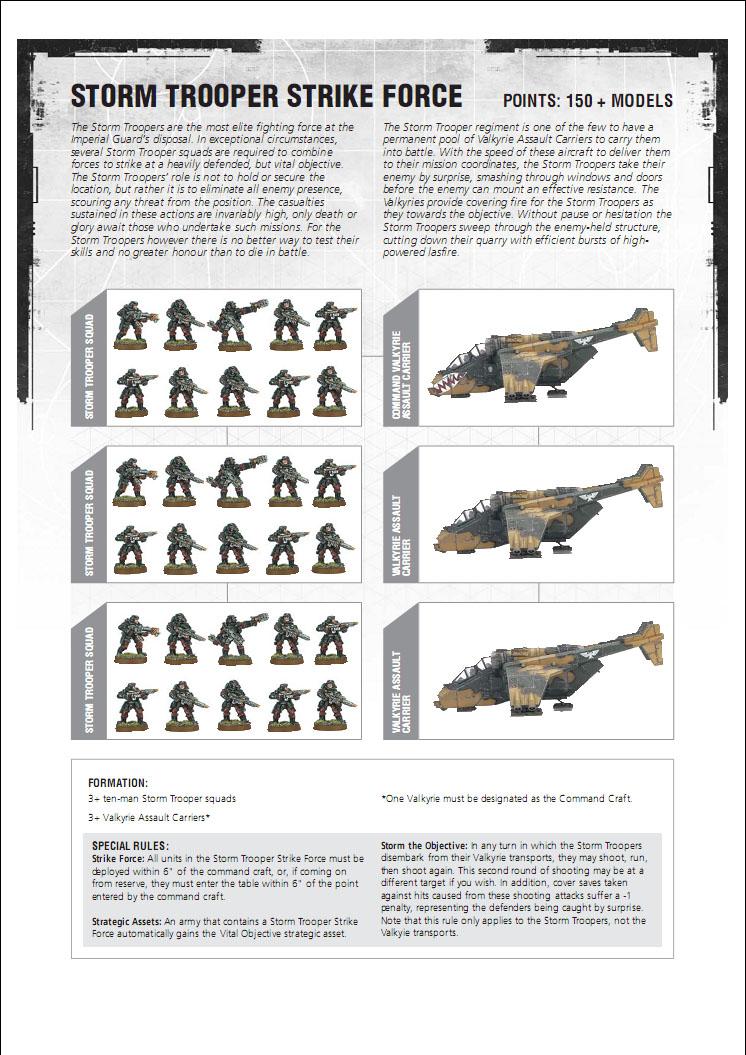 While i do have a Flyer Detachment, out of the total of four Flyers there are only two with Transport capabilities; a Vendetta and a Valkyrie.
I do have a second Valkyrie, however it is still in the box and un-built, along with a new, un-used resin Vendetta Conversion Kit.
I am planning to build this as a magnetized Valkyrie so that it has the option to upgrade to a Vendetta, resulting in three Flyers with Transport ability;
a Vendetta gunship with glued-on upgrades, a magnetized Valkyrie with Vendetta upgrade option, and a Valkyrie.
As i was reading the
Tempestus Scions
Codex, i came across two Formations in which the Scions can use Transports; Flyers or Taurox Prime APC's.
I decided to go with the Taurox Prime formation for several reasons; although the idea of an army that could deploy by air was thrilling,
the reality of price and transportation were the two key factors. While we all know that Games Workshop plastic kits are not cheap, the Valkyrie assault carrier
retails at
CAD
$ 80, coupled with the need for custom transportation to get Flyer models such as
KR Multicase
and
BattleFoam
makes it daunting.
As the Vendetta had fixed, glued-on wings I purchased one KR Multicase cardboard case and custom-cut foam for an Imperial Guard Flyer with Fixed Wings :
https://www.krmulticase.com/product/trays/IG10
IG10

Description:
1 Valkyrie or Vendetta or Vulture, Flight stand, 4 Chimera/Leman Russ and 20 troops (20 troops fit in insert tray which sits above the Valkyrie)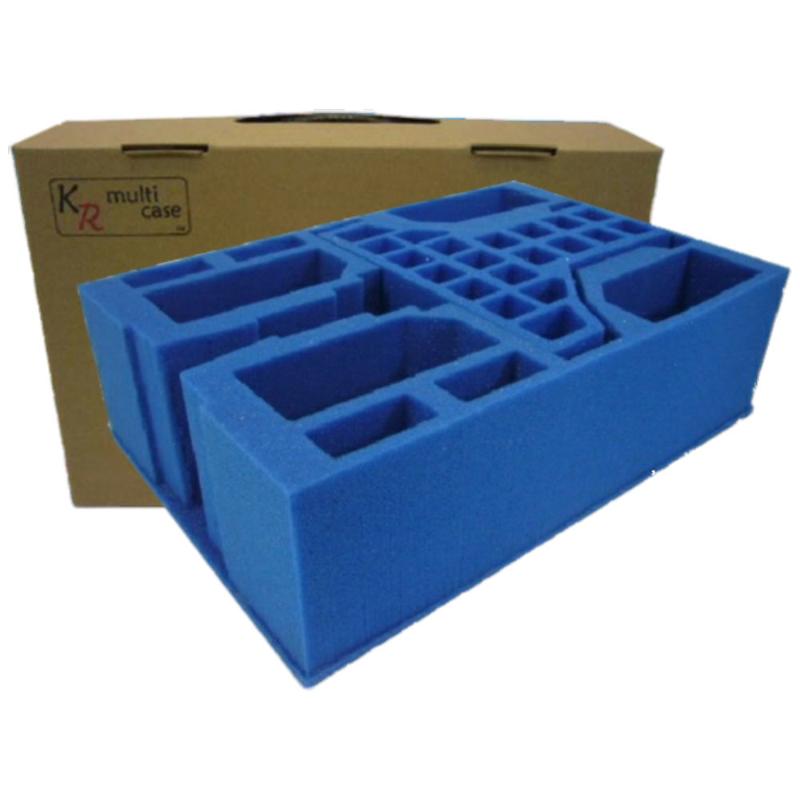 BattleFoam had a sale during the summer, so I took a chance on their product and ordered the
2 Valkyrie Foam Tray :
https://us.battlefoam.com/
ig
-2-valkyrie-foam-tray-ig07bfl-4/
(Astra Militarum) 2 Valkyrie Foam Tray (BFL-4)

Description:
This tray can hold two Valkyries, two sets of detachable wings and multiple weapons.
Custom text is not available on this product.
4 inch (102
mm
) thick tray.
Tray Dimensions - 15.5W x 12L x 4.25H" (394W x 305L x 107H
mm
)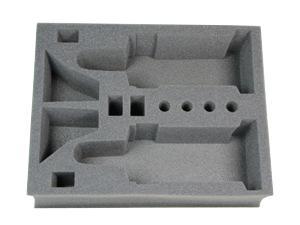 With these two Foam Cases, i would be able to carry three ( 3 ) Flyers comfortably and carefully; however, I still have two Vulture gunships to pack for play.
I'm thinking of using " pick and pluck " style foam as the wings are removable but held in friction-fit, allowing for the fuselages to be packed in a smaller container hopefully.
MacPhail wrote:

Great work on both the collecting and the painting! I used Kasrkin as the core of my Scions as well, I love those models. Are you planning to do transports as well?
Hello and greetings

MacPhail

, thank you so much for coming in to check out this P&M Blog about the beloved Imperial Guard Storm Troopers!

I came across a Formation called the "

Militarum Tempestus Hellrain Brigade"

, which uses 1 Commissar, 1 Command Squad, 1 unit of Scions, and a Taurox Prime.

Here is a Post in dakkadakka.com

40K

Tactics

about "How best to field the new Guard Tempestus Hellrain Brigade Formation":

https://www.dakkadakka.com/dakkaforum/posts/list/694029.page
MILITARUM TEMPESTUS HELLRAIN BRIGADE!

FORMATION
1 Commissar,
1 Militarum Tempestus Command Squad,
1 Unit of Militarum Tempestus Scions,
1 Taurox Prime

Special Rule: Hellrain Reinforcements
Each time a unit in this formation is completely destroyed, you can... if the commissar is still alive, immediately place a new unit into ongoing reserves that is identical to the unit that was destroyed (this includes size, weapons and upgrades. These reserve units arrive via deep strike.
This is basically the components from the Games Workshop boxed set " Start Collecting! Militarum Tempestus " :
https://www.games-workshop.com/en-

CA

/start-collecting-militarum-tempestus-2017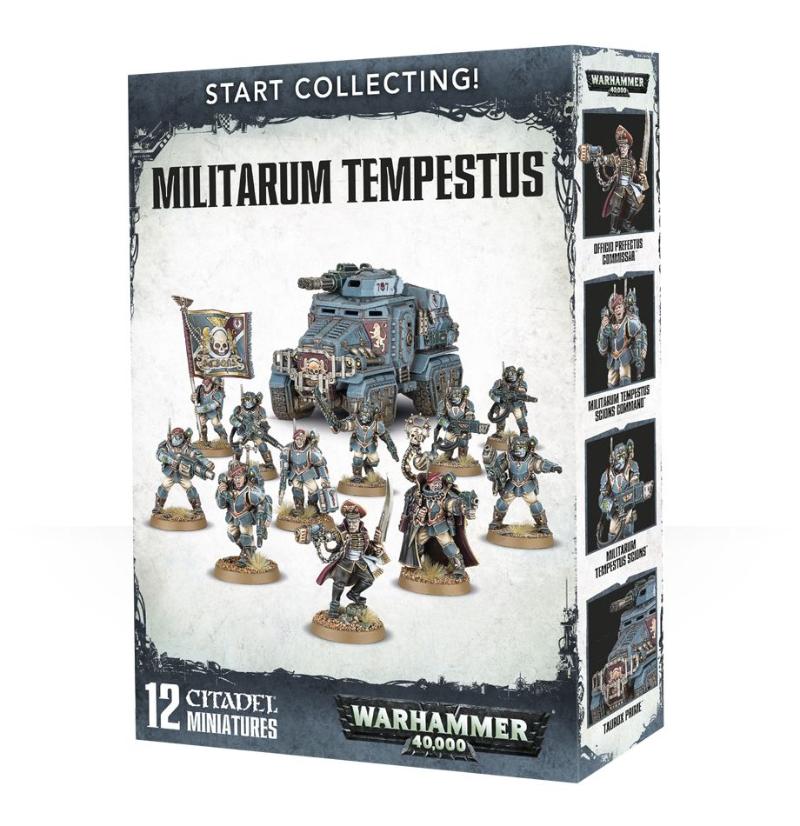 So, i decided on transporting my Storm Troopers in ... metal bawkses.
But i wanted to build custom Taurox Prime in the same theme as my Steel Legion army:
https://www.dakkadakka.com/dakkaforum/posts/list/756076.page
The concept / fluff for my Steel Legion army was the French Foreign Legion, or FFL, or Légion étrangère during the French Indochina War during the 1950's.
The FFL used the concept of a " Groupe Mobile " or " G.M. " that they employed the discipline of Combined Arms; infantry, armour, and heavy weapons worked in a single unit.
However, during conflicts for colonial Vietnam culminating in the battle of Dien Bien Phu, the FFL special forces and paratroopers were severely depleted; as a result,
I have modeled my Steel Legion army to have " beret " style Storm Troopers in the Command Squads while the newer Mark 2 Storm Trooper armour came in as reinforcements.
The older Mark 1 " beret " Storm Troopers represent the Savlar regiment that was mauled attempting to escape Hive Infernus, with Hive Gangers in the Command Squad as indigenous support.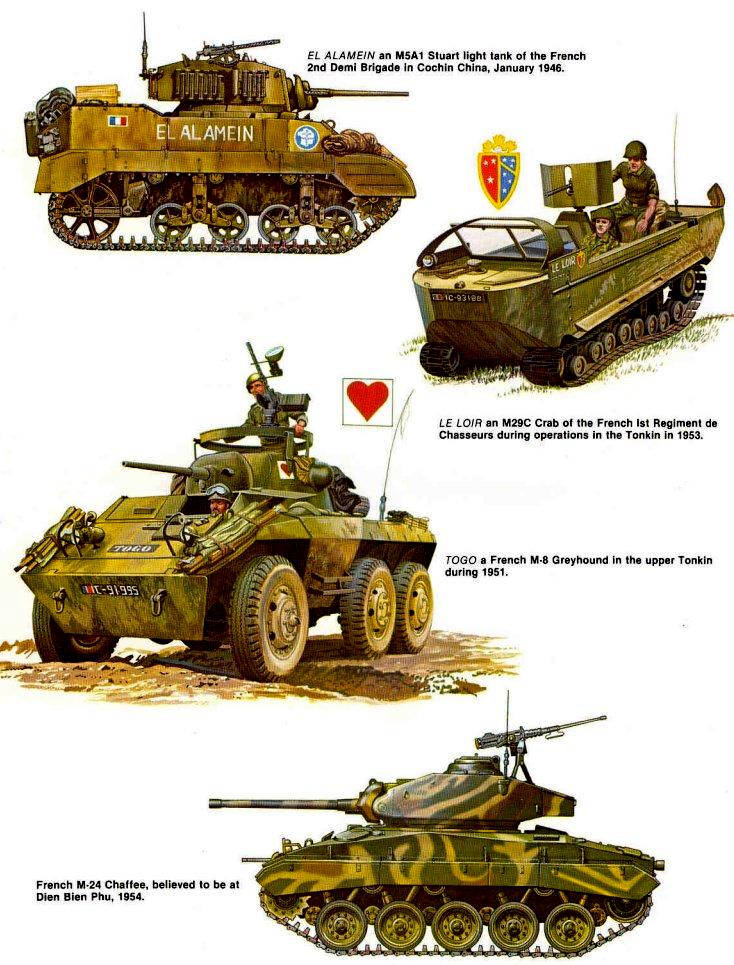 The vehicles for the Storm Troopers would be based on the
M8 Greyhound
armoured personnel carrier :
https://en.wikipedia.org/wiki/M8_Greyhound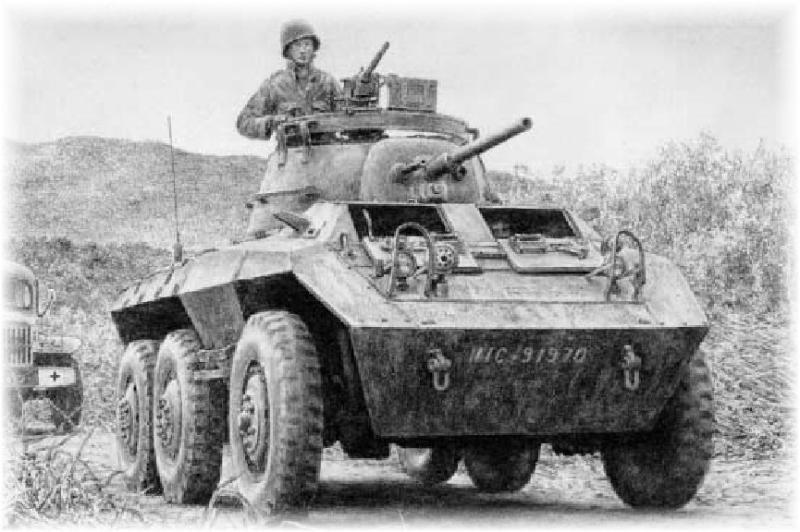 Here is an M8 Greyhound armoured column of the French Foreign Legion during the Indochina War; you can clearly see additional Track Guards :