BIG update!!!
Went to Genghis Con XXXIII in Denver, Colorado this weekend. Hooked up with a lot of friends from my local gaming club and met many new people and had a GREAT time! This was my first Con ever, and I wanted to maximize my vacation time and try as many events as I could.
So, I entered into some Malifaux intro games, a Rogue Trader
40k
Tournament and a painting competition, as well as two painting classes. Overall it was a fairly decent sized convention, with lots of
RPGs
, wargames, board games etc being played at all times of day.
I was especially surprised at how popular flames of war and all these historical combat games were, people just couldn't seem to get enough of them and were playing them everywhere at all times of day throughout the weekend.
Friday was Malifaux and entering my submissions into the painting competition. This was only my third game of Malifaux, and I'm still trying to grasp the rules, as this game is actually quite complex especially with the endless myriad of characters and their special abilities. It's not easy to figure out what powers work best or when to use them. The game was played only with the boxed sets and 25 soul stones, with beautifully painted crews provided by the host, but I brought my own Perdita crew.
My opponent was about at my experience level and he ran the Viktorias, and I ran my Perdita crew. And while I did manage to whittle him down to 2 heroes at the end of the game, it was a draw due to the objectives and how the game is scored. Malifaux is a difficult game to win I'm finding, as I have only ever drawn or lost. But it was fun and the scenery was quite nice and it was a very friendly atmosphere.
This is the board I played on, kind of a sewer?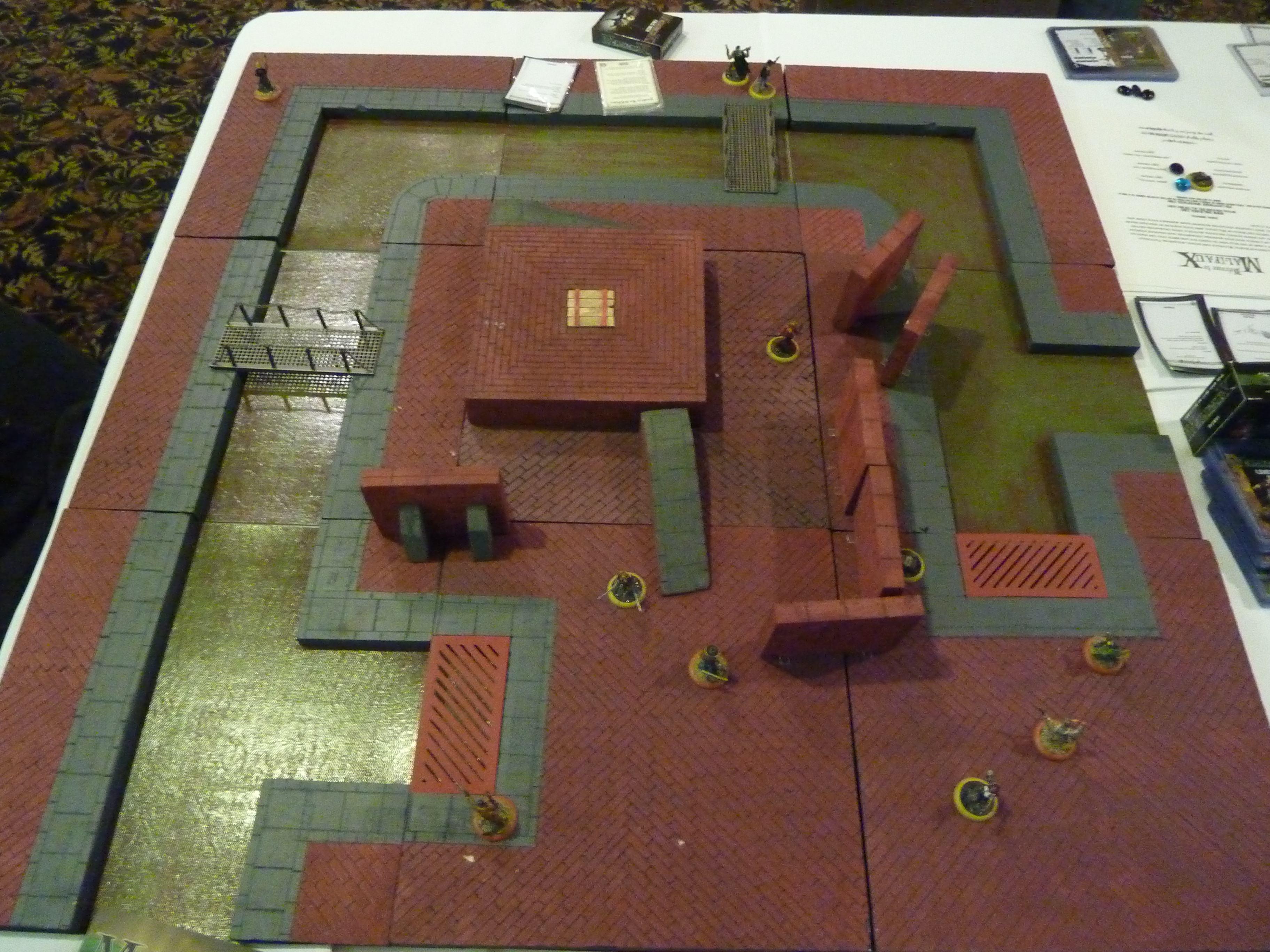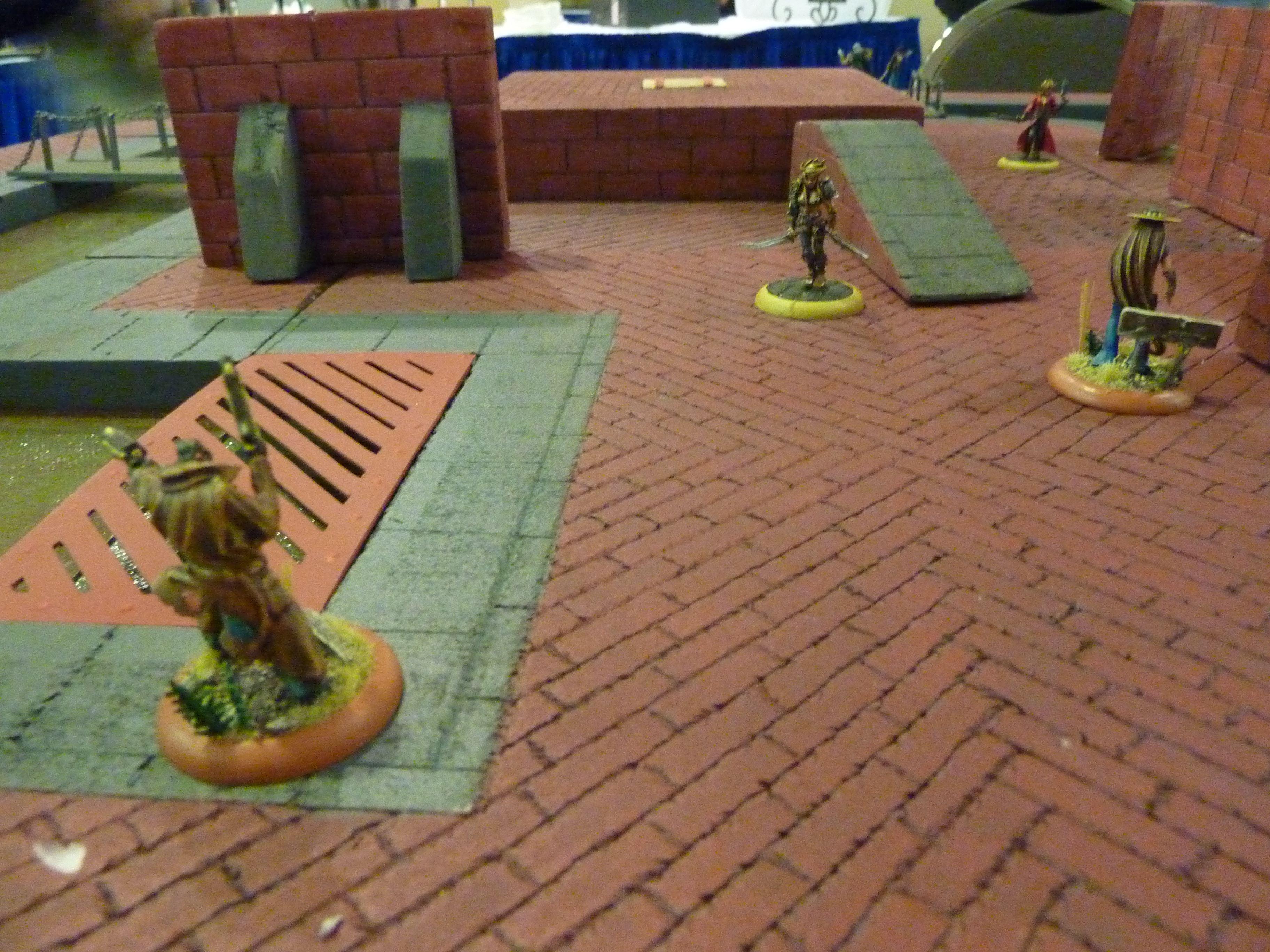 And this is the very cool western town board, all scenery made by my friend from my
FLGS
: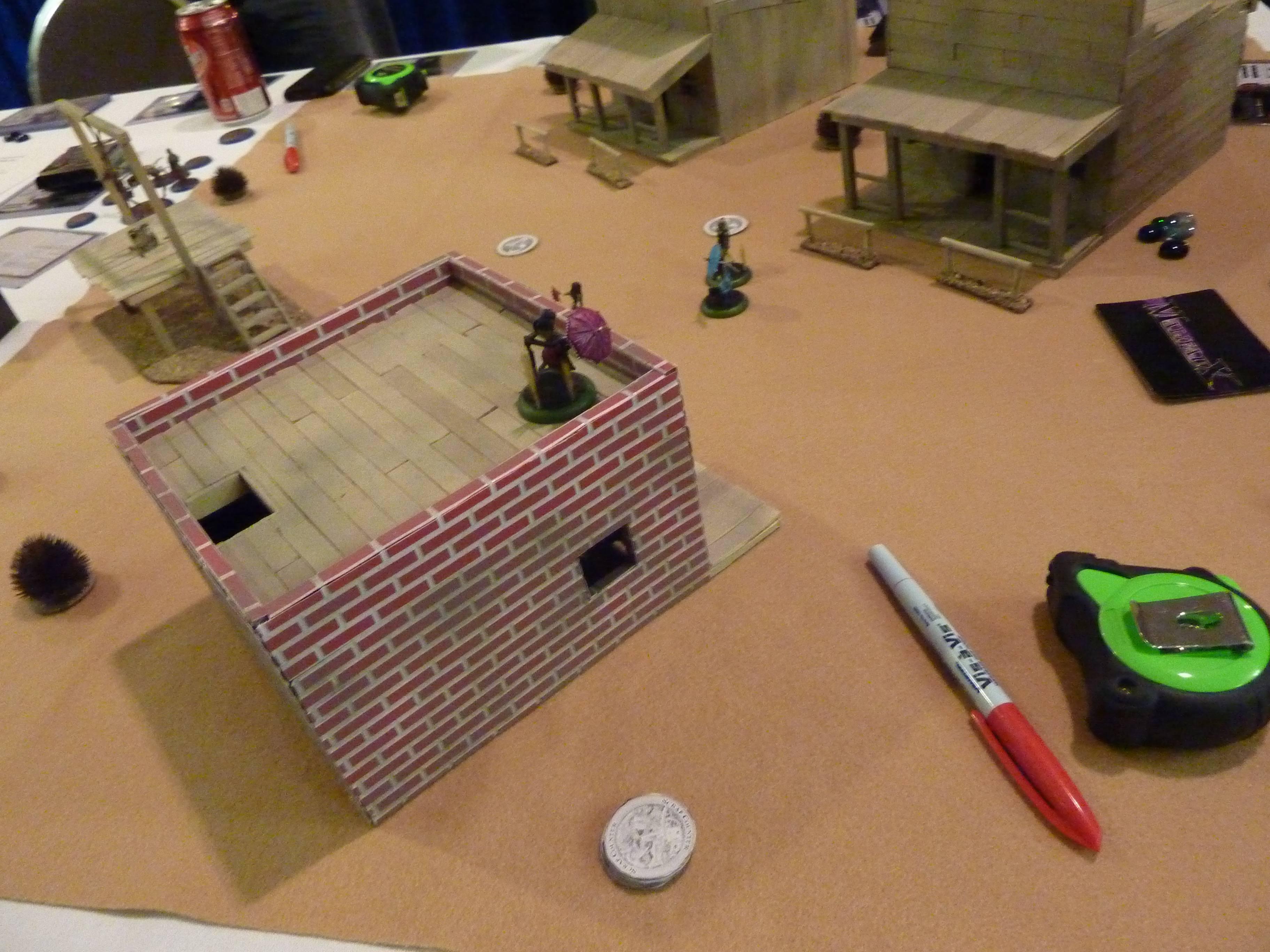 Late friday night I played Deathwatch
RPG
for the first time and had an absolute blast~! What a cool game, finally getting to play space marines in an
RPG
. I had a great time slaughtering traitor marines with my storm bolter.
Saturday was 3 games of
40k
at 2000 pts from 9am to 6pm! God, I'll never do this again.



Not only was it physically and mentally exhausting, but also demoralizing. This was my very painful intro to the competitive circuit of
40k
, and I found it left a bad taste in my mouth.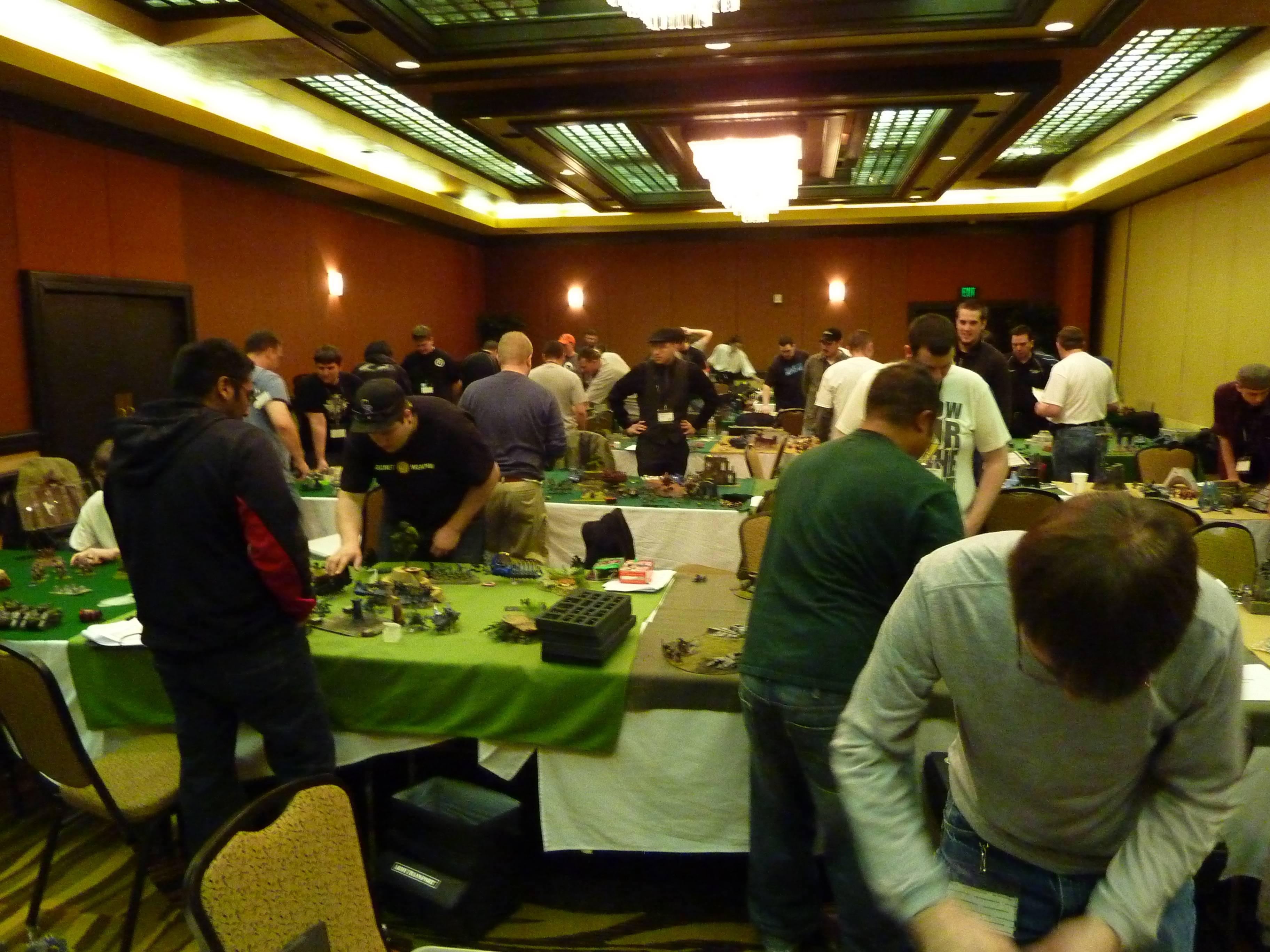 After spending a year resurrecting my army from crap in boxes, lovingly repainting all of it and making it legal, I've come to the conclusion that it totally sucks. I've only ever won 1 game. Everything else has been draws or hard losses.
Now, entering into a tourney I didn't expect to win. In fact I expected the result I got, which was 3 losses. I'm not a competitive player. I mainly went for the experience, to have fun and socialize with other
40k
nerds. Fair enough.
But, the insane hardcore level of competition and rules lawyering was very un-fun. And this was also a day of firsts for me, first time facing new necrons, first time facing blood angels and first time vs demons.
My first game was vs Necrons played by an extremely kind gentleman from my
FLGS
, and he was the highlight of the day for sure due to his upbeat and happy demeanor.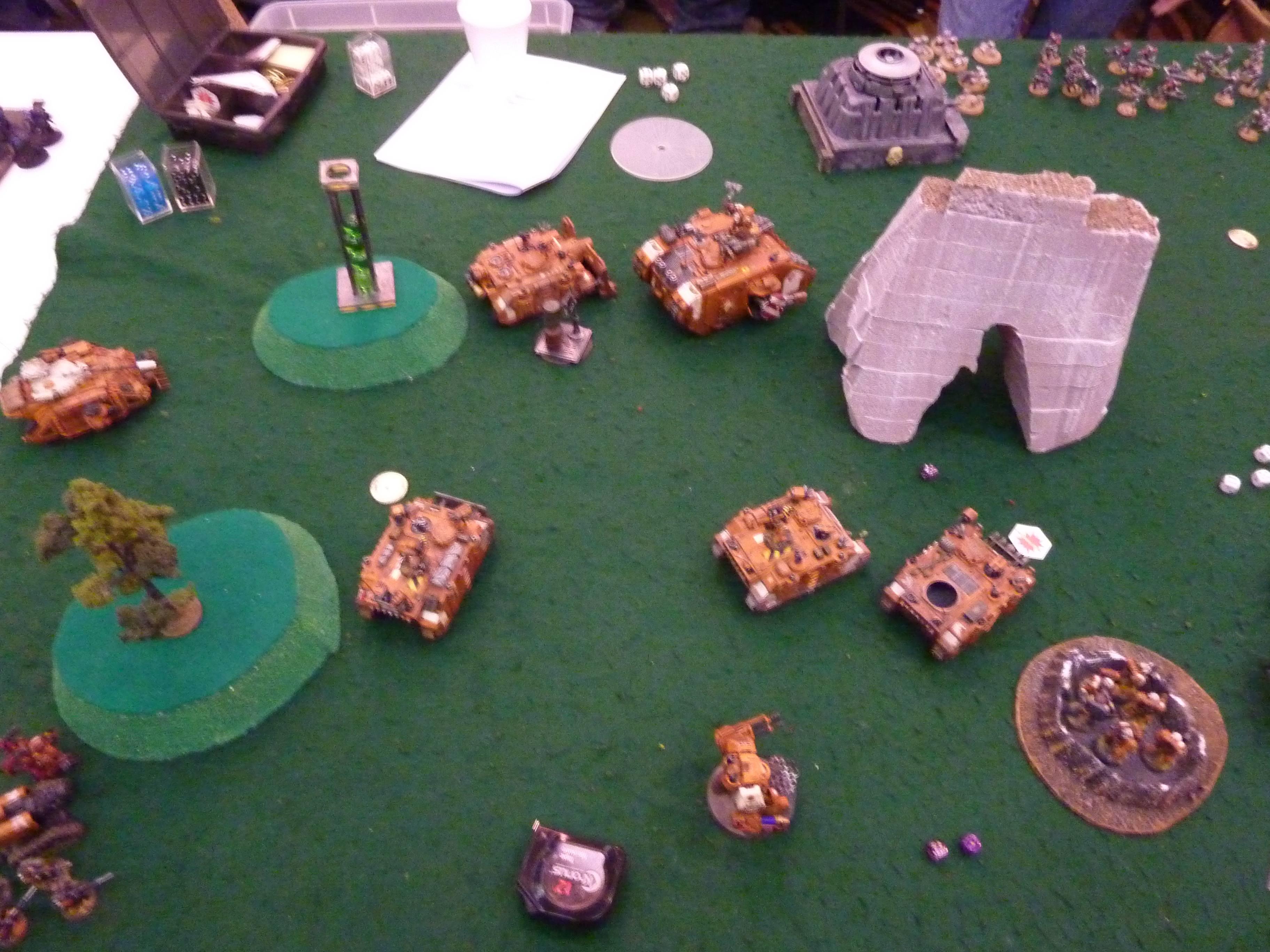 This game was a loss for me, but not a huge loss. I managed to slag an entire unit of destroyers and 1/3 of another with my Thunderfail (!) cannon, as well as general havoc with the rest of my army. But what lost me the game was neglecting the scarab swarms, which easily took out my tanks. I really didn't understand how this army works, and also him casting darkness twice messed up my long range shooting.
Second game was vs this drop pod army of blood angels: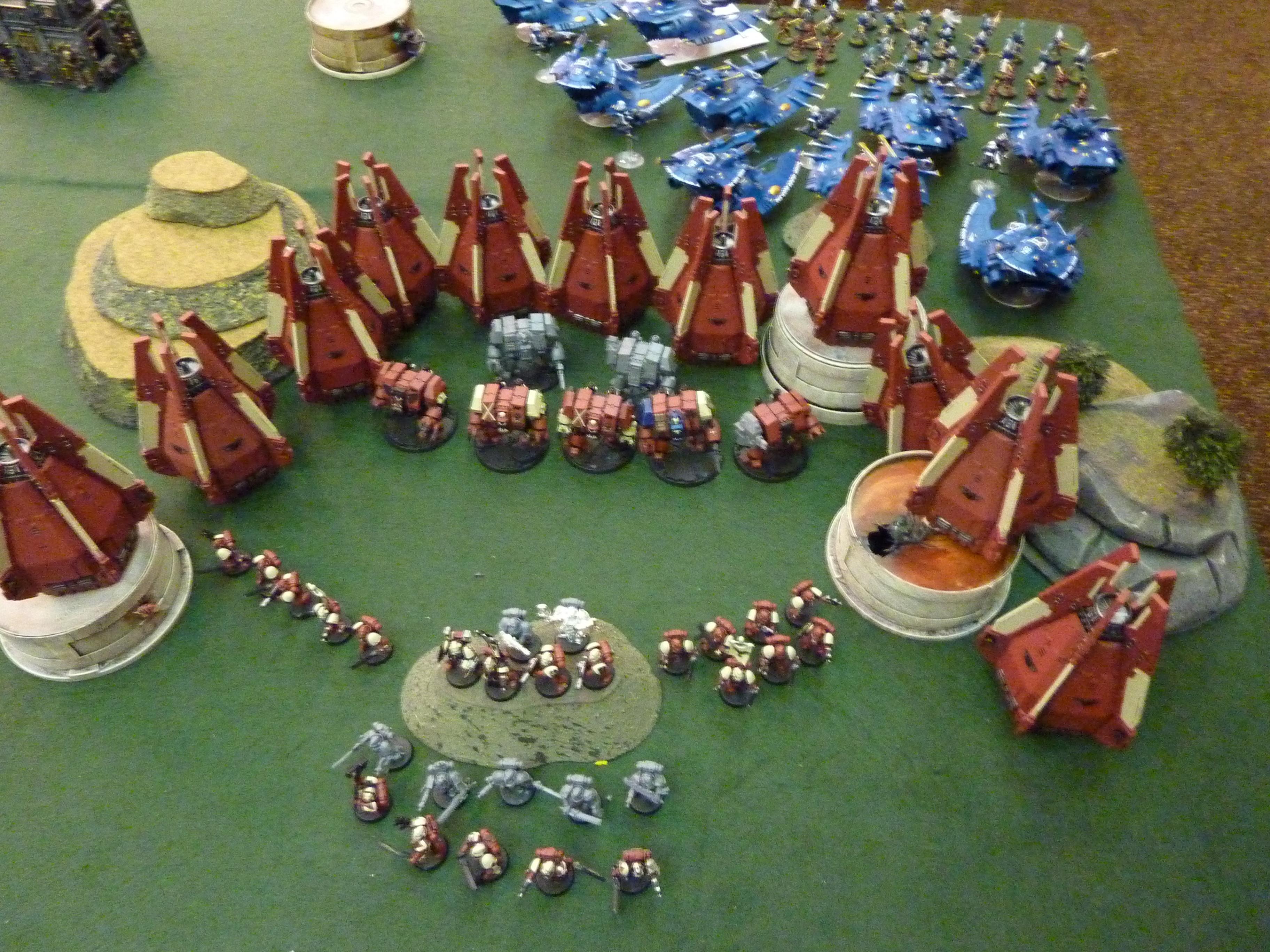 And I have to say, I HATE BLOOD ANGELS! What a ridiculously powerful army. 11 drop pods, 6 dreadnoughts including librarian dreads, death company etc etc. Yes, it's legal within the game. But, man this is some cheap crap.
And not having faced them before, I had no idea what to expect.
This wasn't so much a game as me just sitting there listening to a guy explain all the ways he was going to kill me, and succeeding due to awesome dice rolling and my poor dice rolling, and being able to do absolutely nothing to stop it. It was over in 50 minutes. Total tabling for me.
I ended up surrendering when all I had left was my predator. You reach a certain point in games that go badly where you just don't give a damn anymore and are completely disengaged. In this game all I did was incinerate a death company assault squad with my land raider redeemer and the rest was total devastation for me. Big ouch. And to a crappily/unpainted painted army, no less. This guy was also not very friendly nor fun to game against, although he kept apologizing and I think he felt bad for beating me so badly,
lol
.
Final game was vs. demons, and the player was about at my skill level and had very enthusiastically painted his army and was a fun guy to game with. We definitely had a friendly game, but due to both of us being inexperienced we were unable to complete the game in the 2hr 15m limit due to rules checks etc etc and only made it to turn 4.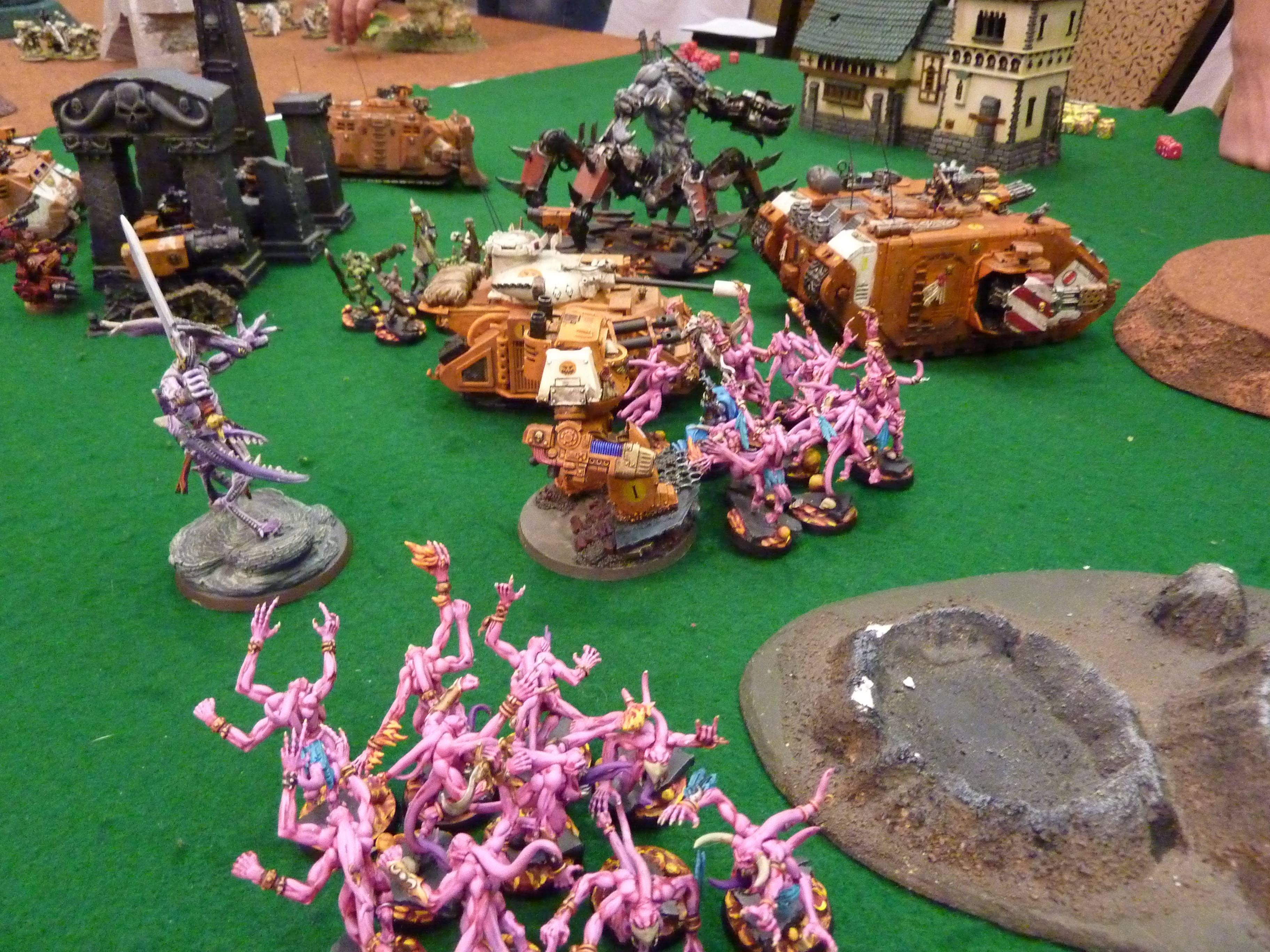 This game went fairly well for me in terms of
KPs
, as I slayed 2 demon princes, a soul grinder, and several complete squads. The stars of this game were my Techmarine, who after losing his thunderfire cannon killed about 3 plaguebearers with his ranged weaponry and finished them off in close combat after they assaulted him (
WTF
!?! That never happens!!) and my land raider redeemer, which mercilessly incinerated demons, as well as my sternguard which also scored some good kills with their combi-flamers and killed a demon prince in
CC
.
Was a good game, but again, I lost due to not scoring enough objectives.
There were lots of very well painted armies there and I was in full force with my lightbox/diorama. The painting award for the tourney went to this guy with a superbly converted chaos cultist
IG
army. It was truly amazing, with extreme levels of detail on every single figure and tank. Funny thing was, he just threw it all carelessly into a pile when he was done gaming! Everyone was like,
WTF
dude!
Here's the only decent pic of that army I got: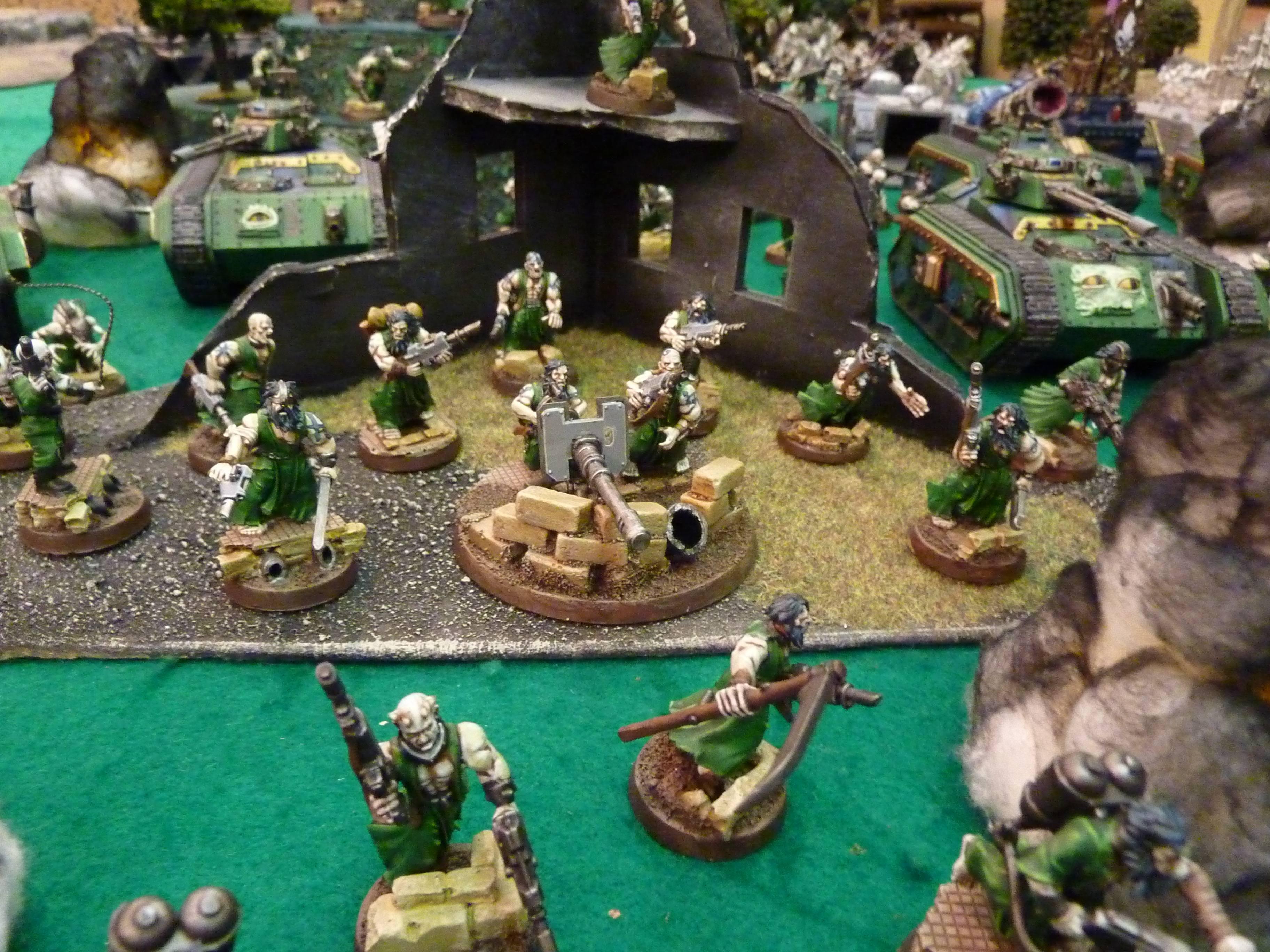 Also got a decent pic of this amazing
DE
army: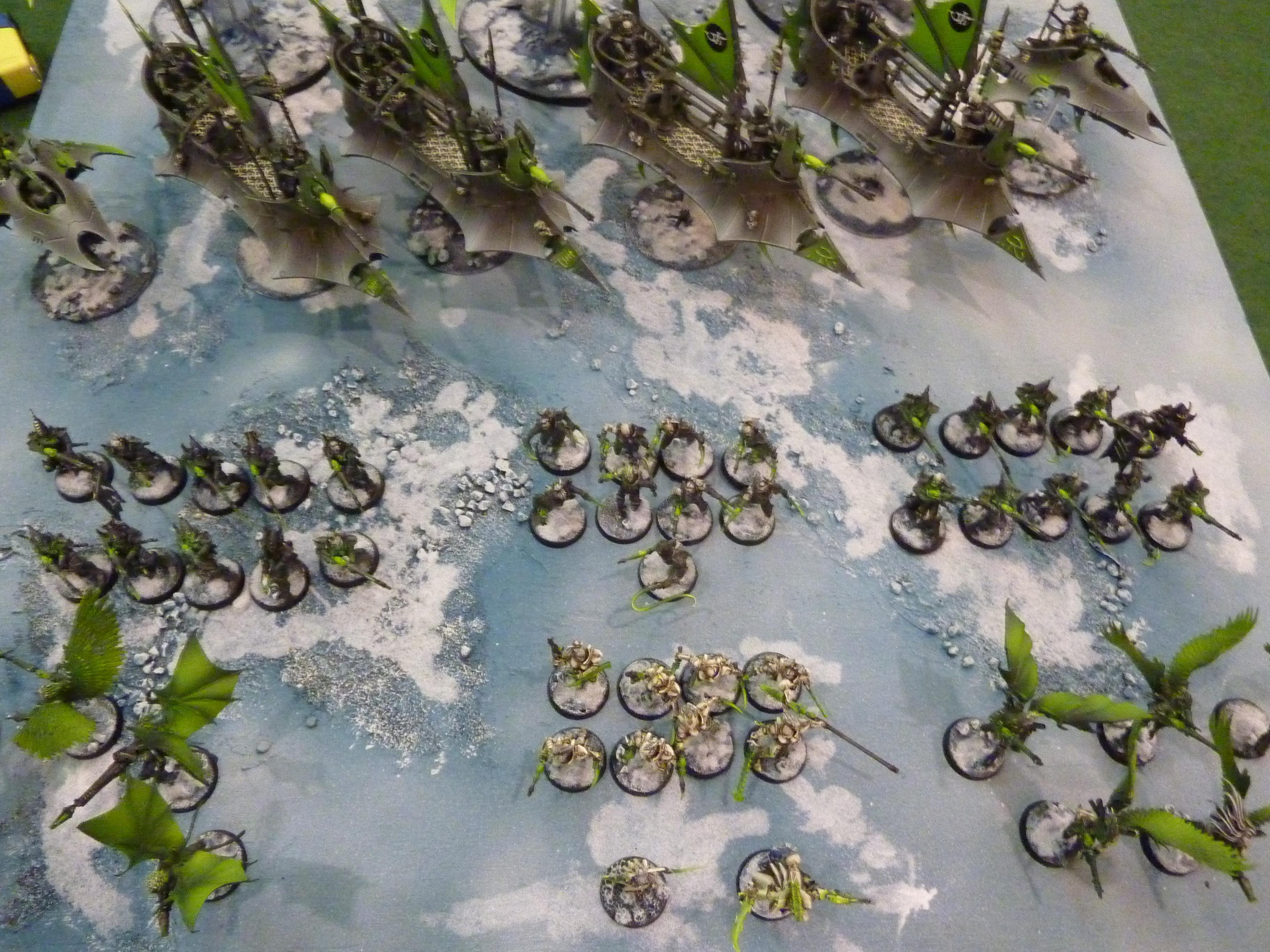 Also saturday I had signed up for a game called Betrayal at House on The Hill, but after the
40k
tourney I was so fried I bowed out!
I'm honestly burned out on
40k
now, and don't even want to look at space marines, let alone think of painting more of them. I suck at wargaming, and my army just loses every time. The best I can do is tie.
I hate to sound like a complainer, but after a year painting this army to find out they are unable to win a game is a hard pill to swallow. Every game I play seems to fail in some way or another and I have to admit I have no frigging clue how to win. I am just effing terrible at this game, and I'm unwilling to buy more units that may be able to enhance my competitiveness or sit on dakka for hours on end studying strats. Just eff it at this point, I say.


Painting first, gaming second. I was pretty hot after the tourney, and felt like rage-quitting several times especially vs the
BA
player. Sucks to lose that bad. The game should be fun, but when you're losing hard I'd challenge anyone to say it's fun.
I really don't know what to do strategy wise and I honestly don't want to spend more money on fail-units for codex marines at this point. I'll paint up what I've got stockpiled on my shelf eventually, but, man, I'm not at all liking
40k
right now and the game against the
BA
really demoralized me.
Enough ranting.
Ok I lied!

Played some Puppet Wars saturday night and I gotta say
WTF
was Wyrd thinking with this game? It's stupid.
Ridiculously complex for a board game. Just explaining the rules took several hours, as they were quite deep and we only got through 1 turn in about an
hr
and a half. Even the miniatures and artwork for this game were unappealing, and I love Wyrd minis. I feel sorry for anyone who has shelled out money for this...
At that point is was near midnight and I was fried, so I went to bed. I also missed the awards ceremony for the painting comp, but more on that later.

Sunday I took two painting classes, one on freehand techniques and one on blending. I really came away with a lot. These were tought by a golden demon award winner, and she really knew her stuff!
I live in Colorado, and at our altitude paint dries EXTREMELY fast. Many times it dries on your brush before you can apply it to the model and a lot of my brushes have been ruined due to this. So they tought me about wet palettes, which, wow, work really great.
And I never knew blending could be so easy. Just a few hours with this teacher and I got some fairly decent results. I'll be working on honing these techniques in the months to come, but they gave us a few free Reaper minis and here's some blending and freehand I did: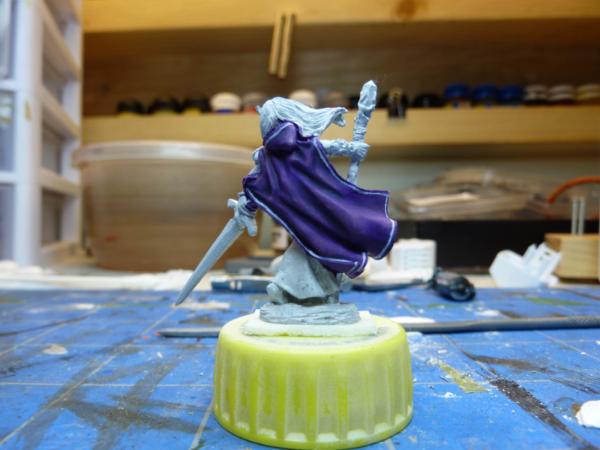 We also got some free minis for the classes: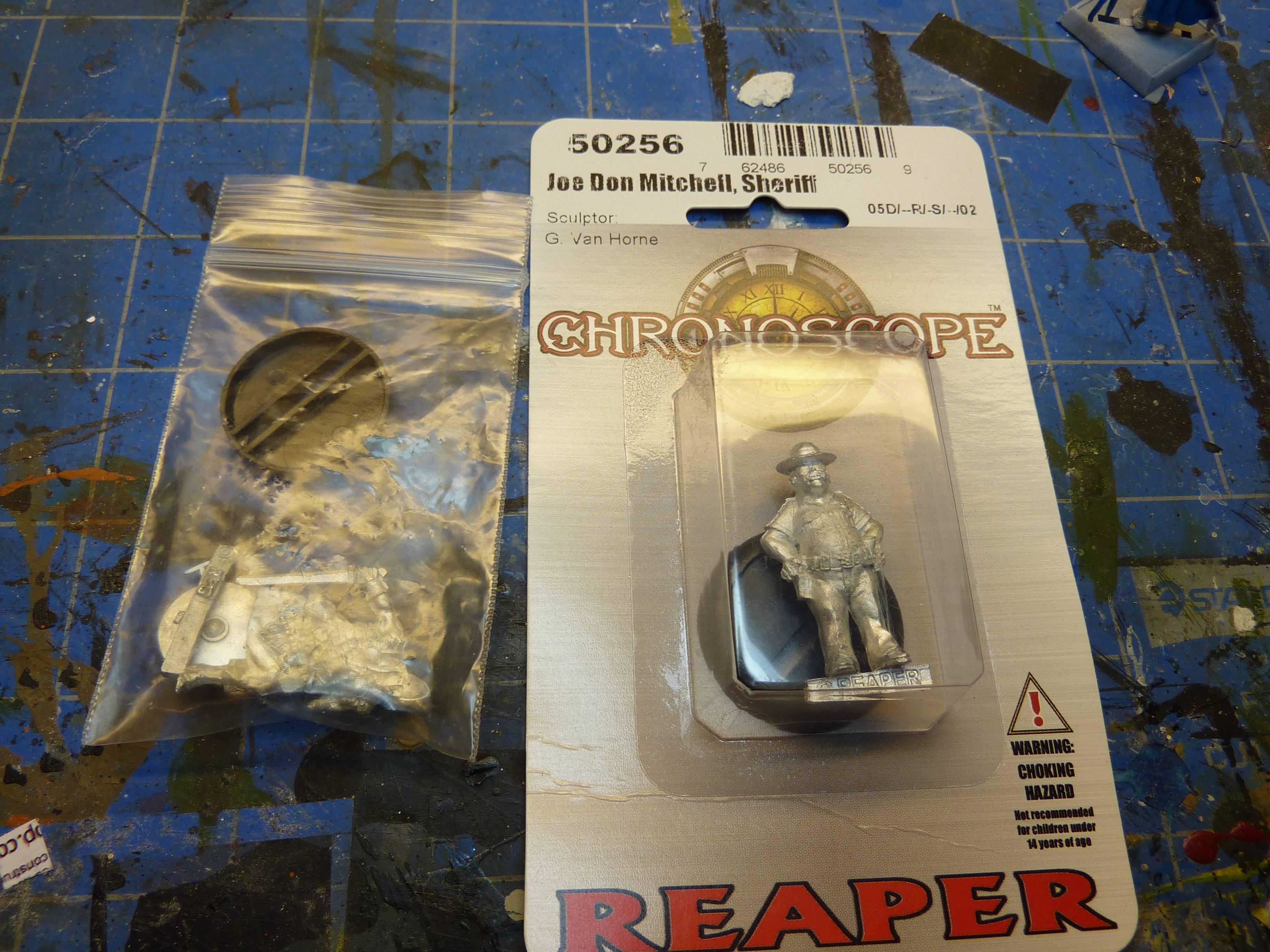 After the painting classes, I collected my painting competition entries and learned I won 3 bronze medals for my efforts, and that made the whole weekend for me!

Here's what I entered:
Group category: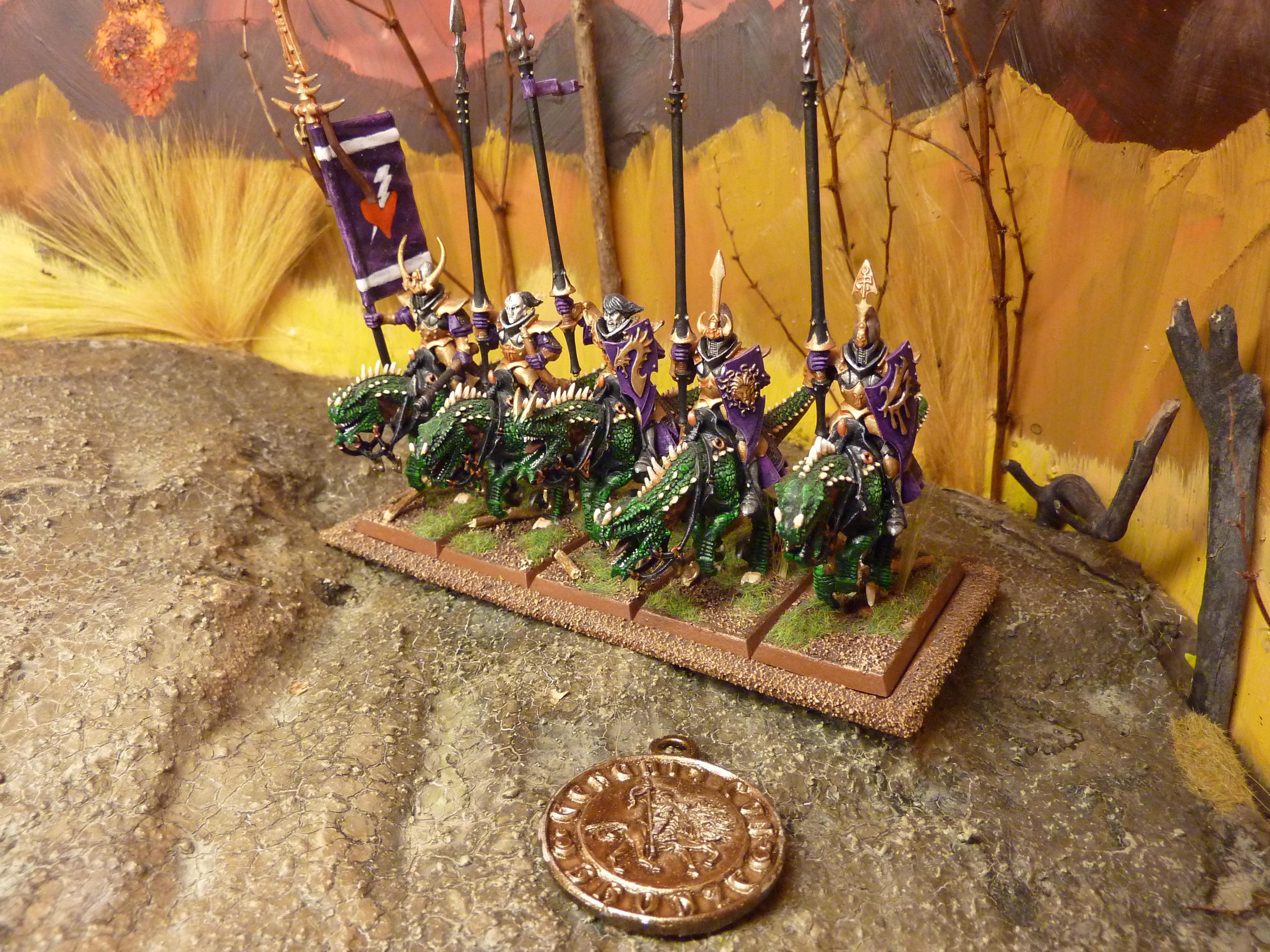 Single figure category: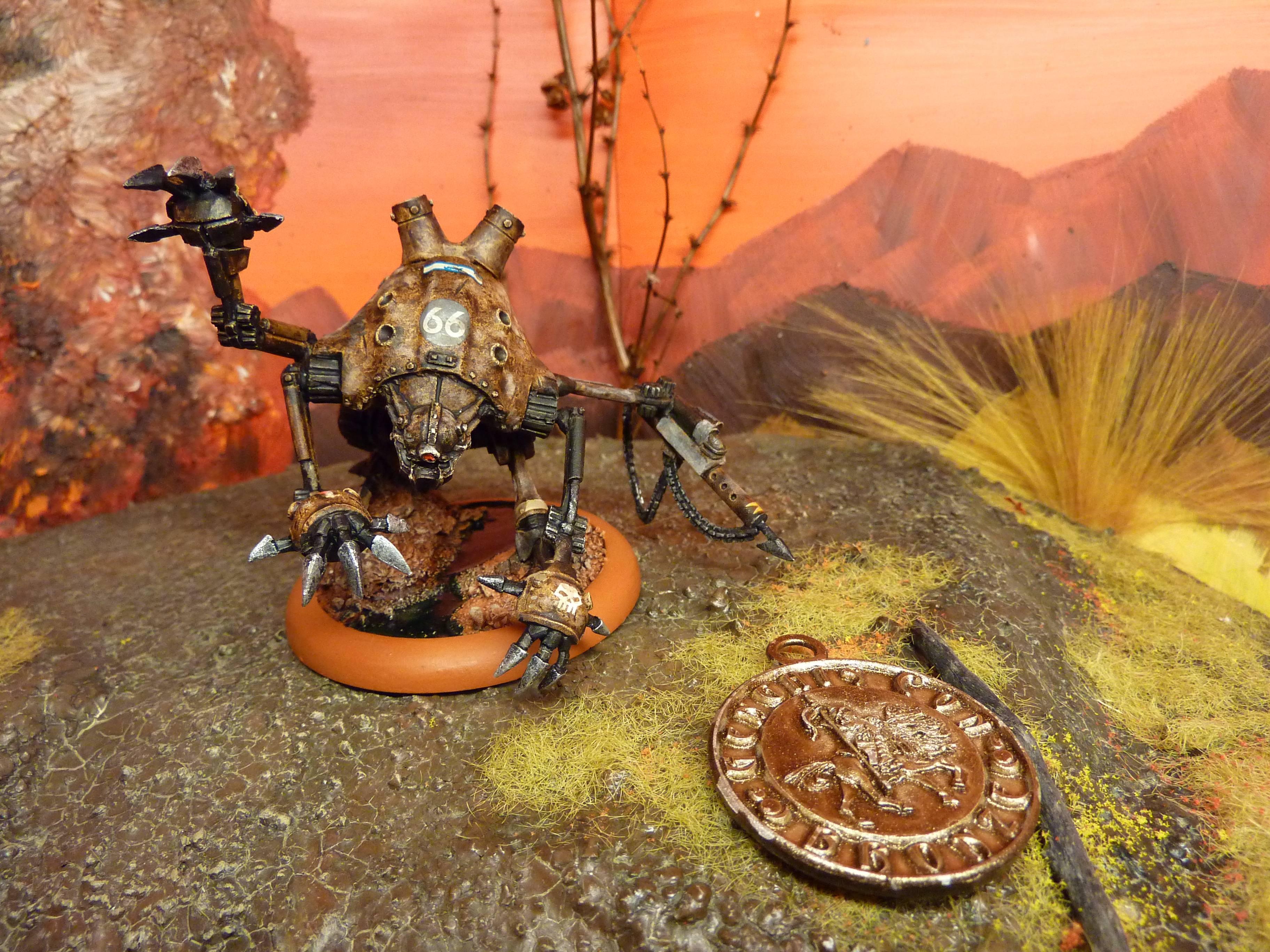 Diorama category: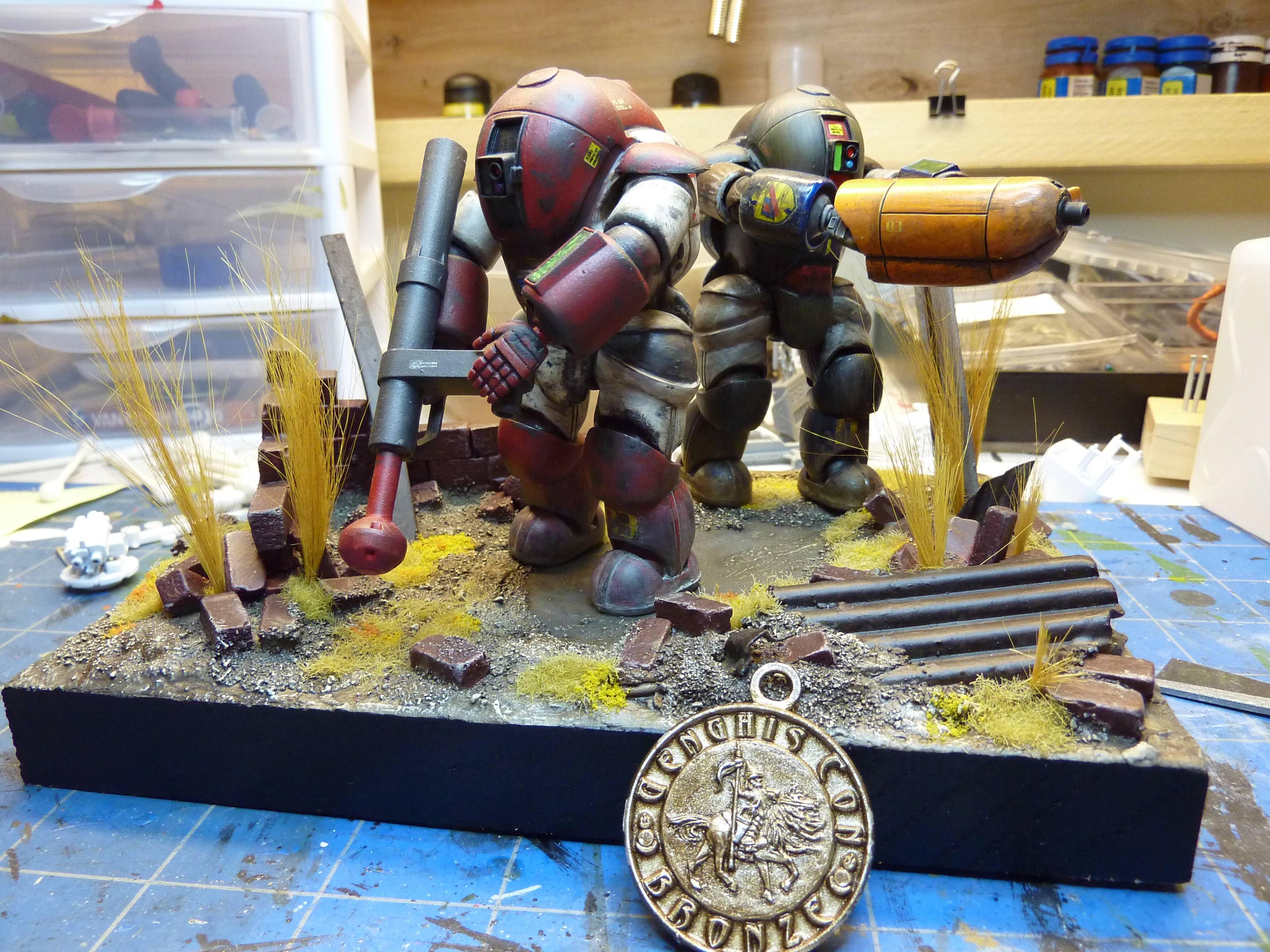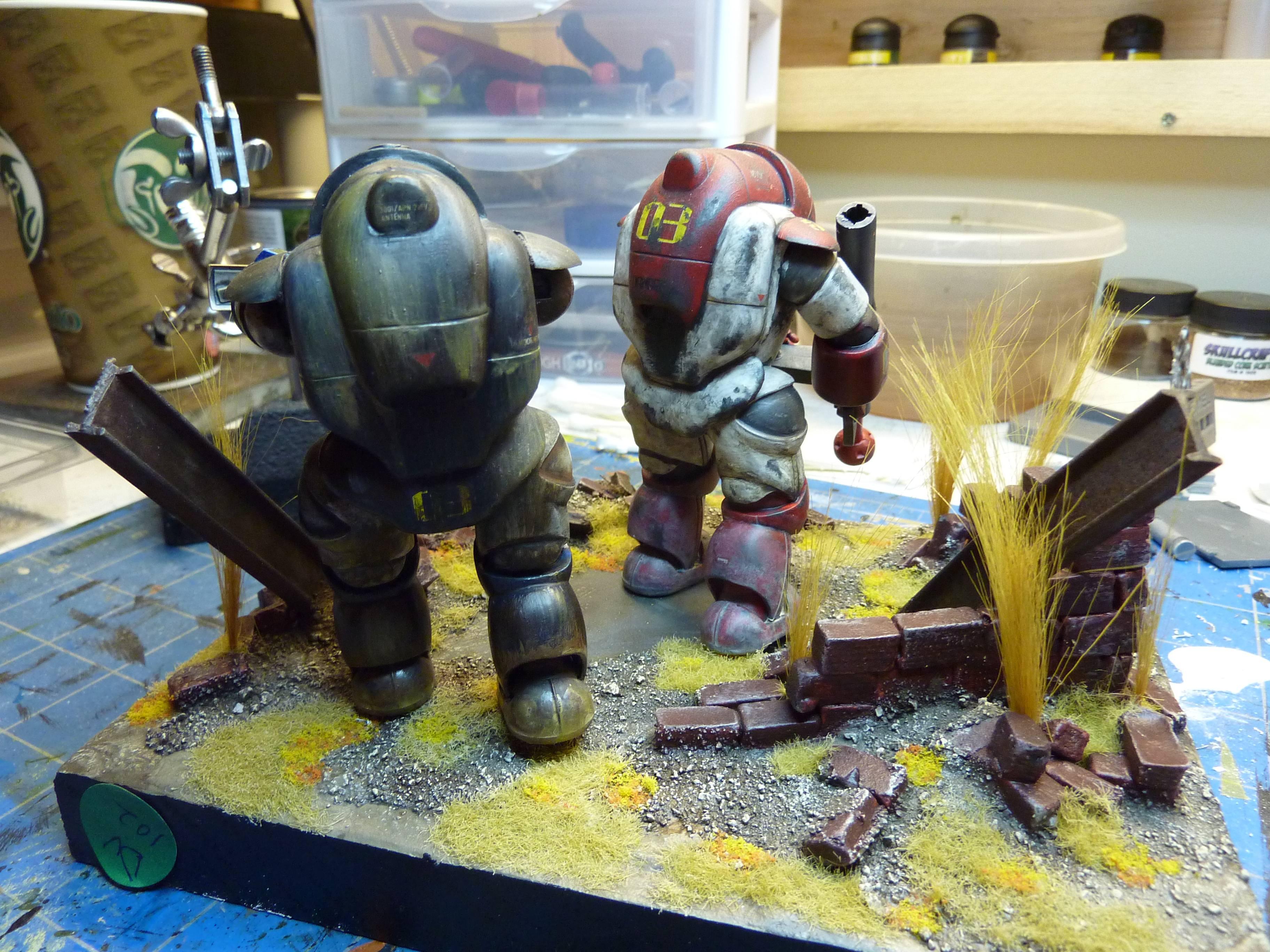 When I entered this stuff Friday I was fairly confident, but on Saturday as the entries filled up, I was quite nervous. There was some extremely well-painted stuff and it was VERY competitive.
Here's a few pics: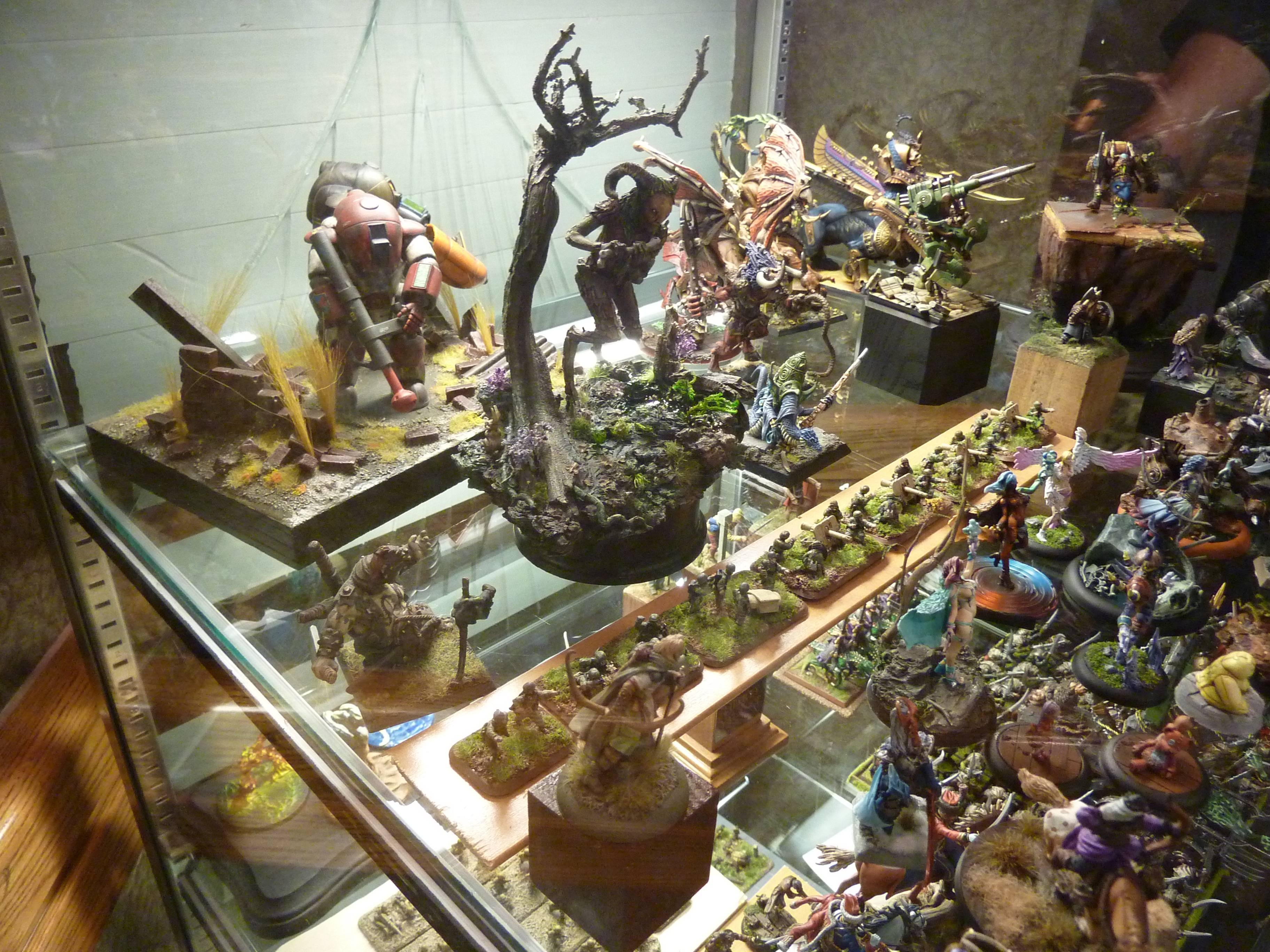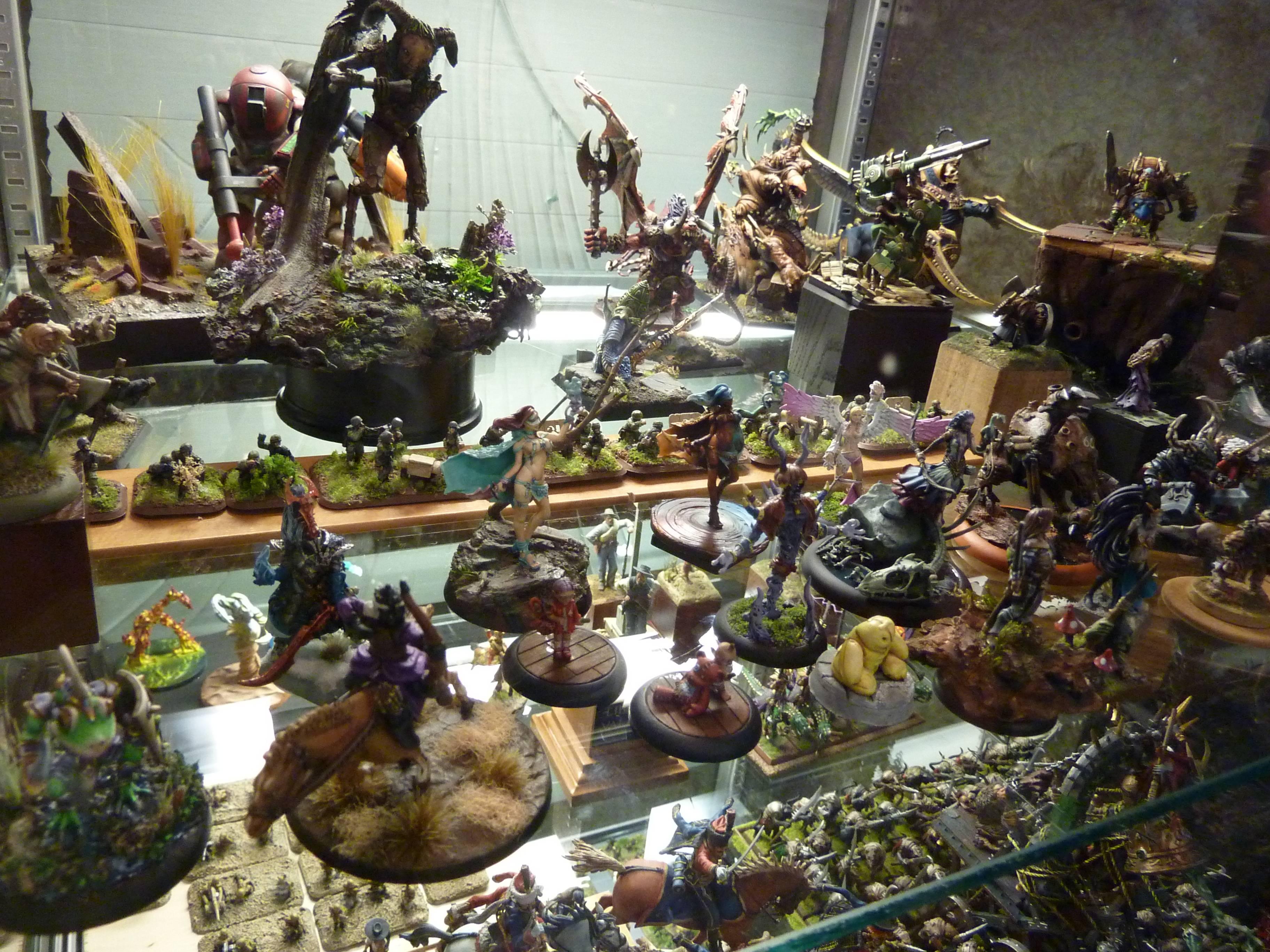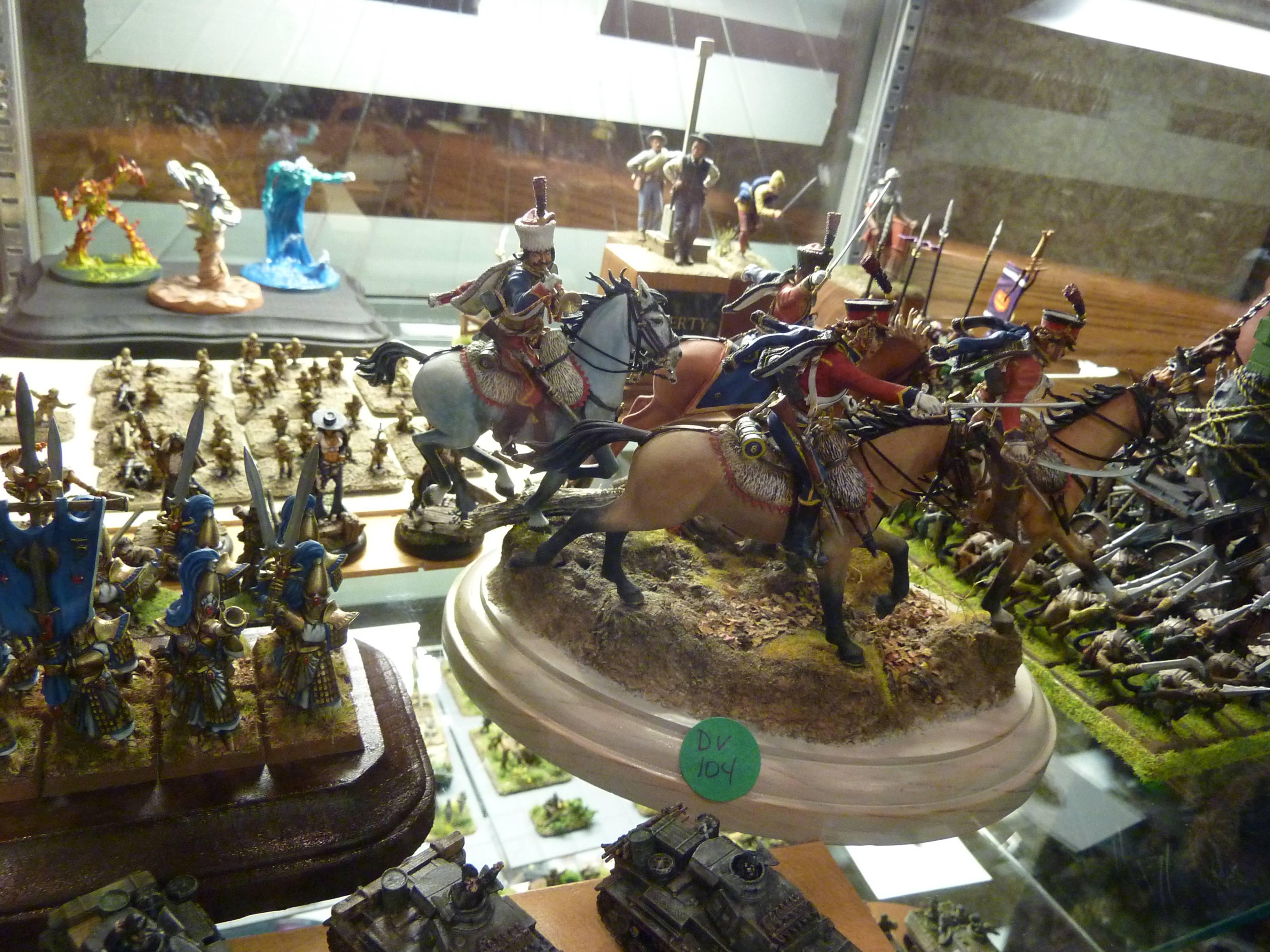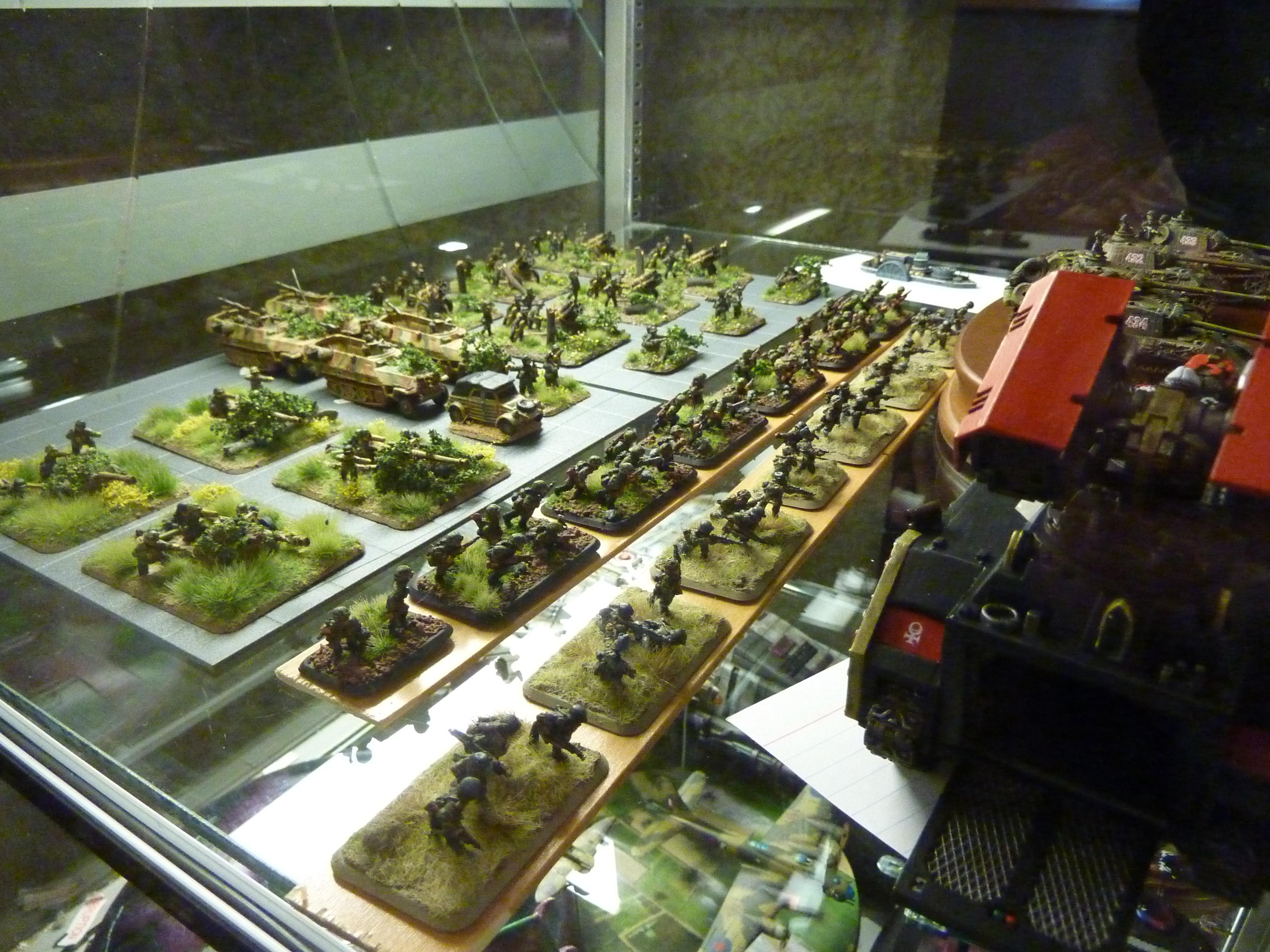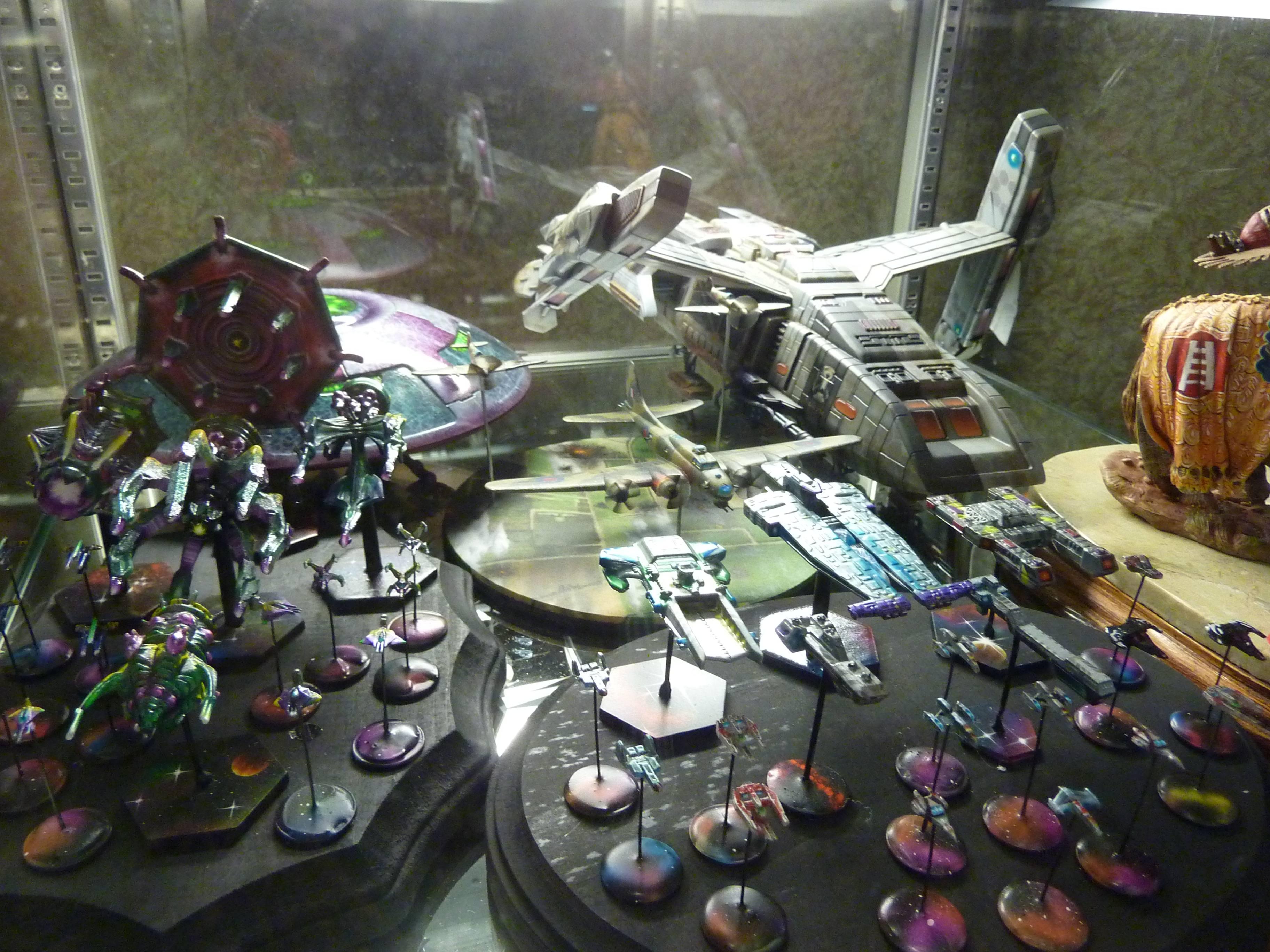 Very nice stuff to look at, and my pics suck and don't do them justice.
I won some prizes, too!
And I bought stuff of course:
From a company called DGS games based out of the midwest US, they're making their own 32mm fantasy skirmish game and had some really cool sculpts that I couldn't resist.
Also picked up the Infinity rulebook.
All-in-all I had a blast. I met many nice people and learned a lot. I'll definitely attend another con, but I believe I'll shy away from the
40k
stuff until I feel more confident about actually playing these damn games, as I really seem to suck at them!