Right, I fancied the idea of creating a battle report, but didn't get the idea until after my latest game. I have used the Battle Chronicler software to recreate as well as possible the most recent game I played. Once again I was up against my friend Nathan, this time at HATE Club, which plays at Bethnal Green Working Men's Club.
We played at 1500 points. My list consisted of;
CM
20 Infantry, Chaos Marauders, led by a Chaos Warrior
CH1
5 Beasts, Chaos Hounds
CH2
5 Beasts, Chaos Hounds
Og
6 Infantry, Ogres
Ha
8 Flying Infantry, Harpies
Gen
Chaos Master Sorceror, General, on a Disc of Tzeentch, with Chaos Armour, a Chaos Runeblade, a Ruby Chalice and a Helm of Many Eyes
CC
Champion, Chaos Champion, also on a Disc, with Chaos Armour, a Halberd and the Shield of Ptolos
MH
5 Cavalry, Marauder Horsemen, led by a Chaos Warrior.
We were playing Scenario 3, Meeting Engagement, so had to write out our order of march and deploy in that order.
My plan with this army is that the Chaos Marauders, led by my general, advance behind a screen of Chaos Hounds, who stay close to the Marauders, because they need to benefit from the general's Leadership. He has the Ruby Chalice to protect the unit from shooting and his Helm of Many Eyes gives him Strike First and thereby protects the slow-moving unit when they inevitably get charged.
The Ogres hold the ground next to them and act as a bit of a distraction. They can take a lot of hurt, but aren't actually all that amazing at hitting things! The Marauder Horsemen snake around the flanks and threaten flank charges. Even if they don't make a flank charge, the threat of one forces a response and can pull a unit out of formation. The Harpies and Champion on Disc are there to deal with archers, bolt throwers and so on.
Nathan had;
CO
5 Cavalry, Cold Ones
Ha
5 Flying infantry, Harpies
Sc1
5 Infantry, Scouts
G
Cavalry Hero, General, on a Cold One with, no doubt, some magic items!
S2
Cavalry Hero, Sorceror on an elven steed, with a Book of Ashur
Cr
9 Infantry, Crossbowmen
H
Bound Monster, War Hydra
HoDP
Flying Hero, Hero on Dark Pegasus with a Heart of Woe
Nathan deployed with his Cavalry central and his General in the unit. His Sorceror flanked them. His Hydra was nearby, and beyond that his Crossbowmen. On the opposite flank were his Scouts and Harpies. I was expecting his Harpies to simply foil my Harpies, which is one of the reasons I brought eight. His scouts had done a lot of shooting damage in previous games, so I was afraid of them. I had learned to fear his Hydra, especially its breath weapon. His Hero on Dark Pegasus was an unwelcome surprise!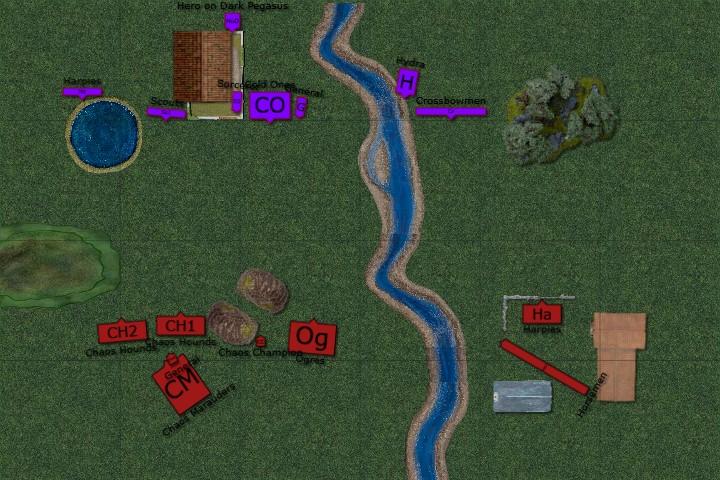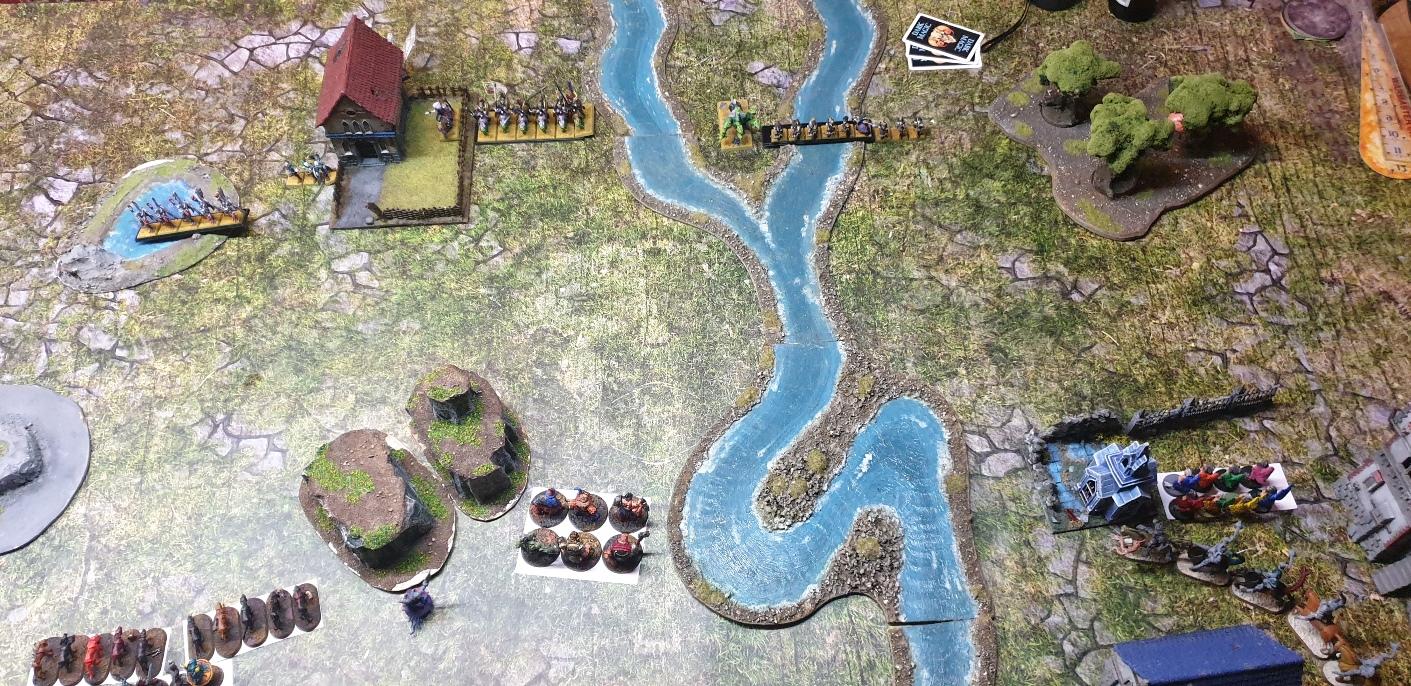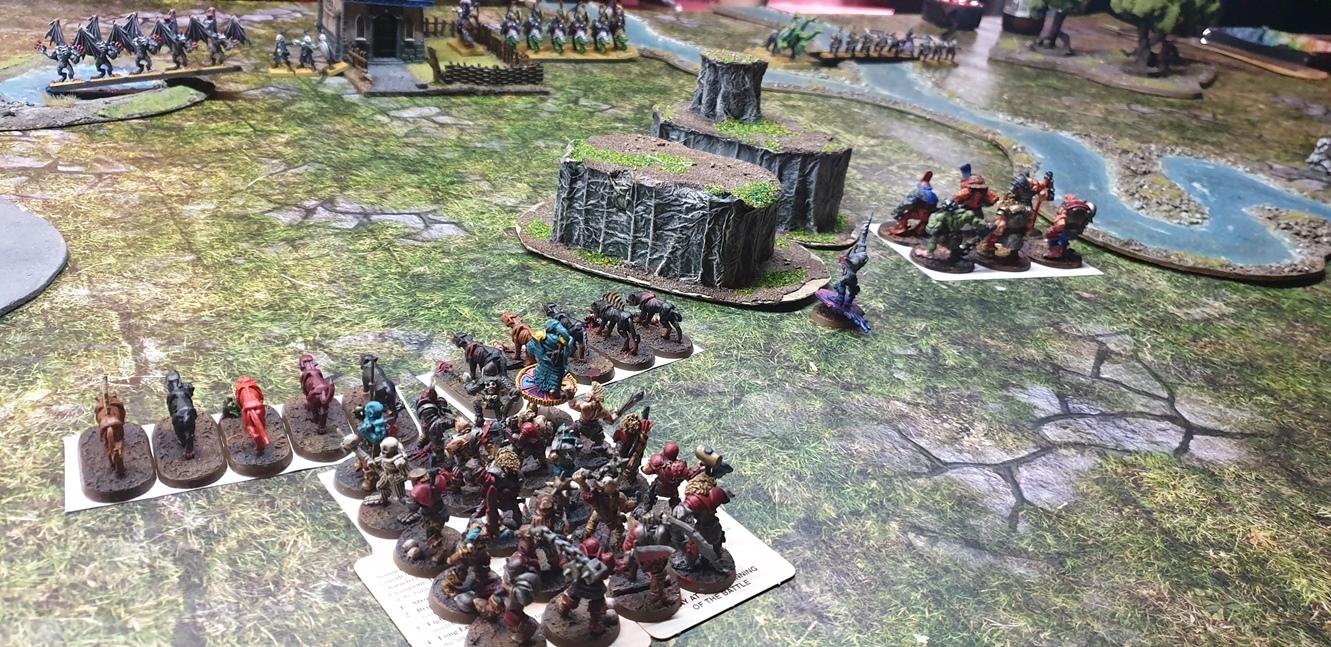 We rolled that the game would be only four turns.
I rolled ELEVEN Chaos Gifts, and but the only one I didn't get was Nurgle's Rot, so I could not slow down his Cold Ones. I killed a couple of Scouts before we even got started and my Marauders landed up with a leader having a Scorpion Tail and all at +1WS.
I drew three decent spells from the Tzeentch deck; Glean Magic and a couple of damage dealing spells.
Nathan had the first turn, and caught me by surprise by charging my Hounds with his Harpies. This would cause a roadblock and even if I could get around them, stop me marching. They killed two dogs and I killed a harpy in return. Elsewhere, his Crossbowmen killed one of my Harpies. His Hydra and Cold Ones moved forward, readying for a charge.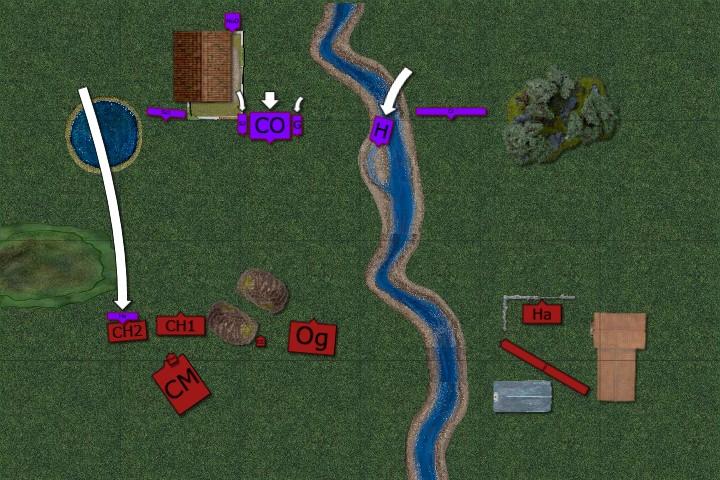 In response, my Harpies charged his Crossbowmen. Two can play at that game! Sadly, I played it poorly, and they killed another as my Harpies flew in, then I achieved no kills!
My Ogres advanced, and my other Hounds and my Marauders inched forwards. My General left his unit to be able to cast his spells at the Hydra, planning to return later, when he was needed. He only managed to cause one wound on the Hydra though! My Champion went the other way, for reasons I cannot fathom. At the end of the turn I felt I had made several errors I would come to regret.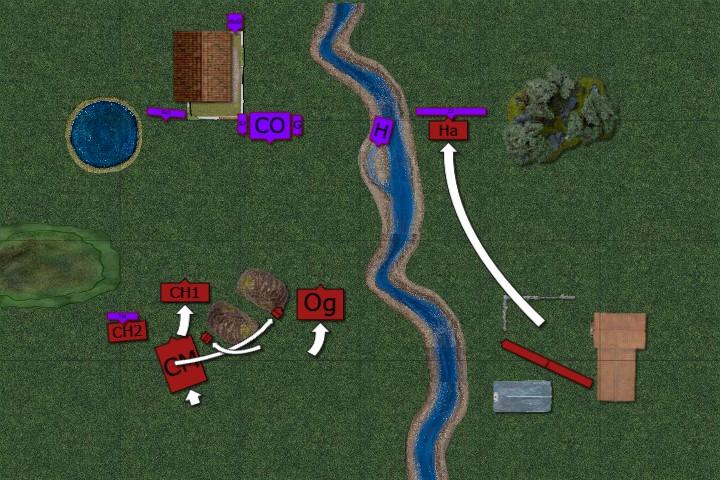 In Nathan't Turn 2, his Hero on Dark Pegasus charged my Ogres. I should have though that suspect, but more on that later. My Harpies fled his Crossbowmen, and were cut down. You ought to have flown, you fools! His Cold Ones swung around ready to advance on my Marauders. His scouts shot my Hounds and they fled, standing directly in front of my Marauders. More traffic!
His Hydra failed its leadership roll, so it stood doing nothing, struggling against its binding magic!
He also tried to cast Soul Drain on my Marauders. I ummed and aahed about whether to use my Wrath of Khorne Chaos Gift, or to use Drain Magic. I wanted to use Glean Magic to steal Soul Drain, so I foolishly used Drain Magic. Despite using my Tzeentchy +1/-1 re-roll, I lost a magic level!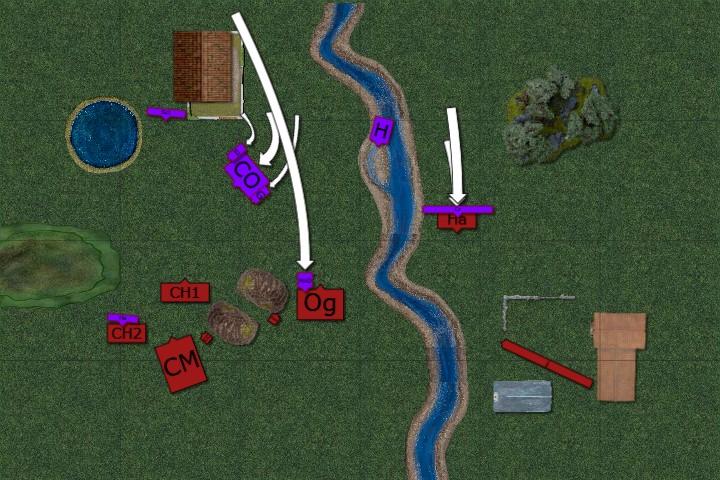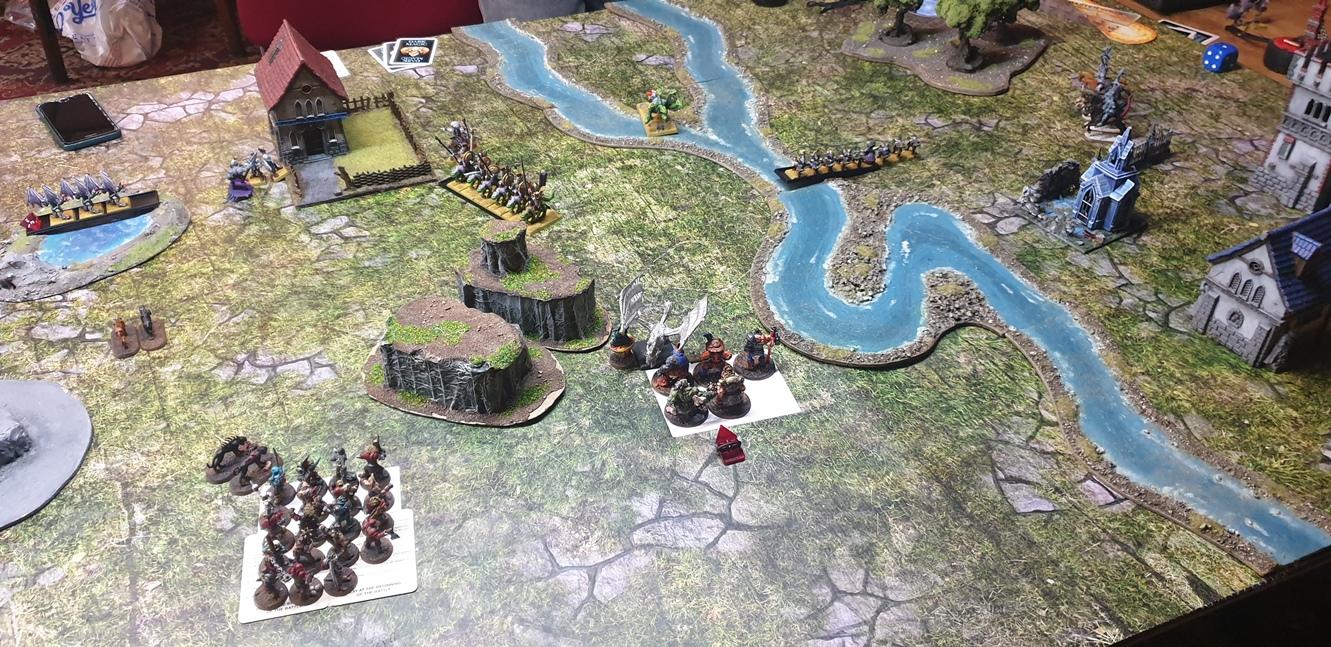 In my turn 2, my dogs made his Harpies flee. My general charged his Hero on Pegasus, but caused no damage. The Ogres attacked his Dark Pegasus steed and did a wound, causing him to flee. It was a very poor
LD
roll for Nathan, followed by a very poor flee roll. My Ogres and general both pursued and hacked down his Hero. It turns out that was very fortunate, as he had a Heart of Woe and killing him would have ripped the heart out of my army.
Contrary to the map, I now remember that my Champion charged and killed his remaining Scouts by the building.
My Marauder Horsemen snaked around the edge of the board to where his Crossbowmen would not have a shot.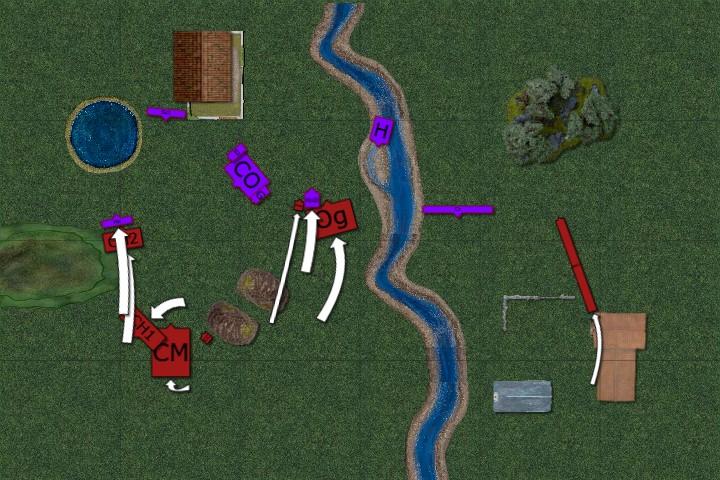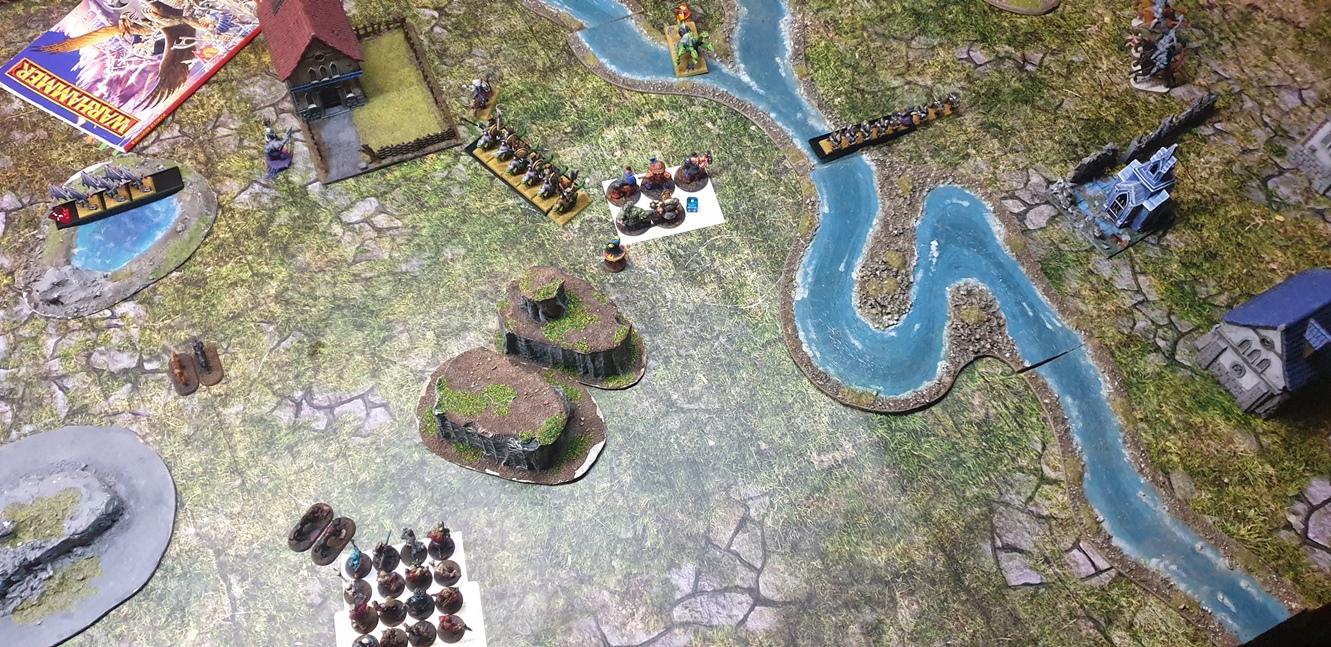 In Nathan's turn 3, his Crossbowmen reformed and shot at my Horsemen, but the dice were not on his side and none died. He was cursing his decision to start turning his Cold Ones as my Ogres were now right behind them. To get them away from trouble, he charged the dogs that were pursuing his Harpies. He easily beat them in combat, but then he pursued them straight off of the table!
Incredibly, his War Hydra failed its Leadership test again, meaning it could not breathe fire on my Ogres. Hurrah!
But... his Sorceror cast Soul Drain on my Marauders. With Total Power. I cursed my decision to use Drain Magic. Had I used Wrath of Khorne, I might have even destroyed that spell! Nine Marauders died and his Sorceror gained 4 wounds!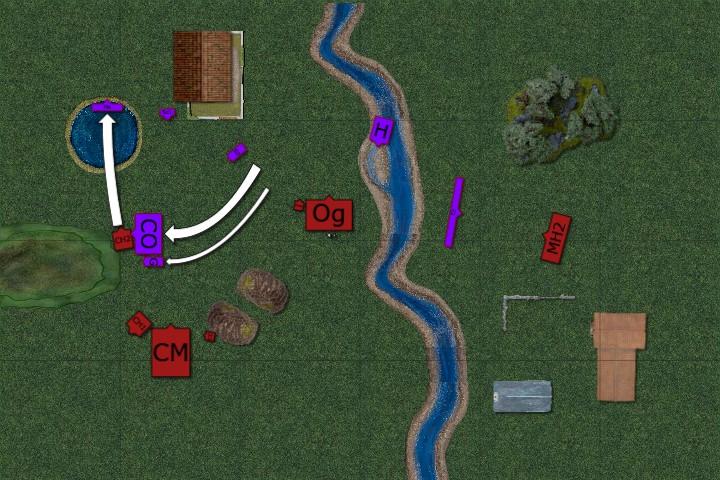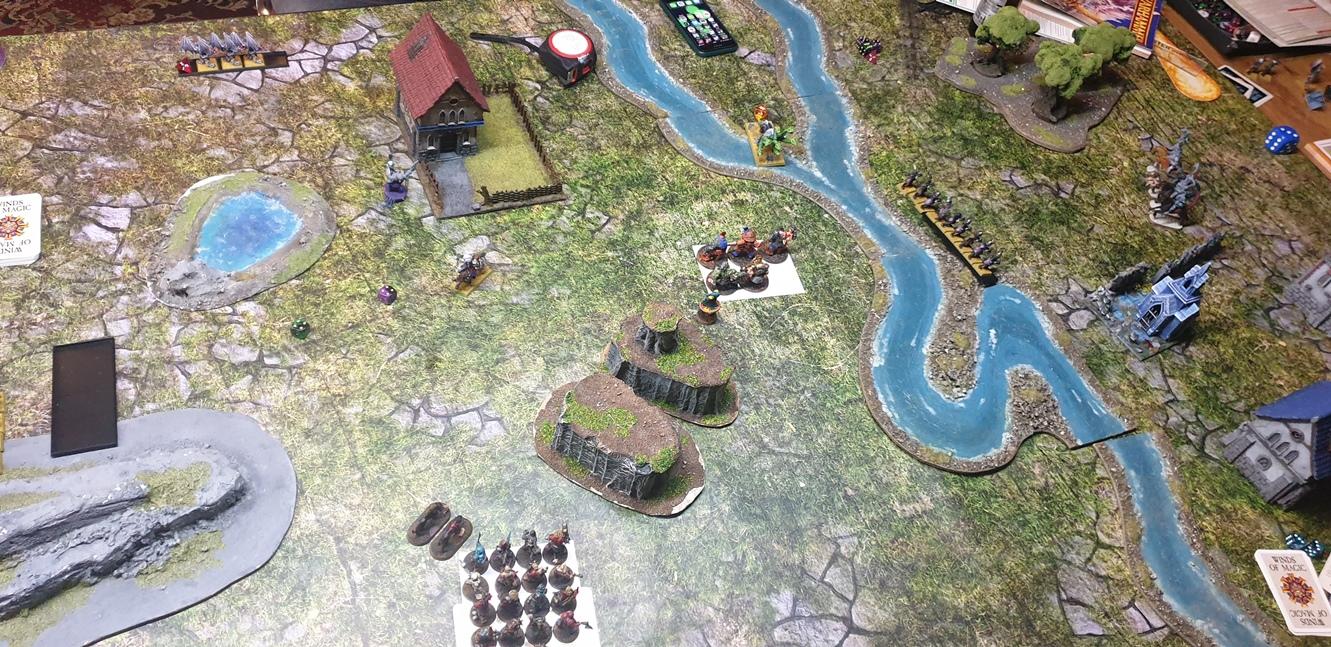 In my turn, my Ogres and General took advantage of his Hydra's struggles and charged! They did quite a bit of damage, but it survived. Nevertheless, they did enough wounds to weaken its breath attack, which was important!
My Disc-riding champion charged his Sorceror. I think my remaining dogs (who had rallied the previous turn) did too, though that is also missing from the map. His sorceror was not killed, but fled and was cut down.
My Horsemen had reformed the previous turn, so now they charged the Crossbowmen. They did get hit, but enough of them hit, including their Chaos Warrior leader, that they won the combat and cut down the fleeing crossbowmen.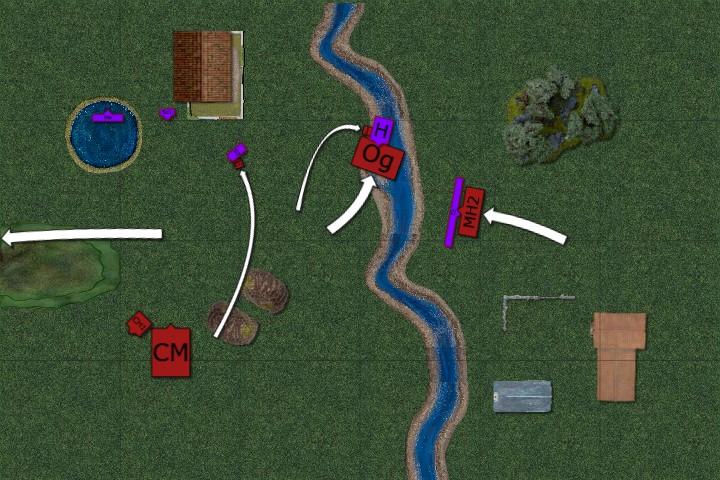 At the start of Turn 4, Nathan's Cold One Riders returned, along with his General, but it was too late. The game was over and they would not get to do anything. His Hydra died this turn (I think it even failed a THIRD leadership test)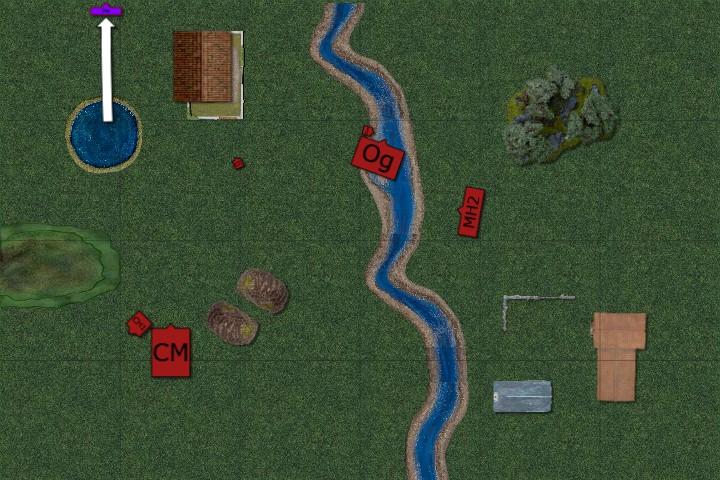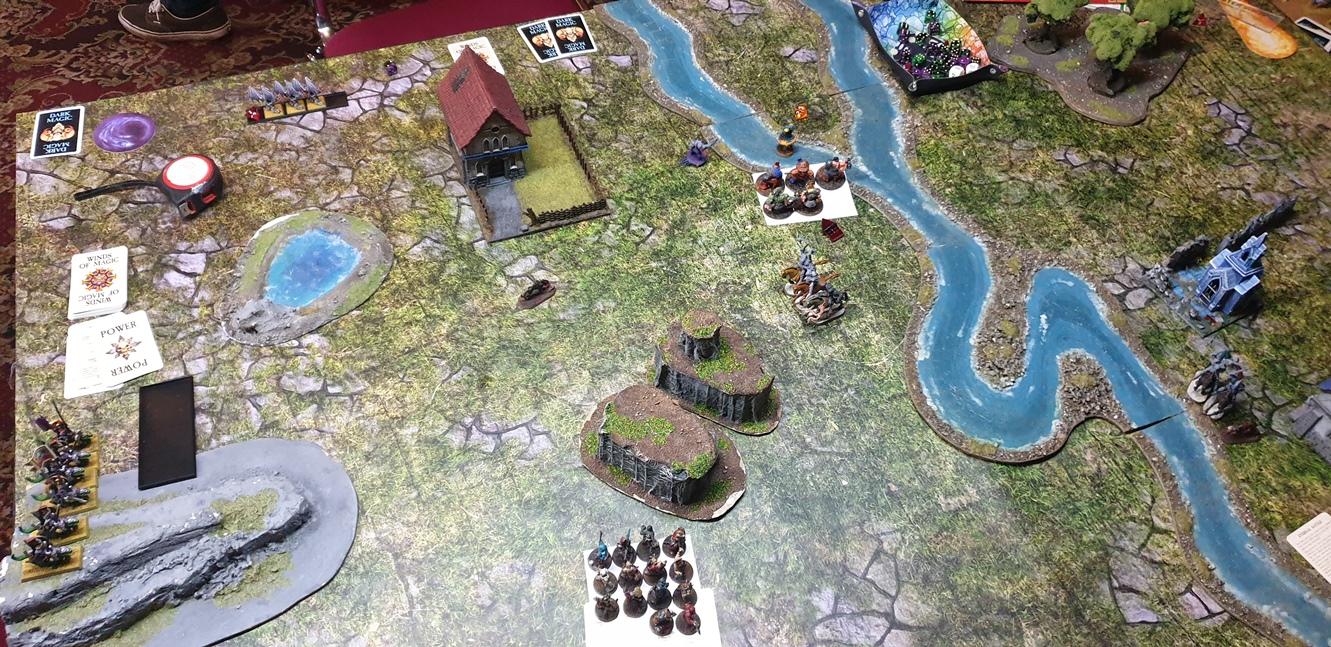 Conclusions;
Forgive the minor discrepancies between the photos, text and maps! I only decided to write this AFTER the battle, so it doesn't quite match!
Overall, this battle was determined by Leadership tests. Nathan's fearsome War Hydra failed the tests when it really mattered. It is a big risk on such an important unit, but to fail twice was very unlucky. It still terrified me! Even worse was his Hero running away when he needed just 9 or less to stay. Had he done so, I think it all would have turned out very differently. Nathan felt it was a big mistake to start turning his Cold Ones to go after my Marauders. I think it was the right decision at the time, but it turned out to make his life a lot harder when the hero fled.
I felt my Hounds performed well, despite causing a traffic jam for my Marauders. I do think I need to position my Marauders more carefully in future as this was their second game in a row where they have not reached combat. The Ogres soaked up a lot of attention, but were very lucky to avoid that Heart of Woe. My Harpies underperformed. With just one attack, I think they are better off going after fleeing units or artillery, but at the time it seemed like a good idea. When my general left my Marauders, I initially regretted it, but it worked out well in the end. The champion did well too, not so much in terms of how much damage he did, but in terms of his mobility and threat, and he did eventually deal with the enemy Sorceror. My favourite unit are my Horsemen. I just love sending them snaking around a flank forcing units to redeploy to deal with them! I expect Nathan will have a plan for them if we play again, so I might try to think of another way to use them. They are damn flimsy at T3 and a 5+ save, so I am worried he might charge them with his harpies and kill a few before I can properly respond. I had better remember to deploy them where he can't easily do that!