Wow, now that was nearly a hiatus I did here, but first things first
inmygravenimage wrote:Great conversion, and I really like that

OSL

on Mr Skull.
Thanks Graven! One of these days I will do proper
OSL
, but for now some drybrushing seems to get the desired effect

The Riddle of Steel wrote:The Sisters army is looking great. The basing and color scheme really tie together the wide variety of models into a coherent force.
Thanks The Riddle of Steel! Was really happy having them all stand together for the first time.
Captain Brown wrote:Wow, the Sisters are a full force already,

Cheers,

CB
Thanks Captain Brown! Trying to concentrate on them, although at the moment my friend and I are still at the 25
PL
stage of our Crusade campaing.
youwashock wrote:Nice, nice stuff.

Love all the group pics. Can't wait to see the new Saint added in.

Johann looks good, too.
Thanks youwashock! Herr Schmidt was luckily really easy to paint, but I need to get on with my other MCP, maybe this will be the game to get my wife to play seeing how much she likes the MCU

Yorkright wrote: I really love army shots and yours looks great Viterbi. That

OSL

glow on the Red Skull is very well done as is the rest of the model. Have you had a chance to play the Marvel game? I love the idea of super heroes bashing it out with villains.
Thanks Yorkright! Did not play MCP just yet, I am looking into getting some terrain
atm
, love the official apartment building (I really don't have the motivation for scratchbuilding), but it's quite pricey.
zahnib wrote:I totally agree with The Riddle of Steel, your basing really ties the army together nicely. And your Saint Sabbat conversion looks great! Perfect base model for it
Thanks zahnib! Looking at the first picture of the Stormcast lady it was quite clear, that this will be an easy conversion

gobert wrote:It's always great to see a fully painted army, the sisters look resplendent! Can't wait to see your very own saint join the fray.
Thanks gobert! Will be some time before the saint will come marching in (scnr), gonna paint her when I'm fully motivated, she deserves it.
Syro_ wrote:I totally hear that with progress slowing when you don't have an urgent need to get something done. Having a game approaching is the best incentive. Looks like you are getting a lot done to me. Your Sisters of Battle are looking good.
Thanks Syro_! I still get "enough" painted, but in 2019 and 2020 I painted a combined 300 minis, so it seems like a step back, but really isn't

Warboss_Waaazag wrote:I love the grim look of your Sororitas army.
Thanks Warboss_Waaazag! Can't go wrong with grim battle nuns!
aku-chan wrote:Nice job on the Red Skull, looking forward to seeing the Saint all painted up!
Thanks aku-chan! I dread painting the wings, but am excited too about painting her one day.
DJJazzyJeff wrote:Great bases. Nice conversion. All the same that everyone said, just more of it.
Thanks DJJazzyJeff!
I haven't been completely idle (but only just) and finished to mighty grots for the now nearly month old challenge: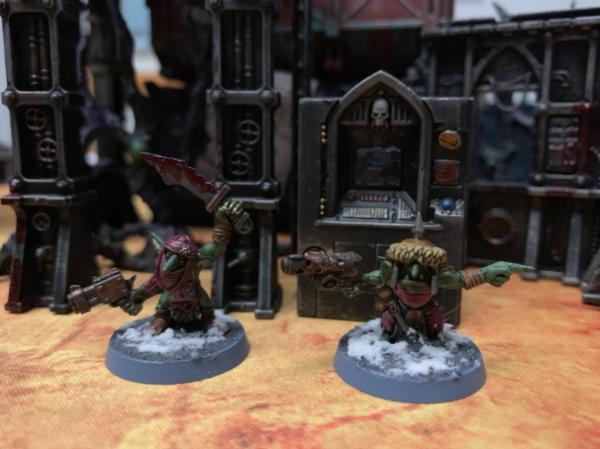 Painted them up to kind of match my Imperial colors, gonna use them with the Starstriders in Stargrave, they will be used as the free soldiers, if you don't have the credits to buy the real ones

And as you probably know, I mostly play Mordheim with three friends and was looking into a new warband. I have mercenaries and witch hunters, my lovely halfling warband, but wanted a new one. I always liked Sisters of Sigmar, but don't like the old minis that much and getting enough of them costs like an arm or the second-born child.
Luckily I found the Sisters of Serens from a supplier from Spain. Metal miniatures (wouldn't have bought them, if they were resin) that look really great and came superbly packaged: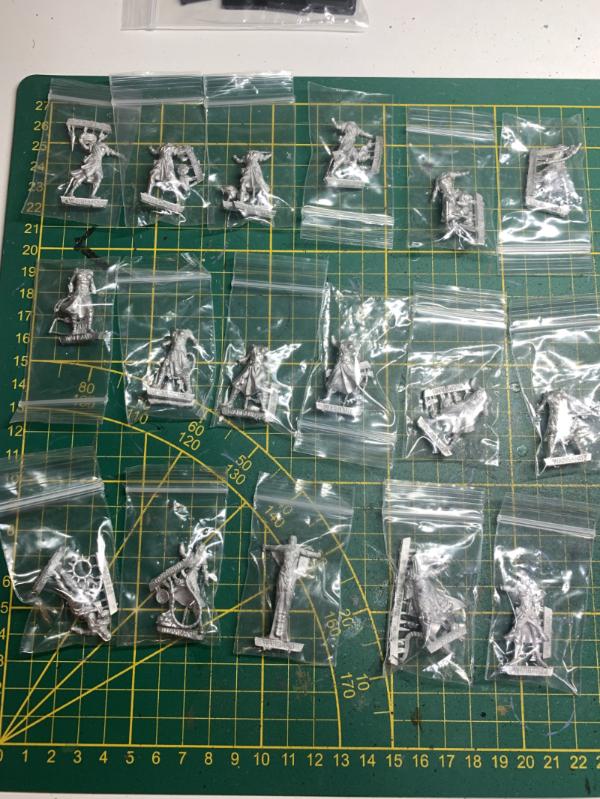 Unfortunately I was not able to glue the first weapons on properly and now some sisters have mutant hands (clearly fighting of the evil influences of Mordheim and proving their faith by not succumbing to the mutations

).
I've only been able to paint four heroines for the first game and haven't painted anything since then, but may start again today, finish the last heroine and start on the henchwomen. Next game will be in three weeks and I want all 17 ladies be done til then.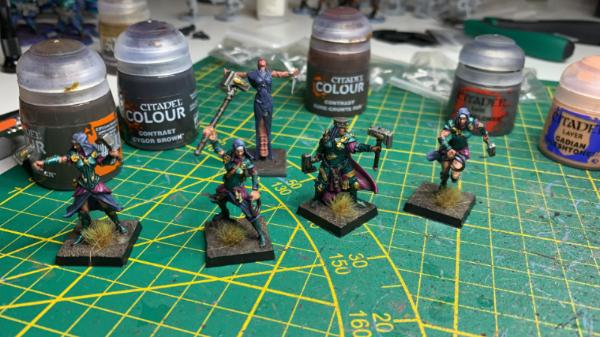 As you can see, the color scheme is the same as with my Sisters of Battle and I like to think both orders are linked through warp and time.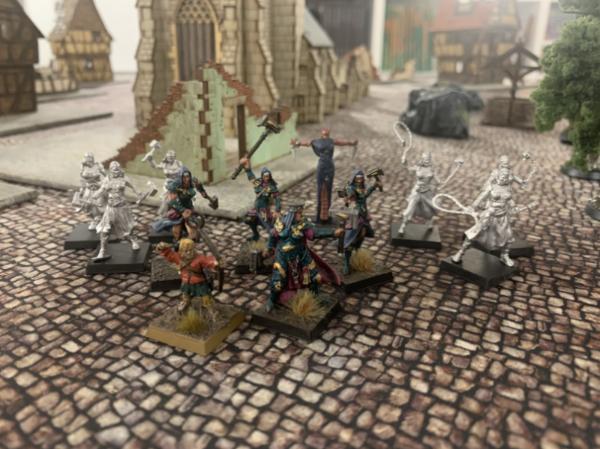 The halfling mercenary should give some long range support.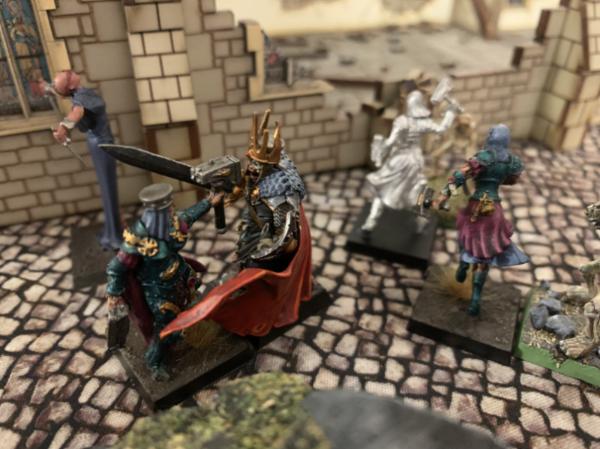 The first match of Matriarch vs. Vampire didn't go well for the lady with the hammers. Maybe she has more luck next time.