New video is up! The first ever channel give-a-way to celebrate 150 subscribers. Thank you all for your support of an old fart trying to do something useful on these new-fangled internets.

It's been a lot of fun for me and I hope to bring you a lot more interesting and entertaining videos in the future!
Drawing for the fabulous prize is next Saturday. (18th I think)
On the hobby side, I just finished building the "dog pack" for my Savage Wave war band (that's the red demon guys). I'm really, really excited about these models. Not only painting them but playing them as well. There are 4 dogs plush the alpha (the big one) as well as a special Oni that gives them all buffs (the alpha buffs them too). They're also not very costly point-wise, so in the now standard 100 point tournament list, I have 38 points to play with. At the moment, I'm thinking of taking the two small oni (actually onisho) that I've painted already... leaving me 5 points for gear and upgrades.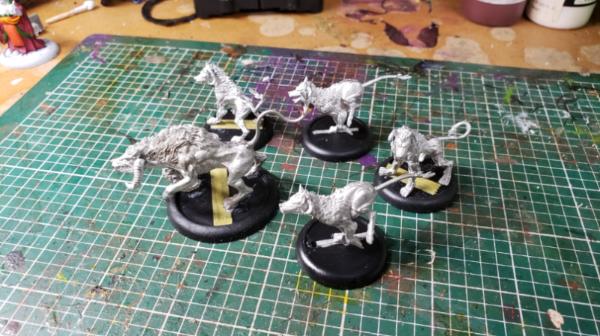 I've decided to paint them up like Riddick's jackal from the movie "Riddick". The ears aren't right on the models, but while I could custom build the ears... I just don't think it's worth the effort. Maybe on the alpha, we'll see.
In other news, Ben at
Master Crafted Miniatures
was kind enough to throw in a bunch of miscast bits with my last order. While I'll be using a lot of it as-is on my Oni bases (to represent them tearing through a temple), I was able to cobble together some of the bits Dr. Frankenstein-like and come up with a number of serviceable pieces... most of which will get painted and tossed into the "for Adepticon" pile of resources or given to new players to help get them started. The wall section and the little dudes I'm going to hang on to though... because they're especially cool. Thanks Ben.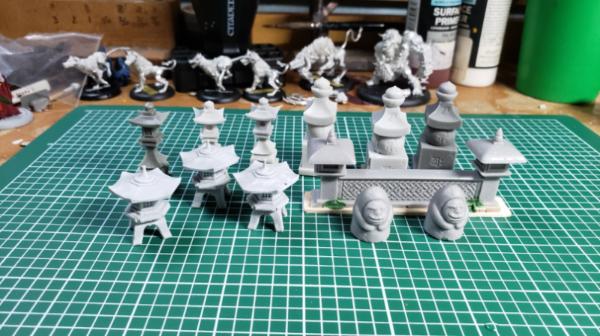 Guess that's it for now. 'Till later...