Thanks for the comments guys and as always, I really appreciate it.
@Youwashock: Thanks man! The cape turned out pretty good even though it must have been the least effort black cape I've ever painted. If nothing else, it tells me that I might be trying a bit too hard at times!
@Viterbi: Thanks a lot and glad to see you here! The tanks look a lot better in the images as the unpainted parts are not shown in there. Mordheim is such a cool game and I bet your warbands look really good!
@Gobert: Thank you! I think so too. The trukk conversion is advancing slowly but surely. Trying to get it finished before a big game in a month or so.
@Syro: Cheers! Nah, your painting is good! Maybe it would be more fitting to say that I did not try to over do it with those models. Many times I get stuck doing a single detail for hours which in the end might not look any better than a quickly painted detail.
Warning, a long post coming up:
So, the new decade has started. The last year was left behind with many good things regarding the hobby and stuff outside of the hobby as well. Painting wise I learned a great many things and had many fun projects. Most notable was the Mordheim warband, which took a great portion of my hobby time. As a tradition and to keep the rediscovered posting motivation up, it's time to review the last year. Well, I've done it once and about to do it the second time, so maybe I can call it a tradition already

The year 2019 started with a bloodbowl team, which I painted as a commission to a school mate.
It was a real challenge, as it was a first time when I was painting for someone else. It was hard to decide when the models are done, as everyone sees them a bit differently. In the end, the guy whom I painted these for was really happy and paid quite a sum (at least for a first ever commission). I was really happy especially with the troll. The skin turned out just like it was ordered.

The second unit I finished, was a bunch on Ork Tankbustas. This was one of those projects, that had been on the "todo list" for many years. It was good to get them finally done!
I don't have a good image from all of them right now (will take one and add it here when I get around to taking pictures again), but here's a few of them.
The third unit was a group of Death Riders. When painting these guys, I really pushed myself. I started practicing wet blending and took some time to really focus on the details etc. They are far from perfect, but I'm really proud of them. Painting these guys took me almost a month, if I recall correctly. I actually cut my thumb while doing the bases and had to go the ER to get my thumb patched up. After gluing it in place of course, so there might be a drop of blood mixed in one of the bases somewhere. These guys snatched the 2nd place in the Dakka unofficial painting contest.
After the riders, I wanted to paint something a bit more simple. So I did a 10 man squad of regular kriegsmen.
Aaand a bunch of grots. These dudes were painted in a one sitting, as they were really quick to do.
As a first conversion project of the year, I created a Bik Mek on Warbike with a Kustom Force Field. This was a really fun project to do. Maybe one of my favorites.
As I might have mentioned before, in addition to modelling I like to fix cars on my free time. So I really enjoy creating Ork vehicles. I especially like doing small details that represent parts that are found on real vehicles. This took the 4th place in the Dakka painting contest. Plus it has seen the tabletop quite ofter during the last year or so.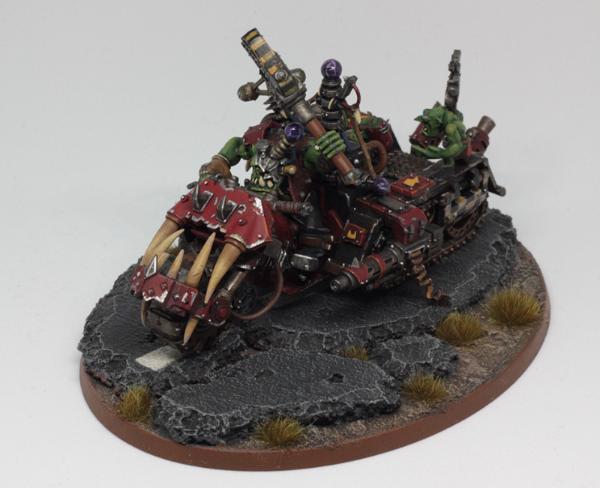 I wanted to keep working with Orky vehicles for a while. So I painted the new Deffkilla Wartrike boss guy. This one does not have any conversions, but I enjoyed carelessly abusing my brushes while making it look weathered. I was also happy how the flames turned out.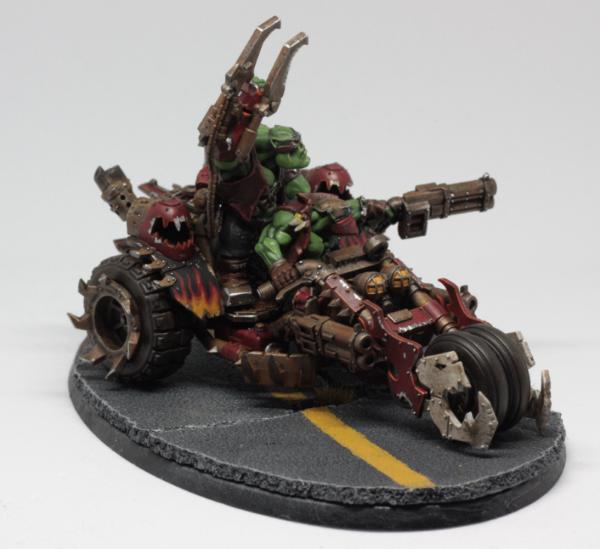 Next up in the list was this fellow, an Ork Warboss on a bike. I created him solely because I wanted to give that model a try in the games. He actually fared so well, that he is now a regular addition to my Ork roster.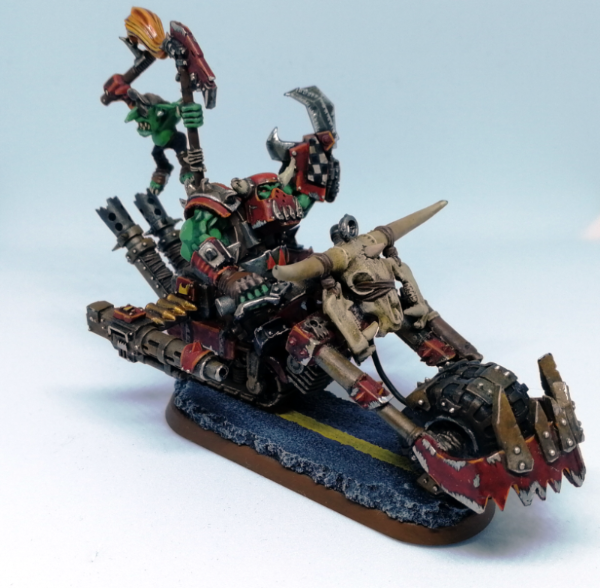 After three Ork vehicles, I wanted some change on my palette. I decided to paint two harlequins. I actually bought a box of them after these, but they are still
WIP
.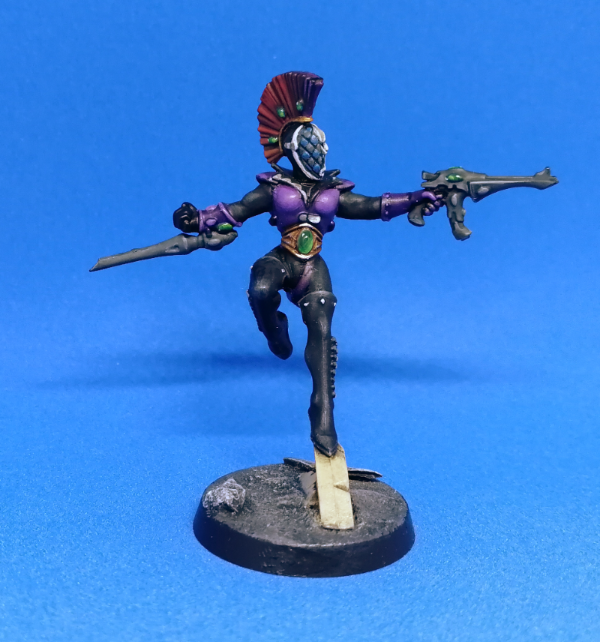 At this point, I had acquired a bunch of Space Wolf Terminator bits from a friend of mine. I think the original purpose was to use them for a conversion or something. As the theme for the Dakka painting contest was to paint a space marine, I decided to try and do a single display miniature for my cabinet. This fellow was the first marine I have ever painted. It was also the first time I tried out non metallic gold. Learned a lot during this project, and noticed that I have still a lot to learn. One of my friends actually said that I should paint his terminators the same way, but I have not yet been up to the task. Would take a while and cost him a bunch of beers.

This girl was yet another Dakka painting contest submission. It did not actually fare very well in the competition. Maybe because of the poor photography or the failed skin. I was quite happy about the conversion itself, but the painting side did not go that well. The model is actually an Drukhari Succubus, but she looks so Slaanesh that she is usually mistaken as a herald. The inspiration behind her was a Dota 2 hero "Queen of Pain". She is to be added to my 2000pts collection of Drukhari. I would really really like to start working on that army, but can't decide the color scheme. They have been painted with desert colors, which I'm not too happy about.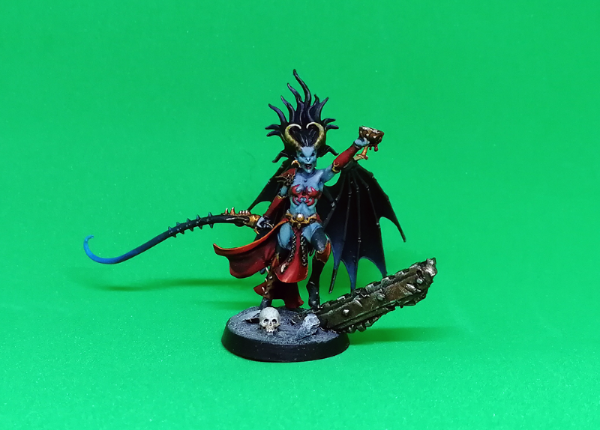 At this point, my break from
40k
started. I got invited to play Mordheim and to test a new campaign book, called "Mayhem in Mordheim". It will be released somewhere in the future.
As a first step, I decided to take out the old crafting tools and create a few props, which I then donated to the group.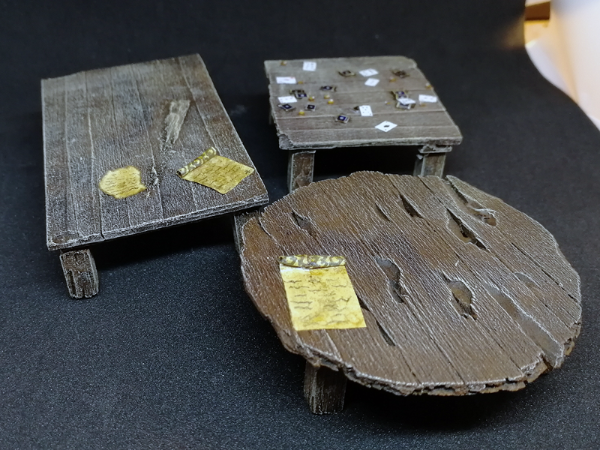 Another terrain pieces which I created for the group were the rock piece, a fireplace and a book shelf. From the latter I don't yet have any images, but they can be seen in the Mordheim warband shot from my last post. Making this rock piece was most enjoyable. I tried out many different things in which the weirdest and maybe most successful was using tea leaves, PVA glue and green paint as foliage.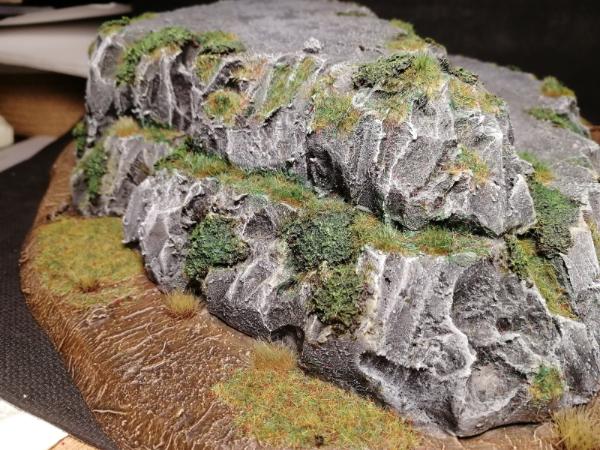 As a final project, I created the Mordheim warband. I started painting them in May or June(?) and finished the last guys couple of weeks ago. It took me a while because of two things: firstly during the summer I find it hard to find any painting motivation and second I had to finish my thesis, which took pretty much all the energy out of me.
Now I won't post the warband shot again, as it would be funny to post the same image two times in a row. But as a recap here are a few of them:
This fellow, a mutant from a Possessed warband, was risen by Laurentius the Necromancer. It was a fairly quick conversion and even quicker paintjob, but does the job.
With this guy, Cascoigne the Dreg, I practiced object source lighting. It turned out okay for a first ever try. Will have to give this another go in the future. Regarding on how I did it: no idea actually. I applied some colors, then painted over them only to apply them again. I tried blending, dry brushing and just plain old layering. The end result is a mix of those.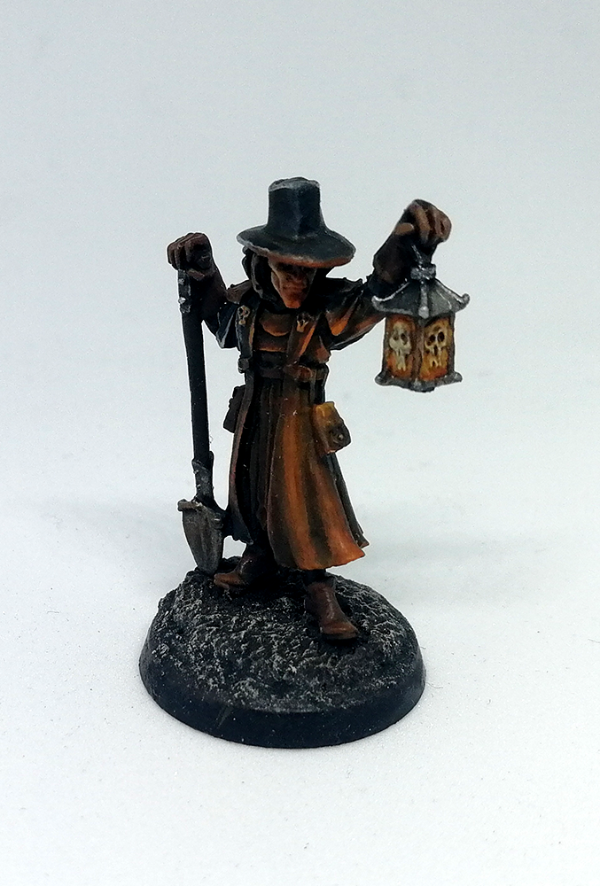 The model I spent most time painting for this warband, has to be the Vampire, Valerie. I'm showing a picture from behind, as I think that turned out the best. I was happy how the red worked out on her clothes. It was a mix of layering and wet blending.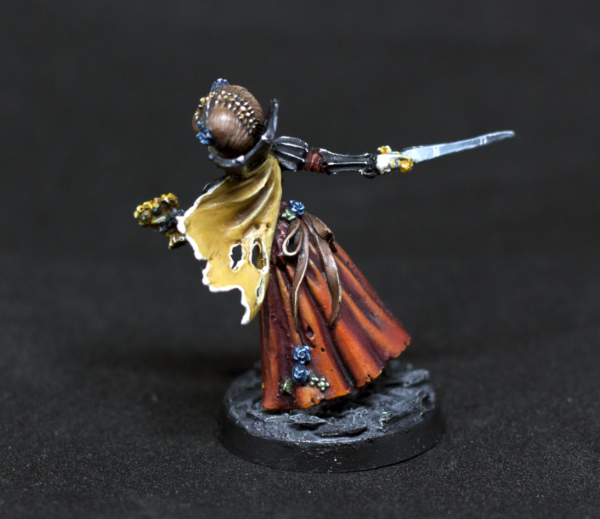 The last special mention goes to this Dire Wolf. It was my first time using greenstuff to this extent. The fur from starting from behind the front legs is sculpted using a hobby knife and a mold line remover tool. Yeah I know, I should get some sculpting tools. The back side is from a chaos hound(?) kit. I decided to make this guy (and the other skull wolf shown in the post regarding these) because the wolves I bought did not look mean enough.
My hobby year of 2019 started with a lot of enthusiasm. For the first few months, I painted at least thee to four times a week. As the months passed, my pace slowed down a bit. During the summer, I hardly managed to paint at all. Even worse, the last time I took out my hobby equipment during the autumn was at the end of August. Only just before Christmas, did I take out my hobby tools again and tried to apply some colors once more. It's not always possible to keep the pace and motivation, but trying to force it is even worse.
Still though, during these last two years, I have managed to paint more than in the last six years before that. And I think that is actually quite an accomplishment.
As numbers, my last year looked something of the following:
- ~90 painted models (ork vehicles etc. count as one)
- 4 completely converted / scratch built models
- 2 slightly converted models
- 7 terrain pieces (if the tables are counted separately)
- first time trying object source lighting
- first time trying non metallic gold
- first time trying wet blending
- discovered a bunch of new terrain making techniques, like using tea as foliage
- a dozen or so games of
40k
and seven games of Mordheim
- endured many battle wounds from my hobby tools (luckily nothing too serious)
So a lot of firsts and a successful year after all!
Looking forward all the new and cool hobby challenges I come across during 2020!
As a goal for the next year could be the following:
- Learn to take consistent photos of my minis
- Keep on practicing the new techniques I tried out last year
- Try to learn when to call a model done. I'm a bit afraid of the camera so to say, so I try a bit too hard sometimes when it comes to basic troop models. This sometimes leads to "hobby exhaustion". I don't mean that I should rush the models, but I'll have to try to find the right balance regarding when to use quick and simple techniques and when to spend more time with a model.
- Lastly, try out new things and enjoy the discovery!
Sorry once more for a really long post.
I have gotten a bit carried away during these last updates. Maybe it's my way to compensate for the quiet time I had during the last months.
I promise that the next update will be a lot shorter

Thanks for reading. And if someone actually read the whole thing, I appreciate it!
And I just wanted to say thank you to the whole community. You guys are the best!
See you around.