Thanks for the comments and compliments guys!
Maharg & Youwashock
: Cheers! Trying to write a summary about all the new techniques I come across, so that they can be used as reference for others and for myself too.
Syro
: Glad you like them! It was quite difficult to make the knots, and boy was it time consuming. But I think it paid off in the end.
I was browsing your thread and actually came across the scrolls you made, looked ace! It also seems that every terrain / prop idea I get, I could just go and check your thread on how to achieve it. I was creating a prototype of a fireplace, and I cracked a smile as I noticed that you had already done it

Been actually thinking about making a thread that would focus only on terrain. That way it would be easier to find the different techniques I have used and that way I could also use it as a "terrain notebook" for myself. My gaming group also keeps asking how I did certain terrain elements, so it would be easier to link that thread instead. Need to think about it. Time is a bit short during the autumn. If I end up doing it, it will be a lot less active than this one, as my "terrain building sprees" tend to happen once or twice a year. Got a ton of ideas though...
But for now, let's continue the journey right here:
Here's a close up from some of the scrolls.
After making the knots, I applied just a bit of glue to hold the thread in place. A few of them came out a bit too yellow, as I dipped all of them in the yellow wash (the wash mixed with the glue did not give enough color). Now some of them have been glued to the shelf. I will post a picture of that when it's complete.
As an experimental project, I tried to do some bricks out of Milliput. I did not have the right tools, so they came up very different sized.
The idea was to build a fireplace out of these bricks. As I was piling them, I realized that they are so uneven that it would never work. So instead I decided to try and build one out of styrofoam.
If that succeeds, I will post a small write up about that process as well. Okay well, even if it does not succeed, I will do it regardless.
Then back to main "main project" at the moment.
I painted the rock and its base by dry brushing different shades of light brown and grey. After that I started applying some
GW
grass flock, but it looked a bit bland. I wanted to give the rock a bit more natural look. After browsing a ton of reference images, I got an idea about making some sort of
moss
on top of it. I have read / heard (not quite remember) that someone did foliage out of tea! I had to give this a shot.
I cut a small piece of styrofoam to use as a test base and went to town.
I used three kinds of tea as they all had a bit different kind of texture. I also made a few different mixes with and without green wash.
The base of every mix was PVA glue and water. Note, quite a many tea bags were harmed in the process.
After drying over night, I did some dry brushing with different tones of green to see which combination would work best for this project.
The one on the very right is made out of smoke tea with long grain. It did not look that good for the purpose I had in mind.
The on in the very middle is green organic tea with really light colored grain.
The ones on the left and bottom was twinnings fruit tea and it seemed to work the best.
The rest is just some random mixing with grass flock etc.
It was time to kill a few more tea bags and start mixing!
A shame, it seems that I don't have any pictures from this point to the completion, but I'll try my best to explain the steps:
The mixture had to be quite thick, so that the water and glue would not run down the steep surface of the rock. It was also easier to "mold" this way. I started applying the stuff with a brush, but it was really hard to shape the stuff that way. Instead I put some rubber gloves on and used my fingers. I tried to make different sized and shaped
moss
areas. This step was really messy: in the end I noticed that some of it was on my table and all over the floor. It was vacuum cleaning time.
After the mixture had dried, I applied one more layer of green wash to each
moss
piece. As a future reference, I might use actual green paint with the mixture instead of wash.
Then it was simply dry brushing different light green tones on top of them.
As for the
GW
grass flocks, I applied one layer -> then some green wash to break the color -> one more layer of flock to make it thicker and further break the color.
After that, I applied a few different kinds of grass tufts from army painter.
And with that, it's finally complete!
(Bigger pictures in the gallery)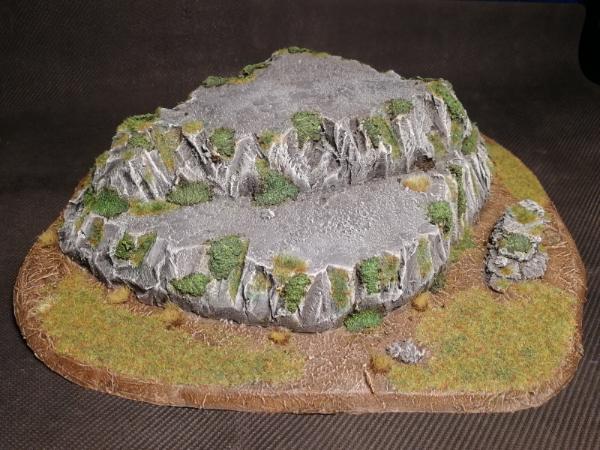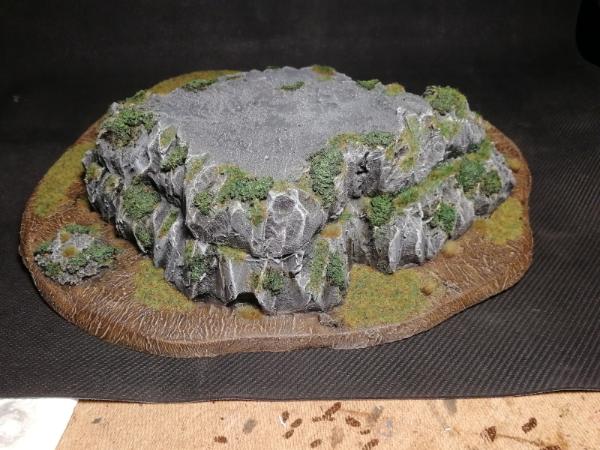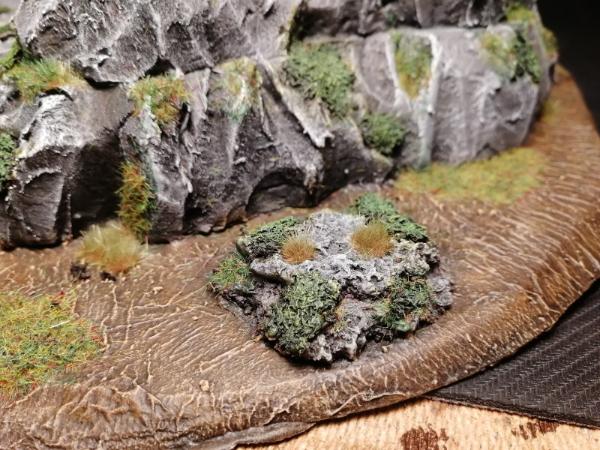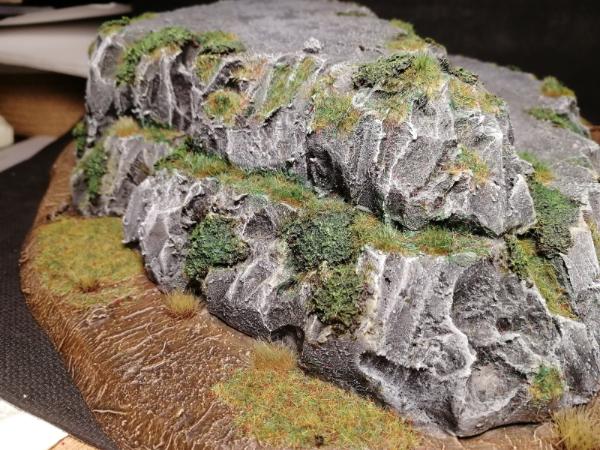 It turned out pretty neat!
Only thing that bugs me is the front face (first picture). The foliage looks a bit unnatural. Not sure if it's because there is too little of it or because the
moss
was applied a bit too dot-like fashion.
Nevertheless, for a first try with quite a few new techniques I'm really happy with it. I might very well do a few grimdark versions to decorate our
40k
gaming table!
The other small props (fireplace, shelf and benches) are almost complete, as I was multitasking with them quite a bit while the different mixtures were drying.
So I'll get back when I'm done with those (hopefully in a day or two).
Until then, keep on rocking!