* And once more, after a long soak, its been known to loosen some glue bonds.
**Apparently its safe to use this on finecast as well. I havnt personally tested it on finecast to be able to say for sure, but its been told that it works like a champ
Its true, I wouldnt lie. Ive tried a bunch of different things to strip a mini over the years. Simple green, purple power, SuperClean, paint stripper (That poor Ork boy)
Some work well, some decent, some horrible. Usually you have to leave the minis in your chemical for 3 days to a week to get good results, and that to me just didnt seem to be good enough. Ive been told about a product that works wonders and is cheap to boot, so I finally got around to testing it and was pretty damn impressed with its outcome. Heres my tutorial on how to use the stuff, if your a seasoned pro, then you can just glaze over and just try the stuff, but this is mainly for those of you that have little to no experience on taking the menace that is bad paintjobs off a mini with good results. So enjoy.
The magical product is called
LA
's Totally Awesome!
I paid a whopping $3 for the larger jug in the picture from a dollar store. This is great since America has one about every 5 miles. Im not sure if this is sold over seas, so sorry to you guys over the pond if you cant get your hands on it.
Ok what you need firstly is a plastic container to hold the chemical in(dont water it down, go full strength) .Then a nice toothbrush, I used a soft bristle but having a hard bristle around might be a good idea as well for that hard to scrub off paint. Make sure with the toothbrush your not scrubbing hard, if you have to put much effort into this then either the paint is not ready or the stripping agent is not working how it should. Make sure you pour enough LATA(La's totally awesome) in to submerge the minis you put there, I doubt itll work that well half in half out

You should end up with something like this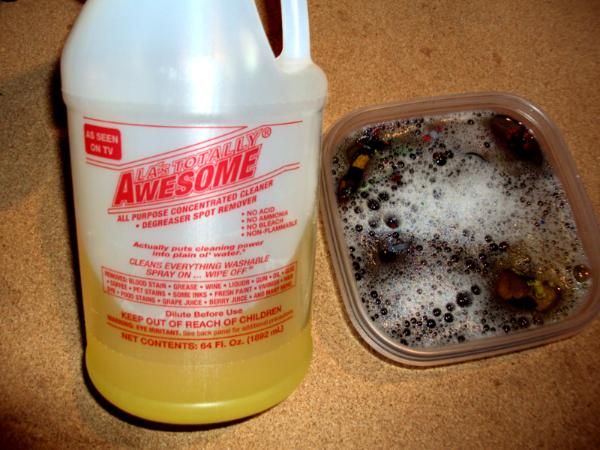 I let the minis soak for about 12 hours and tested out the stripping.
Id
say this will work well if you have light paint or something on there. Now these crons were nasty so I decided to let them sit a whole day. Here is everything I put in the tub o doom.
Now the warriors are half primed in
GW
white and the other half was a cheap black primer (I know this because I knew the guy I got them from) Then for good measure of the stripping abilities I added metal flayed ones and to REALLY test it out, a terminator sgt that was not only painted by a new painter, BUT sealed in MINWAX! Oh yea, more on that later.
So a full-ish day of soaking you get this (note they are not pink, so please dont ask why they are pink. Im not Dash here

)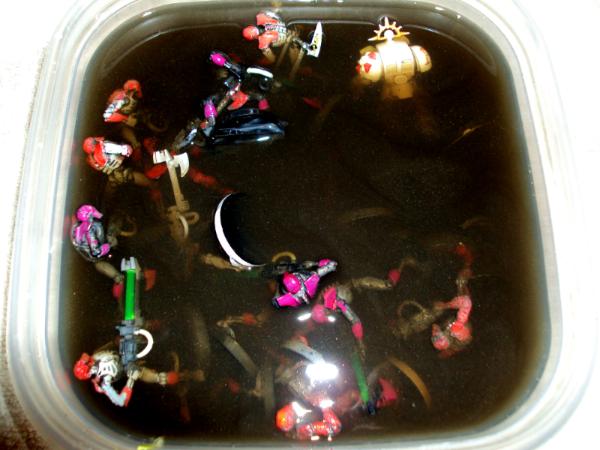 Its getting nasty in there but thats a good thing, its paint and such. Now you want to take your brush out and start scrubbing. Youll want to get into EVERY recess you can get into here. Also like I said before, DO NOT scrub hard, youll just break things and wear yourself out, if its working right the paint pretty much just rubs off. Use the tips of your bristles and in a swirling pattern worked best for me. If you push to hard the surfaces will be missed by the bristle tips and wont scrub right. Using LATA foams like mad, so if you need to see, just dip it back into the chemical again. More pics
Before
During
After (note I discovered that the cheap spray paints (I personally love them but didnt know this until now) actually stain the plastic. Youll see on the white ones the minis are bare plastic, but the black primed ones are stained black)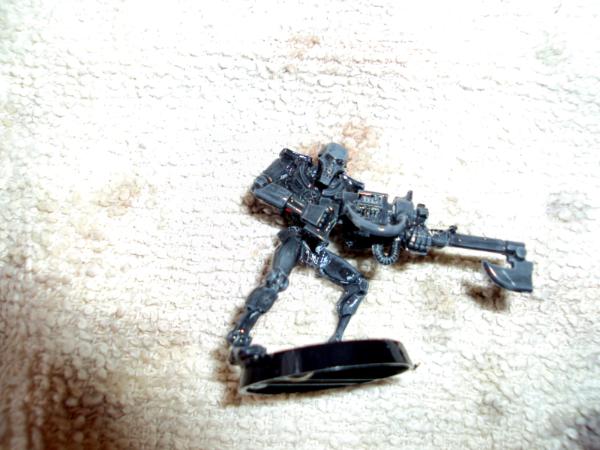 Ok after the scrub I put the minis in a tank with soapy water to help rinse the LATA off the minis. Pretty simple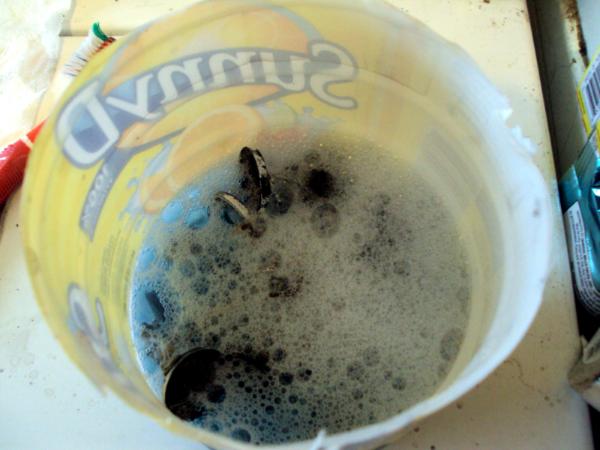 Now onto cleaning. As always when you strip minis, youll want to clean them off and let them dry completely before doing anything with them. Nothing is more annoying then trying to prime something and have it ruined because there was residue left on the mini, that just means ANOTHER chemical bath. So get yourself another container or wash the previous one out. I put some warm soapy water into it for a rinse. Then scrub the mini briefly with the toothbrush. Then rinse it in the soapy water. Then let it air dry.
PICS!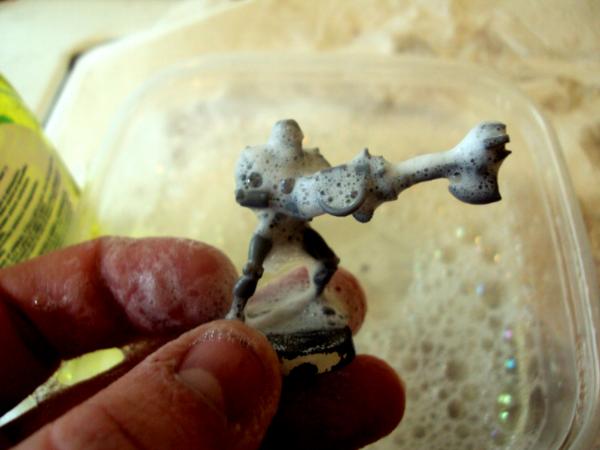 OOOHH! So clean!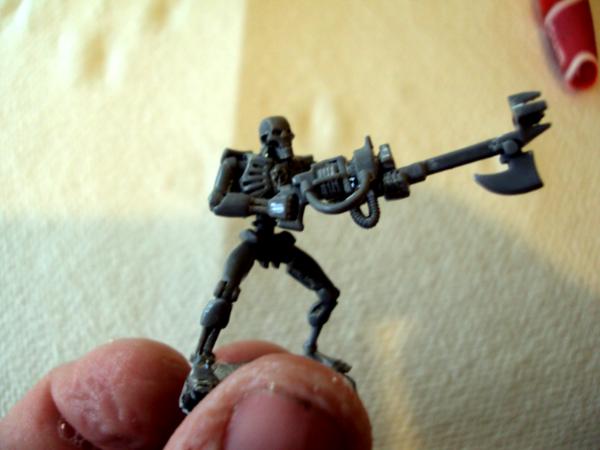 Thats basically it. Now as I said I did the plastic, the metal AND 1 lucky fella that had the minwax treatment (I tested one the wife practiced on to see how dipping panned out. Not for me) The plastic and metal came out beautifully. The ONLY problems I ran into was it seems to dissolve super glue a tad. The guy I got these from was not very good at bonding so the flayed ones lost some hands, the Immortal was 1 handing his gauss blaster and so on. Not a big deal really.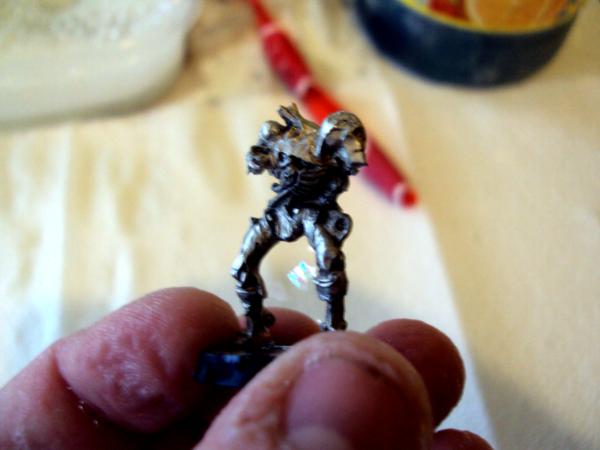 MinWax and you!

LATA actually does minwax with ease as well. But it takes a longer soak. At a full day I got it from this: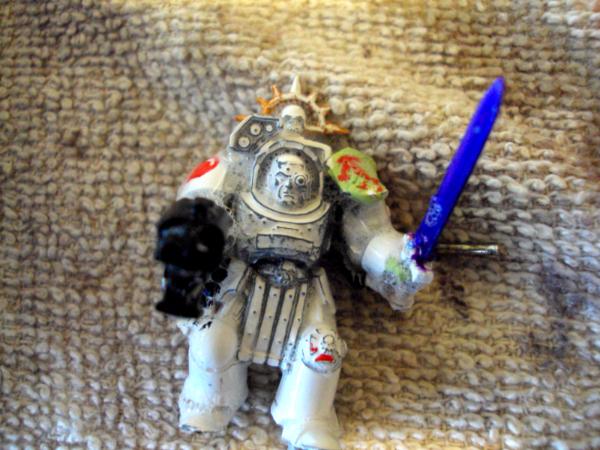 To this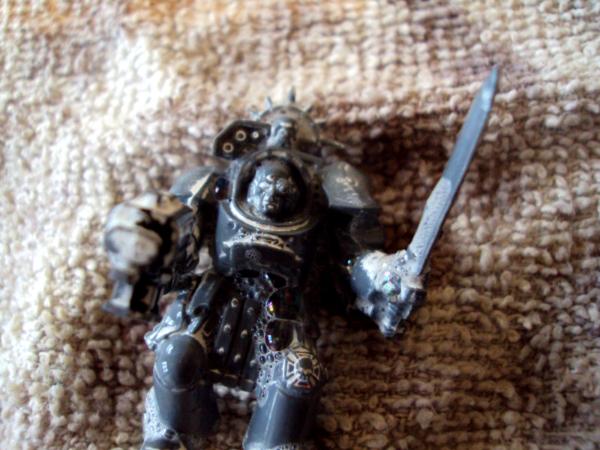 Obviously the crevices will take more soaking,
Id
bet once MAYBE twice more and this will be cleaned. Im sure its because the minwax is REALLY thick at these spots. But still, in 1 day you can get a MINWAX army to that, a hell of alot better then the usual 3+ days.
SO! There you have it. I paid $3 for the big jug, and a buck for the toothbrush. And I stripped all this
To this
In around 24 hours. Best part is, I barely used the LATA, Ive still got a ton of it left over. Only side effects Im feeling from it, is I feel like Ive left my hand in a bath tub for a day, and that is a weird feeling. So you dont even need gloves and the like (unless your prone to skin irritation from chemicals) the only warning it has is not to get it into your eyes.....duh. Ok DAKKA, enjoy it, enjoy being a cheap ass, enjoy painting a new army

*NEW UPDATE 5/23/13
OK So Ive said a few times that LATA can strip damn near everything,
and strip it well. So I decided that Ill show exactly what it can
do to some minis that I did some years ago when trying my hand at
the Min Wax and some other quick army painting tricks.
I hated how they turned out and never touched them since, so now
I figure, what the hell, Ive been in a modeling/painting mood! So
Heres what LATA will do to a coated/finished model.
*These sat in a vat for 3 days strait. So LATA doesnt affect the
models in the least. Also note that it acts weird in regards to
Super glue. Ill note these weird acts on the pictures in question
As you can see, that fun Mt Dew color is gone and is brown. Full
of wax and other various "sealers" that make painting quick and
"easy" Note I some how lost the pic taken of the group with their
various coatings on. Sooo use your imagination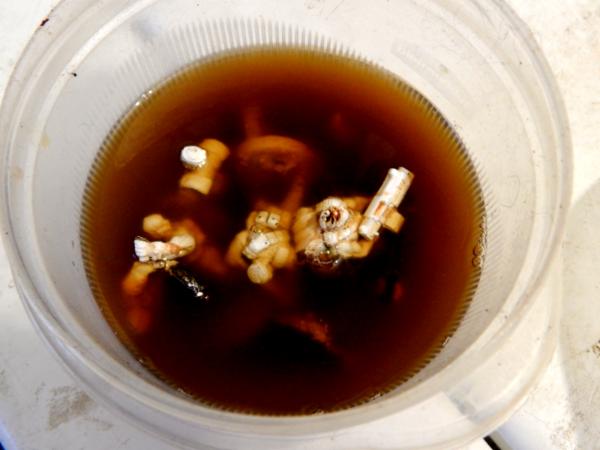 Now this is where it starts to act weird with Super Glue. As you can
see, the red dots are from a previous color on the plastic. The dots
were protected from the super glue, and obviously didnt melt off
from the LATA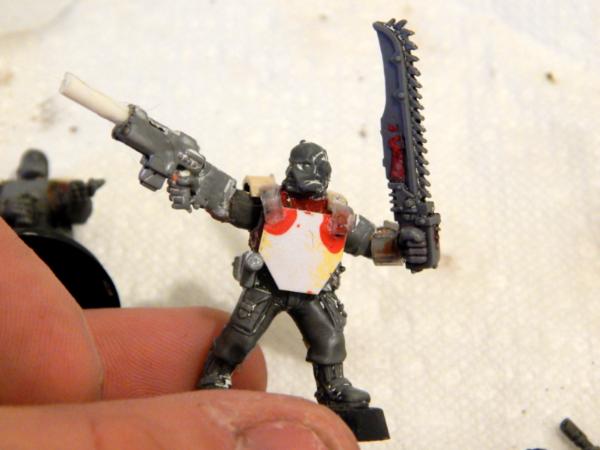 But here....
Here...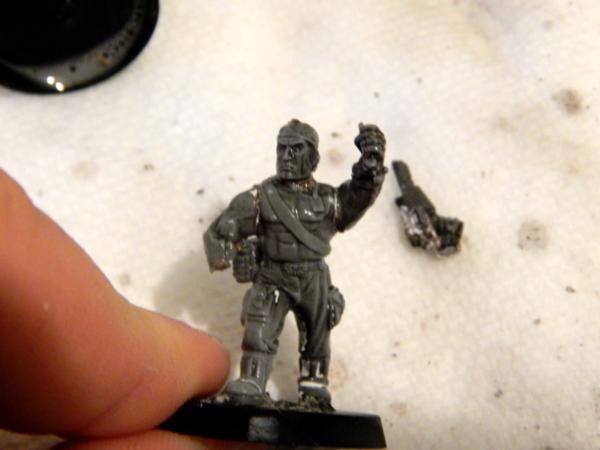 And here...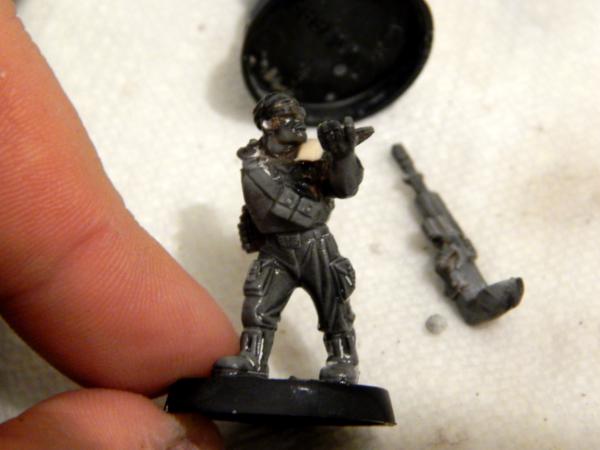 You can see the weapons just popped right off. So the Sgt/Leader
fella had ZERO problems with Super glue losing its bond, and even
protected some paint (lucky red paint! *shakes fist*) yet the others
are pretty much screwed with no way to defend themselves
lol
Oh well. The end reults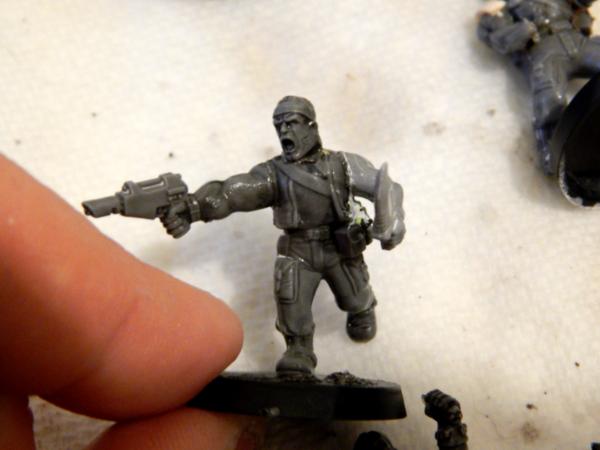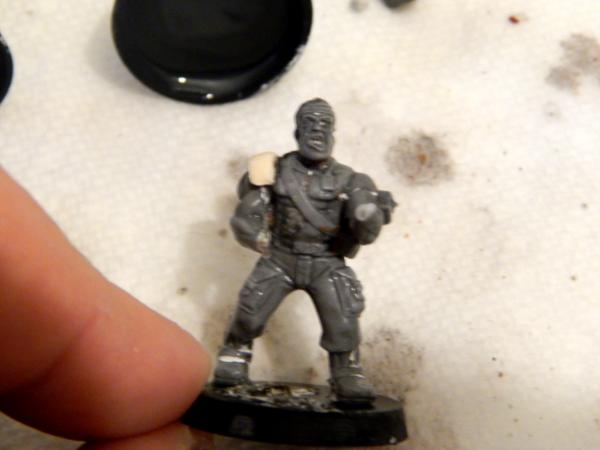 So as you can see, even sealants have little chance against LATA.
ITs a great, cheap way to strip your models AND keep a clean house.
Ive also hear a few times that it strips with no damage to resins
But Ive yet to try that. I WILL however, see about doing that in
the future so I can report to you lot on it. Cheers!