And we're back with more BREAKING NEWS!
Hey! An actual Update!! Mork be praised!!
The Orks unveiled several brand new weapons in their assault on Saturday the 18th, including a Pulsa Rokkit:
And a pair of Fighta Bommas!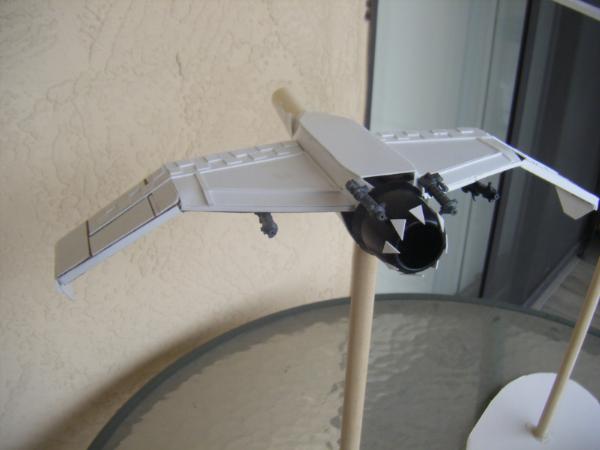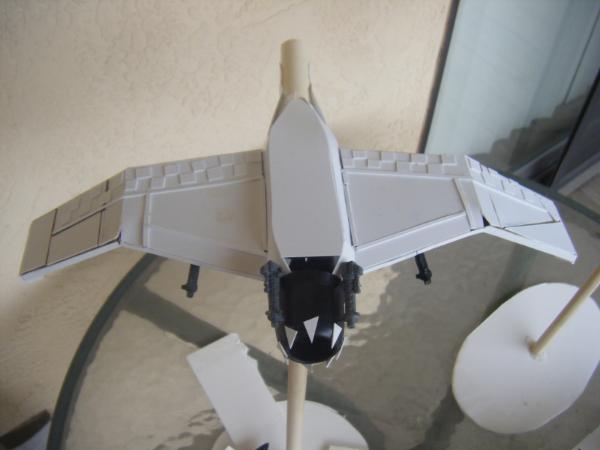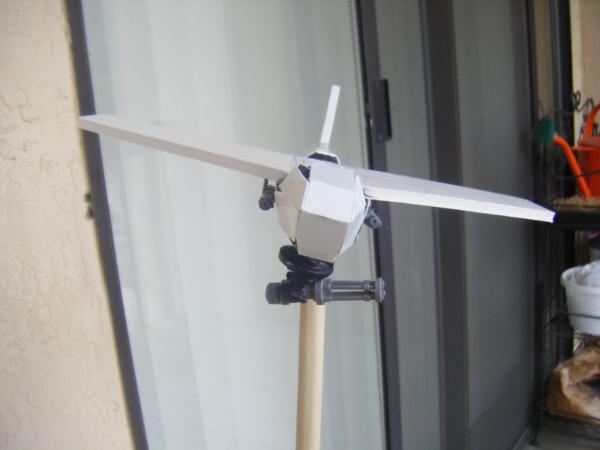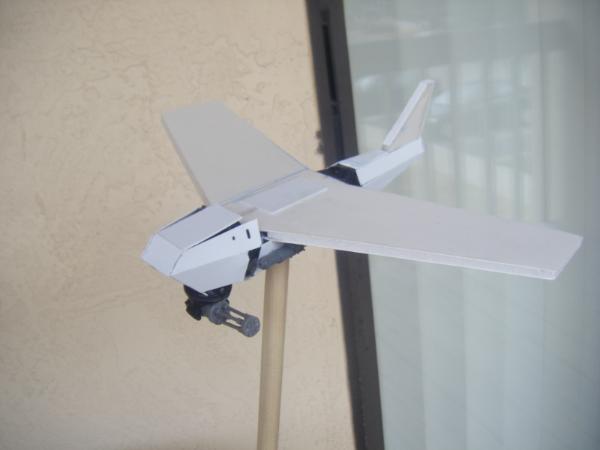 I was informed of this game maybe a week in advance, and oh boy, was I in for a treat!
I have perhaps 2000 points of Orks that I can play with in normal games. The list is anything but good, lacking most fast attack and elites choices, as well as having only 2 major choices of
HQ
. I dont think ive managed to do well in any games bigger than 1500, to be honest.
Anyways, It turned out that I would need a full 2000 points more than what Ive fielded in the past, and so began the Race for 4k points!!
Upon learning of the game, I immediately was struck with inspiration for a Pulsa Rokkit, completing all construction up to its current state in less than a day! I even built a marker for where it eventually would land: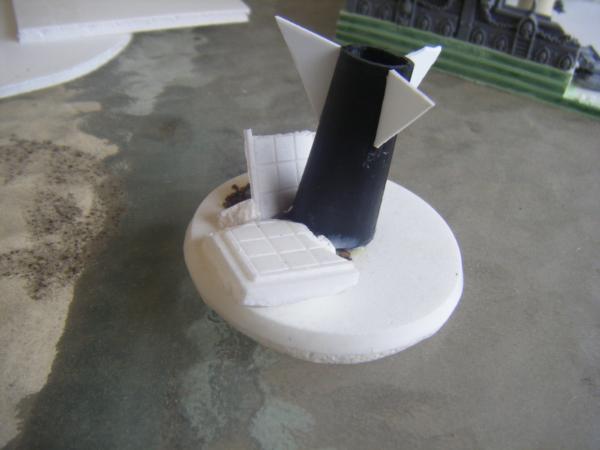 Adding on all of the Rokkit's possible upgrades (as I needed points badly) I had 355 points down!
Upgrades on my orks abounded, with a full squad of
PK
nobz and a warboss fully decked out, mounted in a Deffrolla Battlewagon bristling with armament! (somewhere along the lines of 1000 points in that unit alone!)
5 Trukks (all that I owned) filled with boyz, including my Big Meks, one with a
KFF
and one with a
SAG
.
I then found the Fighta Bomma page in the
Apoc
book, and instantly knew I wanted a pair of them! One would receive burna Bomms, while the other got Supa-Rokkits.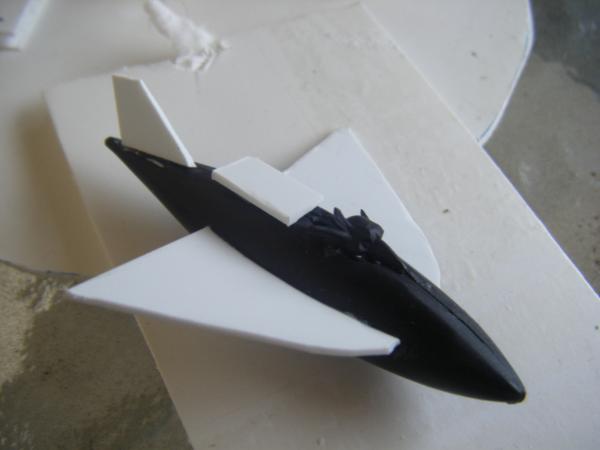 Ultimately, I had come up with a little over 3900 points of Orks, including my Rokkit and Bommas. Just in time for the Game:
The organizer of the game made a bit of a custom ruleset for the game, that being that the deployment was a 36 inch zone from the teams' board edges, and no units could deepstrike into the opponent's deployment zone. Each member of the teams could choose one single superheavy and/or one formation to take, meaning a maximum of 10 of each on either side. Also, Spacewolves and Daemons were Without Number!
The abridged version of the campaign (as I am not exactly the most fluent writer today) was as follows:
========================================
Abaddon himself came to the planet, seeking its eradication, a meager battalion of Guardsmen all that stands in his way. However the guardsmen managed to send out a distress signal from their last remaining stronghold, calling the forces of the Space Wolves to their aid. With these new foes, Abaddon ordered the construction of a Chaos Altar, summoning hordes of daemonic fiends to battle. Naturally this drew the attentions of the Grey Knights, who came to purge the infestation.
And of course there were the Orks, Fighting for the hell of it!

========================================
Needless to say, it was quite an interesting game. I dont recall what stratagems my team took (I was on Chaos) but my orks took Flank March, which would prove to be one of the most awesome tactical decisions of the game.
We began early, as is necessary for
Apoc
games, so everyone showed up around 10:00-10:30AM, and we finished setting up our armies and our board by 11:00.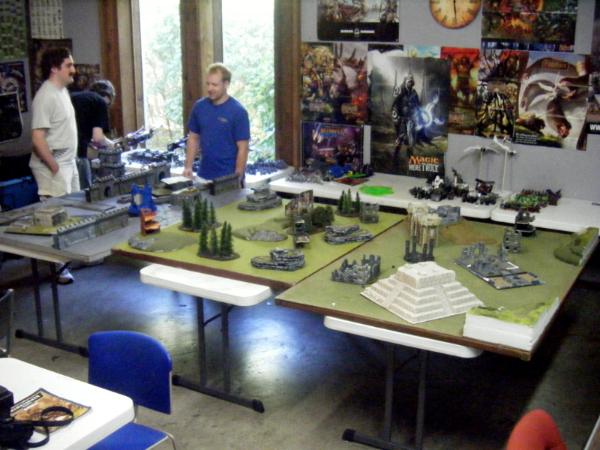 First Turn was rolled, with Chaos rolling a two (Oh no!) and the Imperials rolling.... ONE!
And so, Chaos Deployed quickly (One Chaos player held his men back, and the Daemons player naturally had to deepstrike all his units anyways.) I only Deployed my Pulsa Rokkit, while the remaining 2 chaos players deployed most of their forces their full 36 inches.
But the Imperials had brought a friend: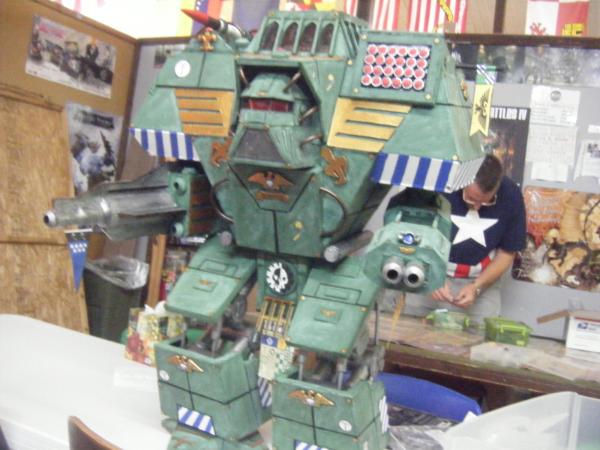 Oh boy a Warlord...

This will go well.
Already he had a commanding presence on the field:
So first shooting phase comes around, and my Pulsa goes off! First it scatters too far (going off the table!) but fortunately its Grot pilot comes to the rescue!!
It plops down just outside the city walls, and goes to work pinning units and shaking vehicles! almost all the tanks in range were stunned, half losing one or more weapons, and even one or two being wrecked!
By turn two, the game has progressed slowly, with the Warlord having fired its vortex missile right into the heart of the Chaos formations. Even with a large scatter it vaporized 3 rhinos (all fully loaded) and a defiler!
All is quiet on the enemy's rear lines when suddenly.....
ORK SURPRISE ATTACK!!!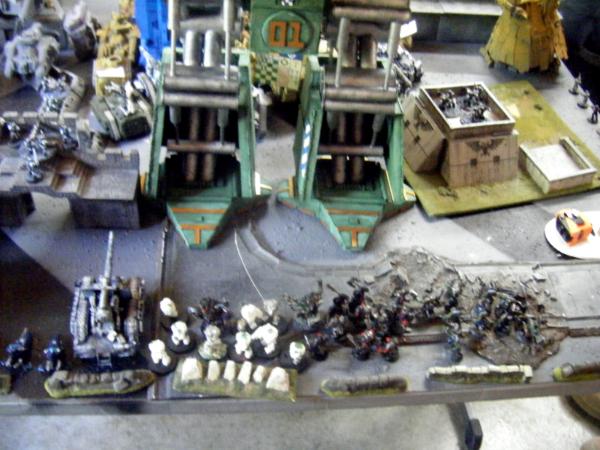 Meganobz and Nobs follow their warbosses into Kombat!, even charging straight into the titan! Tank Traps cant stop us!!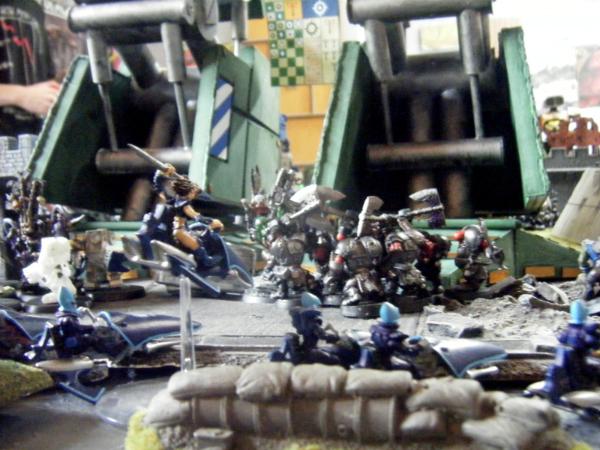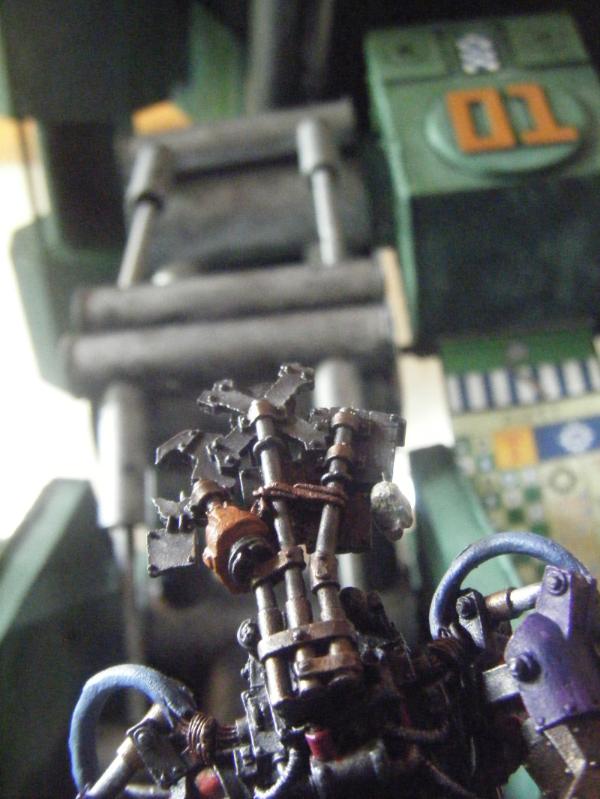 "We'z fightin'
that?!?
"
The orks managed to rip the Volcano Cannon off in one fell swoop, as well as stunning all guns and Immobilizing the entire titan!
Not to mention they all managed to rip off 3 Structure points... Not to shabby!
Sadly they didnt survive being shot at too well, even with Cybork bodies...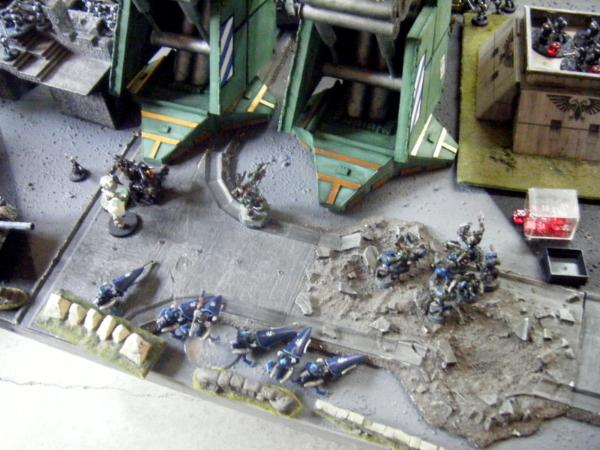 (Retrospect, I shoulda taken the
KFF
mek with me >&lt

In turn three, we get a little bit of help from Chaos player Dave...
REAVER TITAN!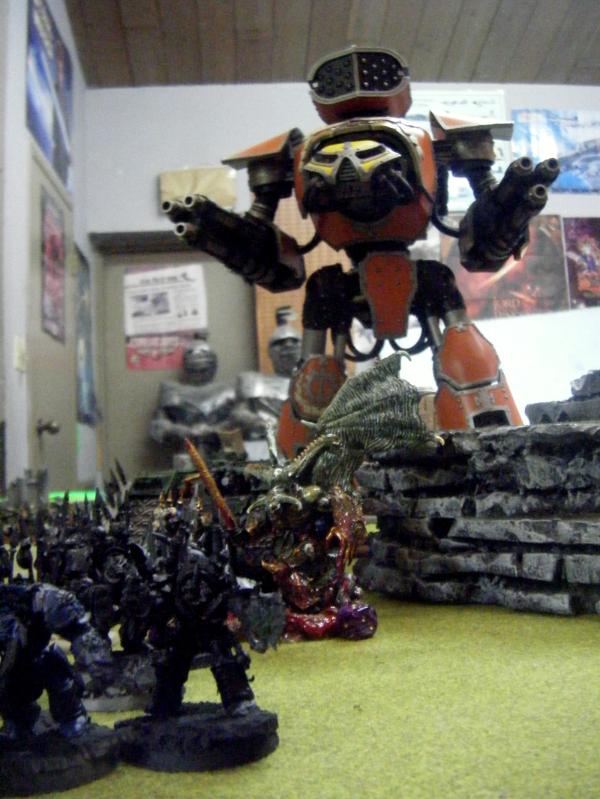 He takes down several Void shields, and my orks stun the freshly repaired Volcano Cannon again. No structure Damage.
MEANWHILE The Pulsa rokkit continues to roll high, making tons of guardsmen and marines go to ground, and breaking more vehicles!
Only problem was that it was pinning the daemon players units too ><;
In subsequent turns, Killa Kans appeared to shred a Land Raider, and more boyz came to stun the Defense Laser that had been taking pot Shots at our titan. They were subsequently shredded via heavy bolters and Guardsmen's flashlights.
A battlewagon Rams the Titan and rolls a pair of ones, adding nothing to the fight. Trukks appear and shoot at guardsmen, and Chaos marches on.
Ultimately, the Warlord was wrecked by the smaller Reaver, and Chaos held its objective while capturing the "Trophy Kill"-ed
SW
HQ
unit, leaving the planet to be devoured by chaos!
Hehe! To whoever actually read all that, thanks!
Work will continue on my
Apoc
units, and I might make a new Bomma or two before my next game. Though with school fast approaching, who knows how much Ill get done.
Regardless, Ill probably have many many more Orks to do in the future!