Off topic
I forgot how long it takes to prep images for the blog. I may need to see if I can speed that up some. I also forgot how long it take me to write the blog entry...
Off to a good start, managed not to bust goal 7 in my first week. Also, pictures in second (this) post.
Housekeeping
Ah, monkeytroll and Imperial Monkey - I now feel like I never left. Welcome McMagnus Mindbullets. I can't say I'm overly familiar with Imperial Knights either, but I'm sure I will be by the end of this. You will notice I haven't put a timeline on completion - I never said they would be quick to finish - just faster than any other faction I might look at

Could you see me completing 15 Adeptus Custodes faster? Would you even want to?
. One has to play to their strengths after all.
Theme
No plans currently for Nick Fury type. Knights don't have infantry, but you are in line with my thinking that I can always bring in Guard or Admech to represent S.H.I.E.L.D. et al - so perfectly valid so far. I'm just not going to be distracted by that now.
Progress
Forgebane halved.
Familiarised myself with the Helverin and Warglaive sprues.
Found pictures of the iconic poses of Marvel superheroes I wish to use.
Started Helverin (arm magnetisation below).
It took a while to investigate the Helverin and Warglaive sprues, digest the instructions, and come to conclusions about the magnetisation potential. Mainly due to overzealousness on my part. There are a number of parts that you are instructed not to glue, for posability. It wasn't until I watched some of
GW
's Duncan building and painting videos that I realised this wasn't meant to be left posable at the very end. Much to my relief actually, I don't even want to consider painting posable parts. I considered leaving the shoulder joint unglued (it swivel locks), until I realised that with the shoulder pad in place you will never get it out. It could be magnetised, but I'm still not convinced that would solve the shoulder pad issue. There is also a valid point against too much magnetisation (heresy!)
The obvious magnetisation point is in the middle of the arm, where it attaches to the gun or
ccw
mounting point. Perusing some "magnetising your Armiger" videos I see others magnetise the
ccw
to its mounting point as well. I decided against this. There is not a lot of room to work in there, the smaller magnets won't provide the friction required to keep the cleaver in place, larger magnets don't allow for covering (see later) and won't slip into place easily. I even considered magnetising the two pieces of the
ccw
mounting point to snap together. I'll risk
GW
coming out with an alternative
ccw
that re-uses the existing
ccw
mounting point. If they do, I guess I'll have a reason to learn casting or 3d printing

. I can't cover up any mistakes Orky style.
To Do
Post pictures of the iconic poses of Marvel superheroes I wish to use.
Choose pose for Helverin.
Continue building Helverin.
Magnetising Armiger Arms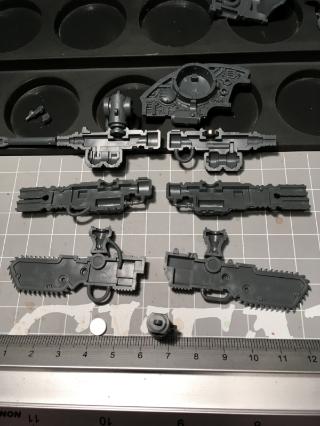 Here I have laid out for inspection all of the current mounting points and the upper arm they attach to. You can see a 6mm x 1.5mm magnet fits perfectly into the join slot, and is already restrained by the existing plastic.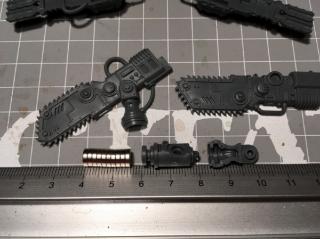 The side view, including a closer look at how the
ccw
mounting point actually works.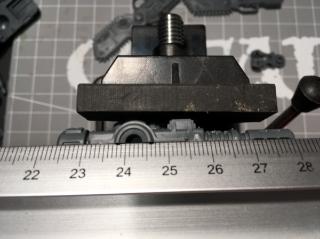 Measuring the connection point diameters. At this point I hadn't decided on whether to mount the magnet in the narrower or thicker part of the upper arm. There is only 4mm available for the narrower part, and almost 7mm for the thicker. This would mean a 2mm magnet for the narrower part (3mm doesn't give us enough surrounding plastic), and this seemed iffy to me - so decision made - I will go the thicker route.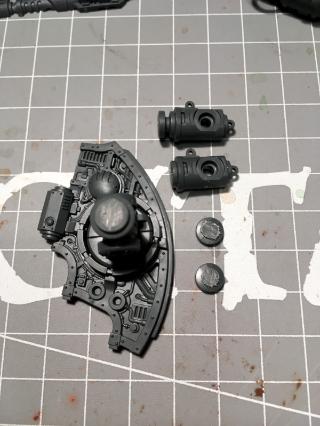 I've cut off the ends of the upper arm pieces, including the thinner part. Here you can see the original upper arm, top and side views of the cut upper arms and the cut pieces.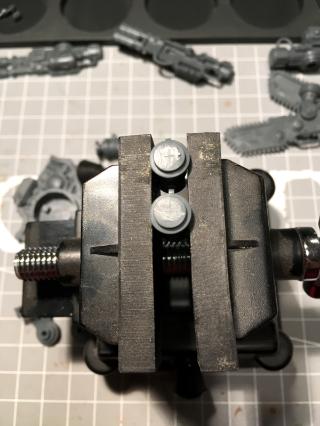 No more "close enough is good enough" Orky measuring for me - these are precision Imperial machines! A handy trick I picked up from another video was using the mould lines as a guide. I place a ruler across the mould lines and score the plastic using my hobby knife. I then eyeball the perpendicular and again using the ruler, score the other way. These should be almost perfect! (I'm going to have to remember this for drilling barrels in future.)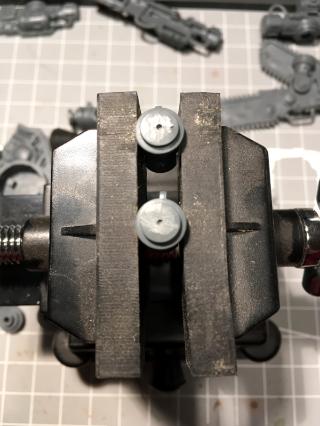 Using the scored guide, I drill small 1mm pilot holes.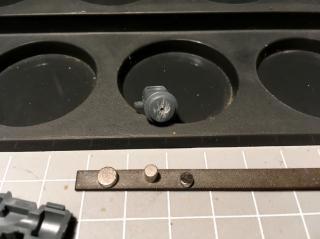 Before drilling the actual holes, I need to choose my magnet diameter and height. Rule of thumb is to use the biggest magnet you can fit. Still, it doesn't hurt to check. Here I have the contenders - a 5mm x 1.5mm, a 3mm x 3mm and a 3mm x 1.5mm.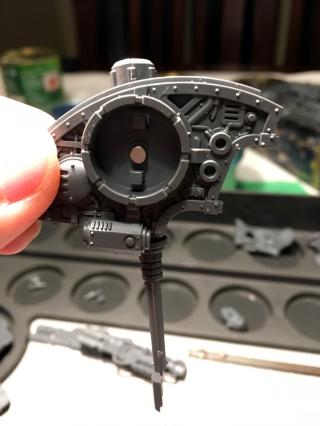 First up, the 3mm x 1.5mm. Basically the test is to see if it can keep the weight of the gun horizontal through some distance of plastic. I use the hull plastic as a test here. This is a fail.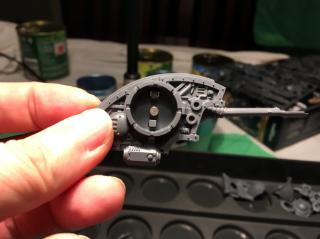 The 3mm x 3mm fairs much better - a pass.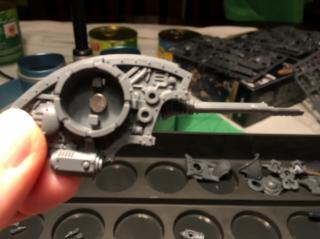 So does the 5mm x 1.5mm - another pass.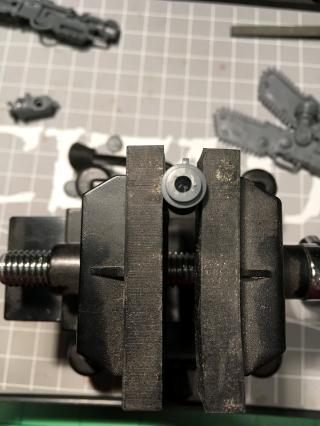 Given I have some depth to play with, and for covering later I prefer more plastic around the magnet, I choose the 3mm x 3mm and drill the 3mm hole. There is an air hole inside the upper arm piece which makes for a good place to stop drilling.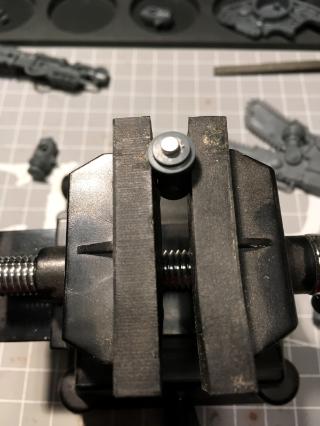 Always pays to do a test fit - although make sure you can still remove the magnet for gluing later! In this case (not shown), I apparently needed a slightly larger drill bit - or I have put my 2.8mm in the 3.2mm place...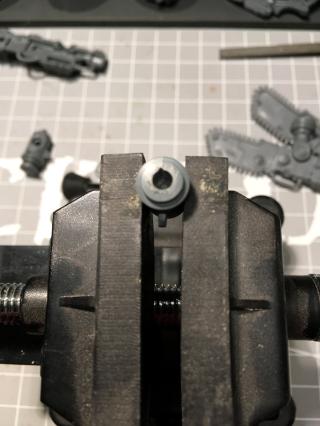 Another trick I only picked up recently from a video - taking my triangular file, I have carved a small groove down one side of the hole. This will allow air and glue to escape from beneath the magnet when I glue / push it into place.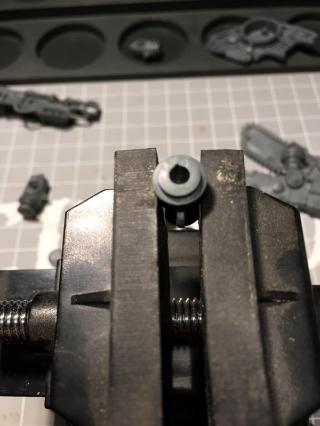 All cleaned up and ready for magnet insertion.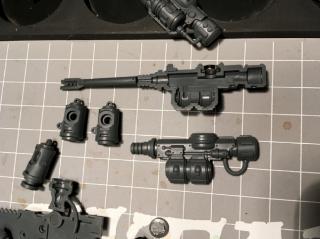 All the pieces cleaned up and ready for magnet insertion. I superglue the magnet into the gun. Then apply the plastic glue. Then superglue the other side of the magnet before pressing together. The arm magnets have superglue applied to the bottom end (closest to insertion point), are then pushed in, and then the arm pushed against the cutting mat to ensure they are flat. Oh, and make sure you have all of your polaritys correct before gluing! Polarity check twice, glue once!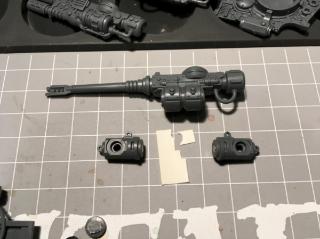 Glued! Here I have the last of my quarter (or maybe eighth?)
mm
plasticard sheet. I have some more of both on order. I'll be using this to "top" or cover the magnets. I do this for three reasons. One, it ensures the magnet is never coming out. Two, paint adheres better to the plasticard than the magnet. Three, especially where the magnets would be in direct contact (not actually the case here), my experience is that two magnets coming into direct contact regularly leads to paint chipping.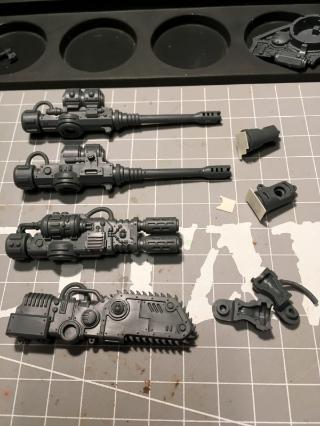 Here you can see I have plastic glued the "tops" on. Also, I glued the other guns and reaper chain-glaive together while I was here. I'm trying something new - I have only cleaned up the connection points between the weapon halves. I'll clean up the weapons once the plastic glue has set.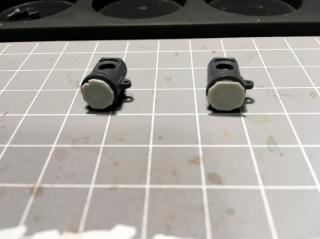 Trim the bulk of the "top" off using a hobby knife. I actually stand these up on their end and cut directly onto the mat for this step.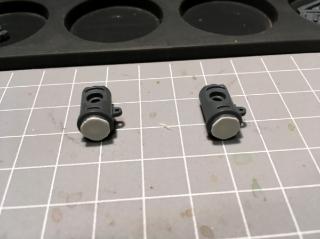 Then carefully trim closer to the desired result. The final goal is for this to be flush with the existing plastic. For this step, you just don't want to over do it.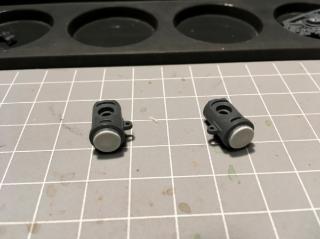 Then carefully trim and file until flush with the existing plastic.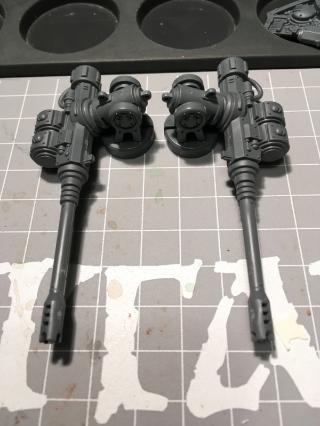 I'm done!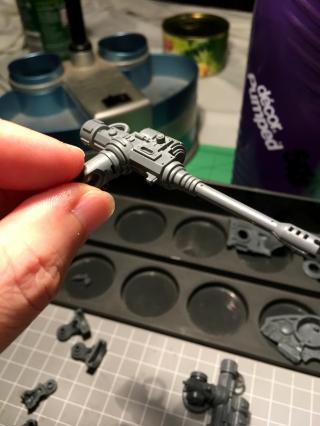 Connection and friction is still good - these aren't going anywhere.
Swap to thermal spear - also good.
Until next time.