And we're back with the final section of the award-seeking Retro Review series!
So you've gotten through the room with the demon frogs hiding under the water, explored the depths of the Black Fen and now the party comes to the final door, the gateway to Lolth's palace!
The door opens to an endless desert and directly in front of you is…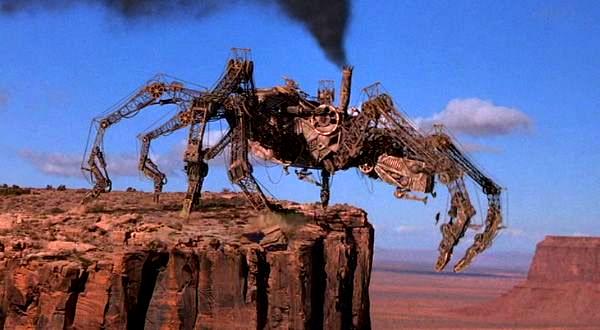 Holy Wild Wild West Batman!
A Giant Mechanical Steampunk Spider Robot!
(My one fault with this book is there is no real picture of the Giant Mechanical Steampunk Robot Demon Palace, so please accept this image from the Will Smith Wild Wild West remake)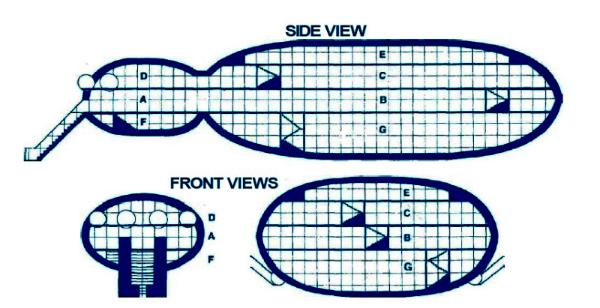 And not just a Steampunk Robot Spider, but a Demonic Steampunk Robot Spider crewed by hell beasts and made from metal plates forged from the souls of the damned! And infested with chaos magic that sometimes randomly alters reality!
But still powered by coal.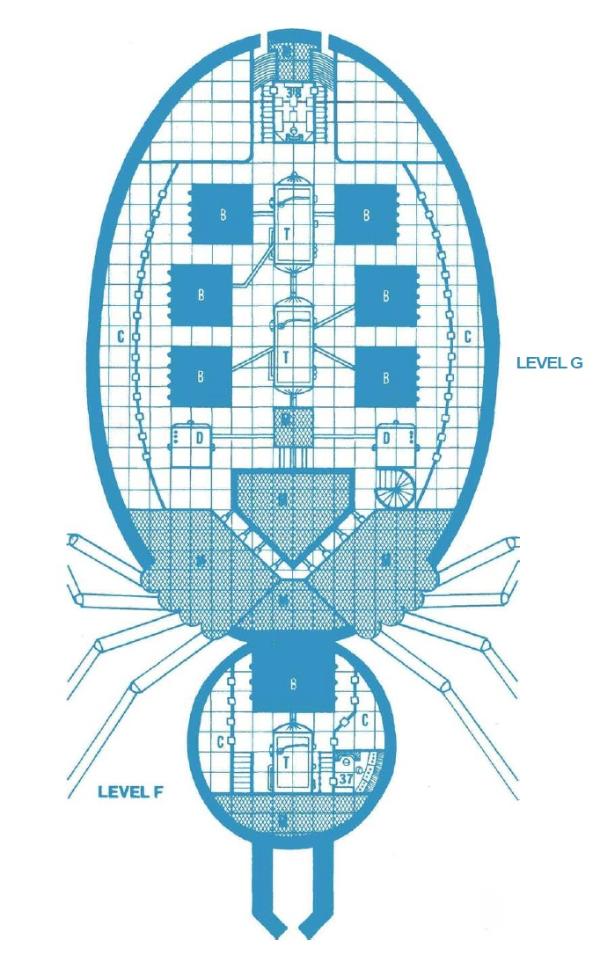 The players are greeted by two lackadaisical gargoyles who show them right up the stairs to one of my favorite encounters in the module, Lolth's secretary.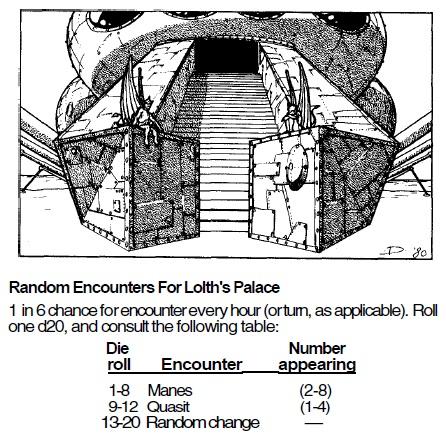 Who of course is a Type V demon, one of D&D's 6-armed, snake-legged, demon women. An idea which I just love, one of the most powerful demonic creatures in D&D using her six arms to simultaneously file, type, take shorthand and answer the intercom. If the party talks to her she'll ask them to fill out some forms, sign the ledger and then…
Takes them right to Lolth's throne room!!
Well that was easy.
But let's be serious, no one takes up the honorable profession of Grave-Robbing Murder Hobo to sit in waiting rooms and fill out paperwork. And actually there's no where to sit because imps have stolen all the chairs anyway. And no, I'm not making this up. It's in the book. Also in the book: "The demon, if in danger of crying, will flee…" I imagine that's a typo for dying, but I kind of like it, if you hit her she'll start crying and run away and, once safe, log on to Monster.com because there has to be a better job out there for a woman who can file, type, write shorthand and answer the intercom at the same time. Lolth's secretary is clearly the most well-defined and sympathetic character in the book. And she doesn't even get a name.
So assuming our heroes act like they usually do, and drive off Lolth's poor harried secretary, they're now free to explore the Steampunk Demon-Engine Spider Palace Thing.
They soon find that as a product of chaos magic, weird stuff sometimes just happens in the palace.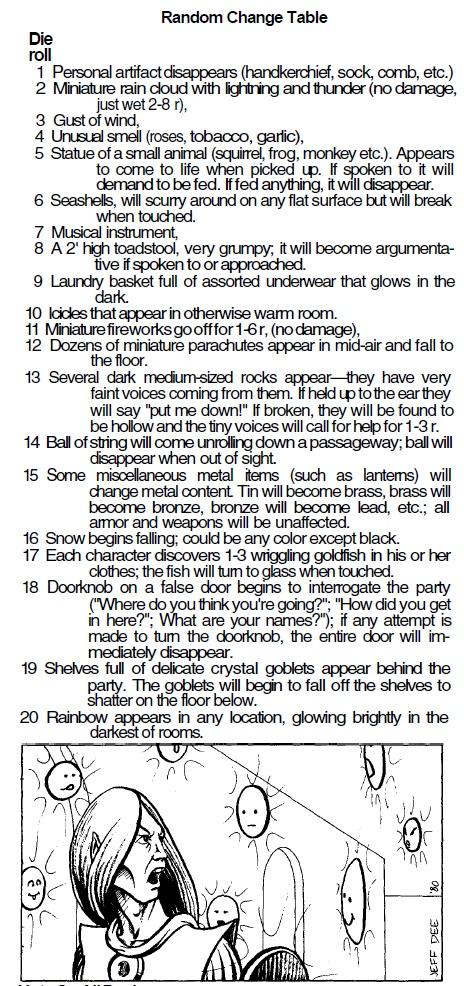 As they enter rooms there are some typical encounters, seeming assembled by random rolls of a table in the back of the Dungeon Master's Guide. There's a room full of giants, a roper, a room with a troll, a random room with a White Dragon in it, another with a Chimera, you get the idea. It might work better if you imagine them all wearing 19th century sailor suits maybe with a spider patch on the breast and increasingly silly hats for the bigger monsters. Maybe the White Dragon and Chimera are part of an elaborate magical heating and cooling system for the Mecha Spider? It could work.
And, as usual for this sort of dungeon crawl, the monsters wait patiently in their rooms for the Murder Hobos rather than sounding an alarm and everyone attacking at once. Cause then it would be a pretty short adventure.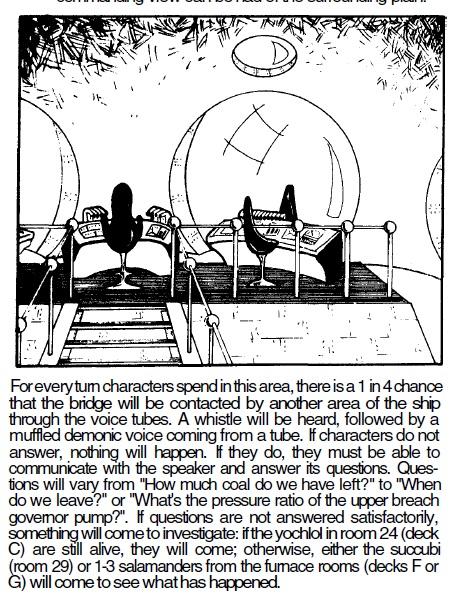 After wandering a bit players do get a chance to play around in the control room and engine room which can be good for a laugh but have no chance to actually make the Giant Spider Mecha Palace Thing move or attack or whatever.
Which does seem a violation of Chekov's Law "If you introduce a Giant Steampunk Demon Castle in the first act, it must move or attack or whatever in the third". Thankfully that's why you have a
DM
, to rewrite the adventure on the fly and keep things moving. What if like, Lolth's Enormous Mechanical Arachno-Palace is here to take on an equally enormous Godzilla beast? What if the players, having killed everyone who knew how to run the damn thing now have to figure the controls out on as Godzilla tears into the Demon Spider Robot? Which also means making up rules for that on the fly…
Darn, now I want to run this module again.
But as much fun as Huge Clockwork Robo Spider Fortress Things are, that ain't why we're here. We're here to take on the Demon Queen of Depressed Goth Elfs in Spider Themed Lingerie and live to tell about it!
So what happens when the heroes are either shown to Lolth's throne room or blunder across it during their kill spree?
Nothing good.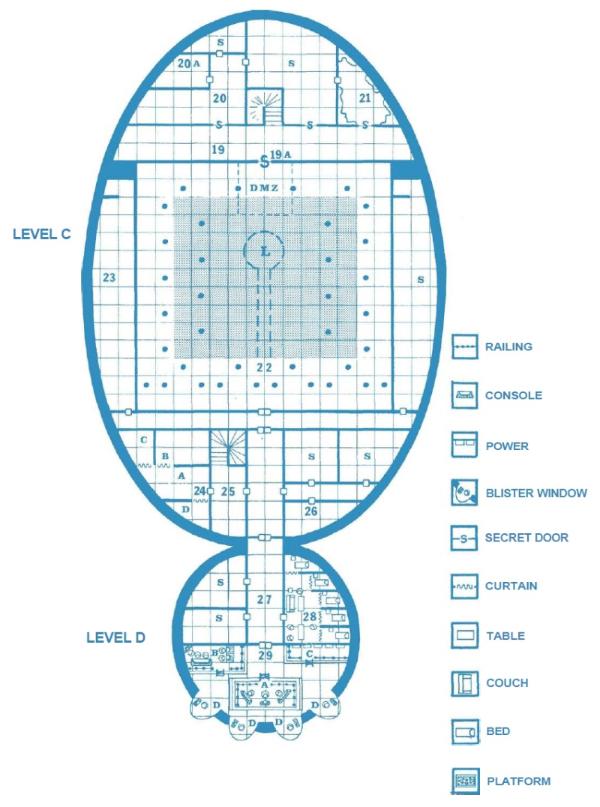 First they walk through the Dispel Magic Zone which… do I need to spell it out for you? So yeah, all those strength and protection and invisibility spells the party (hopefully) put on themselves first, they all go away. And 70% of their potions just shatter. Meanwhile Lolth is raining spells on them, and once they charge her she flees, and if they do catch her… It was just an illusion!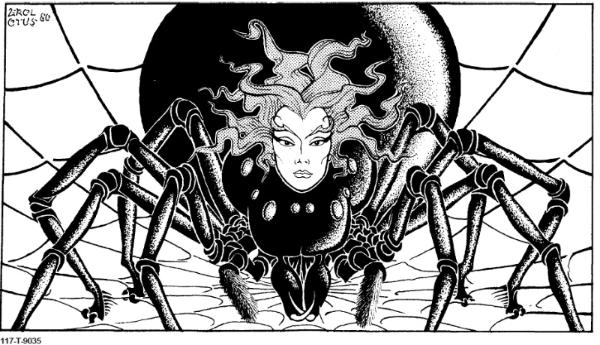 "Thank you Murder Hobos! But our Demon Queen of Spiders is in another (part of the) Ginormous Cyber Spider Thing."
So they go up a floor, fight a random Black Dragon who was just chillaxing, and kick down another door to an identical throne room, get Dispelled again, fight off the guards that weren't there last time, charge Lolth and… sink into quicksand. Cause the floor in this throne room is quicksand. Just cause.
Now Lolth, this is as good a time as any to talk about Lolth. Lolth has 66 hit points. Less than some of the monsters in her dungeon and certainly less than most of the heroes who are going to kick down her door with murder in their eyes. But she does have Armor Class NEGATIVE TEN and 70% magic resistance, and is a high level cleric and a high level magic user and has psionic powers (which would require learning the psionics rules so, yeah, never mind) AND can heal herself 3x a day. So it is do-able, but not easy. Even without the guards and the quicksand and the disadvantages of being in the Abyss. And of course she can always teleport or just flee if things are looking bad.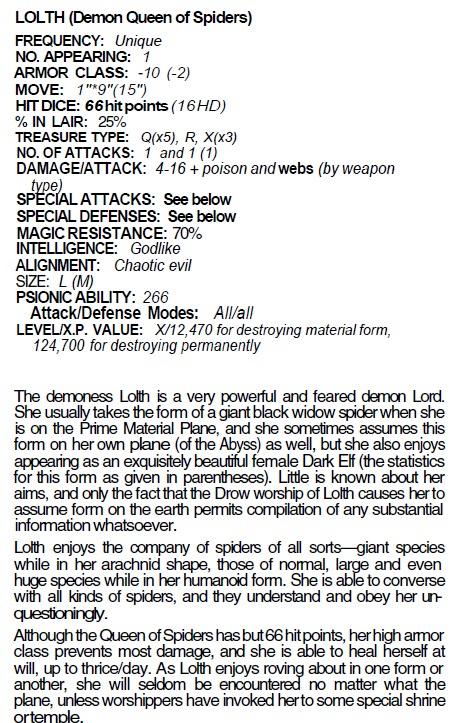 While most of the module is fairly static it does detail Lolth's fall back positions and routes of escape. So you follow her into a room with sticks on the floor and several armored statues, I wonder how this is going to work out…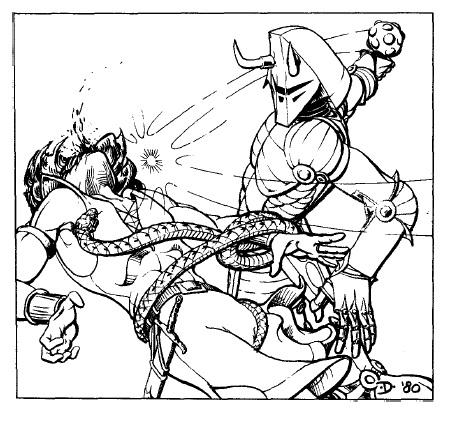 Yeah like that.
(Sticks to Snakes and Iron Golems)
Her ultimate bolt hole is a room with several magic mirrors that will transport you to another plane, a handy escape for her and a way home for the heroes.
But first of course they would have to stop by Lolth's treasure room filled to bursting with exotic coins from across the multiverse!
Which evaporate into mist when the players return home…
Along with any Drow magic items they grabbed.
Because, @#$% you players. There's a reason they literally put
LOL
in Lolth's name.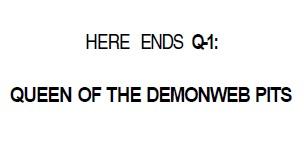 This is a really epic capstone to one of TSR's most ambitious projects. As far as I remember it was only topped by Dragon Lance, a series of 12+ modules and 3 novels (to start with, dozens later) covering a vast war and the return of the gods.
Or maybe Throne of Bloodstone, a module for characters level 20-100 (!!)
But that's another story.
Queen of the Demon Web Pits a product of its time of course, gimmicky, episodic and illogical.
"Hey Lady L, where should we put this super-powerful lodestone we found?"
"Oh put it in the middle of the room with the bugbears, so that it might slightly inconvenience any passing Murder Hobos in plate mail."
It's both too ambitious at times (eight side worlds!) while not ambitious enough (
LOL
, Lolth steps in the mirror and is gone). While the mundane dungeon stuff is fairly mundane and random, the new ideas are just amazing. 40 (!!) years later the Demon Web is still an impressive design both visually and conceptually.
If I were to run it there's be some rewrites and some attention given to how the players can learn about twists, tricks and traps in advance. Maybe move the side world to the middle of the path, forcing players to hike the length of the Frozen Lands to get to the next door. Perhaps each world could offer a clue or weapon for use against Lolth along with an object lesson is what will happen to their world if they don't stop Lolth here and now.
And of course I'd add Giant Mecha Spider vs Godzilla.
And this is really the strength of the module. I've played a lot of
RPGs
and video games and forgotten them a day later. But Queen of the Demon Web Pits is etched in my memory and honestly some of the ideas and images still resonate today. I might want or need to rewrite it, but I certainly wasn't bored running it, playing it, or even rereading it today.
And of course Queen (along with the earlier Descent series) introduced a group of villains so iconic they've been ripped off and used so many times they feel like they've always been there. I refer of course to the Svirfneblin.
And the Drow, them too.
Now I sometimes feel guilty writing these retro reviews, it's like me saying look at this cool stuff I have that you can't get! But this one is thankfully different. There's both a digital copy of the original online, and a 5th edition update.
Digital Copy
https://www.dmsguild.com/product/17054/Q1-Queen-of-the-Demonweb-Pits-1e
5th edition conversion
https://www.dmsguild.com/product/200318/Classic-Modules-Today-Q1-Queen-of-the-Demonweb-Pits-5e
And a novelization! Also available digitally. This does tempt me, but reading times are so limited.
https://www.amazon.com/Queen-Demonweb-Pits-Greyhawk-Paul-ebook/

dp

/B00BABT0UO/ref=sr_1_2
There've also been a few sequels and updates over the years and various editions, but I can't really speak to any of them.
(Side note) Y'know Goodman Games has been updating old modules turning 32 page pamphlets into huge hardcovers, including some I've run like Keep on the Borderlands, Castle Amber, Isle of Dread, The Lost City and Expedition to the Barrer Peaks…
Huh. I've run all of them.
I may need to buy some of these.
https://goodman-games.com/store/product-category/original-adventures-reincarnated/
And honestly Queen of the Demonweb Pit would be perfect for this. (End side note)
I sincerely doubt I'll ever run this adventure again. As the newish saying goes: "At some point in your childhood, you and your friends went outside to play together for the last time, and nobody knew it."
(
Sobs
like a baby for five minutes)
But it was sure fun to revisit it… And who knows. Maybe. I mean if you're going to play D&D just one last time why fight Kobolds and giant ants? Why not go big?