Post
Woah! It's amazing how an Army Shot brings out the comments! Thanks guys, I really appreciate you all spurring me on!
youwashock wrote:That's what it's all about, right there. Those guys bring the bling. Awesome pics, gobert!
It really is, isn't it!
Yorkright wrote: Awesome army shot, thanks for posting Gobert!
Thanks Yorkright, it was fun getting the whole gang together
Viterbi wrote:Great seeing all the current Void Panthers together, they look the business! And love the land speeder amazing work you've done there. Vehicles are a chore and it's good to see that other people take their time with them as well.
Thanks Viterbi, yes vehicles have always taken me a long time, but this one was fun at least!
Ezki wrote:Thanks for taking the army shots.
The Land Speeder turned out very well, and works great as an eye catcher!
Well done gobert!
Thanks Ezki, I've enjoyed how the Speeder has come out and avoid centre piece (for the moment) for the army.
Olthannon wrote:Love that army shot Gobert, the colour scheme looks superb all together like that.
Thanks Olthannon, it's been good getting them photographed.
Not Online!!! wrote:Nice , faboulous positively gobert
Thanks Not Online!!!, they are quite fabulous aren't they

theCrowe wrote:When the opposition rolls into the fight bedecked head to toe in gold and purple there's really no question who they think is the superior force.
Hehe! Yeah, they do have a bit of a superiority complex! Could be their III Legion background coming through perhaps

ListenToMeWarriors wrote:Love that army shot, the natural lighting and areas of light and shadow make it especially atmospheric. Also great to see a firstborn force being mustered.
Cheers LTMW, the shadows were fun to play with, getting a bit of atmosphere without putting the Marines in the dark!
brushcommando wrote:Nice! It's an impressive looking force. I like the decision to use black as the primary vehicle color. I've never been successful trying to get a metallic scheme like that to play out across something vehicle sized. Keep up the good work!
Thanks
BC
, I'm glad I went with the black as it's provided a nice change from all of the gold! I quite like how it looks too!
Ragsta wrote:

Those look excellent mate. Nice strong colours and I appreciate those larger bases for the infantry too. They might be compulsory if course but I wouldn't know - I'm here for the excellent work!
Cheers! The larger bases are standard Marine issue nowadays I believe… not that I've played since 2nd Ed

Bellerophon wrote:That's a very striking force right there. The colour scheme on the marines stands out from the crowd and works nicely, and the black on the vehicles is a great complement to it.
Thanks Bellerophon, the gold does stand out well doesn't it!

MobileSuitRandom wrote:Good job, also on the photos! That's such a fun scheme, nice to see some shiny but still old-school marines!
Thanks
MSR
. There's no school like old school! Though compared to most of my stuff they're positively brand new, still a good stepping off point for NuMarines at some point

Cap'n Facebeard wrote:Its a great scheme, and I love the wing lights on the speeder, that's a nice detail.
Thanks Cap' Facebeard, and thanks for spotting the lights, a tradition that goes back to early Terran civilisation

ValhallanWinter wrote:Excellent force! I really like the scheme, the metallic bodies are a great contrast to the purple where both support each other without conflicting. You've turned two uncommon colors into a solid pairing, impressive work

The basing is fantastic, cluttered city streets with some added details to to stand out from the standard set, the speeder especially looks like it's skimming low through the ruins.

Can't wait to see more
Thanks ValhallanWinter. Good and purple have become a bit of a thing for me since coming back to the hobby a couple of years ago. I can't seem to shake it! I think it helps the Panthers look pretty regal which is why I chose it. I'm glad you like the bases, they started with the Space Marine Heroes bases and I've been throwing bits of Sector Imperialis lately too. Dry brush, contrast and washes do the rest for me. Hopefully it translates well when I paint their shelf.
IGtR= wrote:The boys in gold are looking gab all together.

The landspeeder brings back happy memories of painting my black templar version. Hours and hours crouched over my painting desk, only to step back and see that it basically looked the same from 3 foot away as when I had primed it!! Yours looks ace with purple and gold breaking it all up

Thanks for sharing
Thanks igtr. I know what you mean in the painting of black, it looked primed for quite a while, but the purple and gold helped remedy that!
Well papa nurgle has been taking up residence in casa gobert. I was the week before I went away, then I caught something when I got back and I still feel like death a week later! I had a day off last week and had hoped smash a good painting session, but all I could muster was to lay on the sofa and watch Fear The Walking Dead S6.
My work trip was the first in about 20months and was to Germany, so had all the joy of lost COVID travel! I did have a few hours alone in the hotel room so took advantage by bringing my Indomitus Necrons with me to build. Between bouts of illness I managed to assemble all of the rest of the Necrons;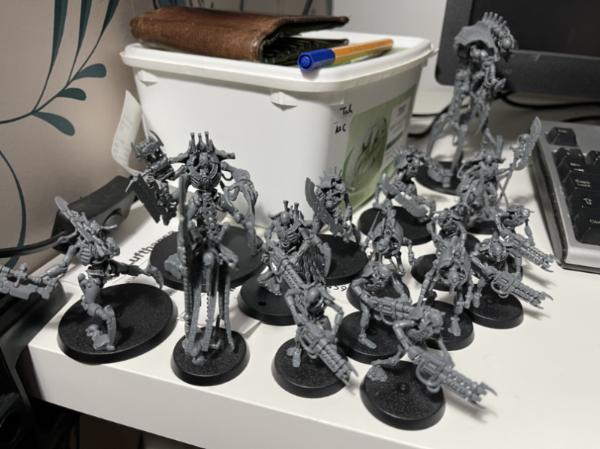 I'm tempted to go all
John Prins
on them and see how close to finished I can get them over Christmas! To aid projects like this I splashed out on a portable spray booth with an extractor fan. To see how noisy it was I decided to basecoat the Void Panthers Assault Squad;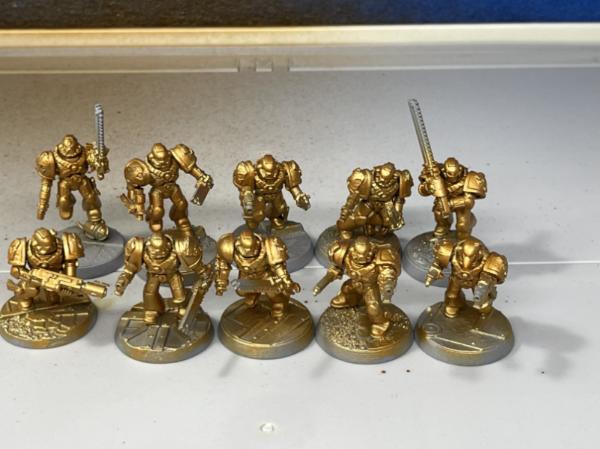 This wasn't as straightforward as the Tactical Marines I did a few weeks back, but that was because I hadn't put the needle back in the right spot. Once I figured that out things went smoothly and I even figured out how to use the end stop to get a nice wide spray pattern for basecoating! That'll come in handy for the Necrons at Christmas! All in though it took about 1hr to basecoat all these marines including airbrush fiddling and cleaning, so a major time saver. I can't wait to get some base colours down on some Panthers and try a Nuln oil wash through the airbrush.
Thanks for looking