Participated in my final tournament at my primary
FLGS
yesterday... The Last Square in Madison, WI. They're going to be closing their doors at the end of the month and re-locating to a much smaller facility a few miles to the west. They'll still be hosting tournaments once a month with a limited showroom and stock & keeping an on-line presence. But the overhead got too high on their large store and they just can't compete with the internet discounters. End of an era. 19 years as the center of the Madison tabletop gaming community. Luckily it's not "the end" for them... but it is a clear downsizing and I won't be able to go hang out at the store over my lunch period as is my habit. This was part of a big gaming charity event held all over Madison where donations are taken for Toys-for-Tots. I did enter a model into the painting competition but as it took place somewhere else, I have no idea how I did or even where my model is. Hopefully I'll get it back next week.
Saw them out with a very fun tournament. 1750 points, no Escalation. I took my eldest's Necrons and my youngest to help roll dice and move figures around. List was not really competitive... rather it was along the lines of... "what would a 10-year-old like to play". I called it "Better Lucky than Good" (and it proved to be so).
Steam Crons: Better Lucky than Good
HQ
: Imotekh
- Royal Court
- cryptek - chronomitron
- cryptek - tremor stave, harp of dissonance
- cryptek - tremor stave
HQ
: D-lord - scythe,
MSS
, weave
EL
: C'Tan Shard - writhing worldscape, entropic strike
TP: 8 warriors
TP: 5 warriors
TP: 5 warriors
FA
: 6 wraiths - 4x whip coils
HV: doom scythe
HV: doom scythe
HV: doom scythe
So... lightening, entropic strike and difficult/dangerous terrain shenanigans with the doom scythes thrown in for good measure. Figured it would be decent against a pretty broad range of targets, including the ever-present wraith knights and riptides. Added my own little monstrous creature as a buffer should I need it.
Game 1, we faced...
Two winged demon princes...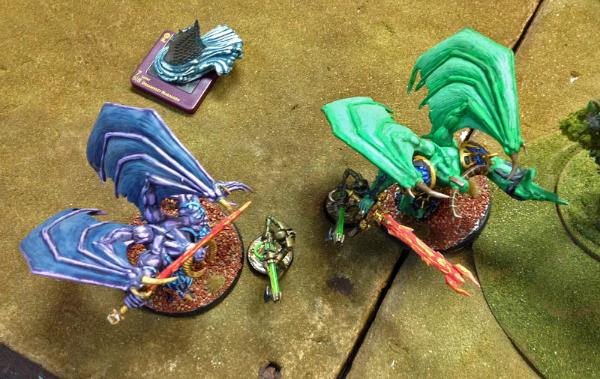 Yet another winged demon prince...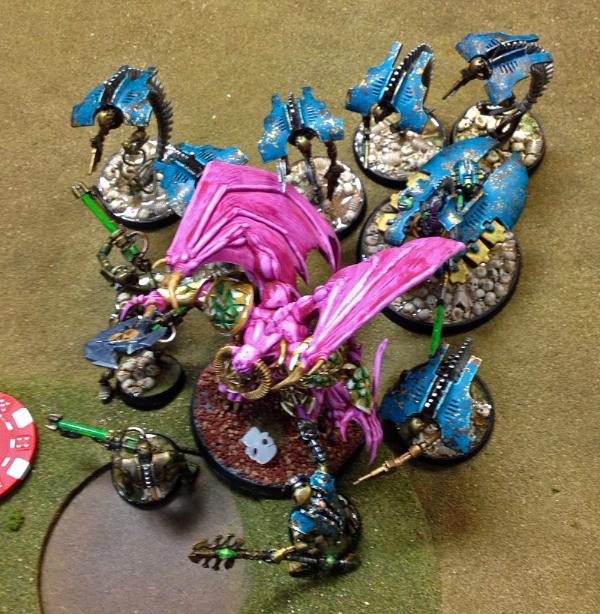 A ground based nurgle demon prince (no pic).
...and fateweaver...
This actually wasn't an army I was prepared to fight & expected to get tabled by turn three. However, the Steam Crons did an AMAZING job standing back up over and over again. If it wasn't for the fact that I completely FORGOT about the Mind Shackle Scarabs and that my flyers would automatically come on in turn 4... I might very well have won this game. As it was I lost something like 17-8 (lost the primary, tied the secondary)... but I took the 8 points and was happy for it.
Game 2 we faced...
You guessed it... 3 winged demon princes and Fateweaver (with the dreaded 2+ invul re-rollable).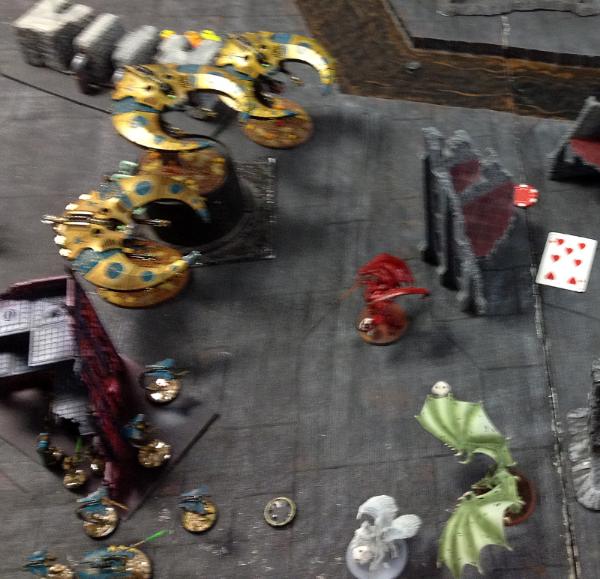 (sorry for the rubbish pic)
This game started out fantastically with Imotekh's lightening and the flyers doing all but 1 wound to Fateweaver and taking out one of the demons and severely injuring the other. As time drug on however... the two remaining demons and the practically invulnerable Fateweaver really started to chew on our necrons. We did finally get Fateweaver when his "book"(?) roll failed and managed to secure a very narrow victory (16-14). Thing 2 was in charge of the lightening and tessla destructor rolls and really did me proud.
Game 3 we faced...
Orks!
A refreshing change but yet another army that I hadn't planned on facing. This was a very weird scenario where the primary objective was to do x amount of wounds to a giant pillar of light shooting up from the center of the table. We didn't have an army that had any chance of putting out that kind of firepower so we just tried to hamper our opponent from getting full points on the primary and go for a win on the secondary. Imotekh's lightening gave us first blood... but then the orks unloaded on the pilliar and the wounds just started piling up. He fielded a very shooty ork army, not unlike that which I like to field. Still plenty of bodies though. It was kind of a mess & wouldn't make a good proper battle report, but a very fun game over all. The wraiths took on the nob bikers & eventually lost once a mob of 'Aard Boyz joined in. I did get slay the warlord, linebreaker, first blood and the secondary. My opponent got half points for the primary (which was still a lot). So, narrow loss (15-13).
Wonderful event, great opponents in three very closely contested games. The Doom Scythes really didn't do much with their beam weapons as mostly my opponents were flying monstrous creatures & I had no luck grounding anything all day... however the
TL
tessla destructors are still worth their weight in gold. The whole dangerous terrain thing didn't really work the way I'd hoped. It's just not very scary any more. The lightening was great though. Helpful in the last two games for sure.
Top award is split between Imotekh and the D-lord w/
MSS
who got several characters/deamons to kill themselves over the course of the day. We ended up tied for 11th/12th out of 26. Not a bad finish for a goofy army using some outdated tactics & models.
Thank you Carl and Bev! Been wonderful getting to know you & hanging out at your store! Hopefully still many more enjoyable experiences to come at your new digs!