ONE SHOT BLONDIE, FROM CONCEPT
TO
3D-PRINT
Update #24 · Jun 24, 2013 · comment
You've been asking a lot about how the finalized miniatures would look in the end. So first off, here is an image of One-Shot Blondie that will help you understand get a better feel of what you can expect. (Story continues below image)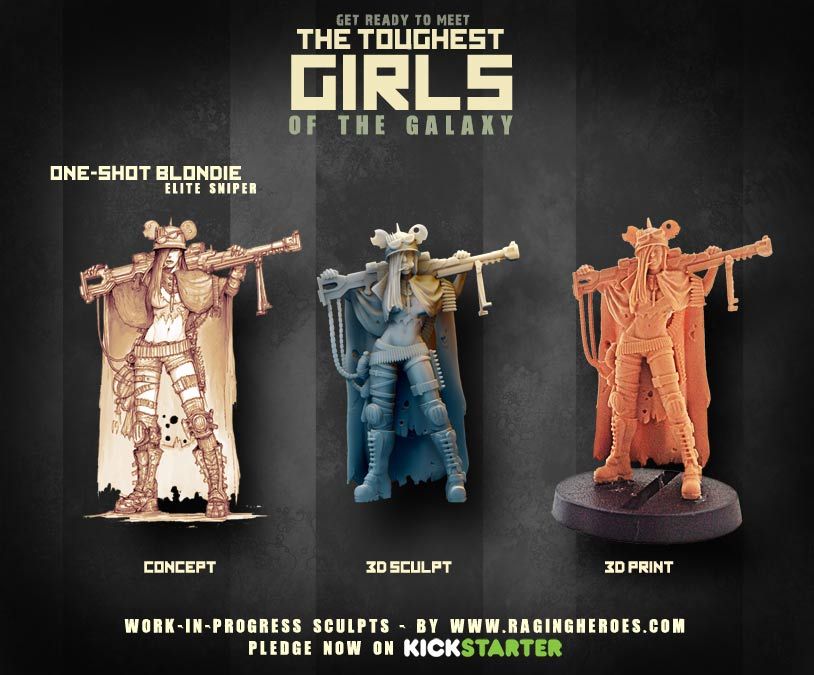 http://i918.photobucket.com/albums/ad27/Raging-Heroes/TGG/comparatif-one-shot-concept-3D-print_zps82850262.jpg
One-Shot Blondie is a character we've been working on for quite some time now. And so she's a good example for us to use to share with you how we work on a miniature.
It also is a good example of how we translate concept art into sculpts, and what you can expect as a final product based on the concepts we are showing in the Toughest Girls of the Galaxy Kickstarter.
In traditional sculpting, a sculptor works alone on his sculpt in a linear fashion. He begins by setting up an armature, then adds masses to define the silhouette, and keeps on adding details until the miniature is finished.
At Raging Heroes, our sculpts come to life through a very collaborative process that is not entirely linear. Once the concept art is finalized and approved, there are generally 4 persons involved in the sculpt of a miniature.
Posing comes first
Let's take the example of One-Shot Blondie. Once they've created a nude body with the correct proportions, Art Director Benoit and Sculpt Supervisor Jean-Romain start researching the pose in 3D. Benoit is the vision behind Raging Heroes. He's the one developing the characters and the Raging Heroes look, stye and feel. His work goes from the very early ideas to the final touches on a sculpt. Jean-Romain supervises all the sculpts. In addition to sculpting himself and bringing his own personal take to a miniature, he also makes sure that all the sculpts fit the technical specs needed for printing and casting. He also supervises a good chunk of the freelancers' work, and he also liaise with the foundries to make sure everything goes right once the minis are in production.
The first iteration of posing is in general very fast. In the case of a character like Blondie, we sometimes also add mock-ups accessories like the cape and the gun to get a better feel of the general silhouette.
Once we have this first version, Mireille comes in and helps revise the pose. She's very talented at detecting minor mistakes and deviations from the concept art, or, on the contrary, at slightly changing small element of the pose to powerfully translate the 2D image in a 3D sculpture because sometimes, the concept art uses visual cheat that cannot be reproduced in 3D. Mireille's background in actors' coaching helps her to add nuances to the body language of the character so that we can get the strongest possible expressivity.
Once we're at this stage, you'd still find the sculpt pretty ugly, and that's one of the reasons we tend to refrain showing work-in-progress sculpts unless we are very close to the last stages. In fact, there's always an amazing difference between what you see during 90% of the sculpting work, and what happens in the last 10% of it. It's really at that time that characters come to life and acquire their unique personality and definitive look.
Getting dressed
Depending on the character, Jean-Romain, Benoit, or Andrea will then start dressing it up by creating all the clothing, props and accessories for the character. Andrea Tarabella is a young Italian sculptor who's been working with us for several months now. He works fast and generally is in charge of the first stages of sculpt development, laying down all the elements that give their basic shape to the sculpts. He's also begun to do more and more posing work, and has been a key element in developing the troops sculpts of the TGG Kickstarter.
During this stage, there are 2 distinct jobs to do: creating all the accessories while being true to the concept and making sure that these accessories can actually fit the posing of the character, and ensuring that they fit the requirement of production (being thick enough so they won't break, not creating undercuts that could be problematic with mould-making, etc.).
Refining the sculpt
After this stage, we've got a sculpt that is acceptable, but really lacks in charisma and elegance. So, once again, Benoit, Mireille and Jean-Romain sit in front of the screen together to correct the posing and adjust the proportions of the main elements so that the silhouette comes very close to its final version. Sometimes, we even go back and recreate the pose entirely from scratch, now that all the clothing and accessories are there to give us a better feel of the bulk and proportions of the character.
In the next step, Jean-Romain and sometimes Benoit refine all the accessories and add the last details. They often work on the character alternatively to regularly provide a fresh eye to the sculpt.
Getting the proportions right
Once that's done, we finally have a decent work-in-progress sculpt. But generally, at that point, we once again tweak the proportions. It's very subtle, but it really makes a difference. With now 4 years of experience, we have come to learn that what we see on the screen will be exactly the same in terms of details in the final miniature.
However, we also know that the perception of proportion on a 2D screen and on an actual cast is in fact very different. On a screen, sculpts tend to appear more squat and with bigger heads or hands, and most of the time, the weapons seem truly enormous. However, once you have the miniature in hand, it looks slender and what looked like a heavy log is now a very elegant sword.
That is another reason why it can be misleading for us to show you 3D renders. When we do that, we often see on forums many comments on proportion issues and then, a few weeks later, when people finally get their mini, we read rave reviews on how well they are proportioned and "just the right size".
By the way, this is the reason why, when we work, we have to keep on zooming out the sculpts on our screens to their actual 28mm size or even smaller. And believe me, that looks very small on a 21-inch screen! But this helps us get a better feel for the final proportions and product.
Final steps
Anyway, once we are there, Jean-Romain takes the sculpt through its final sculpting stage. First of all, he starts by completely cleaning the model. That means resharpening all angles and edges, smoothing lines, etc., while still keeping a very organic feel to the model. He also removes all the little problems like undercuts, fills gap we might have missed before, makes sure that all the details are strong enough for the printing process, etc.
Once again, Mireille and Benoit then stand behind him in front of the screen to do a final round of last-minute touch-ups. Constantly bringing a fresh eye to the sculpt is essential until the final moments to detect previously unnoticed problems and make sure that the under all angles. Because a mini can look great when we look at it full-front, but not work at all once we spin it by 45°, for example.
And, at last, the sculpt is cut in pieces and prepared for 3D printing. So until this very last minute, the scaling and proportion is subject to refinement to make sure we get the best possible result.
Of course, this is a general example of our workflow and sometimes Benoit, Jean-Romain or Andrea will do a full sculpt nearly all by themselves before the rest of the team comes in.
This workflow, while being demanding on the entire team, is not only a guarantee of a great result, but it is also very efficient when we need to work with new sculptors while still preserving the Raging Heroes style and feel.
Last-minute changes
Is is not unusual for us to make a final change to a sculpt AFTER it comes back from 3D printing. When we begin a new series of characters, having an actual physical miniature in hand helps us assess its final proportions. And so it is with Blondie. There will be a very minor tweak to her head, because when we compare it to other minis, it is a tiny bit too small.
We hope this helps you to understand our process a bit more, and to give you an insight on how very special the minis you are pledging for will be, from full-blown Heroines to Troopers. Indeed, if you look at the Units we've done in the past (Mantis,
SF
Blood Vestals Troops and Command Group, for example), you'll see that the attention to detail and posing for those is the same as for our other Hero miniatures.
We'll talk a bit more about the Troops and show you photos of the first test 3D-printed trooper on Tuesday. But meanwhile, here's another look at the 3D-printed prototype of One-Shot Blondie: