Hi everyone! :-)
So, today we will be (as promised also in our
FB
page) releasing a rather pic-heavy report to update our cutomer base and Community on our future releases and at what stage multiple projects are lying at. We know that some people are very anxious to see what else is coming, but our intention/Policy is whatever we produce has to be better than what came before it!
So, let's not waste any time and get started! :-)
Undead:
We are sculpting a couple of heroes to enrich their ranks since these guys don't have any (yet), if the final results should turn up as we like, these should hit our store before X-mas 2014.
Kingdom of Talliareum (Humans):
We are preparing something really nasty, once it hits you can tell us yourselves whether you like it or not. In the meanwhile all pieces for their dual regiment are finished and tested, but -as you may already know- Shieldwolf has decided to try launching full sprue plastic for all our future regiments, so they are on hold for now. Either way these come with twenty 20mm square bases and full command, along with a variety of goodies/bitz we'll be adding.
(We apologise for the quality of the pic, they all came out a bit blurry :-( )
Kingdom of Hell:
We finished working on their first regiment (Infernal Assaulters Infantry) and have designed the concept artwork for 2 more heroes, one on a 25mm base and one on a 50mm base. As with all regiments this too may be destined for plastic sprue tooling (should our plans work out), so is on hold. If it does go for plastic production, it will need some re-sculpting as pieces are not eligible for the tooling process it needs. Final miniatures will stay very close to what we are revealing today however.
If our plan for going full plastic sprues fail us, these twisted guys will be massed produced in our -notorious by now- orange utility boxes and can easily hit our store in less than 1 month time! They come with 25
mm
square bases and (as all our regiments) come with huge choice of convertibility and in packs of 20 with full command options.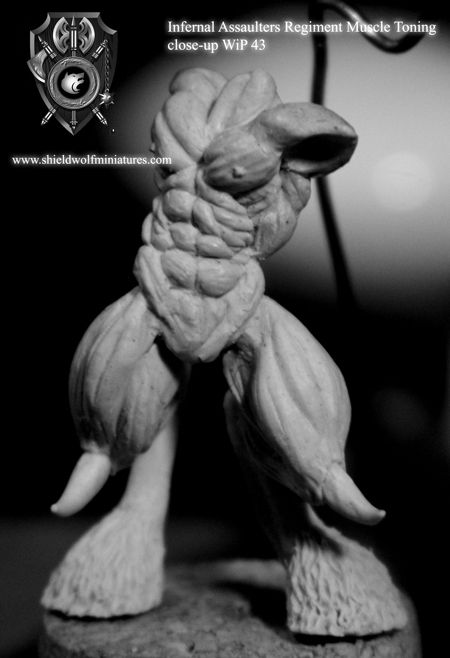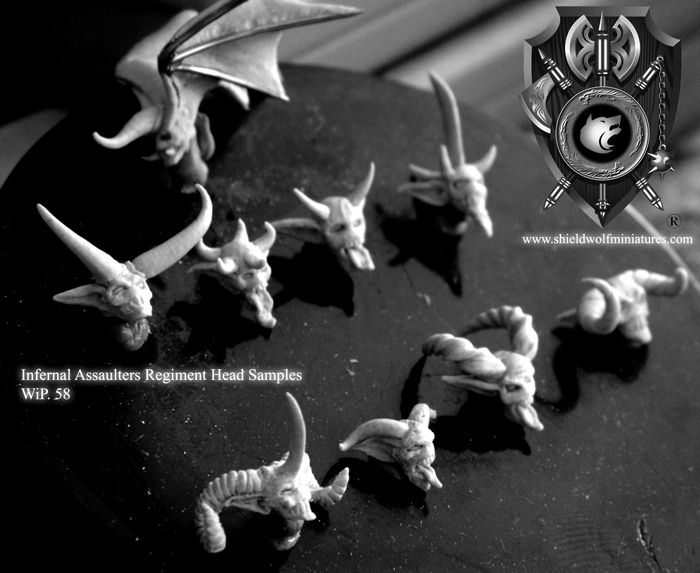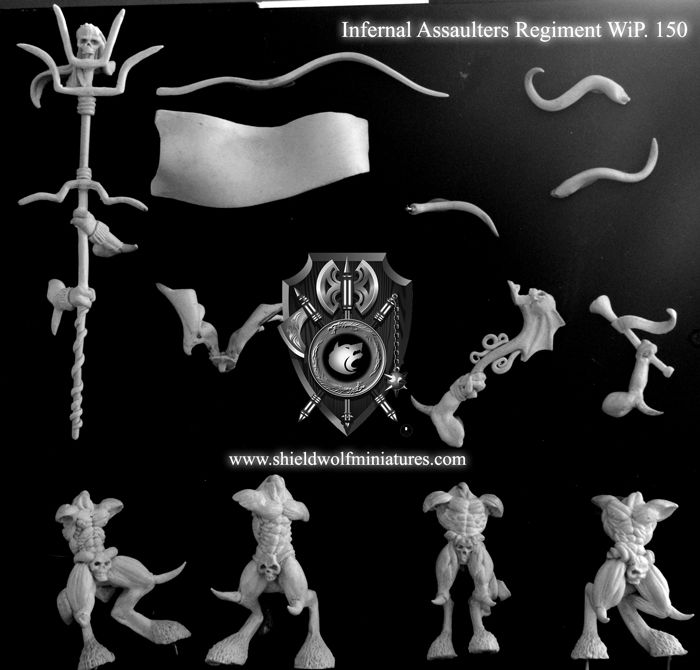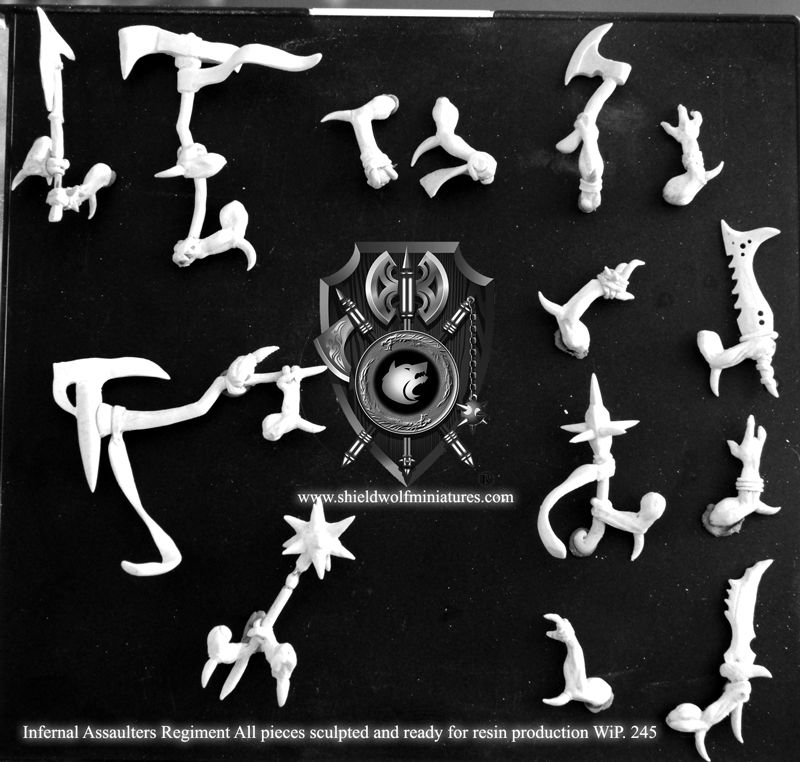 Northern Alliance:
We've been messaged before from people wanting to field an entire barbarian army at this scale (and us being the only ones producing one), so we are currently working on releasing even more stuff to enrich their ranks. As always innovation is something we are constantly working on, imagining these miniatures and bringing them to life! This is the
Grand Yeti
one of the "Greater Monsters" categories we have, should be carrying 4 light barbarian infantry atop once completed.
Dracantropii Kingdoms:
Our Dragon Race! After our Arabic and Barbarians, seems we are the first (to our knowledge at least) to have sculpted a regiment for a Dragon race at 28mm "heroic"/bulky scale! (if we are wrong please let us know however,
lol
) :-)
We have already made new bases available. Their Light Dracantropii Infantry regiment is practically ready -but same goes here as for the Infernal Assaulters regiment, we have frozen this in order to favor full plastic sprue tooling via Renedra (our
UK
manufacturer for our plastics)-. If things do not work out and we put these in production, these guys will be packaged in our orange plastic boxes once cast in resin (for those who are not familiar we at Shieldwolf refuse to work with metal since we consider it a worse and outdated material to work with, penalising the details of a sculpt -among other defects). The Light Dracantropii Infantry regiment can be ready and in stock via our website in about 1 month time should we decide to go via resin production. They come with 25
mm
square bases and (as all our regiments) in packs of 20 with full command options and tons of convertibility.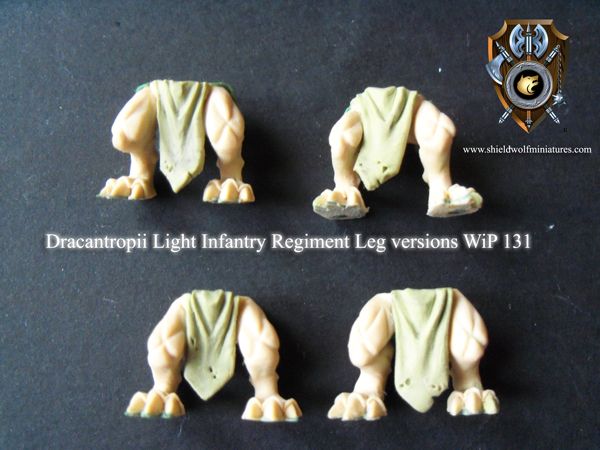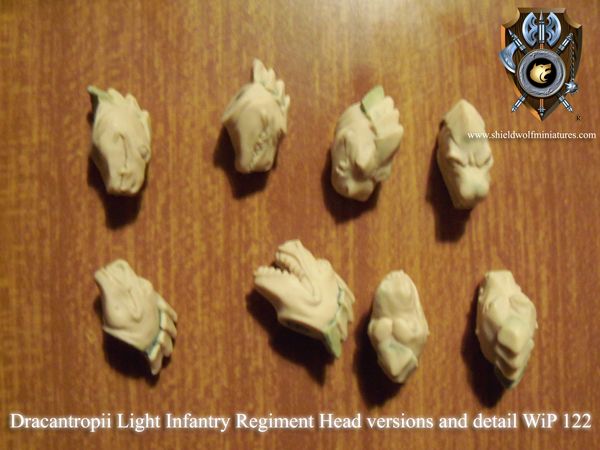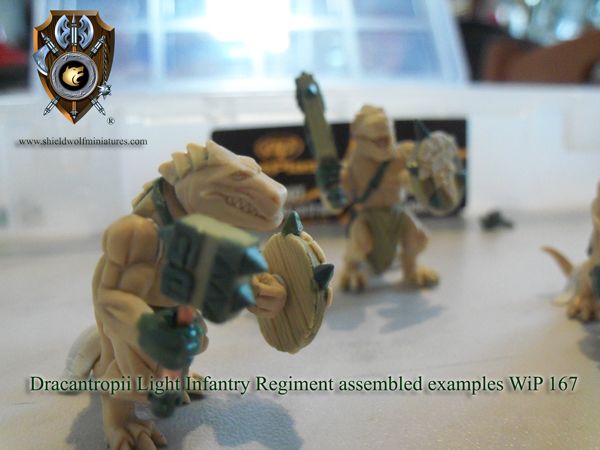 Orcs:
The Orcs have been planned and divided in 4 different factions. Although a young company we are very happy to be producing what are maybe the most detailed Orc army miniatures worldwide and for the response they are receiving, we have completed our releases for now for our 1st faction (the Mountain Orcs) which became so welcome in the Community and are currently working on the 2nd, the Valley Orcs. Sculpts -and hopefully painted versions- should show up rather soon :-)
Araves:
We have already showed some sculpts ready for regiment tooling, should we decide to abbandon plastic sprue-tooling (which is not our intention at the moment, quite the opposite) we have
3 regiments
and a couple of Characters ready for immediate production. Two of our regiments come supplied with 20mm square bases and one regiment comes in 25x50mm bases. In the meanwhile we are preparing something else too for the Lords of the Sand Lands.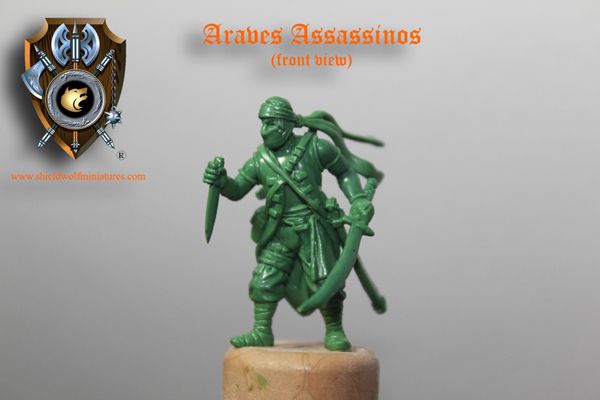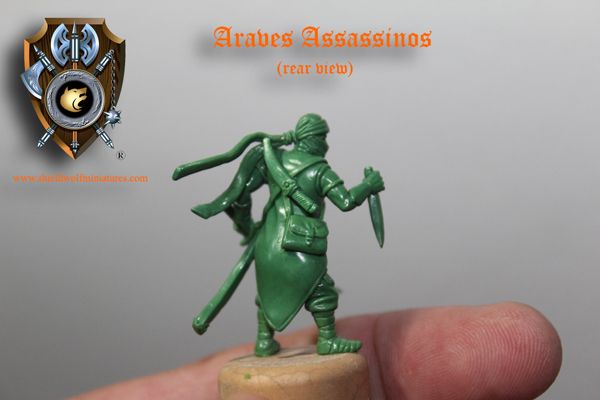 Other future factions and races.
(Please note some are main races -meaning one of the 12 planned- and some that are supplementary. We are only mentioning 6 out of 13 currently planned).
Dwarfs:
We can't immagine our fantasy world without these interesting fellas, but there are simply too many manufacturers producing dwarfs
atm
. Although we have some artwork, Shieldwolf has no plans for the bearded race for the next 2 years.
Elves:
We have them long now in the pipeline, we have amazing fluff/backround for the Elves, plenty of astonishing artwork and 3D sculpts but nothing to be produced in the very near future. 2015 is more probable/doable. This is a sample of what our first regiment will look like, the Elven Oak Order. Some characteristics will be slightly altered in order to fit our 28mm "bulky" scale but that's relatively easy since the sculpts are in 3D. Also, we noticed that there are extremely few products available that have their heads being bare (i.e. without hoods/helmets), and we find this a shame for the "pointy ears" of our World. We love those ears! Our team will try (and it shows from our initial efforts at least) to leave the most basic characteristic of this race more... evident.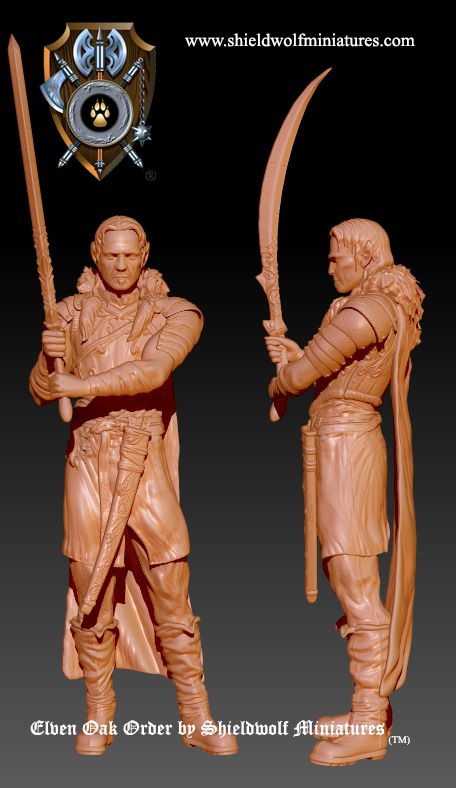 Tragomaxoi:
A race of goat warriors, some lovely artwork prepared and a beautiful finished sculpt for now, we didn't have any time to work on their fluff during July/August, hopefully Angelos will draw more inspiration during Autumn. They are on hold.
Goblins:
(we promised no further comments other than what we have already said at this point, so bear with us)
The Rebels (Human faction):
We have commissioned artwork and currently working on it but no sculpts have been created yet. We also worked a bit more on their book, there is going to be a huge alteration in all our books however (for those who have not been following our brand we've been working on fluff and rules from 2012)!
So, hope you enjoy as much as we do and bear with us till the completion of our plan, next months will be a deciding factor with our upcoming releases :-)
Thank you.
The Shieldwolf Team.