Captain Brown wrote:Nice work on Amalyns there gobert. Doing gems on Eldar are always tough, but they really make the models pop when they are done.

Cheers,

CB
Cheers Captain Brown, she came out pretty well I think, sooo many gems though! Glad I put in the stint
youwashock wrote:Amalyn is lovely. Really nice work. Big fan of the weathering on UR-025. Especially the right shoulder. Dirty done right.
Thanks youwashock, definitely the right thing to do all those gems and redo the cloak. UR-025 is growing on me, he's a cool model and probably the character I'd choose when I eventually play the game.
Viterbi wrote:Don't worry about the weathering on the bot, it looks fine. And regarding your question, I will probably use dark green for the body and pink for the claw on my bot, to tie him into my planned Adeptus Mechanicus color scheme.

Thaddeus is one of the models that I don't warm up to, but good start on your end. Looking at the model, I believe it's the head, that's bothering me, may give my model a transplant
Thank you Viterbi, it was a first go at weathering so I'm reasonably pleased, plus he looks good on the shelf. Your dark green sounds cool, keeping your imperium colour scheme across all of the Adeptus's (Adepti?), I like it! I know what you mean about Taddeus, he's probably my least favourite of the Explorers, the only saving grace for him is the servo skull.
ListenToMeWarriors wrote:I think that UR-025 looks great, brave to do him white as well. Totally agree on MIss Rangers redone cloak looking better and Thaddeus is off to a great start.
Tah, ListenToMeWarriors, the white scheme was curtesy of the Mid Winter Minis tutorial I've been following. Their Explorer recipes came out really nice so I'm following them nearly to the letter at the moment. Simple and easy!
Not Online!!! wrote:Thaddeus has potential.

The bot Looks great

imo

as above.
I dunno NotOnline!!!, Taddeus is a bit marmite, so it was a bit of a rush job to get him done. The bot was dead easy and still looks cool!
amazingturtles wrote:I love how the weathering turned out! UR-025 is probably my favorite of the heroes, probably because i can't help but imagining them as barely disguising their desire to wipe out humanity.

But you know, in a funny way! I'm bad at grimdark
Hehe, I know, he's a cool sinister "hero" probably muttering "Death to all humans" under his breath.... and now I wish I'd done him as Bender!
MegaDave wrote:UR-025 looks great! I see what you mean with the weathering up top, but to me it just looks like he had a close call with a meltagun or flame.

That is a lot of gems, and I commend you for doing them by hand and not using the gem paint (like I would have

)
Cheers MegaDave, maybe Pious Vorne got a bit grumpy with him one day and gave him a light flaming!?! Sadly I don't have any of the technical paints, so I've got to go old school, I think they look ok, but it was a slog!
Yorkright wrote: Thats the ticket! Ranger looks great that extra work on the cloak and gems really paid off. Robots weathering looks perfect for being ten thousand years old, wandering around the Blackstone Fortress is bound to muck things up a bit too. The priest is looking good, can't wait to see what comes next.
Yeah, you're right Yorkright, the extra work paid off on Amalyn, the gems took ages and I probably still missed a few! Given how bad old versions of Windows are, I guess UR-025 is probably prone to the odd bump, what with being thousands of years since his last update patch!
Fifty wrote:That is all looking great. Really nice whites. Nice cream robes on the priest too.
Cheers Fifty, the Army Painter white I bought is loads better than the ancient Citadel one I have, it's almost nice painting whites! Taddeus got a bit more highlighting on his robes back to more of an off white now.
Ezki wrote:Great work there!

Amalyn's cloak is looking good. You also pulled the white really well.

And yeah, don't worry about there being too much brown on the UR-025. There is never too much weathering
Yep I'm pleased with the the white on Amalyn (&UR-025), the Army Painter Matt White
ISS
helping. Having seen your Orks, I'm coming round to more weathering

Snrub wrote:AH those

BFG

minis are looking good with some paint on them! Veeery clean white you got on the ranger there!

Good work on the space wolves too!
Thanks Snrub, they really are cool minis. I love my old skool, but some of the new stuff is pretty special!

wow! Thanks for all the comments, you've all kept me busy for a while with this whole "Social Distancing" thing. Thankfully my kids are oblivious, apart from being sad not to see their school friends next week. We really are living in interesting times. To that end we've all got to keep our spirits up, so my wife and I are getting our hobbies on. Yesterday was gardening day followed by painting evening for me (and trinket making for my wife, glittery butterfly kids key rings at the moment).
Using the Mid Winter Minis tutorials I thought I'd finish Taddeus and probably get Drahyak and Rein&Raus to the wash stage. In the end Kroot and the Ratling twins were so similar in colours I basecoated them up together, washed them and then did Taddeus. Once he was done the washes were dry and it was still early so I decided to finish the other 3.
Taddeus didn't need much in the end, I did an Agrax wash on his gold bits, highlighted his robes with white and added a couple of bits of detail. I couldn't get inspired with him, so called it done quite readily.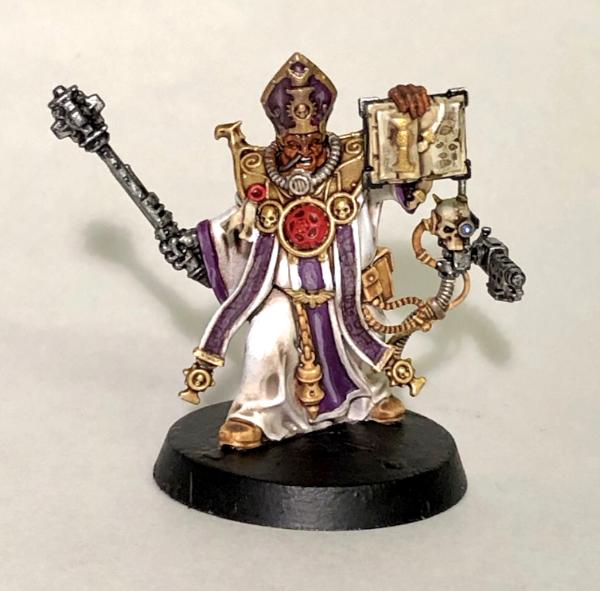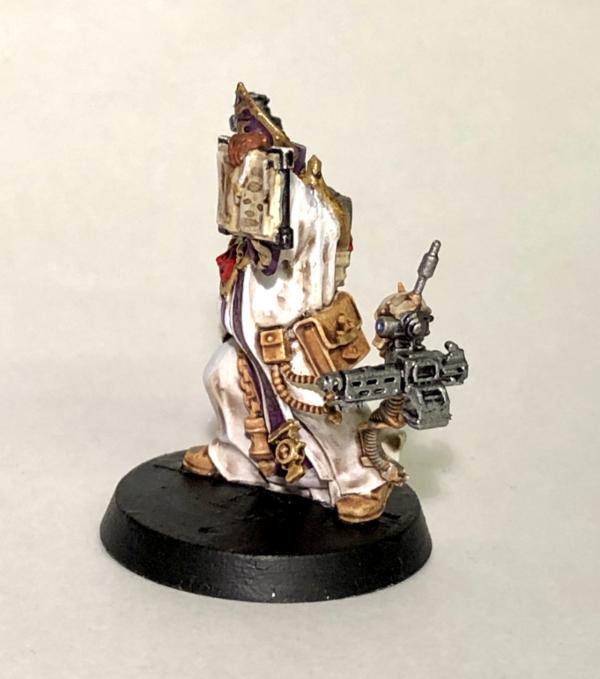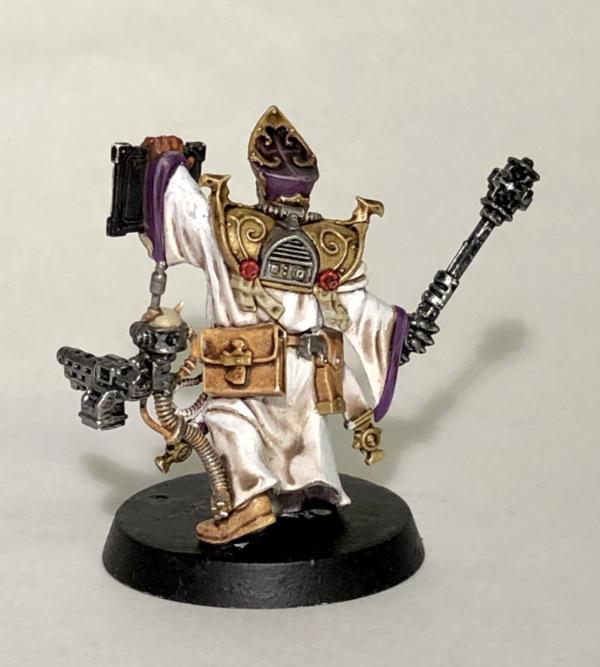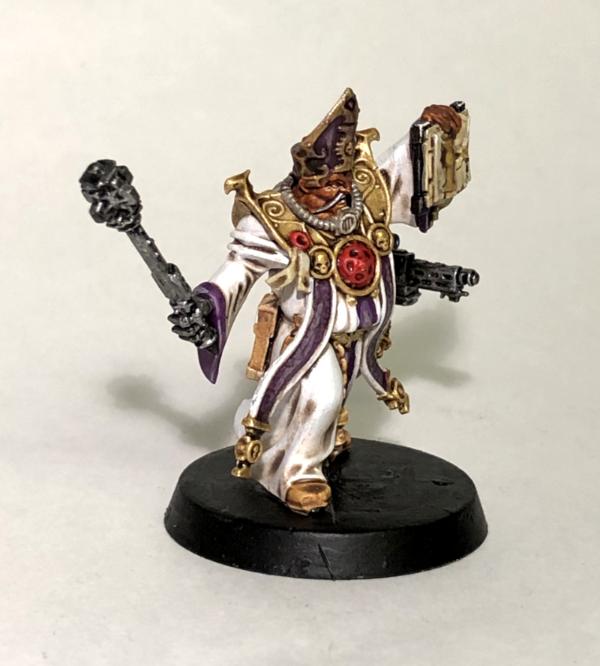 I think he looks alright for my least favourite model in the box and not much effort!
Next up was Drahyak Grehk, again I followed the tutorial and finished him in short order. Nothing too special, but I like the red cloak which is just Evil Sunz Scarlet mixed with Bestial Brown. I figured the Kroot would be quite grimy, but their guns look a bit like Tau tech, so that was brightened up a bit.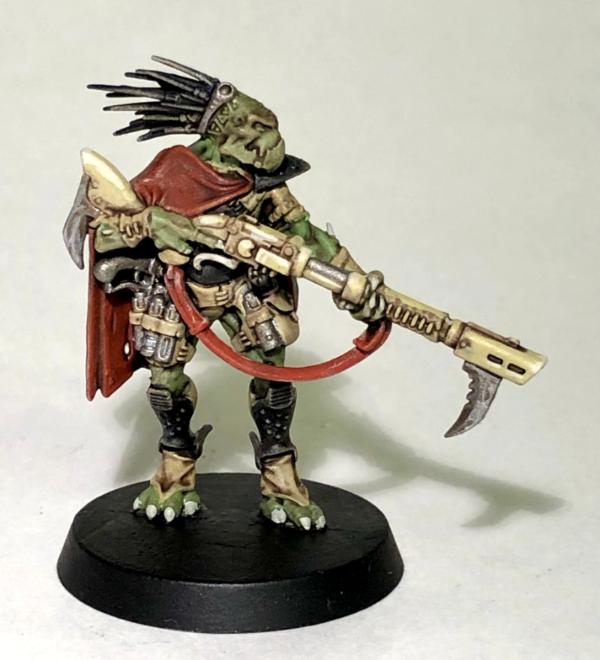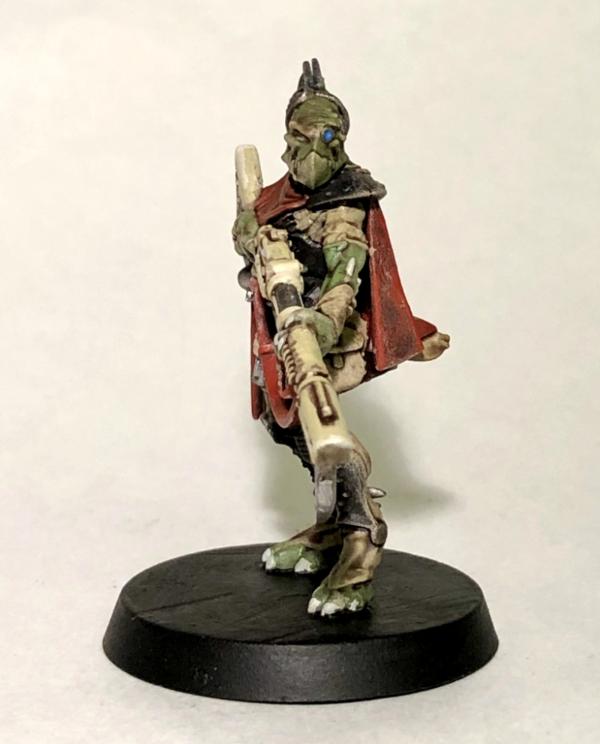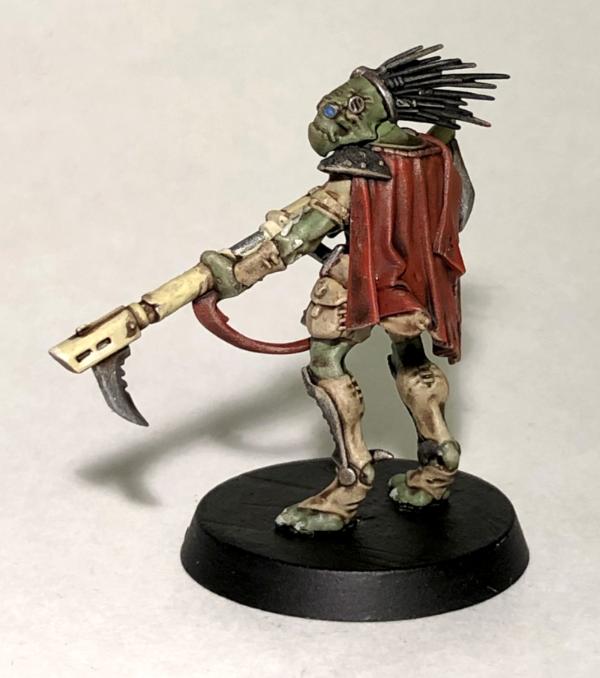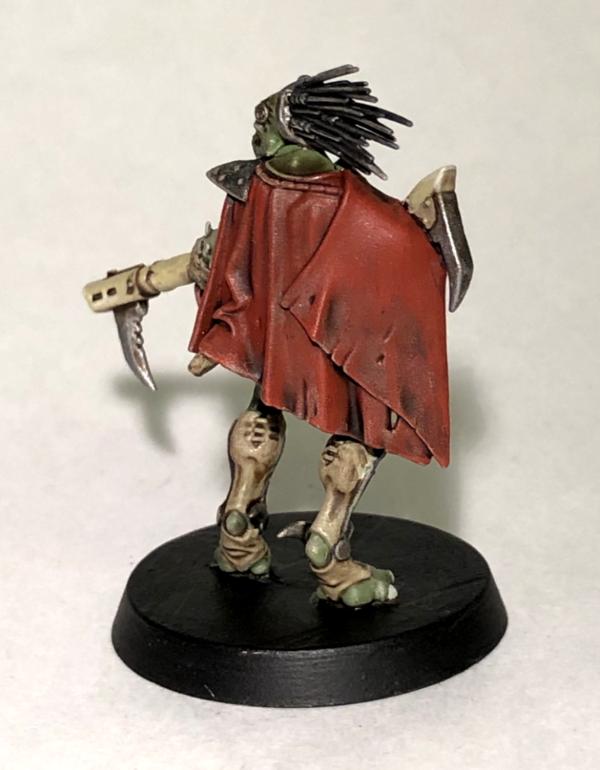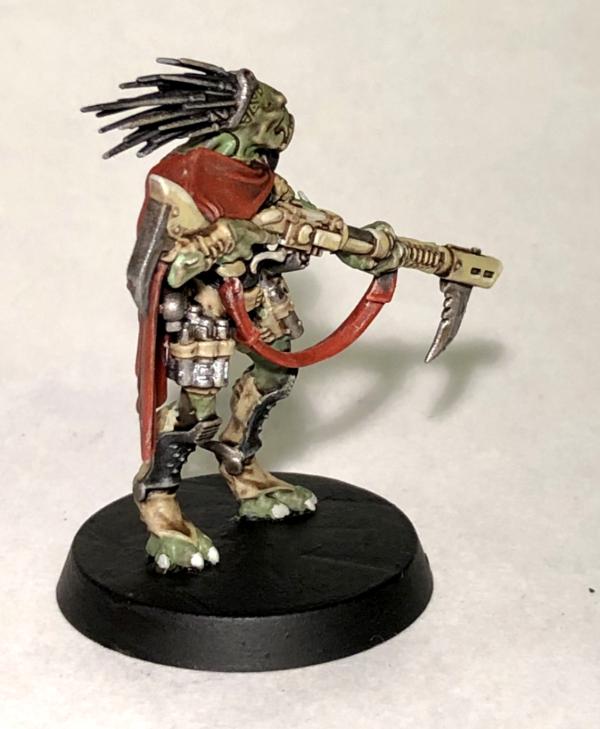 Looking at the pics now, I think I missed the wash on his feet and the vials on his leg strap. I'll have to get those sorted next painting session.
Next up were Rein & Raus the Ratling twins. I've seen that some don't like them, but I think they're quite cool. Their palette is pretty much the same as Drahyak so they joined him in the paint queue.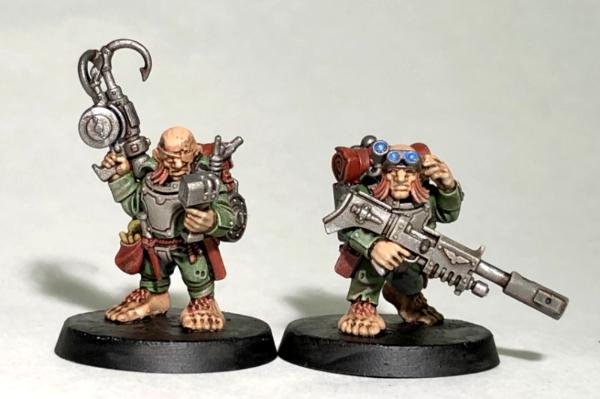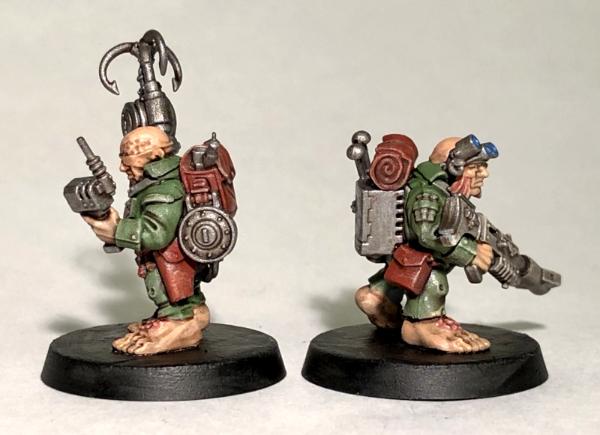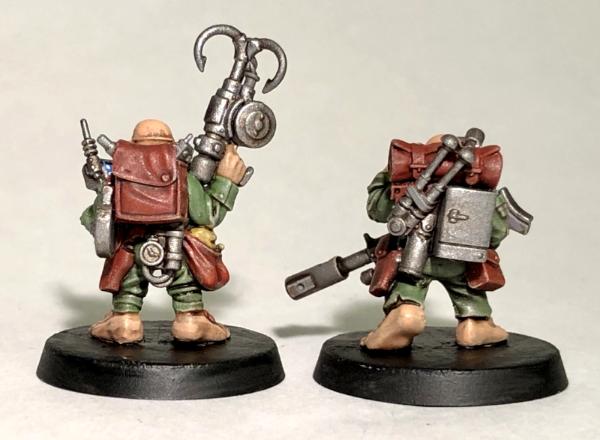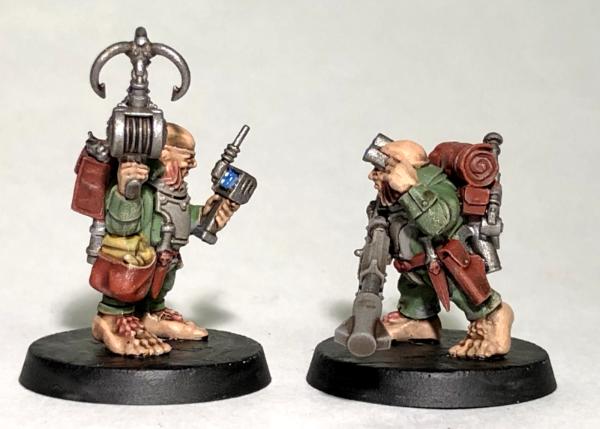 Not much effort for decent results I think, though I missed a hairy bit on a foot. It also seems that I forgot to drill the barrels of any of the Explorers, so I'll have to go back and do that.
When I put them on their shelf I couldn't help but take a snap of my Blackstone Fortress guys so far

I'm running out of space, so need to build an intermediary shelf to cover the escalation box, plus the Nurgle and Zoat boxes when I get those. I need to basecoat Esperanto Locano and Pious Vorne and get Janus Draik done too. When I've done those 3 I'll go back and tart up the bases a bit.
Thanks for looking (from a safe distance)!