After ten years of meandering aimlessly about from project to project over just shy of 50 pages, I decided it was time to retire my
previous blog
and start with a clean page on which I can meander aimlessly about from project to project once more without the distraction of a whole bunch of unfinished 10 year old projects that have taken on a life of their own and are now hiding in the laundry telling each other stories about how the creator will one day return and anoint the worthy with sacred pigment ...
I'm largely focused on Maelstrom's Edge these days, so a lot of what I am working on will obviously be related to that, but I also have a bunch of
40K
projects in various stages of completion that I'd like to get finished off even if I have no intention of playing that game again, and a couple of boxes full of assorted minis from a whole slew of manufacturers that I've collected over the years just because I liked them and wanted to do something with them. So to kick things off, here's what I am currently working on:
Wazdakka!
It seems appropriate to kick the new thread off with the same miniature that started the last one. Although you could probably replace 'appropriate' with 'kind of sad'... But there it is. This was a conversion started a little over 10 years ago, back when Wazdakka had rules. Before the Dark Times...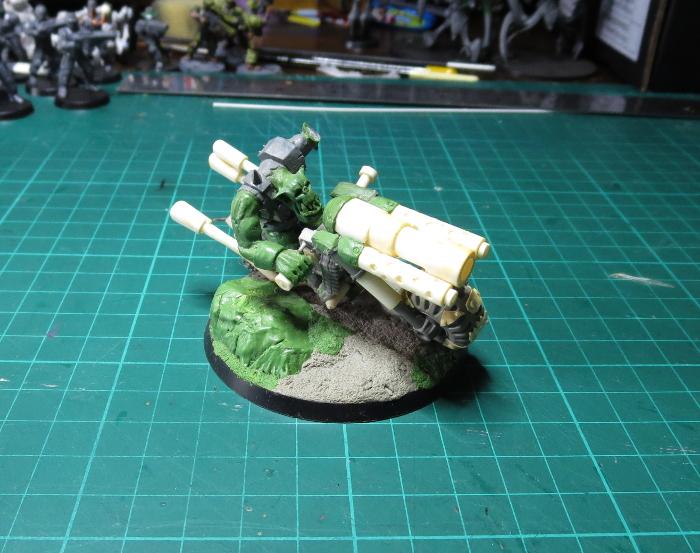 Somewhere in the intervening time, he appears to have lost his power claw. I have a vague recollection of putting it somewhere safe to reattach it when I had time, so it's probably lost for good. So still to do - find or rebuild the power claw, rework the right arm a little to fix the dodgy musculature, finish sculpting detail around his waist, and finish off the detailing on the bike's guns. And paint it, obviously. But I felt that now that I'm no longer playing
40K
, and he no longer has rules, it was the right time to get him finished!
Terra Firma Pattern Repulsor
A conversion I started back when the Repulsor kit was released, as I really didn't like it as a grav tank. I got busy halfway through painting it, so it's been sitting unfinished in the cabinet since then.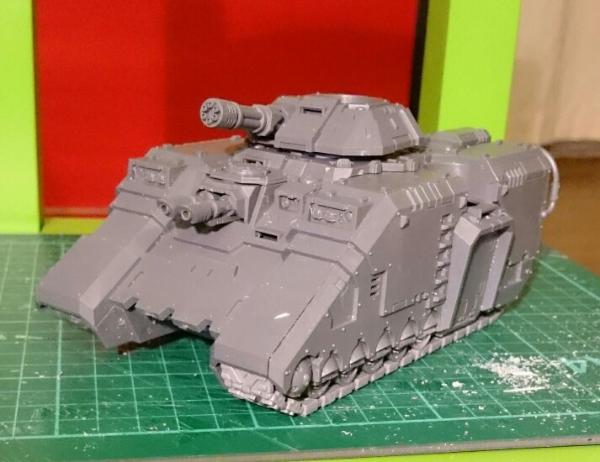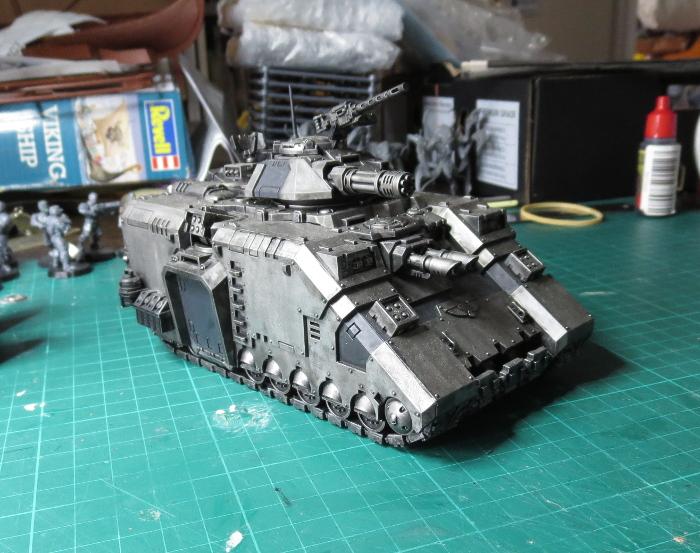 Mostly just detailing work to go at this point. It's being added to my Iron Wolves (Space Wolf) army.
Yi Ling, from Guild of Harmony
One of the afore-mentioned miniatures picked up just because I liked it. This is a mini from the (apparently now
OOP
) Guild of Harmony range, sculpted by Sebastian Archer. Bought a long time ago and left sitting in my to-paint pile until I felt I could do her justice.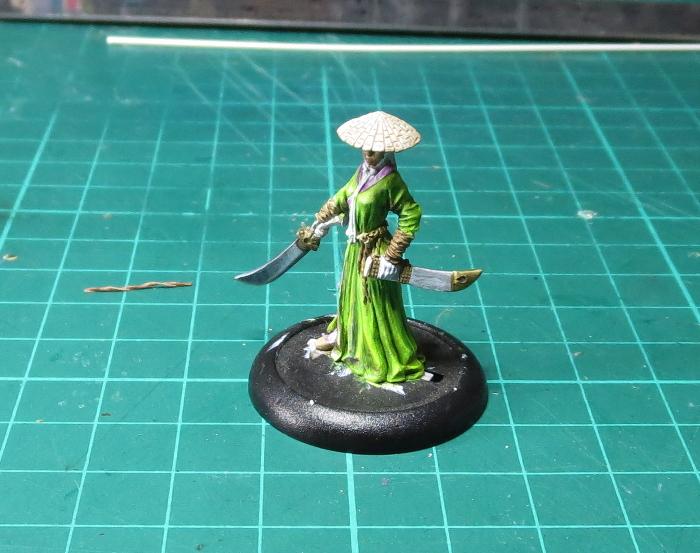 Still a lot of work to do.
As-yet Un-named Goblin Pirate Boat
1:50 scale Revell Viking Ship, bought for me by my wife a few years back, after I had been trying to convince her that we should replace our car with a long boat (it seemed like a good idea at the time), and being converted for a crew of
OOP
Rackham pirate goblins bought back when Rackham went out of business.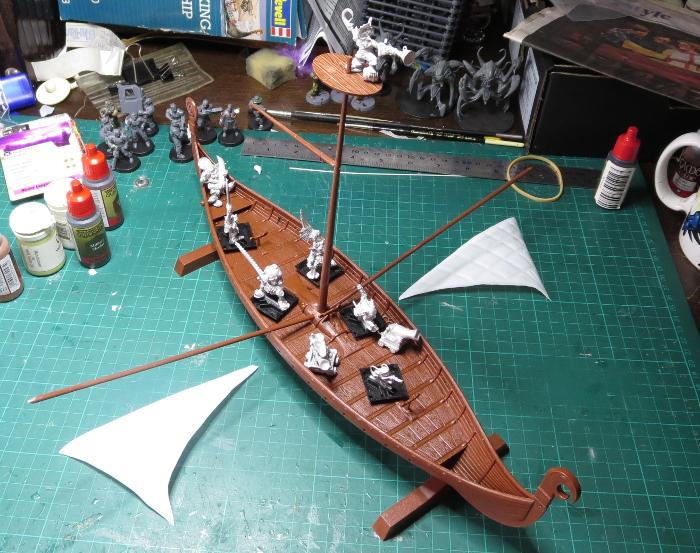 A couple of minor details still to add (like a railing of some kind on the crow's nest) and then paint and rigging (which I will leave until after painting to make getting a brush in there easier).

And finally (for now):

Jet

Pa

'ku

Converted

Pa

'ku artillery model from Maelstrom's Edge. Converted the giant artillery weapon to a jetpack because, really, why wouldn't you?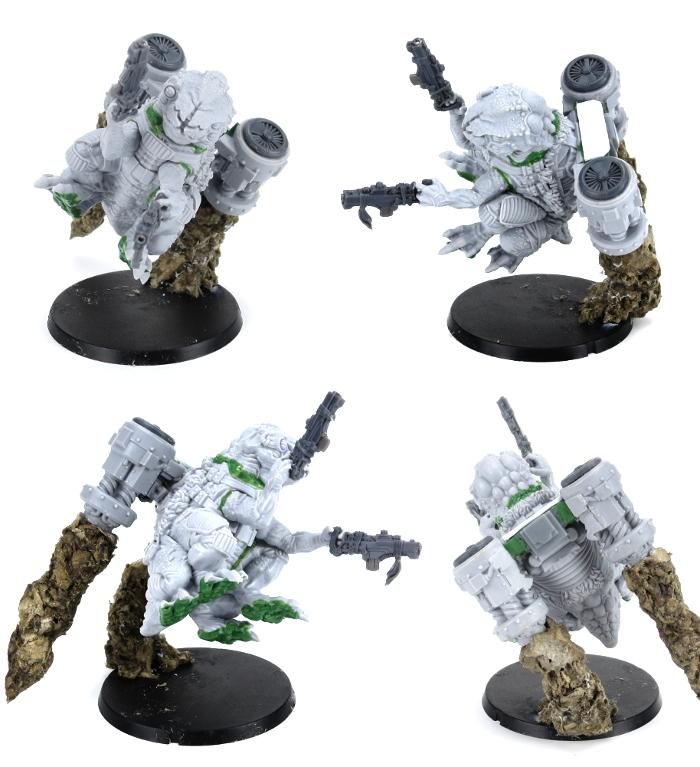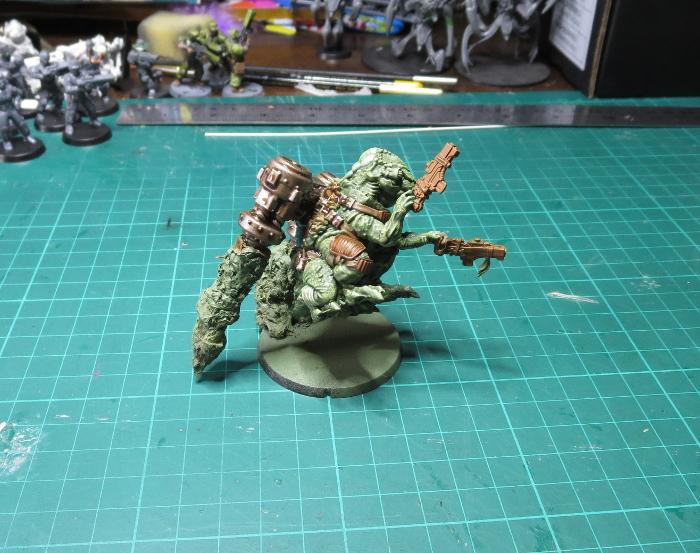 Jet plumes added with shredded cardboard soaked in PVA glue. Rather experimental, but we'll see how they turn out...
As a completely out-there experiment, I'm going to try to keep the number of things I'm working on to a manageable number, and wherever possible finish something off completely before starting the next (which sounds like crazy talk, but seems like the only way to get the to-be-painted mountain down to a sensible level). We'll see how that goes...