Thanks for the kind words! I'm glad you appreciate Ol' Basil. It's a happy thought, Pyroalchi, that they installed the smoke launchers on their own. Maybe they didn't like the instruction manual and relied on instinct instead. Also, Mcmattila: I'm very much looking forward to Mud-inspired Astra Rodentia. Rats are essential in any feudal setting!
As a continuation of the first post...
The change came with Governor Putney. Once a little-known member of the lower gentry, Putney left Mud under mysterious circumstances, returning years later with a letter declaring his immediate succession as planetary governor. Following the Defenestration of Mud (the old governor did not comply), he initiated an expeditious modernisation process called the Honourable Restoration.
There is more to tell about Putney, of course, but I have other Mud-related content for you.

Retired clergyman Michael 'Fragger' Tuck is a well-known figure in the company, feared and revered by his fellow soldiers. Stories say that he once swallowed an entire grenade - something he has not denied - and and some of the younger soldiers try to stay away from him when shots are fired, fearing he might explode. Still Tuck usually manages on his own.


Sir Maurice Bouefort was filthy rich once, ruling a vast estate of fertile farmland that he inherited from his consumptive father. The men of the Honourable Restoration care little for inherited privilege, however, and one day Bouefort was forced out of his family residence by a company from the New Army, who claimed to be acting on the Governor's orders. He considered resisting them, which would have been glorious of course, but then he didn't want the old castle to be levelled by artillery fire. Now Bouefort has adapted to the situation, and taken the role of an elite soldier in the company. Soldiers from the local area still call him 'Sir' and help him take care of his equipment.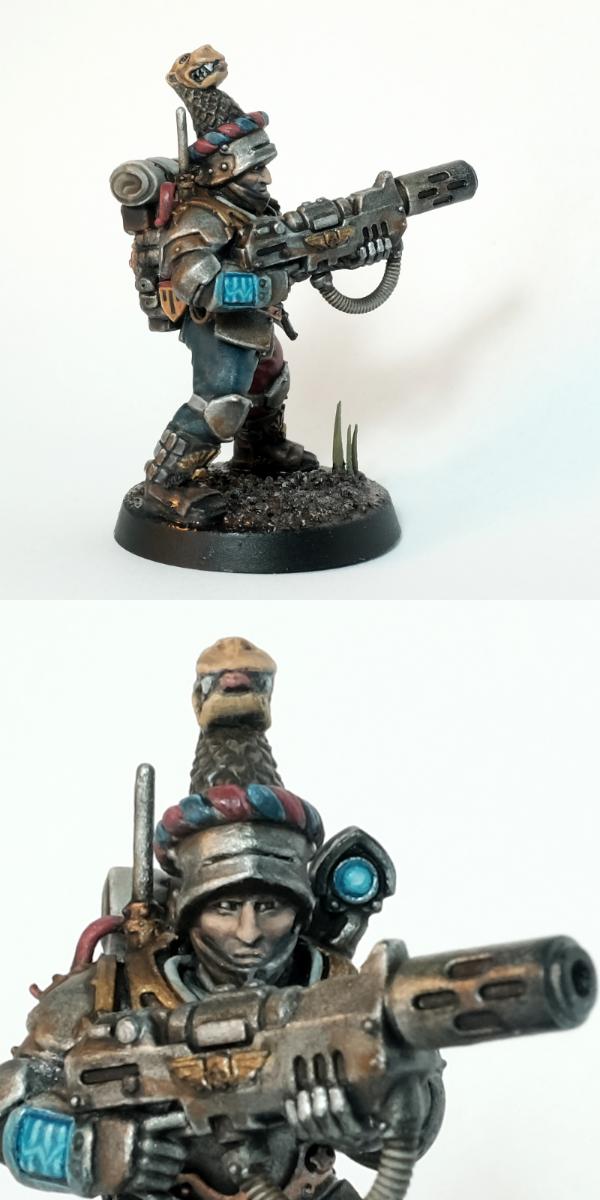 As you can see, I added an empire knight head and made a few minor alterations, including a small shield made of sprue plastic. Being a former knight, he still carries his old helmet and coat of arms. There will be other knight-scions with different colours.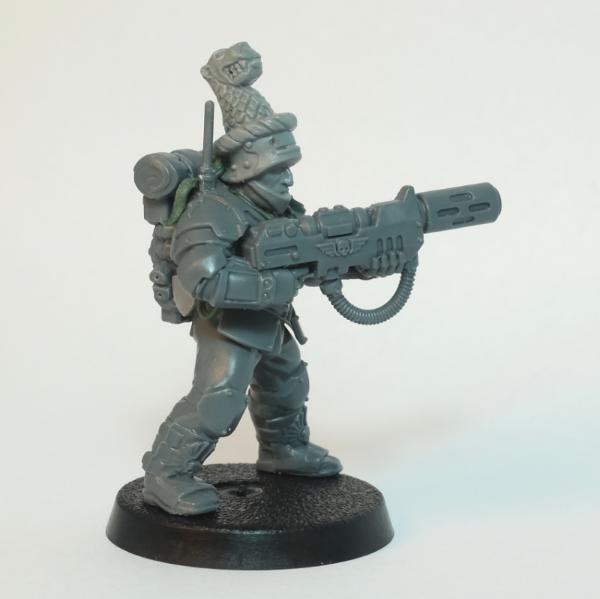 Finally, there is a themed objective marker!

The Chainsword in the Stone is a well-known feature of the local landscape, a mysterious reminder of times past. It has stood there for centuries, right in the middle of a field, untouched by weather and war - not entirely untouched perhaps, but less corroded than you would expect. The locals say that whoever pulls it out will become king of Mud.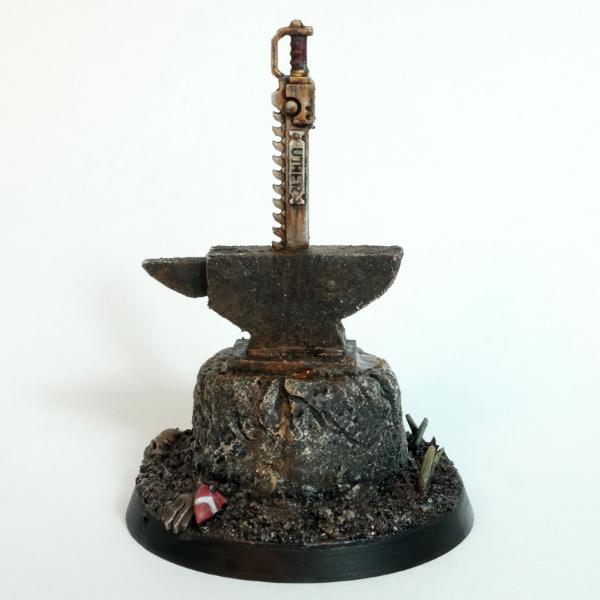 I used a skull, a pair of gloves and a chainsword from the scion box, otherwise this was happy crafting. The stone was made of sprue parts and milliput. I made it rather round first, and then stabbed it with various odd-shaped things like a sanded base. The anvil was made of cut-out old movement trays, in three layers. Sanding it to proper shape was arguably the most time-consuming part of the process. Both the stone and the anvil was textured a bit with the Typhus Corrosion paint before drybrushing.
That was all for today, take care!